Roasted butternut squash with brown sugar and butter is baked into a delicious caramelized squash recipe that not only smells amazing but has a flavor that's out of this world delicious.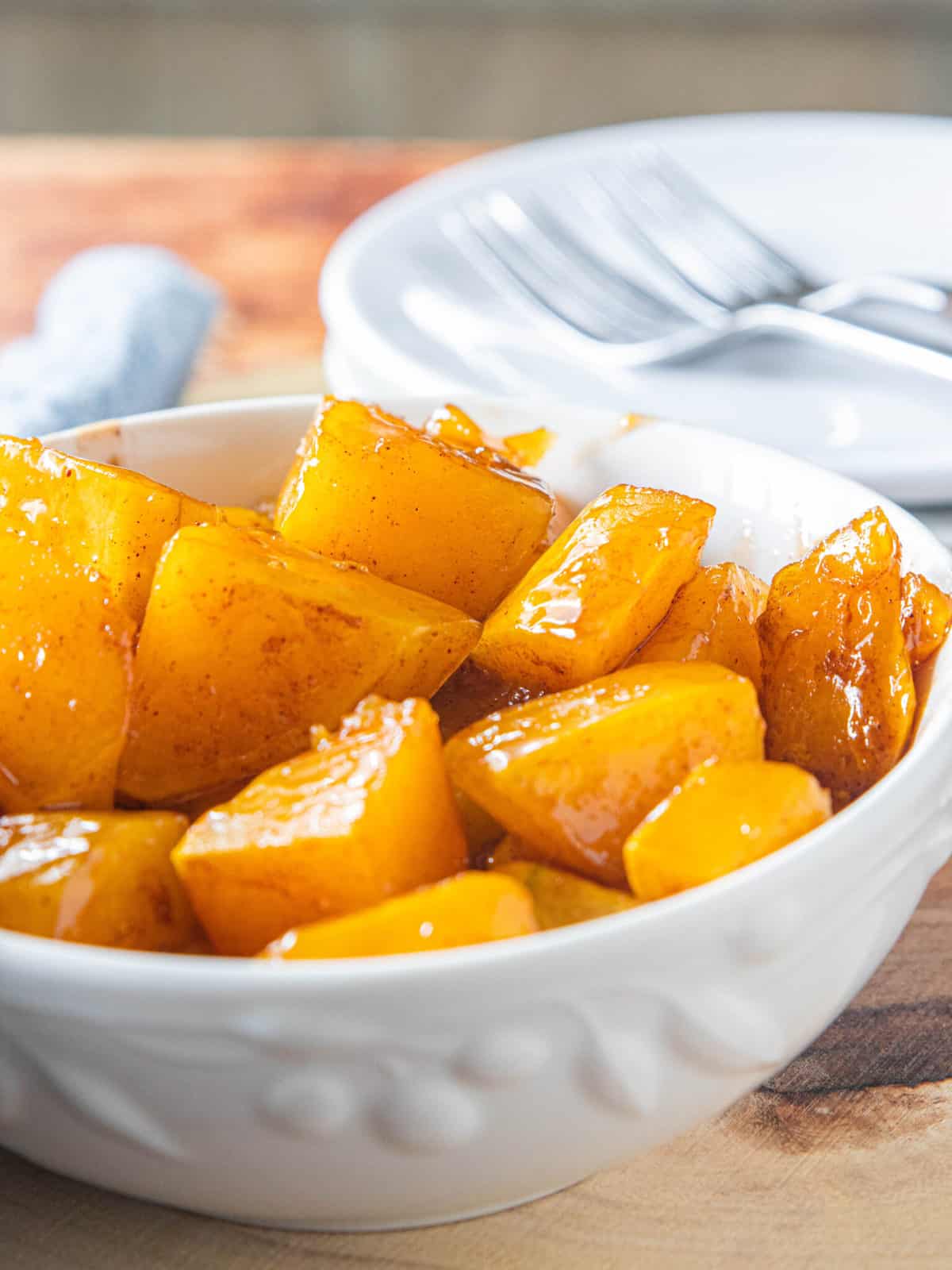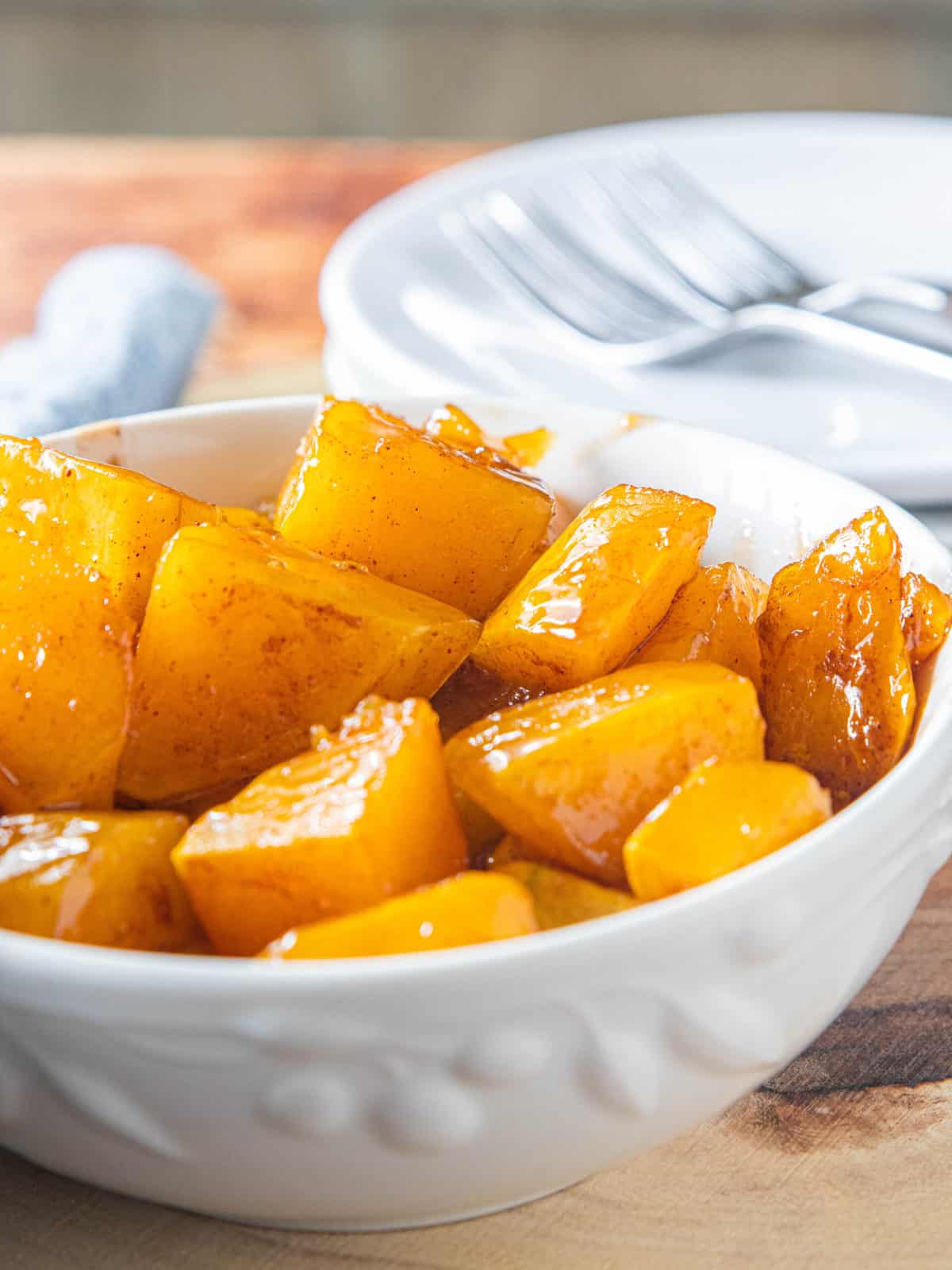 Thanks to Produce for Kids for sponsoring this post!
If you're like me and have kids who are leery of this bright orange veggie, keep reading because this is the perfect butternut squash recipe for toddlers, tweens, and adults.
When I worked in school foodservice I quickly saw first hand how important presentation and flavor is when it comes to veggies - and kids eating them.
I developed this simple roasted butternut squash brown sugar recipe for kids, but it turned out to be my favorite as well.
Before I get to the recipe, here is a list of other butternut squash recipes to try as well.
Butternut Squash Recipes
Maple Roasted Butternut Squash
Slow Cooker Butternut Squash Soup
How To Cook Butternut Squash Soup in the Crockpot
Check out how easy this caramelized squash recipe is to make:
How To Make Roasted Butternut Squash with Brown Sugar
Start by peeling and scooping the seeds from the butternut squash. Use a vegetable peeler to peel the outside of the squash and a spoon to scoop out the seeds after slicing it in half.
Kitchen Tip: Cutting the squash in half isn't too difficult if you buy a medium to small squash and use a sharp knife.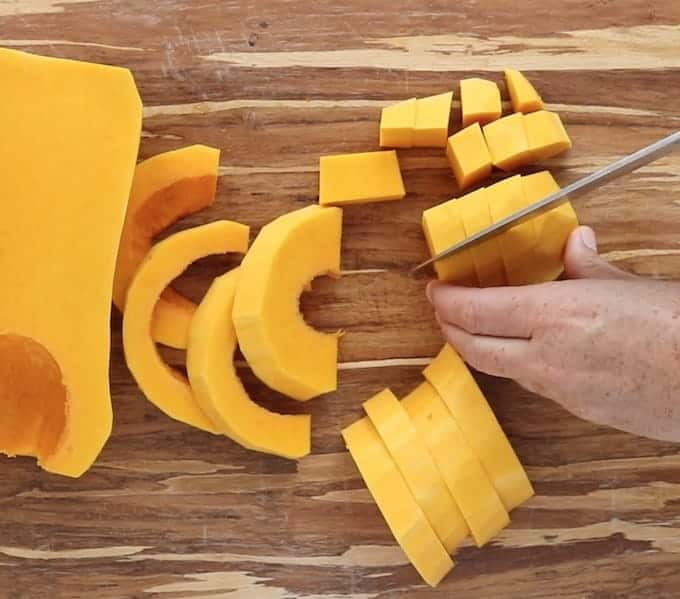 Next, blend brown sugar, cinnamon, salt, and pepper into melted butter in a small bowl.
You could season the squash with nutmeg or allspice for a flavor substitution.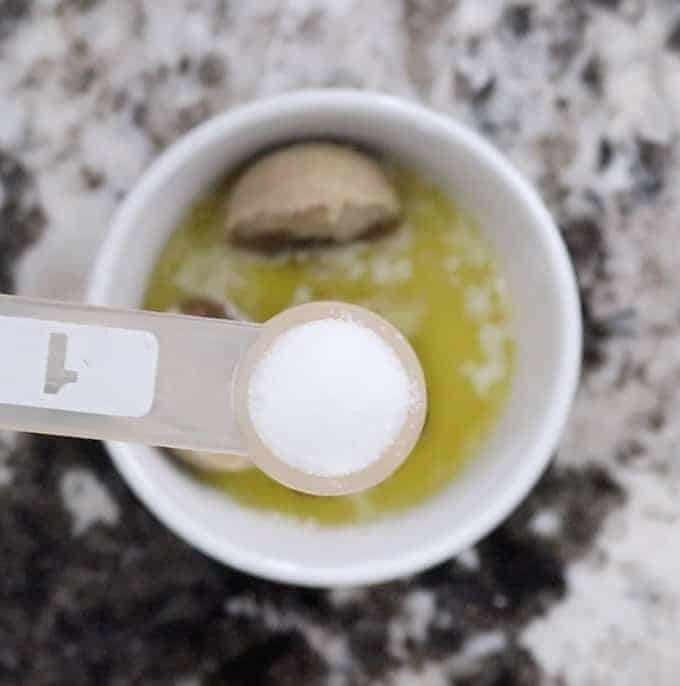 Pour the butter mixture over the squash, using a spoon or spatula, blend well.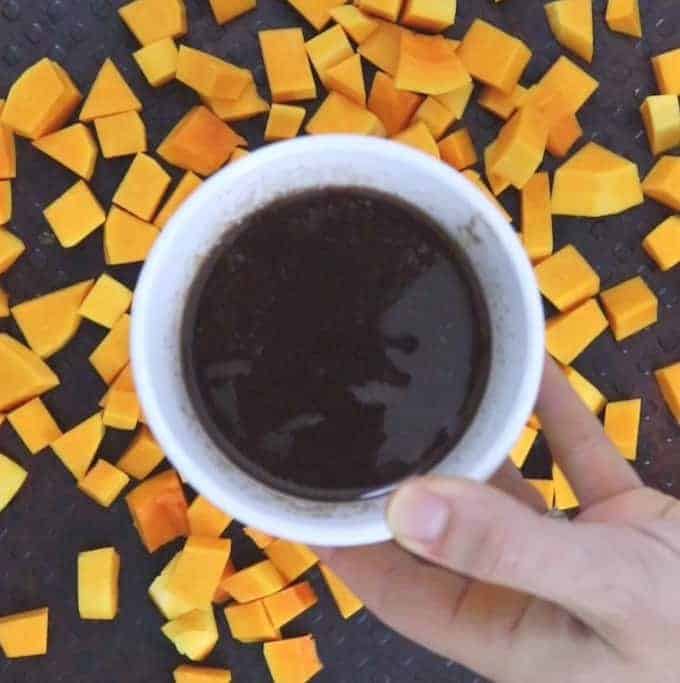 Bake for 25-30 minutes, flipping squash with a spatula halfway through.
Serve immediately or refrigerate and reheat in the microwave or oven.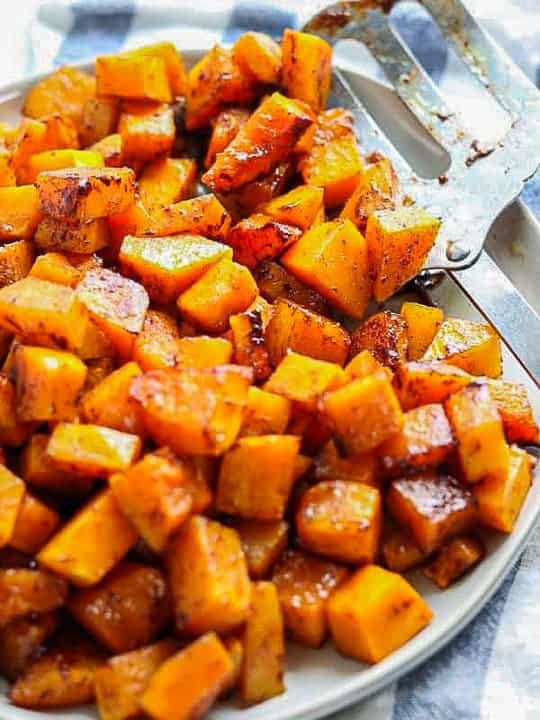 I recently made this recipe again and my 12-year-old son asked from the living room, "what smells so good?!"
I think he thought there was a pie baking, that's how good this roasted butternut squash recipe for kids smells as it bakes. Give it a try today and let me know what you think!
I love serving roasted butternut squash with brown sugar with Baked Chicken Thighs, Tater Tot Casserole, and Baked Taco Cups.
Click here for more Squash Recipes or click here to find out more Ideas To Do With Butternut Squash.
How do you peel butternut squash?
Cut the ends off the squash then peel with a vegetable peeler. Cut in half and remove the seeds. You can watch and see how to peel a butternut squash in the video above.
Do I need to peel a butternut squash before roasting?
This depends on what you plan to do with the squash. If you're making this recipe, then yes you do need to peel it first. If you're making a dish where the squash will be mashed, there is no need to peel it first. Simply let it cool after baking, cut in half, remove seeds, and peel the skin off or scoop the flesh out of the shell.
Can you eat roasted butternut squash skin?
Once cooked, the skin of a butternut squash gets much softer than when it's raw. It is edible to eat after baking.
If you enjoyed the recipe make sure to leave a comment and a star rating below! Then follow me on social media and tag #createkidsclub if you make the recipe. I love seeing what you come up with!
Delicious Recipes Sent Weekly
Subscribe to get our latest content by email.
Interested in more squash recipes? These might be of interest:
Mac & Cheese With Butternut Squash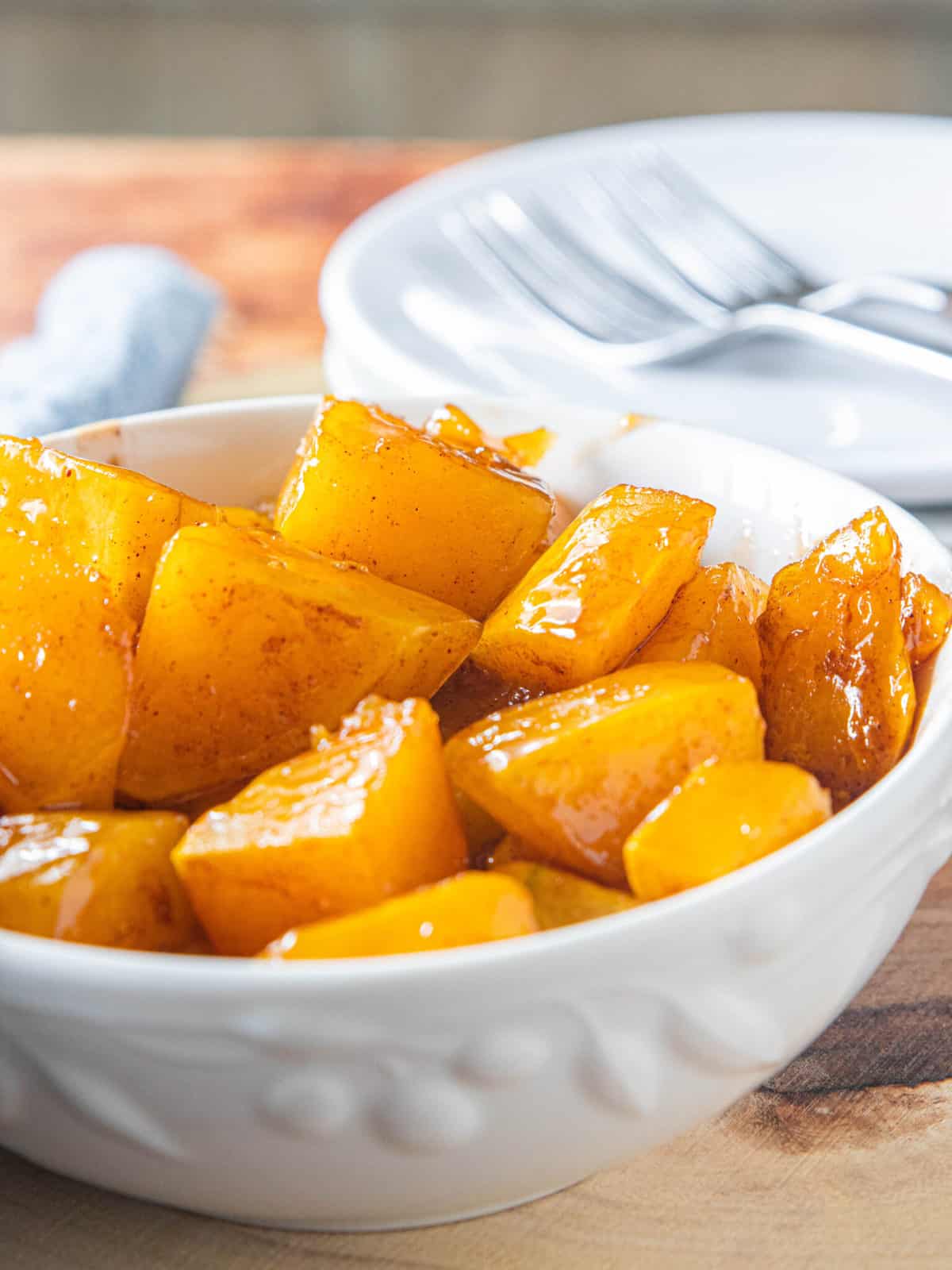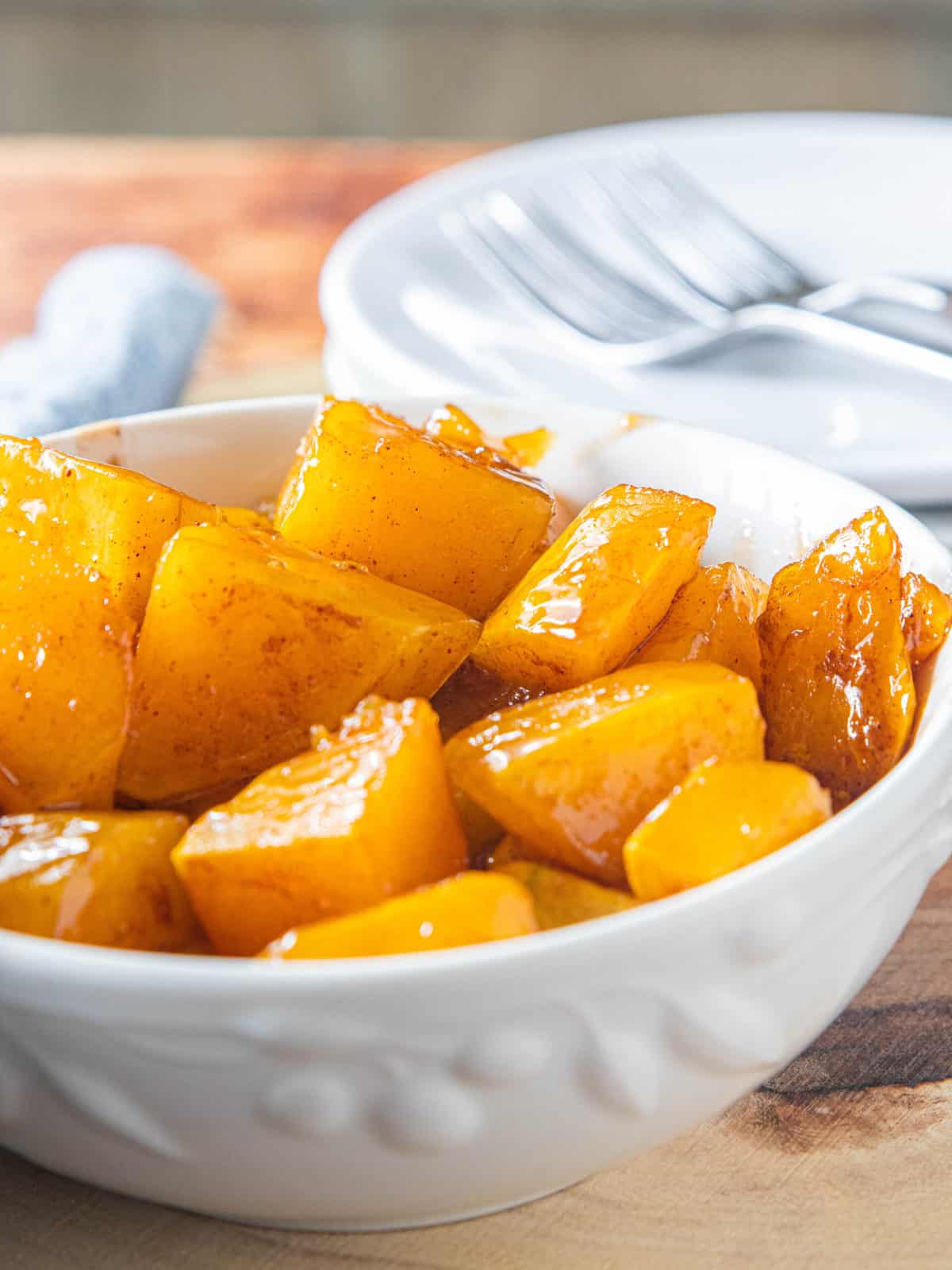 Ingredients
1

medium butternut squash

3

tbsp.

butter

melted

2

tbsp.

brown sugar

1

tsp.

cinnamon

1/2

tsp.

salt

1/4

tsp.

pepper
Instructions
Preheat oven to 400 degrees.

Peel squash using a vegetable peeler.

Cut in half, remove seeds.

Cut squash into similar sized cubes.

Place onto baking sheet.

Blend brown sugar, cinnamon, salt, and pepper into melted butter.  Pour over squash, and mix.

Bake for 25-30 minutes, flipping squash with a spatula halfway through.
SaveSaveSaveSave
SaveSave