No one can resist the combination of caramelized butter and sugar roasting with butternut squash.  This kid-friendly butternut squash recipe is a delicious side dish, a fall classic.
Thanks to Produce for Kids for sponsoring this post!
Butternut squash recipes…. Over the years, I have tried many.
In my home, butternut squash remains a cautionary yellow light food, meaning my kids proceed with caution.  They are still leery of this bright orange veggie which shows up in fall.  I love the comforting flavor of the squash and present it in new ways to get my family on board.
Today, I have a new strategy, and it involves butter and sugar.  You might be thinking butter and sugar have no place around veggies, it defeats the purpose.  I thought that once as well.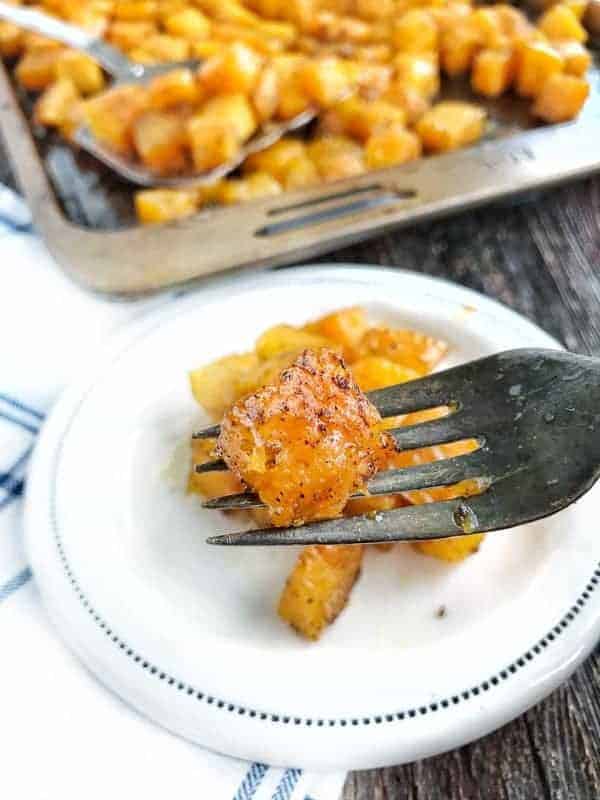 Let me tell you a story.  It's about a salad bar…
Imagine your old grade school cafeteria… the terrazzo flooring, the rows of tables and metal chairs. The mint green lunch trays…  That's where I was headed.  To be the lunch lady Foodservice Director, working to spice up the hot lunch program at my children's school.
My first task was optimizing veggies – with a salad bar.  Out went the Tupperware container of iceberg lettuce next to the tiny container of carrots.  Appetizing, it was not.
On the first day of school, the shiny new salad bar was ready for the children, I was thrilled watching children excited about veggies!
But I have a confession. I stretched the rules in that cafeteria. What did I do? I served full fat ranch dressing & I allowed children to come back to the salad bar for seconds.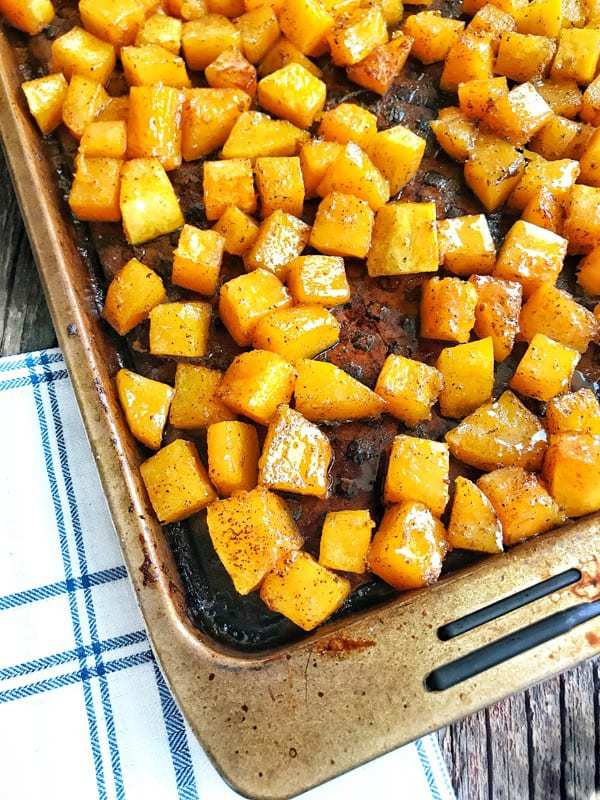 When the kids were finished with their meal and were still hungry, they could back for veggies (hunger is a great tool for getting healthy foods into children!).  I believe this taught kids to choose veggies more often.  I found that if kids could dip veggies in a flavorful dip they liked, they ate their veggies.  It was as simple as that.
I didn't start serving full fat ranch right away.  I served the fat-free variety and watched.  On fat-free ranch days, the news spread like wildfire and not so many veggies were eaten.   On full fat ranch days, the veggie consumption increased multiple times over.
I learned a lot from watching those children over the course of 3 years.  I have applied these lessons to my own home, maybe you'll consider doing the same.
So, I added the butter and sugar.  And it was delicious.  And my kids thought so too.
The butternut squash calories in this recipe?  Just 74.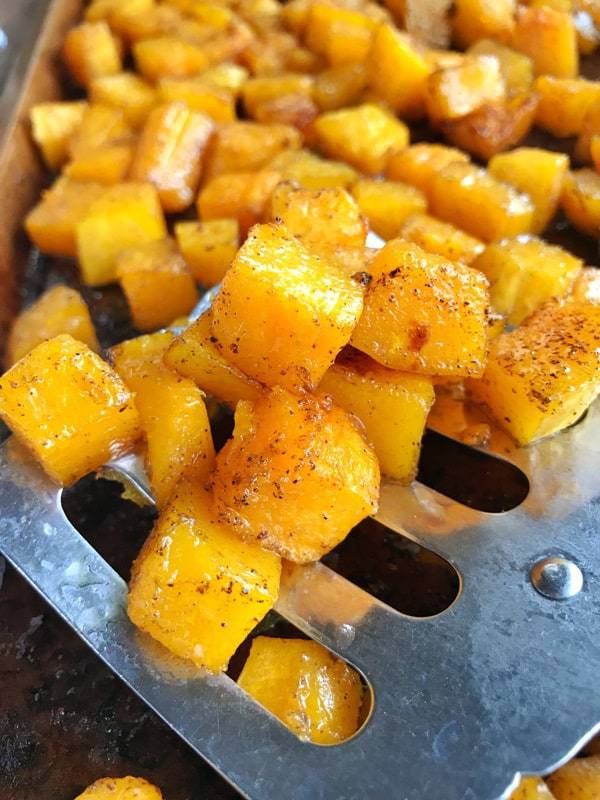 Delicious Recipes Sent Weekly
Subscribe to get our latest content by email.
Have you ever tried butternut squash in soup? It's surprisingly amazing and has become one of my favorite soups!  Check my favorite recipe, Crockpot Butternut Squash Soup.
Print Caramelized Butternut Squash
Author:

Yield:

6 people
---
Description
No one can resist the combination of caramelized butter and sugar roasting in the oven with butternut squash. This butternut squash recipe is a delicious kid friendly side dish, a fall classic.
---
Ingredients
1 medium butternut squash
3 tbsp. butter, melted
2 tbsp. brown sugar
1 tsp. cinnamon
1 tsp. salt
1/4 tsp. pepper
---
Instructions
Preheat oven to 400 degrees.

Peel squash using vegetable peeler.

Cut in half, remove seeds.
Cut squash into similar sized cubes.

Place onto baking sheet.
Blend brown sugar, cinnamon, salt, and pepper into melted butter. Pour over squash, and mix.
Bake for 25-30 minutes, flipping squash with spatula halfway through.
Interested in more squash recipes? These might be of interest: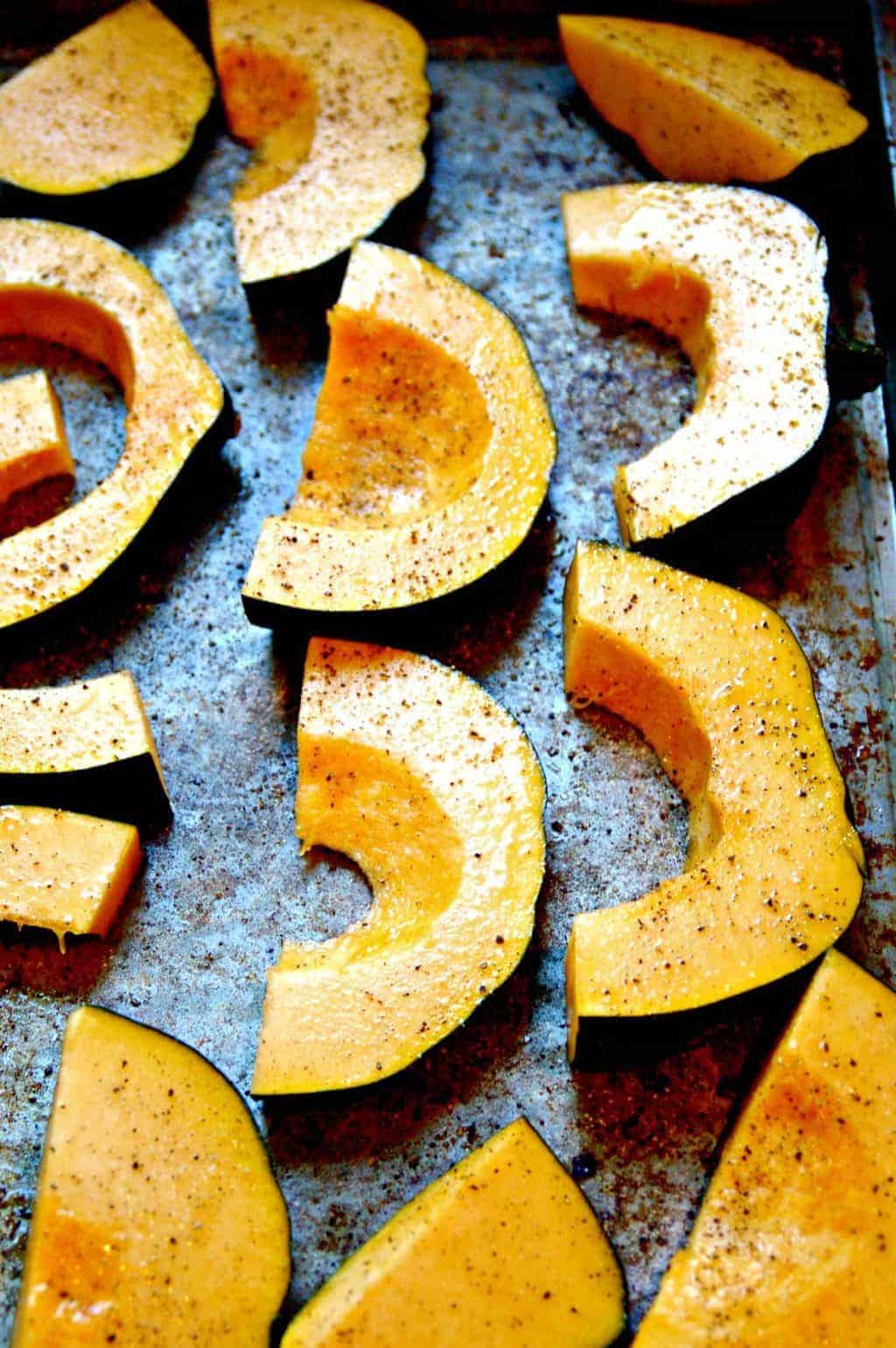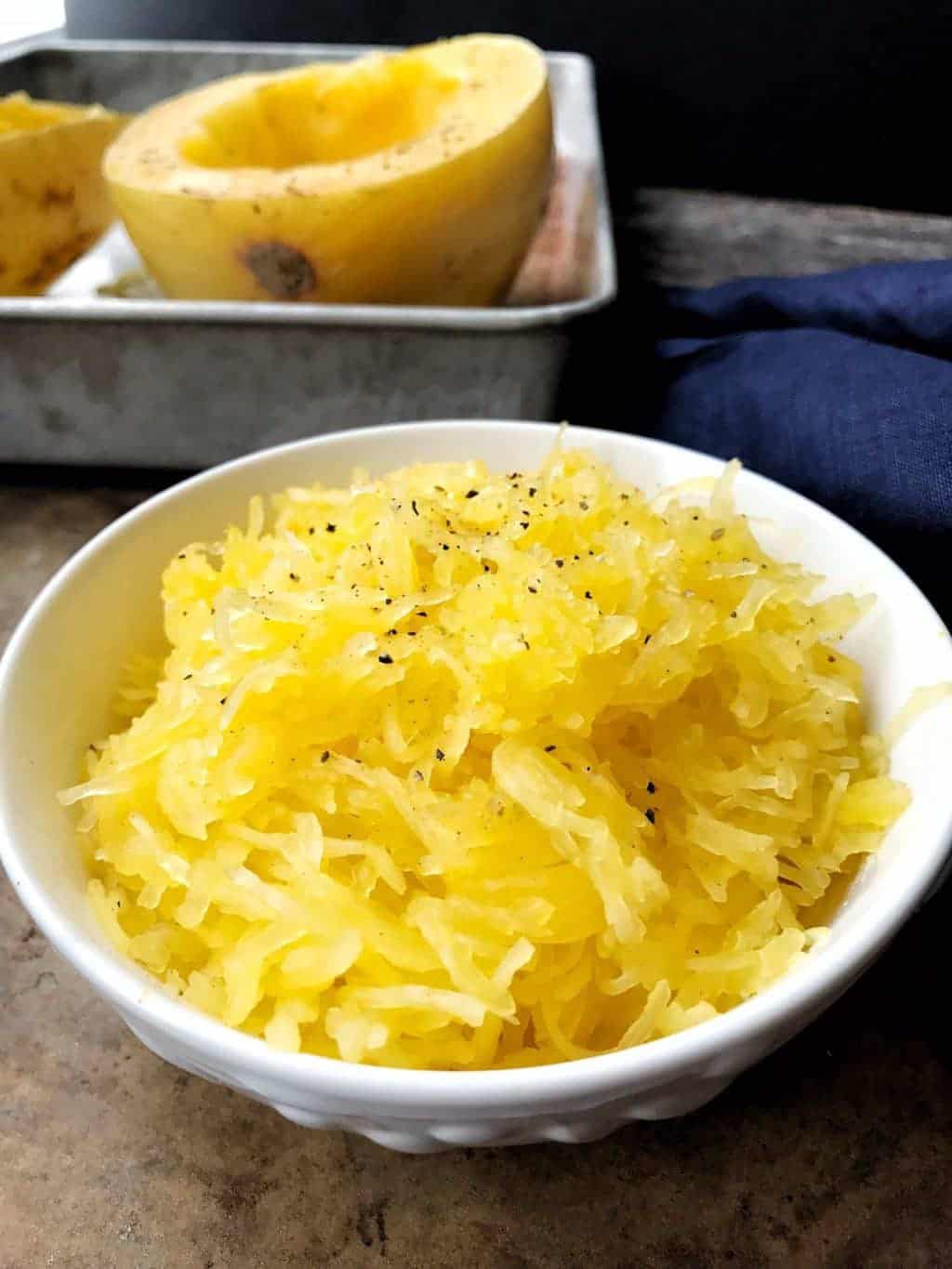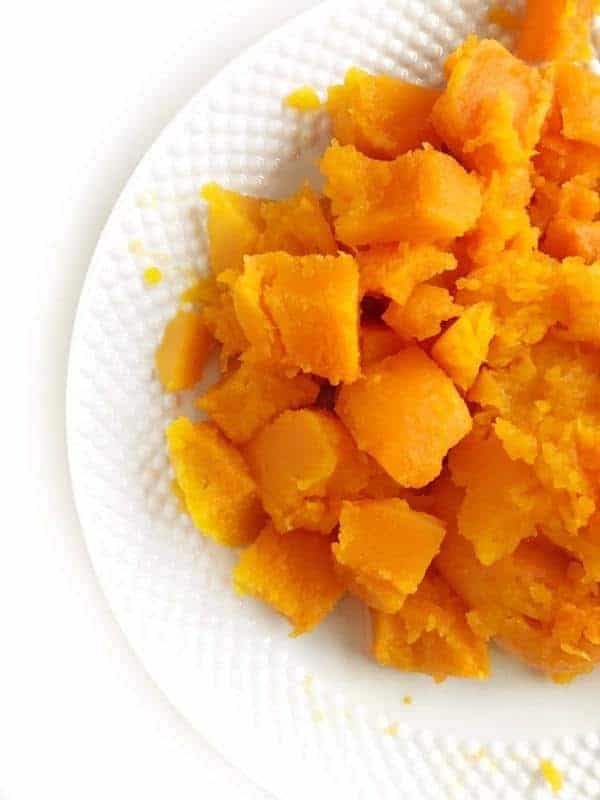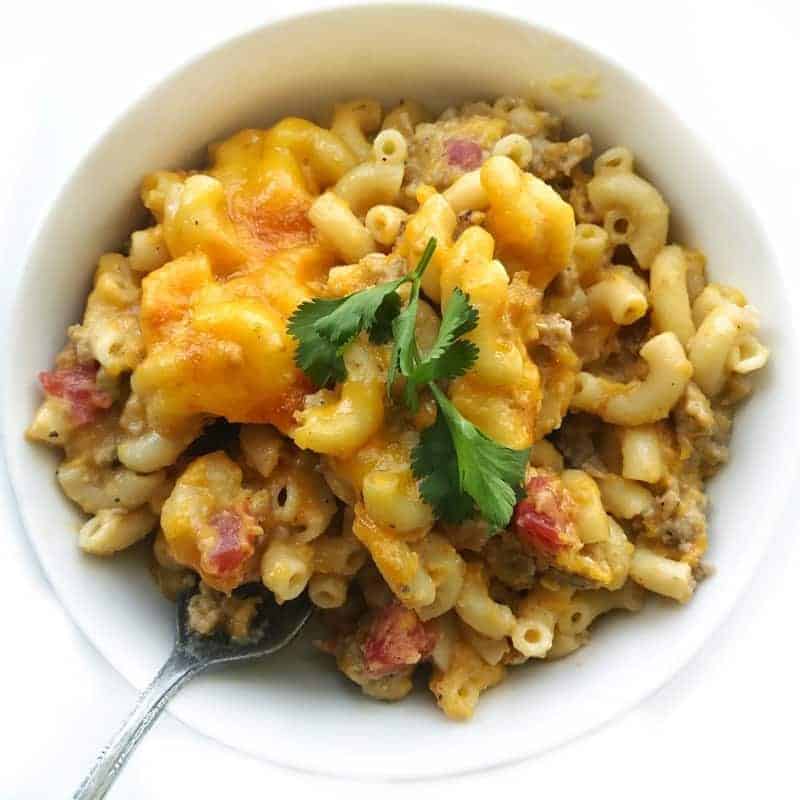 How do you feel about adding fat and sugar to veggies?  I'd love to hear about it below! 
PIN FOR LATER: 

SaveSaveSaveSave
SaveSave
SaveSave
FREE Kids Cooking eBook!
Do you want your children eating a more varied diet, but wonder how to get more fruit and veggies into their meals & snacks? This eBook is a fun filled way to get kids eating better while having age appropriate fun!