Did you know you can cook spaghetti squash in the crock pot or roast it in the oven? Hearty, easy to prepare, and extremely versatile, spaghetti squash is a vegetable to try with your family this week!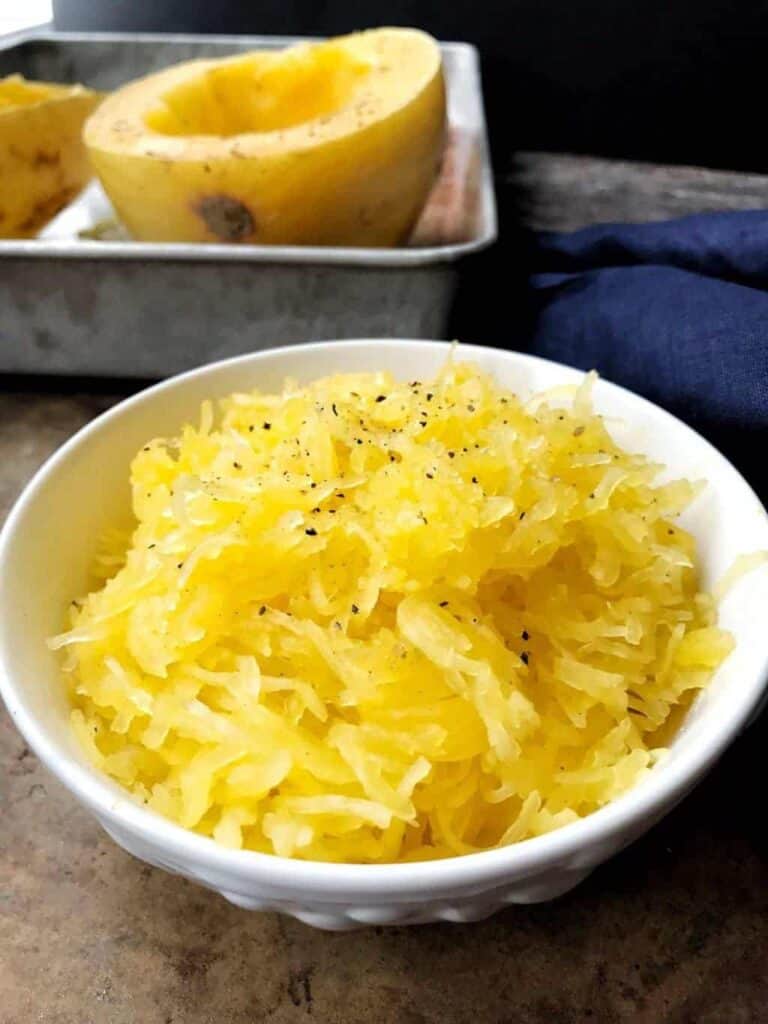 Do you ever look at that huge bin of squash at the grocery store and keep on walking because you have no idea what to do with them?
We are going to pick one of those squash from the bin today and take a further look into what to do with it and why you might want to. So grab the yellow oblong spaghetti squash, and keep reading to learn 2 simple ways to cook it: roasting in the oven, or steaming in the crock pot.
Spaghetti squash has been making a big come back in the last few years due to the low carb craze. The stringy insides make for a great pasta substitution. But that is not the only reason to enjoy spaghetti squash.
It is a fun vegetable the kids will love. Spaghetti squash is an oblong yellow winter squash. Once cooked, the flesh is scraped out with a fork into long thin strands that resemble spaghetti noodles. The taste is not as sweet as other winter squash.
Let's look at the nutritional difference between pasta and spaghetti squash.
There are about 220 calories and 43 grams of carbohydrate in 1 cup of pasta, buy clomid 25mg while 1 cup spaghetti squash has only 31 calories and 7 grams of carbohydrate. Spaghetti squash is also packed with vitamin C, vitamin A, antioxidants, dietary fiber and potassium.
Squash is actually classified as a fruit. According to botanists (those who study plants), a fruit is the part of the plant that develops from a flower, and contains the seeds. Stems, leaves, and roots of plants are considered vegetables. Many parts of the squash can be eaten, including the seeds and blossoms. You can even eat the shoots, leaves, and tendrils as greens – will we be seeing this on a menu soon? 🙂
Here are two simple ways to bake spaghetti squash. Which way do you prefer?
How to Roast Spaghetti Squash in the Oven:

How to Cook Spaghetti Squash in the Crock Pot:
How to easily cook spaghetti squash 2 ways.
Click To Tweet
Interested in learning how to cook Acorn Squash? Check out this post on How To Roast Acorn Squash.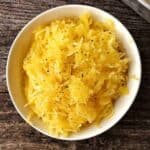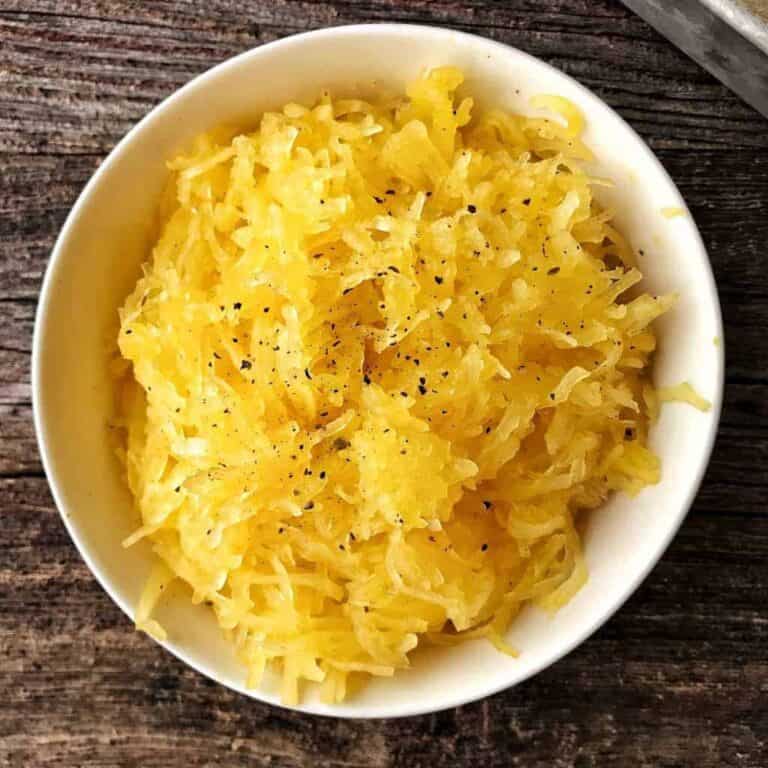 How To Roast Spaghetti Squash In The Oven
Roasted spaghetti squash can be used as a pasta replacement or as a delicious vegetable side dish.
Ingredients
1

whole

spaghetti squash

1

cup

water

salt and pepper to taste
Instructions
Preheat oven to 400 degrees

Wash squash, slice stem off squash with sharp knife, carefully slice in half, and scrape the seeds from middle of squash.

Season with salt and pepper.

Place squash cut side down in large baking pan.

Bake for 30-40 minutes or until easily pierced with fork.

Scrape insides from squash with fork. Enjoy!
Recipe Notes
Optional toppings: Marinara sauce, butter, grated parmesan or feta cheese
How to Bake Spaghetti Squash in the Crock Pot
Spaghetti squash can easily be cooked in the crock pot. Simply pierce the fruit, place it in the crock pot and add a cup of water.
Total Time
2
hours
5
minutes
Ingredients
1

whole

spaghetti squash

1

cup

water
Instructions
Wash squash and poke holes with fork, place squash in crockpot.

Cook on low for 4-6 hours or high for 1-2 hours.

Carefully remove and slice in half. Scoop seeds from squash and remove flesh with fork.



Recipe Notes
Optional Toppings: Serve spaghetti squash with marinara sauce or grated cheese.
Pin For Later:
If you enjoyed this post and would like more simple videos and healthy recipes sent to your inbox CLICK HERE to sign up for our weekly newsletter!
For more Side Dish Recipes Click Here.
Stay In Touch & Get Cooking!

Get Your FREE Crockpot Cookbook Now!
Get 10 tried & true Kid Approved Crockpot Dinner Recipe favorites!