Baked chicken thighs are the best chicken thigh recipe for kids. Our recipe is quick and simple, prepared just the way kids like. Chicken thighs are seasoned and baked into a delicious dinner. Gluten-free.
This baked chicken thigh recipe is very easy to make. It's perfect for those not yet comfortable in the kitchen, college students, and busy parents alike.
It can be made with bone-in chicken thighs or you can substitute boneless chicken thighs if you'd like as well.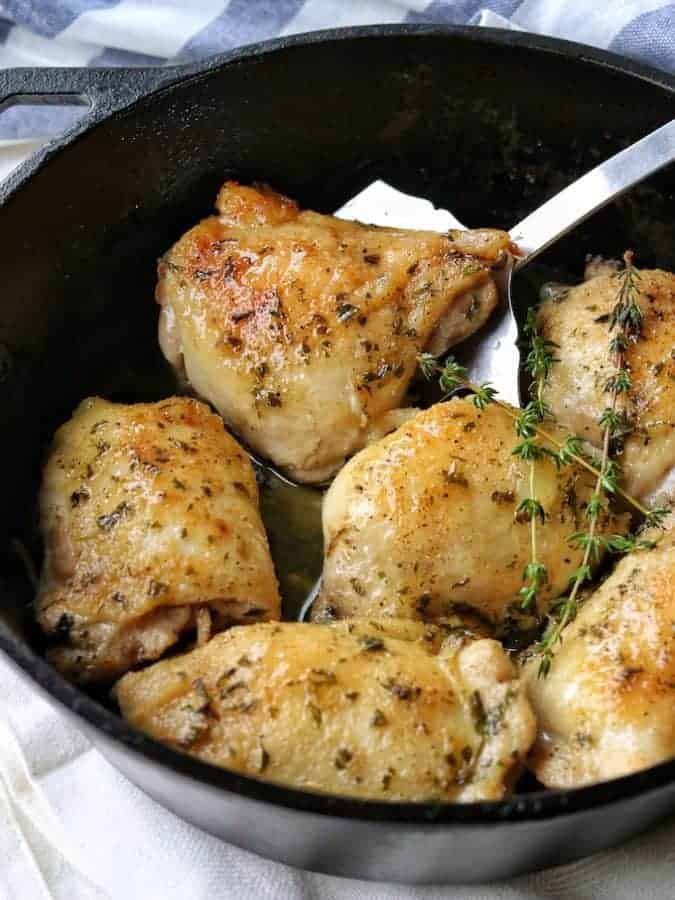 The flavor makes guests and family members think you slaved over dinner when really it will take 5 minutes to prepare the dish and you can relax while it bakes.
Are Chicken Thighs Kid-Friendly?
What they are: Chicken thighs are a portion of the leg that is referred to as the "dark meat". The meat has a darker color and a higher fat content than "white meat". As a child, my siblings and I always argued over who got the dark meat – it tasted the best! Chicken thighs also have a tender texture compared to the chewier chicken breast.
Why they're a great buy: Chicken thighs are everywhere for good reason. They are an exceptional value. Not only do they deliver the most flavor of any cut of chicken, but they are also far cheaper than chicken breast.
What Are Boneless Chicken Thighs?
This popular cut of chicken comes with both the bone and skin removed. It's quicker-cooking than bone-in thighs. This cut will run you a higher price tag as there is extra work done to the product. If you're looking for chicken recipes for kids and are used to using boneless, skinless chicken breasts, try these instead. They have more flavor and will be moister than a chicken breast, and kids love them!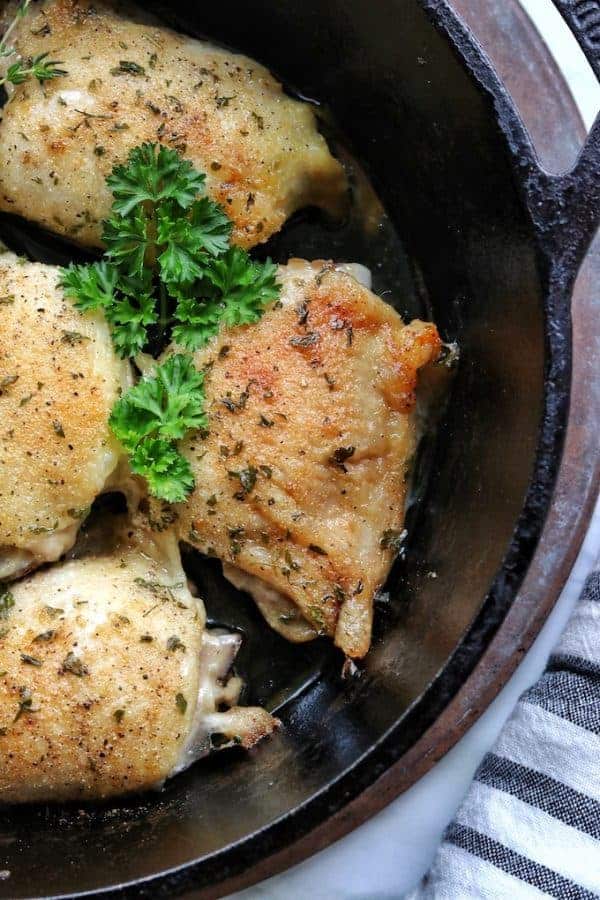 Chicken thigh recipes for kids are go-to meals at my home. I used to stay away from bone-in chicken thighs because I wasn't sure what to do with them and I wasn't sure how my family would like them.
I quickly found out the first time I made them that kids love chicken thighs! I typically made chicken breasts before this and I think my kids were amazed that chicken could be so juicy and moist, they ate their dinner that night with zero complaints.
How To Make
Making chicken thighs in the oven is a great way to get moist juicy chicken on the inside and crispy finger-licking deliciousness on the outside.
Follow these instructions if your chicken is not frozen.
Heat your oven to 400 degrees
Place the chicken thighs in a single layer in a baking dish or cast iron pan
Season with spices
Bake for 30 minutes, or until the internal temp reaches at least 165 degrees, with the

thermometer

not touching the bone
Kitchen Tip: For more flavor, while cutting fat and calories, bake the chicken thighs with skin on, then take it off after cooking. If you want to cut back on calories and fat, simply remove the skin before cooking.
You can bake chicken thighs from frozen or defrost them first. It's pretty easy to do.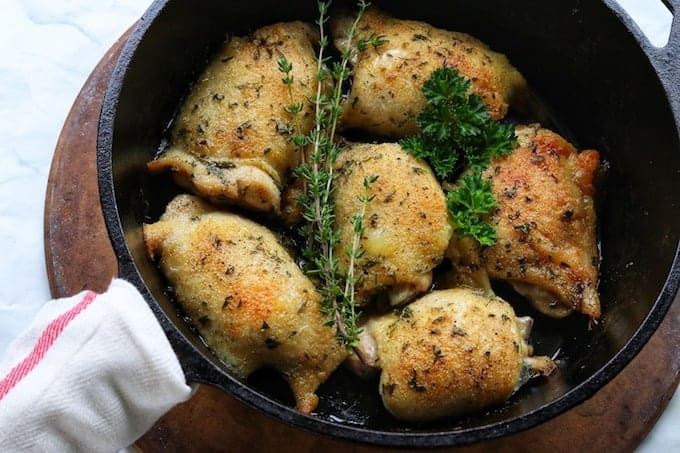 Substitutions
Spice combos to try include:
Lemon, Sage, & Rosemary

Garlic, Salt, & Olive Oil

Paprika, Chili Powder, & Paprika

Honey, Chili Powder, & Salt
These combos make delicious chicken thigh recipes for the oven. Upgrade this chicken recipe for kids even more by baking on a baking sheet with an assortment of veggies roasting alongside. Simply drizzle veggies with a little olive oil and season with salt and pepper. Let them roast while the chicken thighs bake in the oven.
FAQ
How Long to Bake Frozen Chicken Thighs In Oven?
To cook bone-in chicken thighs from frozen, simply increase the cooking time to 50-60 minutes. Make sure the internal temperature reaches 165 degrees using a thermometer. 

Not sure your thermometer is working correctly? Did you know you can quickly make a few adjustments to calibrate it for accuracy? Check out my post about How To Calibrate a Thermometer to ensure your kitchen thermometer is working properly. I believe using a thermometer fixes many kitchen problems when it comes to cooking meats. 
How Long To Broil Chicken Thighs?
If you'd like to get the chicken served more quickly, you can always broil your chicken thighs. It takes about 20 minutes to cook the chicken this way. Make sure the internal temperature of the thigh is 165°F or continue to cook until this temperature is reached.

Check out Crispy Broiled Chicken if you'd like more info on broiling chicken thighs. 
How Long To Boil Chicken Thighs?
If you're interested in boiling chicken thighs it takes about 30 minutes to cook through. The result is super moist chicken that can be used in a variety of ways. You can add herbs and veggies to your boiled chicken to boost the flavor. Head here to find out how to boil chicken. 
How to Defrost Chicken – Fast?
–Place the frozen chicken thighs in a leak-proof plastic bag, sealing tightly
–Fill your clean sink with cold water
–Place the sealed bag of frozen chicken into the cold water
–Changing the water every half hour, keeping the water cold
–For 1 lb of meat, it should take about an hour to thaw the chicken thighs.

How to Cook Chicken Thighs in the Slow Cooker?
Add chicken and seasonings to your slow cooker. Cook for 6-8 hours on low or 2-4 hours on high. Broil chicken thighs on a baking sheet for 3-5 minutes after cooking in the slow cooker to get the skin crispy. 
How Long To Reheat Chicken Thighs in Oven?

These chicken thighs make delicious leftovers. While you can reheat them in the microwave, they are much crisper and moist if you reheat them in the oven.

-Preheat oven to 325 degrees
-Arrange chicken thighs on a baking sheet
-Brush chicken lightly with olive oil
-Bake for about 20 minutes or until warmed through
Side Dish Parings
baby red potatoes, sliced

baby carrots

asparagus

green beans

diced butternut squash

sliced acorn squash

cherry tomatoes and sliced onions

Combinations of any of the above
If you're looking for something a little more exciting than roasted vegetables as a side dish, I highly recommend cheesy potatoes, mashed potato bites, green bean satay or baked zucchini crisps.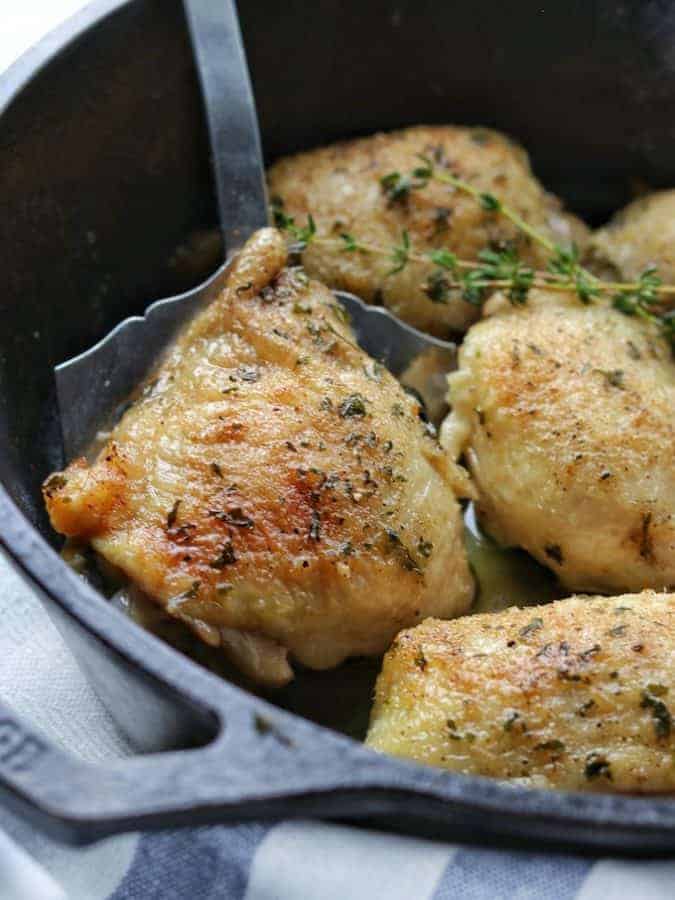 More chicken thigh recipes for kids:
Favorite chicken recipes for kids:
If you enjoyed the recipe make sure to leave a comment and a star rating below! Then follow me on social media and tag #createkidsclub if you make the recipe. I love seeing what you come up with!
Easy Baked Chicken Thighs
Baked chicken thighs are the best chicken thigh recipe for kids. Our recipe is quick and simple, prepared just the way kids like. Chicken thighs are seasoned and baked into a delicious dinner. Gluten-free. 
Pin Recipe
Print Recipe
Equipment
paper toweling

baking pan

measuring spoons

thermometer
Ingredients
6-8

bone-in chicken thighs

check for gluten free

1

teaspoon

garlic powder

1

teaspoon

onion powder

1

teaspoon

dried parsley

salt & pepper to taste
Instructions
Preheat oven and prep the chicken. Preheat oven to 400 degrees. Pat chicken thighs dry with paper toweling.

Season the chicken. Place chicken thighs onto a baking pan or in an oven-safe skillet. Sprinkle seasonings onto chicken thighs.

Bake. Bake for 30 minutes, uncovered or until your thermometer reads 165 degrees. For crisper skin, broil for 1-2 minutes, watching to not burn spices.
Notes
Cooking Frozen Chicken Thighs in the Oven
You can use fresh or frozen chicken in this recipe. To cook frozen bone-in chicken thighs, increase the baking time to 50-60 minutes. 
Nutrition
Calories:
487
kcal
|
Carbohydrates:
3
g
|
Protein:
36
g
|
Fat:
36
g
|
Saturated Fat:
10
g
|
Cholesterol:
212
mg
|
Sodium:
174
mg
|
Potassium:
504
mg
|
Fiber:
1
g
|
Sugar:
1
g
|
Vitamin A:
193
IU
|
Vitamin C:
2
mg
|
Calcium:
36
mg
|
Iron:
2
mg
This post may contain affiliate links which won't change your price but will share some commission.