This cheesy, creamy, healthy kids Mac & Cheese is a kid friendly dinner recipe. A one pot meal that's packed with flavor along with vital nutrients your family needs, all served up in a classic dish. This healthy kid meal may have squash, but no one will be able to tell.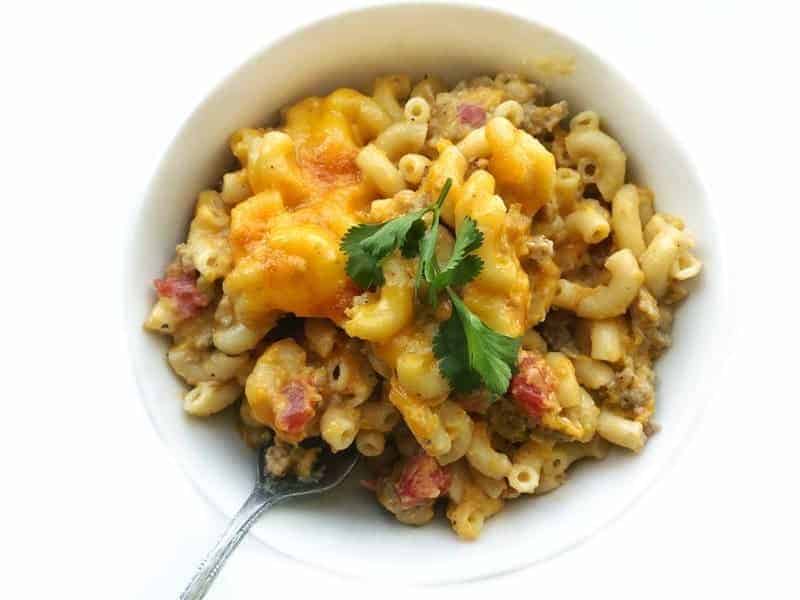 Kids and Vegetables | Healthy Kids Mac & Cheese
Per Fruits & Veggies More Matters, the average American meets just 43% of the daily recommended fruit intake and 57% of the daily recommended vegetable intake. On average, Americans are consuming about 2 cups of fruit and vegetables when the goal is 4-5 cups, daily.
I was quite surprised to see that 60% of produce intake was from vegetables and only 40% from fruit. In my home, this is reversed. I have no problem getting fruit into my children, but vegetables? I struggle.
So what are the leading vegetable being eaten by Americans?
It is no surprise that potatoes and lettuce top the charts for veggies and bananas, apples, and berries for fruit.
When discussing this at dinner, my husband pointed out that vegetables are probably passing fruit only because of the potato – specifically the deep fried variety of French fries. Seeing the leading veggie is a potato, I am inclined to believe this is the case.
The USDA states that since 1970, use of processed potatoes has rapidly passed the use of fresh potatoes in the United States. What changed? The innovation of frozen-french-fry processing techniques in the 1950s and the increasing popularity of fast food chains. This has lead to processed potatoes composing 64% of total U.S. potato use during the 2000s.
Let's not make potatoes, especially the fried variety, our main source of vegetables. There are so many other delicious options out there that are often times missed or overlooked. Such as the 47th ranked vegetable- squash.
The following recipe includes this delicious vegetable that blends seamlessly into the recipe, all without anyone knowing.
How to get kids to eat more veggies
This is a topic I stress about from time to time. When I was handed my Bachelors of Science Degree in Dietetics, I kind of felt like it came with a get out of (vegetable) jail free card — that I would be granted children who would sit down and choose carrots and apples for a snack, willingly, every day! Unfortunately, this is not the case. My children are the reason I learned to be creative on the vegetable front.
Instead of "hiding" vegetables in food, think of added veggies in a recipe as ingredients
My kids don't know every ingredient in every recipe. They certainly don't need to know that an ingredients is a vegetable they usually don't care for. I will happily take them eating the food, getting the nutrients, and continue to offer the not cared for food many times to work on acceptance.
Look at how delicious this one pan meal looks. My kids gobble it down, no questions asked, every time!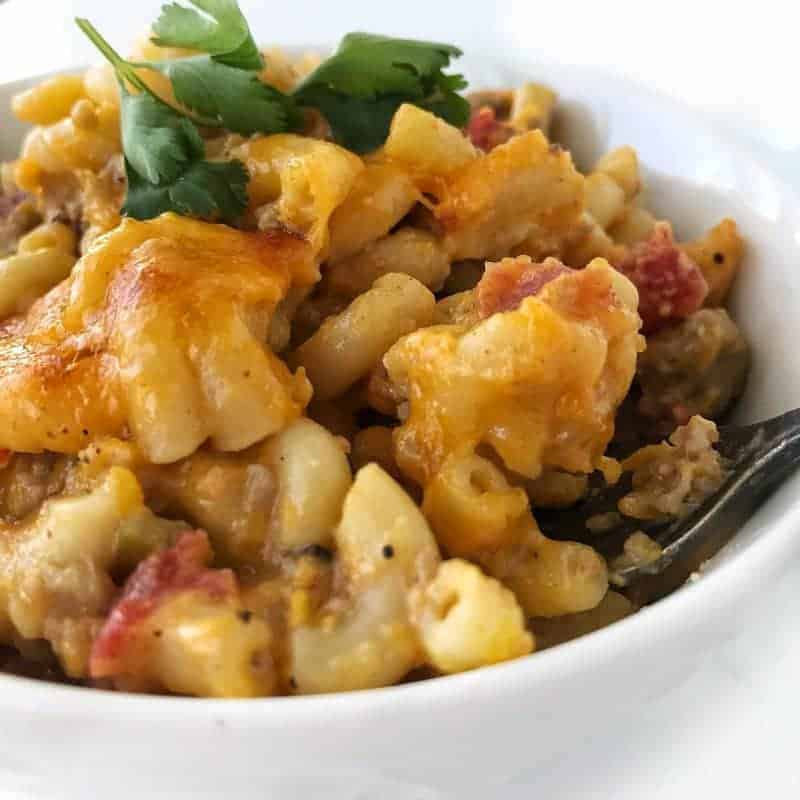 When they actually eat the "hidden" veggies they are getting the valuable vitamins and minerals that they wouldn't if they left it on their plate. Eventually I will share the information, but for now, it's not necessary. 🙂
I love that even at this time of the year, I can find squash at the grocery store.
It's not hard to cook the squash in the oven, but when you have to hack through a really hard easily rolling squash, then risk 3rd degree burns from the boiling water in the pan when removing from the oven, this method is much easier —> simply cook squash in the crock pot. Watch the short video to see how easy it is.
Does it get any easier than this? I cook the squash the day before, then put the whole squash back into the fridge after cooking to cut the next day.
This Healthy Kids Mac and Cheese recipe was adapted from a recipe I found in Food Network Magazine for Mac And Queso With Sausage. The recipe was a great base to start with, and worked wonders with squash. Check out the video to see how to make the recipe: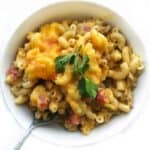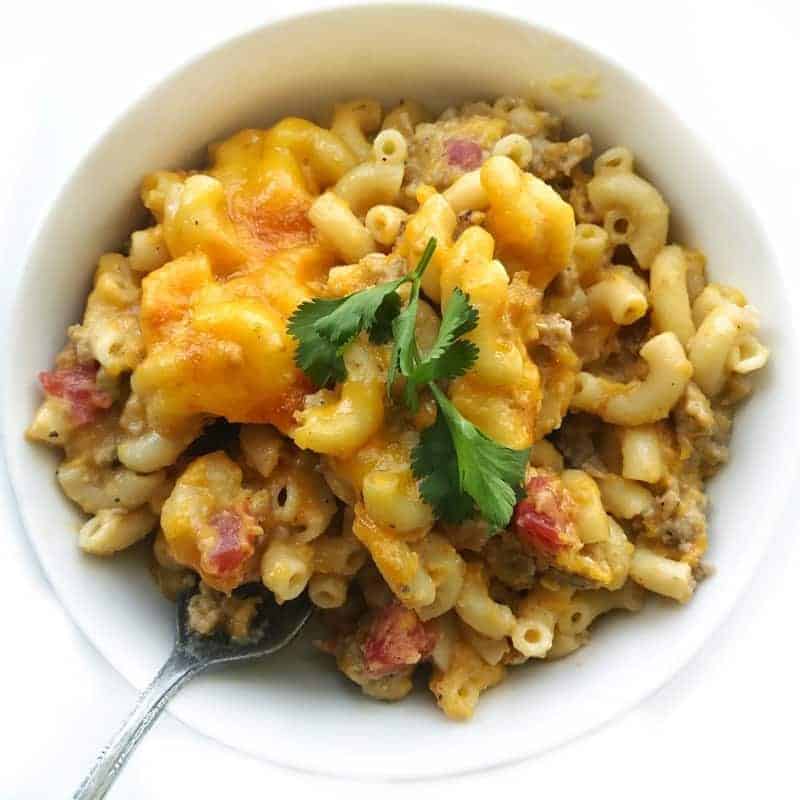 Healthy Kids Mac and Cheese
This creamy casserole will become a family favorite dinner. A one pot meal that is packed with flavor. Butternut squash blends seamlessly into this cheesy Mac & Cheese recipe for a delicious spin on the classic dish.
Ingredients
2

cups

dry elbow pasta (8 oz), cooked per box instructions

1

lb.

seasoned pork sausage, or ground beef

1

tbsp.

flour

2

tsp.

ground cumin

1

tsp.

chili powder

1

tsp.

salt

1

cup

1% milk

8

oz.

shredded sharp cheese, divided

2

large

eggs, lightly beaten

10

oz. can

Rotel tomatoes, drained

1

cup

butternut squash, cooked

1/3

cup

light sour cream
Instructions
Brown pork sausage in large oven safe sauté pan, then drain. Return meat to pan.

Whisk flour, cumin, chili powder, and salt into cooked pork sausage.

Over medium- high heat, slowly add milk, stirring well.

Add half (4 ounces) of the sharp cheddar cheese, stirring until melted, about 2 minutes.

Turn heat off. Whisk in eggs.

Turn heat to medium-low and cook until thickened, stirring constantly, about 2 minutes.

Stir in drained tomatoes, sour cream, and squash.

Add cooked pasta to pan and mix well.

Top with the rest of the cheese.

Place pan into oven. Broil for 3-5 minutes, or until cheese is bubbly and slightly browned.
Recipe Notes
Optional Garnish: Cilantro, chives, sour cream, or fresh tomatoes.
Nutritional Information Per Serving:
Calories: 415 kcal.
Fat: 23.9 grams
Carbohydrates: 27.4 grams
Protein: 21.6 grams
I'd love to hear what your theory is on vegetables and children. Do you fall into the percentage of Americans who eat more veggies than fruit?
Don't Forget To PIN For Later!

No Time To Cook?
Make dinner a breeze with these 10 Kid Favorite Crockpot Recipes! Get your FREE eBook Now!