A Slow Cooker Chicken Cacciatore Recipe using loads of tomatoes, peppers, onions, and mushrooms.  A delicious variation of traditional Chicken Caccatorie your family will love.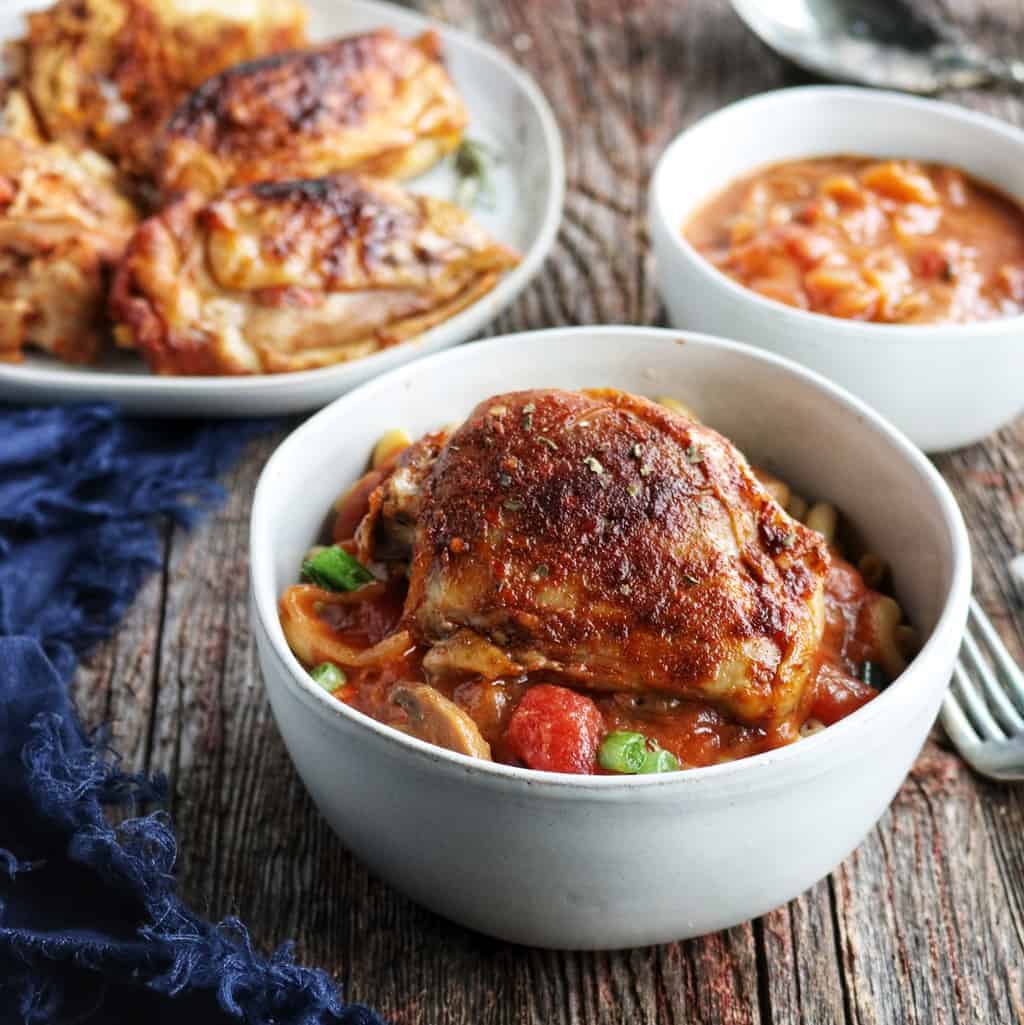 If you read the blog, you know I love my slow cooker (or as we call it here in the midwest – the crockpot).  I give this kitchen gadget props for helping busy moms get healthy meals on the table with no sweat.
This post came to be a bit backward.  I was simply looking for something to make for dinner using frozen chicken thighs (a freezer staple at my house).  I came across the most delicious looking dinner on Pinterest and smiled brightly when I saw whose recipe it was.
This stunning dinner meal was courtesy of Katie at Healthy Seasonal Recipes.  I smiled seeing this because I've had the joy of being in Katie's food photography session while at Blog Brulee a couple years ago.
You can check out her version of this recipe here. The recipe below is inspired by  Katie's. 
After I stumbled upon Katie's recipe, I got to work using ingredients and flavors my family enjoys.  By the time I was done, my recipe looked nothing like Katie's ingredient-wise but was certainly on a similar path.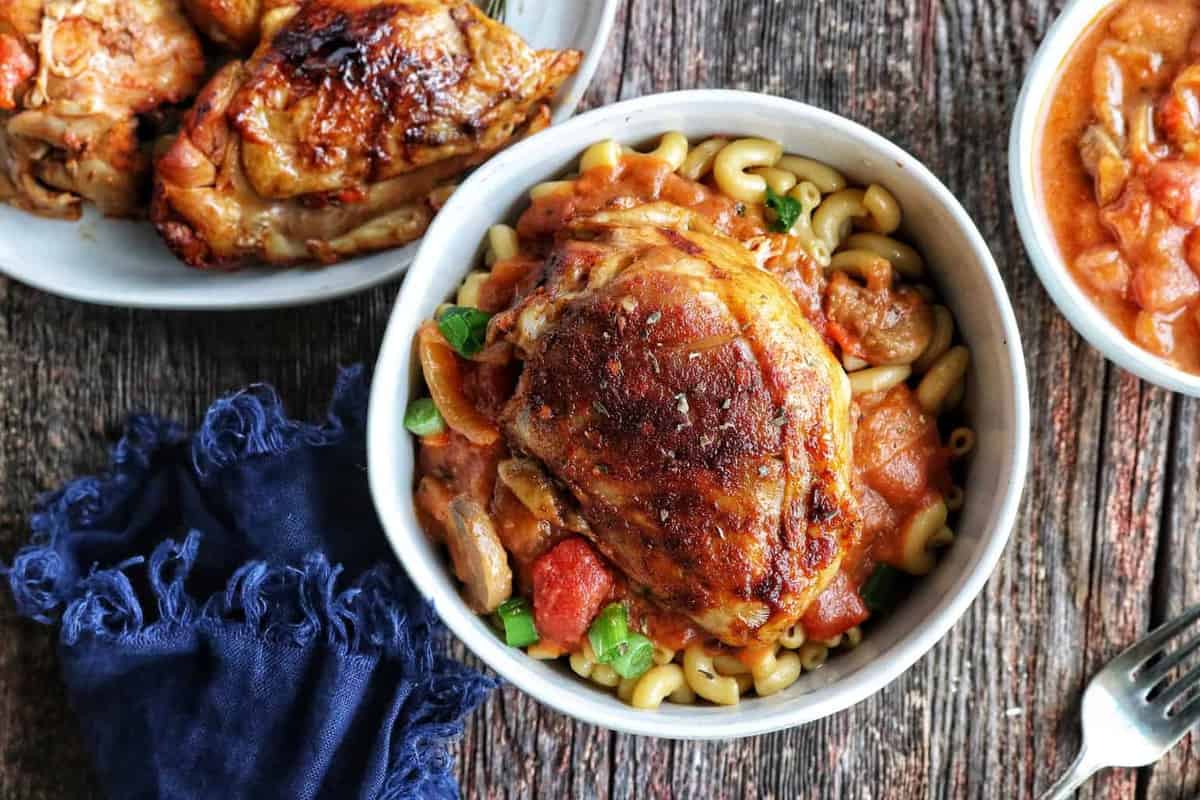 I snapped photos along the way for my Instagram stories.  Here's what this dish looked like after cooking all day in the slow cooker: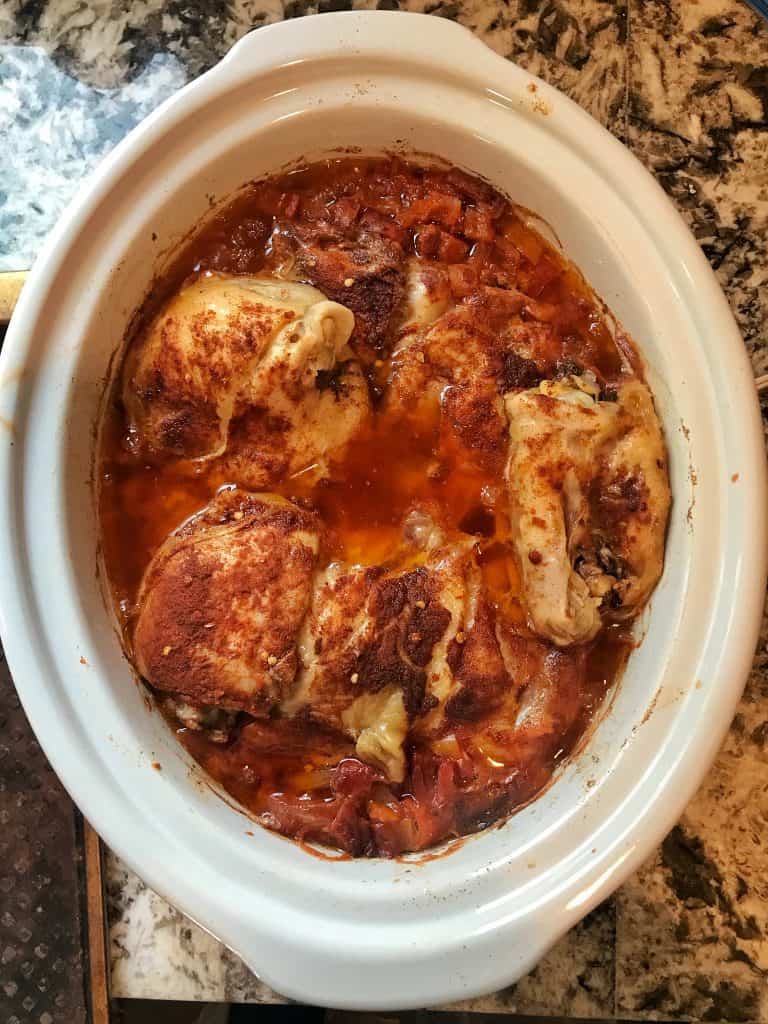 Now I love my crockpot, but sometimes you have to take an additional step to up the crockpot game.  In the case of chicken thighs, it's a quick 2-3 minute broil.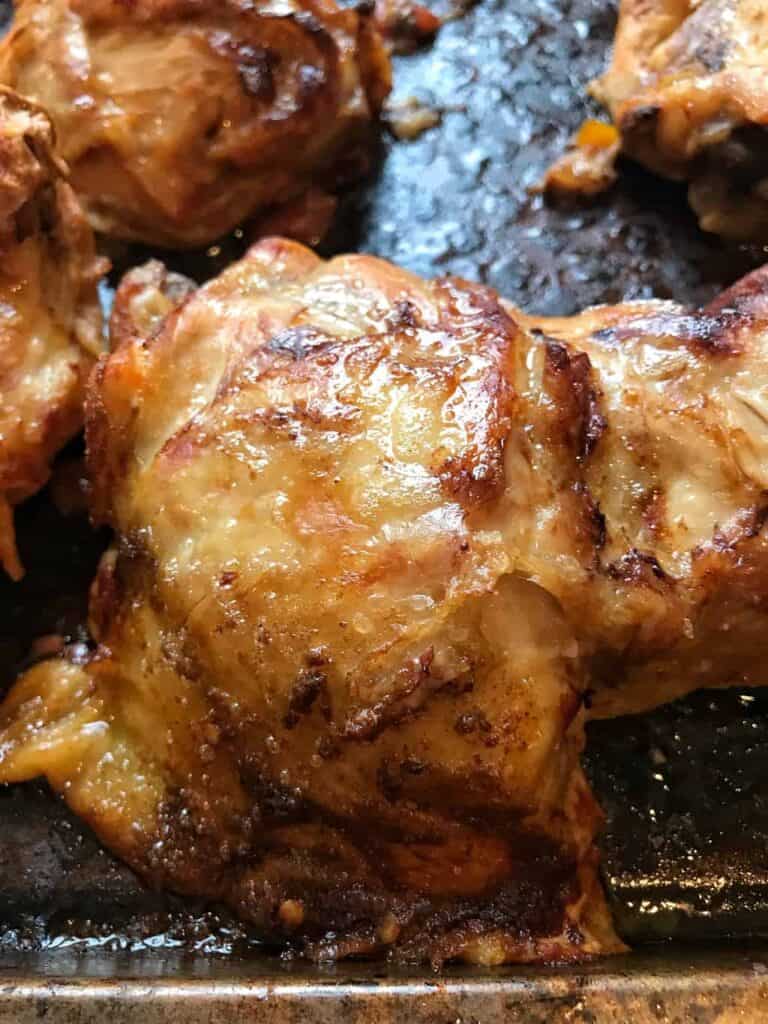 Broiling chicken thighs after they have cooked in the crockpot all day, crisps the skin and makes it all the more delicious and more appetizing as well!
I didn't plan to post this recipe, it was simply dinner one night. But then I got a new camera… And I was itching to find something, anything, to photograph!
He quickly got bored with me, and my kids were at school. I decided to pull out 3-day old leftovers and give them a go.
A trick I love using to thicken sauces is to use dry potato flakes.  It thickens quickly without having to use a roux or flour.  You will find this in the recipe below, I hope you give it a try and let me know your thoughts!
Print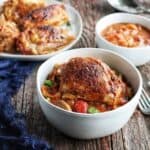 Slow Cooker Chicken Cacciatore Recipe
Author:

Prep Time:

10

Cook Time:

6 hours

Total Time:

6 hours 10 minutes

Yield:

10 servings

Category:

Dinner

Method:

Slow Cooker

Cuisine:

american
---
Description
A Slow Cooker Chicken Cacciatore Recipe using lots of tomatoes, peppers, onions, and mushrooms.  A delicious variation of traditional Chicken Caccatorie your family will love that is easy to prepare.
---
Ingredients
8-12 chicken thighs (I used bone-in, but you could use boneless as well)
28 oz can diced tomatoes
1/4 cup tomato paste
1 large onion, sliced
1 cup diced peppers
1 can sliced mushrooms, drained
1 tbsp. paprika
1 tsp. salt
1/2 tsp. pepper
1/2 cup instant potato flakes
1 tsp. dried basil
---
Instructions
Combine diced tomatoes and tomato paste in the bottom of the slow cooker.
Add sliced onions, peppers, and mushrooms.
Place chicken thighs on top.
Sprinkle with paprika, salt, and pepper
Cook on low for 6-8 hours or high for 2-4 hours
Preheat Broiler
Remove chicken thighs, placing on baking sheet. Broil for 2-3 minutes, or until chicken skins start bubbling and browning.
Whisk instant potato flakes into tomato and veggie mixture in the slow cooker, stir until thickened.
Serve chicken thighs topped with tomato sauce.
---
Notes
This dish goes well with pasta or rice, or enjoy with simply a side salad!
Makes enough for two meals – the leftovers are fantastic!
After photographing this slow cooker chicken cacciatore recipe, I decided that this recipe ranks up there as a favorite – because if leftovers can taste this good, I'm making this time and again.
I have Katie to thank for both the photography skills I can finally put to full use and for the inspiration for this fantastic kid-friendly dinner recipe!
Will you be trying the Slow Cooker Chicken Cacciatore Recipe anytime soon?! Let me know 🙂

FREE Kids Cooking eBook!
Do you want your children eating a more varied diet, but wonder how to get more fruit and veggies into their meals & snacks? This eBook is a fun filled way to get kids eating better while having age appropriate fun!