Greek Chicken thighs use boneless skinless chicken thighs featuring lots of garlic, olives and Greek yogurt served over your favorite rice blend. It's a family favorite dinner. Gluten-free.
If you love the taste of oven-roasted chicken, you won't want to miss out on this Greek Chicken Thighs recipe. The flavor alone is truly out of this world and after one bite, your taste buds will be begging for more. Simple to make for families on the go or just as a nice family meal to enjoy together at the end of a long week.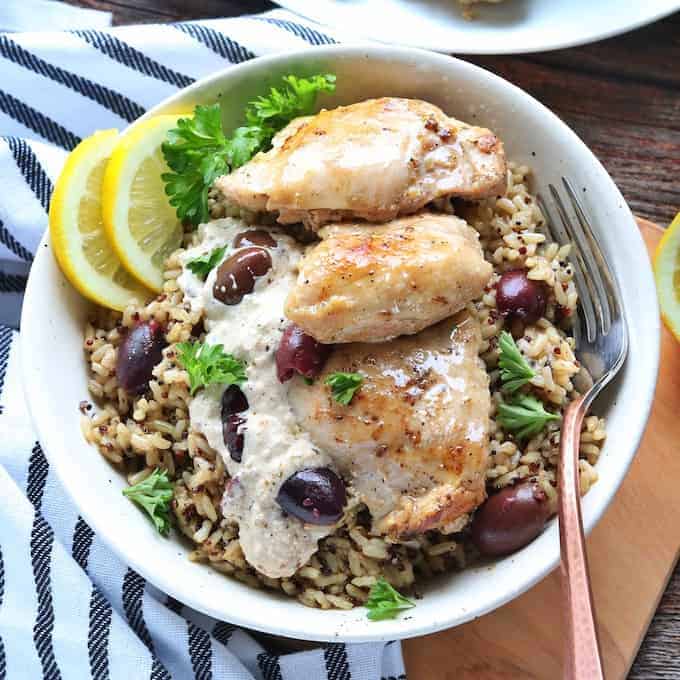 The difference between these roasted chicken thighs and other recipes out there is that the chicken in this recipe is cooked in a cast iron skillet. While it has the flavor of oven-roasted, it's actually cooked right on the stovetop.
If you're looking for a great recipe for chicken thighs in your crockpot, you can check that out here.
How To Make
Start by adding olive oil to your cast iron skillet and letting it get hot.
Kitchen Tip: You want the pan hot so that the chicken doesn't stick to the pan. A hot pan will sizzle and brown the chicken and release the chicken once it's ready to flip!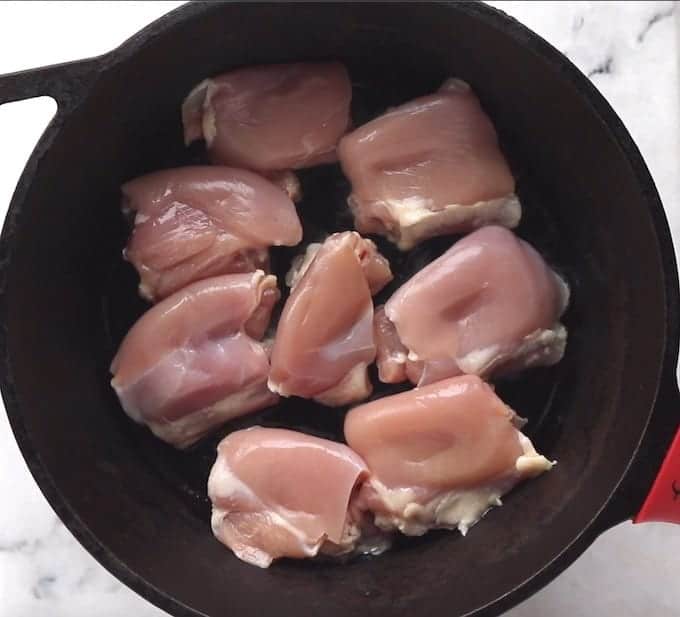 Once your cast iron skillet is up to temp, add your chicken thighs and let cook.
Lightly season with salt and pepper and allow your chicken to cook about 5-6 minutes on each side before flipping. Before deciding they are done cooking, the internal temperature on your meat thermometer should be at 165 degrees.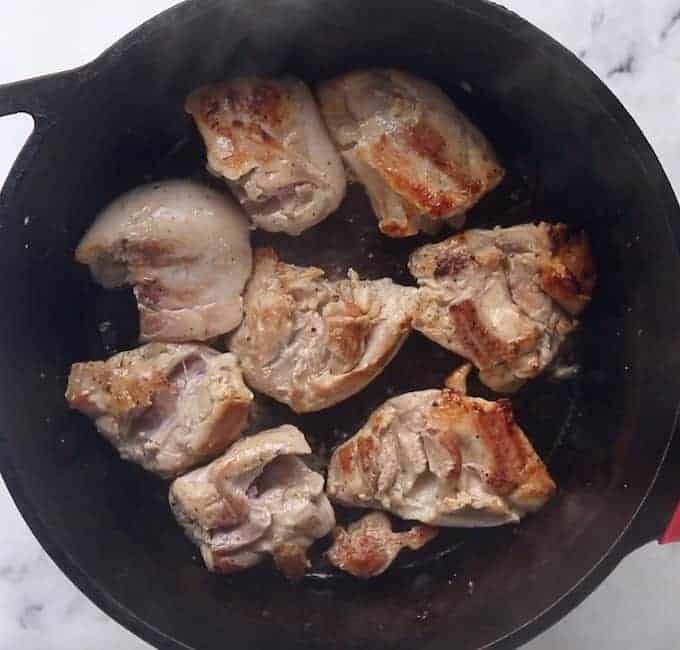 Once the chicken thighs are done cooking, remove them from the skillet and place them in foil to keep warm.
Pro Tip: Cover the chicken thighs with foil, sealing so heat doesn't escape.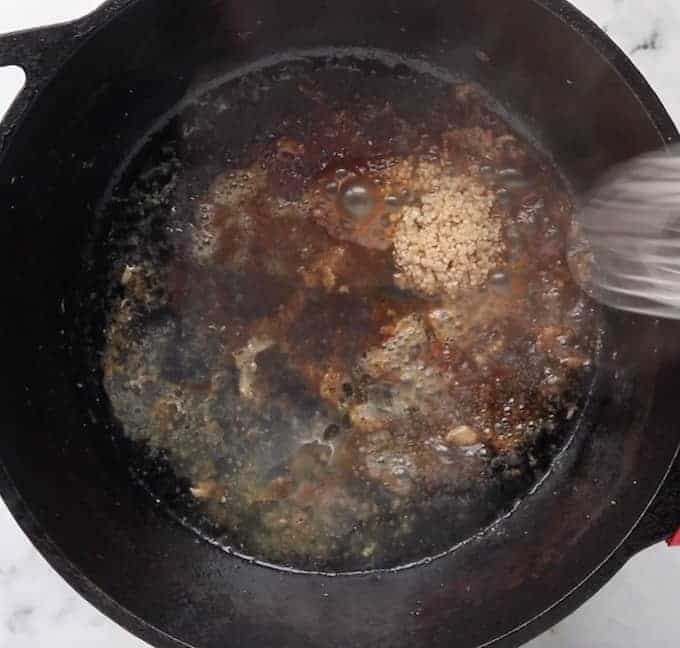 In the same skillet in which your chicken thighs cooked, add olive oil and lemon juice. Whisk together and let cook for about 1 minute. This makes a lemon chicken recipe that is to die for!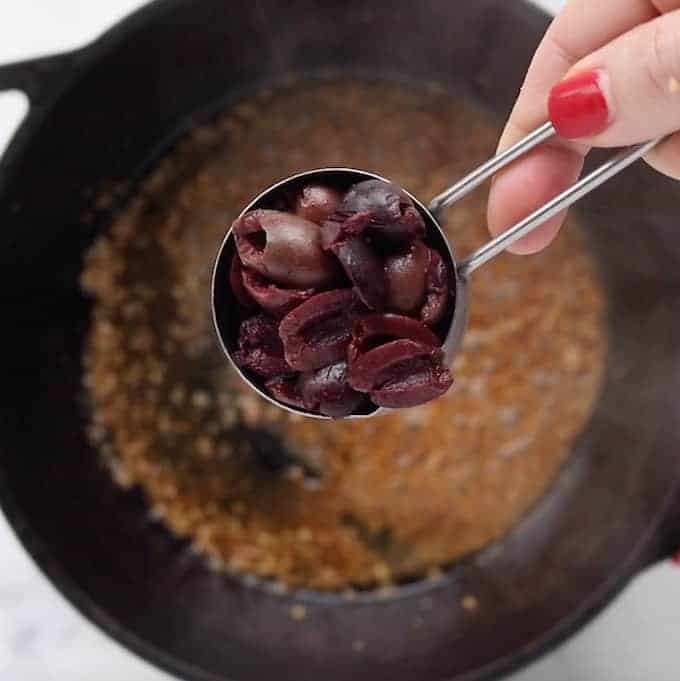 Next, add in your olives, oregano, and Greek yogurt.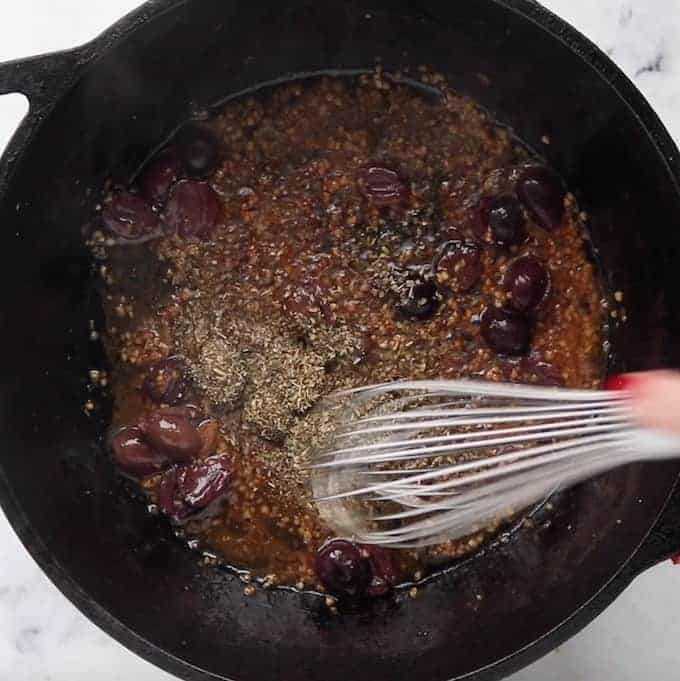 Once added, whisk everything together until smooth.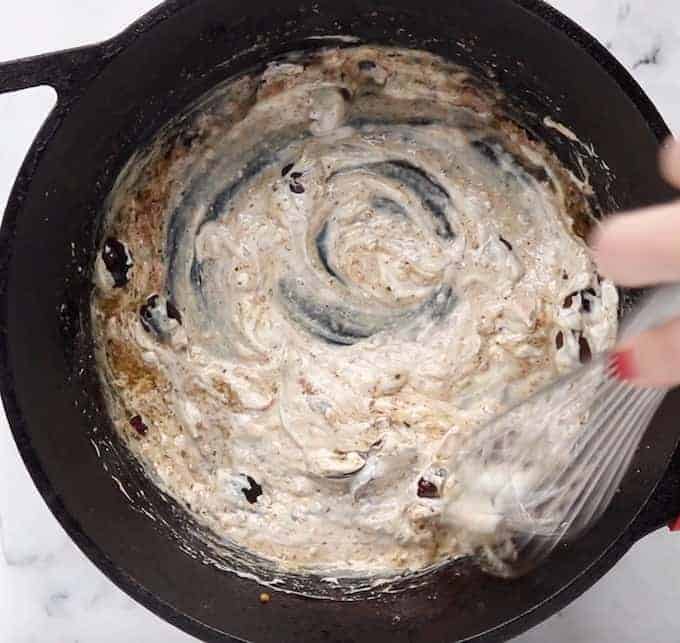 You should get a nice and creamy look like above and you'll notice that the sauce starts to get a little thicker as well.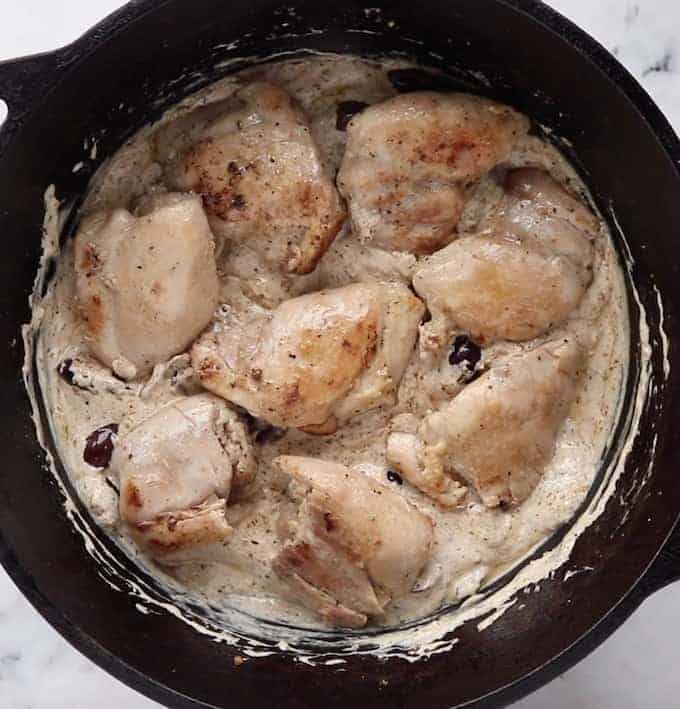 Open up your foil packet and place your cooked chicken thighs back into the cast iron skillet.
Proceed in coating with the sauce that you just created in the skillet, making sure the chicken is covered with the delicious sauce.
Pro Tip: If you're family likes sauce on the side (like mine), keep the chicken separate from the sauce and simply serve it on the side.
Once coated, remove the chicken thighs and place on top of rice, veggies or salad! Enjoy!
FAQ
How long do you cook chicken thighs on the stove top to know that they are cooked completely? 
The key to making certain that chicken is cooked all the way through is to use a meat thermometer and check the internal temperature. Chicken is considered done and safe to eat once your meat thermometer shows 165 degrees. (Don't worry, learning how to cook chicken isn't hard!)
Do you need to marinate the chicken thighs overnight for this greek lemon chicken?
No, this is a great part of this recipe. There is no overnight prep that has to be done at all. As long as your chicken is thawed and ready to go, you can move forward in cooking and preparing with ease.
If you decide that you do want to use a lemon-pepper seasoning or other types of blends for this recipe, that may require you to marinate overnight. 
Can I use coconut oil to cook the chicken thighs rather than olive oil?
If you want to swap out the oil from olive oil to coconut oil, you absolutely can. Just know that since coconut oil has a sweeter taste typically, it may change the flavor of the recipe a bit at the end. 
Is there a difference between chicken thighs and other chicken pieces? 
There is actually quite a difference between boneless skinless chicken thighs and other pieces or cuts of chicken. Chicken thighs are dark meat which usually means that they are more tender and moist to chew. It's all about preference when it comes to whether you like to eat light or dark meat! Most kids love dark meat because it's always juicy and hard to overcook. 
What do you serve with Greek Chicken Thighs?
The great part about this Greek Chicken Marinade recipe is that there are a ton of great side dishes and options that can be served with it.
If you enjoyed these recipes make sure to leave a comment and a star rating below!  Then follow me on social media and tag #createkidsclub if you make the recipe.  I love seeing what you come up with! 
Greek Chicken Thighs
Greek Chicken thighs use boneless skinless chicken thighs featuring lots of garlic, olives and Greek yogurt served over your favorite rice blend. It's a family favorite dinner. Gluten-free. 
Pin Recipe
Print Recipe
Equipment
cast iron skillet or large skillet

measuring cups and spoons

whisk

tongs

plate

tin foil
Ingredients
1

pound

boneless skinless chicken thighs

check for gluten free

1/3

cup

full-fat Greek yogurt

check for gluten free

1

lemon, jucied

1

tablespoon

minced garlic

1/4-1/2

cup

pitted kalamata olives

1-2

tablespoons

olive oil

1

teaspoon

oregano

salt and pepper to taste
Instructions
Brown the chicken. In a medium-sized skillet over medium-high heat, drizzle pan with olive oil. When skillet is hot, place chicken thighs into the pan. Season with salt and pepper and let cook 5-6 minutes or until the chicken is browned and releases from the pan. Flip chicken over and season again with salt and pepper. Let cook another 5-6 minutes or until internal temperature reaches 165 degrees. Remove chicken from the skillet, place on a plate covered with foil and set aside.

1 pound boneless skinless chicken thighs,

1-2 tablespoons olive oil,

salt and pepper to taste

Make the sauce. To skillet, add minced garlic and juice of 1 lemon.  Stir and simmer for 1 minute. Add olives, oregano, and Greek yogurt.  Whisk until smooth. Add chicken thighs back to skillet and coat with yogurt sauce.

1 lemon, jucied,

1 tablespoon minced garlic,

1/4-1/2 cup pitted kalamata olives,

1 teaspoon oregano,

1/3 cup full-fat Greek yogurt

Serve. Serve on top of your favorite rice or quinoa blend.
Nutrition
Calories:
213
kcal
|
Carbohydrates:
4
g
|
Protein:
14
g
|
Fat:
16
g
|
Saturated Fat:
4
g
|
Cholesterol:
75
mg
|
Sodium:
538
mg
|
Potassium:
216
mg
|
Fiber:
1
g
|
Sugar:
1
g
|
Vitamin A:
95
IU
|
Vitamin C:
10
mg
|
Calcium:
43
mg
|
Iron:
1
mg