Crockpot Quinoa Chicken recipe is a healthy slow cooker recipe your family is sure to love. Bright Mexican flavors blend perfectly forming a delicious family-friendly healthy crockpot meal.
Healthy crockpot meals
Slow cooker recipes make getting a healthy dinner on the table super simple. This delicious chicken recipe needs to be printed and saved for a day when you have 5 minutes to make dinner before heading out the door to work.
This healthy crockpot recipe can be made in a flash – it utilizes canned foods and only requires you to shred the chicken before serving this quinoa recipe with chicken.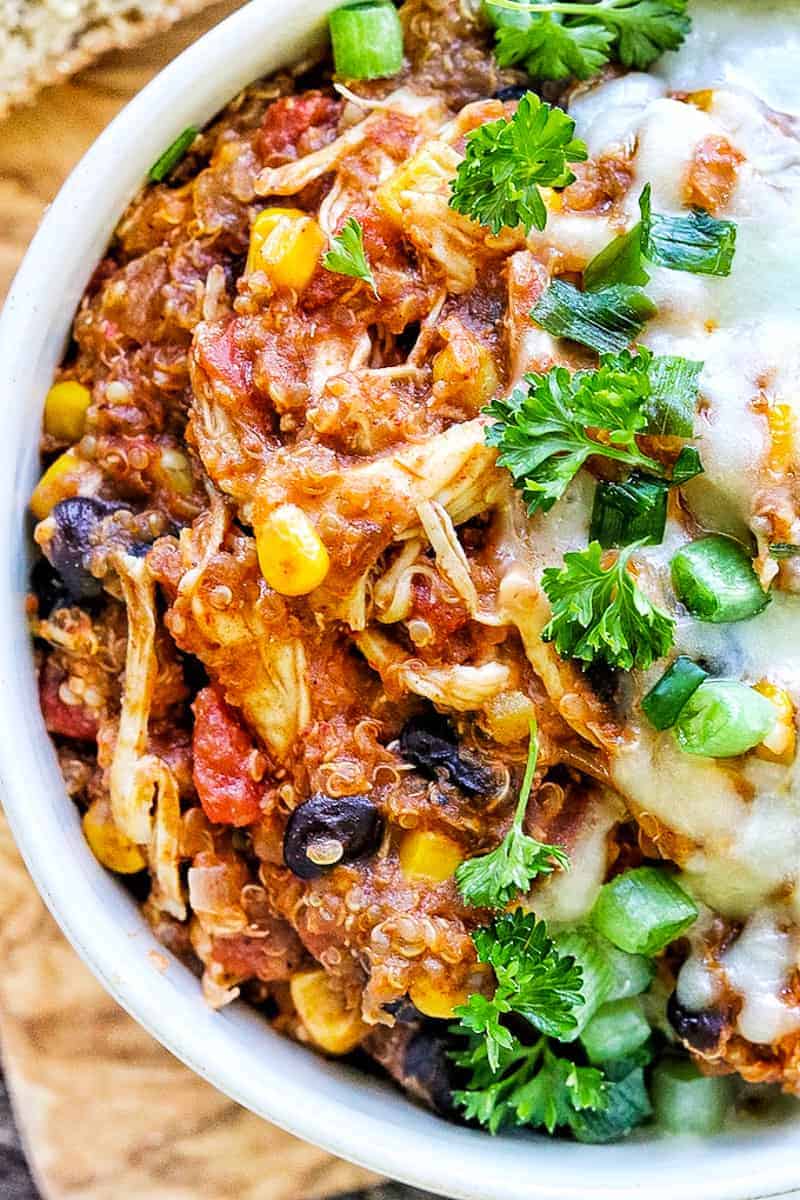 If you're searching for a healthy slow cooker meal that the entire family will love, this is the one for you. Plus, the ingredients of this recipe make for great healthy crockpot meals on a budget as well!
Keep reading for step by step instructions or check out the video here:
Simple tips for best results for using your slow cooker
Resist the urge to peek—keep the lid on. In meat, keeping the temperature anywhere from 160° to 205° F helps the collagen begin to gelatinize and results in a tender end product. Because the slow cooking process utilizes a little heat and a lot of time, it causes the collagen in the toughest cuts of meat to eventually break down, leaving you with shreds of tender, juicy meat.
Make sure leaner cuts of meat stay submerged in the cooking liquid (eg, broth, water, wine). This will ensure they don't dry out and stay juicy and tender. Cook lean cuts of meat on high so they don't dry out as quickly; fattier cuts will do better on low.
No need to presoak most dry beans and lentils. Slow cooking is one of the best ways to cook pulses perfectly every time. This inexpensive protein source is a great option for the slow and steady heat of the slow cooker. Note: Kidney beans contain a toxin that can cause gastrointestinal distress. You must bring them to a full boil on the stovetop for 10 minutes before adding them to the slow cooker.
Layer veggies appropriately to preserve their texture. Place hearty veggies like potatoes, squash, and sweet potatoes on the bottom of the slow cooker (dry pulses go here as well). Veggies that hold up well in the middle portion of the slow cooker include carrots, onions, and peppers. Delicate vegetables such as spinach, broccoli, and fresh herbs do best when added in the last 30 minutes of cooking.
Don't throw out the excess liquid. Simply mix it with a bit of flour, cornstarch, or a cooked roux. The result? Instant gravy.
How To Make
Add all of the ingredients, except the cheese and chicken, into a 4-quart crockpot

, stir.

Add chicken breasts
Cook on high for 4- 6 hours or on low for 6-8 hours
Stir in cheese before serving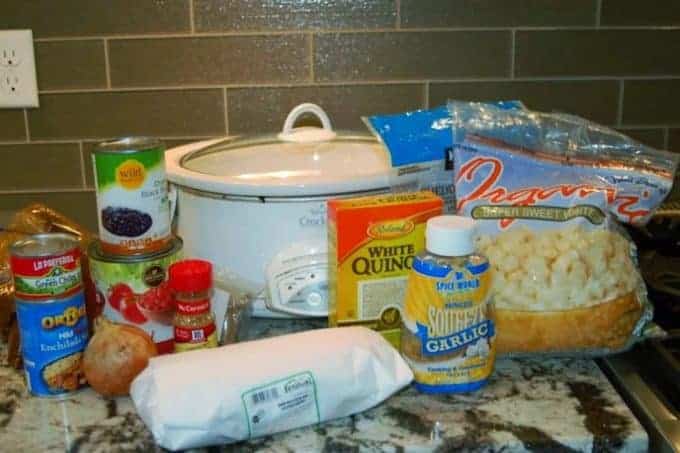 Here are all the ingredients for this slow cooker chicken recipe. Simple ingredients that don't take a ton of time are key.
The great part about this healthy crockpot meal is that it requires very minimal meal prep to prepare. This is just one of those chicken recipes that result in the taste of great Mexican food.
Pro Tip: You do not need to precook the quinoa, it cooks in the crockpot.

Add all ingredients besides chicken and cheese into your slow cooker. People often tend to want to add more black beans to the recipe, and if you want more protein, do so.
All you need to do with this simple crockpot recipe is open the cans and add them to the slow cooker. Dice an onion (skip it if you don't feel like chopping), add your spices, pour in the quinoa, and give it a good stir.
Did I mention that this slow cooker recipe is crazy delicious?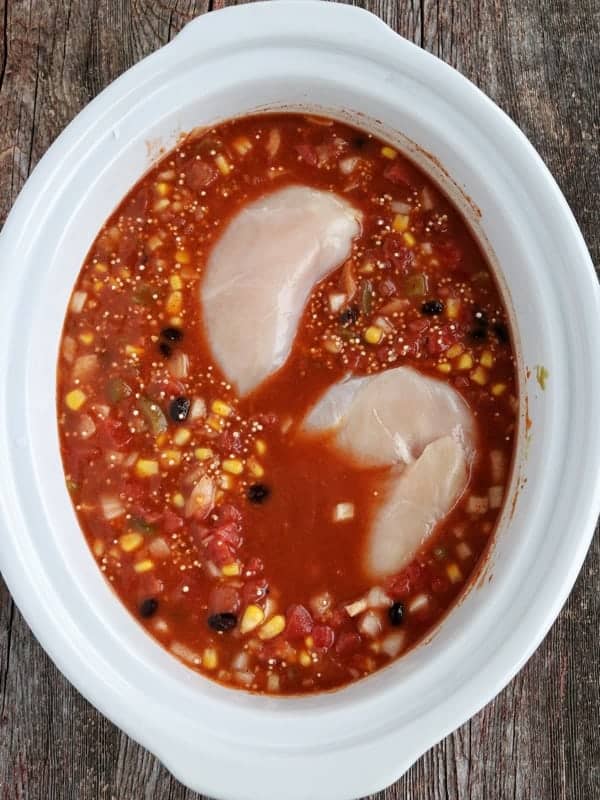 Stir and add chicken. Cook on high for 4 hours or low for 6-8 hours.
Once you have the ingredients blended, nestle the chicken breasts in the liquid and put the cover on to cook. Don't want to use chicken breasts? You could use boneless chicken thighs, boneless pork chops, or even a beef roast to make a completely different experience.
You could cook this healthy crockpot recipe without the chicken and add leftover shredded or rotisserie chicken at the end as well.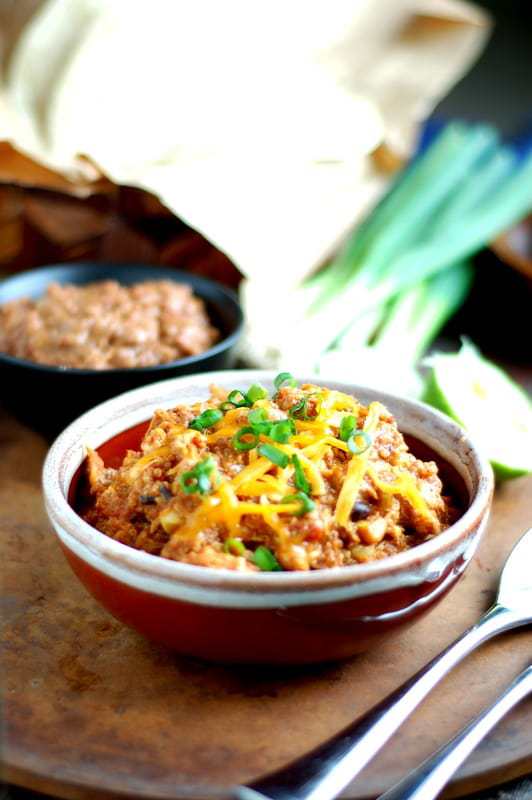 For more delicious quinoa crockpot recipes try:
More Healthy Crockpot Meals:
If you enjoyed the recipe make sure to leave a comment and a star rating below! Then follow me on social media and tag #createkidsclub if you make the recipe. I love seeing what you come up with!
Crockpot Quinoa Chicken
Crockpot Quinoa Chicken is packed with chicken, quinoa, vegetables, and packed with flavor. A great way to introduce quinoa to kids, it's a one-pot meal your whole family will enjoy.
Pin Recipe
Print Recipe
Ingredients
3- 4

chicken breasts

12

oz.

quinoa

28

oz.

can diced tomatoes

10

oz.

can enchilada sauce

10

oz.

water

1

can black beans

1

can corn kernels

drained (or 1 cup frozen)

4

oz.

can diced green chilies

1

onion

diced

1

tbsp.

chili powder

1

tbsp.

cumin

1

tbsp.

minced garlic

1

tsp.

salt

1

cup

shredded sharp cheddar or mozzarella cheese

use after cooking
Instructions
Combine ingredients. Add all ingredients, except cheese, into the crockpot or slow cooker.

Cook. Cook on high for 4 hours or low for 6-8 hours.

Shred the chicken and add cheese. Once cooked, shred chicken then stir cheese into the casserole.
Nutrition
Calories:
394
kcal
|
Carbohydrates:
31
g
|
Protein:
43
g
|
Fat:
11
g
|
Saturated Fat:
4
g
|
Cholesterol:
113
mg
|
Sodium:
836
mg
|
Potassium:
1036
mg
|
Fiber:
5
g
|
Sugar:
5
g
|
Vitamin A:
913
IU
|
Vitamin C:
12
mg
|
Calcium:
157
mg
|
Iron:
5
mg
Delicious Simple Family Recipes
Join Create Kids Club & get our 10 Favorite Crockpot Recipes ebook!