This simple Crockpot Chicken Thighs is a simple dinner idea that can be made in less than 5 minutes.  It cooks all day and is ready for dinner whenever you are.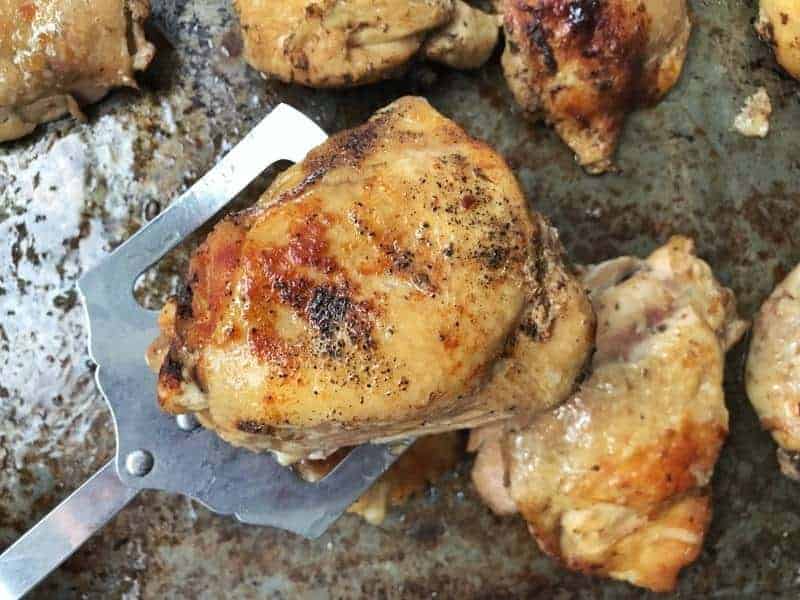 What is your favorite kitchen appliance?  The one you couldn't live without. 
Mine?
Mine, hands down, is the crock pot.  I attribute 100% of my success getting healthy meals into my family on busy nights to this kitchen convenience.
I love my crock pot so much, that for Mother's Day, my  husband bought me a brand new one (mine was 12 years old) and I truly thought it was the best gift ever.
I often talk with moms about getting simple meals on the dinner table and find that many are not using this time saving gadget.  There are so many recipes that can easily be put together in the morning,while your children are eating breakfast, to have dinner waiting when you get home.  There's not much better than that. 
I feel it's important to learn how to put a meal together without having to follow a recipe.
Crock Pot Chicken Thighs is a healthy dinner idea that you can easily make – and it doesn't require a recipe.
The bonus?  You can't mess these up.  Forget about dried out chicken breasts that you threw out the last time you used your slow cooker.  Using bone in, skin on, chicken thighs prevents them from drying out.  And if that doesn't convince you, there is also beer in there  -the alcohol cooks off – so no worries about kids eating these!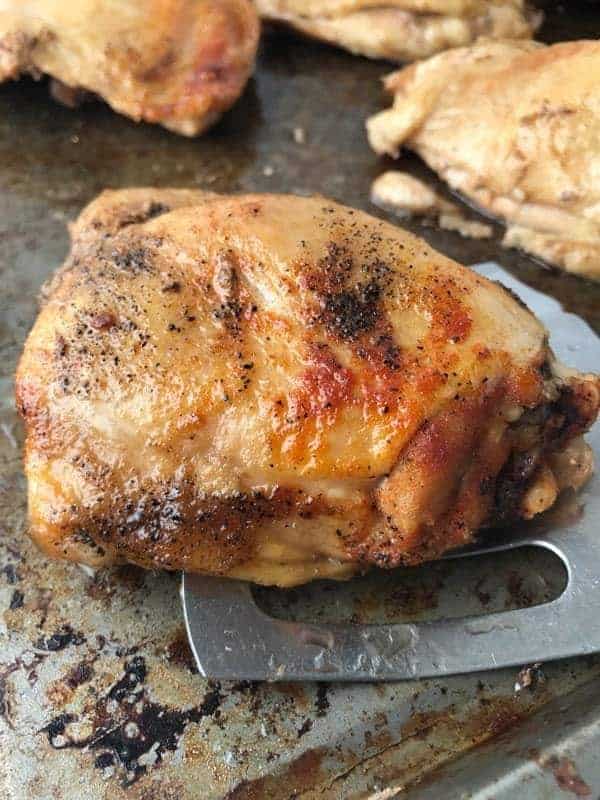 So grab a beer and we will get started…
How To Cook Chicken Thighs In A Crockpot
Joking aside, grab your favorite, or least favorite beer (this is how I clear out beer I don't care for). Choose 3 spices that your family likes, plus salt and pepper.
Next, get out a package of bone in chicken thighs. Place the chicken thighs into your crock pot, pour the beer in, sprinkle 1 tsp of each spice (I used garlic powder, onion powder, and paprika) along with 1 tsp salt, and 1/2 tsp pepper.
Cover and cook on love for 6 hours or high for 4 hours.  If frozen, cook on high for 6-8 hours.
Can You Cook Frozen Chicken Thighs In A Crock Pot?
Per the USDA, it's not recommend to put frozen chicken into the crockpot, but rather thaw chicken first.
Here are some quick ways to properly defrost chicken thighs: CLICK HERE FOR INFO.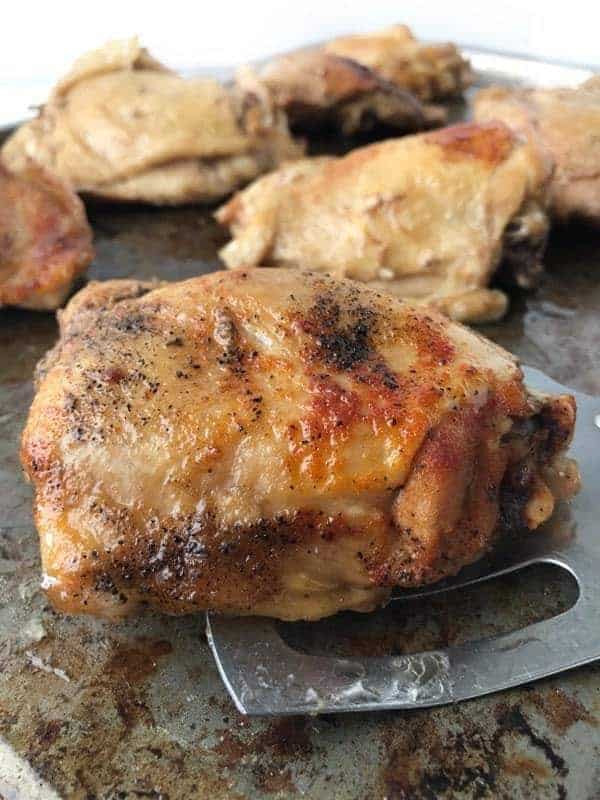 I'll admit, I have placed frozen chicken thighs in the crock pot too many times to count.  This was before I realized that it's not the best thing to do.  I have read that newer crockpots heat much quicker than they once did – here's to hoping they change these recommendations soon!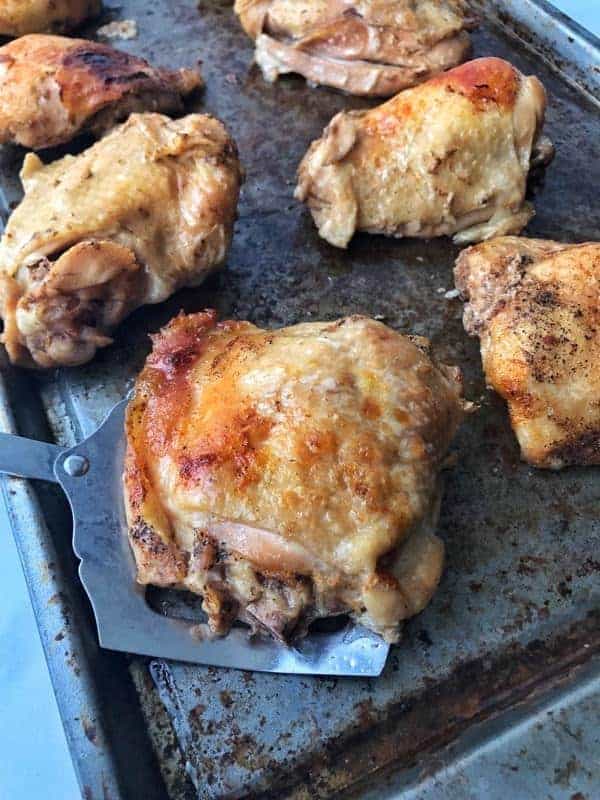 The perfect recipe for a busy night. 5 minutes to prepare with just 2 ingredients + spices.
Click To Tweet
When the chicken comes out of the crockpot it's ready to be served.  If you family prefers crispy skin,  simply place the chicken on to a baking sheet an broil for 3-5 minutes, or until golden brown!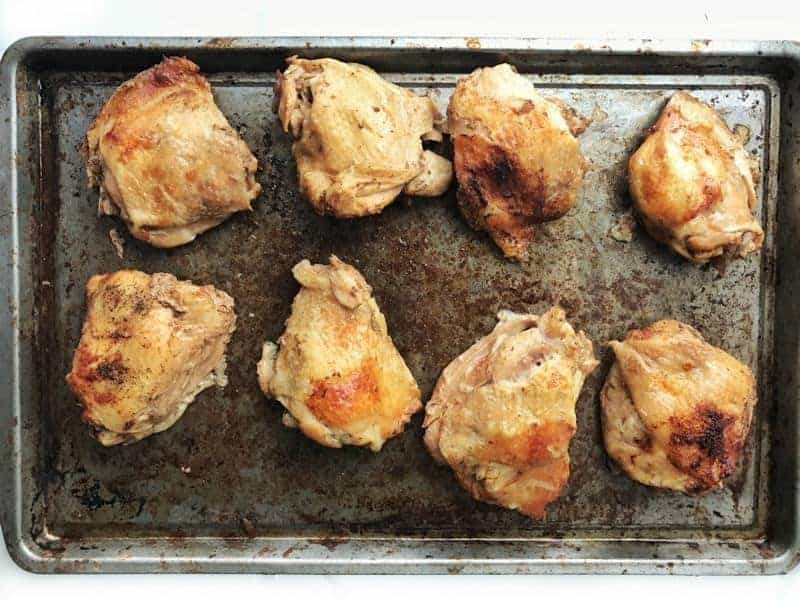 Looking for similar recipes?  Check these out!
Print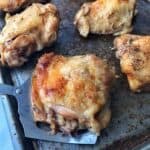 Crock Pot Chicken Thighs
Author:

Prep Time:

5 minutes

Cook Time:

365 minutes

Total Time:

370 minutes

Yield:

6

Category:

Main Course

Cuisine:

American
---
Description
This simple slow cooker chicken thighs recipe can be put together in less than 5 minutes using ingredients from your pantry.  It cooks all day and is ready for dinner whenever you are.  T
---
Ingredients
8 bone in chicken thighs
6 oz. beer, any brand (about a half a bottle of beer)
1 tsp. garlic powder
1 tsp. onion powder
1 tsp. paprika
1 tsp. salt
1/2 tsp. pepper
---
Instructions
Place the chicken thighs into crockpot, pour the beer in, sprinkle spices on top.

Cook on high for 4 hours or low for 6-8 hours if frozen, or high for 2 hours and low for 4 hours if using thawed chicken thighs.

---
Notes
To get crispy skin, simply place the chicken thighs onto a baking pan and broil for 2-3 minutes!
Use any spices your family enjoys to create a whole new meal.
Do you love your crock pot as much as I do?  Share your favorite recipe below!
Pin Now & Make Later

How To Make Tasty Crockpot Meals
Make dinner a breeze with these 10 Kid Favorite Crockpot Recipes! Get your FREE printable eBook Now!