Brussels Sprout, Cranberry, & Roasted Almond Salad has a delightful light citrus flavor that blends perfectly with the sweetness of cranberries and crunch of almonds. It's the perfect spring salad to bring to the next holiday or dinner party.  
Are you tired of lettuce salads that get soggy about 15 minutes after adding the dressing?
Every holiday I eat leftover salad, only to be disappointed by how dismal each mushy bite is.  Into the garbage, it goes, along with the money spent on wasted ingredients.
Today, I offer the solution to soggy salads. Keep reading to find out what it is.
I pride myself on liking most foods – with the exception of Brussels sprouts – up until about 10 years ago.
What happened 10 years ago?
I walked into a small town Bar & Grill with some friends for a beer and a bite to eat.  Little did I know it would be a life-changing event.  Offered as a side dish was…roasted Brussels sprouts.
It was the best side dish I ever had.
In the past few years, Brussels sprouts have become quite trendy. People are discovering like I did, that when prepared correctly these tiny cabbages are quite delicious.
Their bad rap may have something to do with the quantity of over boiled Brussels sprouts that have been served over the course of history.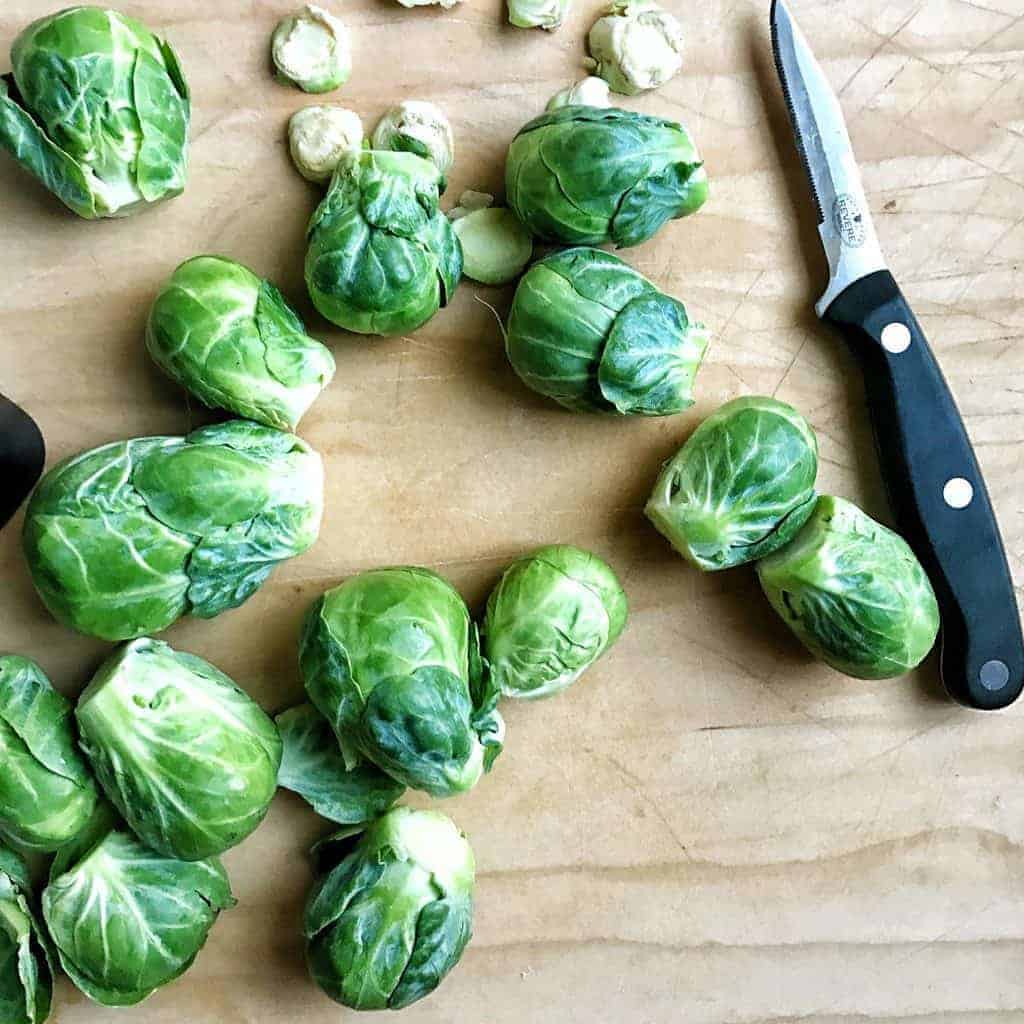 These days you'll find Brussels sprouts on the menus of trendy restaurants and on your grocer's shelves in many different forms: fresh, shredded, or mixed with greens.
This Brussels sprout spring salad shows how versatile this misunderstood cabbage is.
These little guys hold up to dressing without getting mushy, making it possible to bring a salad ready to serve -dressing and all – to your next party.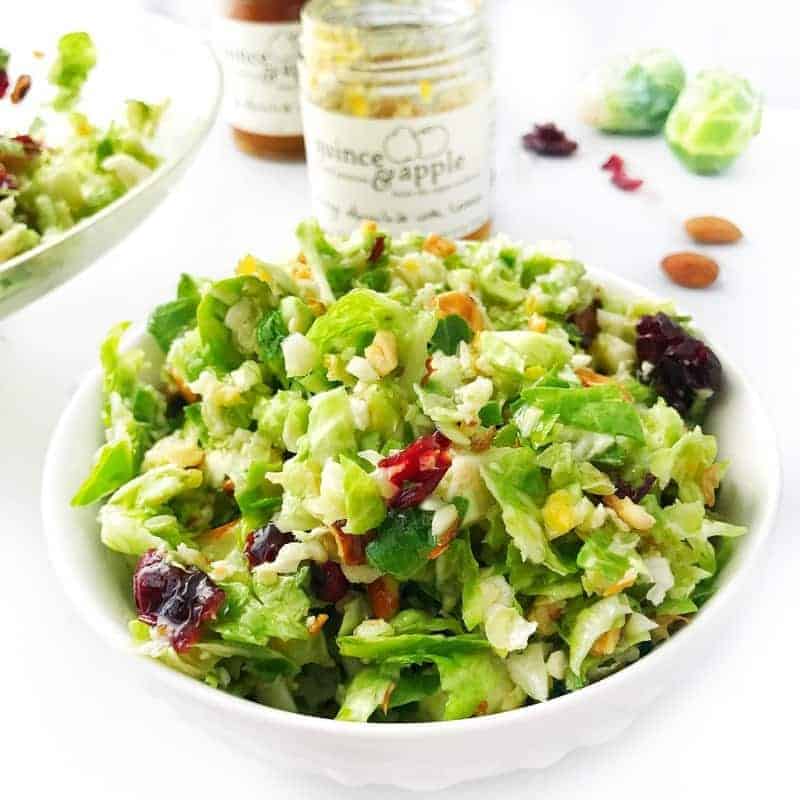 Brussels Sprouts are the perfect salad base for many reasons.  They are firm, don't soak up dressing quickly like lettuce would, and are part of the nutritionally potent cruciferous family.
Join the Club
Join Create Kids Club & get our 10 Favorite Crockpot Recipes ebook!
Cruciferous vegetables are rich in nutrients, including several carotenoids, and are a good source of fiber.
In fact, cancer researchers are studying cruciferous vegetables because they contain a group of substances known as glucosinolates. These chemicals are responsible for the strong aroma and bitter flavor of this group of vegetables.
During food prep, chewing, and digestion, the glucosinolates in cruciferous vegetables are broken down to form biologically active compounds, some of which have been found to inhibit the development of cancer in several organs in rats and mice. Per cancer.gov, studies in humans have shown mixed results.
All the nutrients packed into these small packages are just another reason to give Brussels sprouts another chance.
I loved using the Quince & Apple marmalade because they are a Wisconson based company, you could swap this ingredient for a marmalade you can find in your grocery store – or head over and order this one.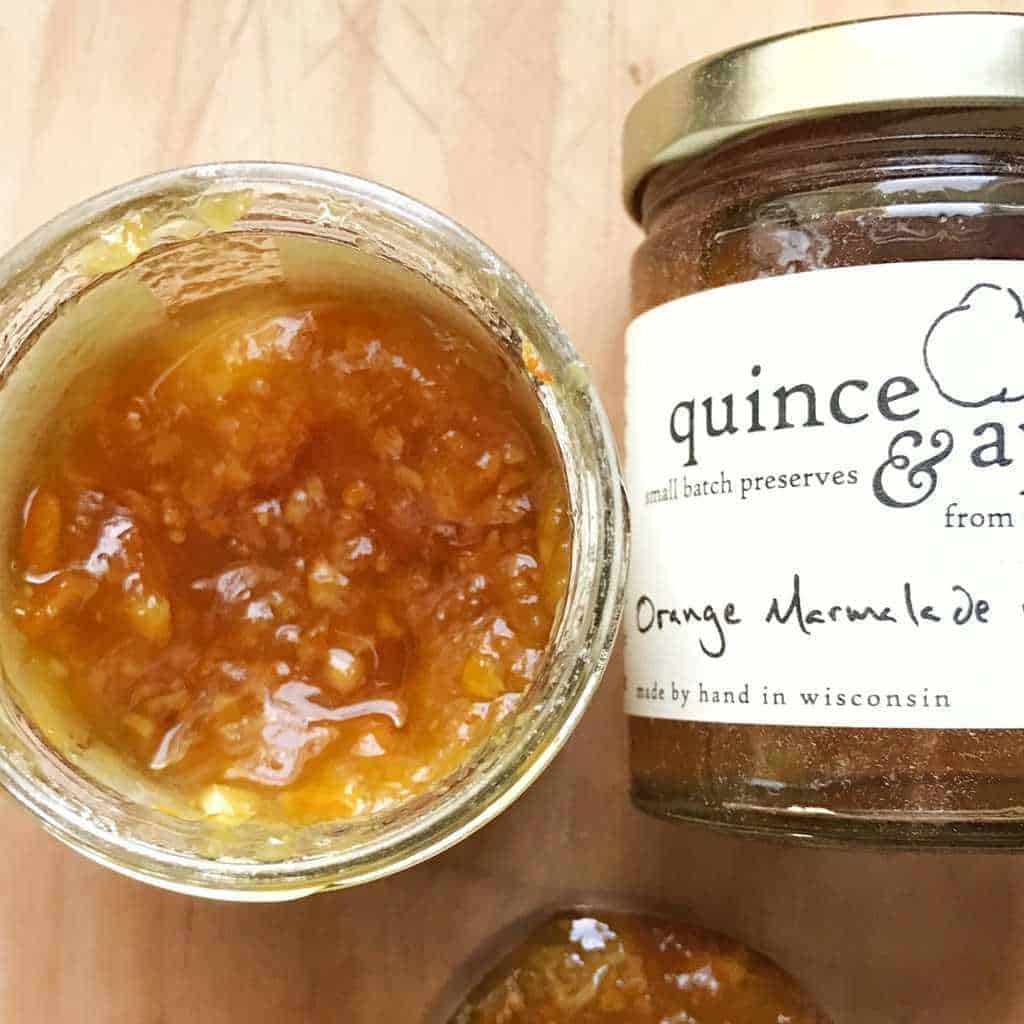 Orange Marmalade with Lemons pairs deliciously in this light, refreshing salad.
Its bold flavor stands up to the sprouts, the citrus cutting any bitterness – creating a salad that shines with tangy lemon and orange flavors, crunch from roasted almonds, and sweetness from dried cranberries.
This spring salad easily comes together in under 10 minutes.
The perfect salad for a summer party or holiday where you want to impress, but don't want to spend a lot of time cooking or prepping ingredients.
The bonus? You can add the dressing at home and not wait until the minute before serving.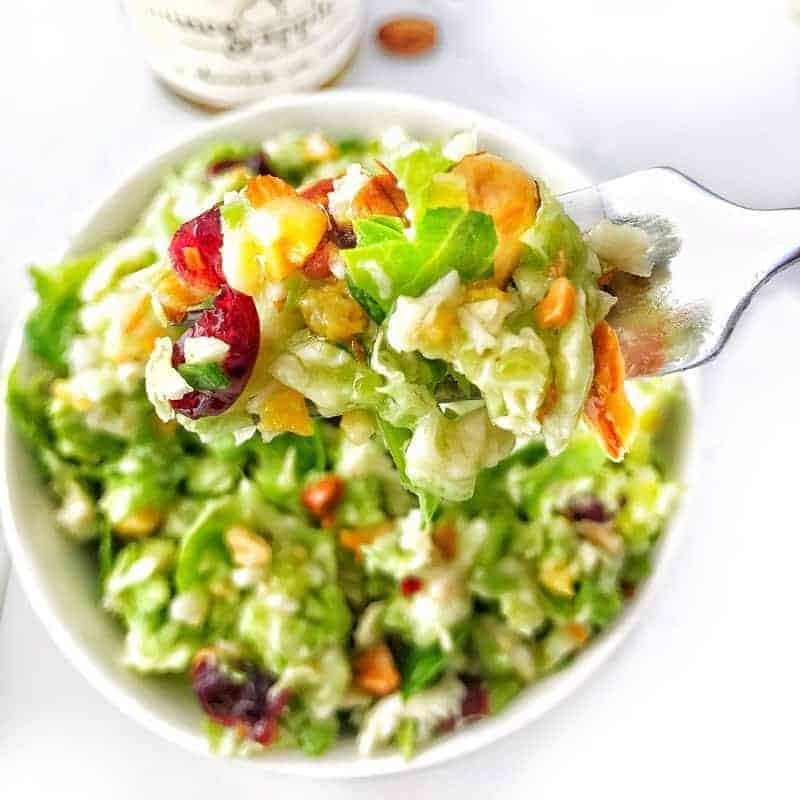 Let's talk almonds.  I, myself, buy the huge bag from Costco. These are raw nuts and are in my opinion, not quite as good as some of the roasted varieties sold in grocery stores. However, they are a good price and are a convenient snack, so I continue to buy them.
Recently, I learned how simple it is to roast these almonds at home.
All you have to do is pour them onto a baking sheet and roast them in your 350-degree oven for about 15 minutes.   Let them cool 20 minutes, toss with olive oil and sea salt, and you have homemade oven roasted almonds that rival any store brand.
For this salad, give the almonds a few wacks with a mallet breaking them into pieces.  If you don't want to roast your own at home, feel free to purchase slivered almonds from the store – but you really should try these almonds. 🙂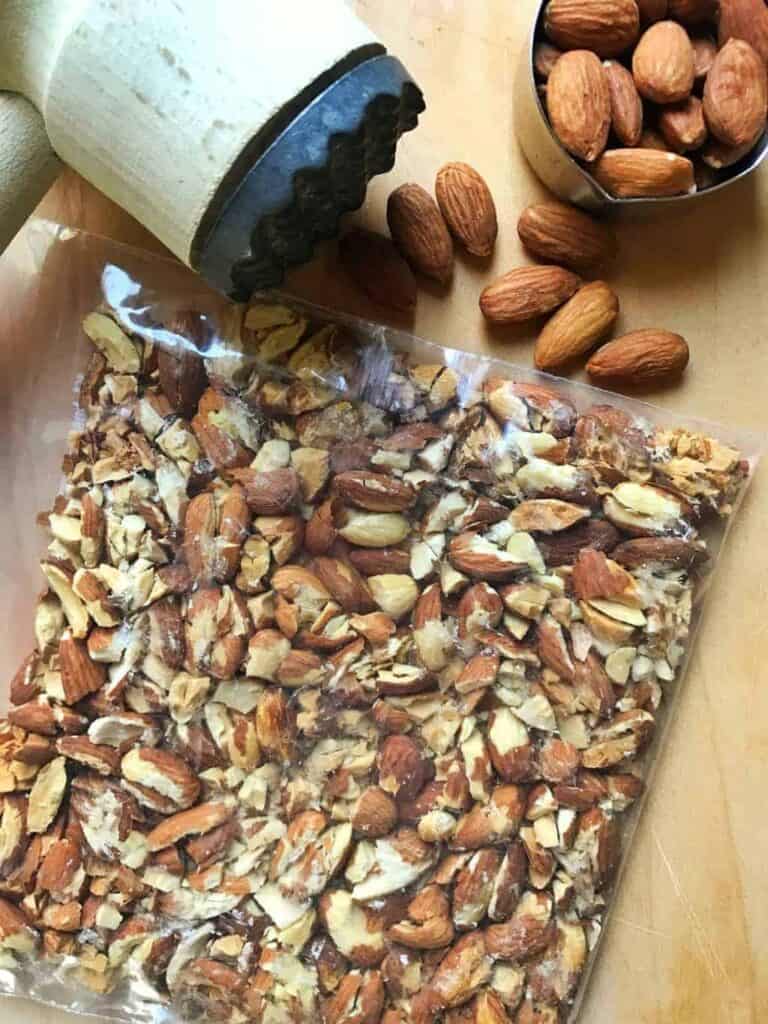 The following kitchen hack saves you the chore of slicing each sprout individually.
Pick up a bag of pre-washed Brussels sprouts, cut the bottom end off, and toss them into your blender.  You heard right – the blender.
Using the pulse button, pulse until you have chopped sprouts.  So simple.
Dressing Always Makes the Salad
This dressing contains just three ingredients.  How can just 3 ingredients possibly provide enough flavor to bring this salad to the next level?
It's all about the artesian marmalade. That little jar packs a ton of flavor making it simple for us. Oil, vinegar, and Orange Marmalade with Lemons.  Pour the ingredients into a glass jar with a lid, and shake it up and it's ready to go.
Print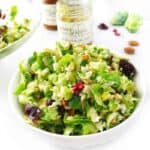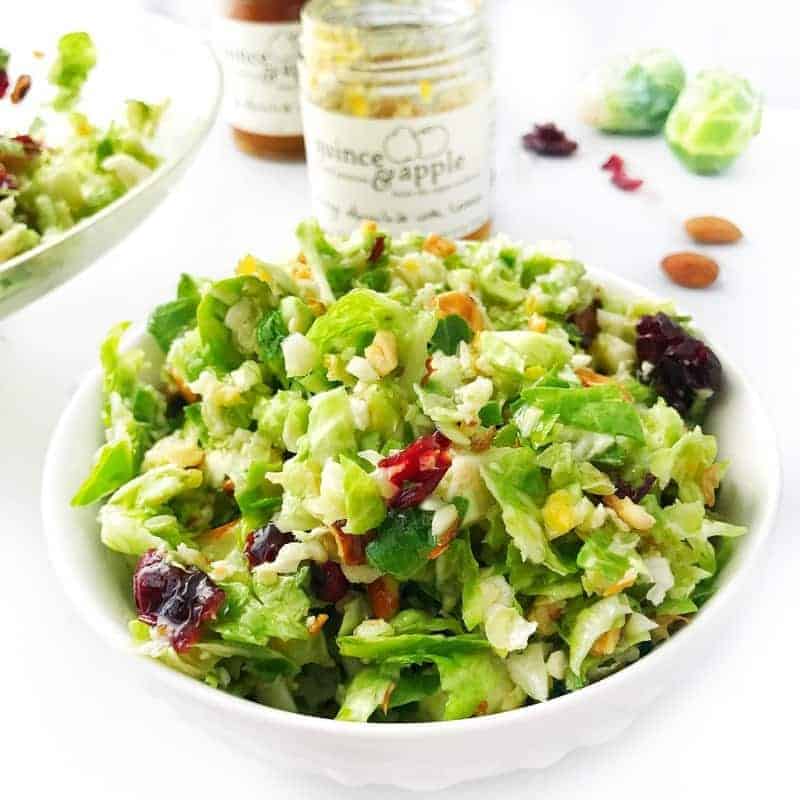 Brussels Sprout, Cranberry, & Roasted Almond Salad
Author:

Prep Time:

10 minutes

Total Time:

10 minutes

Yield:

10 people

Category:

Salad

Method:

No Bake

Cuisine:

American
---
Description
Brussels Sprout, Cranberry, & Roasted Almond Salad has a delightful light citrus flavor that blends perfectly with the sweetness of cranberries and crunch of almonds.
---
Ingredients
1.5 lbs. Brussels sprouts washed
1/3 cup whole almonds, roasted (slivered almonds optional)
1/3 cup reduced sugar dried cranberries
Salad Dressing
3/4 cup canola oil (olive oil if desired)
1/4 cup vinegar
1/4 cup Quince & Apple Orange Marmalade with Lemons (or another marmalade)
---
Instructions
Slice ends off Brussels sprouts and place the whole sprout in a blender.
Pulse until Brussels sprouts are chopped.
Place roasted almonds in a ziplock bag. Using a mallet or rolling pin, break into smaller pieces.
In a medium sized mixing bowl, add chopped Brussels sprouts, dried cranberries, and almonds.
Salad Dressing
In a glass jar with lid, combine oil, vinegar, and marmalade.  Shake to blend.
Pour dressing over salad, mixing well.
Store leftovers in a sealed container in the refrigerator for up to 2 days.
If you'd like to bring this salad to your next get together head on over to Quince & Apple and order your Marmalade today! Tell them I sent you 🙂
FREE Kids Cooking eBook!
Do you want your children eating a more varied diet, but wonder how to get more fruit and veggies into their meals & snacks? This eBook is a fun filled way to get kids eating better while having age appropriate fun!