Easy camping meals or planning RV meals for your next road trip doesn't have to be overwhelming or complicated. You can make simple, flavorful meals your family will love – all without spending a lot of time cooking!
You'll find tons of recipe ideas along with printable camping menu and an RV Kitchen necessity list. Print these out and take the stress out of your first RV trip!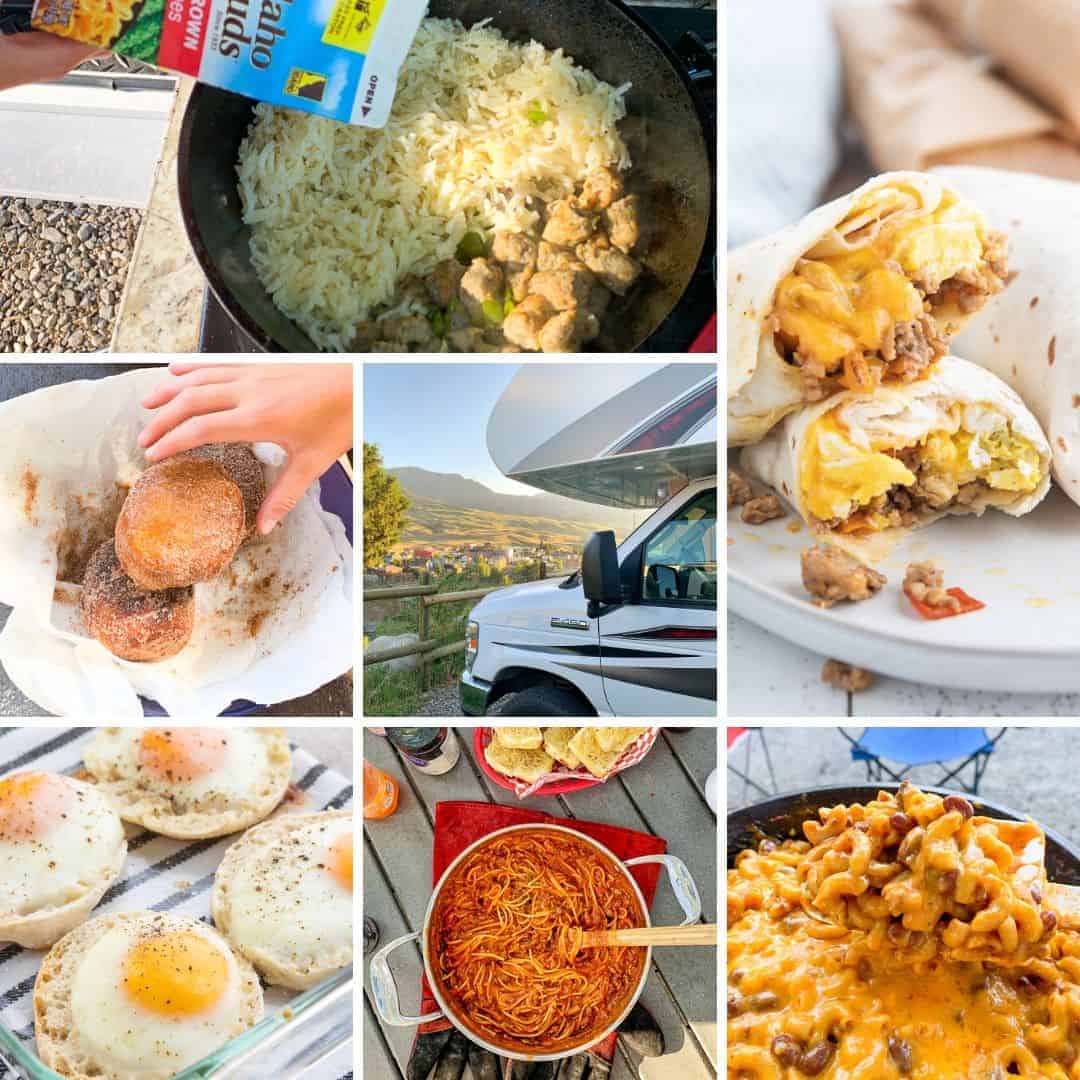 This post was made possible through my partnership with Hilltop Camper & RV. As always, all opinions are my own.
For many years my husband and I have talked about taking our family on an RV trip out West. This summer, through my partnership with Hilltop Camper & RV, we finally made it happen.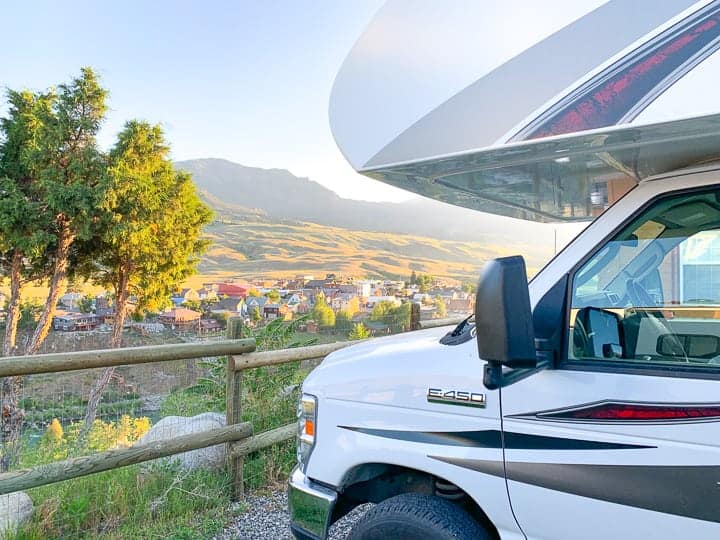 Our rental from Hilltop RV & Camper was the Jayco Redhawk 25R, which was perfect for our family. They offer all different sizes of rental RV's along with 5th wheels, and travel trailers. You can see all the RV rental options available HERE.
RV Rental
While renting an RV is an expense, you'll enjoy savings on hotels and food.
As you know, feeding a family 3 meals a day in restaurants is not cheap, and is one of the top expenses incurred while traveling.
One of the best small RV rental benefits is that you're traveling with a refrigerator, freezer, and kitchen – which saves money on food.
You can eat very well without dedicating a lot of time cooking if you plan in advance.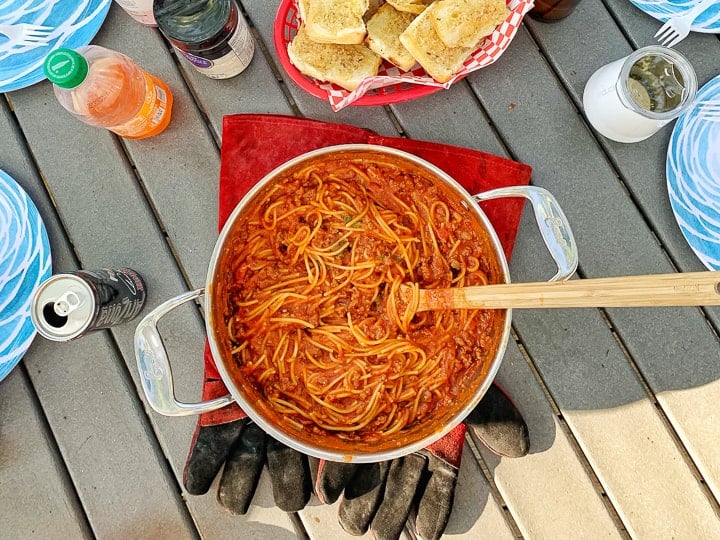 Camping Menu Ideas
Below you'll find a Camping Menu along with a printable checklist of kitchen gear you'll need to make the meals included in the menu.
Print out the recipes along with the checklists and you have an RV trip planner ready to use without any planning on your end!
Added Bonus: Most of the recipes are make-ahead camping meals and camp stove recipes. They are all easy camping meals for kids.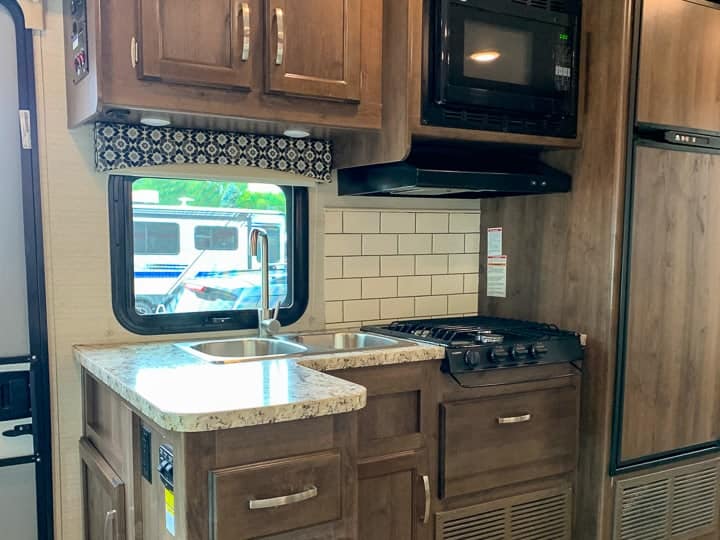 Motorhome cooking doesn't have to be time-consuming if you stock your RV kitchen with a few kitchen necessities found in the checklist below. By following the lists, you'll be all set for your road trip.
Whether you're stopping at a rest area or park for lunch or dinner, these food ideas for camping work fantastic for on the go travel.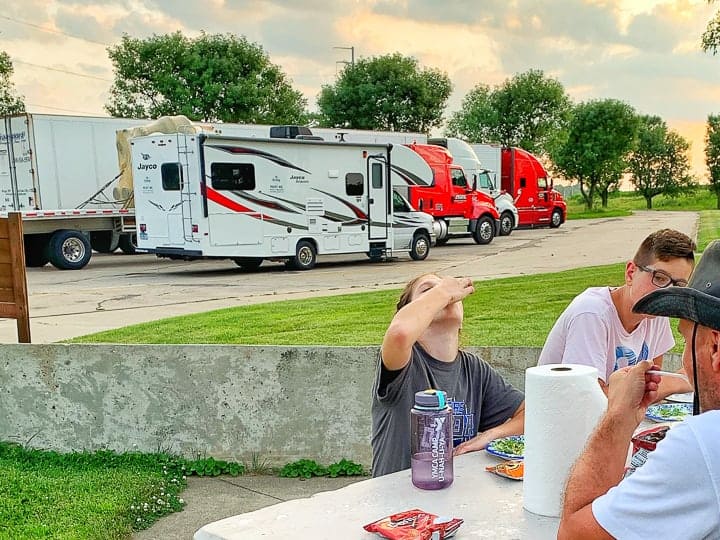 The added bonus is many of the recipes make enough for leftovers which work great for lunch the next day!
Camping Menu Ideas & RV Cooking
The following Camping menu includes simple family-friendly meals that can be made in an RV or at a campsite.
Use these menus as a weekend camping menu, or as full camping menus for a week.
Camping Menu Ideas

This Camping Menu consists of simple, family-friendly recipes that are very easy to make while traveling. All recipes have been tested out while traveling and are kid approved!

Boil in Bag Omelets are a fun and delicious breakfast idea. Simply bring water to a boil, then add ziploc bags with your favorite omelet ingredients!

This breakfast skillet comes together in just 15 minutes with boxed hashbrowns, eggs, and cheese using a camp stove or fire grate.

Made in a skillet on a cook top or over the fire, these doughnuts cook up quickly using prepackaged buiscut dough.

This grab and go breakfast burrito is made at home then frozen in parchment paper. Simple reheat in the microwave for a quick and easy breakfast. No microwave? Wrap in foil and head over the campfire or on a camp stove!

This delicious pasta casserole uses canned and dried goods and is great for the end of the trip as it doesn't rely on parishable goods.

Camping tacos are great for a dinner on the road. The taco meat is premade, then frozen so all you need to do is heat the meat and serve!

A spaghetti dinner made in one pot on a camp stover or over the campfire for simple clean up! Fresh herbs take it to the next level.

Using premade taco meat and canned refried beans, these delicious burritos take no time at all. Heat in the microwave or use foil and heat over the fire!

Use a cast iron skillet with a touch of oil to cook these naan pizzas. Melt the cheese on top by placing a cover on the skillet.

Peppers & onions cooked with steak, then topped with cheese, placed on a hoagie & drizzled with the delicious juices. Prepare the foil packs at home then store them in your cooler or fridge.

A great use for leftover rolls or buns. This foil wrapped garlic bread pairs well with pretty much any dinner reicpe!

This veggie side dish is made at home before leaving, then frozen. Simply reheat on site for a delicious potato side that you're family will love!

Try a new spin on s'mores with these fun camping cones! Wrap in foil and heat over the fire for a chocolatey treat!

This amazing foil pack dessert uses fresh (or canned) peaches cooked with a touch of butter and brown sugar for an amazing campfire treat!

For camping breakfasts, additional easy ideas include pancakes served with turkey sausage and cereal on days when the time is limited.
Pro Tip: Bringing a portable griddle helps get pancakes served quickly and makes clean up a breeze. You can use the griddle for hashbrowns, quesadillas, and much more.
Camping lunch ideas include sandwiches, quesadillas, and leftovers. It's a great way to use up what you have.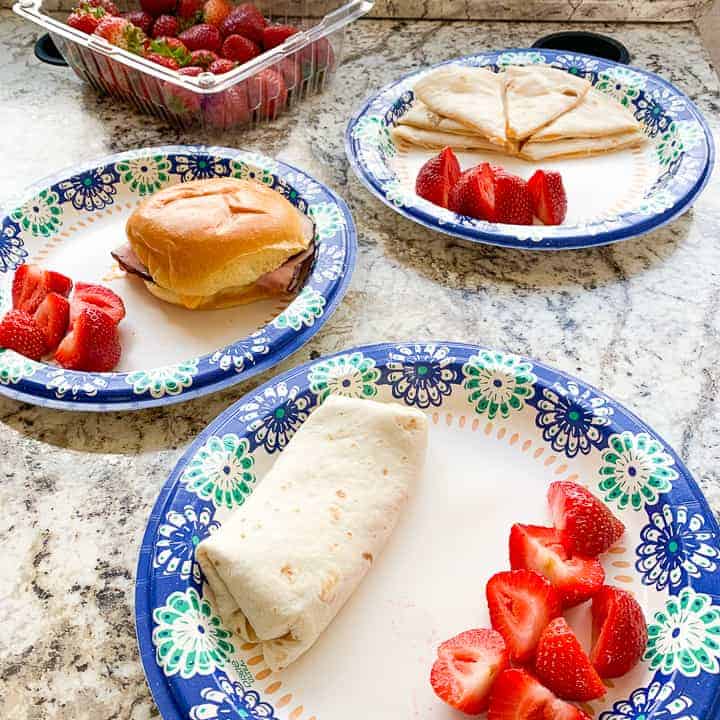 Camping Menu
The printable list below contains all the recipes included above plus some additional ideas. Print the list to keep track of your menu while on the road.
Keeping a running list is helpful to make sure you don't forget what you have planned out. I like to keep my menus and camping recipes close by when traveling to make things easy.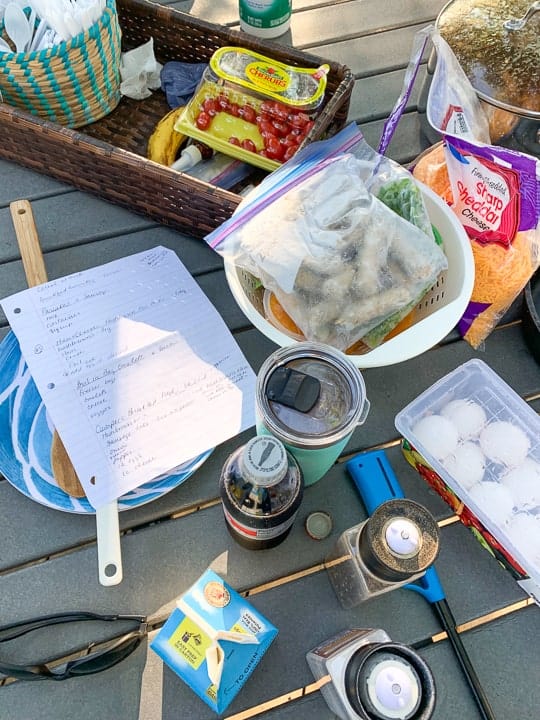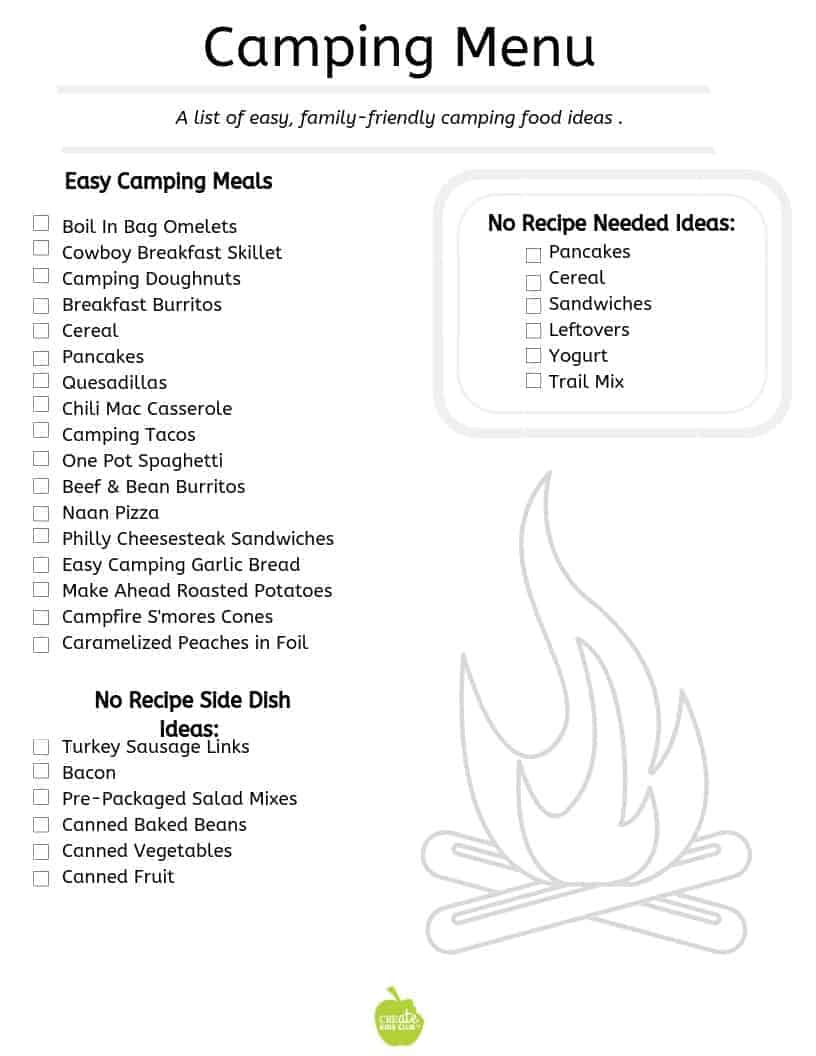 ---
RV Kitchen Checklist for RV Cooking
Below you'll find the RV Kitchen Necessities checklist needed to make the recipes above. No need to bring items that won't be used and take up extra space.
No RV?
No problem, pack these items for your camping trip, adding a camp stove and you'll be all set!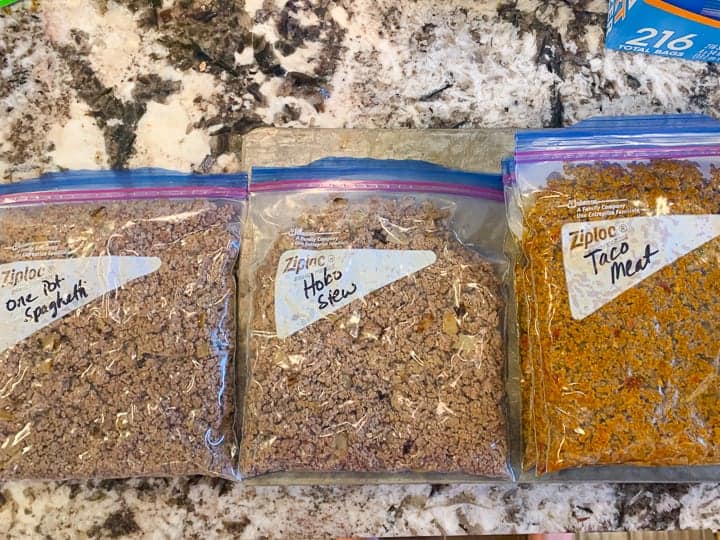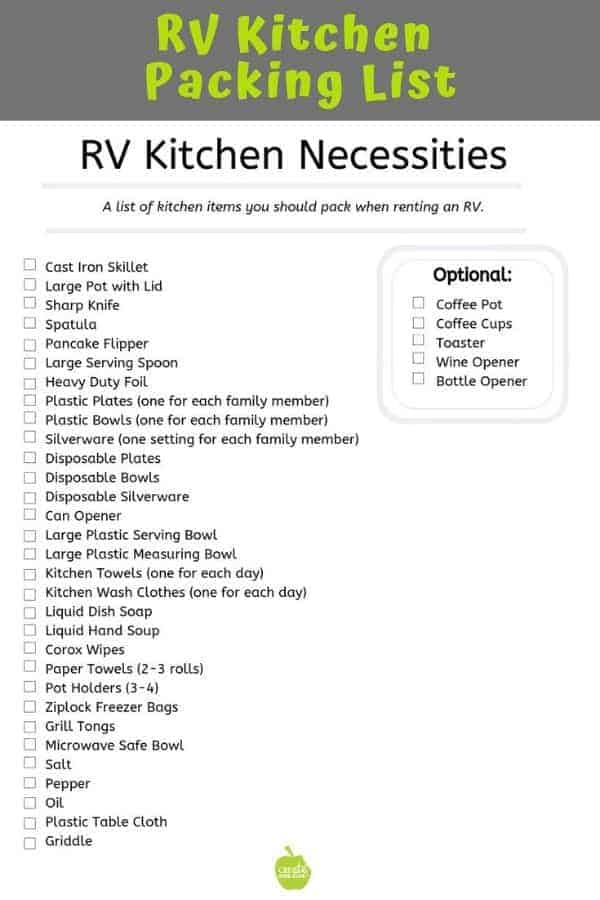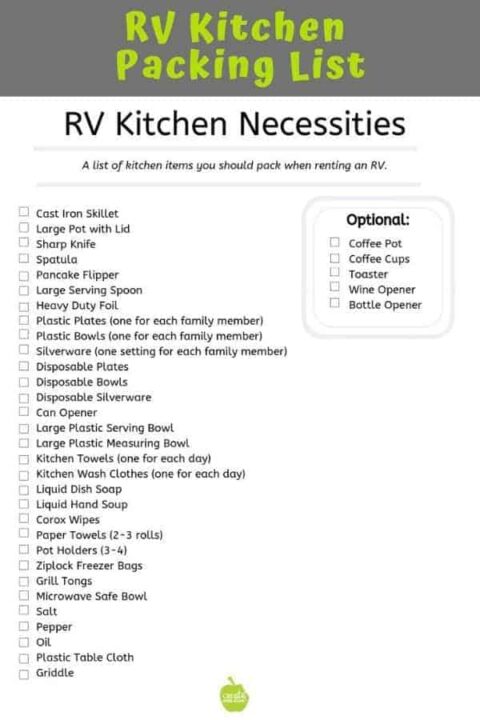 ---
Camping Hacks & Tips For Easy Meals
Here are a few tips and tricks that can help make your meal prep go smoothly.
Camping Hack #1: Cook all meat needed for recipes and place it into ziplock freezer bags and freeze.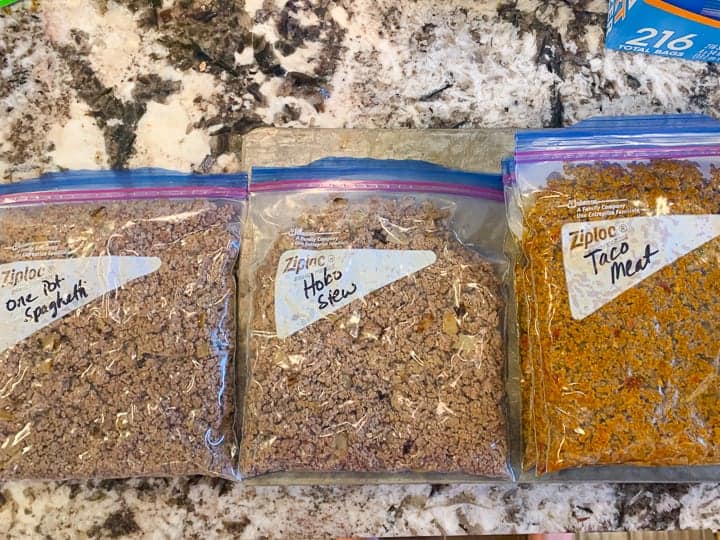 Doing this saves room in the RV fridge or cooler, saves time and mess from cooking raw meat in the RV or on a picnic table, and slashes prep time at the campsite.
Camping Hack #2: Utilize canned goods
Stock your pantry with canned veggies and fruit. They don't need refrigeration and won't spoil. Try canned corn or green beans along with canned peaches and pears to round out your meals.
Camping Hack #3: Depend on Pantry Items
If you can buy products that can be stored in the pantry over the fridge or freezer, give them a try.
Example: One of my favorite pantry items is dehydrated hashbrown potatoes. You can buy them in bulk at warehouse stores and they are shelf-stable. You simply add water. No need to store them in the freezer taking up a ton of room.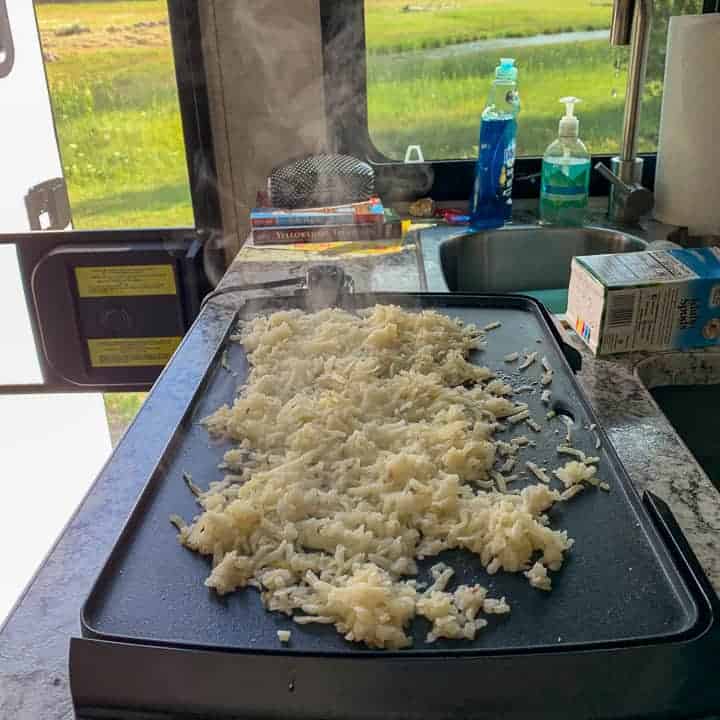 Camping Hack #4: Wash Dishes when you have hookups
Use your plastic dishware and silverware when you're hooked up to water at a campsite so you can reserve the disposable plates and silverware for times you don't have the luxury using unlimited water.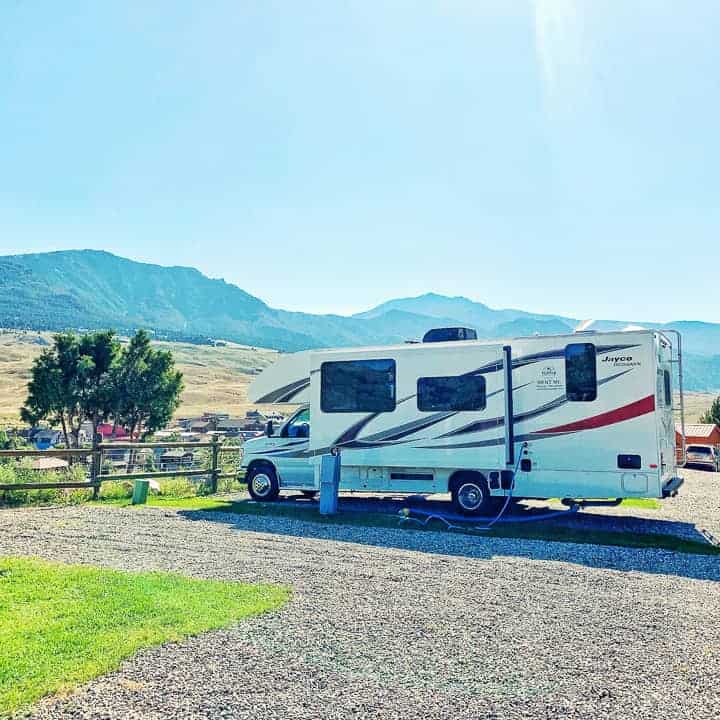 What did my grocery bill come to for these recipes?
My grocery tab came to $255.50, including beverages. Considering my family of 4 can easily spend $150 on food daily (when eating out 3 meals a day), this is an enormous cost-saving!
So there you have it, camping menus for a week along with all the kitchen tools you'll need to prepare them.
We had an amazing time on our trip. We ate well, I didn't spend a lot of time cooking, and we made memories to last a lifetime.
I hope with these recipe ideas and checklists your RV trip planning goes smoothly. I can't wait to hear about it!
If you're interested in renting an RV and are in the Minnesota area, I highly recommend checking out Hilltop Camper & RV. Their customer service is top-notch.
Traveling for the first time in an RV brought up quite a few questions on how things worked, but the great folks over at Hilltop walked us through how to solve the problems we ran into from working the generator to questions on the refrigerator and we kept right on schedule.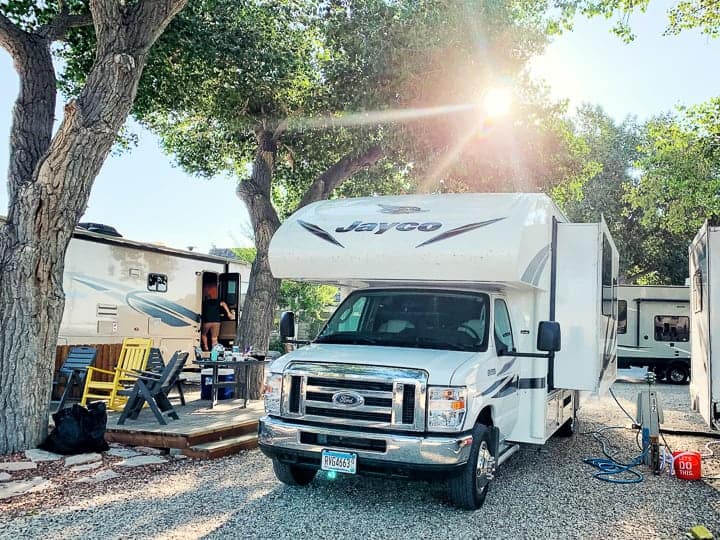 If you enjoyed the recipes shared make sure to leave a comment and a star rating below! Then follow me on social media and tag #createkidsclub. I love seeing what you come up with!