40 Camping meals for kids that even picky eaters will enjoy. Camping is a great way to get kids outside, away from screens, and engaged in nature. But preparing meals outdoors can be a challenge. Make-ahead camping meals can be a lifesaver, allowing you to spend more time enjoying the great outdoors and less time cooking over a campfire.
In this article, we will explore some easy and delicious make-ahead camping meals that kids will love. These meals are not only tasty but also simple to prepare and can be adapted to fit any dietary restrictions. Whether you're looking for breakfast, lunch, dinner, or snacks, we've got you covered with tasty and kid-approved recipes that will make your camping trip a success.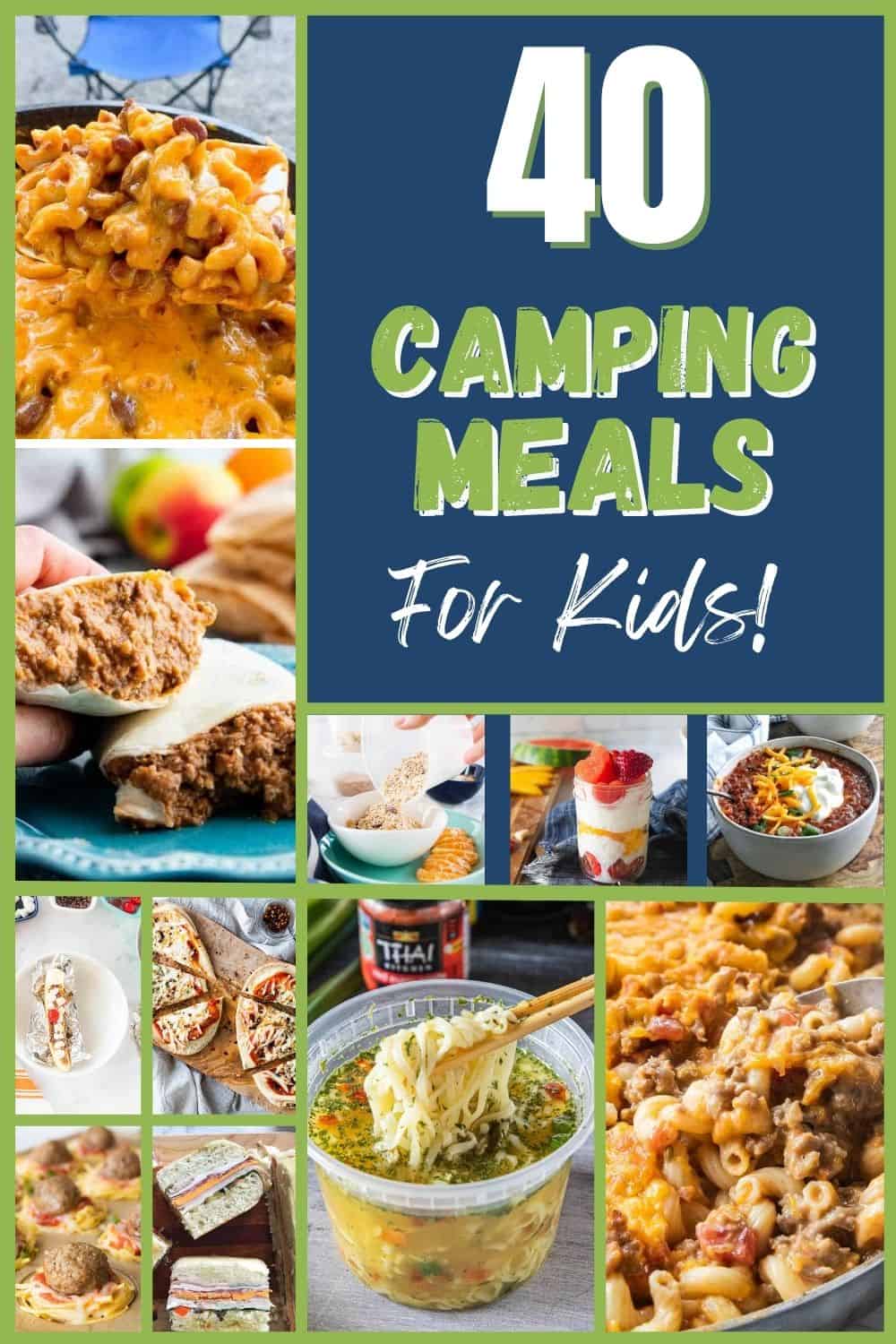 Simple Camping Meals For Kids
Make-ahead camping meals are the way to go whether you are heading to a campsite with a tent or RV. We were a bit hesitant at first, fearing that we wouldn't have enough time or storage space. However, make ahead meals have changed the way we camp and there is no looking back!
If you are looking for ways to decrease food prep time and increase family time, then check out these camping meals for kids! They are delicious and nutritious. These pre-made camping meals for kids are quick, easy, and mess-free!
We encourage you to take a look at all the camping meal options, tips, and tricks to find what will work best for you. Let us know the recipes that you try on your next camping trip!
Campsite Prep Tips
To heat at the campsite wrap burritos in heavy-duty tin foil. Heat on the campfire grate, campfire grill or use a pan from a portable camping cookware set for 2-4 minutes or until heated through. If you are traveling by RV or travel trailer, use parchment paper and reheat in the microwave oven.
For homemade pinwheels, simply fill the tortilla, wrap, and slice. You can roll the pinwheels a couple of hours ahead of time and store in a piece of tin foil or parchment paper. When hungry they are ready for you!
Place naan pizzas directly on the grill or lay a piece of tin foil on the grill then place the pizza on top. If you're having trouble getting the cheese to melt, place a piece of tin foil tented over the top to help get that melty cheese!
Eat muffaletta sandwiches as is or wrap in tin foil & heat them over the campfire to melt the cheese & warm the meat!
Make shredded chicken at home then transport to campsite in a cooler. When your family is ready for taco night, reheat over the campfire on the grate or your camp stove. Set out toppings and dinner is ready. Reheating the taco meat in a pot from a portable cooking set is a mess-free way.
We find it easy to spread out the ingredients on a camping table, and then have everyone roll their sushi – so much fun! For easy packing, bring veggies and cooked sushi rice in a container & the tuna in the can.
Transport chili to a campsite by filling a pot from a portable cooking set. This is a mess-free way to

travel

. At the campsite, just place the pot on the fire & reheat within minutes – doesn't get easier than that!
Make ahead by making the burgers and wrapping in foil before placing them in the cooler. Then, pack your preferred toppings and condiments. At the campsite, turn on your campfire grill, or campfire grate & cook until the internal temp reaches 165 degrees – enjoy!
Assemble the quesadillas on a camping table and add to a campfire griddle or cast iron pan when ready to cook.
More Easy Crockpot Dinner Ideas
Keep these slow cooker meals at the top of mind to make when you return home from camping. Simply dump the ingredients then leave to cook while you unpack and tackle the laundry!
Family Camping Resources
If you enjoyed any of the recipes make sure to leave a comment below! Then follow me on social media and tag #createkidsclub if you make the recipe. I love seeing what you come up with!