Make-Ahead Camping Meals save so much time! If you're heading to a campground this summer prep meals in advance so you can spend time with your family rather than over the stovetop. These 20 Make Ahead Camping Meals will have your family well-fed and happy!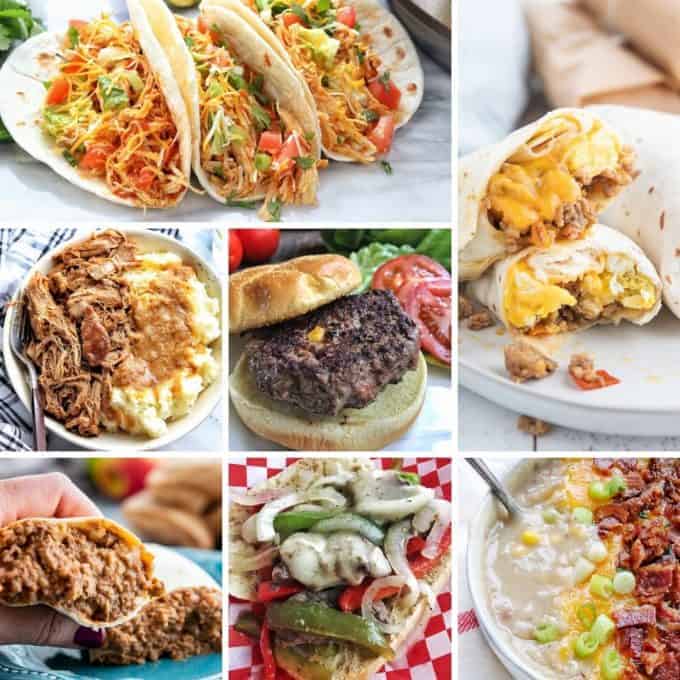 We are a participant in the Amazon Services LLC Associates Program, an affiliate advertising program designed to provide a means for us to earn fees by linking to Amazon.com and affiliated sites.
Simple Make-Ahead Camping Meals
Make-Ahead Camping Meals are the way to go whether you are heading to a campsite with a tent or RV. I was a bit hesitant on make-ahead meals because I was afraid I would not have enough time or storage space. However, make-ahead meals have changed the way I camp.
If you are looking for ways to decrease food prep time and increase family time then check out these meals for delicious and nutritious camping meal options. These pre-made camping meals are quick, easy, and mess-free. Plus, all the recipes are kid-friendly.
Related: Camping In Wisconsin
I encourage you to take a look at all the camping meal options, tips, and tricks to find what will work best for you. Let me know the recipes that you try on your next camping trip!
Breakfast Burritos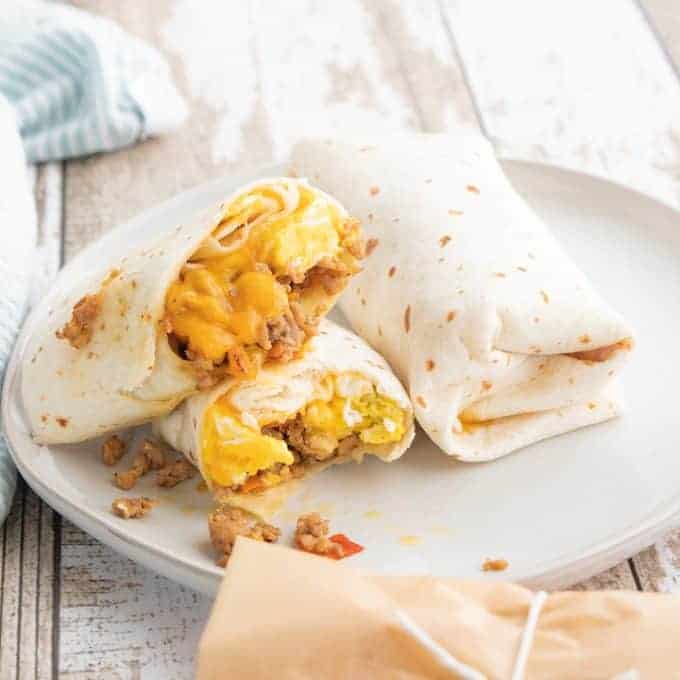 This Breakfast Burrito is a great addition to add to your list for your next camping trip.
If you have extra vegetables in the fridge before you leave for your trip, add to the burrito to limit food waste.
Wrap the burritos in parchment paper or aluminum foil and store in the freezer until you are ready to leave. Then, place in the cooler next to a frozen milk jug of water. Freezing water in empty milk jugs is free and the blocks of ice take a lot longer to melt.
Related: Camping Menu Ideas for RV Trips
CAMPSITE PREP: To heat at the campsite wrap the burritos in heavy-duty tin foil. Heat on the campfire grate or camp grill for 2-4 minutes or until heated through. If you are traveling by RV or travel trailer, use parchment paper and reheat in the microwave oven.
Beef and Cheese Burritos
Beef and Cheese Burritos will be a huge hit at your campsite for breakfast, lunch, and dinner.
Planning is key to managing cooler space so only freeze the amount that is going to fit in your cooler. Typically between 6-8 burritos in the cooler is a good number.
CAMPSITE PREP: At the campsite, place the foil-wrapped burrito on top of a campfire grill or use a pan from portable camping cookware set to reheat and serve.
Philly Cheese Steak Sandwich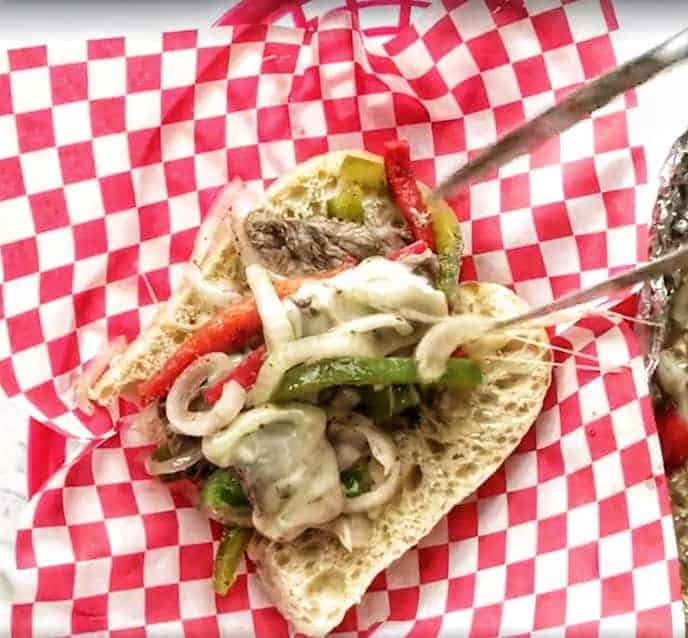 Peppers & onions cooked with steak, topped with cheese, placed on a hoagie & drizzled with the delicious juices. A Philly Cheese Steak Sandwich with all the flavor for your next camping trip.
Create foil packs by piling the veggies and steak on the foil and carefully rolling until tight. Add these foil packs to your cooler and bring them to the campsite.
CAMPSITE PREP: At the campsite, place the foil packets on your campfire grill and heat until the steak is fully cooked. Then, add the cheese and place everything on top of a hoagie.
Chicken and Cheese Pinwheels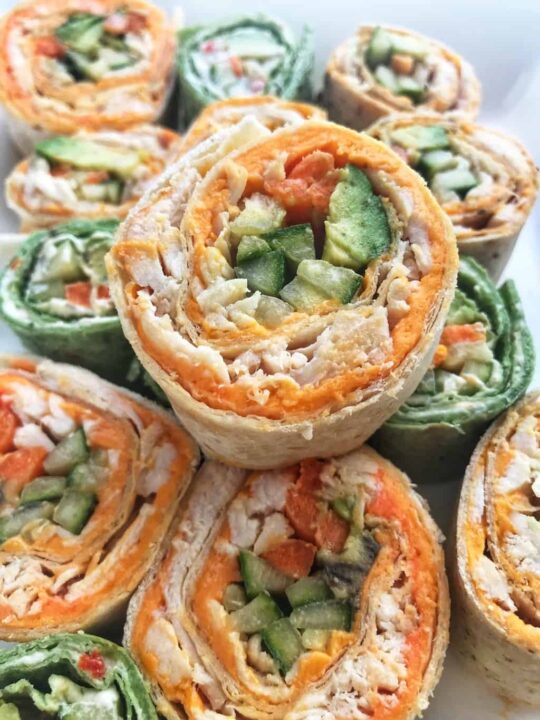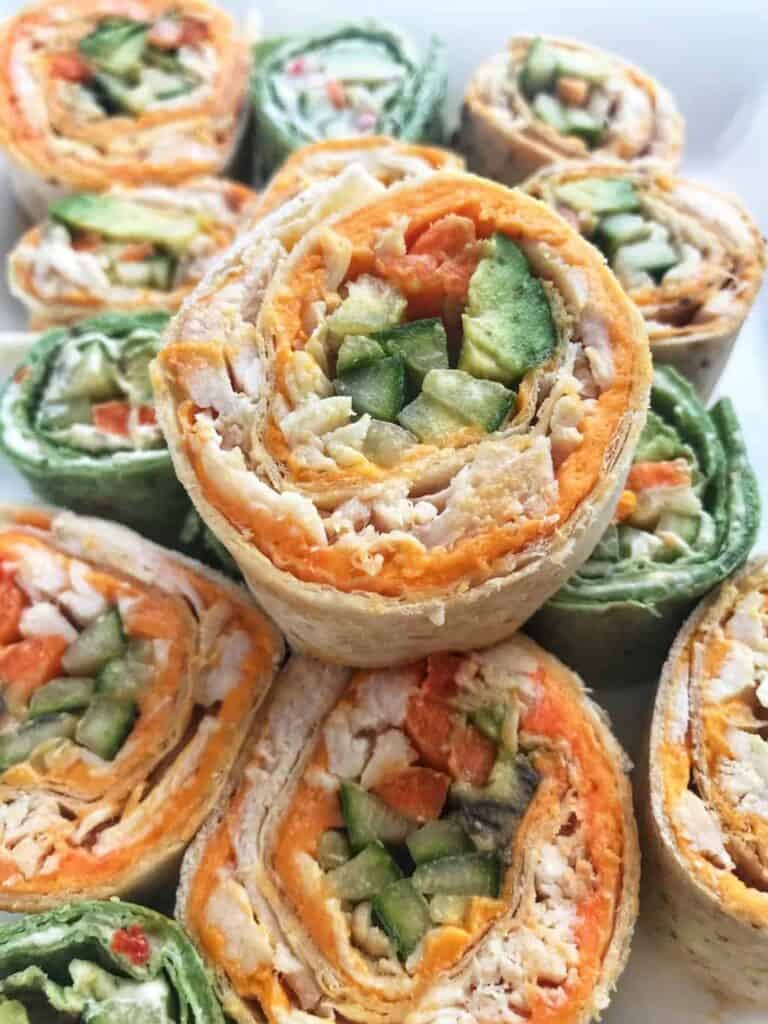 Chicken and cheese pinwheels are the perfect snack for the car ride to your campsite. You can quickly whip up this recipe before your family hops in the car. Don't roll them until serving or they will get soggy.
CAMPSITE PREP: Simply fill the tortilla, wrap, and slice. You can roll the pinwheels a couple of hours ahead of time and store in a piece of tin foil or parchment paper. When hungry they are ready for you!
Spaghetti and Meatball Cups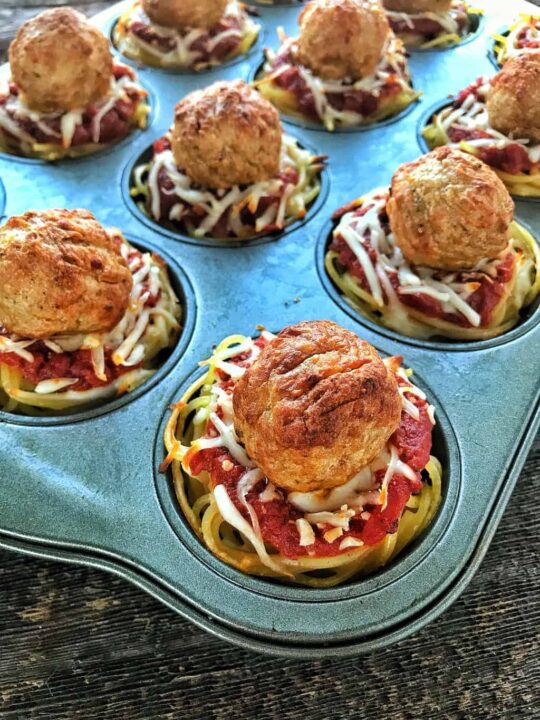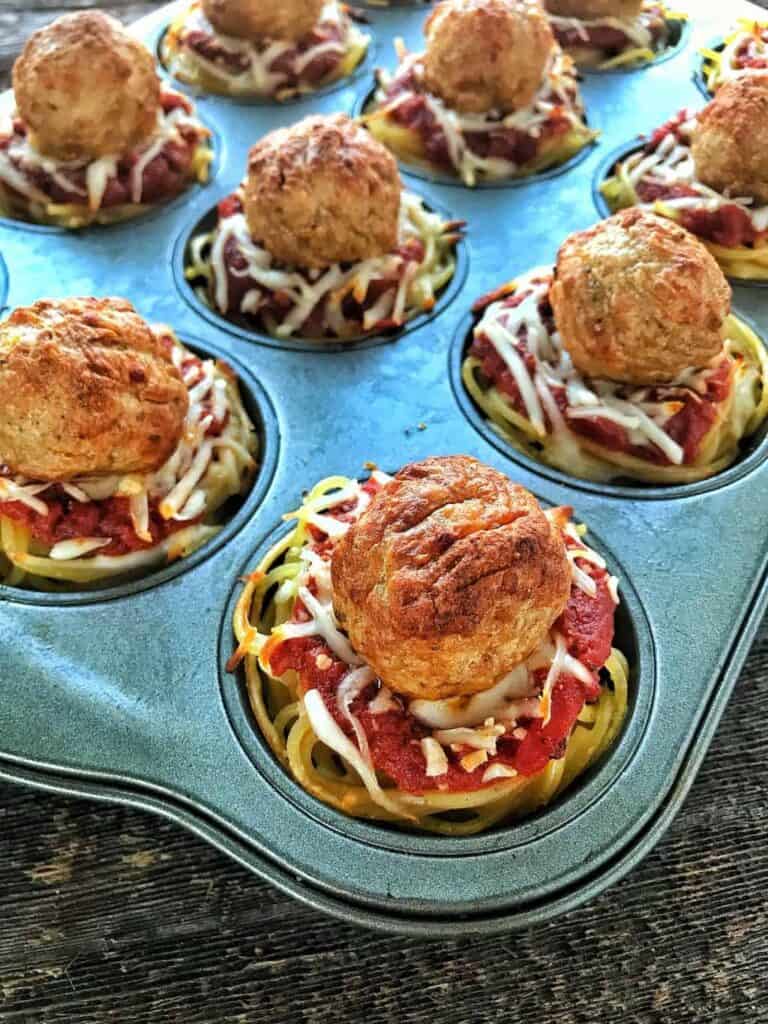 Spaghetti and meatball cups are a fun and creative way to enjoy a snack or simple dinner by the campfire.
Bake the meatball cups before you leave and place either in a collapsible food container or Ziplock freezer bag for easy transport.
CAMPSITE PREP: Wrap each cup in foil and place over your campfire grill when ready to eat.
Naan Pizza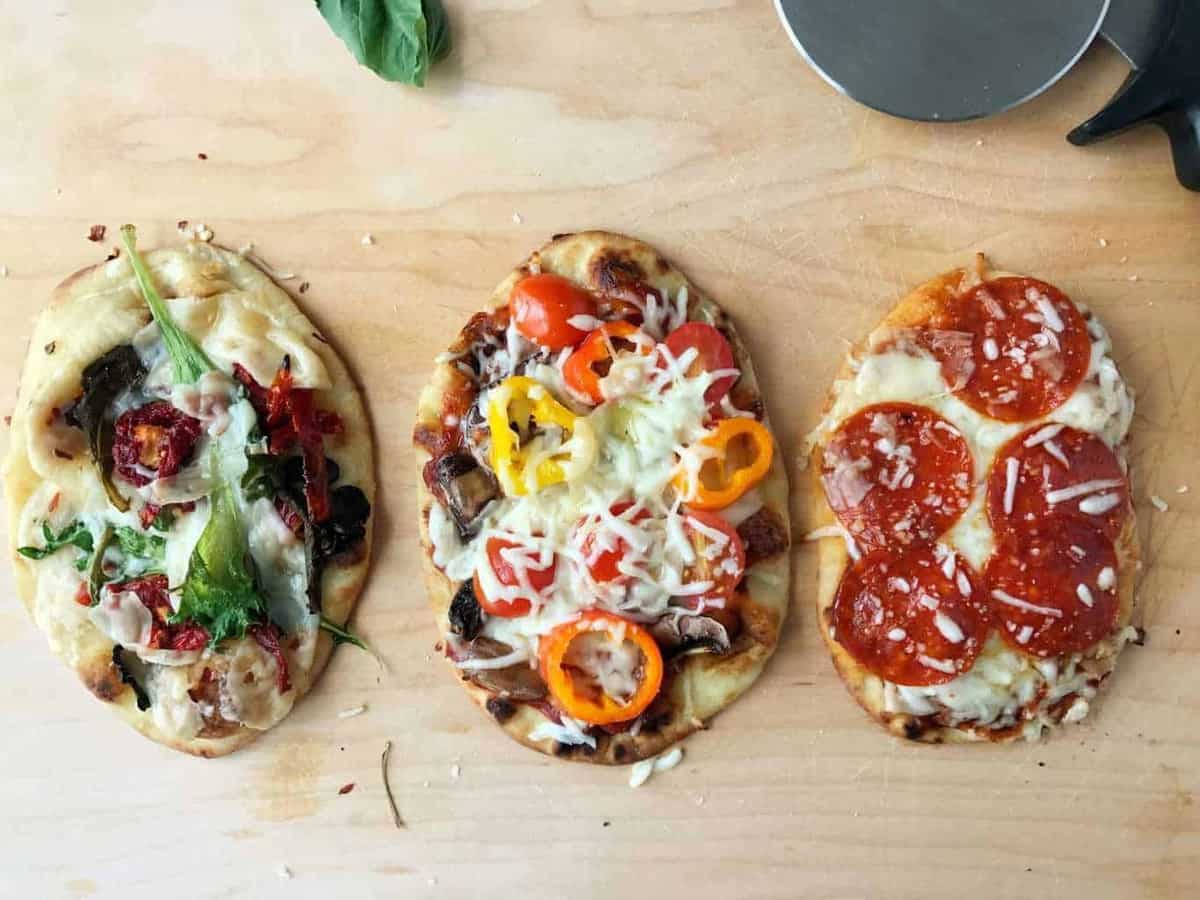 Naan pizza is one of my top favorite recipes to bring camping because the meal is SUPER easy. When I am at home, I tend to get a little fancier on the toppings. However, keep it simple at the campsite by making the pepperoni style pizza because the sauce, pepperoni slices, and naan bread will not take up cooler space.
This recipe cooks perfectly on top of a campfire grill and the flavors are amazing.
CAMPSITE PREP: You can either place the naan pizzas directly on the grill or lay a piece of tin foil on the grill then place the pizza on top. If you're having trouble getting the cheese to melt, place a piece of tin foil tented over the top to help get that melty cheese!
Muffuletta Sandwich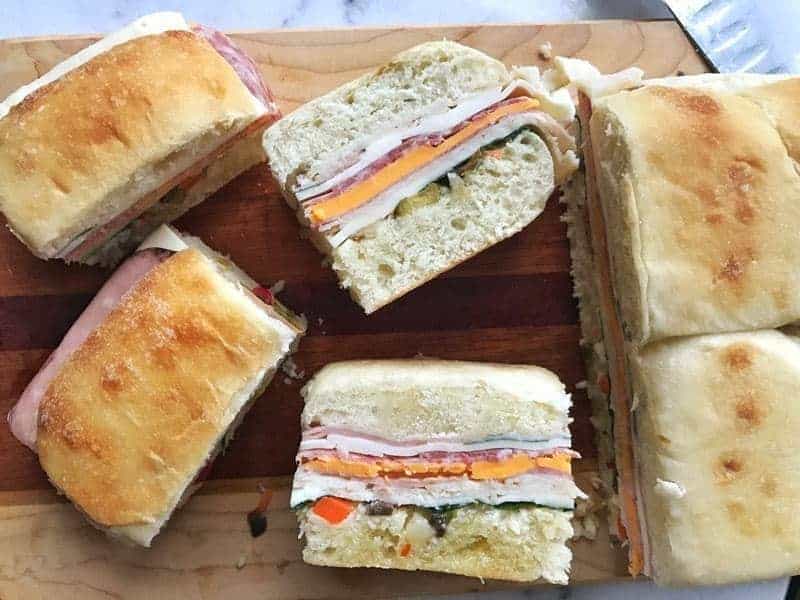 This Muffuletta Sandwich is perfect in so many ways but most importantly you are supposed to squish it before eating. Um… pack the cooler and load everything on top. The perfect camping food!
Individually wrap the sandwiches for grab & go meals while camping.
CAMPSITE PREP: Eat as is, or wrap the sandwiches in tin foil & heat them over the campfire to melt the cheese & warm the meat!
Greek Pasta Salad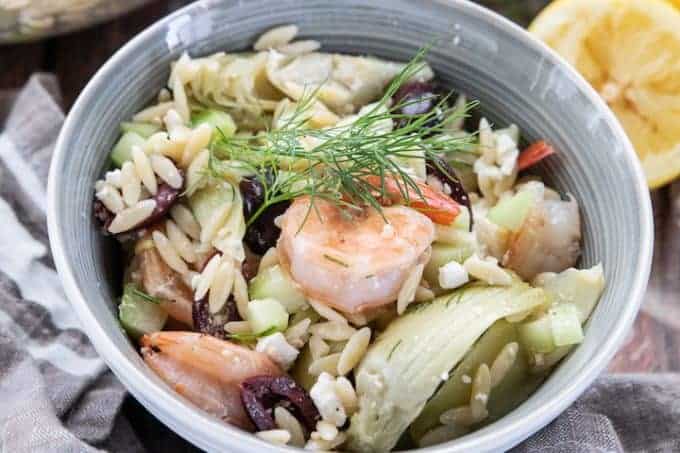 Greek pasta salad is a refreshing summer salad bursting with flavor.
Add the salad ingredients to a collapsible storage container and add the dressing ingredients to a mason jar for traveling.
CAMPSITE PREP: When ready to eat, shake the mason jar and carefully pour over the salad ingredients.
Mason jars are great for traveling because they are mess-free and a great way to mix ingredients together.
Mini Corn Dogs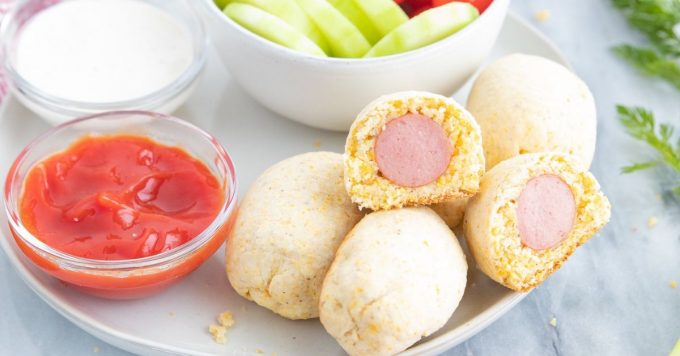 Mini corn dogs are easy to make, transport, and eat. Making the mini corn dogs about a week in advance and storing in the freezer in a Ziplock gallon-sized bag is a great way to manage prep time.
On the day you leave, all you have to do is place the gallon-sized bag in the cooler & add an ice pack. For the ultimate ice pack, freeze water in empty milk jugs.
CAMPSITE PREP: Have your campers place their mini corn dogs on a cast iron pan to reheat when they need a quick snack. Add more fun by heating them on a stick over the fire!

Shredded Chicken Tacos
Whether we are at home or camping, my kids love any recipe made with chicken. This summer, I decided my Shredded Chicken Tacos is the winning recipe to bring on our trip.
For easy travel, make a large batch of the shredded chicken in the Instant Pot before you leave and pack the cooked chicken in a collapsible container in a cooler
CAMPSITE PREP: When your family is ready for taco night, reheat over the campfire on the grate or your camp stove. Set out toppings and dinner is ready.
Reheating the taco meat in a pot from a portable cooking set is a mess-free way.
Pulled Pork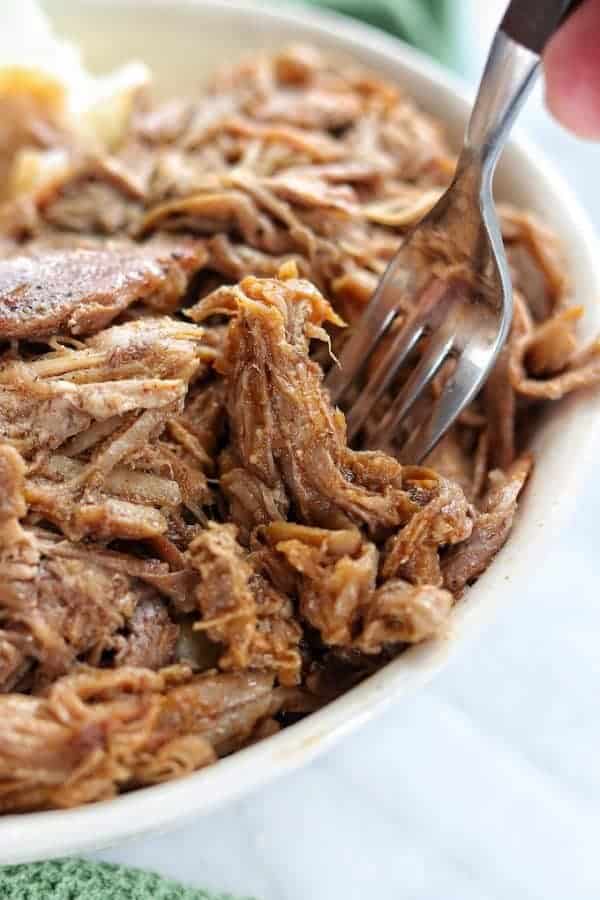 Looking for a quick & easy sandwich idea for your camping adventure? Check out these delicious pulled pork sandwiches.
This recipe is great because it makes a large batch of pulled pork in the Instant Pot in under 2 hours. Once cooked, you can easily transport to the campsite in a collapsible container. The best part is the leftovers that you are able to freeze at home for an easy dinner once you return from your trip.
CAMPSITE PREP: Using a pot from your portable cooking set, all you need to do is reheat over the campfire or your camp grill. Serve in a bun, on a pita, or on top of a bed of leafy greens!
Tuna Sushi Rolls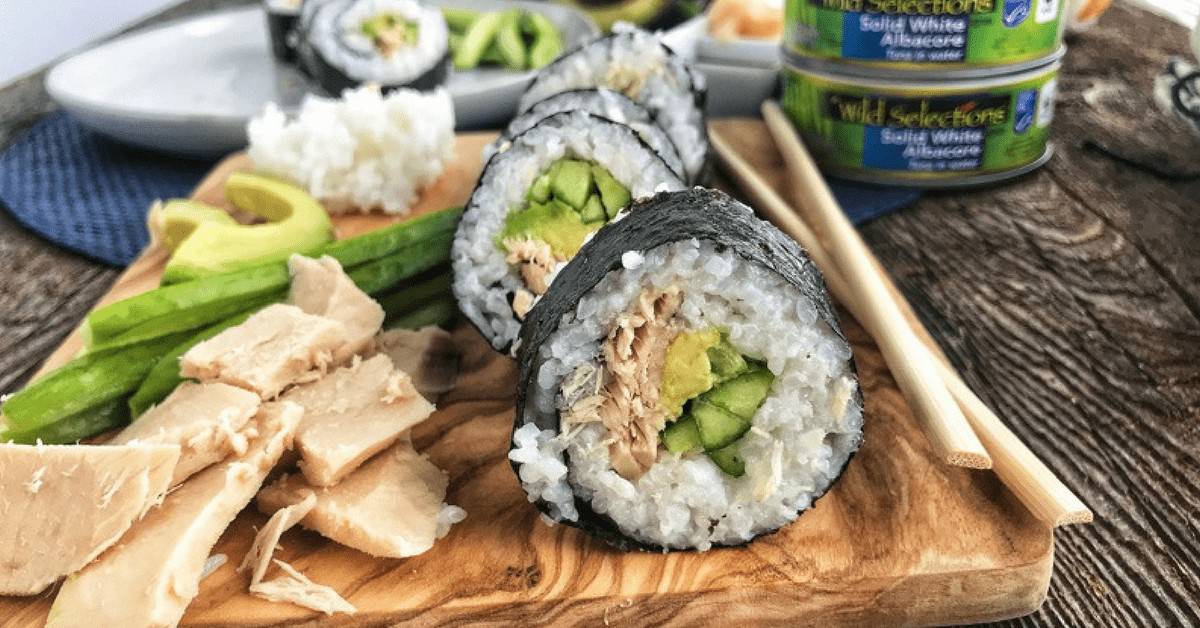 Tuna Sushi Rolls are a delicious and nutritious finger food option. This recipe is great as a snack in the car on the way to the campsite. Pack the ingredients and bring to the campsite to make as a family for lunch or dinner.
CAMPSITE PREP: I find it easy to spread out the ingredients on a camping table, and then have everyone roll their sushi – so much fun! For easy packing, bring veggies and cooked sushi rice in a container & the tuna in the can.
Best Chili Recipe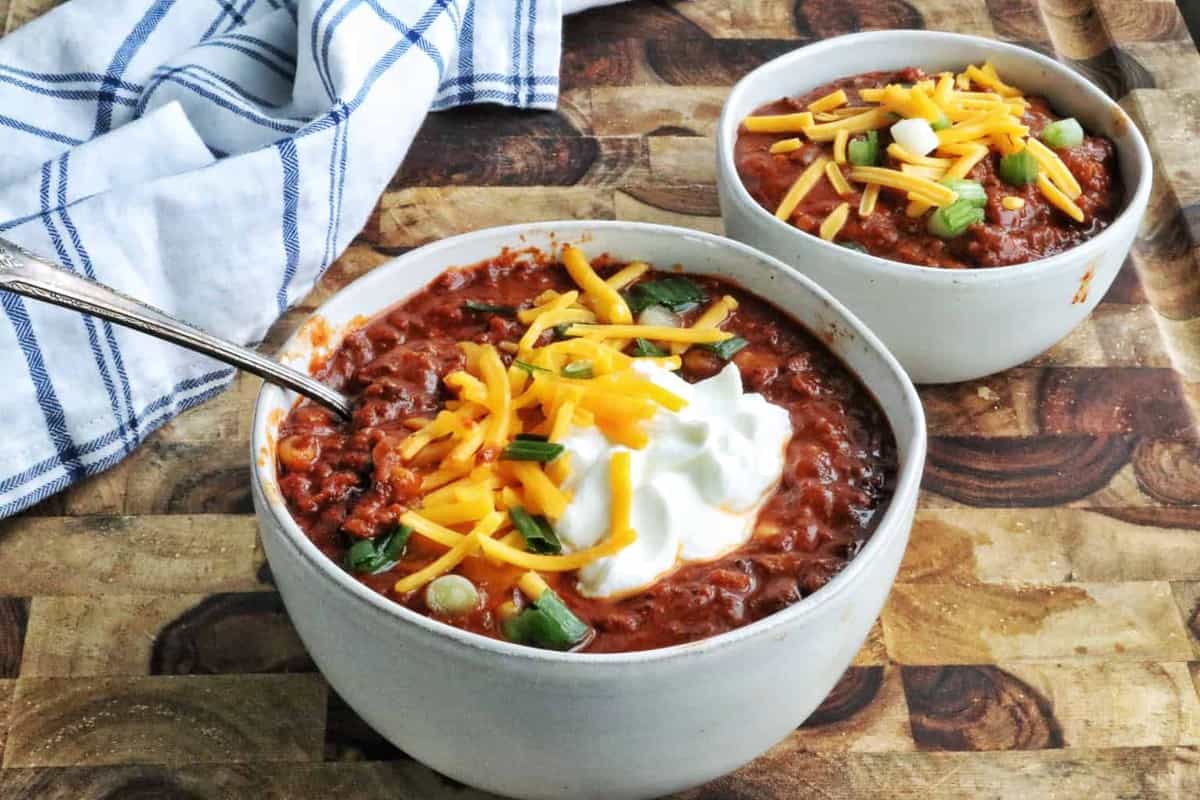 My Best Chili recipe is great for those cool evening nights when everyone is sitting around the campfire and telling stories. Pouring your family a bowl of warm chili and topping it with shredded cheese will add the perfect touch.
CAMPSITE PREP: Transporting the chili to the campsite by filling a pot from a portable cooking set is a mess-free way to travel. At the campsite, just place the pot on the fire & reheat within minutes – doesn't get easier than that!
Juicy Lucy Burger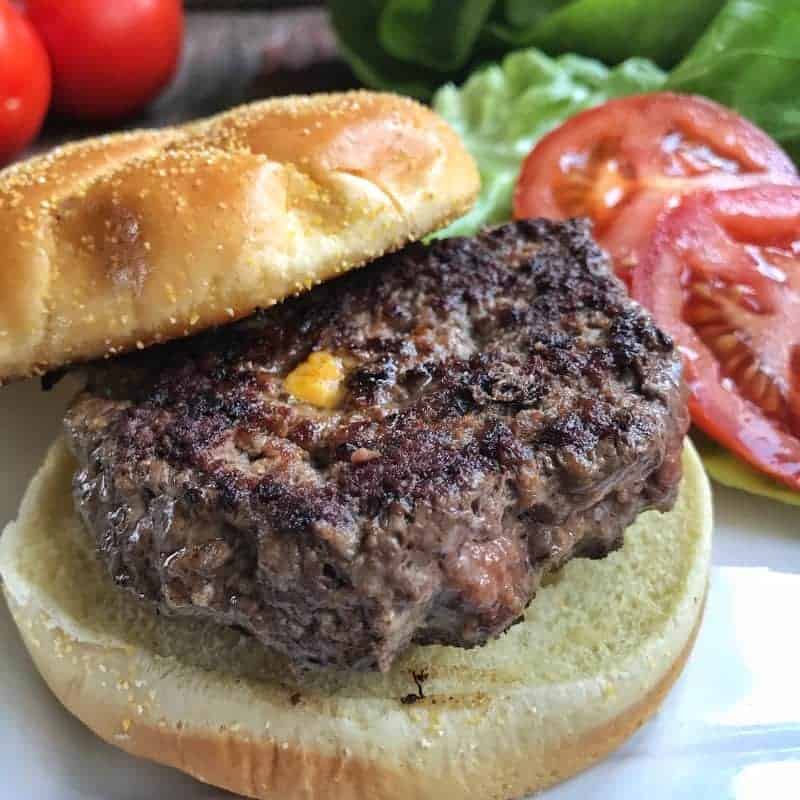 The Juicy Lucy Burger is the ultimate burger for any family that LOVES homemade burgers.
The cheese-filled middle will have you wondering why you ever put cheese on the top of a burger! Burgers are a great camping meal choice because they are quick and easy to transport and grill.
CAMPSITE PREP: Make ahead by making the burgers and wrapping in foil before placing them in the cooler. Then, pack your preferred toppings and condiments. At the campsite, turn on your campfire grill, or campfire grate & cook until the internal temp reaches 165 degrees – enjoy!
Refried Bean Burrito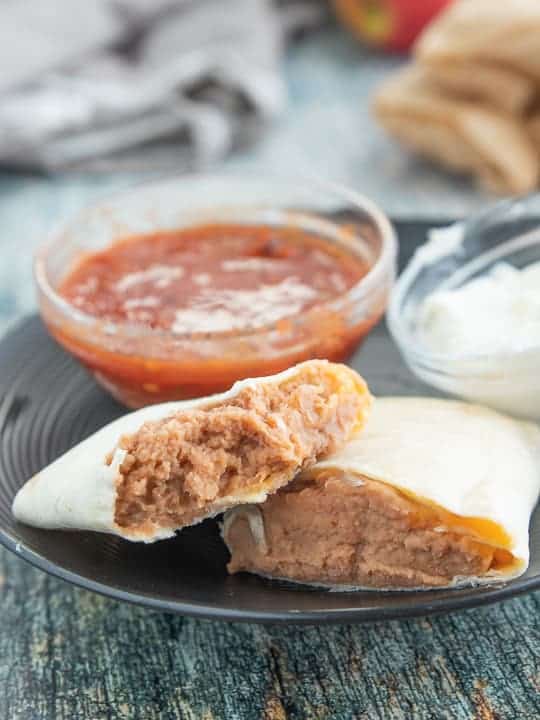 Burritos are definitely a go-to meal to bring camping.
They are easy to transport, quick to reheat, and delicious.
My Refried Bean Burrito is a huge hit because my kids, especially my daughter, LOVES refried beans. With only 3 ingredients, you can whip up burritos before leaving for your trip that will 100% be gone by the time you return home.
To make ahead of time, assemble burritos —> wrap burritos in tinfoil —> place into a freezer ziplock bag —> freeze —> transport to the campsite in cooler.
CAMPSITE PREP: If wrapped in heavy-duty foil simply reheat over a campfire. If your traveling by RV or travel trailer, wrap in parchment and warm in the microwave.
Bean & Cheese Quesadillas with Chicken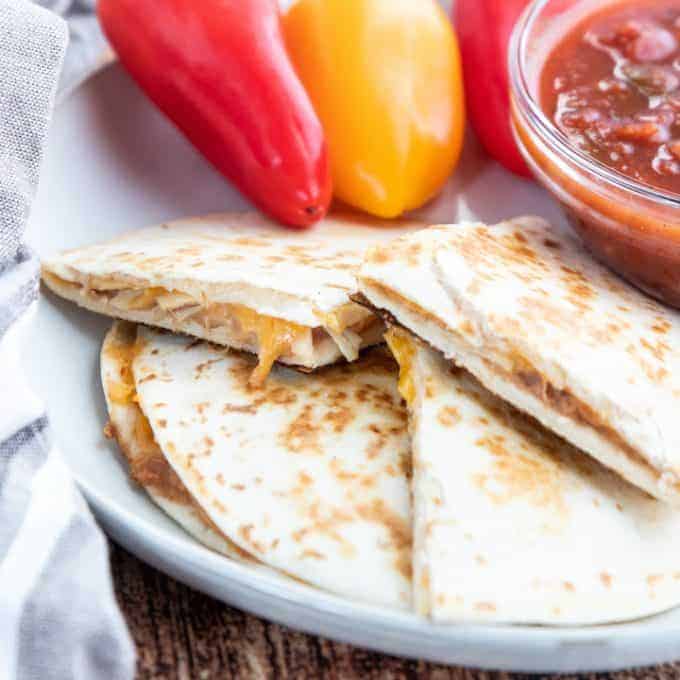 In under 10 minutes with less than 5 ingredients, you can create a lunch meal for all the campers at your campsite by making Bean and Cheese Quesadillas with chicken. Plus, by using canned ingredients for this healthy quesadilla recipe, you will save room in the coolers.
CAMPSITE PREP: Assemble the quesadillas on a camping table and add to a campfire griddle or cast iron pan when ready to cook.
Potato Soup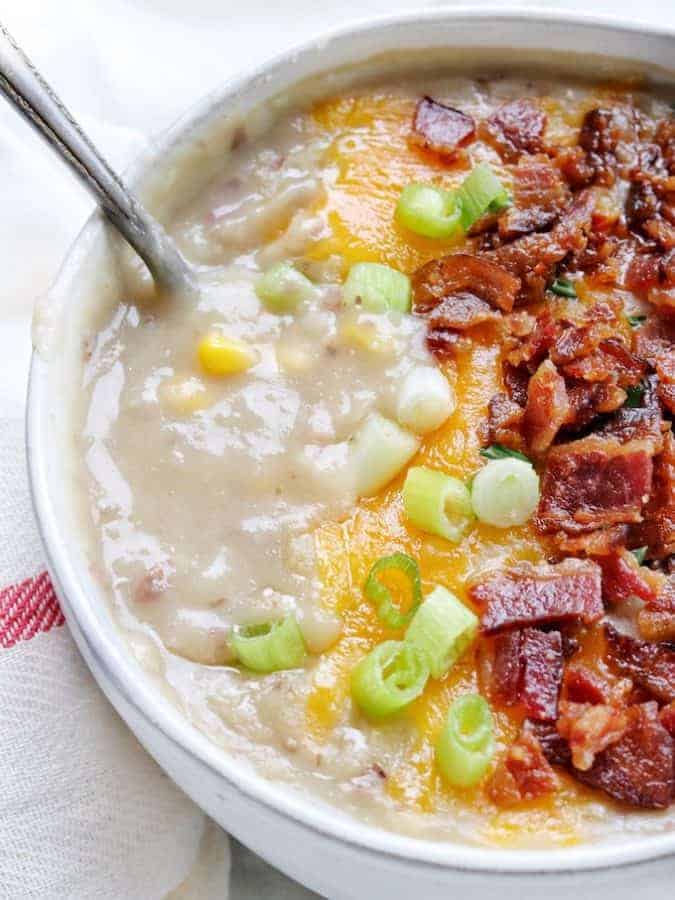 Potato Soup is a recipe that can be made before your trip, frozen, and then reheated at your campsite.
This recipe is a top favorite of mine because all you have to do is dump the ingredients into the crockpot and let the slow cooker do the rest while you finish packing and meal prepping.
Transport the soup to the campsite in a plastic container or ziplock bag.
CAMPSITE PREP: At the campsite, just place the pot on the fire & reheat.
Tuna Pasta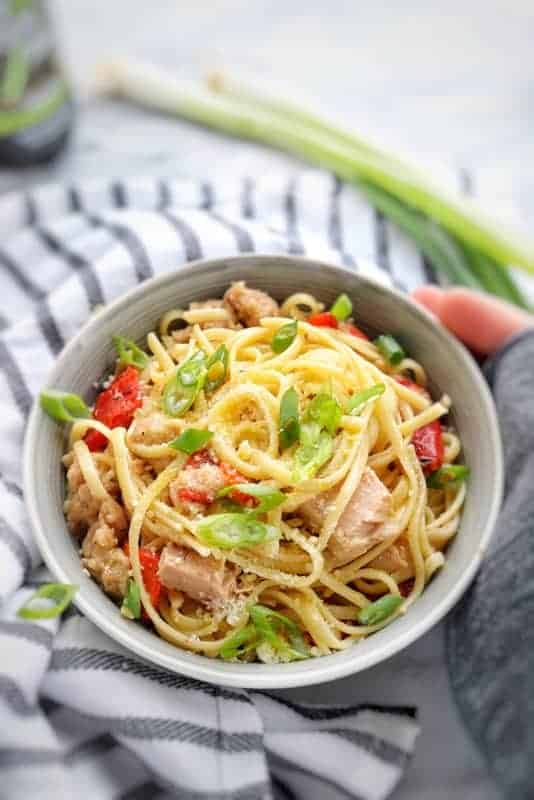 Tuna Pasta is a versatile recipe because it can be served warm or chilled.
It is a great option to make the night before you leave for your trip and then just pack the leftovers for the road. It is the perfect way to limit food waste and plan ahead.
CAMPSITE PREP: If planning to eat warm, reheat the tuna pasta in a cast iron pan and pour it into individual bowls for your campers.
Meatball Foil Packets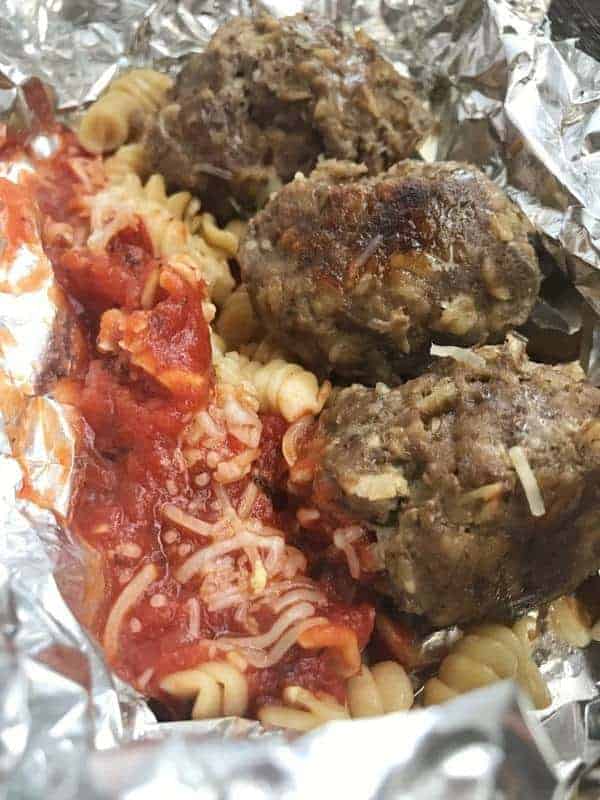 Meatball foil packets are perfect for my family because my daughter loves meatball sandwiches and my son is a huge fan of spaghetti & meatballs. This recipe allows me to make versions in one foil packet!
The easiest way to transport the meatballs is to freeze them after you wrap them in foil.
CAMPSITE PREP: When you're ready to cook the foil packets, cook meatballs to an internal temperature of 160 degrees. Once cooked, add pre-cooked pasta (or cook pasta in advance), marinara sauce, and shredded cheese to the packet & heat over the fire.
If you're making meatball sandwiches, place meatballs into pita pockets, top with marinara sauce and cheese.
You may also enjoy:
If you enjoyed the recipe make sure to leave a comment and a star rating below! Then follow me on social media and tag #createkidsclub if you make the recipe. I love seeing what you come up with!