Looking for a simple breakfast in a cast-iron skillet? Look no further than this hashbrown, sausage, and egg breakfast skillet - the perfect way to start your day.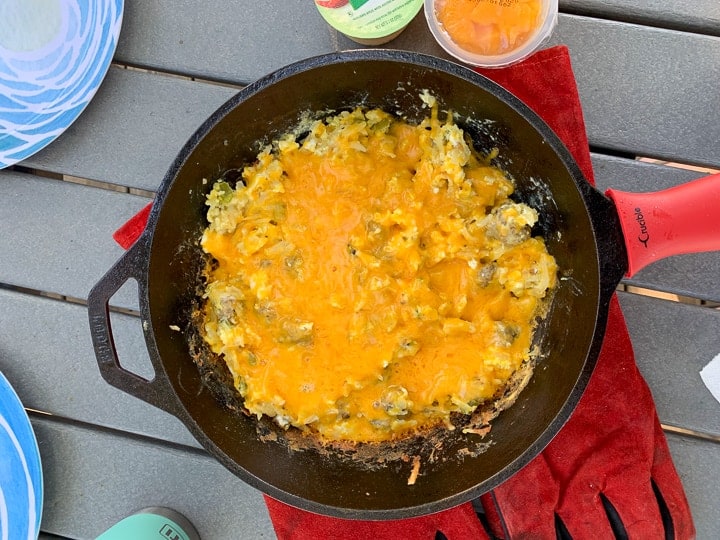 What do you need to make Hashbrown Breakfast In Cast Iron Skillet?
1 4.2 oz. box dry hashbrowns
1/2 cup diced green pepper (chop and freeze before heading to the campground)
1/2 cup diced onion (chop and freeze before heading to the campground)
1 cup shredded cheese
6 eggs
6 pre-cooked turkey sausage links, broken into pieces
1 tbsp. olive oil
salt and pepper to taste
How Do you prepare this Easy Camping Breakfast?
Add water to hashbrowns per box instructions.
Heat oil in a skillet over a camp stove.
Add onions, green peppers, and sausage. Saute until veggies are translucent.
Add hydrated hashbrowns and let cook for 5 minutes, flipping occasionally.
Clear a space in the middle of the hashbrowns and add eggs.
Gently stir until eggs are cooked through.
Top with cheese. Turn heat off and cover.
Serve once the cheese has melted.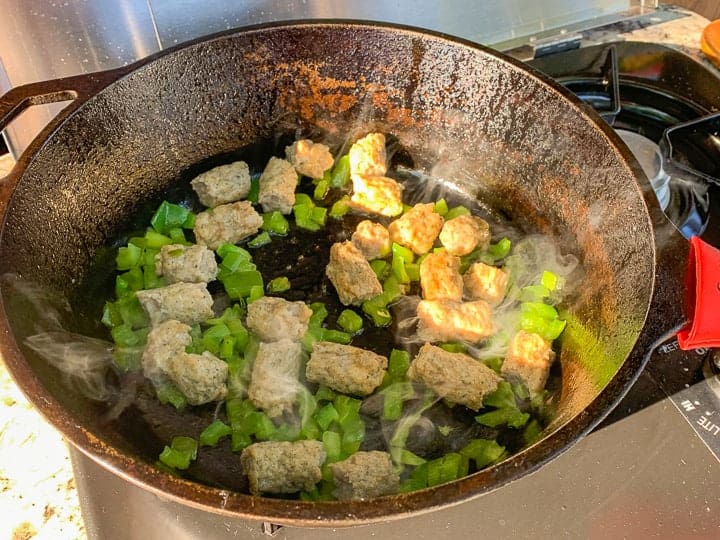 Start by heating the oil in a cast-iron skillet. Add peppers, onions, and turkey sausage chunks. Cook until the peppers and onions are soft.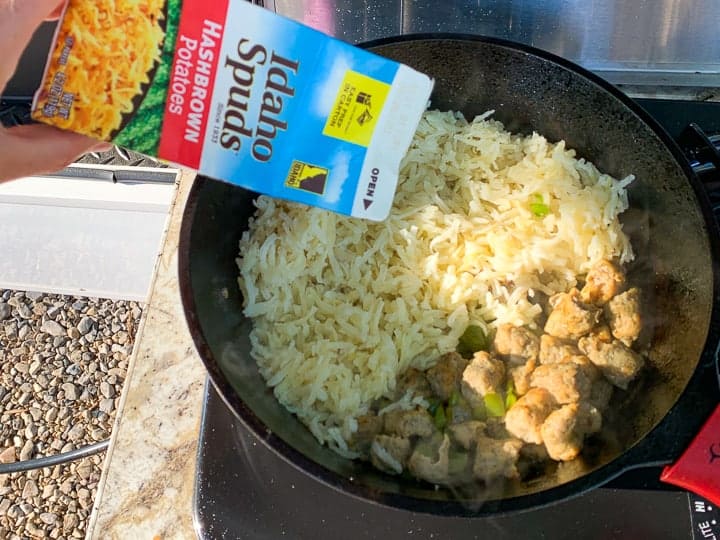 Once the hashbrowns have soaked up the water and are rehydrated, add them into the hot skillet. If you'd like them golden brown, add more oil to help the hashbrowns get crispier and golden brown. Cook for about 5 minutes, flipping the hashbrowns several times.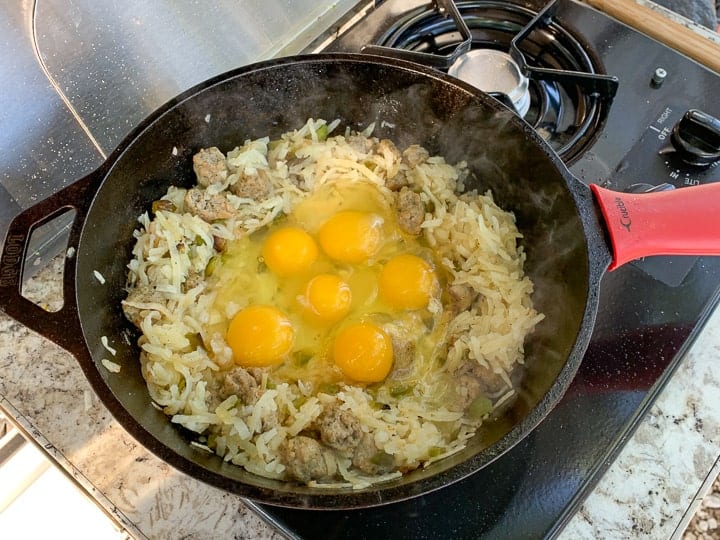 Next, add the eggs. Using a spatula, gently stir the eggs into the hashbrown mixture and cook through - about 2-3 minutes.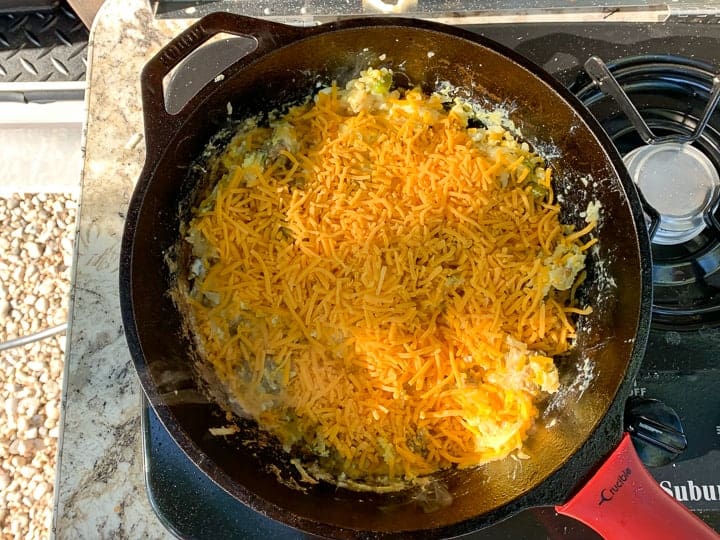 Once the eggs are cooked through go ahead and add the shredded cheese. Turn the heat off and cover the skillet with a lid or foil. This melts the cheese without overcooking the eggs.
Serve as soon as the cheese is melted!
Optional Add-Ins:
Add vegetables like canned mushrooms, tomatoes, or green onions.
Swap sausage for ham, bacon, or sausage crumbles.
How To Make Breakfast In Cast Iron Skillet on the campfire grate?
Follow the same instructions as above, but place the skillet over the fire. Use long utensils and fire-safe hot pads.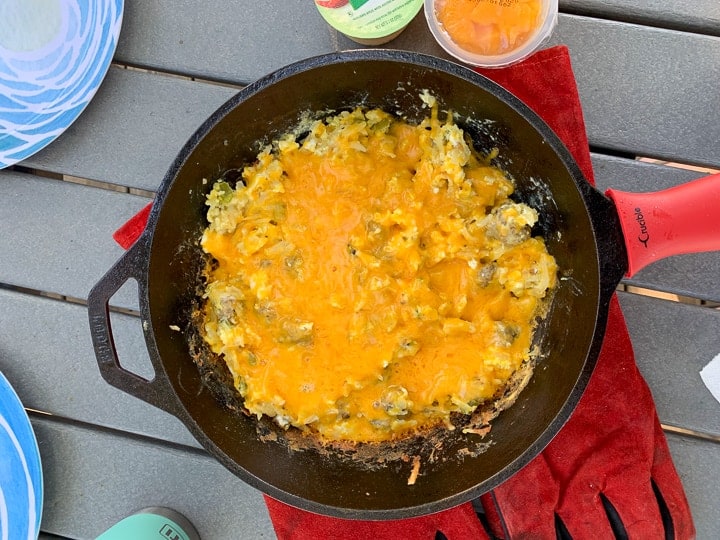 Here are more delicious camping recipes: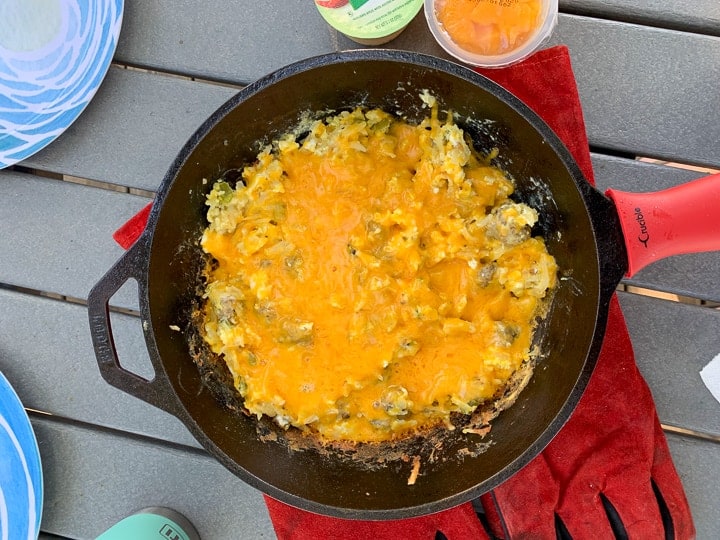 Ingredients
1 - 4.2

oz.

box dry hashbrowns

1/2

cup

diced green pepper

chop and freeze before heading to the campground

1/2

cup

diced onion

chop and freeze before heading to the campground

1

cup

shredded cheese

6

eggs

6

pre-cooked turkey sausage links

broken into pieces

1

tbsp.

olive oil

salt and pepper to taste
Instructions
Add water to hashbrowns per box instructions.

Heat oil in a skillet over a camp stove.

Add onions, green peppers, and sausage.  Saute until veggies are translucent.

Add hydrated hashbrowns and let cook for 5 minutes, flipping occasionally.

Clear a space in the middle of the hashbrowns and add eggs.

Gently stir until eggs are cooked through.

Top with cheese.  Turn heat off and cover.

Serve once the cheese has melted
Nutrition
Calories:
344
kcal
|
Carbohydrates:
18
g
|
Protein:
18
g
|
Fat:
22
g
|
Saturated Fat:
7
g
|
Cholesterol:
278
mg
|
Sodium:
1191
mg
|
Potassium:
373
mg
|
Fiber:
2
g
|
Sugar:
2
g
|
Vitamin A:
568
IU
|
Vitamin C:
12
mg
|
Calcium:
200
mg
|
Iron:
2
mg