Peppers and onions are marinated in oil and spices, then cooked with steak, topped with cheese, and placed on a crisp hard roll drizzled with juice.  A camping dinner recipe made in foil packets that can easily be made ahead of time.
I HAVE PARTNERED WITH THE WISCONSIN BEEF COUNCIL  FOR THE NEXT FEW MONTHS TO TALK ABOUT IMPORTANT NUTRITION INFORMATION AND SHARE SOME DELICIOUS RECIPES. ALL OPINIONS EXPRESSED ARE MY OWN.
This recipe for Philly cheesesteak is also a great camping dinner idea that's easy to prepare & cooks quickly.
It also happens to be a healthy camping recipe.  This simple steak recipe can be made quickly at home, wrapped in foil, then cooked over the fire anytime.  

Not into camping but still want a fun dinner idea?
These foil packets can be cooked in the oven or on the grill too!  An easy, healthy dinner recipe that the whole family will love.
Healthy Recipes Sent Weekly
Subscribe to get our latest content by email.
Are your kids not into peppers?  Mine aren't either, so I went light on the peppers in their packets and put the extras in mine! I also downsized their roll and used less meat than the adult portions.  See below: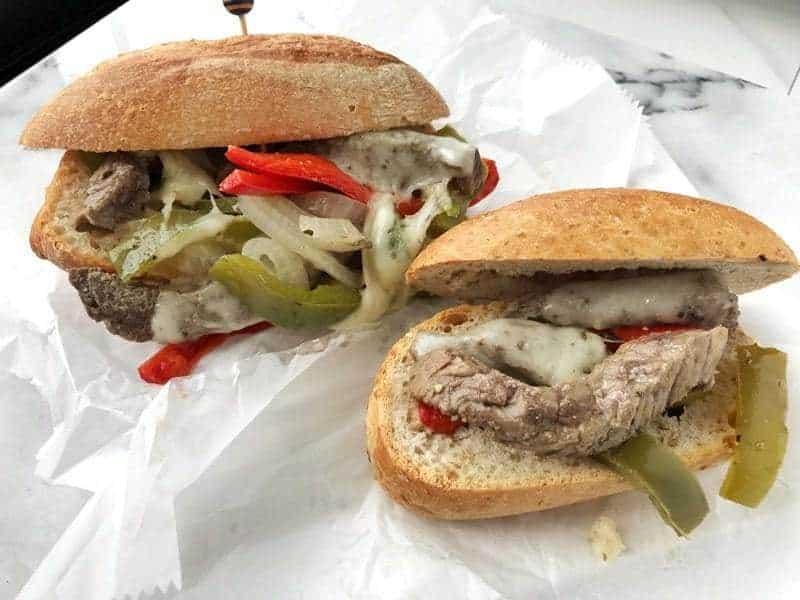 You might be wondering how this recipe for Philly cheesesteak can possibly be healthy?  I mean, it's made with steak!  Steak can't be healthy… or can it?!
Let's dive in.
There has been an evolution of lean beef over the past few decades.  Consumer preferences have driven demand towards leaner cuts of beef, achieved through increased trimming of fat off beef.  Over time, this has resulted in an 80% decrease in external fat on retail beef cuts,  moving more cuts of beef into the lean beef category.
What does lean mean when referring to beef?
Contains less than 10 grams of total fat
Has 4.5 grams or less of saturated fat
Includes less than 95 milligrams of cholesterol per 3 1⁄2-oz serving

To choose lean cuts of beef, look for "Loin" or "Round" in the name.
Beef contains 10 essential nutrients and almost half of a persons daily protein needs in just 150 calories (3.5 oz serving).  The protein in beef helps keep you full longer, ultimately helping control calorie intake.
In this recipe for Philly cheesesteak, we are using Top Sirloin Steak, which is both lean and tender.
Top sirloin steaks are a great value among top quality grilling steaks. They are a lean cut so make sure not to overcook the steak.
Watch the video to see just how easy this foil packet recipe is:
Print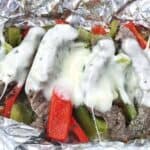 Philly cheesesteak Foil Pack
Author:

Prep Time:

10 minutes

Cook Time:

15 minutes

Total Time:

25 minutes

Yield:

6 people

Category:

Main Course

Cuisine:

American
---
Description
Peppers and onions are marinated with oil and spices, then cooked with steak, topped with cheese, and placed on a crisp hard roll drizzled with juice. A healthy camping recipe in foil packets that can easily be made ahead of time.
---
Ingredients
1 lb. top sirloin steak, sliced
1 medium onion, sliced
1 green pepper, sliced
1 red pepper, sliced
1/4 cup olive oil
1 tsp. garlic powder
1/2 tsp. salt
1/2 tsp. pepper
3 slices provolone cheese
6 rolls
tin foil
---
Instructions
Preheat oven to 400 degrees.
Whisk together oil, garlic powder, salt, and pepper.
Place sliced onions and peppers in a medium sized bowl.  Stir in oil mixture.
Distribute steak evenly on 6 sheets of tin foil.
Top with veggies and roll up foil packets.
Bake, cook on grill or campfire, for 15 minutes or until steak is cooked to your preferred doneness.
Carefully open foil packets and place 1/2 a slice of cheese on top.  Close foil packet and let cheese melt.
Place steak, veggies, and cheese on top of a hard roll and drizzle with the remaining juices.
What are your favorite camping recipes?  Share below!

Pin For Later! 
SaveSaveSaveSaveSaveSave
FREE Kids Cooking eBook!
Do you want your children eating a more varied diet, but wonder how to get more fruit and veggies into their meals & snacks? This eBook is a fun filled way to get kids eating better while having age appropriate fun!