Nacho Bowls are a healthy dinner idea that's also a fun family recipe to make and even more fun to eat!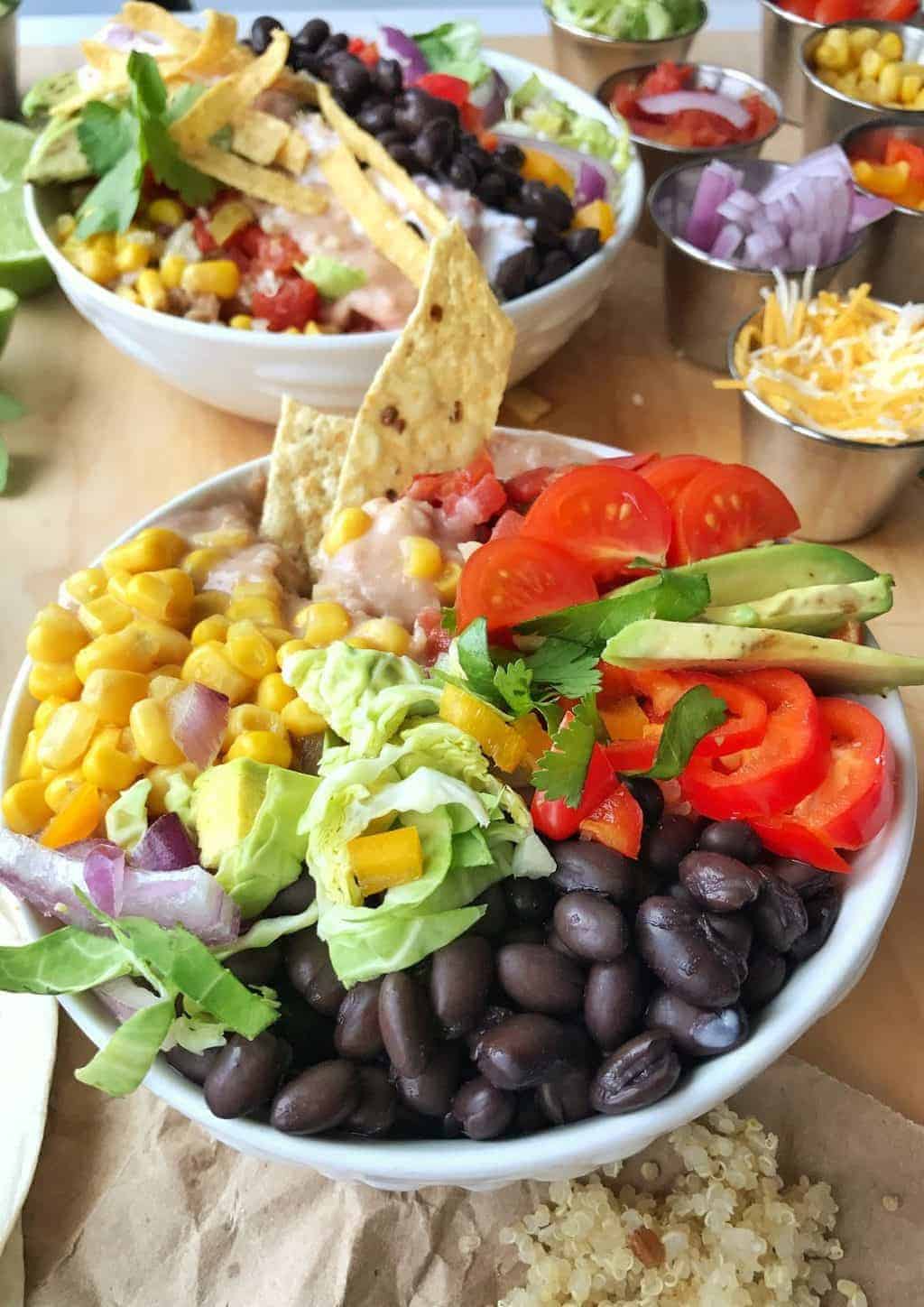 We often have arguments between my two kiddos on the dinner menu.
My solution? Serving fun family recipes that everyone can customize to their own tastes, like these Nacho Dip Bowls.
The best part?! It's super easy to get ready and is perfect for a Meatless Monday Meal! If your kids aren't yet fans of the bean, swap out them for chicken, beef, pork, or even tofu!
My kids are in a constant battle to see whose favorite meal is made; will it be sloppy joes or nachos? I admit, sloppy joes usually win - my daughter's beloved nachos don't quite meet my healthy dinner specifications.
Until now.
I decided to make her favorite meal healthier - so we can both be happy.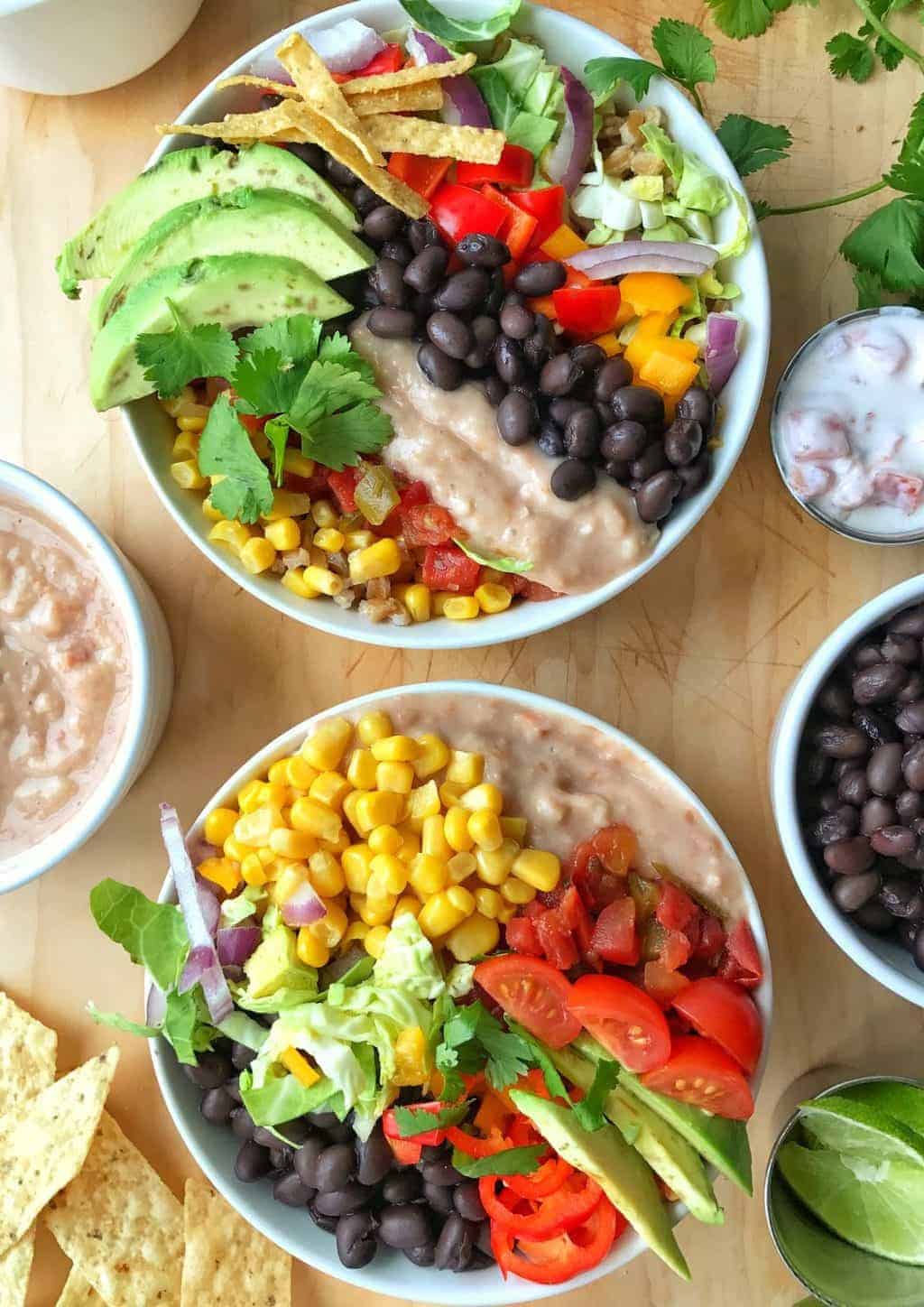 Her fave nachos consisted of chips, refried beans, salsa, and shredded cheese.
Her brother is not a fan, he wraps the toppings in a tortilla. Who am I to argue with a 10-year-old who refuses deep-fried chips?! 🙂
I did have to keep him in mind with the new nacho dip bowls.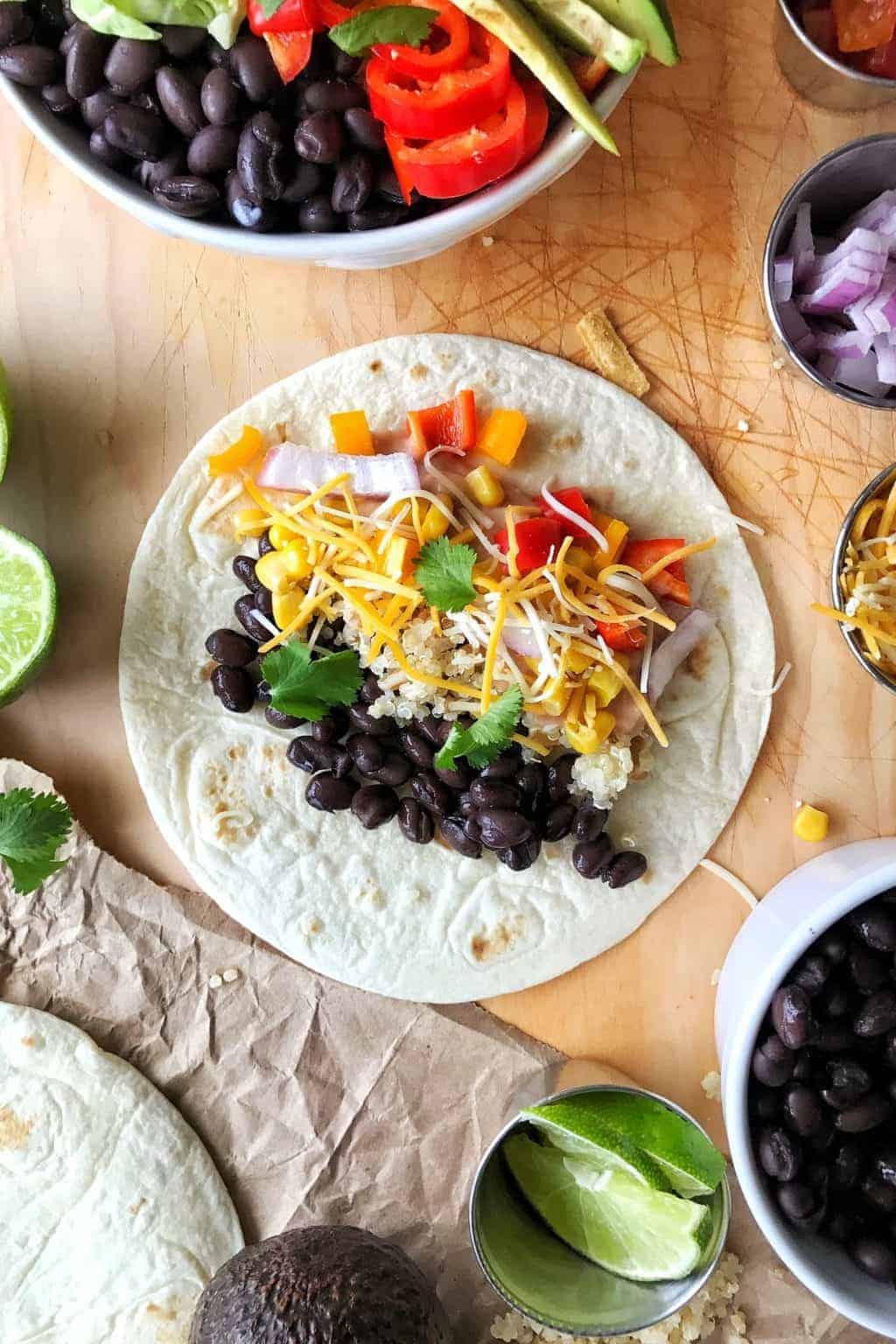 A simple solution was found to make everyone happy.
Let your children choose their favorite way to enjoy this fun dinner idea - wrapped up tortilla style, or as a dip for chips in the nacho dip bowl.
Make everyone happy at dinner tonight!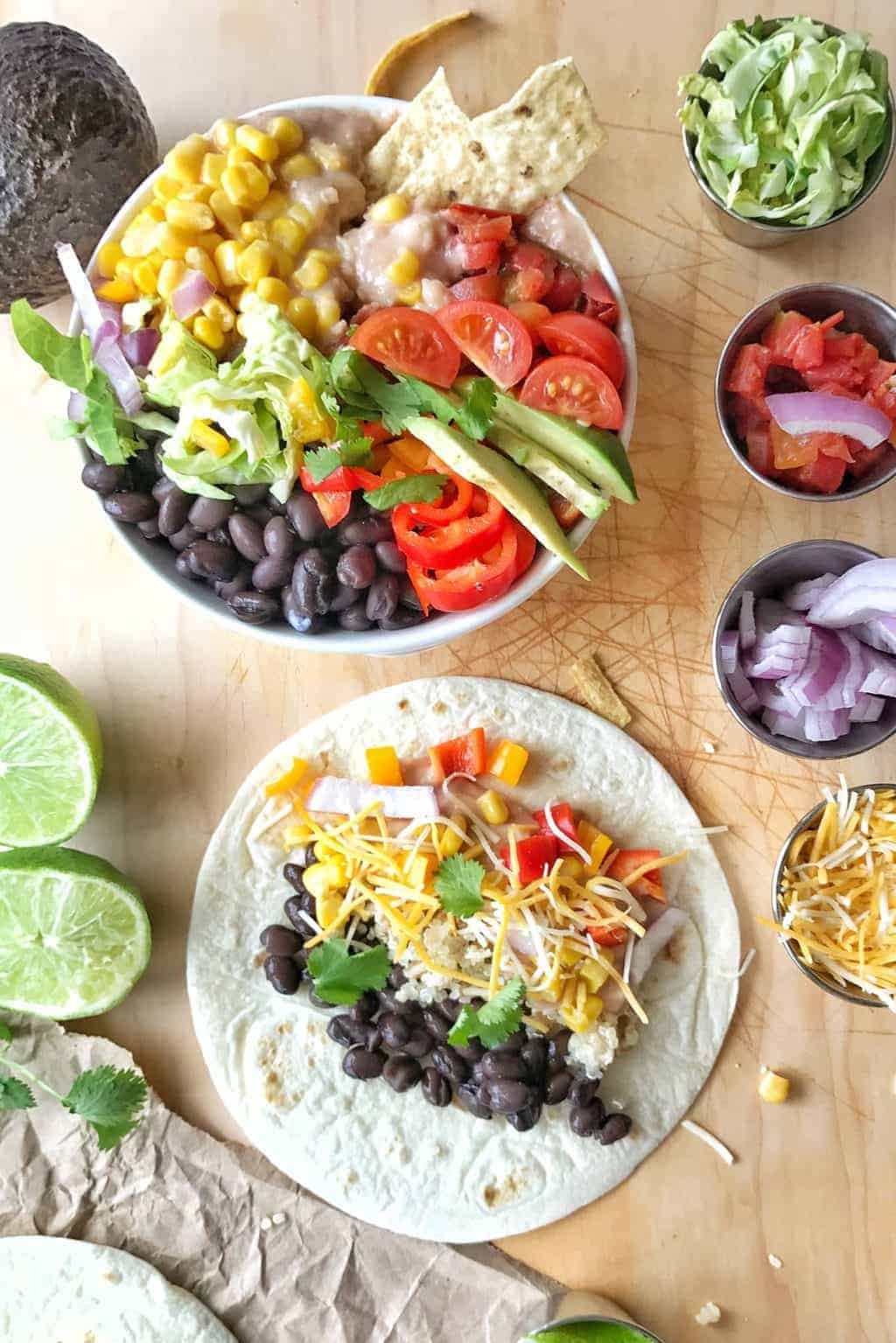 Did you know beans are the most concentrated source of plant-based protein in the world? Between 6 - 11% of a cooked bean's weight is protein!
I love incorporating beans into meals for many reasons. Beans are naturally low in fat, have no cholesterol, and provide more fiber than most whole-grain foods. They are also inexpensive - my pantry always has a large variety of beans on its shelves.
I like offering a differently textured bean to go along with whole beans. My son is not a huge fan of whole beans, however, if they are mashed or pureed, he eats them without complaint, providing him with a great source of protein, fiber, and nutrients that might have gone uneaten otherwise.
You can easily turn a can of whole beans into a can of refried beans with one tool. A blender.
I use my immersion blender - which is one of my favorite kitchen gadgets - but any blender will do.
Simply drain a little of the liquid from the can, place the immersion blender directly into the can, and blend. Voila - refried beans!
How To Make This Fun Dinner Recipe:
Layer your favorite grain (rice, Mexican rice, or quinoa) in the bottom of the bowl.
Top with beans. I used black beans and refried beans as options.
Set out a variety of veggies for your kids to pick from. I used avocado, peppers, canned corn, tomatoes, shredded brussels sprouts, and onions.
Serve with yogurt sauce, salsa, or guacamole.
How to make Yogurt Sauce:
Mix yogurt and salsa together, season with salt.
Wrap bean bowl into a tortilla, scoop with chips or eat as is.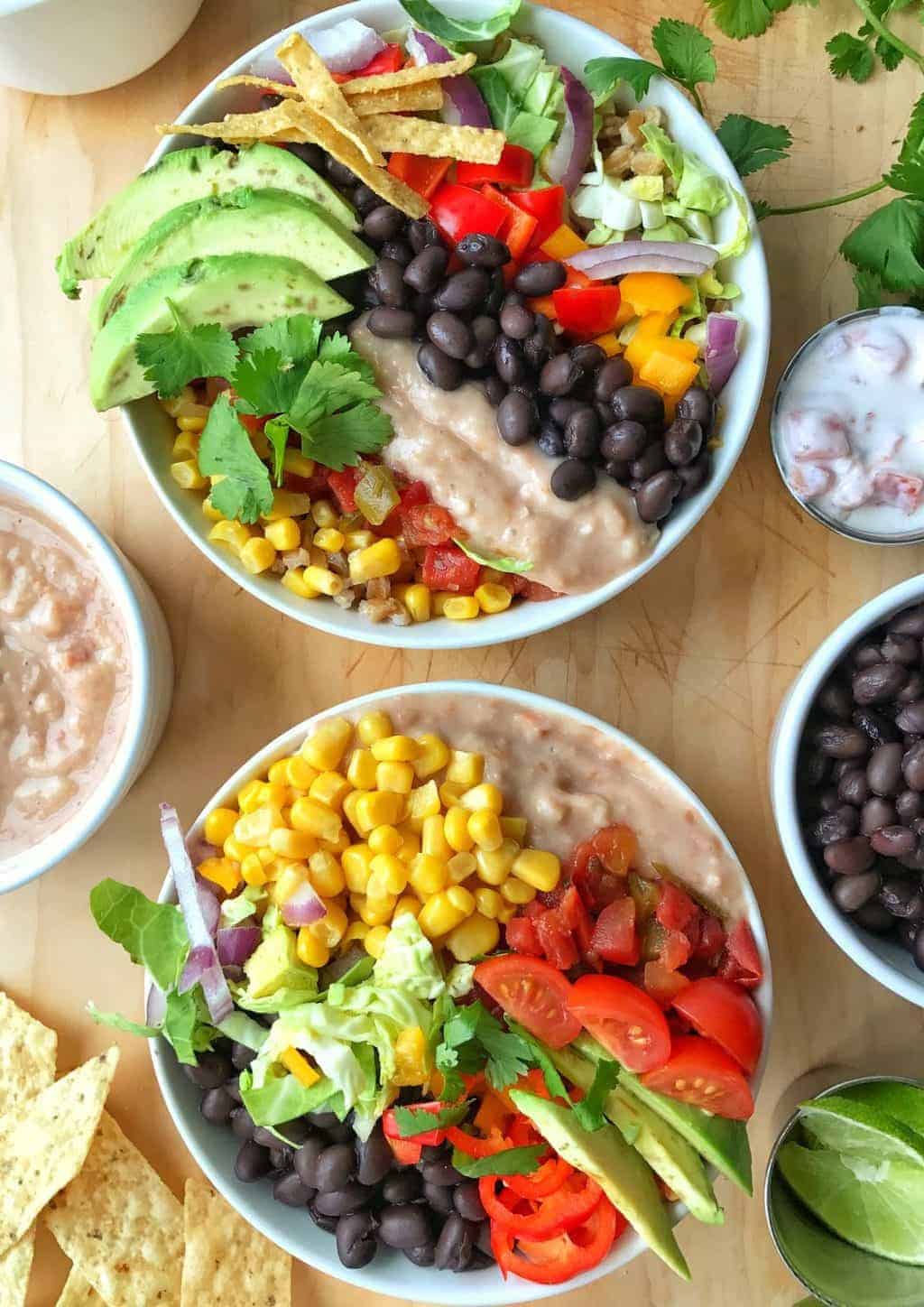 I prefer my bowl with just the grain base, no chips. It makes for great leftovers for lunch. 🙂
Check out more simple Dinner Recipes: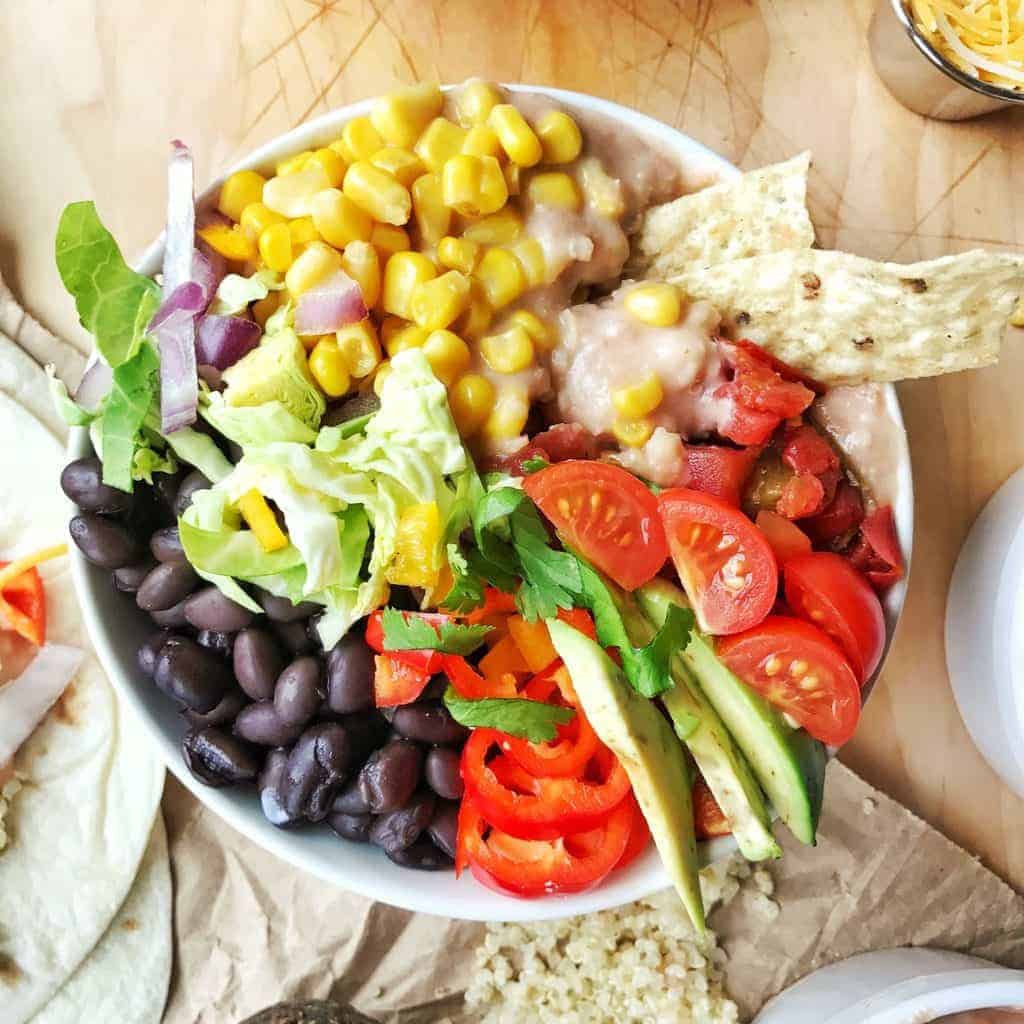 Ingredients
15

oz.

can black beans

drained and rinsed (such as S&W)

15

oz.

can pinto beans

blended or mashed if desired (such as S&W)

1

can corn nuggets

drained

1 -2

cups

quinoa or farro

cooked per box instructions (more if serving bean bowls)

1/2

cup

salsa

1

cup

cherry tomatoes

sliced in half

1

avocado

sliced

1/2

cup

shredded Mexican cheese

1/4

cup

red onion

chopped

1/2

pepper

chopped

4-5

Brussels sprouts

cut crosswise to shred

1

lime

sliced (optional)

1/3

cup

cilantro

optional

chips

optional

tortillas

optional
For Yogurt Sauce:
1/3

cup

Greek yogurt

1/3

cup

salsa

salt to taste
Instructions
To assemble bean bowl:
Layer grain (quinoa or farro) onto the bottom of the bowl.

Top with beans, veggies of choice, and yogurt sauce.
Yogurt Sauce:
Mix yogurt and salsa together, season with salt.

Wrap bean bowl into a tortilla, scoop with chips, or eat as is!
Notes
Add more variety by adding ground pork, beef, or shredded chicken.  Leftovers work great!
FREE Lunch Bites Note Cards!
FREE printable Lunch Bites lunchbox note cards perfect for school lunch or back packs!