Crockpot Refried Beans turn a bag of inexpensive dried legumes into a flavorful dinner addition that saves money and freezes well. A plant based protein source that is extremely versatile. Serve topped with cheese or use in your favorite Mexican dishes.
While grabbing a can of chili beans or black beans for a recipe at the store have you noticed those bags of dry beans sitting on the bottom shelf?
I used to wonder what in the world people did with them. The price looked right, much less expensive than the canned beans I was purchasing, but I always left them right there on that shelf.
For years I missed out on this wonderful product – I don't want you to do the same. Keep reading to find out just what to do with those dry beans.
I finally decided to investigate dry beans while trying my hand at crockpot refried beans.
My daughter loves refried beans and I found myself buying a lot of the canned variety. In my quest to use less processed foods (especially those that can be made at home), I tried lots of refried bean recipes, finally developing this one – the perfect blend of spices and beans.
It must take so much time, with having to soak the bean first, you might ask. Nope. The beans do not need to be soaked. Check out this entertianing article, "Don't soak your dried beans! Now even the cool kids agree" by Russ Parsons for a bit more info on that topic. I found it both funny and interesting.
This is a simple crockpot Mexican beans recipe using pantry staples. Dump all the ingredients into your crock pot and you are good to go. I do this while my kiddos are eating breakfast, and the beans are ready for dinner. All you need to do once cooked, is mash and season to taste. Check out some simple dinner recipes to use these with here.
I love my crock pot and cannot recommend it enough. It is the key to my success in feeding my family healthy meals on busy nights.
Can You Freeze Refried Beans?
Yes! This is the best part of this recipe. It makes so much you can freeze the extras in ziplock bags for many more meals. Once cooled, divide the leftovers into freezer bags, flattening the bags so they can be easily stacked in your freezer.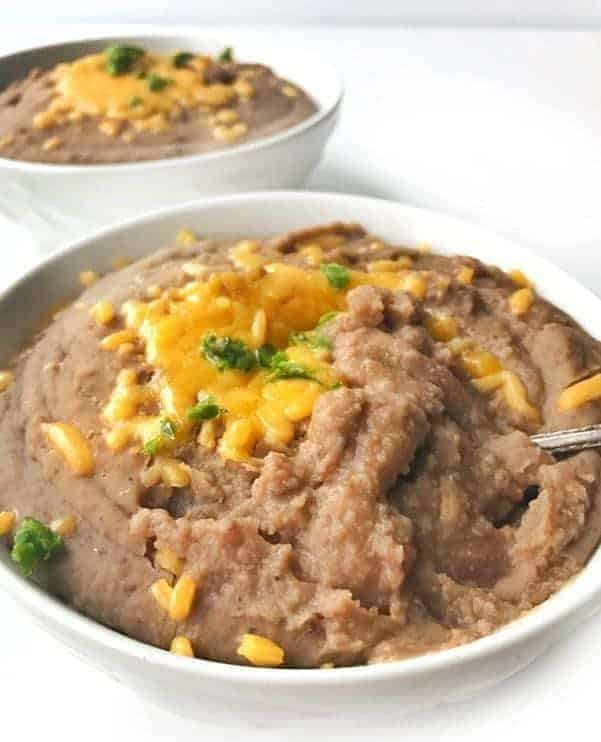 Did you know beans are one of the healthiest foods you can eat?
Not only are beans high in fiber, antioxidants, and complex carbohydrates, they are also a good plant based protein source. Beans are not, however, a complete protein. They lack in one or more of the essential amino acids you need from your diet (a complete protein has all 9 essential amino acids).
If you are vegetarian and are using beans as your protein source, make sure you get another type of plant- base protein during the day. Nuts, brown rice, oatmeal or whole grain breads are good choices. If you already eat meat, dairy or seafood, you don't have to worry – these foods already have all the essential amino acids your body requires.
If you are watching your weight or are trying to lose weight, beans have an extra bonus.
With beans high fiber and water content, they make you feel full quicker. This helps cut calories without feeling deprived. 1 cup of beans provides 12 g of fiber which fulfills almost half of the required daily intake for women, which is 21-25 grams and men 30-38 g. To compare, meat has no fiber at all.
I encourage you to wait no longer, grab that bag of dried beans next time you are at the store and give them a try. Your own fat free refried beans made easily at home.
DIY Crock Pot Refried Beans - No Soaking Beans Required!
Click To Tweet
DIY Crock Pot Refried Beans
Crock Pot Refried Beans are so simple and inexpensive you will make them again and again. Unsoaded dry beans are blended with spices and water then cooked all day to make this delicious dinner side dish. Naturally gluten free, vegetarian, and a great source of plant based protein. Freezes great.
Total Time
6
hours
5
minutes
Ingredients
2

lbs.

dried pinto beans, or favorite dry bean

1

large

onion, diced

4

oz. can

chopped green chilies

1

Tbsp.

salt

4

Tbsp.

minced garlic

1

Tbsp.

cumin

1

tsp.

black pepper

10

cups

water
Instructions
Rinse dry beans in a colander, picking out any bad beans.

Add all ingredients to crock pot. Stir.

Cook on high 6 hours or until beans are easily mashed.

Use immersion blender to puree beans, or potato masher to mash until desired consistency is reached. Add extra water if needed for smoother consistency. Adjust salt to taste.
Pin Now To Make Later
Did you know that you could use dried beans without soaking? I'd love to find out what your favorite recipe using dried lentils is.
Want to be a member of Create Kids Club? It's FREE! Click here to register now!

SaveSave
No Time To Cook?
Make dinner a breeze with these 10 Kid Favorite Crockpot Recipes! Get your FREE eBook Now!