Thinking about a family dude ranch vacation? Take a look at what a week at the Bar Lazy J Guest Ranch is like. It's a fantastic all-inclusive dude ranch in Colorado!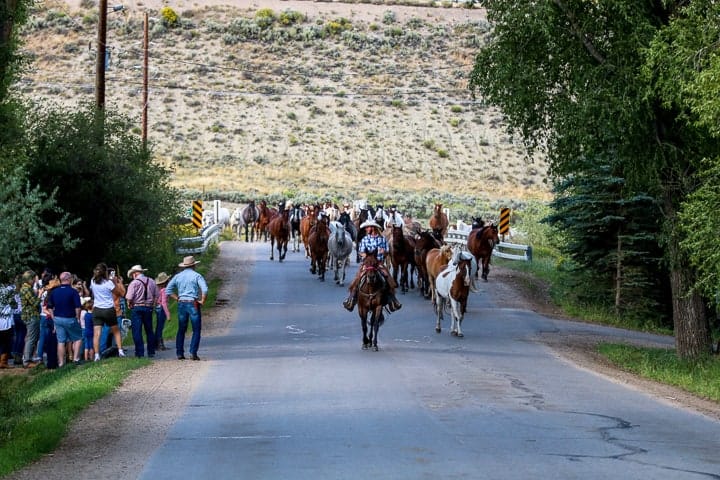 If you're wondering where to go on vacation with teenagers, you've come to the right place.
How would you feel about taking a vacation where your children, from tweens to teens, set down their electronics without complaint to spend the week outdoors enjoying life as it once was?
If you're like me, you'll jump at the chance!
But vacations aren't just for the kids. Ranch vacations offer the unique opportunity to arrive at the ranch then have everything taken care of for you.
Your family will enjoy exciting activities, delicious meals, and fantastic entertainment – it's all included in your all-inclusive dude ranch Colorado family vacation, making it a favorite destination for adults as well as kids.
Everyone in your family, from those who have never ridden a horse to the experts, will enjoy this horseback riding vacation!
This summer I brought my family for the vacation of a lifetime to the Bar Lazy J Guest Ranch. Weeks after my trip, I am still daydreaming of heading back as soon as I can.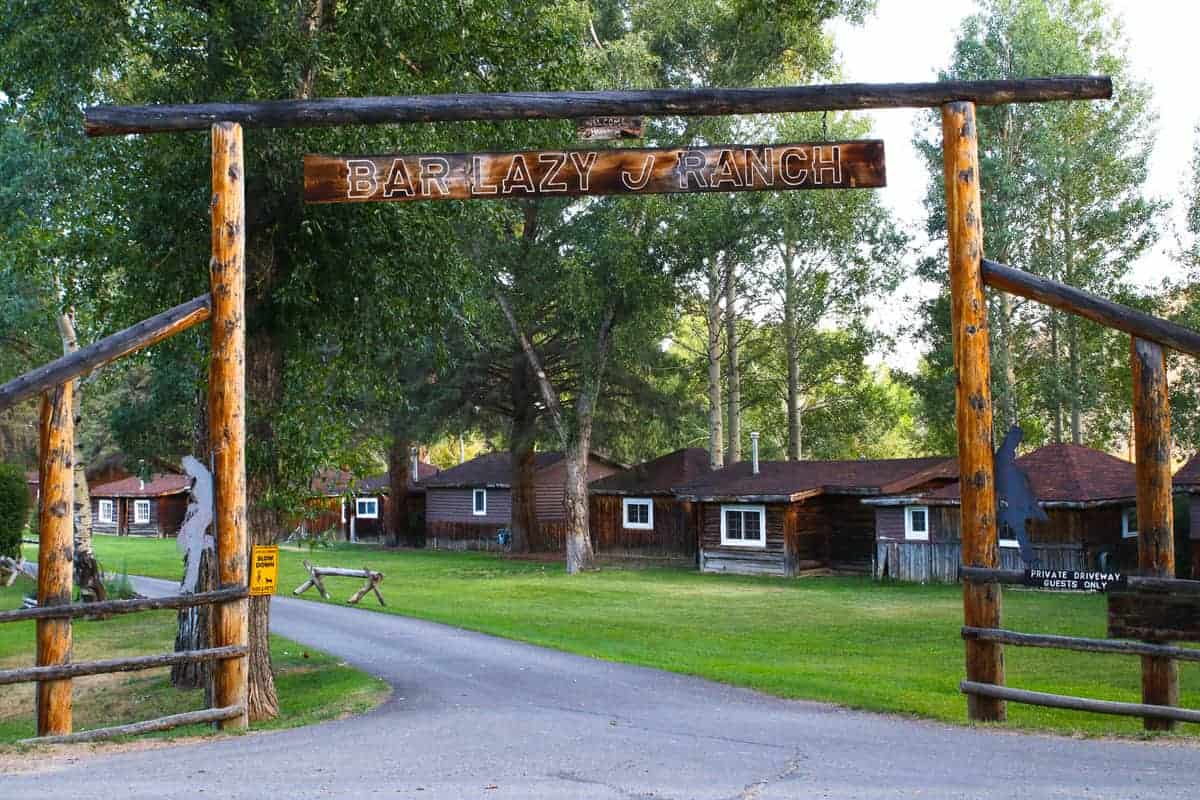 Today, I'm sharing with you all you need to know about the Bar Lazy J Guest Ranch and why it's the perfect Colorado family vacation.
We choose the Bar Lazy J Guest Ranch for several reasons:
It's proximity to a major airport
The Kids Program
The Family Friendly Atmosphere
Travel time from the Denver airport to the guest ranch is just 2.5 hours. We rented a car and made the easy scenic drive enjoying the views of the mountains.
I can happily share with you that every detail of our week spent on this dude ranch in Colorado went above and beyond what was expected.
Keep reading to learn what your week at the Bar Lazy J would look like.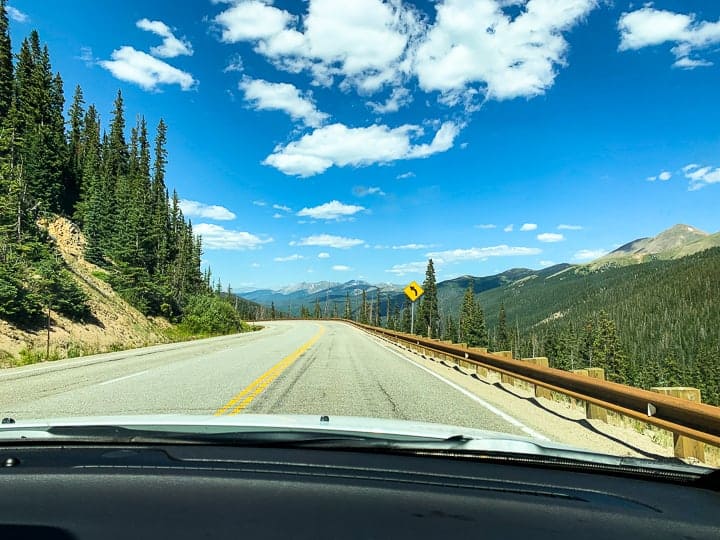 What is a dude ranch?
Ok, so you've heard of dude ranches, but are wondering what exactly is a dude ranch?
In my opinion, dude ranches offer the vacation of a lifetime, especially for families with teens.
Nowadays, a dude ranch is a vacation destination that hosts guests in an all-inclusive immersive vacation that includes lodging, meals, horseback riding, and many other activities.
In the early days of dude ranches, the term "dude" had a different meaning than it does today. Back then a "dude" was an urbanite or city slicker.
Per the Dude Ranchers Association, the popularity of dude ranches grew in part due to President Teddy Roosevelt. He couldn't get enough of the outdoorsy fun of fishing, hunting, and horseback riding he had when he visited a dude ranch. His accounts of ranch life lead droves of other well-dressed "dudes" to travel out west for a stay.
Related: White Stallion Ranch, one of the best All-Inclusive Resorts in Arizona
In the early days, the transcontinental railroad network brought paying visitors to a local depot where they would be transported to a ranch in a wagon or buggy. With the invention of the automobile and western movies, interest in the west and ease of getting there both increased.
Dude ranches have deep histories and take their hospitality very seriously. You will feel at home on the ranch as they make guests feel like family among the staff and ranch hands.
Bar Lazy J is proud of its standing as the oldest continuously operating Colorado guest ranch. They are proud of their heritage and legacy in Colorado dude ranch history.
The beginning of "dude ranching" came about as a result of one of its still most valued features: true western hospitality, which you will certainly find yourself immersed in while at the Bar Lazy J.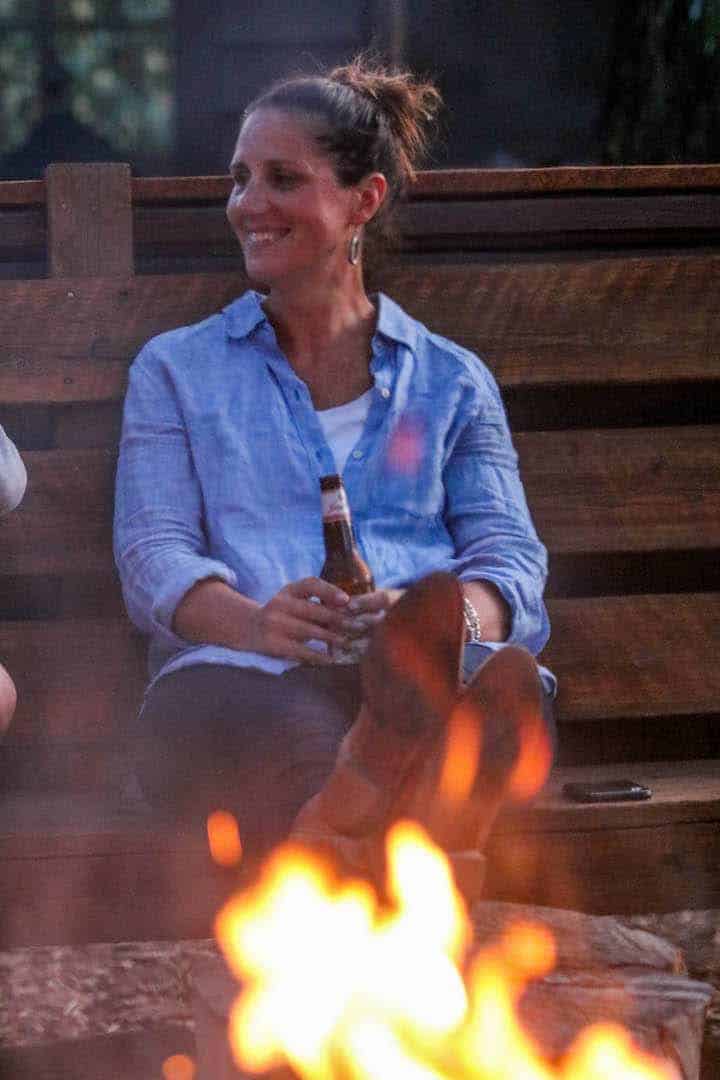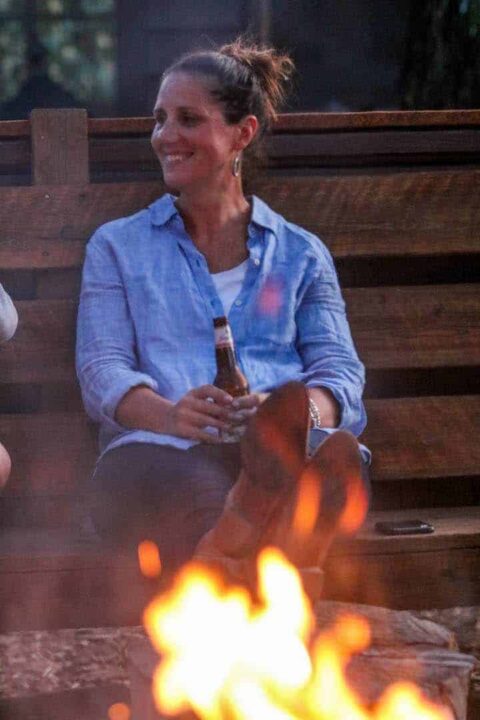 What do you do at a dude ranch?
While every ranch offers different activities, one thing for sure at all dude ranches is that the number one thing is horseback riding.
We arrived at Bar Lazy J as beginner riders. We found that other guests were first-time riders, some were intermediate riders, and then there were those who have ridden all their life.
We all found a variety of riding activities to choose from. Anyone with an interest in horses and riding will fit right in, so don't be concerned about your riding experience!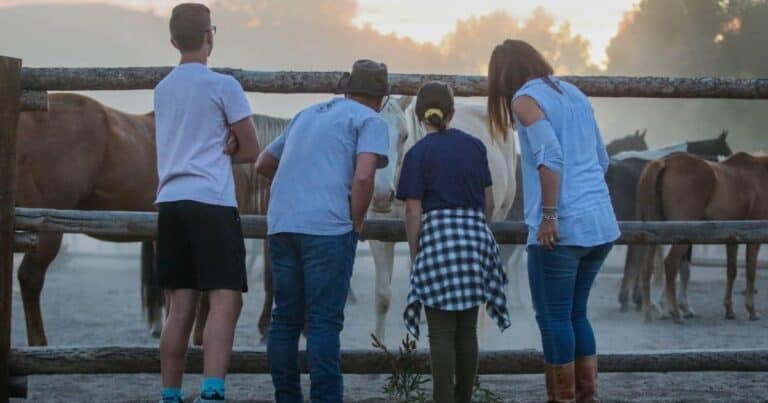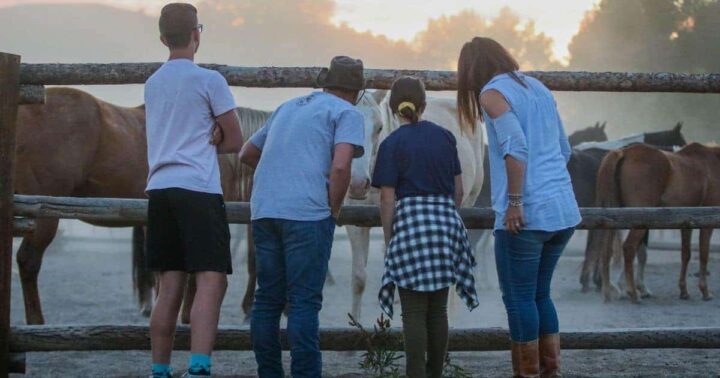 You will be offered riding instruction based on your skill level as horse safety is a priority. The staff will pair you with an appropriate horse and you'll be given instructions to make your riding safe and fun!
At Bar Lazy J, opening night ceremonies include meeting your horse for the week. It's a pretty special night for your whole family.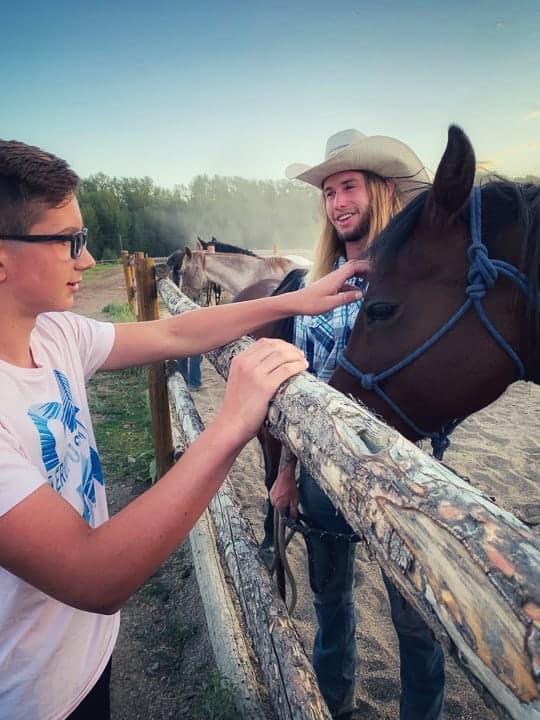 Second, only to the horses, is taking time to relax.
When you're on a Colorado ranch vacation, you'll find yourself surrounded by some of the most amazing views. Slow down, and enjoy the sights, sounds, and the people around you.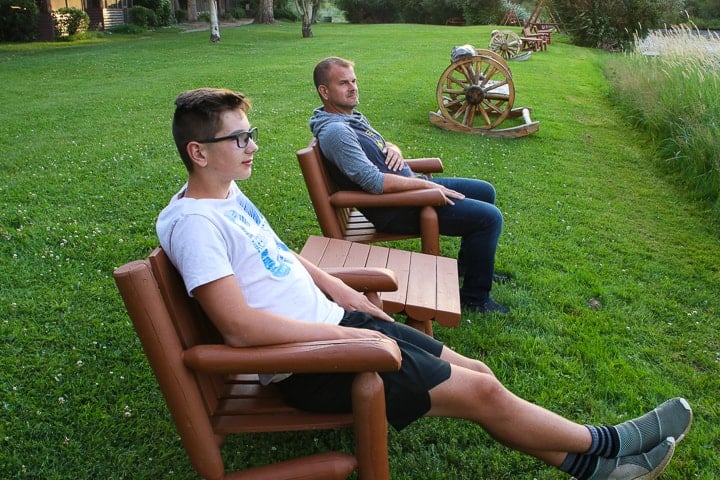 Dude Ranch Activities
A stay at Bar Lazy J offers many opportunities. You can choose to do them all, pick your favorites, or do nothing at all.
Each day, you'll find activities listed as you walk into the dining room for breakfast. Wranglers go table to table asking what each guest would like to do that day.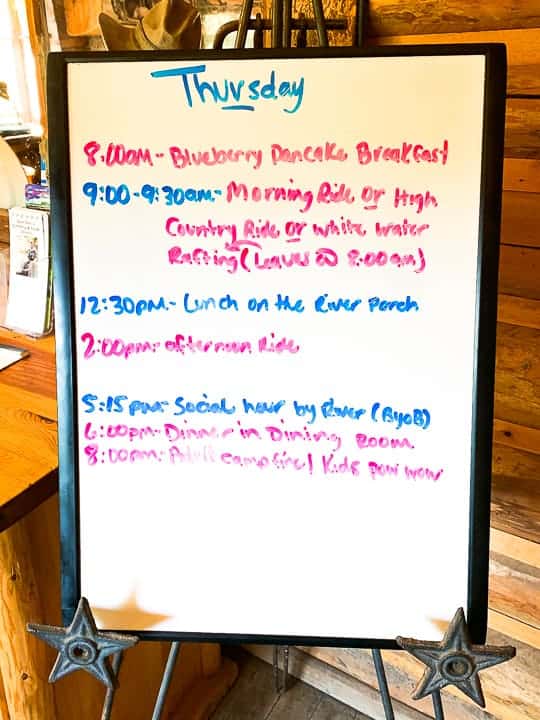 The choice is always yours.
There are a variety of daily trail rides offered at all riding levels. Besides the daily rides, you'll also find all-day rides, breakfast or lunch rides, cattle drives, nature rides, mountain rides, as well as hikes, whitewater rafting, trap shooting, ziplining, fly fishing, mountain biking, massage services and much more.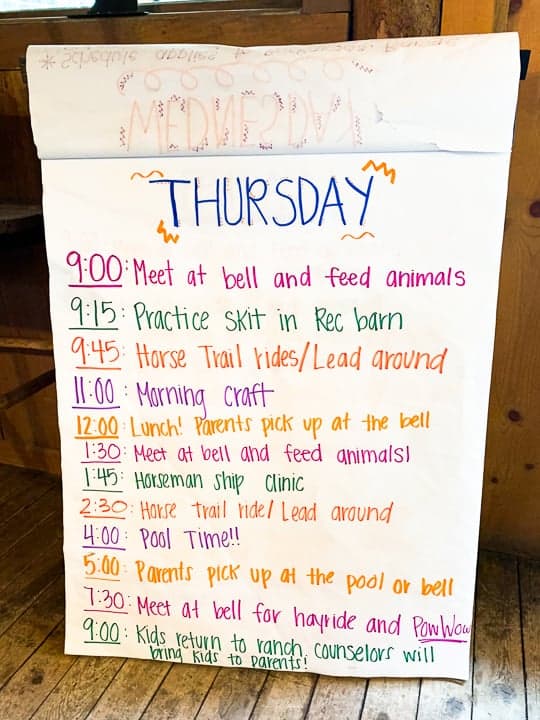 The highlight of your stay at Bar Lazy J will certainly be horseback riding.
I knew my family would have fun riding horses, but I wasn't prepared for exactly how much fun we would have together. This family dude ranch horse program went above and beyond all my expectations.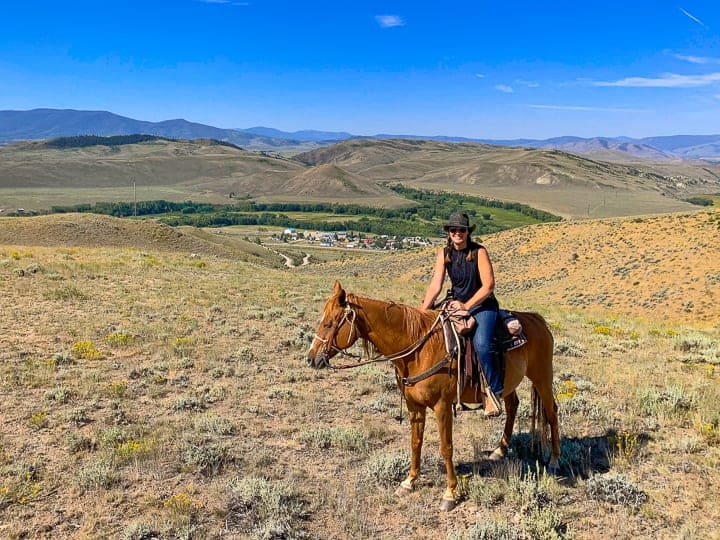 At the Bar Lazy J Guest Ranch, the riding program is split between a children's program (ages 3-12) and adult program (ages 13+).
Kid's Program
This dude ranch for kids offers fun for all ages. Kids ages 3-6 are part of the Lil' Buckaroo program while those 7-12 are Range Riders.
Lil' Buckaroos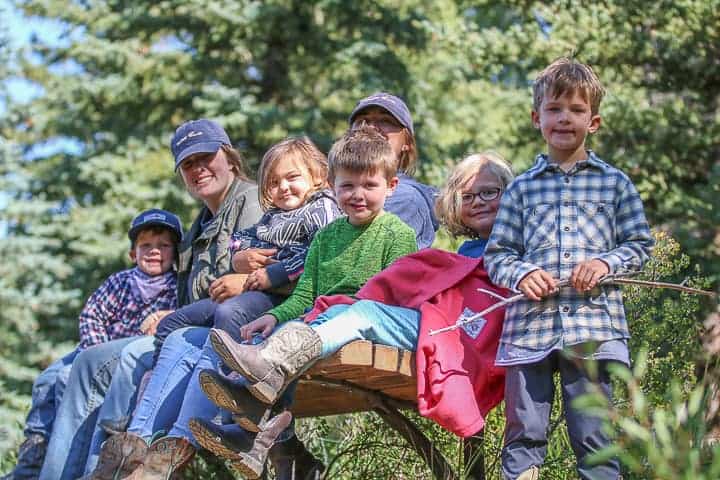 If you have kids ages 3-6 they will be sure to have a blast! They take part in riding, games, arts, and crafts with counselors watching them at all times.
If you have younger kiddos, they have optional babysitting services as well, just ask the ranch for more info!
Range Riders
Range Riders (kids ages 7 -12) are assigned their own horse for the week, just like the adults.
Range Riders are taught the skills to become confident in taking the reins and learning how to handle their horse with the direction of the wranglers.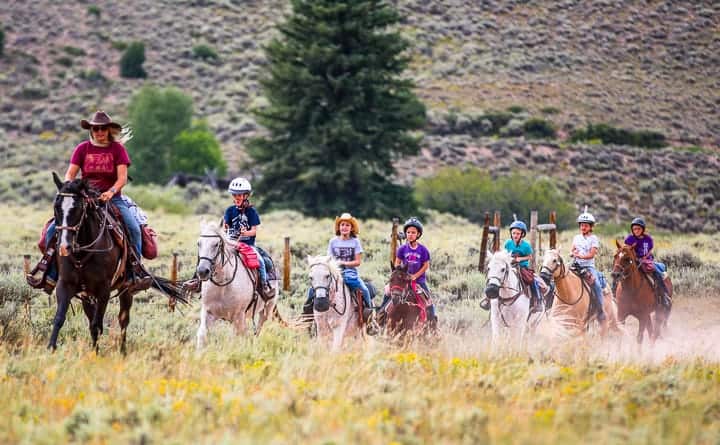 From the playset to the petting farm all the kids had a blast!
In addition to daily rides, Range Riders get to enjoy the only-of-its-kind "Root Beer Float Ride" to town. Another fun outing is the full day of adventure out to the Sand Dunes to enjoy a packed lunch and slide down the dunes on their Kids All Day Ride.
It's also nice to know that parents and teens are always welcome to come on any of the kid's activities!
Root Beer Float Ride
I decided to tag along with the kids on this fun ride into Parshall, Colorado (population 34).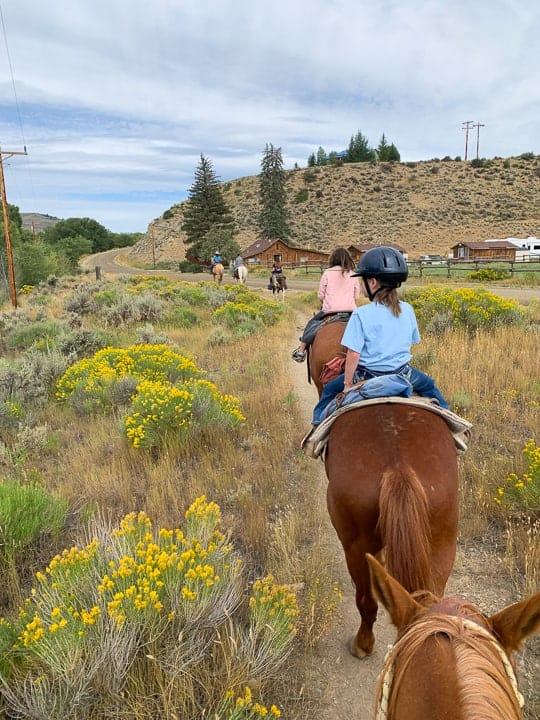 I was so impressed with how all the kids handled their horses and how much fun they were having.
At this point in the week, the kids had learned to lope (which is faster than trotting) and they had the choice of going on the loping ride or a walking ride. Every child gets to pick what kind of riding they are comfortable with.
The Lil' Buckaroos got driven into town for the root beer float fun.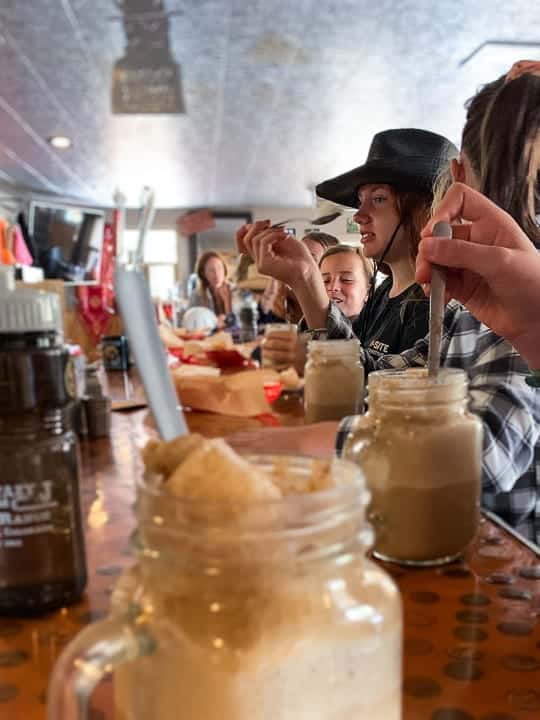 Horseback Riding
Family Ride
A fun activity the ranch is happy to arrange is a family ride. This is a really fun way to ride together as a family if you have kids under the age of 13.
You get your own wrangler who leads just your family out on a scenic ride you'll always remember – and you sure can't beat the views.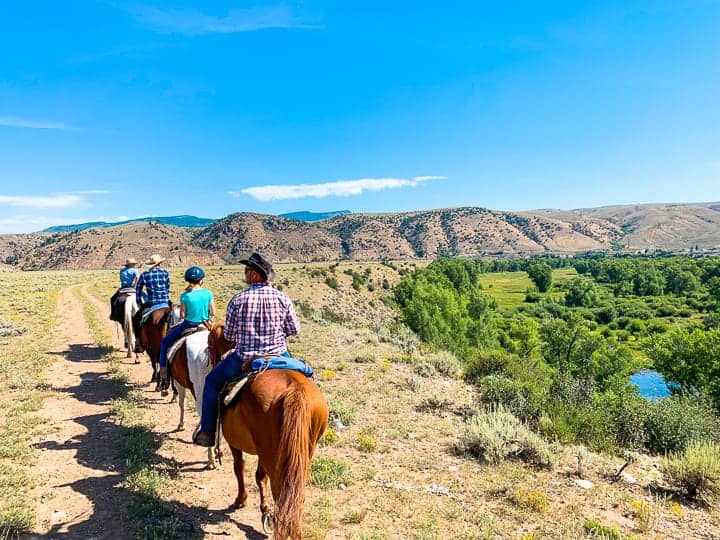 Breakfast Ride
One of the highlights of your week spent at Bar Lazy J will be the Breakfast Ride.
All riders aged 7 and up (Lil' Buckaroos are driven in a car) ride out to the breakfast site for a meal cooked over the fire.
After a light snack, everyone heads to the barns to mount up and hit the trail. But not before grabbing that perfect family photo!
The whole ranch heads out together for a scenic ride to their Breakfast Site that sits along the Colorado River. You even get to take your horse through the river on the way there!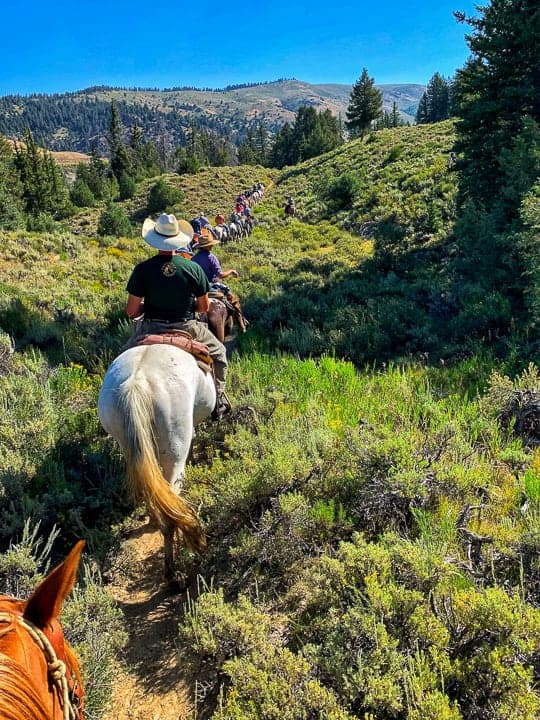 Photo: Tammy Yurich
Once there, the wranglers take your horse so you can go grab some coffee warming by the fire then load up on Chef Eddie's delicious breakfast– cooked right there over the fire.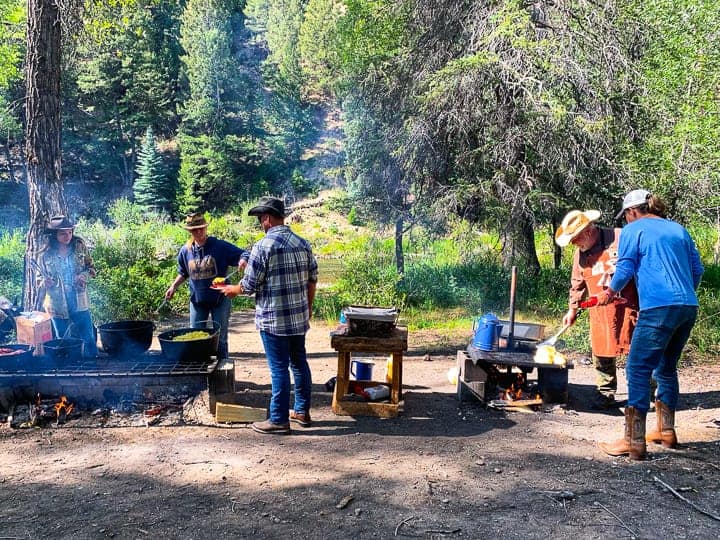 We even got the pleasure of listening to Wrangler Joseph sing some tunes while we enjoyed breakfast. It truly is a one of a kind event.
After breakfast, kids can head down to the Colorado river to skip stones and there are more photo ops for families by this beautiful river.
Extended Breakfast Ride
Another specialty ride heads out from the Breakfast Site. You can continue to climb the mountains for the extended breakfast ride. I'd say it's well worth it to see the views from 10,000 ft.
My teenage son and I decided to take this ride and had a great time together with memories and photos that I will always cherish.
It's a special day when you get to spend it with your teenager who's having the time of their lives. There's not much better.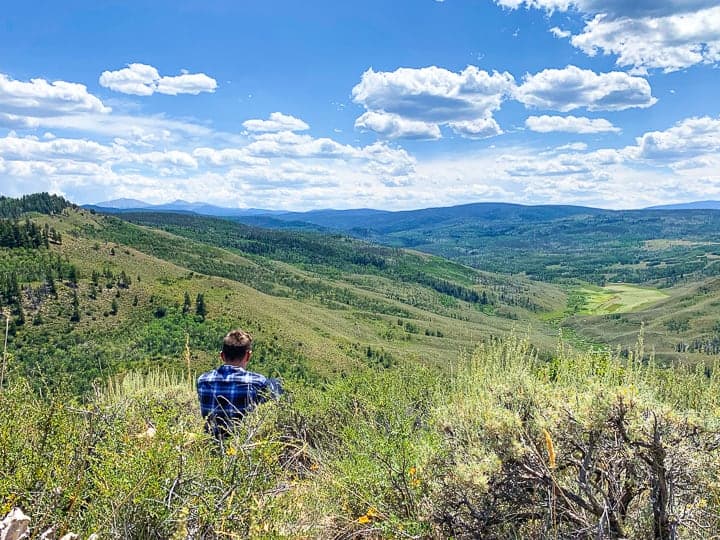 Hot Sulpher Springs Ride To The StageCoach Inn
Another specialty ride offered is a 3.5-hour ride to the town of Hot Sulfer Springs for lunch at the old historic Stagecoach Inn.
It's a beautiful ride and a delicious lunch. Riding into town on a horse to the restaurant is certainly a one of a kind experience.
After lunch, the ranch picks both you and your horse up for the ride home.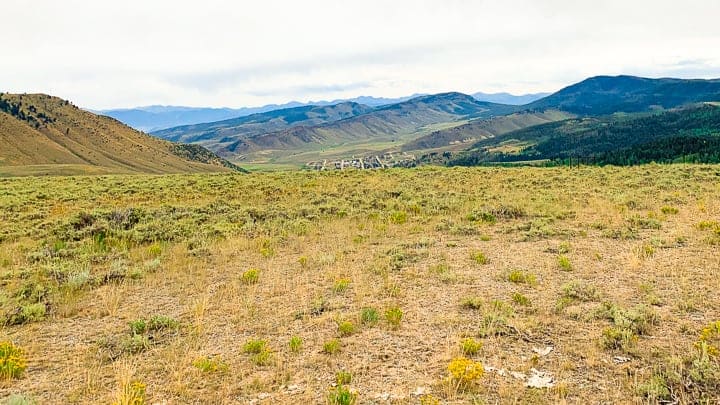 While on the Hot Sulpher Springs ride you'll catch views looking down upon the town you're riding to. It's pretty neat to see the town nestled between the mountains, then work your way down on a horse.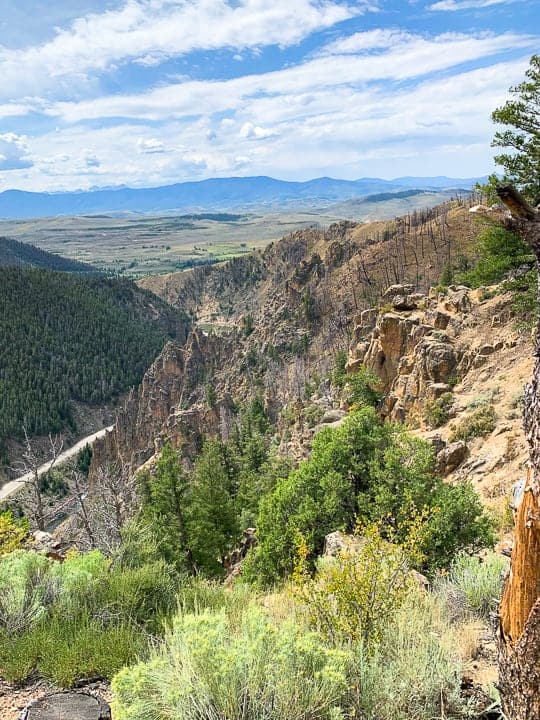 If you choose to take this ride, you'll get to stop to take in the view at Byer's Canyon. It's stunningly beautiful!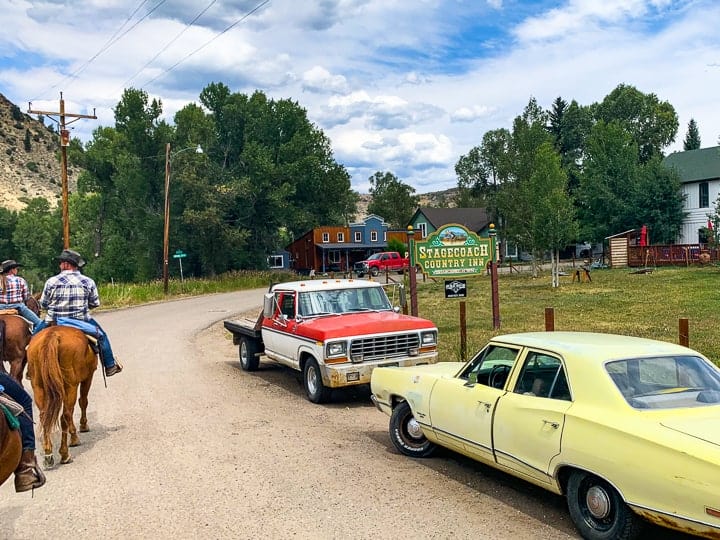 What other activities are there to do at a Dude Ranch?
What else is there to do when you're looking for a break from riding? At Bar Lazy J, you have a lot of great options.
You can choose to try these out, or don't do any and simply relax.
Or ask to groom your horse – you can do that too.
Zip-lining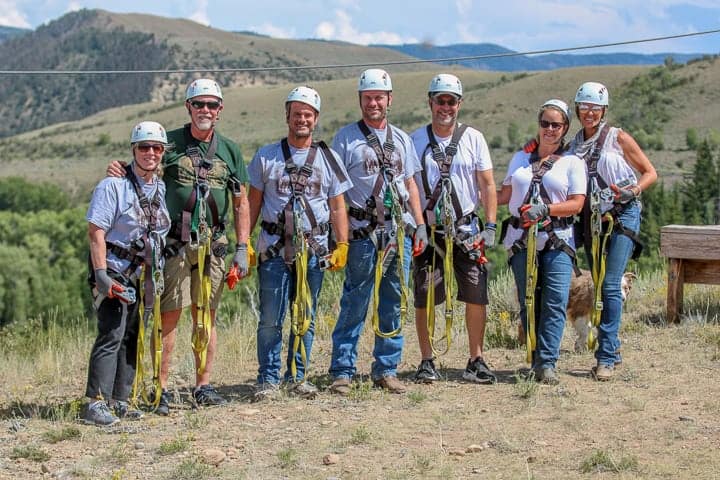 At over 1,500 ft in length, Bar Lazy J's zipline is one of the longest and fastest ziplines in Colorado! After preparing on the practice line, you'll leap off the platform and soar right over the Colorado River.
Fly Fishing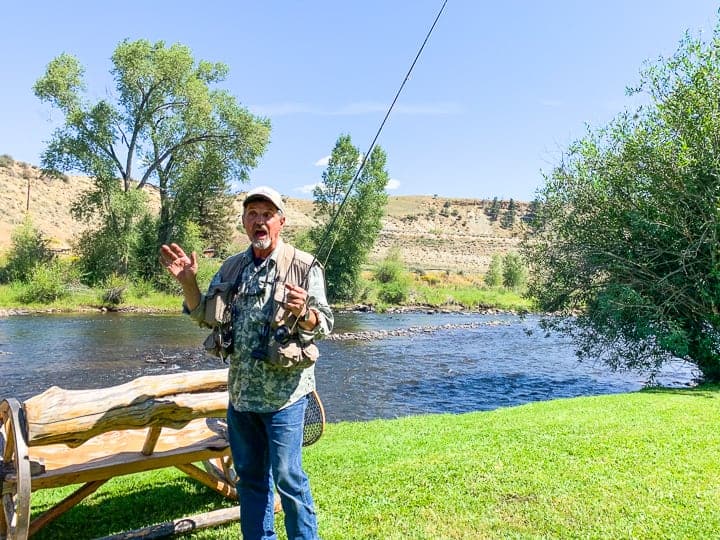 This Colorado Ranch sits on a private 3/4 mile stretch of the Colorado River – right outside your back door. It's Designated Gold Medal Fly Fishing and offers some of the best Rainbow and Brown trout fishing in Colorado. The ranch holds a fishing clinic at the beginning of the week if you're interested in learning to fly fish. The ranch also offers a stocked fishing pond for those who just want to cast a line.
Trap Shooting
Just up the road is a shooting range where you can try your hand at clay pigeon shooting. The Bar Lazy J provides the shotguns, safety equipment, ammunition along with a knowledgeable Firearms Instructor.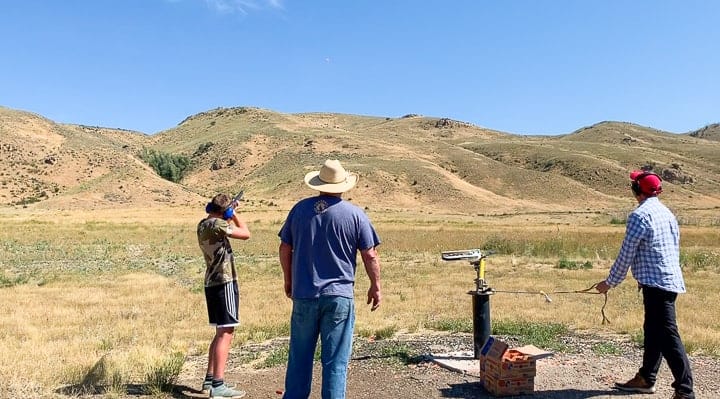 Everyone who went on this outing came back raving about the fun they had!
Off-site offerings include whitewater rafting, cattle drive, Rocky Mountian National Park, guided fishing, golf, and many more.
Nighttime Activities
With all the fun during the day, you might be wondering what there is to do at night? You will never be bored – unless you want to be!
Each night there is a social hour before dinner that rotates locations throughout the ranch. It's a fun time to discuss the adventures of the day with all your new friends you've been riding and sharing the week with – because you really do become friends with the other guests.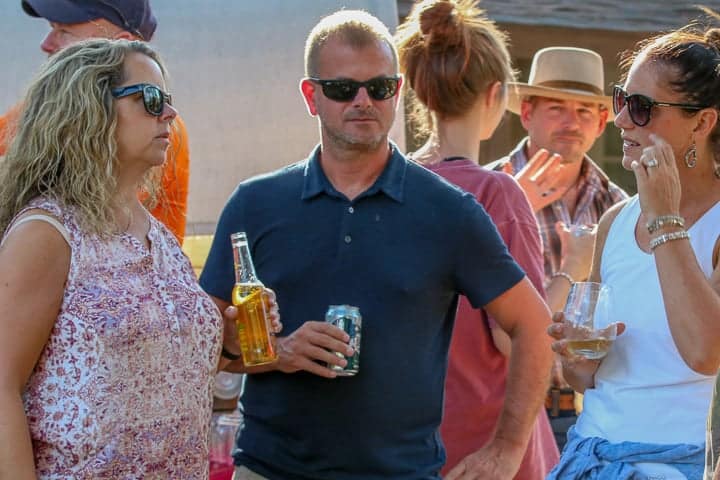 After dinner, you are always able to simply relax in your cabin or cozy up in any of the comfy rooms and sitting areas around the ranch. However, if you're looking to be entertained, there is always something to do. We enjoyed the following.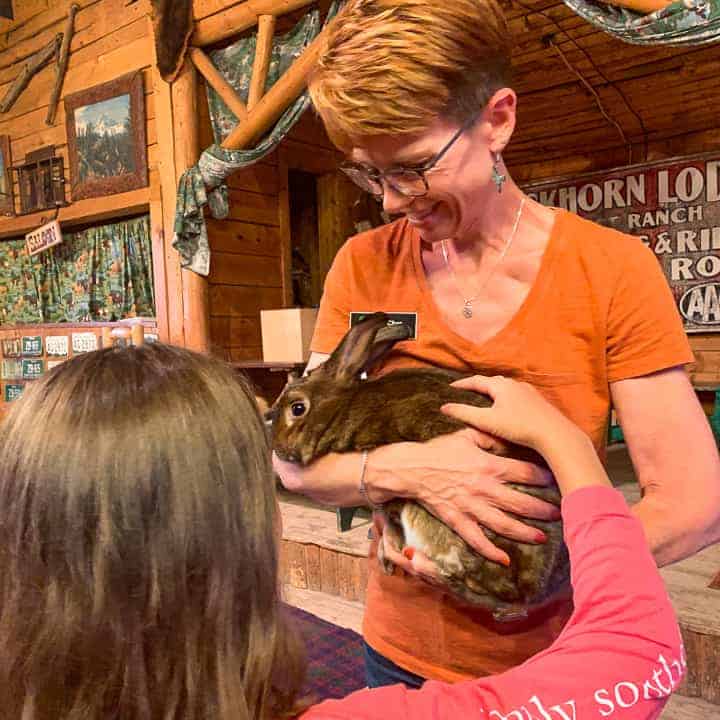 Line Dancing
While skeptical about how this would go over with the kids, all I have to say is that the staff at the Bar Lazy J can work magic!
Everyone who attended this night filled with laughter and fun, from kids to adults, were on the dance floor learning new dances – while working to earn the elusive Bucky Beaver Badge!
Bonfires & Hayrides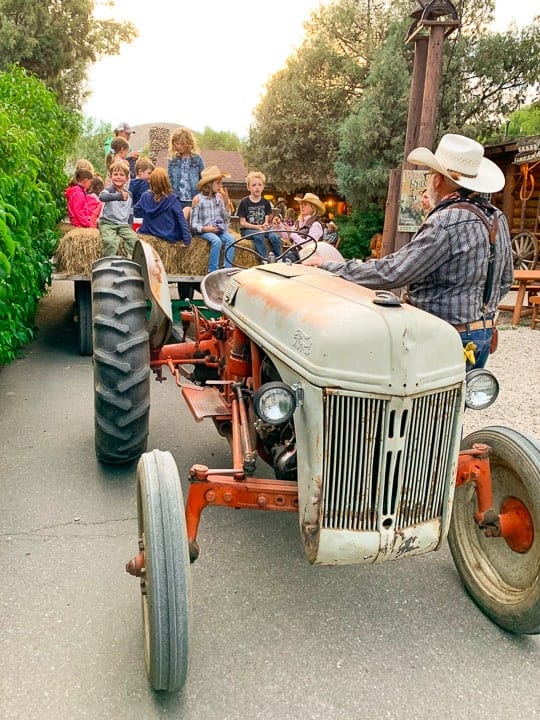 There are several bonfires throughout the week, and one night there's even a guitar player singing amazing tunes for everyone.
The kids are kept entertained as well. A highlight of the week was the hayride and Pow Wow night when the kids are brought out to a special campfire site of their own for s'mores and fun. As always, parents can join in too!
Staff Show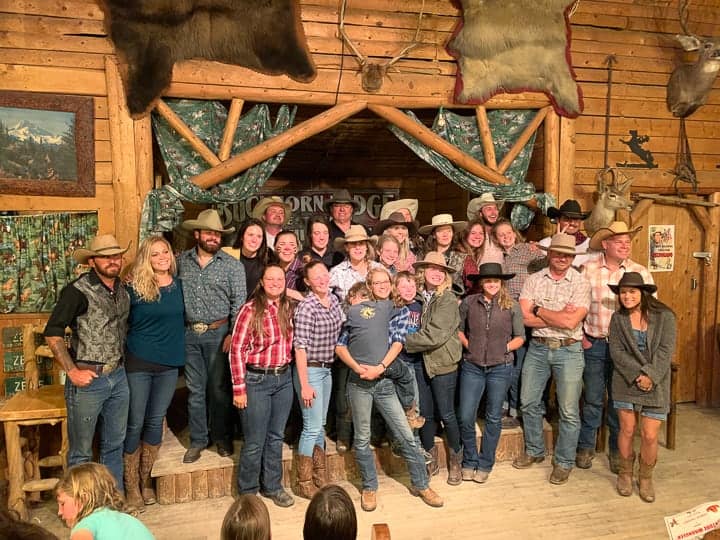 At the end of the week, you'll be entertained by the staff with silly skits and entertainment. The kids also get to participate in a skit or two. It's certainly a night you don't want to miss!

Dining
If there is one thing for sure, it's that no one goes hungry at this all-inclusive resort in Colorado.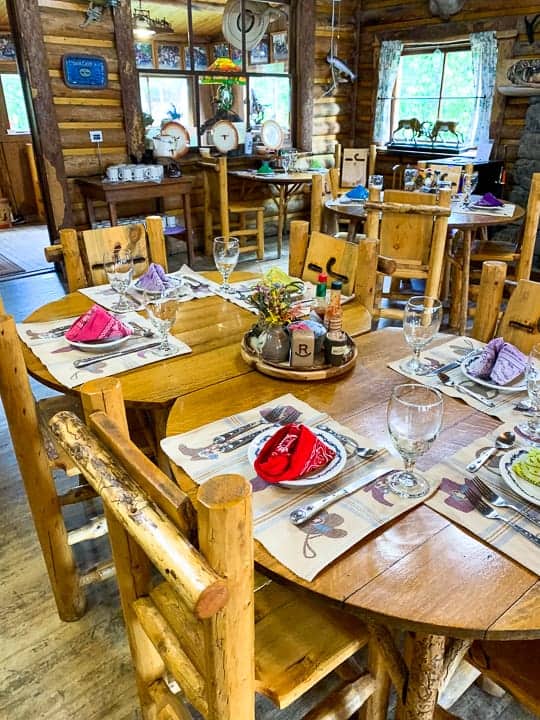 30 minutes prior to all meals you'll hear the bell ring letting you know it's almost mealtime. The bell rings again when it's time to head in. We found this to be quite charming and there really was no need to pay attention to the time!
For breakfast, this guest ranch offers grab and go foods in the back portion of the dining hall along with a made to order breakfast menu, including a special of the day – which is always amazing.
Dinners are served in the dining room or on the River Porch overlooking the Colorado River. You'll enjoy the freshly baked bread and amazing entrees.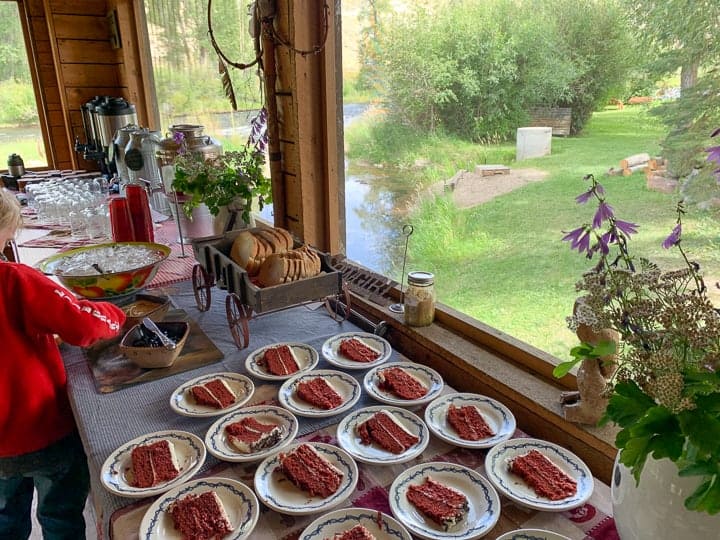 Some nights, you'll be treated to one of Bar Lazy J's owners, Cheri, grilling burgers, steaks, ribs, and salmon.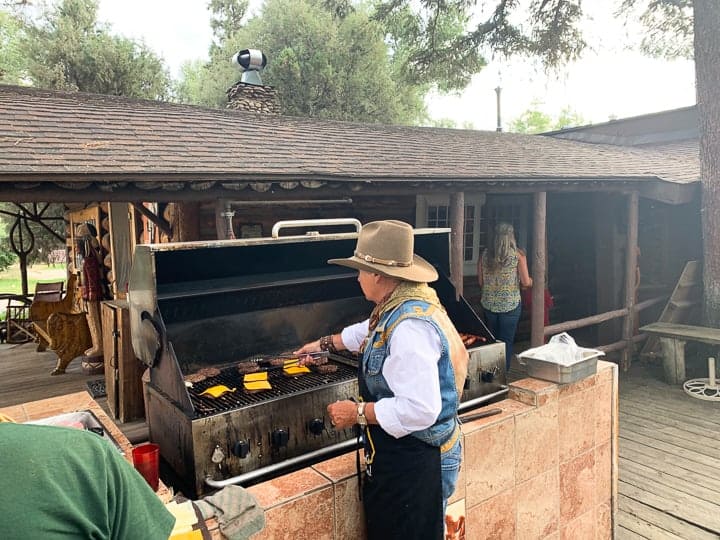 Cabins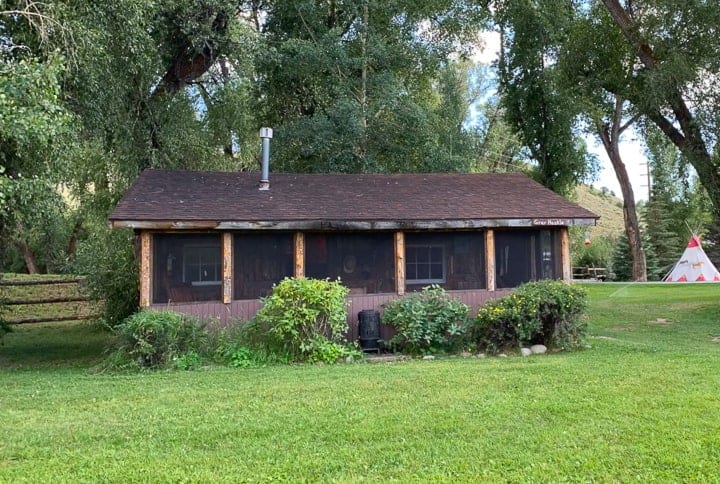 Your accommodations while staying at the Bar Lazy J are the original log cabins that have been modernized while still retaining the "Old West" look
We stayed in Grey Hackle, a two-bedroom, two-bathroom cabin.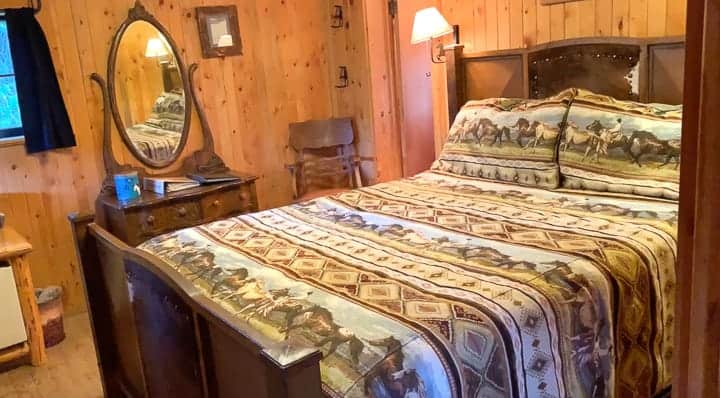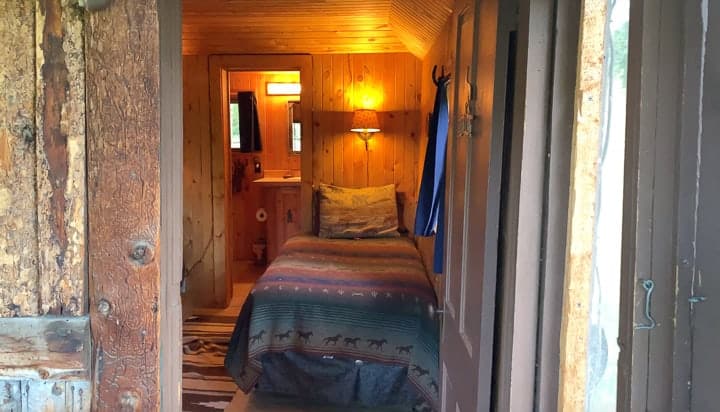 Sitting on the porch in the rocking chairs at the end of the day listening to the sounds of the Colorado River and the horses heading back to their grazing field, was the perfect end to a perfect day.
When vacationing, it's nice to know all the costs upfront.
This also means never having to argue with your kids about what they want to order in a restaurant all week (because, yes, I argued with my 13-year-old about a $30 steak the night before heading to the ranch). At the ranch, he was able to have all the steak, ribs, and burgers he wanted – all with zero arguments from me.
Why?
Because it's all included.
US-based all-inclusive vacations are extremely hard to come by, so this is certainly a great benefit.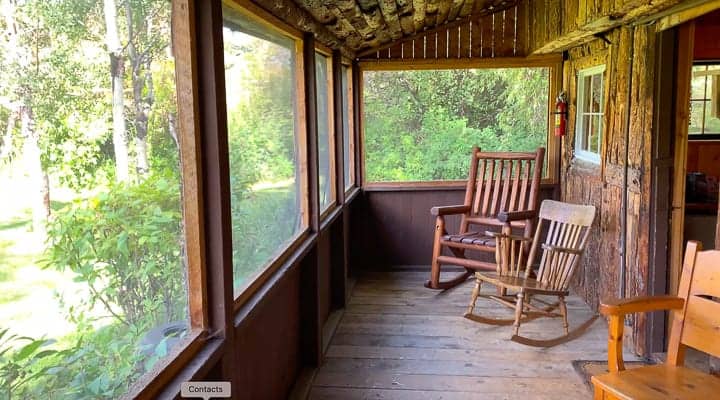 How much does a dude ranch vacation cost?
After hearing all about the Bar Lazy J I'm sure you want to book your trip! Head on over to their website to find Bar Lazy J's rates.
I'll be the first to say I wasn't sure that spending the money on a family ranch vacation would be worth it. My family typically prefers a sunny beach vacation.
However, I have been swayed and can speak for my whole family and say we will 100% be back coming back. They have ALL been swayed too. My tween and teen had the time of their lives, and as parents, we did as well.
You simply cannot replace the uniqueness of a dude ranch.
From the time spent outdoors on different adventures to the horses and the comradery of the staff and new friends (for both kids and adults), to the amazing food and the attention to every detail and need you might have – it's just a one of a kind trip that just doesn't compare to any other vacation we have ever taken.
Related: Traveling with teens and tweens to Charleston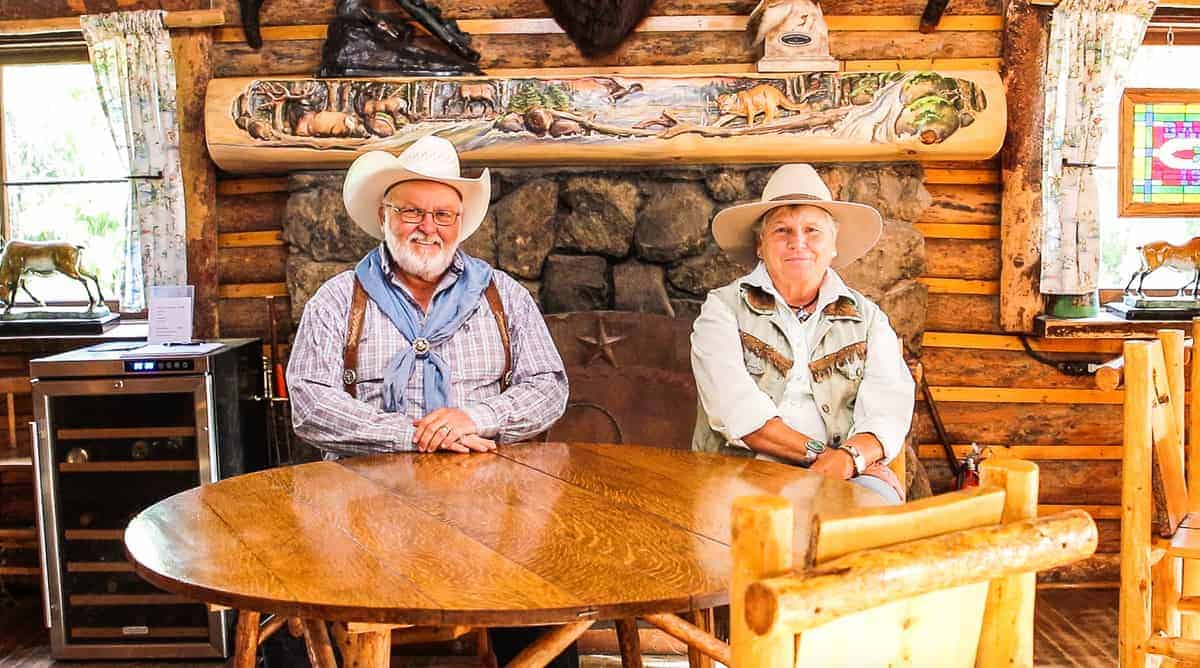 I hope you'll call Jerry & Cheri and ask them any further questions you have. When you call, make sure to tell them I sent you. 🙂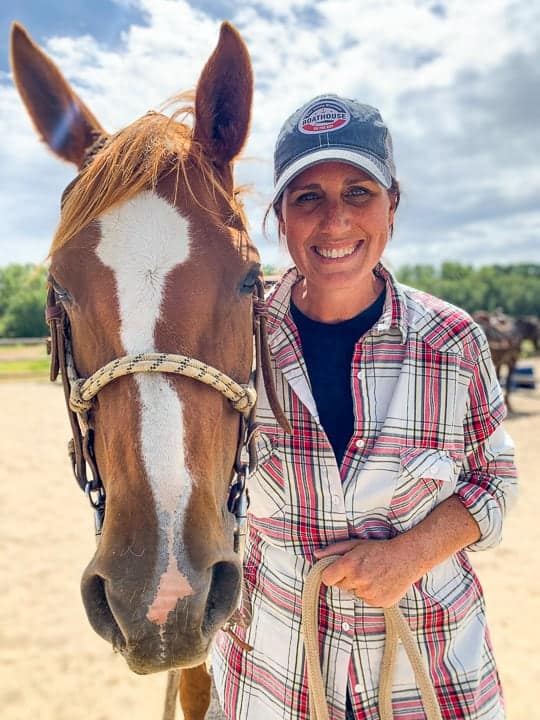 And say "Hi" to Tessa for me when you visit!
If you enjoyed this post make sure to leave a comment below. I'd love for you to follow me on social media @createkidsclub. Tag #CreateKidsClub and show me where you love traveling with your teens & tween!