Wondering if an all-inclusive Caribbean beach vacation at the Hilton Rose Hall Jamaica is right for your family? Keep reading to see what to expect from a family vacation in Jamaica at the Rose Hall.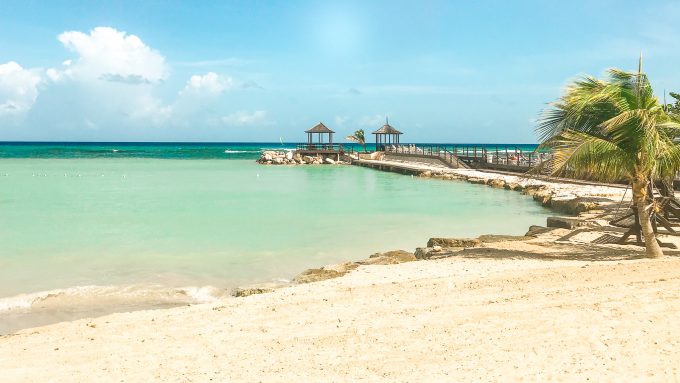 Hilton Rose Hall Jamaica Reviews
If you're thinking about booking at the Hilton Rose Hall Jamaica, keep reading and take a look at all this resort has to offer. The Rose Hall makes the perfect backdrop for Jamaica vacations for families.
Let's take a peek behind the scenes to see all that this beach resort in the Caribbean has to offer.
Hilton Rose Hall Jamaica beach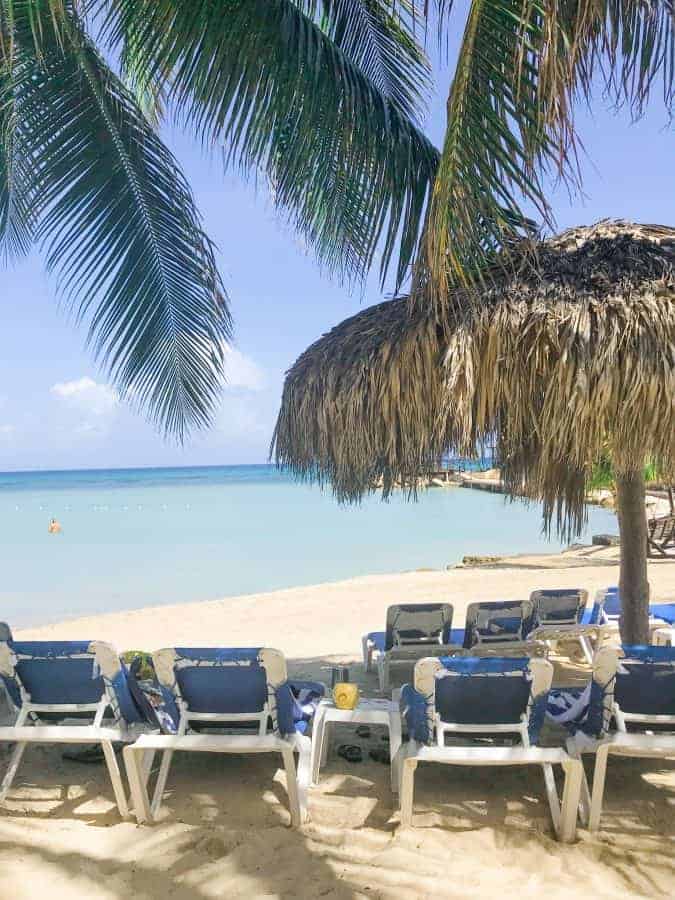 This beautiful beachfront Jamaican resort has beautiful views. On the beach, if you head to the right, you can walk for a long way on the soft Jamaican sand.
There are plenty of beachfront chairs along with a raft in the beach area that is fun to swim out to.
We visited in October when it was breezy which caused the water to stir the sand up too much for snorkeling off the beach. This was a question I had before going, so keep this in mind.
Hilton Rose Hall Restaurants
We traveled with children ages 9 and 11. The Hilton Rose Hall did not disappoint in their restaurant selection.
There are 9 restaurants to choose from throughout the day. My kid's (and husbands) favorite was Moonstone, where you could order handmade pizzas anytime from 11:00 am to 5:00 pm.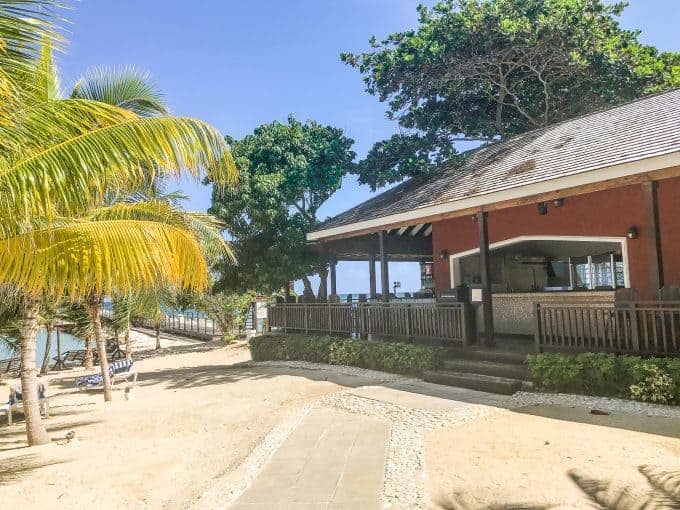 Another delicious option is Mangos, showcasing a casual lunch menu.
Mangos is located right behind the Sugar Mill Falls Waterpark, making it convenient to grab a drink or snack. The favorite choice here? Unlimited soft serve ice cream!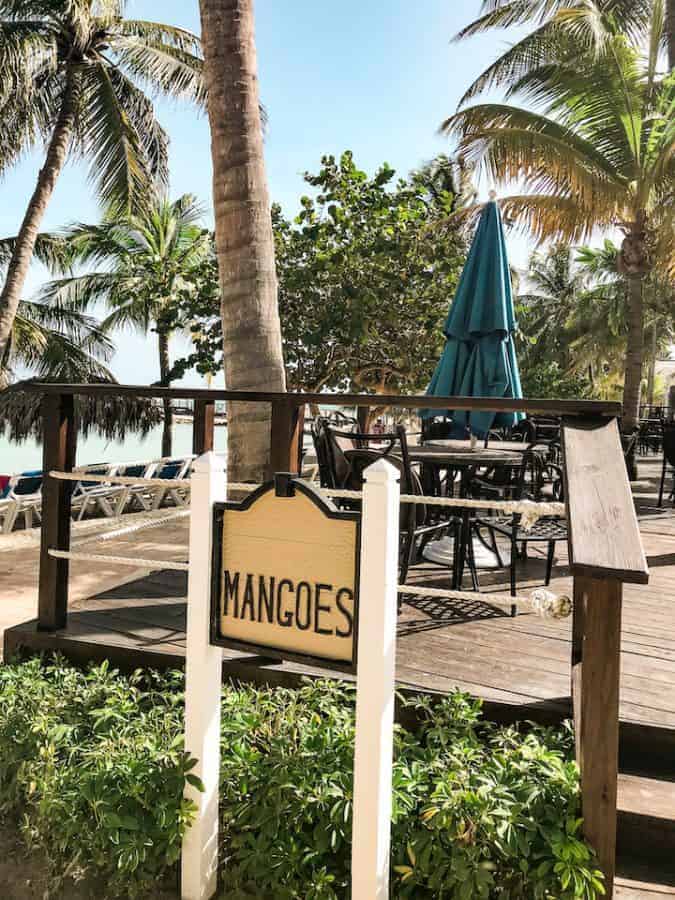 If you're looking to get out of the sun for a while, the Seaside Grill is perfect for breakfast or lunch with spectacular water views. Make sure to try the Jerk Chicken!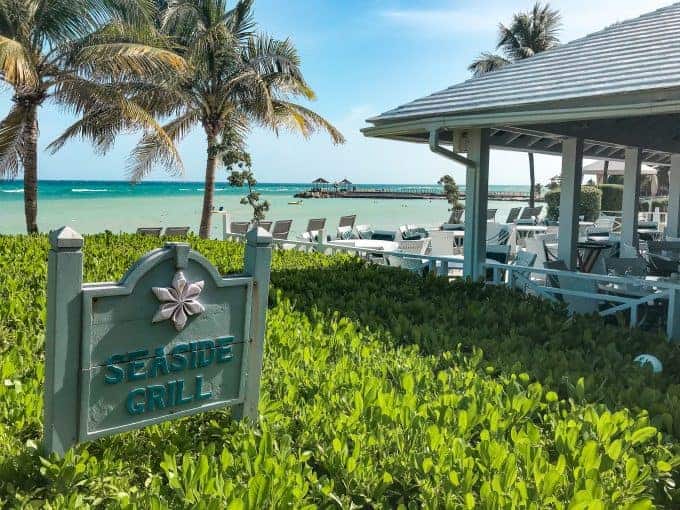 We had amazing dinners at both Three Palms and Luna di Mar. You do have to hop on a shuttle to get to Three Palms, but it was very easy to do.
You certainly will not go hungry at the Hilton Jamaica, there is food for everyone from picky children to children and adults who like to try new things.
Hilton Rose Hall Water Park

The Hilton Rose Hall Lazy River was hands down the highlight of this resort for my family. My kids spent most of their time here, and I may have as well!
Don't let the lazy part of the lazy river part get you, this "river" has a swift current that provides endless entertainment!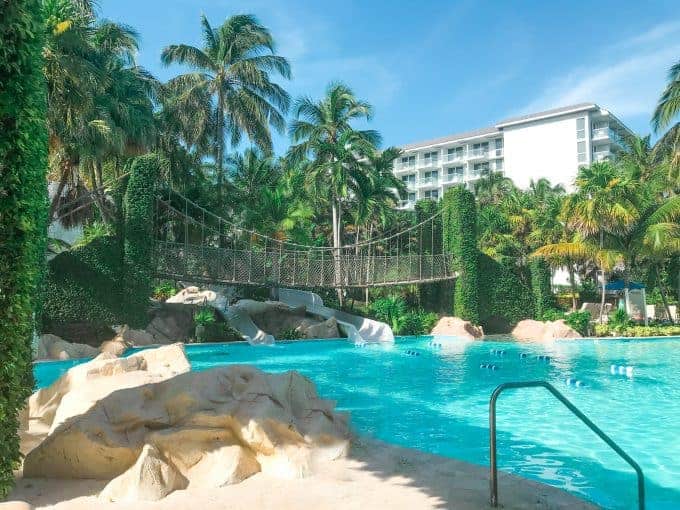 If the lazy river isn't enough, the Sugar Mills Water Park also has 2 waterslides that are fun for both kids and adults.
The water slides feed into the large pool that is adjacent to the lazy river and the connected swim-up pool bar. Drinks for adults and children can be ordered here. My daughter's favorite? A mango smoothie!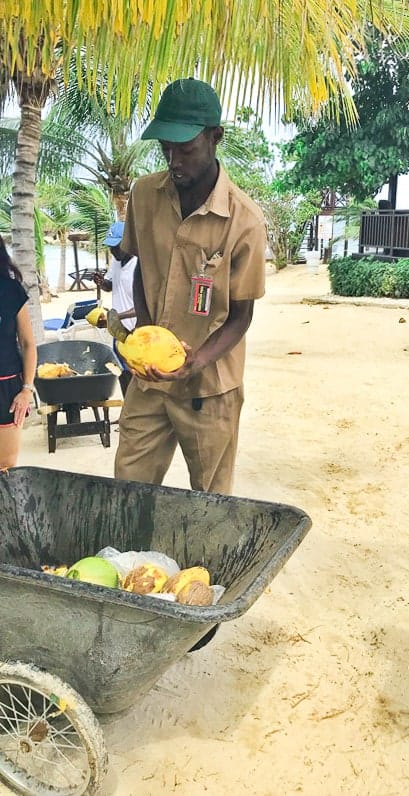 During the day, watch for the cart of coconuts. They are cut open with a machete and served! Put a straw in the coconut and you get to drink fresh coconut water.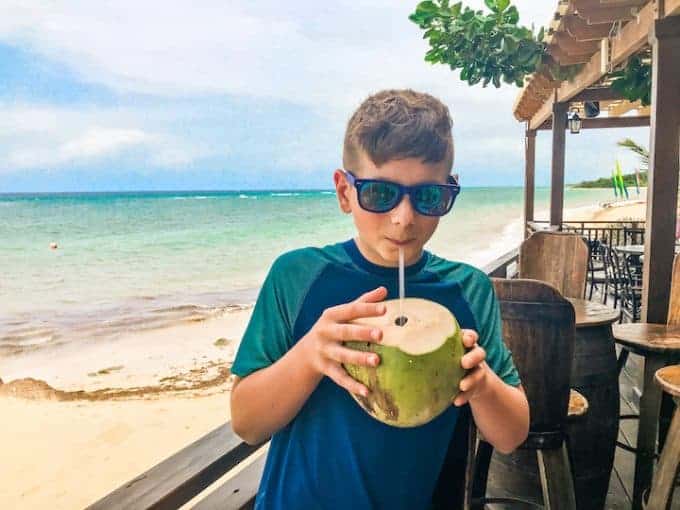 The Hilton Rose Hall resort Spa offers braids on the beach as a service – every little girl's request!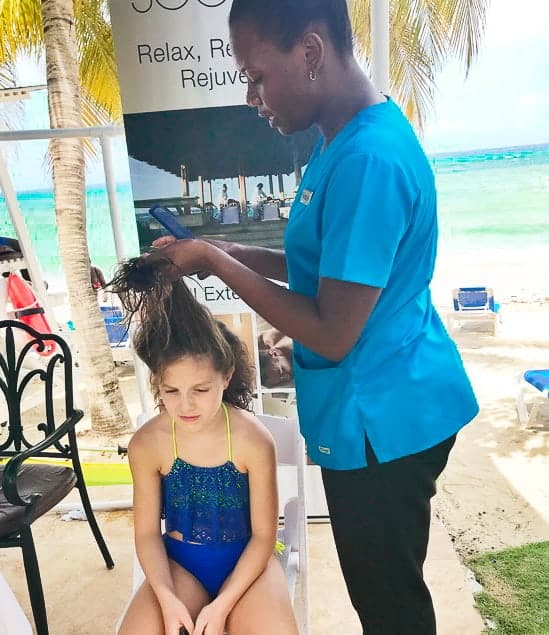 All that sitting pays off. Just be sure to use sunscreen on your kiddos head in between the braids.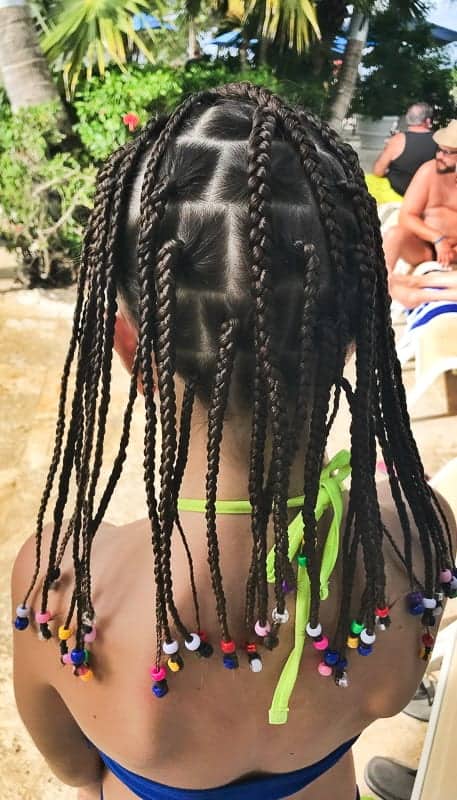 Jamaica Rose Hall has lots of family-friendly games provided free of charge on a patio overlooking the beach between the pools including ping pong, chess, and many more.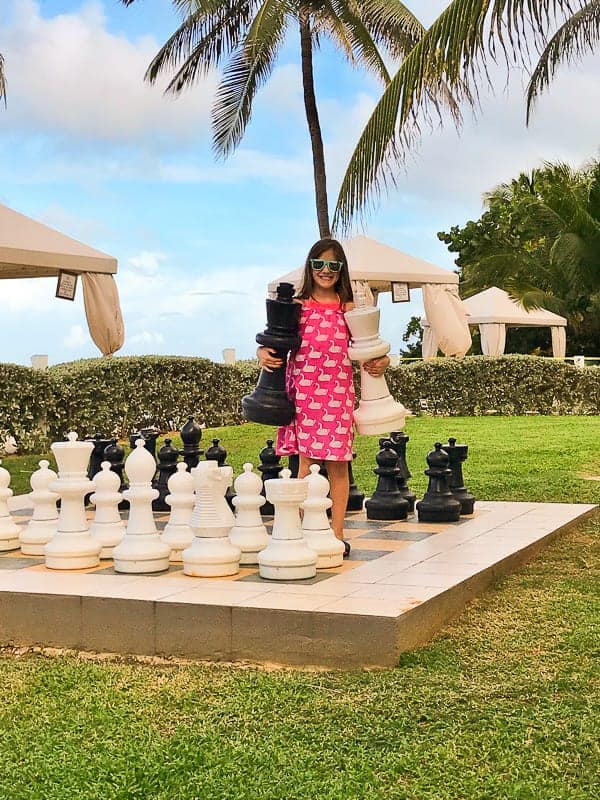 There is nightly entertainment provided if you're up for it. The Rose Hall Jamaica goes out of their way to make sure families have fun – my family really enjoyed the shows.
While there we saw an amazing steel drum band, a talent show, and fun activities with audience participation.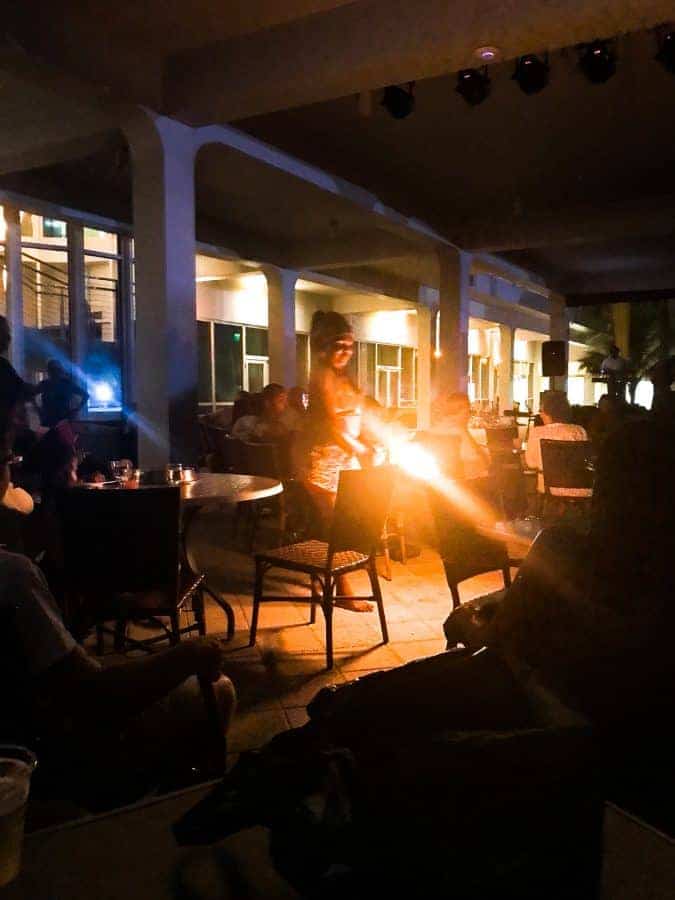 The Rooms At Hilton Rose Hall
This resort offers both rooms and suites. Since we were trying to keep this a budget-friendly vacation, we chose a standard room.
While our room was not spacious, it was all we needed. Due to my husband's Hilton status, we were upgraded to an Oceanview room which had an amazing view.
When deciding on a room choice, think about how much time your family plans to be in the room. If it's a lot it might be worth upgrading. We found with children 9 and 11 years old, we were rarely in our room.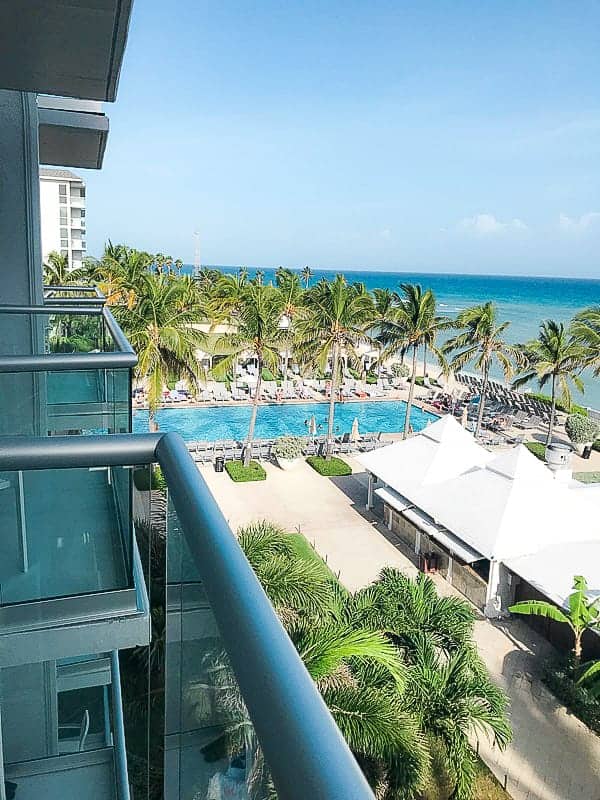 Hilton Rose Hall Airport Shuttle
The Hilton Rose Hall is a short ride from the airport, about 7 miles or 15 minutes.
When booking pay attention to whether transfers are included. We booked through Delta and were provided with an airport shuttle.
It's best to have your transportation arranged before arriving at the airport. You will be approached by many people hoping to offer you a shuttle service. Have it set up beforehand so you don't have to deal with this.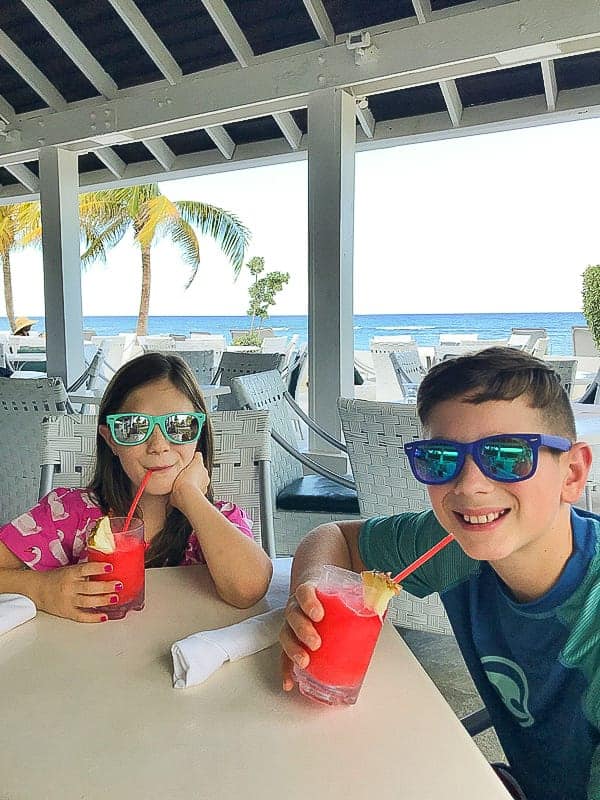 Is the Hilton Rose Hall in Montego Bay a good place to go?
I would highly recommend this resort for families.
There is a lot to do, many restaurants with kid-friendly food, nightly family-friendly entertainment, and just 15 minutes from the airport, makes it the perfect Jamaica vacation for families.
Check out the following link for more information on the Hilton Rose Hall along with things to do in Jamaica with kids.
Check out my Travel with Family section for more family vacation ideas.