White Stallion Ranch Review. If you're looking for an Arizona family vacation, consider White Stallion Ranch in Tucson. Here you'll spend your time not only riding horses but participating in adventures such as e-biking, shooting, and rock climbing.
White Stallion Ranch is a family-friendly dude ranch located near Tucson, Arizona. This guest ranch dates back over 100 years and makes the list of Historic Hotels of America. Here you'll find the hospitality of a traditional dude ranch combined with the service and amenities of a fine resort. White Stallion Ranch has been recognized nationally for excellence in service and value.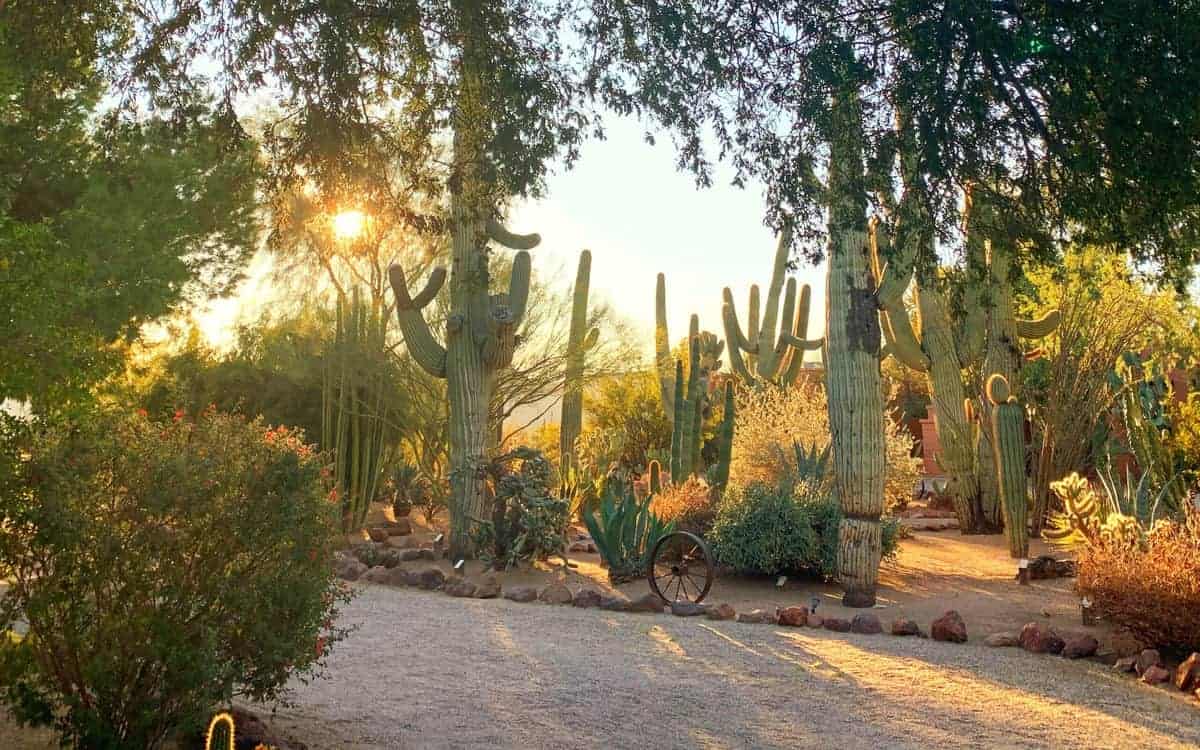 A huge thanks to White Stallion Ranch for hosting my family. As always, all opinions are my own.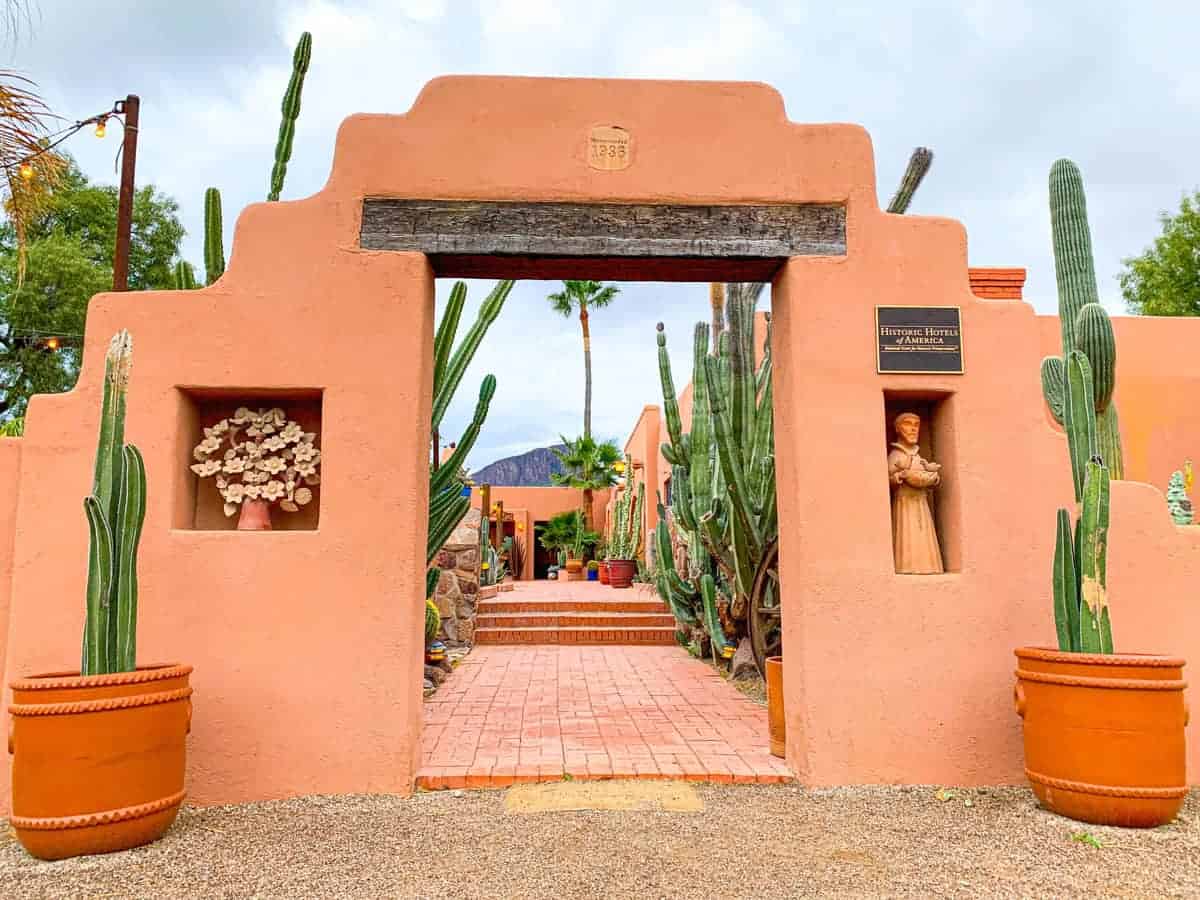 Celebrate nature and family time while riding through the desert filled with many types of cactus, including the saguaro. Take in the views while riding mountainside and see the sights that have brought Hollywood filmmakers to the ranch for many, many years.
Family- Friendly Dude Ranch Vacations
Before I share with you the details on White Stallion Ranch, I have to say a big thank you to the Dude Ranchers' Association (DRA).
I'm forever grateful for the connections I've made through the DRA as the time I've spent with my family on dude ranches are some of the best times my family has shared. I've seen first hand the hospitality, generosity, and down-home fun these vacations offer.
Keep reading to see what your family can expect from this all-inclusive US vacation.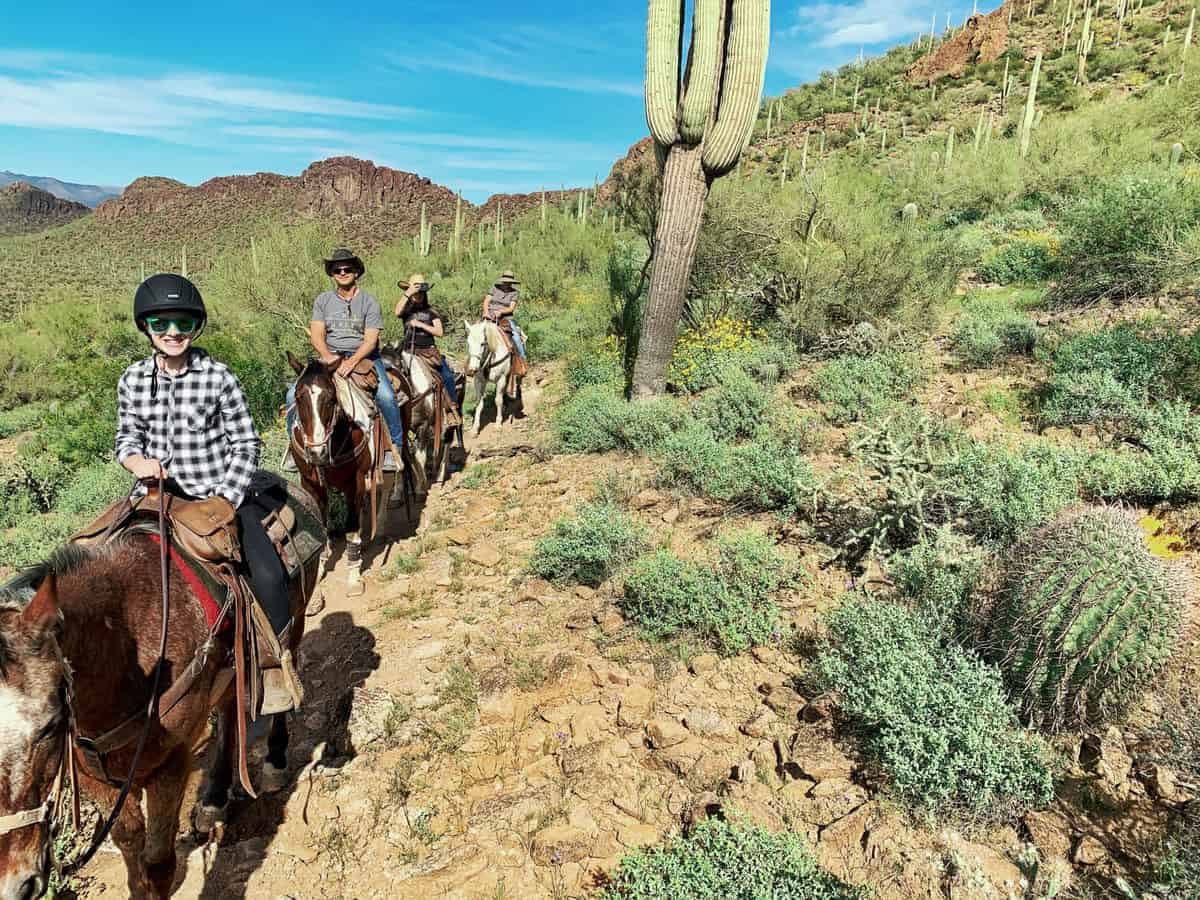 If you're interested in researching other ranches before making a decision, the Dude Ranchers' Association is there to help you select which ranch is the best fit for your family.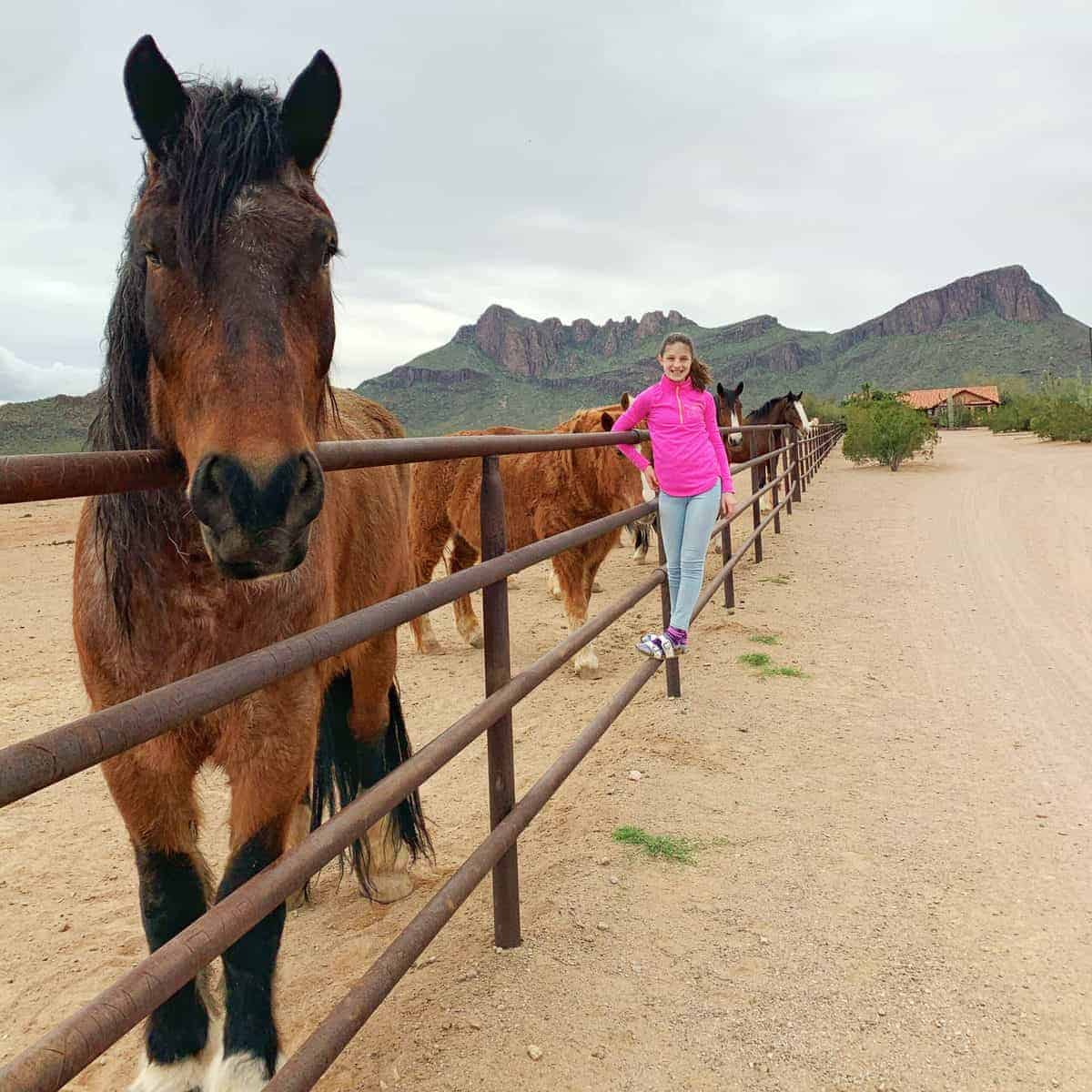 When you select a Dude Ranchers' Association member ranch, you can be sure of a quality vacation.
Each ranch undergoes a rigorous inspection and approval process that ensures guests are treated to genuine western hospitality combined with the lodging industry's highest standards.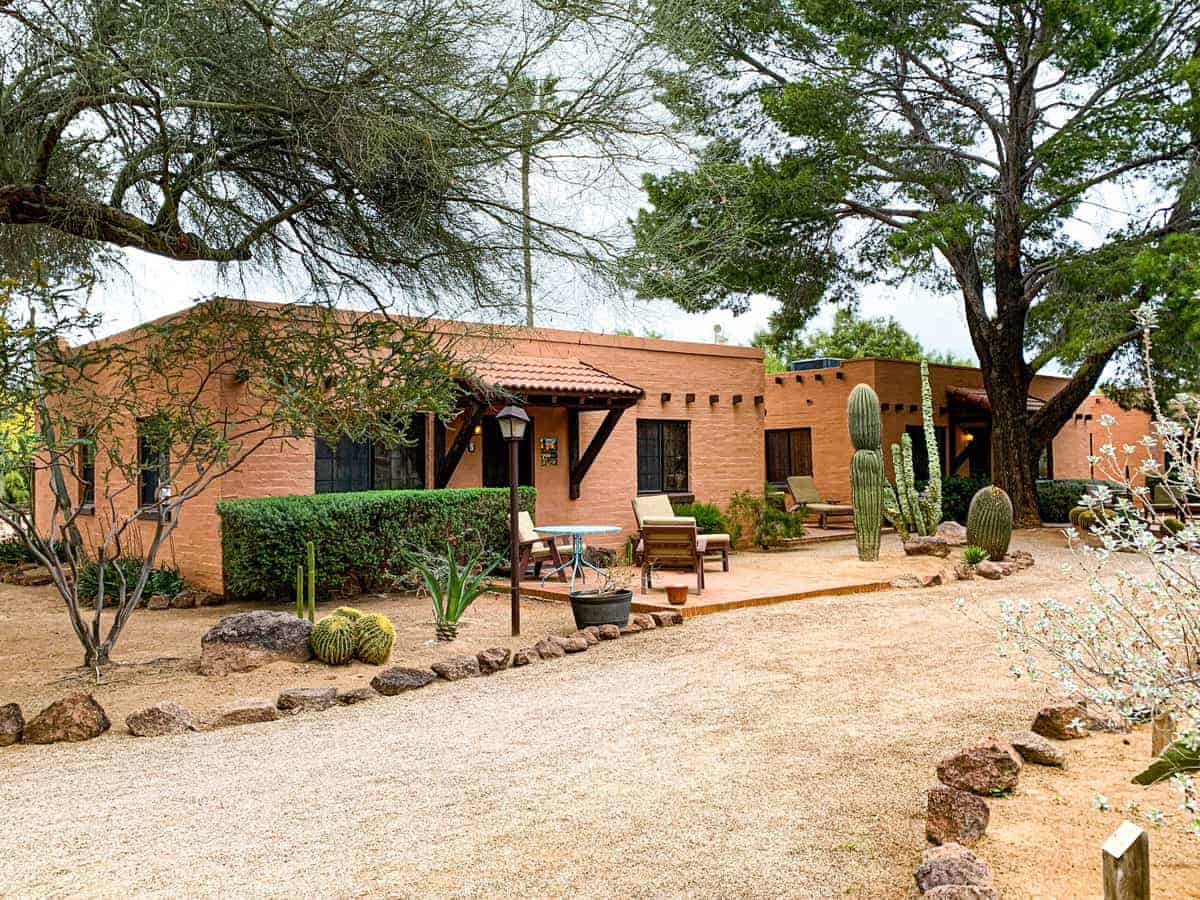 Every dude ranch vacation is unique
I love that dude ranches offer an all-inclusive vacation in the US. Knowing costs upfront is helpful and I love not having to pay for each meal. It's much easier to budget for a vacation when you know the costs before going.
Related: Dude Ranch Colorado: Bar Lazy J Guest Ranch
Guest Ranches offer families a planned vacation, meals, and all.
Offerings range from ranch to ranch and include things from horseback riding, hiking, rock climbing, fishing, swimming, cycling, zip-lining, white water rafting, rodeos, campfire sing-a-longs, western dancing, fine dining and more. Learn how to choose the right ranch for your family here.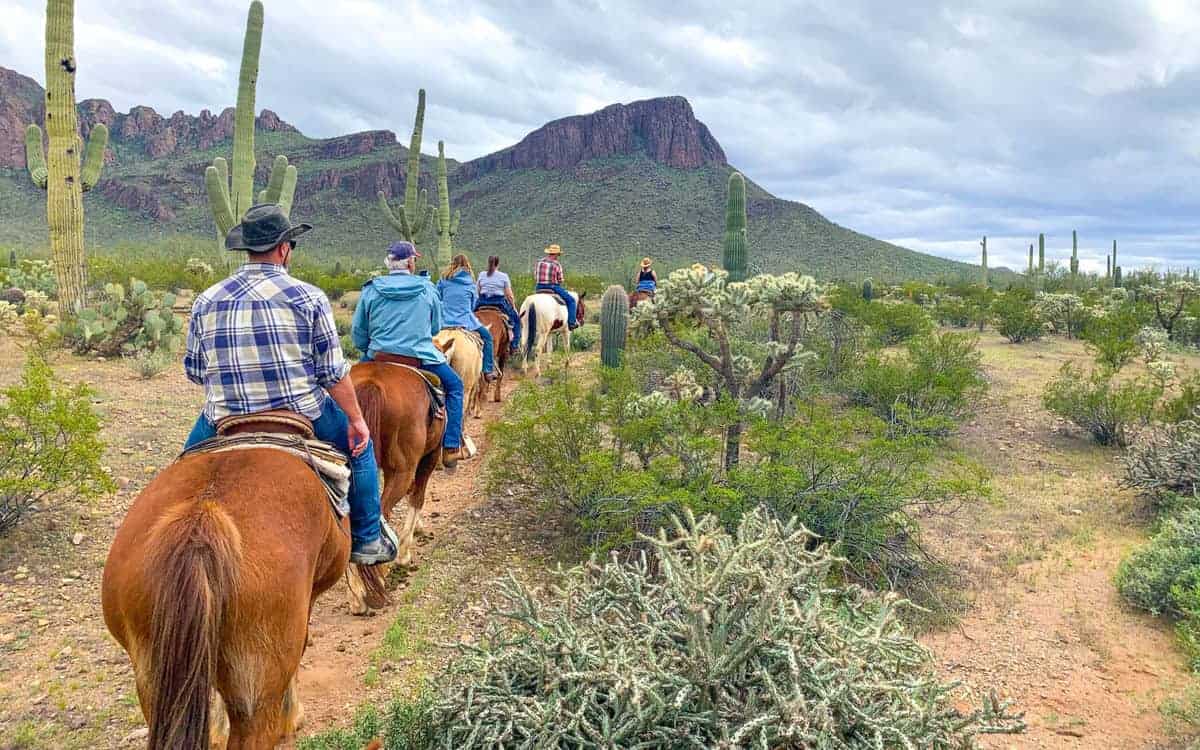 Why Choose White Stallion Ranch
When reviewing ranches, there were several things that stood out to me about White Stallion Ranch.
The many national awards the ranch has won is very impressive. They were voted the #1 Best Family Resort by USA Today in 2018 among many more.
See all the awards White Stallion Ranch has won here.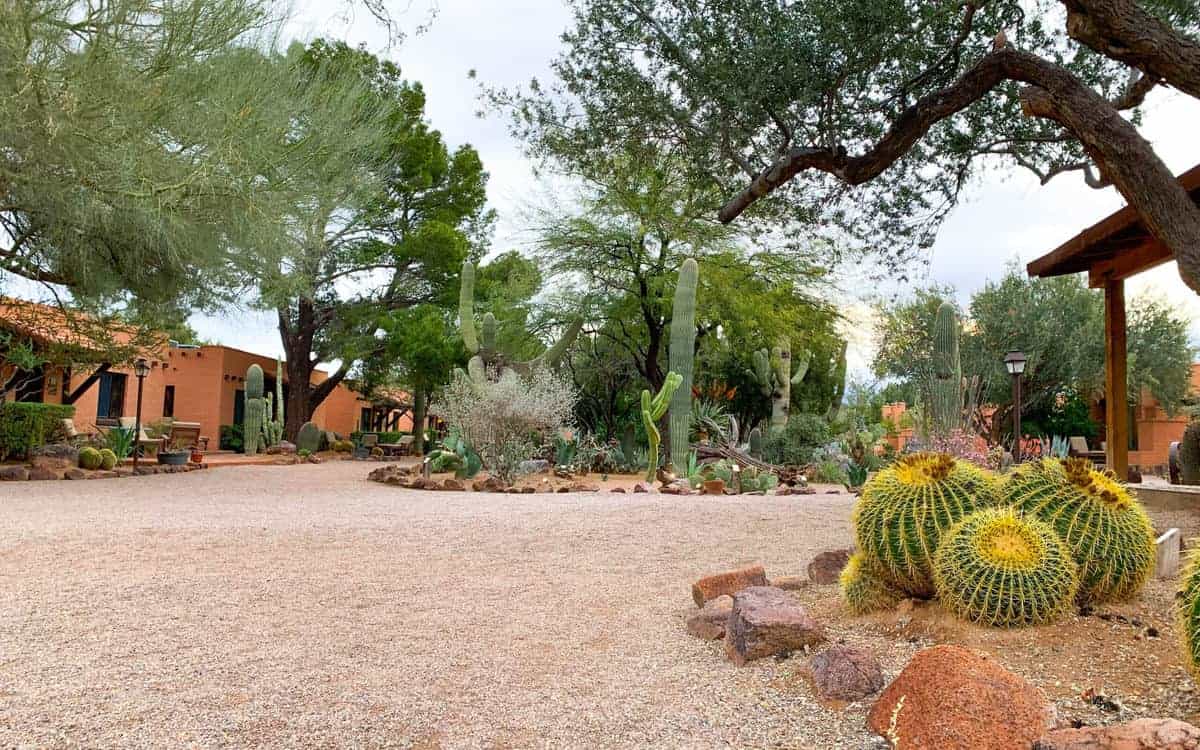 With 43 guest rooms plus a large 5-bedroom hacienda situated throughout, the ranch is not a large resort. The rooms are well-appointed and cleaned daily. They are situated between horse corrals so you can wake up and take a walk to see the horses easily.
We had a king/twin room that was quite spacious and had all the comforts of home. The sitting area outside was well-used.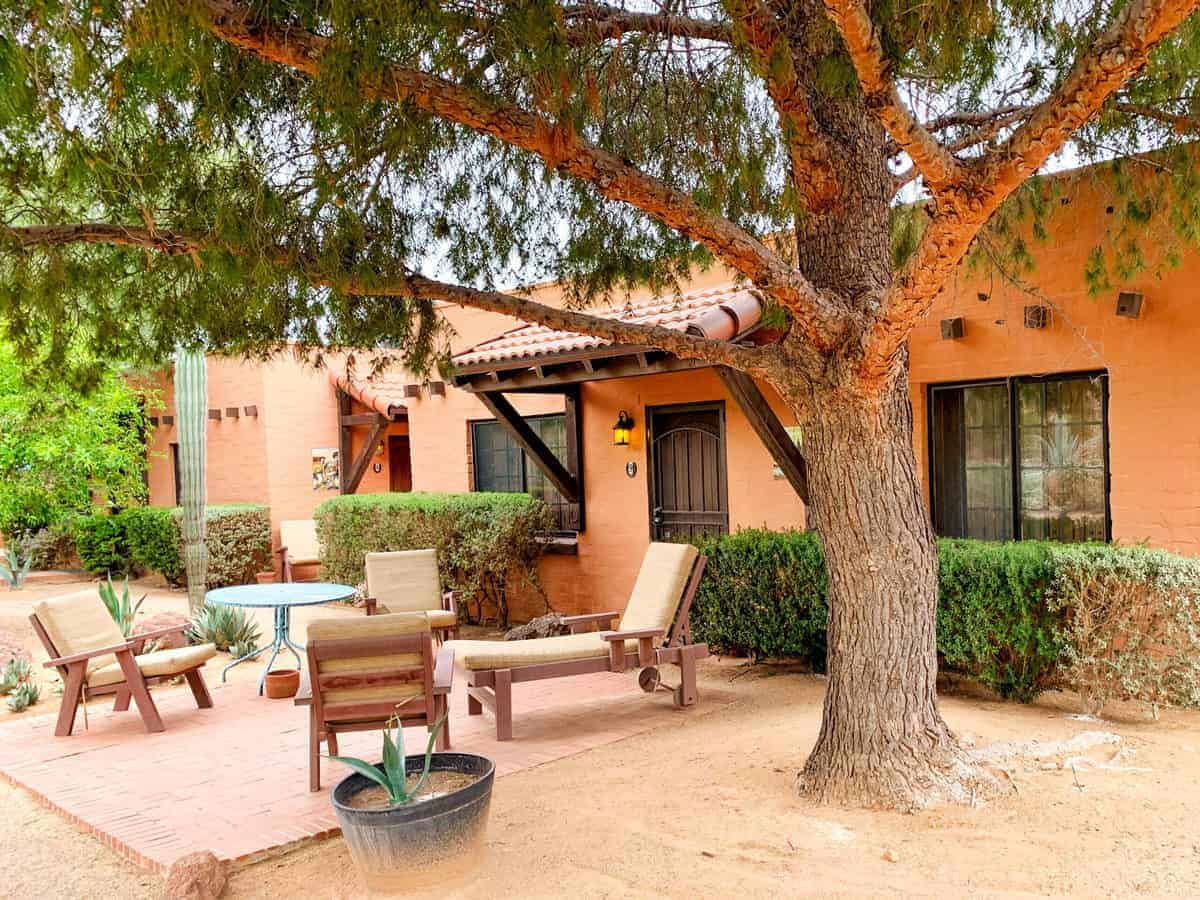 We stayed in guest room number 7 which was perfect for our family of 4. All guest rooms are close to all areas of the ranch so you can't go wrong with any of the units.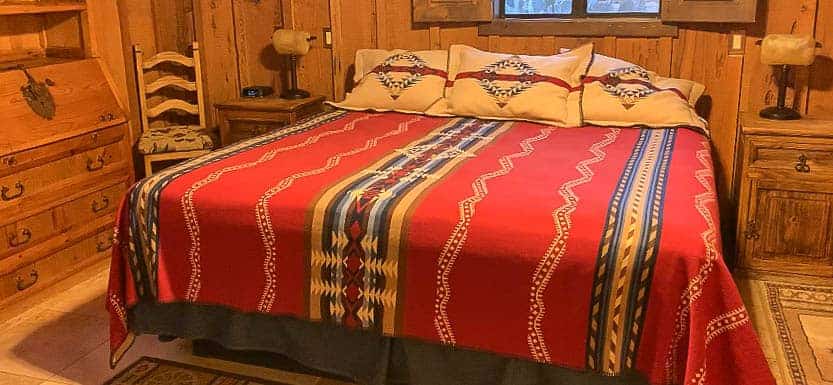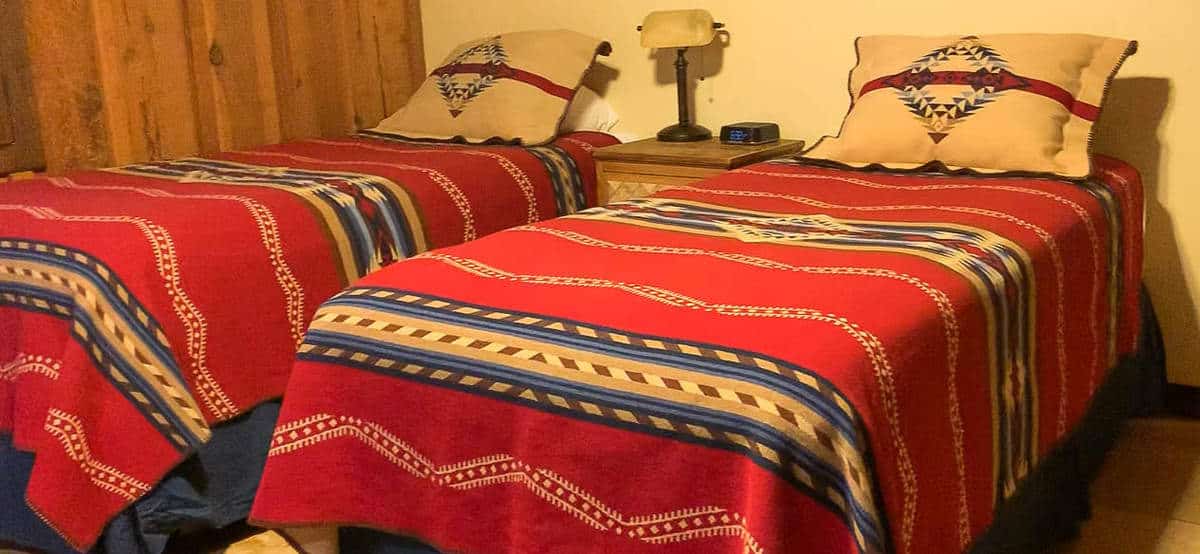 Attention to detail is shown throughout the ranch. The horse decor was charming and definitely added to the experience.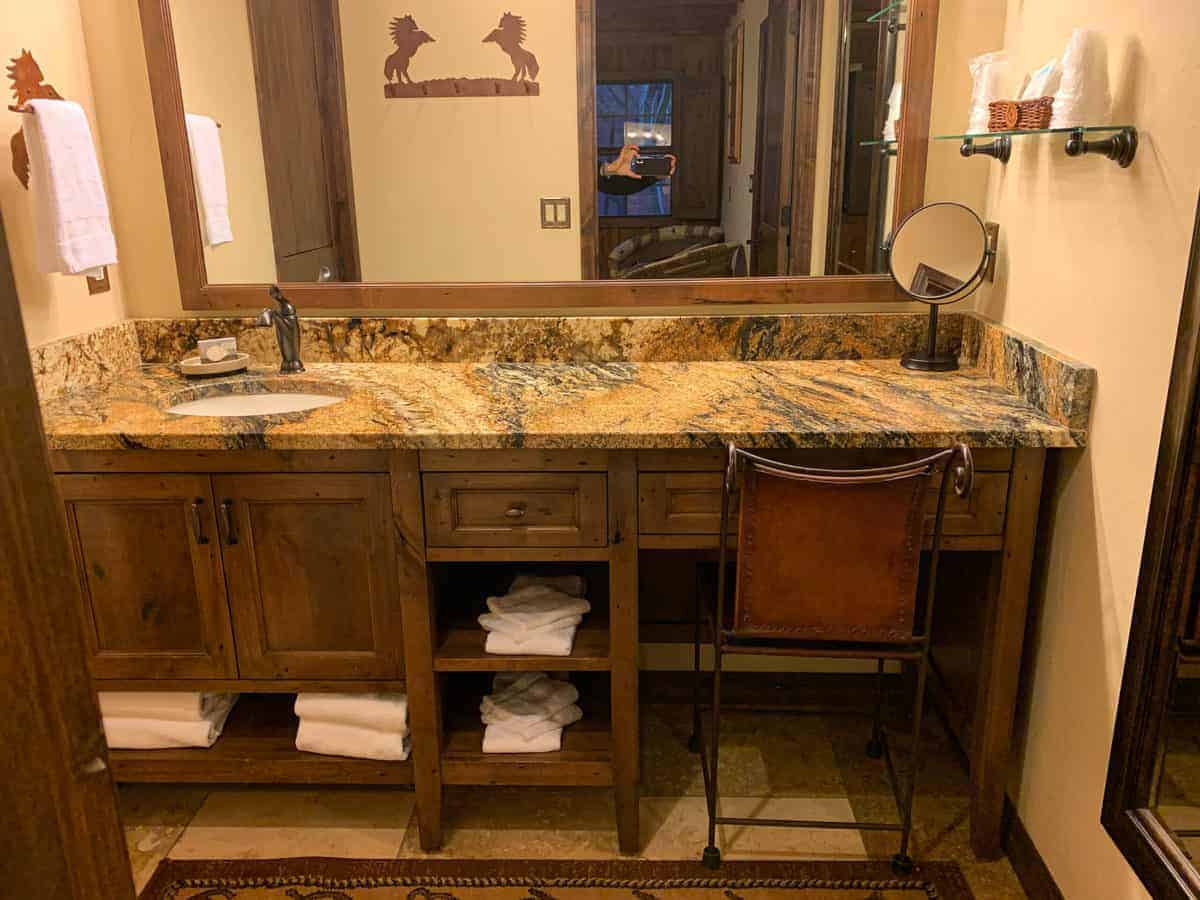 During downtimes after a ride and before meals we enjoyed soaking up the warm desert air. Coming from cold Wisconsin, we thoroughly enjoyed this winter ranch vacation.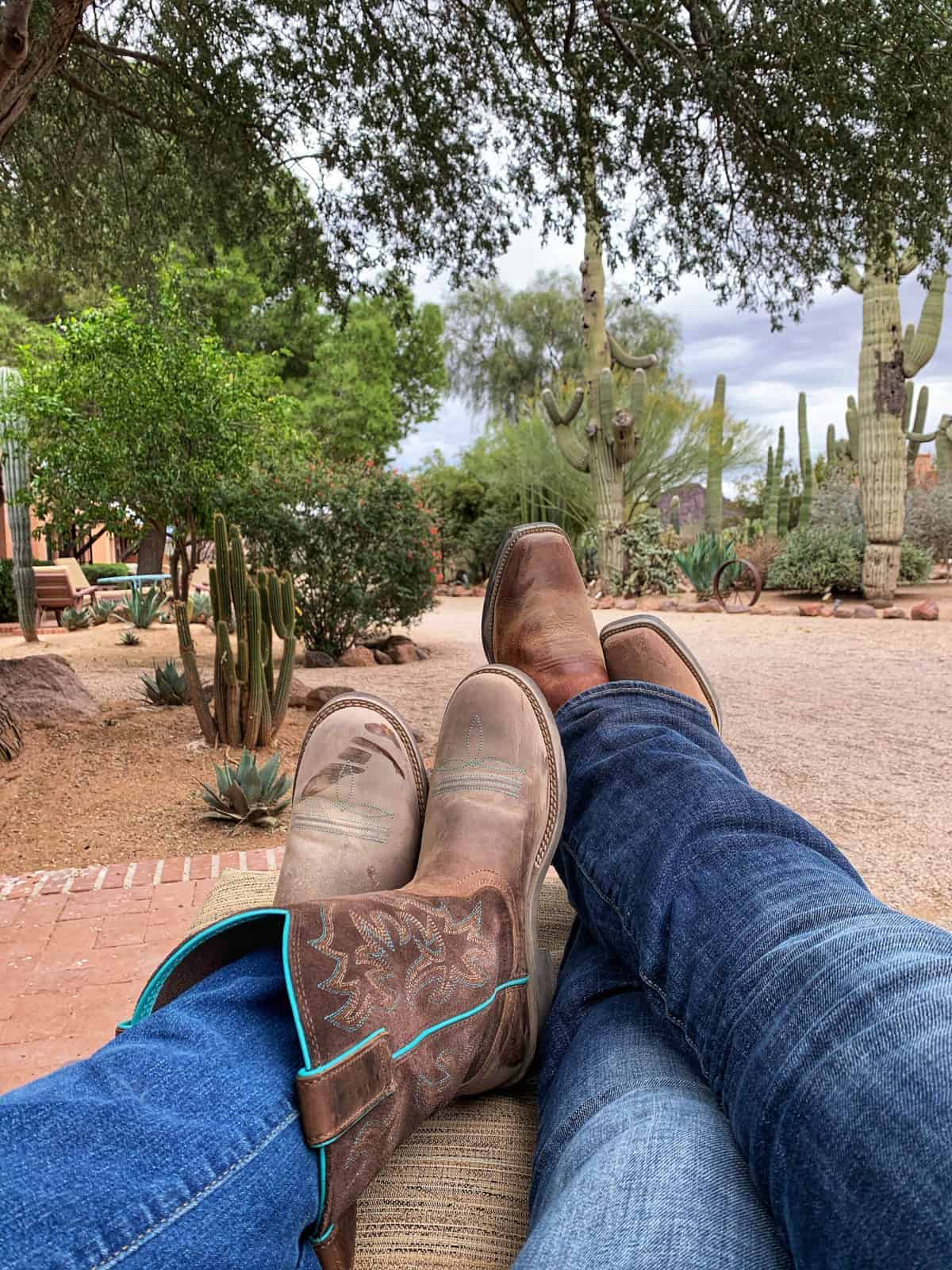 Horseback Riding at White Stallion Ranch
When at a dude ranch, the focus is definitely on the horses. It's certainly our favorite part!
White Stallion has a herd of over 150 horses that are very well cared for.
You are welcome to give the horses treats (found by the office) at any time of the day. My 11-year-old daughter took full advantage of this offering. We spent a lot of time at the fence feeding and petting horses.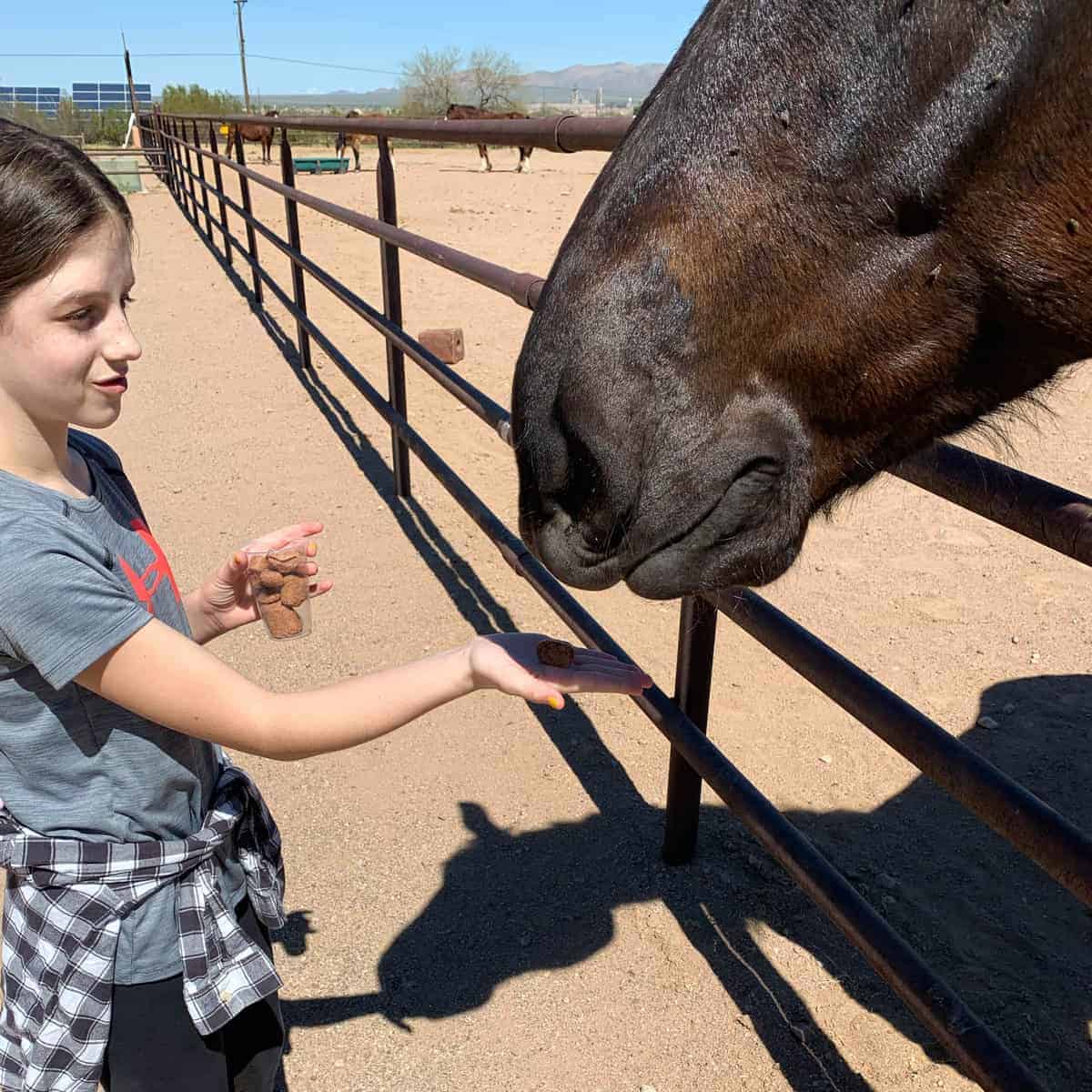 Sunday is the horses' day off. This is the day that many guests, including ourselves, arrive on the ranch. It's a great day to explore the ranch to see all it has to offer.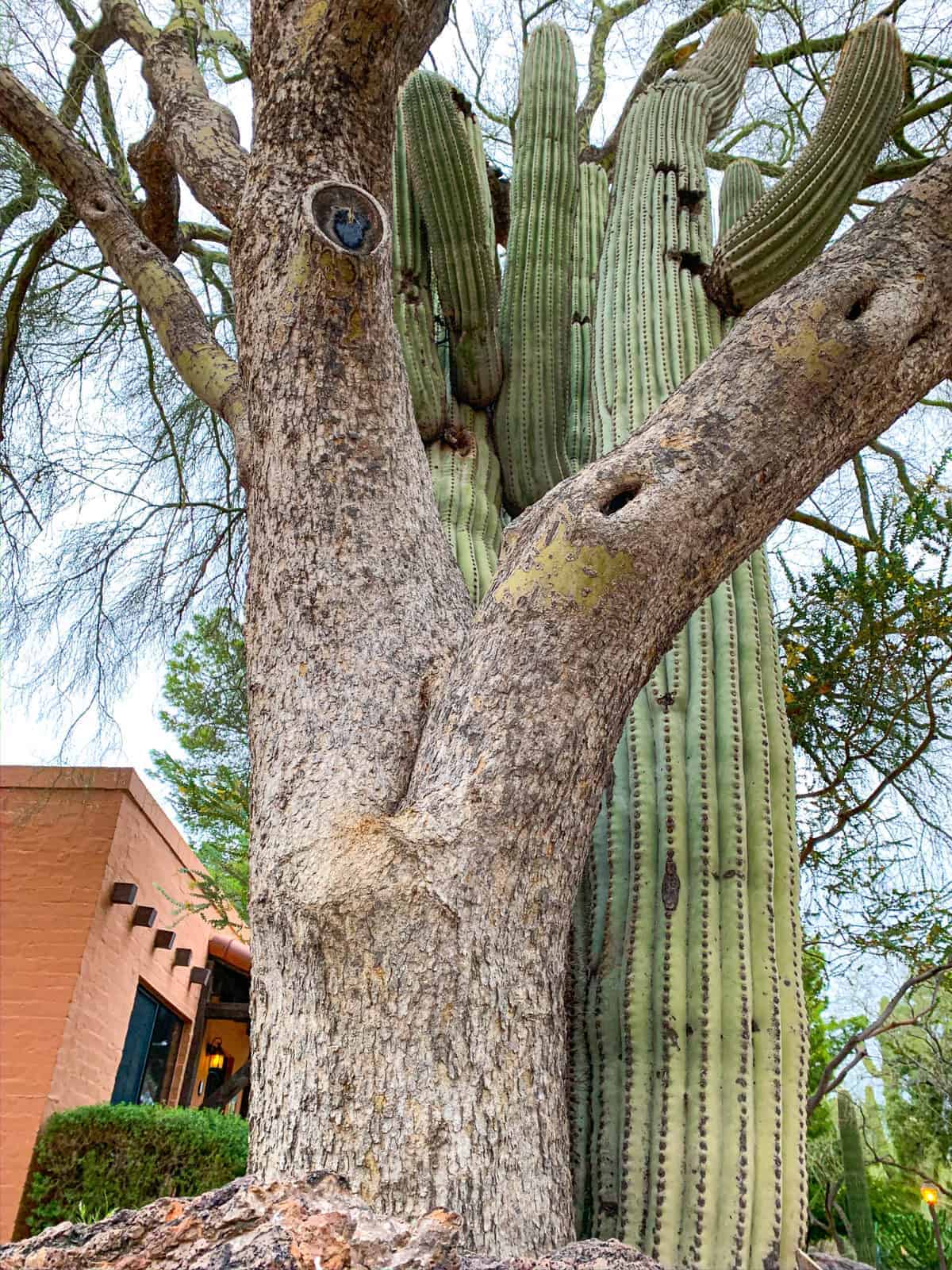 Monday morning we were paired with our horse for the week and we were off on a slow ride through the desert.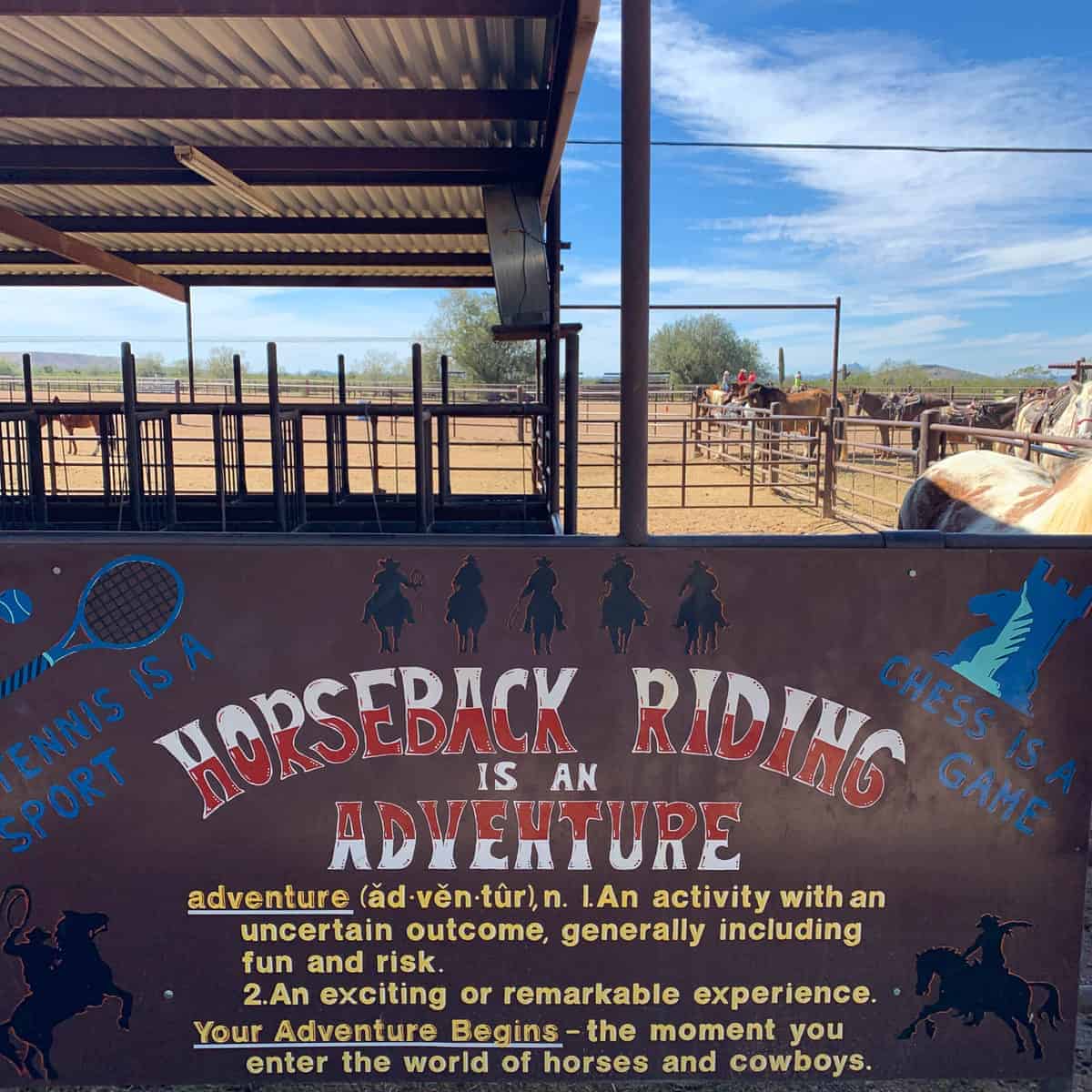 At White Stallion, children eight and older can go on all the rides including fast, mountain rides, and all-day rides. Children between 5 and 8 years can go on the slow rides while children under 5 ride on a lead line guided by a staff member.
As a family, we went on all our rides together, which was great. My daughter is not quite comfortable loping (cantering) so we stuck with the slow rides.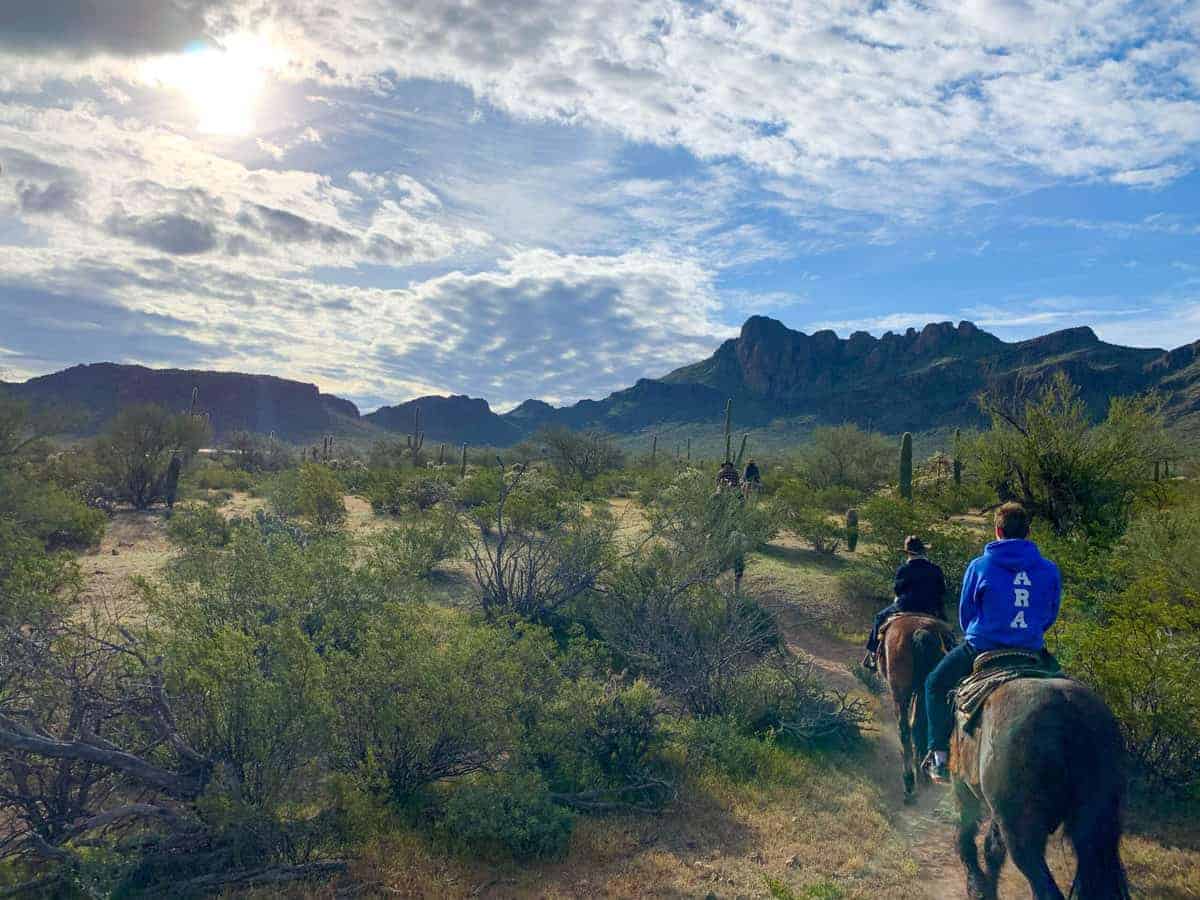 Each day there are many rides to choose from. The ranch offers morning rides, afternoon rides, and all-day rides as well.
Guest sign up for daily activities, including riding, the night before. Head into the main lodge and you'll find sign up sheets. You can read descriptions of all the rides and activities so you know in advance what you're signing up for.
There are also specialty rides like the breakfast ride and the wine and cheese ride (adults only).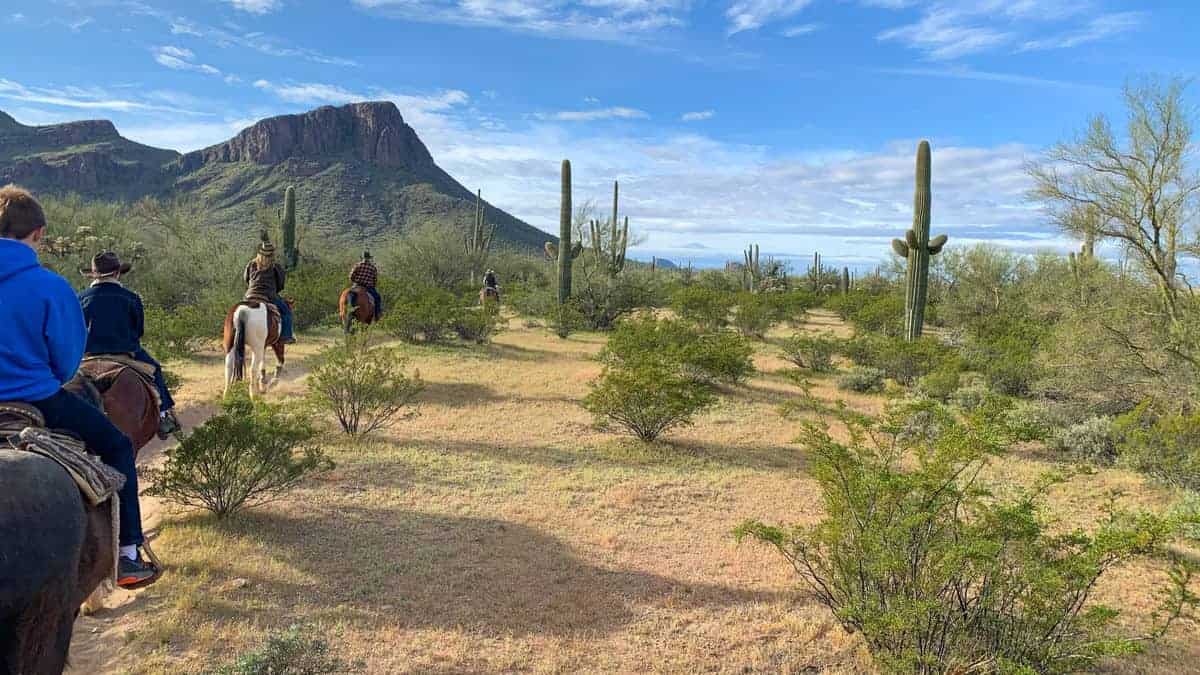 We really enjoyed the early morning time spent riding out to the breakfast site.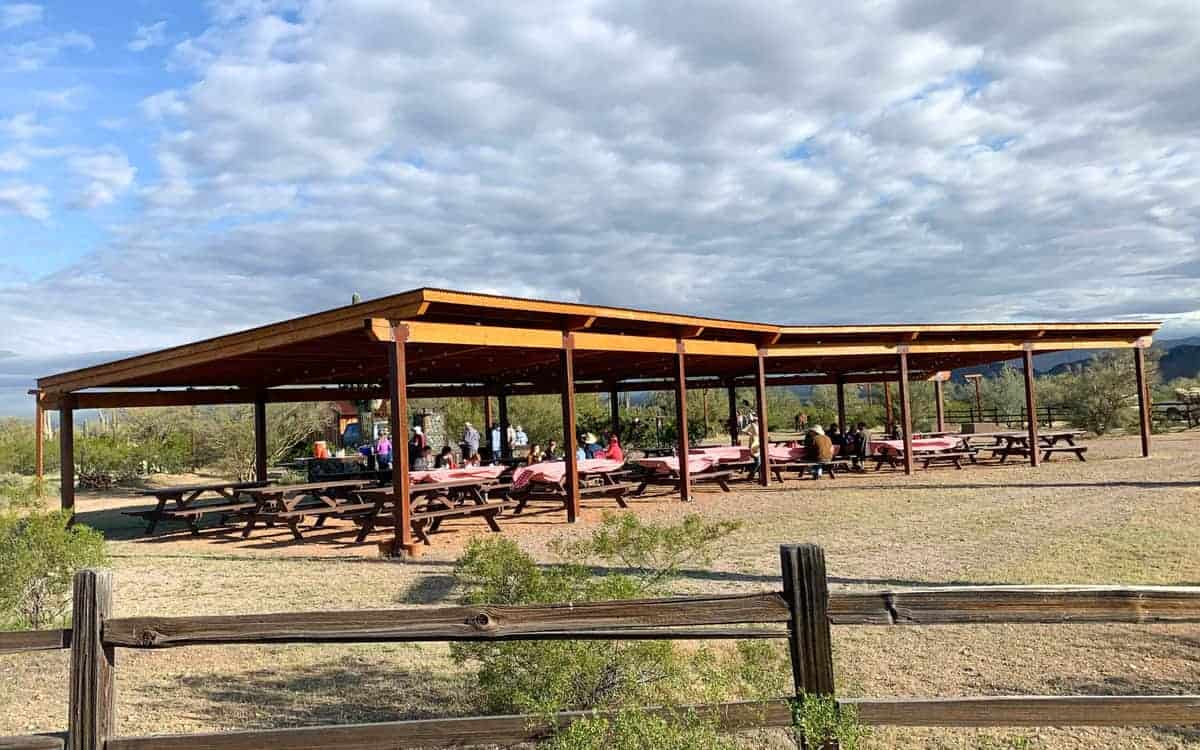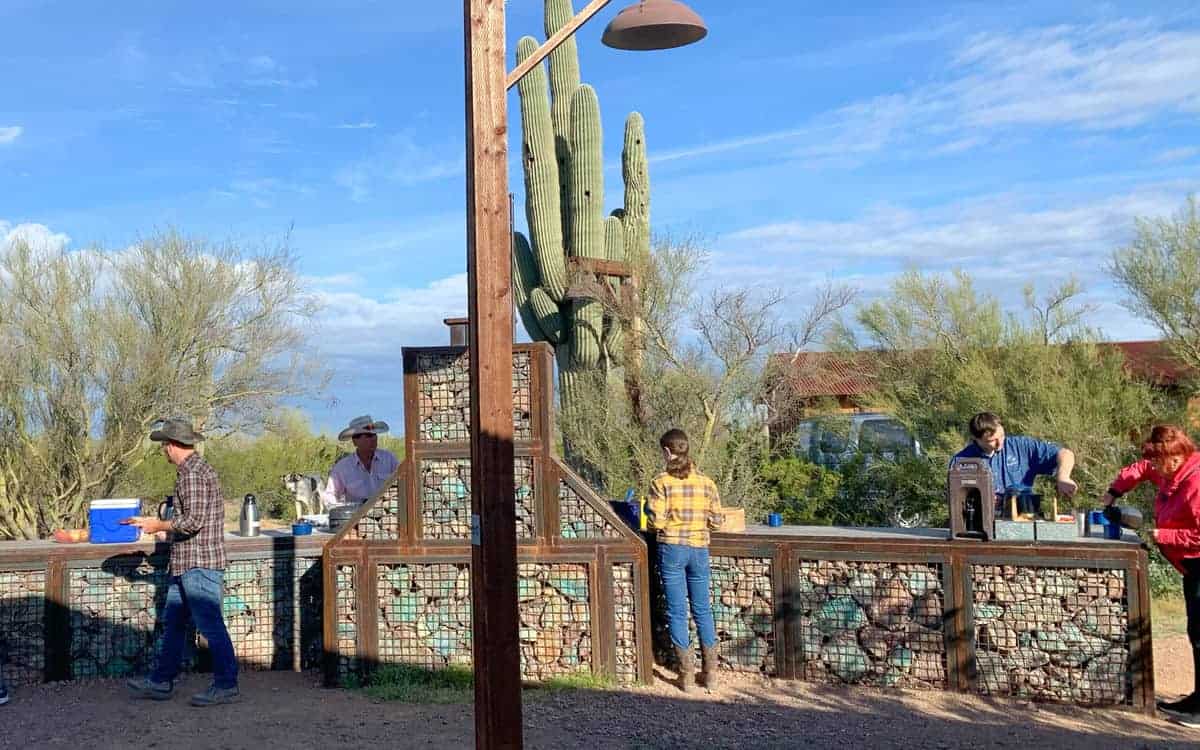 We rode out at 7:30 and were greeted with a hot breakfast in the cool desert morning sun. It's the perfect backdrop for a great family photo op!

In addition to riding, you have the option to try cattle sorting and team penning
For us non-ranchers, this is super unique and really fun to try out!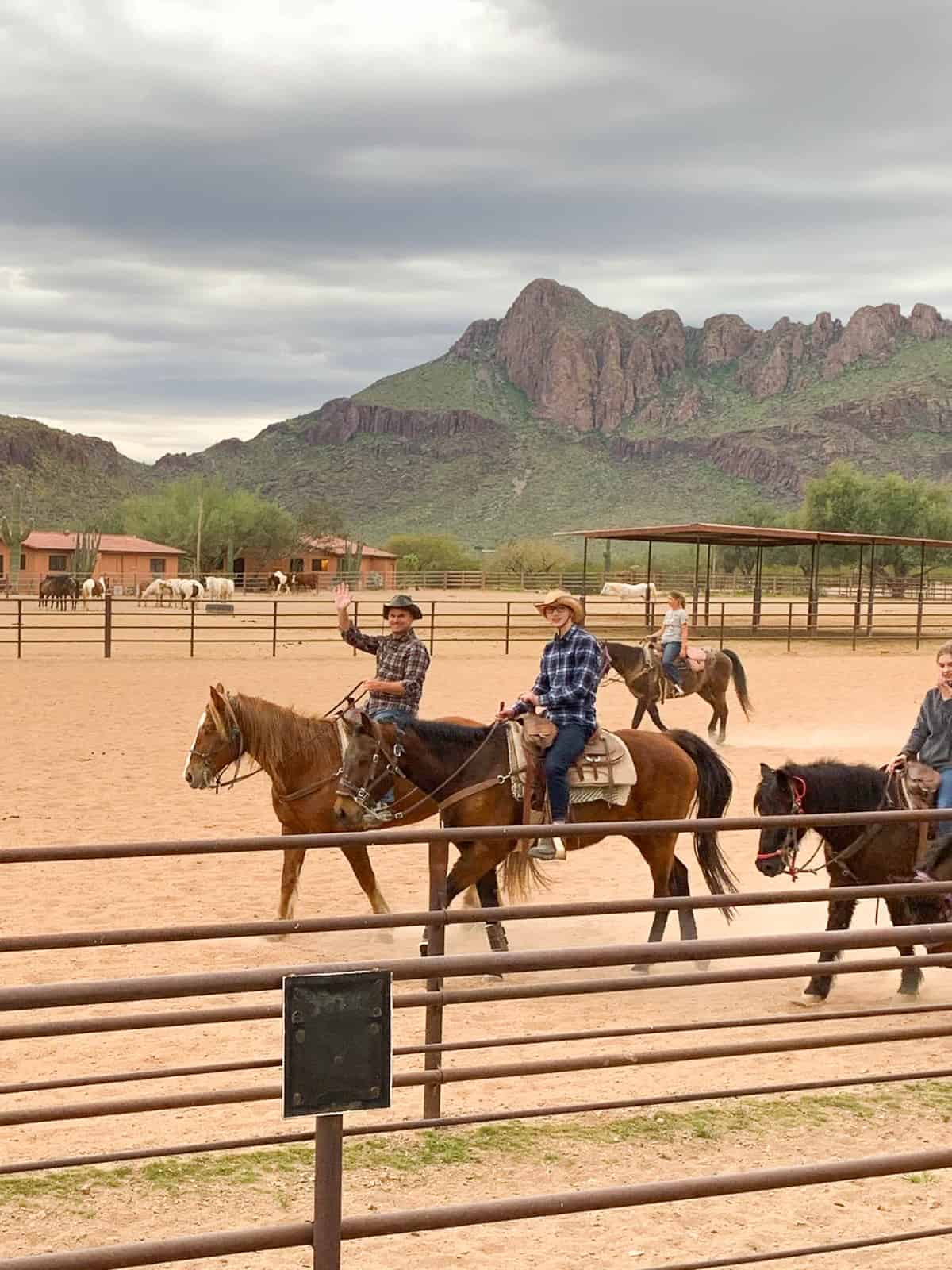 Many western movies have been filmed right here at the ranch. White Stallion offers a movie tour showcasing where the movies were shot.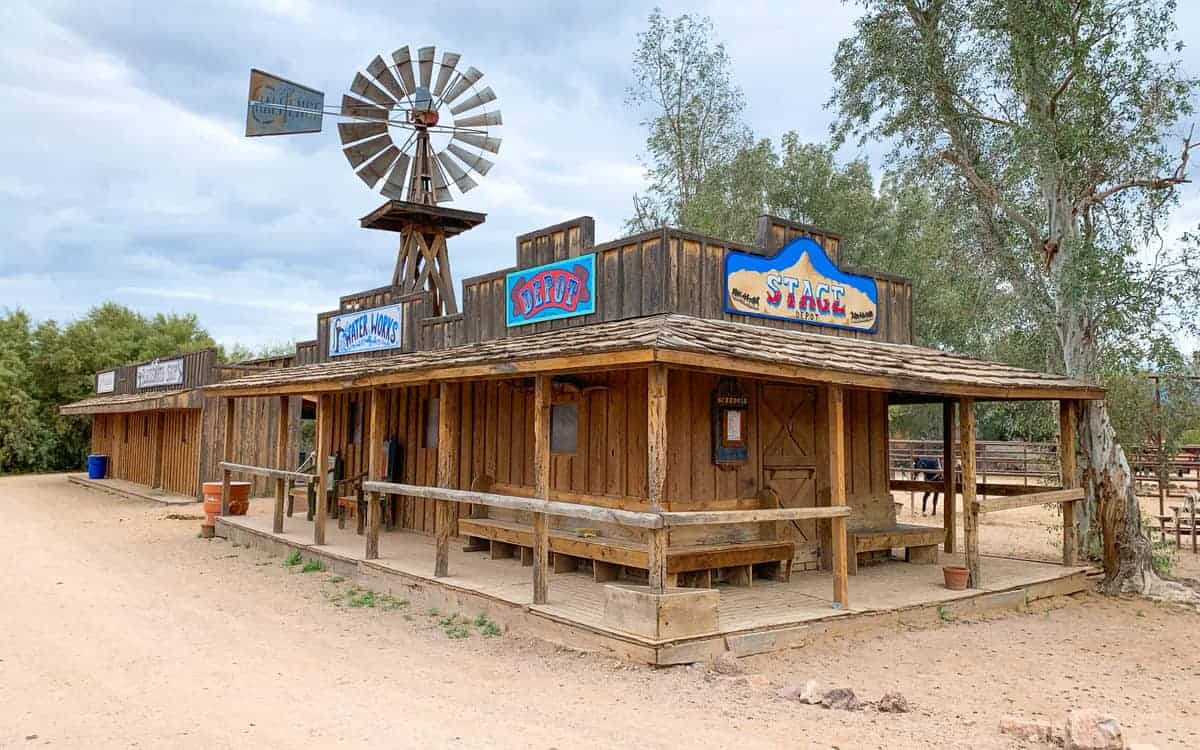 Dining At White Stallion Ranch
Besides the horses, the food is next up on my list of standouts. You will not go hungry. Simply listen for the bell ringing letting you know it's mealtime.
Meals are at specific times with breakfast at 7:30, lunch 12:30, appetizers and happy hour 6:00 and dinner is served at 7:00.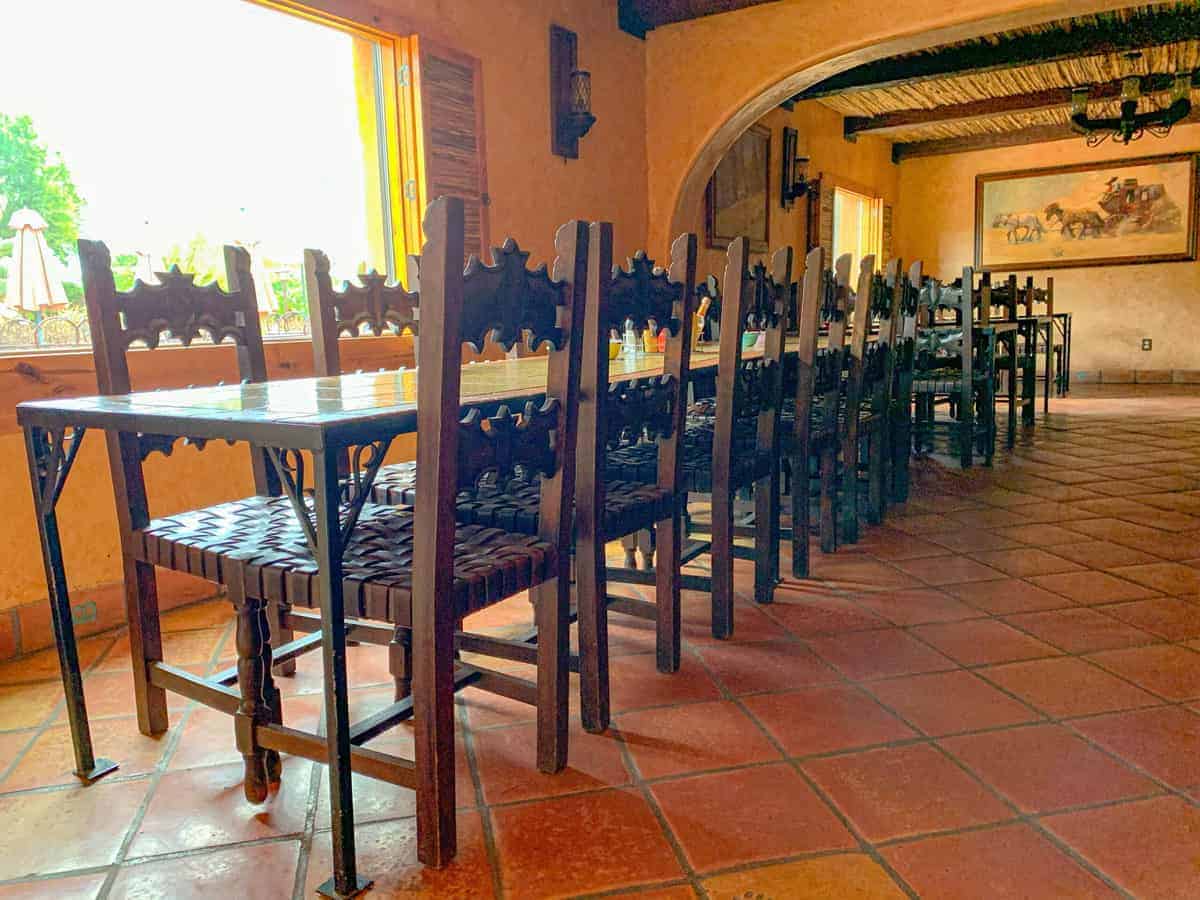 Breakfast includes a cooked-to-order menu as well as a continental buffet. Coffee, cappuccino, hot chocolate, hot and cold teas, and lemonade are available all day.
Lunch is served buffet-style, you can dine inside or on the patio.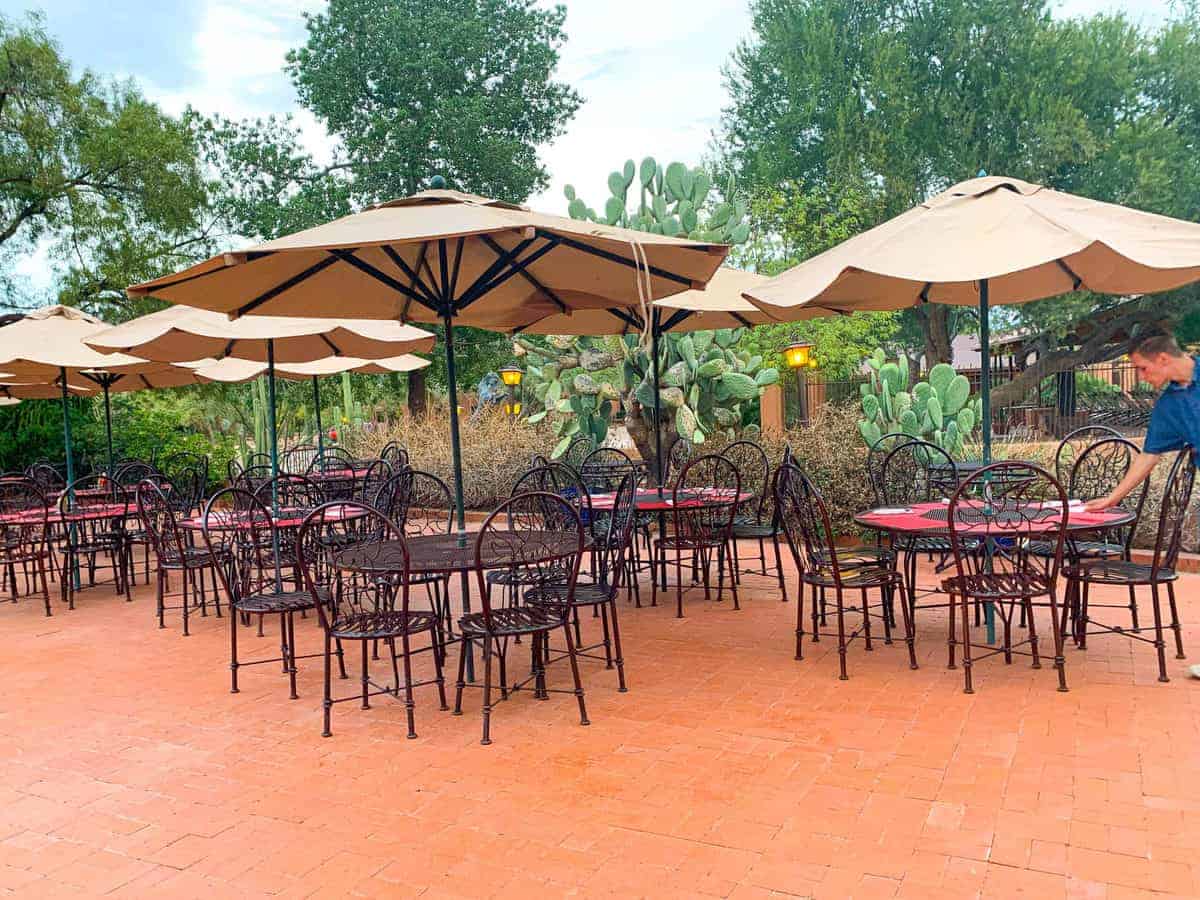 Dinner is served buffet-style, often grilled outdoors.
Every night there's an amazing dessert offered at your table as well. The peach pie with vanilla ice cream is a must-try.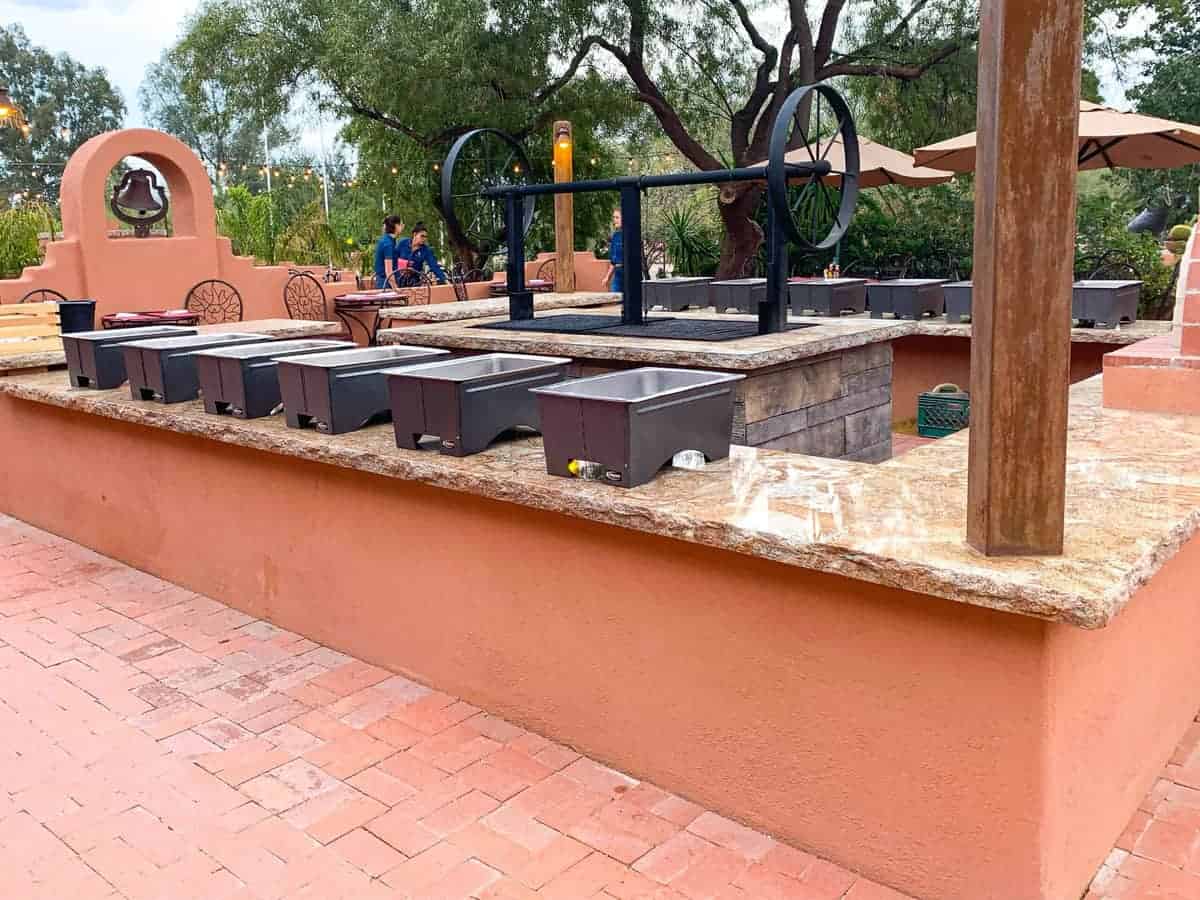 There is a large space outdoors where you can watch your dinner being prepared. My 13-year-old son was quite disappointed we were leaving on steak night!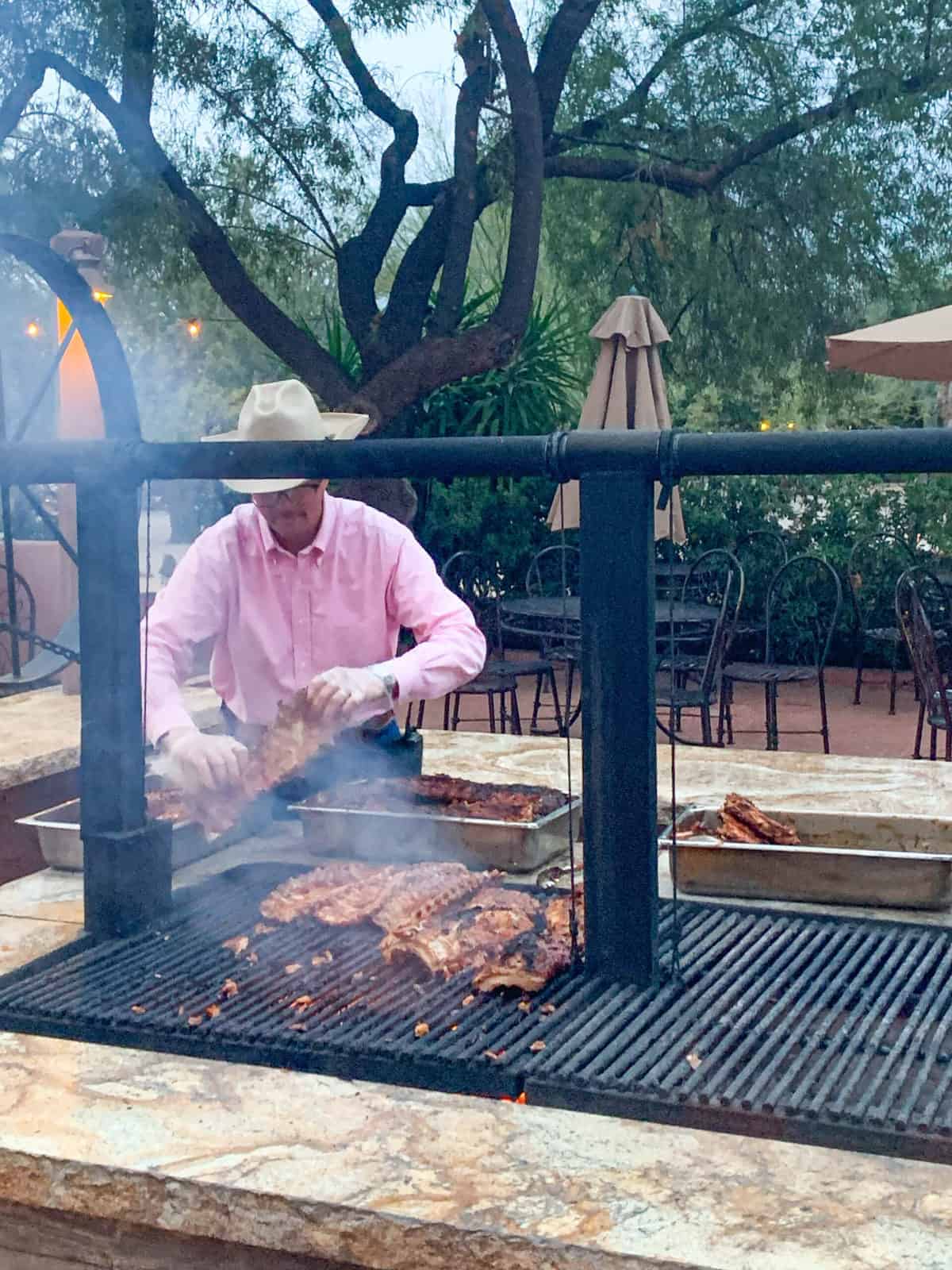 Snacks are always available, including fresh fruit, chips and salsa, peanuts, and their famous homemade trail mix.
White Stallion offers an honor bar that has both alcoholic and non- alcoholic beverages to guests 24/7. Simply mark down your drinks and you pay upon checkout.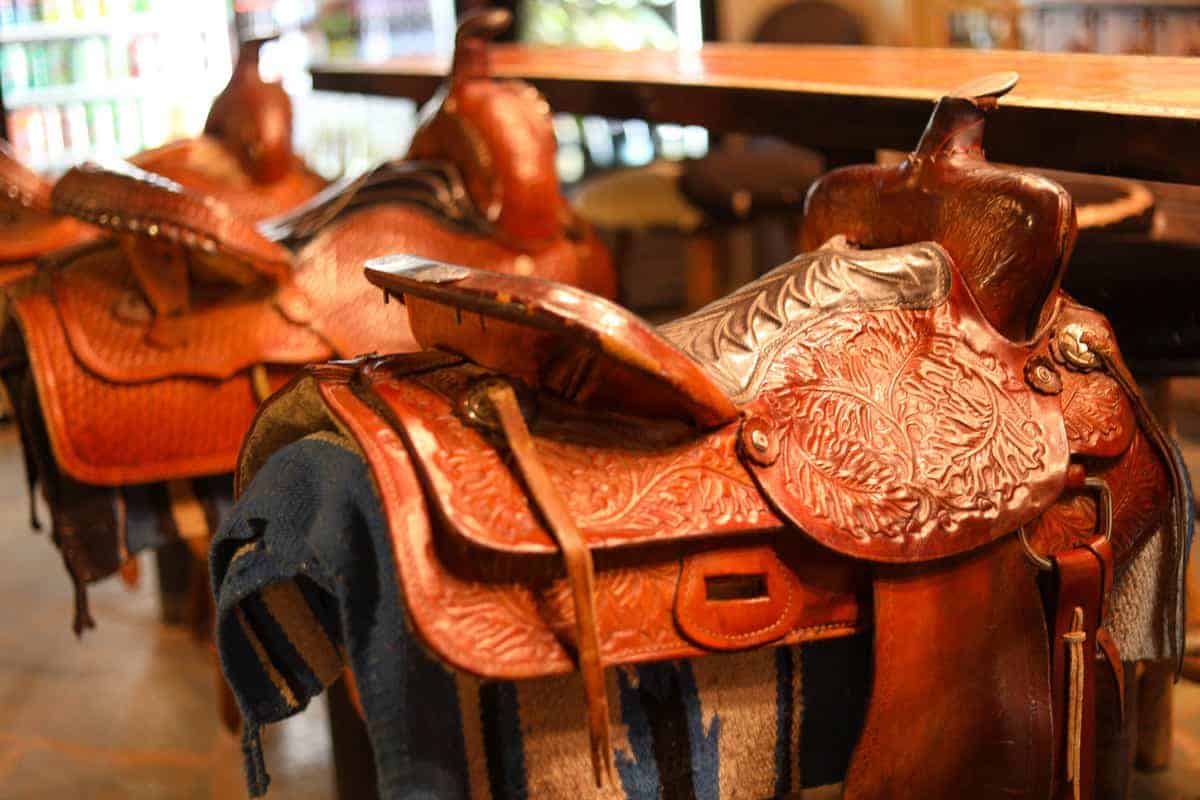 Wednesdays offer a hayride lunch.
Everyone gathers at the front of the ranch then rides a horse-powered hayride to the lunch site for burgers, hot dogs, or chicken with all the fixings.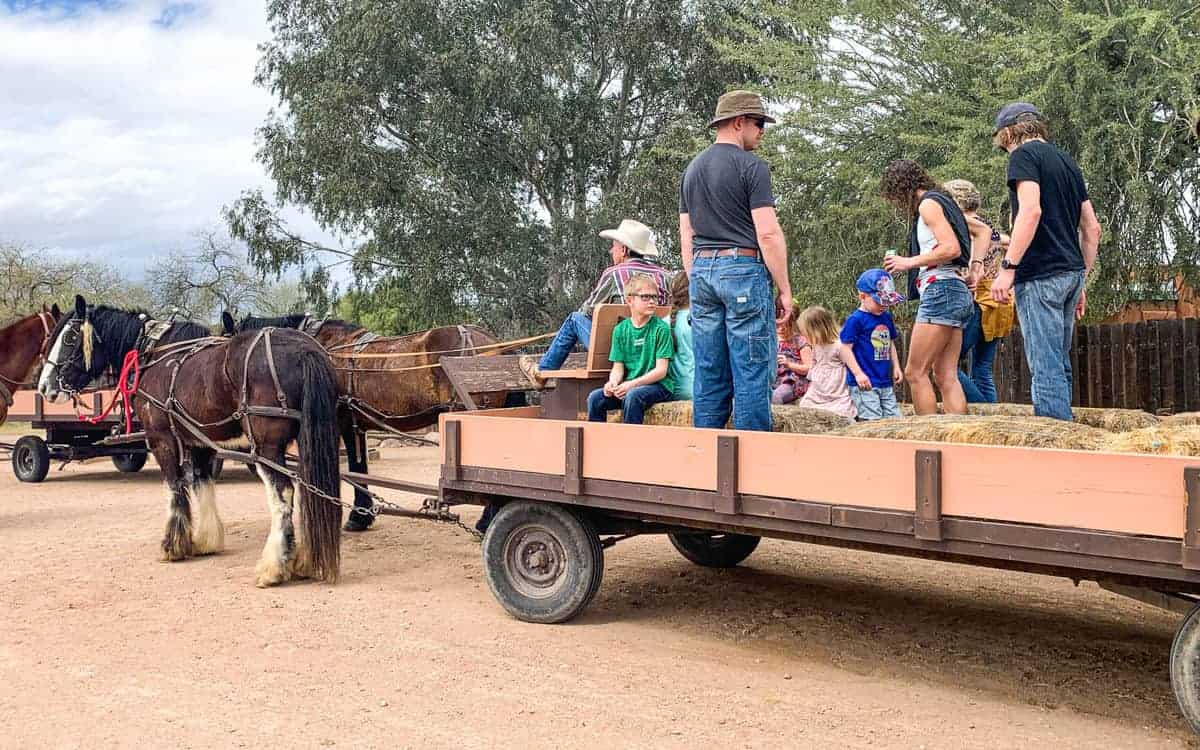 Ranch Rodeo
Wednesdays are also pretty special because it's Ranch Rodeo Day.
At 4:00 you can head down to the area where Russell True walks you through rodeo activities, explaining exactly what you need to know and watch for while the staff competes in the ranch rodeo. I've been to several rodeos, I learned the most at this one.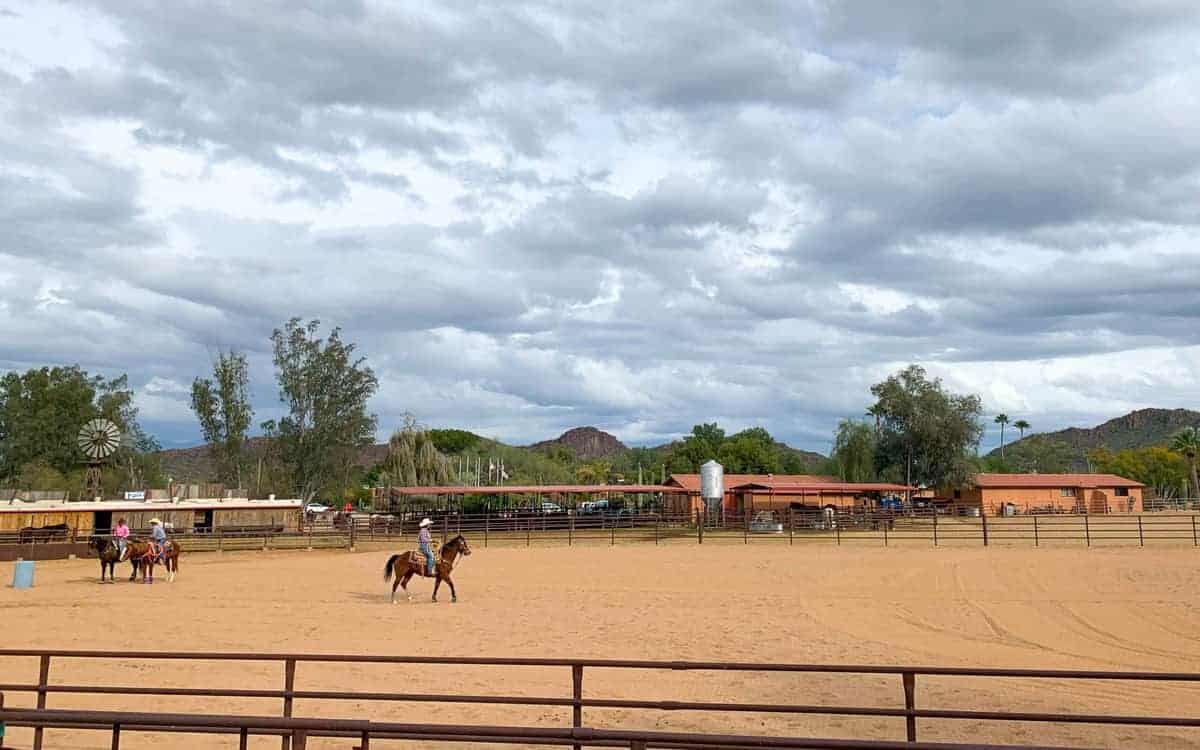 Outdoor Adventure Package
You will definitely find plenty of activities to keep you busy at White Stallion Ranch.
Beyond horseback riding, they offer an outdoor adventure package that everyone from children to teens to adults enjoys.
Included are rock climbing, shooting, archery, and fat-tire e-biking.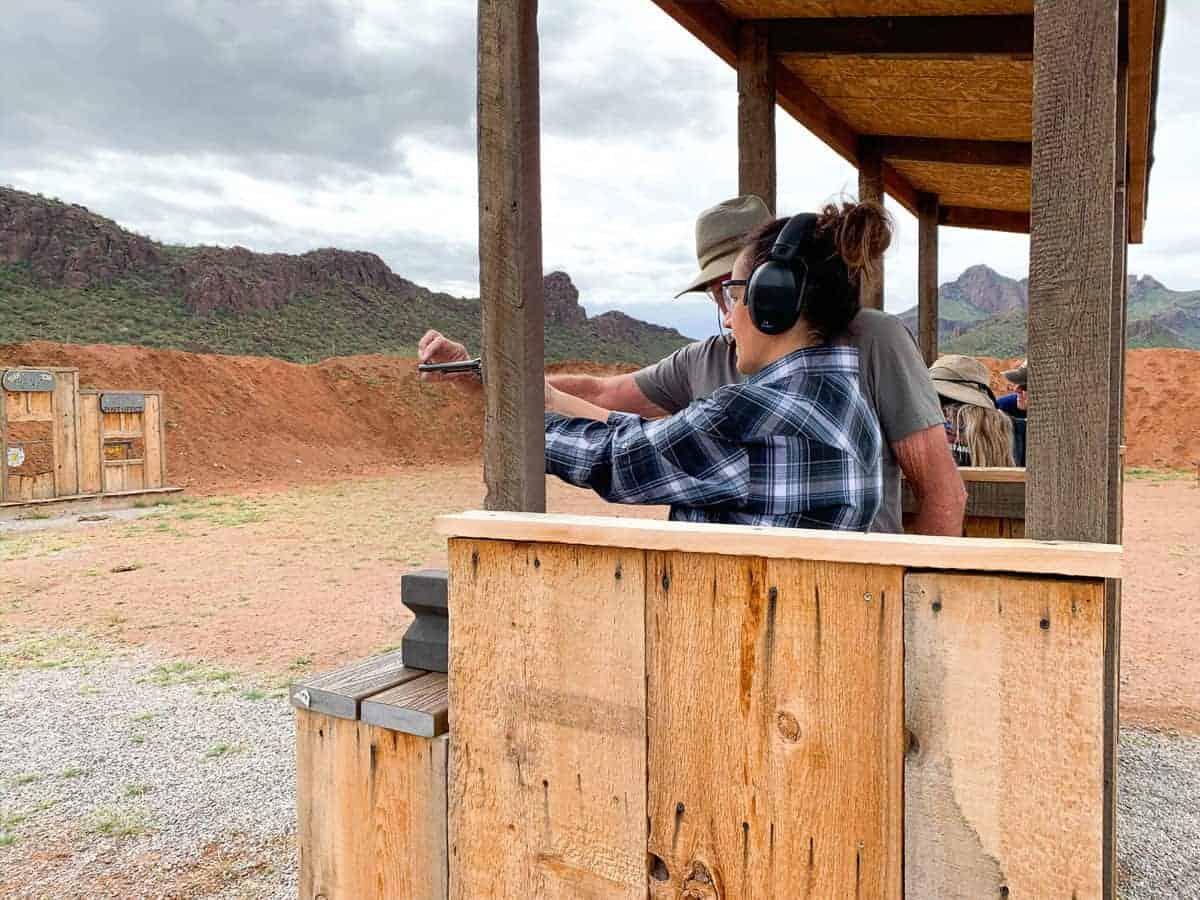 Trained professionals lead the activities at the shooting range. I felt comfortable and confident with the guidance I received.
We shot Cowboy-style Henry Yellowboy .22 caliber lever action rifles and Ruger .22 caliber single-action pistols. Neither of these had much recoil, which I appreciated.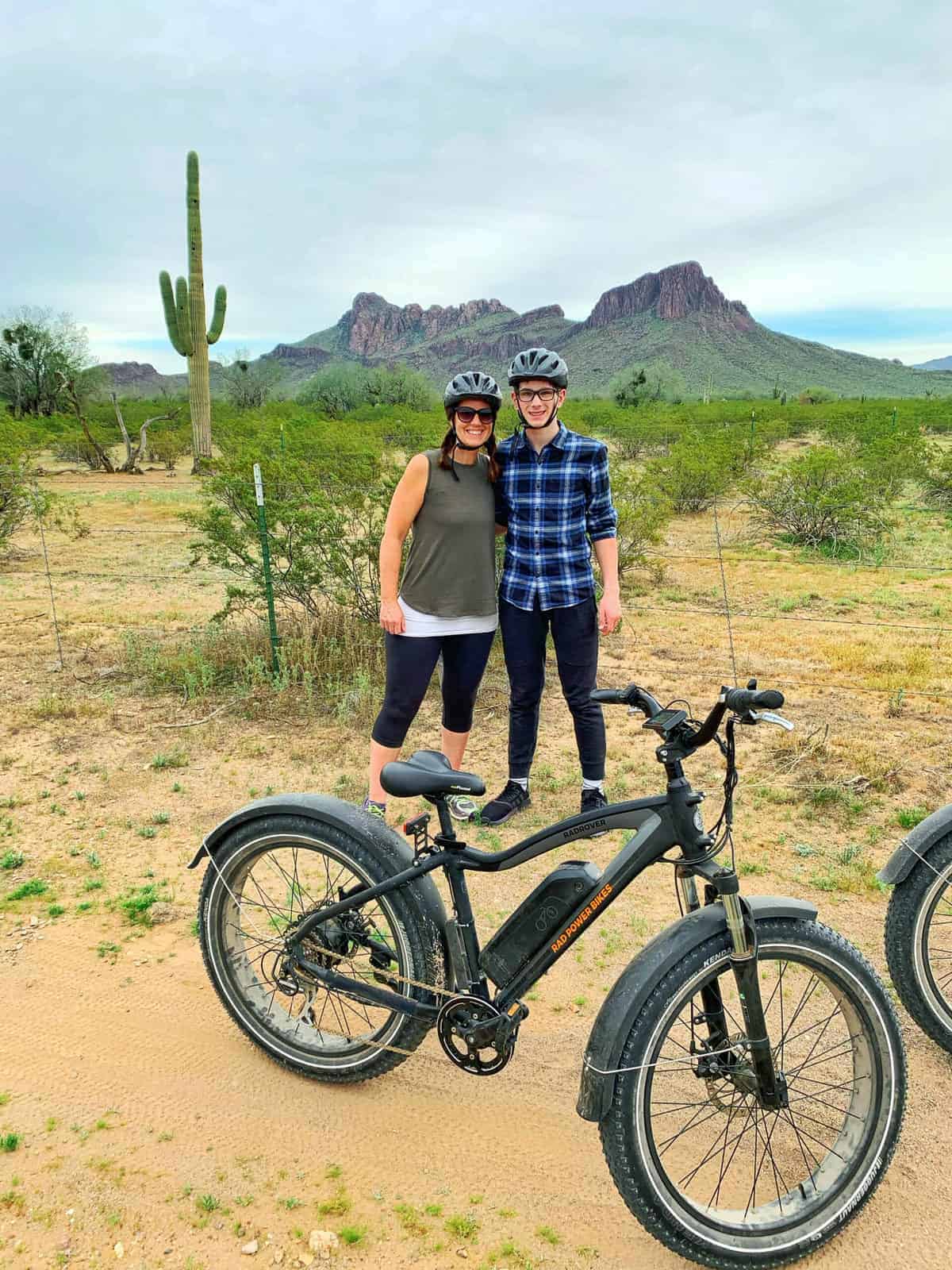 My son talked me into the intermediate-level fat-tire e-biking. It was one of the most fun adventures I've had!
After learning how to work the bike we went on desert trails through washes and hit a bunch of mounds that made for a really fun ride. In my opinion, these bikes are sort of like a dirt bike. They can go up to 25 miles per hour (I went 10 mph tops!). There is pedal assistance that kicks in when you pedal (you choose how much) along with a throttle that can take over for pedaling.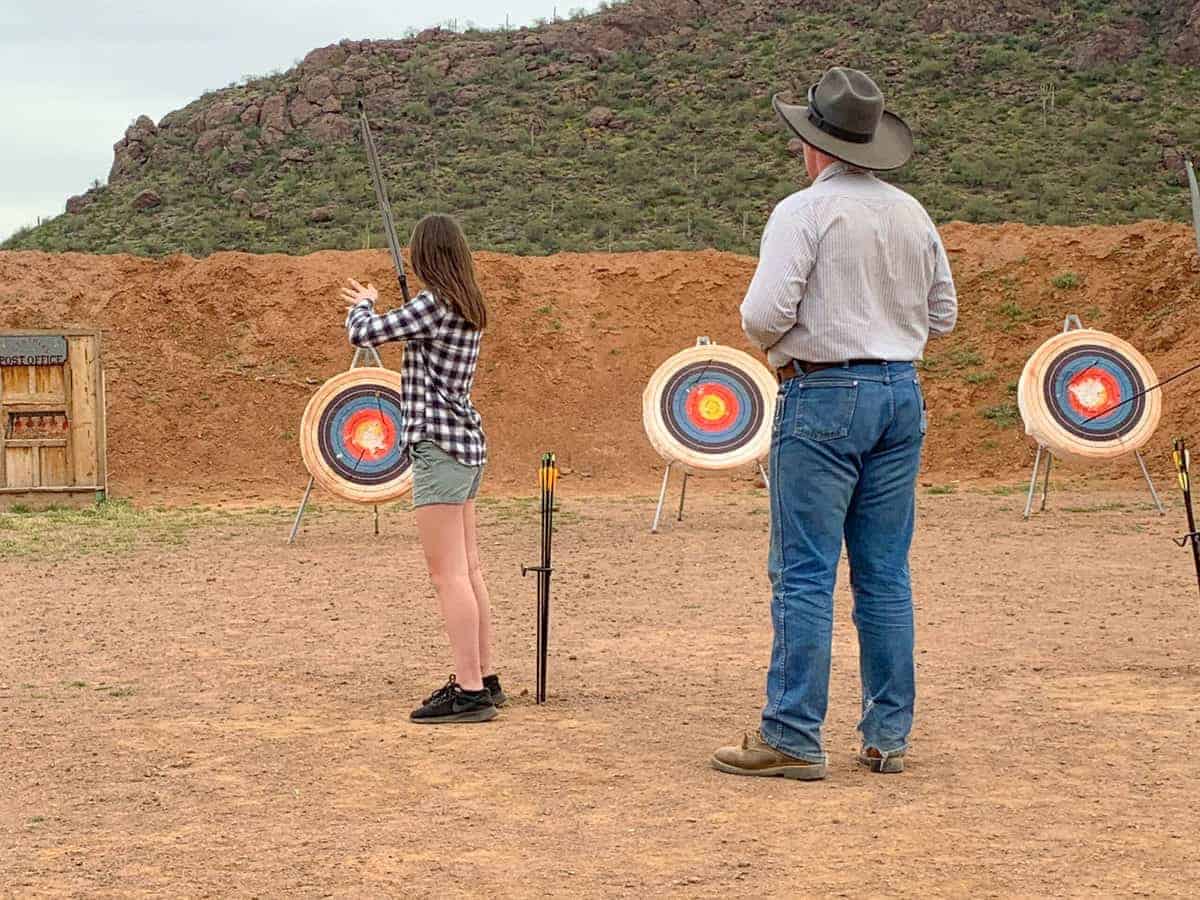 Archery was another hit with my kids. They went several times.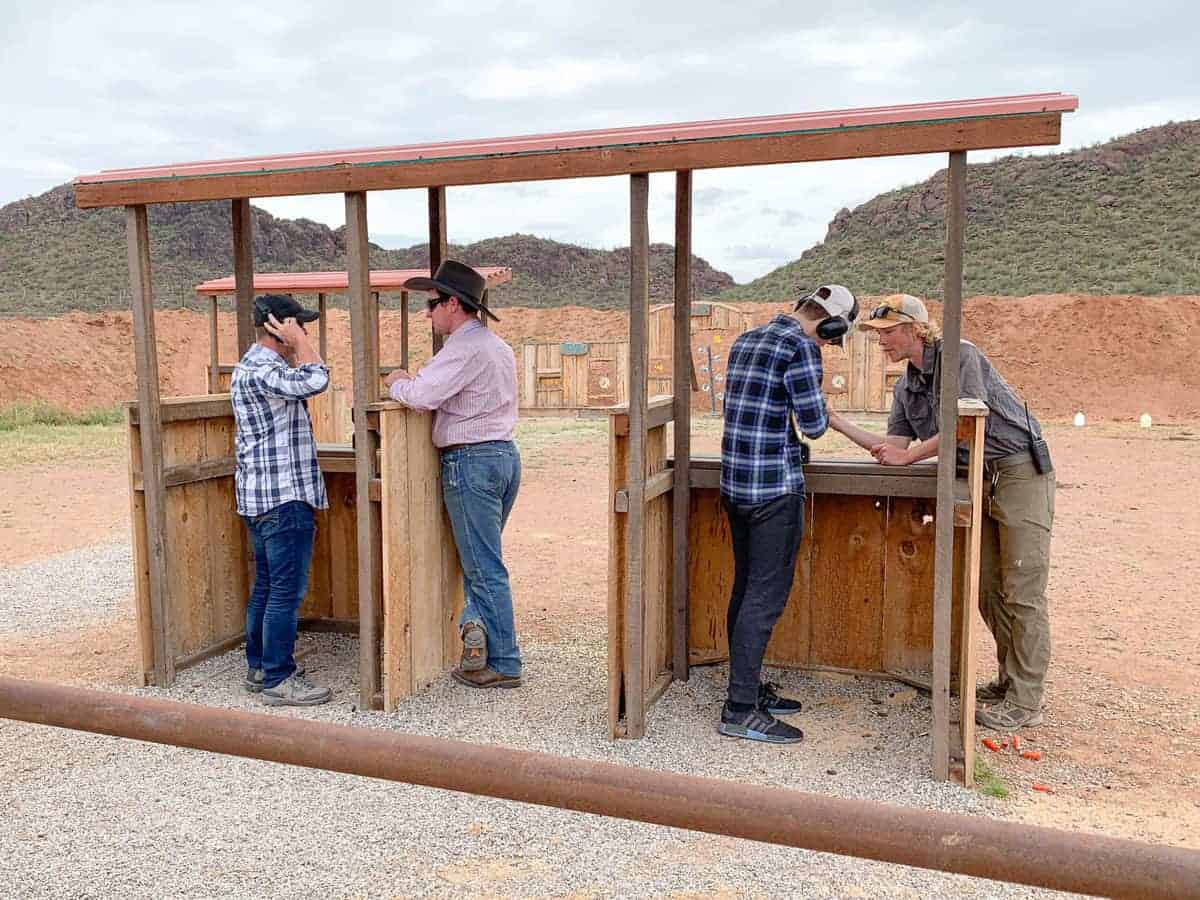 Ranch Amenities
Besides the adventure package, there are a ton of options to keep yourself busy including a heated pool, hot tub, sunken tennis court, sports court, playground, petting zoo, and a spa.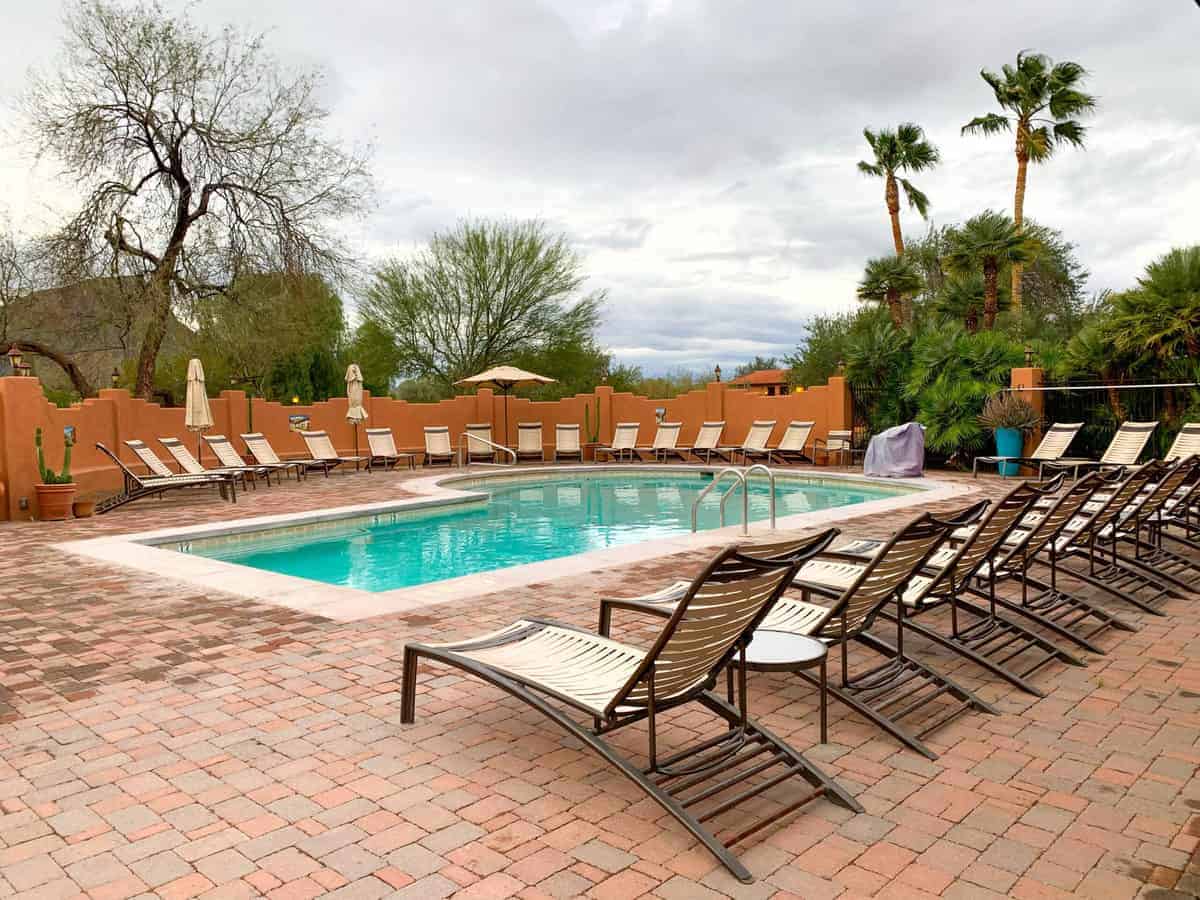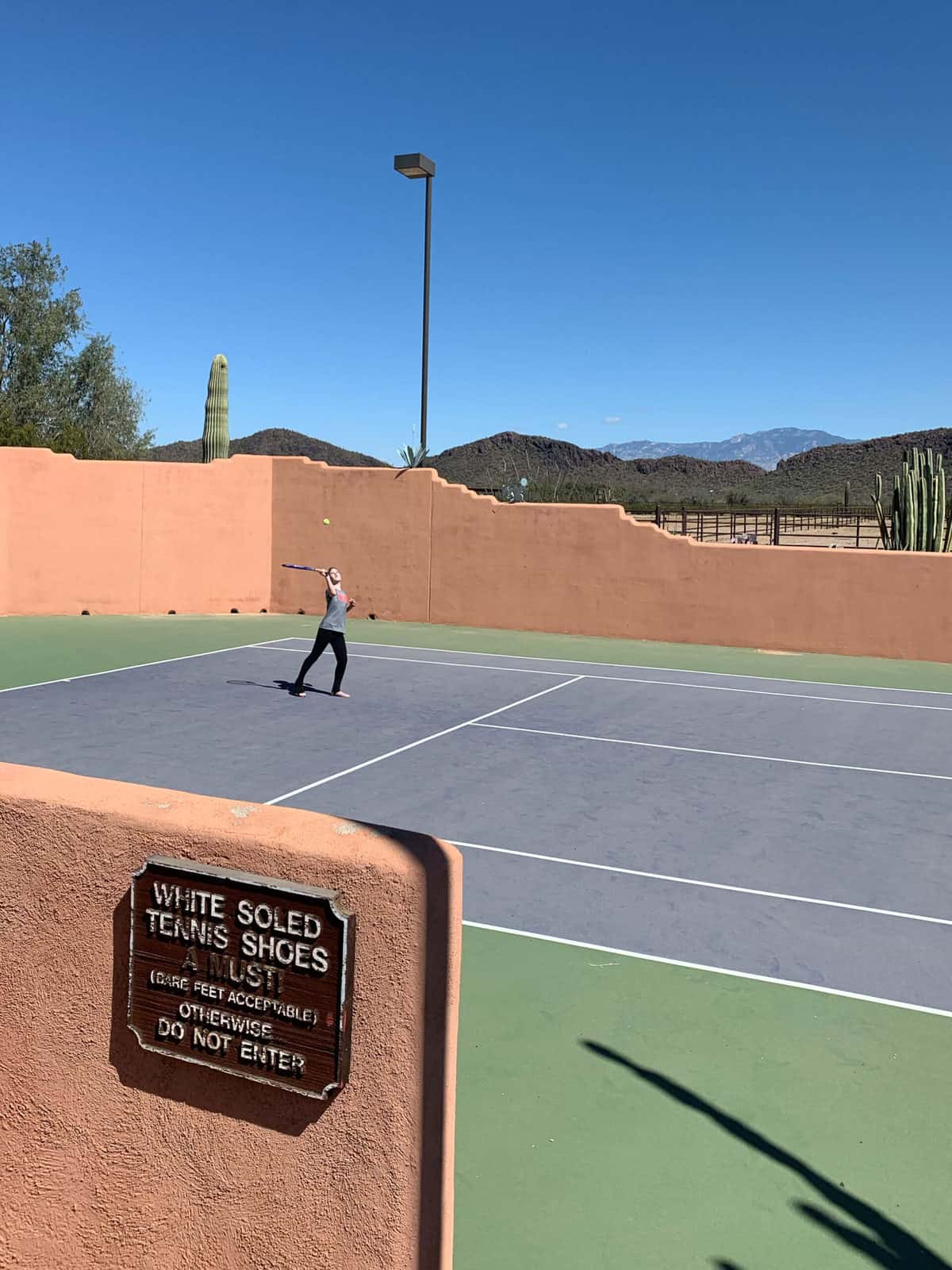 Try your hand at roping
I walked upon the following sight one afternoon. This was certainly a first. Roping is a really unique opportunity and they had a blast.
It was all fun and games until the kids started roping each other!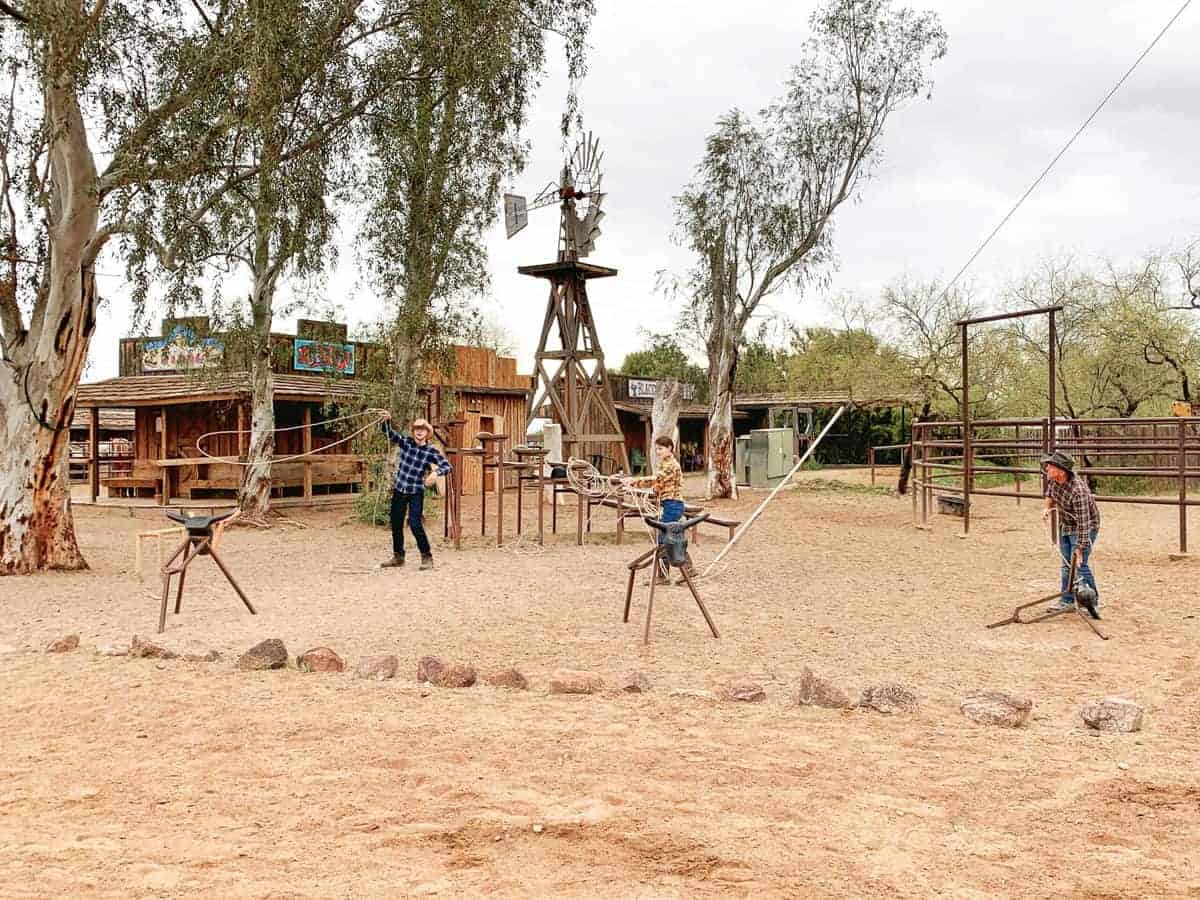 Evening Entertainment at White Stallion Ranch
If a full day of riding and activities hasn't worn you out, there is entertainment offered following dinner.
We enjoyed a watercolor art lesson with artist Ute Vaughn, critter night, and Loop Rawlins' Wild West Show.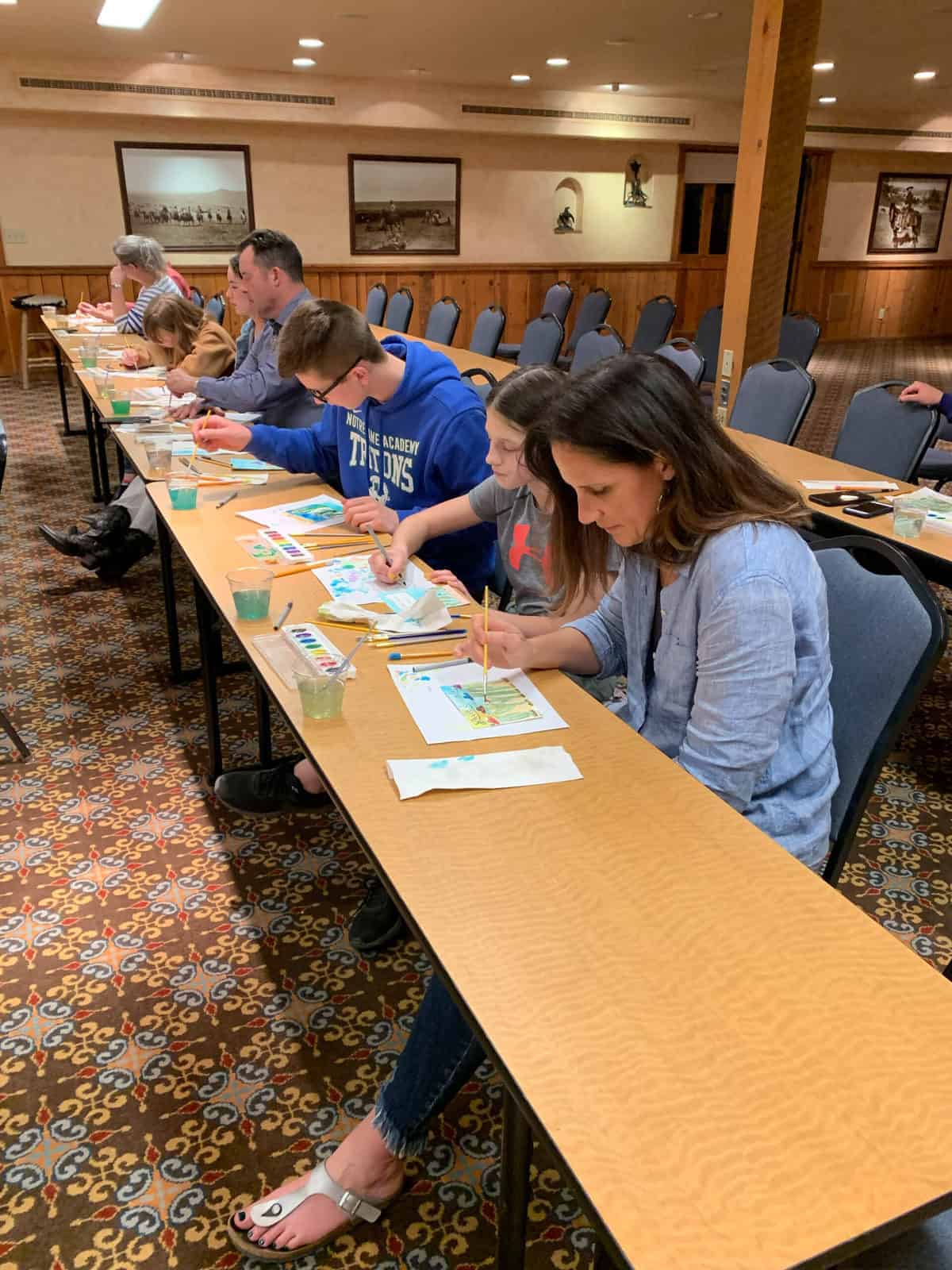 Guests are led step by step through this watercolor project. Even my son who wasn't thrilled at the idea of an art class really got into it and had a great time. What a fantastic keepsake!
You can learn all about desert animals and see (and touch!) them up close on Critter Night. We saw a tarantula, scorpions, snakes, and a chinchilla – who we got to see take a dirt bath.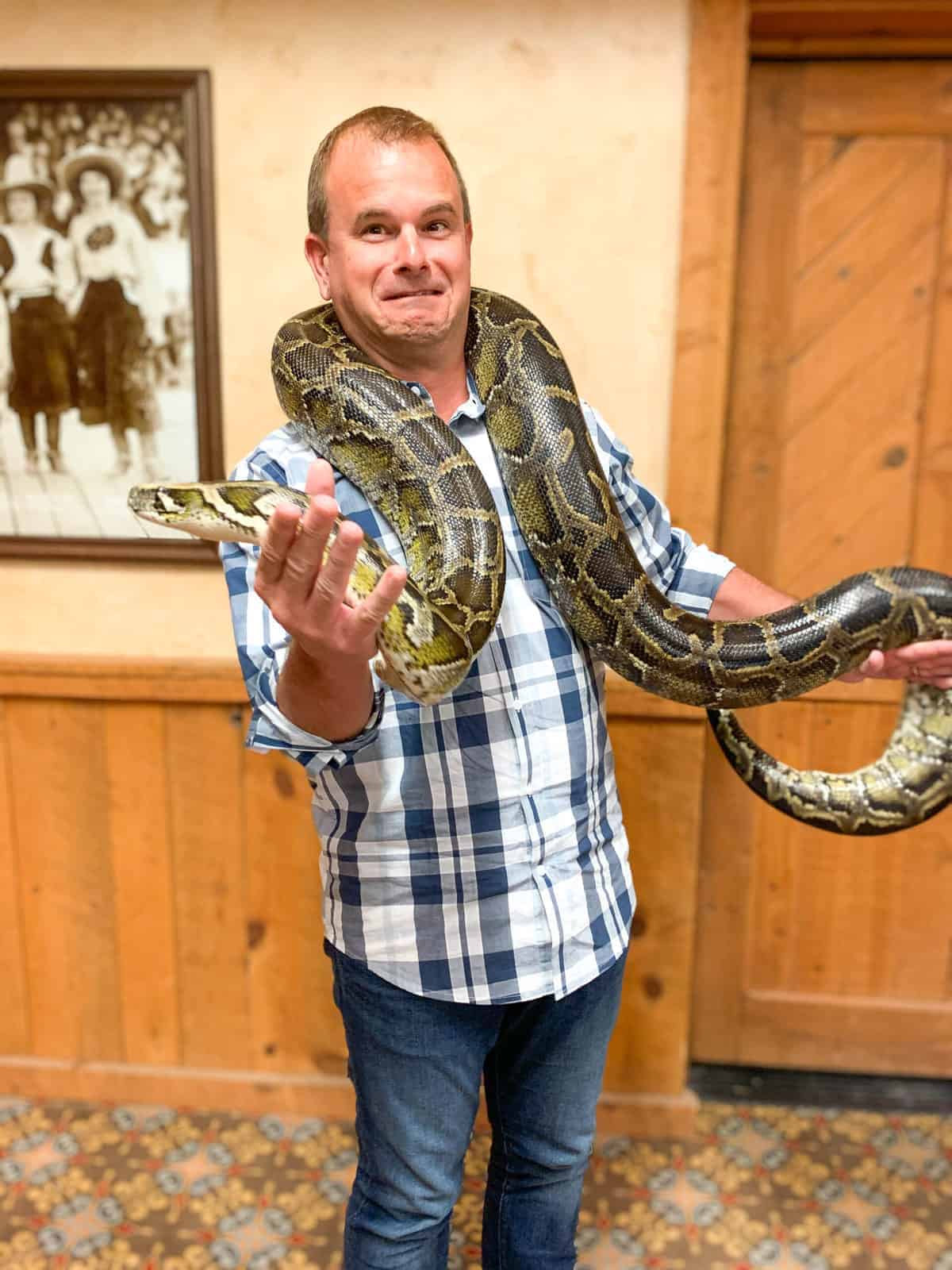 If evening entertainment isn't your thing, there is plenty of seating indoors and out to sit and recap your day.
There's also a game room with ping pong, air hockey, table shuffleboard, and more to keep everyone busy. The main lodge has a pool table room as well.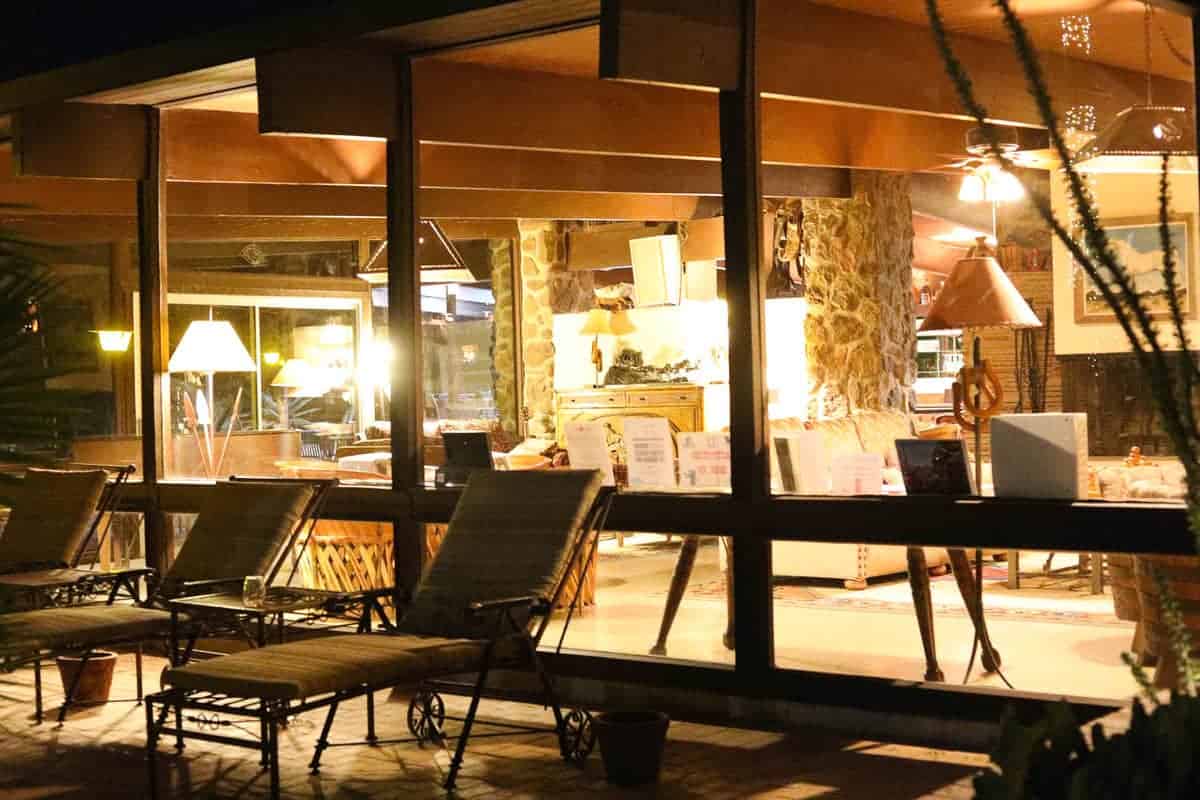 White Stallion Ranch boasts a 65% guest return rate.
They've had guests from all 50 states and 23 countries. It's neat to see which countries are represented on the ranch as they fly flags representing the guests on the ranch.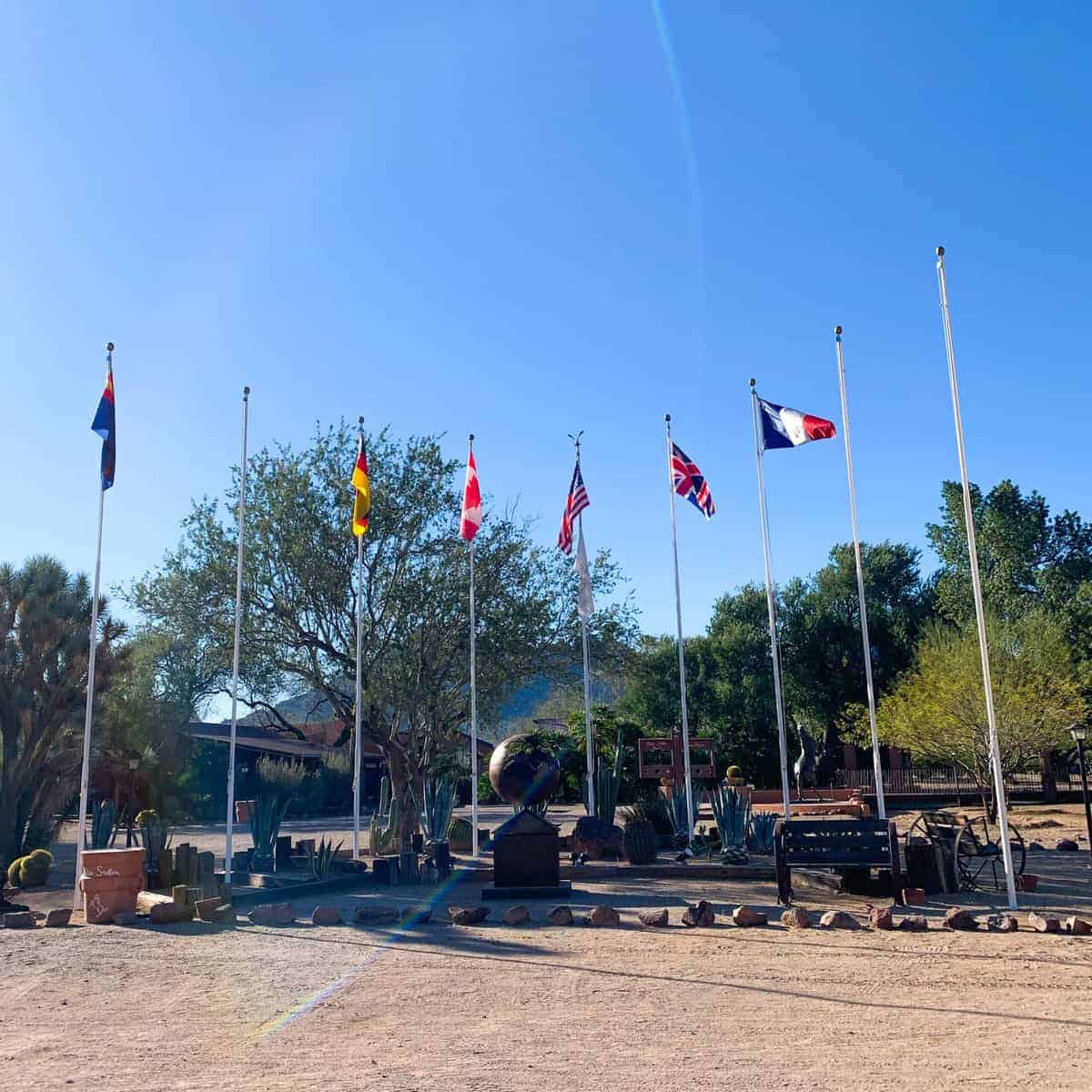 Coming from the midwest, we really enjoyed the landscape here in the desert. We learned that the beautiful Saguaro cactus only grows one place on earth – right there in the Sonoran Desert.
We had an amazing time on the ranch. Uninterrupted time with your kids is priceless.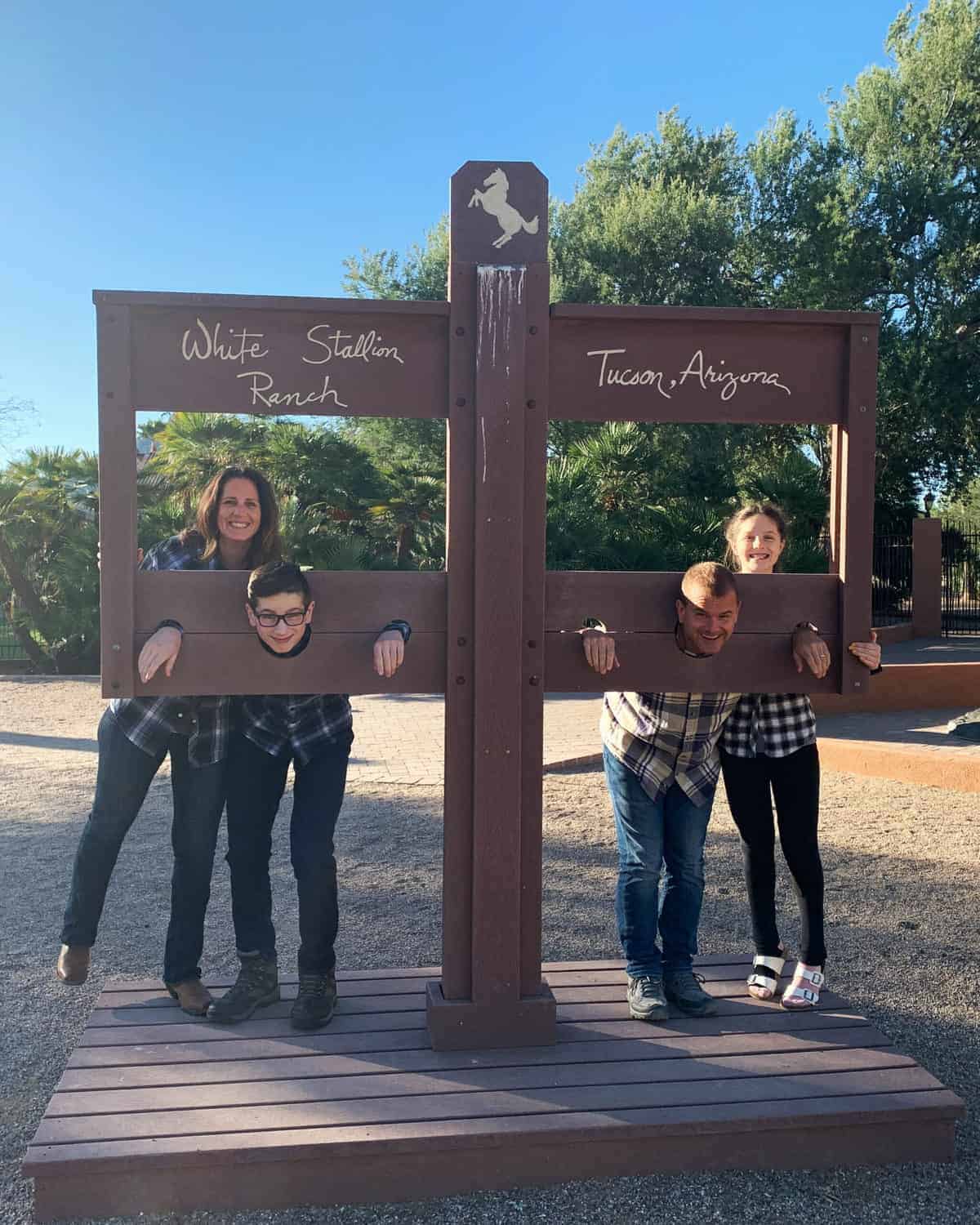 To me, time spent on a horse is the perfect way to get away from it all, recharge, and see nature at its finest. Until next time, Saguaro.