Learn How To Cook Frozen Chicken Breasts in the Instant Pot taking chicken straight from the freezer and cooking it in just 12 minutes! Cooked chicken breasts can be seasoned and served, shredded, or used in a favorite recipe.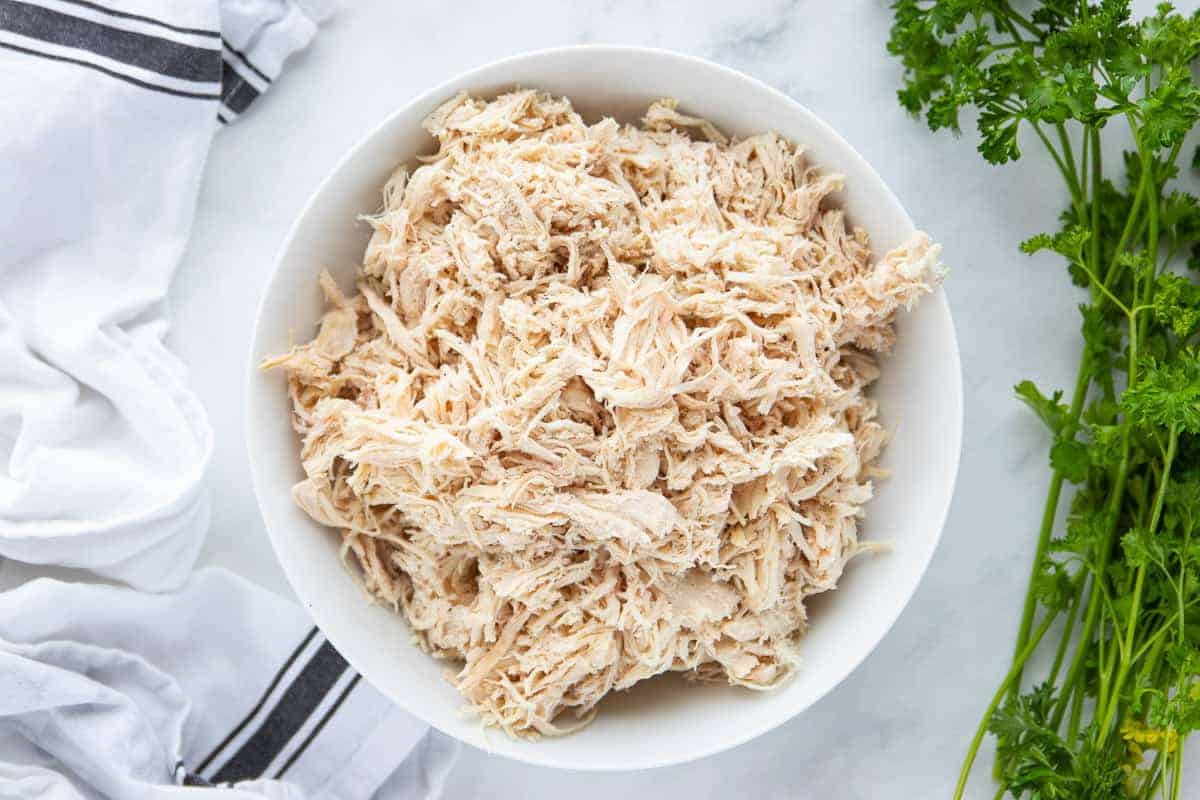 WE ARE A PARTICIPANT IN THE AMAZON SERVICES LLC ASSOCIATES PROGRAM, AN AFFILIATE ADVERTISING PROGRAM DESIGNED TO PROVIDE A MEANS FOR US TO EARN FEES BY LINKING TO AMAZON.COM AND AFFILIATED SITES.
The Instant Pot has been a trendy kitchen tool for the last few years. If you have been following the blog, you know I am a top fan. Once again, my Instant Pot has surprised me & allowed me to create an affordable & timely dish - Instant Pot Frozen Chicken Breast.
As you may know, my kids love chicken. I have had to get creative over the years because you can only have chicken tacos so many nights of the week...This step-by-step guide to cooking frozen chicken breasts in the Instant Pot has saved me SO much time and effort.
In under 15 minutes, I have chicken that can be used for a dish that night or stored in the freezer for later use. Plus, I have the option to use the whole chicken breast and serve with Hasselback Potatoes with Cheese or shred and serve in Creamy Chicken Pot Pie.
Check out this video to learn how to cook frozen chicken breasts in the Instant Pot!
HOW DO I COOK FROZEN CHICKEN?
Place a wire rack into instant pot.
Place frozen chicken into instant pot.
Add water.
Season with salt and pepper.
Place the cover on instant pot and turn to sealing.
Cook high pressure for 12 minutes (8 minutes if using thawed chicken).
Do a quick release and use it as is, or shred.
PRO TIP: Save the broth at the bottom of the Instant Pot once your chicken is done cooking! You can store in the fridge to use within 2-3 days for another recipe or freeze in a freezer storage container.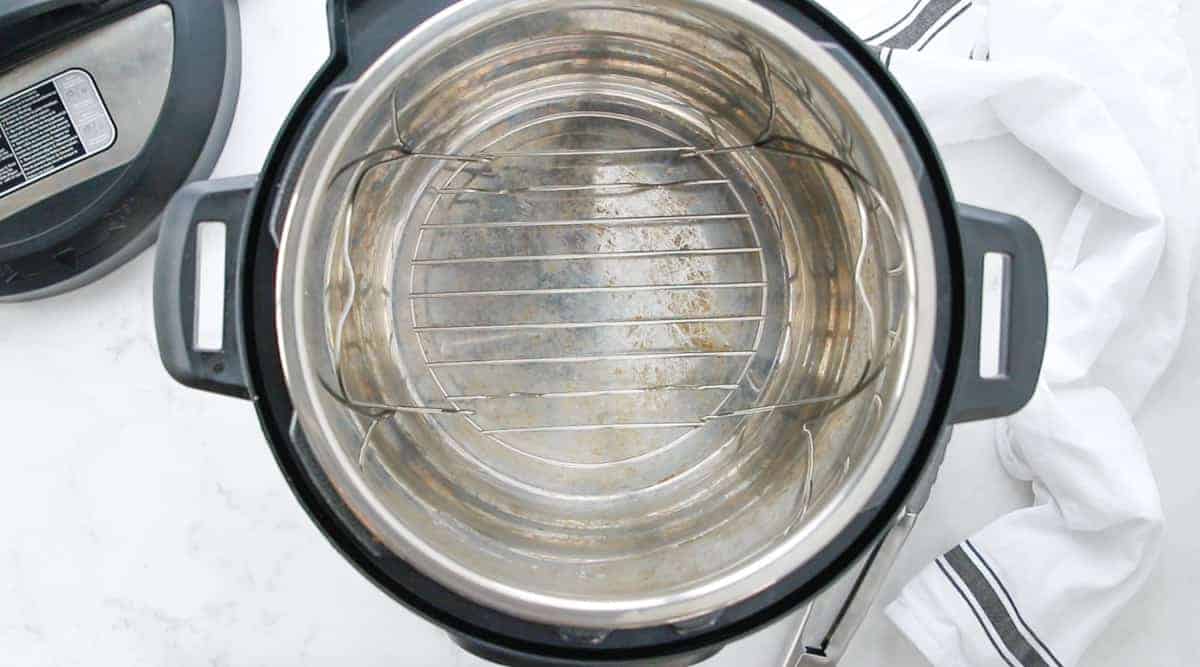 FROZEN CHICKEN BREAST INSTANT POT GUIDE:
First, place the bowl into the base of the Instant Pot. After that, add the ingredients (it is important that there is at least a cup of liquid as an ingredient).
Next, check the lid of your Instant Pot to make sure the sealing ring is in place.
Then, secure the lid onto the base.
Turn the valve on the lid to "SEALING".
The next step will differ for each model so check your manual! For my Instant Pot, I press "PRESSURE" but other models require you to press "MANUAL".
Press the PLUS or MINUS signs to set the cooking time.
The Instant Pot should say "ON". When the machine first turns on, it is building pressure. The time that it takes for this pressure to build does NOT count toward the cooking time. On my machine, I know the pressure is built when the silver pin on top is raised.
Once the pressure is built, the cooking time will start counting down.
After the cooking time is complete, release the pressure. To release the pressure, you can wait for the natural pressure release (NPR) OR release the pressure manually by turning the valve to "VENTING".
Lastly, take off the lid once it is unlocked.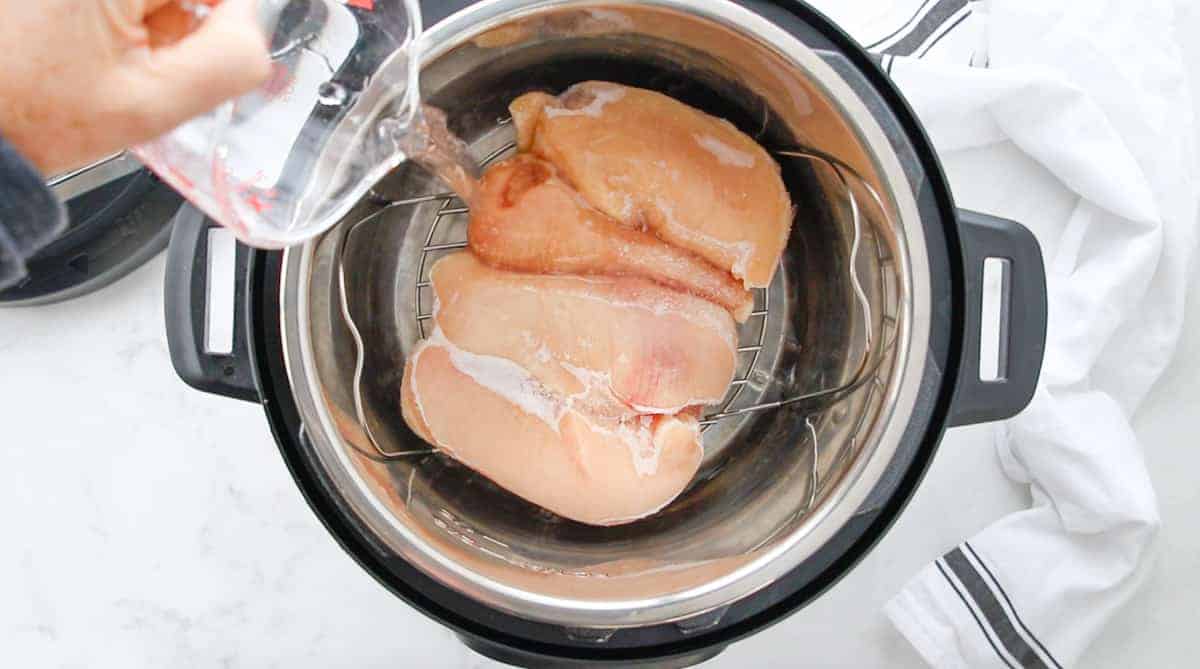 CAN YOU COOK FROZEN MEAT IN INSTANT POT?
Absolutely! NO THAWING REQUIRED. Once you start cooking frozen meat in your Instant Pot, it is going to be your go-to when you need a quick & easy meal.
You can use the quick release or natural release function on your Instant Pot when cooking meat. I prefer to use the natural release when I am cooking a tougher cut of meat (How to Identify Tough and Tender Cuts of Meat.)
However, if you are running short on time, you will still end with a tender dish if using the quick release.
Check out my Instant Pot Frozen Chicken Wings and Instant Pot Frozen Chicken Thighs for simple yet flavorful dinner meals without thawing chicken.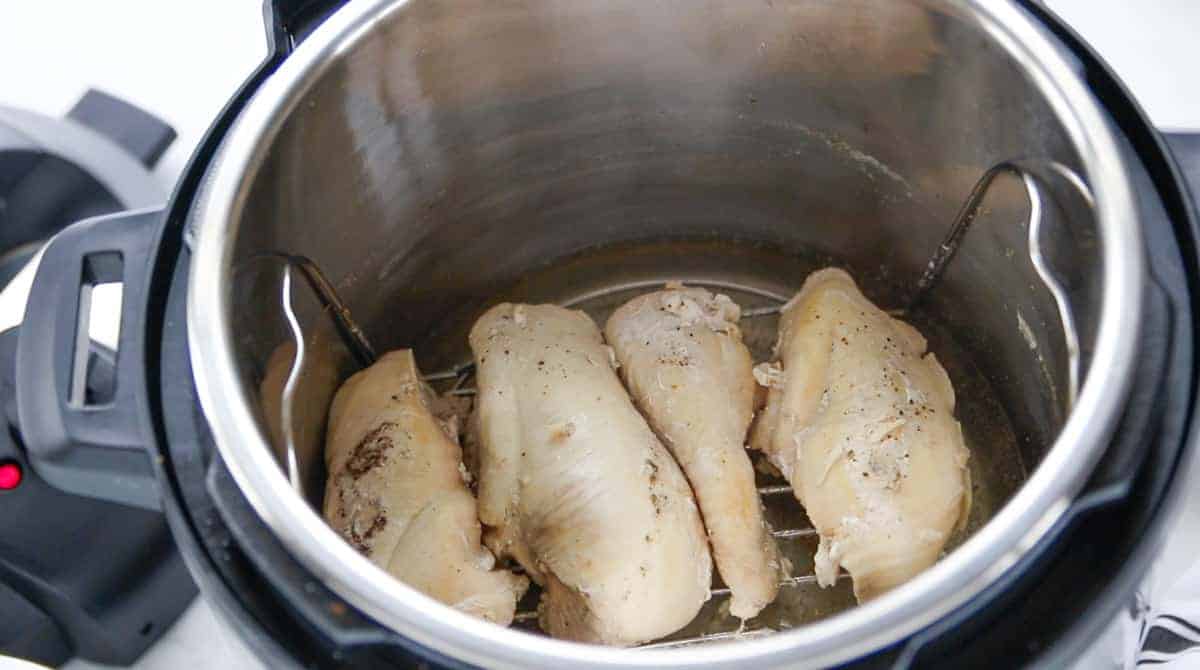 HOW LONG DO YOU COOK FROZEN CHICKEN IN INSTANT POT?
Only 12 minutes! Crazy right?!
Once your chicken is done cooking, you can serve as is or shred. Looking for an easy shredding trick? Check out How to Shred Chicken in Kitchenaid.
PRO TIP: If you are cooking a large chicken breast, check to make sure it's fully cooked through. Use a meat thermometer to temp your chicken to 165 degrees Fahrenheit.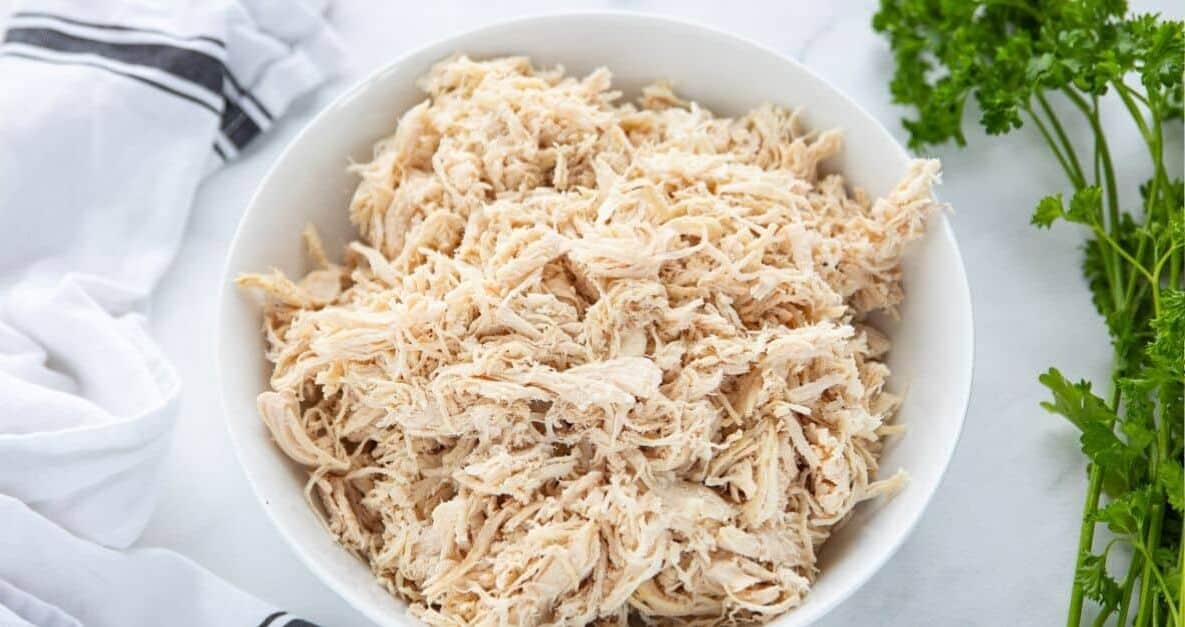 This is the recipe to remember when your kids walk through the door requesting dinner & you didn't realize it was already 5:00. We all have those nights.
CAN YOU PUT FROZEN CHICKEN IN THE CROCKPOT?
You can. It is another great way to cook frozen chicken.
The only downside being that it does take more than 12 minutes 🙂 However, if you plan ahead then frozen chicken in the crockpot will make a delicious meal.
CROCKPOT CHICKEN RECIPES:
Try these Instant Pot Recipes:
Enjoy this frozen chicken instant pot recipe. Follow me on social media and tag #createkidsclub if you make the recipe. I love seeing what you come up with!
If you enjoyed the recipe make sure to leave a comment and a star rating below!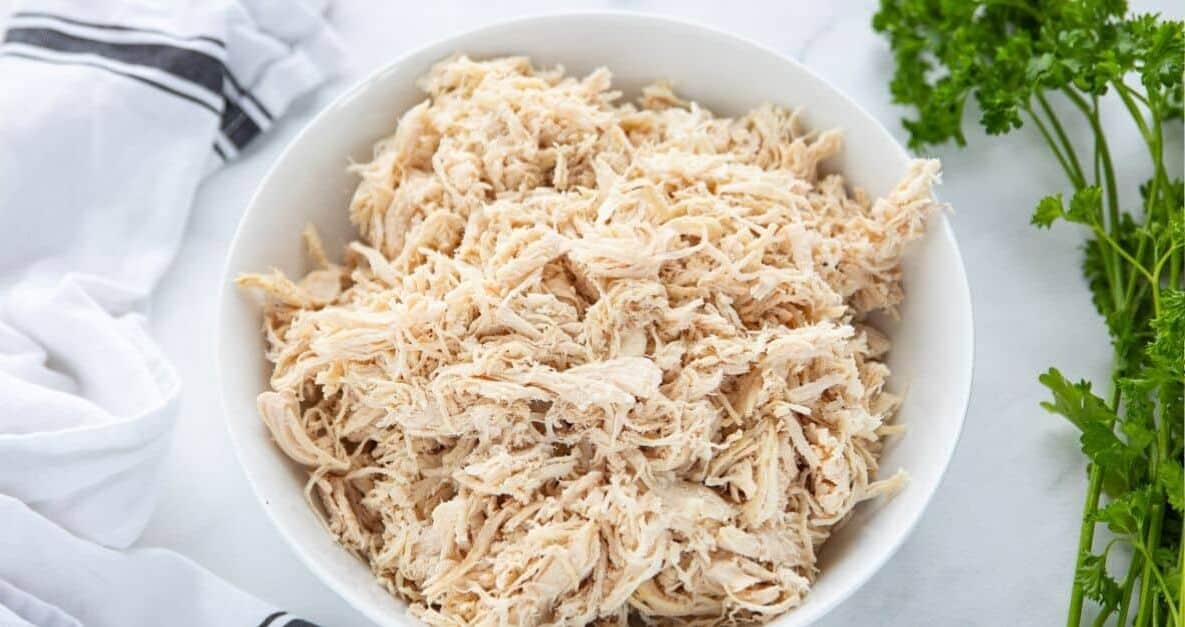 Ingredients
1

lb.

frozen chicken breasts

1

cup

water

salt and pepper to taste
Instructions
Place wire rack into instant pot.

Place frozen chicken into instant pot.

Add water.

Season with salt and pepper.

Place cover on instant pot and turn to sealing.

Cook high pressure for 12 minutes (8 minutes if using thawed chicken).

Do a quick release and use as is, or shred.
Nutrition
Calories:
129
kcal
|
Protein:
24
g
|
Fat:
3
g
|
Saturated Fat:
1
g
|
Cholesterol:
73
mg
|
Sodium:
716
mg
|
Potassium:
420
mg
|
Vitamin A:
34
IU
|
Vitamin C:
1
mg
|
Calcium:
6
mg
|
Iron:
1
mg