This Chicken on a stick recipe uses chicken tenderloins that are simple seasoned then baked. They take just 10 minutes to prep and are a handheld dinner that gets dipped in your kids favorite sauce.
Wait until your kids try this recipe! Chicken skewers made in the oven are quick and easy to make and have been kid and teen approved. Chicken on a stick can be served for a weeknight dinner meal, an afternoon snack, or at your next party or gathering.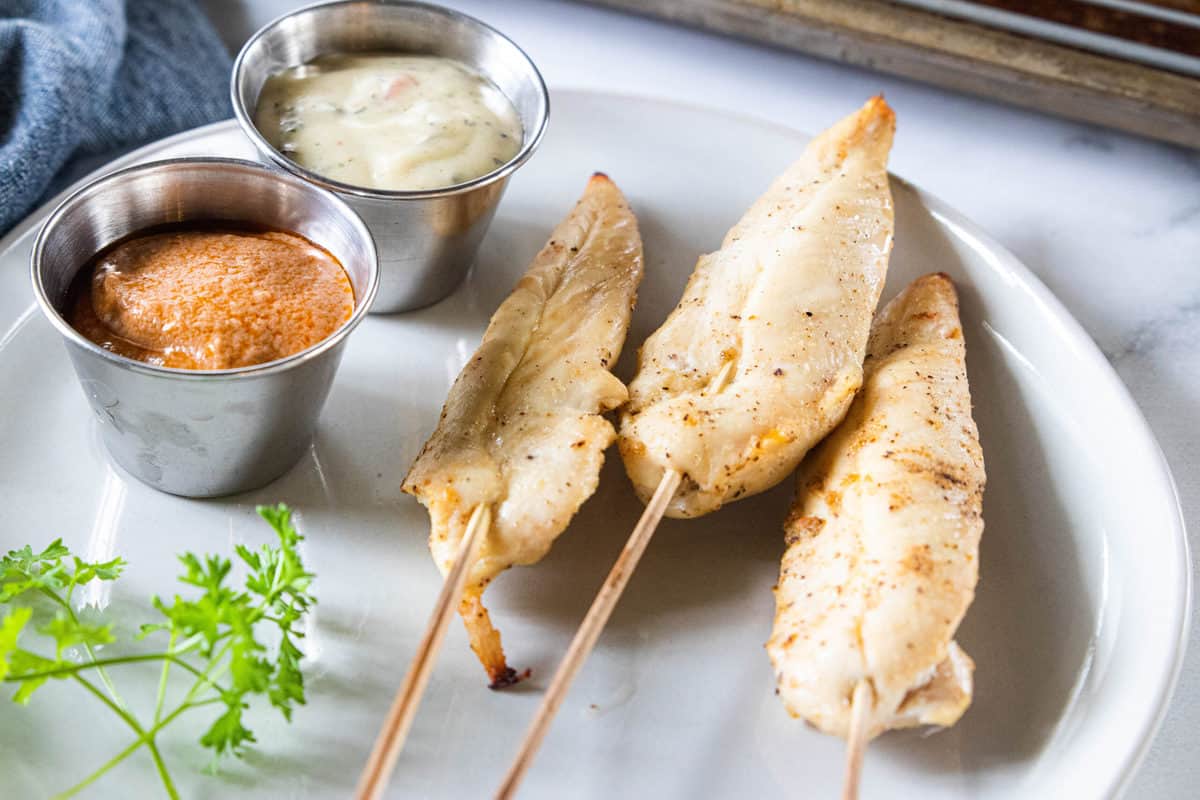 We love this recipe because it uses food staples that you likely have at home as the ingredients. No special trips to the store or ingredients that you wont't use again.
If you have kid-chefs that are looking to expand their skill set in the kitchen then this is the recipe to have them try!
Equipment
medium mixing bowl
tongs
measuring spoons
baking sheet
wire rack
skewers
Ingredients
1 pound chicken tenderloins
1 tablespoon olive oil
1/2 teaspoon garlic powder
1 tablespoon lemon juice
1/2 teaspoon salt
1/8 teaspoon pepper
How to Make:
Preheat the oven.
Preheat the oven to 350°F. Place the wire rack onto the baking sheet.
TIP: The wire rack helps air to circulate to evenly cook the chicken.
Season the chicken tenders.
Add the chicken tenders to a medium-sized bowl. Add the olive oil, lemon juice, garlic powder, salt, and pepper. Using tongs, blend well.
MIX IT UP: You can use any combination of oil + lemon juice + seasonings. Swap the garlic powder, salt and pepper with your favorite spices!
Place chicken onto skewers.
Starting at the bottom of the chicken tender, carefully thread the chicken onto the skewer. Place onto the wire rack. Repeat until each chicken tender has been placed on the wire rack.
Bake.
Bake the chicken tenders for 12 minutes. Then, turn oven to broil and cook an additional 3-5 minutes or until internal temperature reaches 165°F.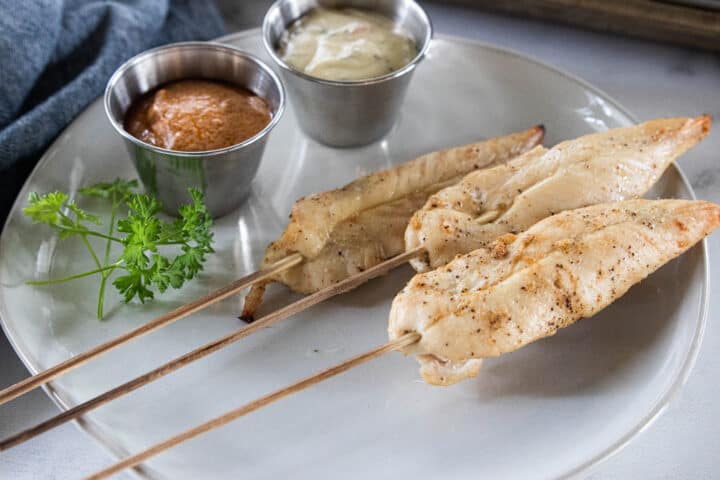 More Kid-Approved Recipes: