Learn how to cook a Grilled Porterhouse Steak perfectly every time in just a few simple steps.
This recipe is a collaboration with the Wisconsin Beef Council on behalf of the Beef Checkoff. As always, all opinions are my own.
Here in Wisconsin, we wait a long time for the warm beautiful days of summer. For many of us midwesterners, warm weather and grilling go hand in hand.
To kick off summer, I have a special treat for you – step by step instructions on how to grill a Porterhouse Steak. This is an amazing cut of beef, one with a price tag that could take it out of regular meal rotation but is perfect for special occasions.
With Father's Day just around the corner, this is the perfect super simple meal to treat the dads in your life.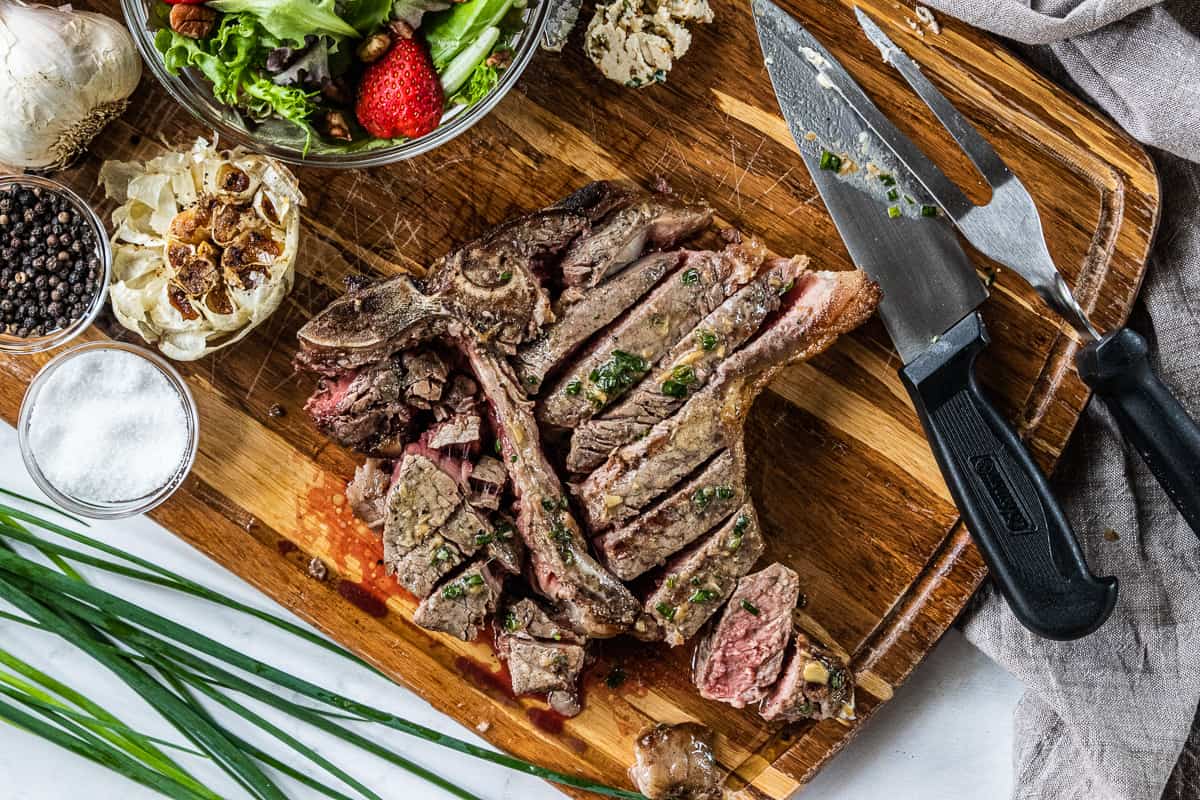 A Porterhouse Steak is a large steak that can easily be shared. Two steaks can easily feed a family of four.
Steaks can be prepared in many different ways, but in my opinion, grilling is certainly the best way to cook a Porterhouse Steak at home.
What is the difference between a Porterhouse Steak & a T-Bone Steak?
To choose a Porterhouse or a T-Bone, what's the difference?
When you look at both of these steaks they look much the same – but there are a few key differences. Both the Porterhouse and the T-Bone are essentially the same cut. Each of them has the recognizable T-shaped bone – a NY Strip on one side of the bone and the Tenderloin (Filet) on the other. So what's the difference? The width of the Filet. If the Filet is wider than an inch and a quarter it should be labeled a Porterhouse.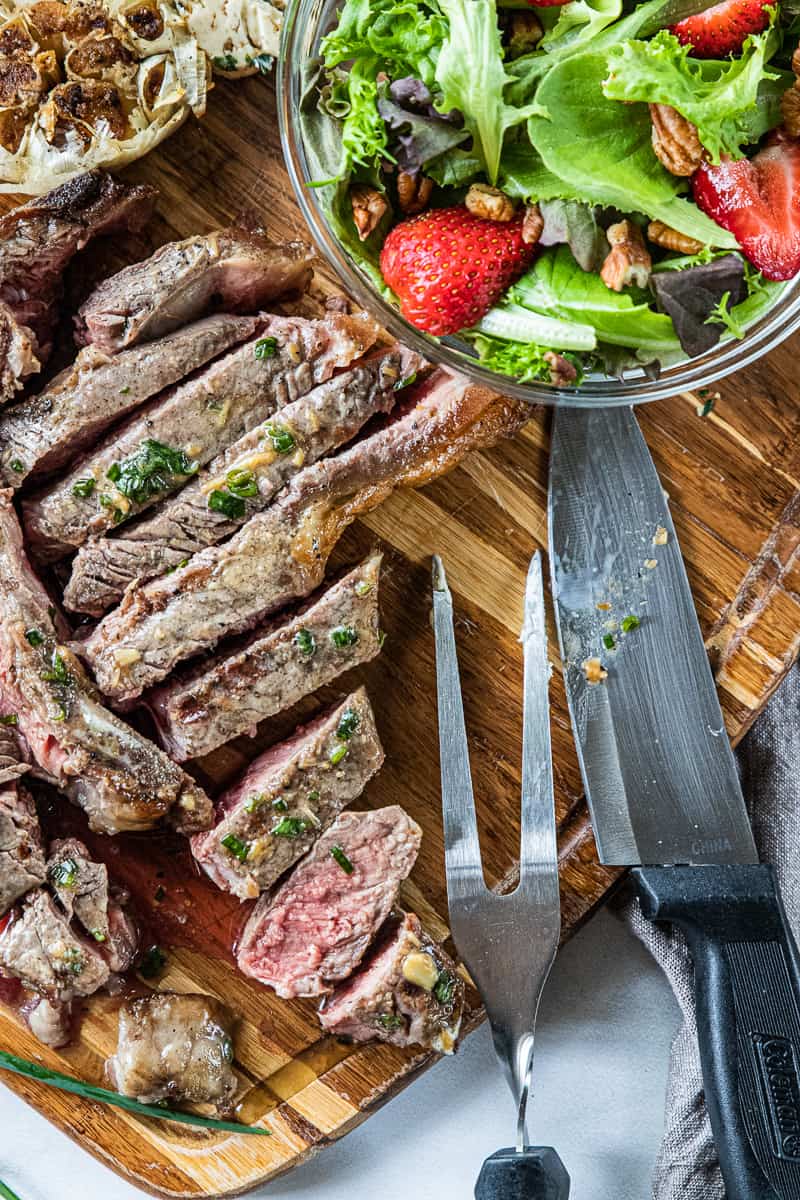 The chart below provides simple steak swaps for helpful substitutions for your favorite steaks. Sometimes you can't find certain cuts in your grocery store or you might be interested in shopping by price. Use these substitutions to find the right fit for your budget.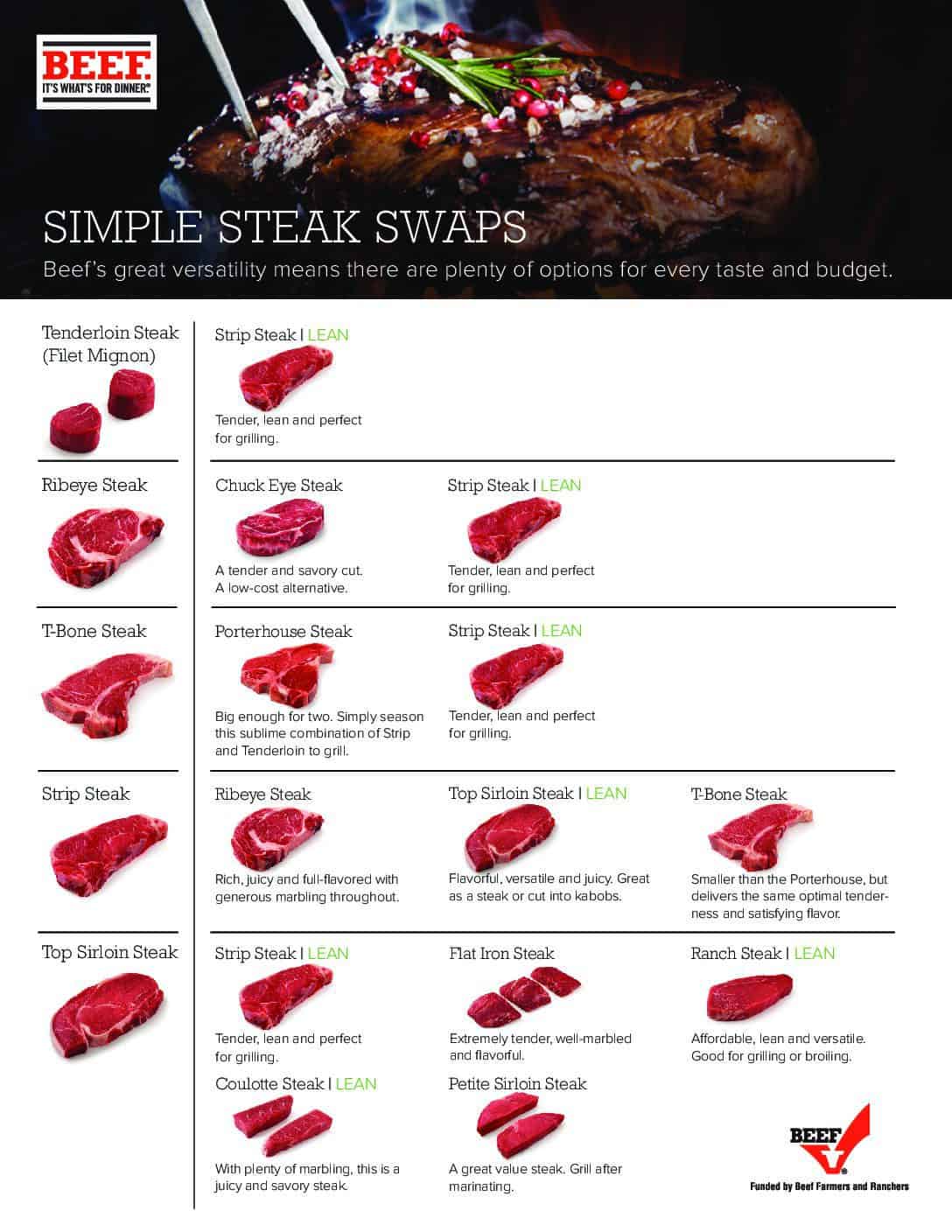 How to Cook a Porterhouse Steak On the Grill
If you haven't done it before, grilling steak might sound difficult. Don't stress! There is no need to be overwhelmed, grilling a Porterhouse is super simple. Take a look at what you'll need to do.
Prepare the grill. Clean the grates to avoid any flare-ups. Turn the grill on and heat to medium-high. Refer to your owner's manual for guidance if needed.
Preheat the grill. Let heat for a minimum of 10 minutes.
Season steaks. Season steaks liberally with salt and pepper prior to grilling.
Prepare the grill grates. Oil the grates just prior to placing the steak onto the grill. Use a long grill brush to do so. You could also oil the steak if you don't have a grill brush.
Cook steaks. Place steaks on the grill and cook approximately 2 minutes and then rotate steaks 45 degrees on the grill to achieve diamond grill marks (steaks should easily pull away from the grill before rotating). Cook an additional 3 minutes and then flip steaks. After 2 to 3 minutes, rotate steak 45 degrees to achieve the same diamond grill marks and then cook for an additional 2 to 3 minutes or desired doneness. Let the steak grill without fussing helps keep the moisture in the steak and gets a nice sear on the outside.
Take the temperature. To get the perfect steak cooked to your desired preference, use a thermometer. While grilling, monitor the steak to avoid charring or burning. Turn down the heat, or move the steak to a cooler spot on the grill if necessary. The temperature will rise slightly once the steak is off the grill so take this into consideration when checking the temperature of your steak.
Let the steaks rest. Remove steaks from the grill, place steaks on a clean cutting board or platter and let rest for at least 5 minutes before slicing. Serve immediately.
How Long To Grill A Porterhouse Steak
How long your steak stays on the grill depends on how you like your steak cooked. Below you'll find a chart that walks through the thickness of the steak along with how long to cook for rare, medium-rare, medium, medium-well, and well done. Make sure you have a properly functioning thermometer (check instructions for calibrating if you're not sure) to ensure your steak is cooked to the corresponding temperature as well.
| | | | | | |
| --- | --- | --- | --- | --- | --- |
| | | Medium – Rare | Medium | Medium – Well | Well Done |
| 1-inch steak | | 4-5 minutes | 6-7 minutes | 7-8 minutes | 8-9 minutes |
| 1.5-inch steak | | 6-7 minutes | 8-9 minutes | 10-11 minutes | 11-12 minutes |
| Temperature | | 145° F | 160°F | 165° F | 170° F |
Tips for Grilling Beef:
Thoroughly thaw beef in the refrigerator before grilling.
Follow the rule of fridge to fire; always cook beef right from the refrigerator.
Keep raw beef away from cooked beef; use one plate/tray to hold raw beef and a separate plate/tray to hold cooked beef.
Clean grill grates and catchall below the grill before placing beef on the grill. (Highly important! My husband may or may not have had a couple of grill fires…)
Oil grill grates after preheating to prevent the beef from sticking.
Dry rubs and marinades work best when cooking beef on a grill. Avoid pastes or marinades with high sugar content to minimize burning.
After removing beef from a marinade, pat dry and discard the remaining marinade.
Preheat gas grills a minimum of 10 minutes. Preheat charcoal grill until the charcoal becomes white.
Hold your hand 4 to 5 inches from the grill grates. If you can only hold your hand there for 5 seconds, the grill is at medium heat.
Know where hot spots are located on your grill.
Use indirect grilling for larger beef cuts like a roast or ribs.
Use a spatula to turn foods, not a kitchen fork. Use long tongs for grilling steaks and burgers.
Cut same-sized pieces and leave space between each piece of beef if making beef skewers to help with even cooking.
If preparing skewers, place vegetables and fruits on separate skewers than beef.
If adding a sauce to grilled beef, apply during the last few minutes of cooking.
For thicker burgers, sear on the grill then move to indirect heat to finish cooking to desired doneness.
If making a cheeseburger, add the cheese in the last few minutes of cooking, or put in the middle like these delicious cheese curd burgers.
To toast hamburger buns, place buns in cooler spot on the grill during the last few minutes of burger cooking.
Measure internal temperature in the center of burgers or in the thickest point of steaks and roasts. Cook burgers to 160°F and steaks/roasts to 145°F.
Grill fruits and vegetables at the same time as beef and make it into a salsa or sauce.
Beef's tender, juicy texture is optimum when cooked to medium-rare (145°F) to medium (160°F) doneness.
For steaks insert an instant-read thermometer horizontally from the side so it penetrates the thickest part of the center of the steak not touching the bone or fat. After cooking, let steaks rest before serving.
To Determine the perfect doneness for a roast, insert an ovenproof meat thermometer prior to roasting (into the thickest part of the roast, not resting in fat or touching bone) and leave in throughout the cooking process. Or, insert an instant-read thermometer toward the end of cooking time (as described above) for about 15 seconds. Remove the thermometer, continue cooking, if necessary. The temperature will continue to rise 5ºF to 15ºF after removing from the oven or the grill, to reach the desired doneness. Allow 15 to 20 minutes standing time.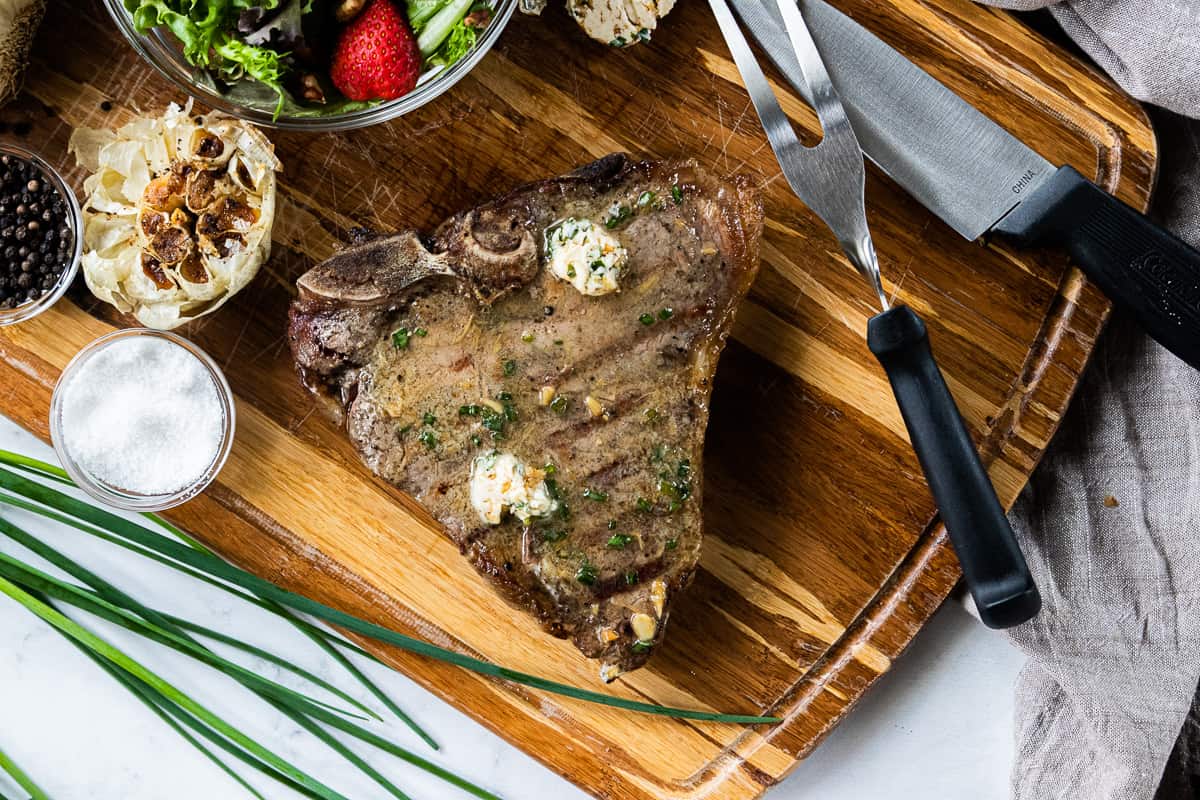 The best way to serve a Porterhouse Steak, in my opinion, is to place a slice or two of my homemade compound butter for steak onto the Porterhouse. As it melts it flavors the steak with roasted garlic, a touch of Worcestershire sauce, and the creamy flavor of butter. So good.
FAQ
How long does it take to grill a Porterhouse Steak?
For the perfect medium-rare Porterhouse Steak, grill for 8-10 minutes for a 1-inch steak, and 12-14 minutes for a 1½ inch steak. A meat thermometer should read between 130- 135°F for medium-rare (remember the temperature will rise 5-10 degrees after removing from the grill).
How do you cook a Porterhouse Steak on a charcoal grill?
The first step to cooking a steak on a charcoal grill is to empty any old ash from the grill. Make sure to clean the grill grate. Light the charcoal and place the grill grate on top. The grill is ready to cook on when the charcoal is ashed over (about 15-30 minutes). Cook the steak the same way as you would on a gas grill by following the instructions above.

What temperature do you grill a Porterhouse Steak?
Heat your grill to a medium-high heat for cooking a porterhouse steak. The internal temperature of your steak will depend on how rare to well done you prefer your steak. Refer to the above chart for guidance.
Does Porterhouse Steak need a marinade?
While Porterhouse Steak does not need a marinade for tenderizing, you could use a marinade to add flavor (marinade anywhere from 15 minutes to 2 hours). I prefer steak seasoned simply with high-quality salt and pepper, but if you're in the mood for a marinade, here are few good ones: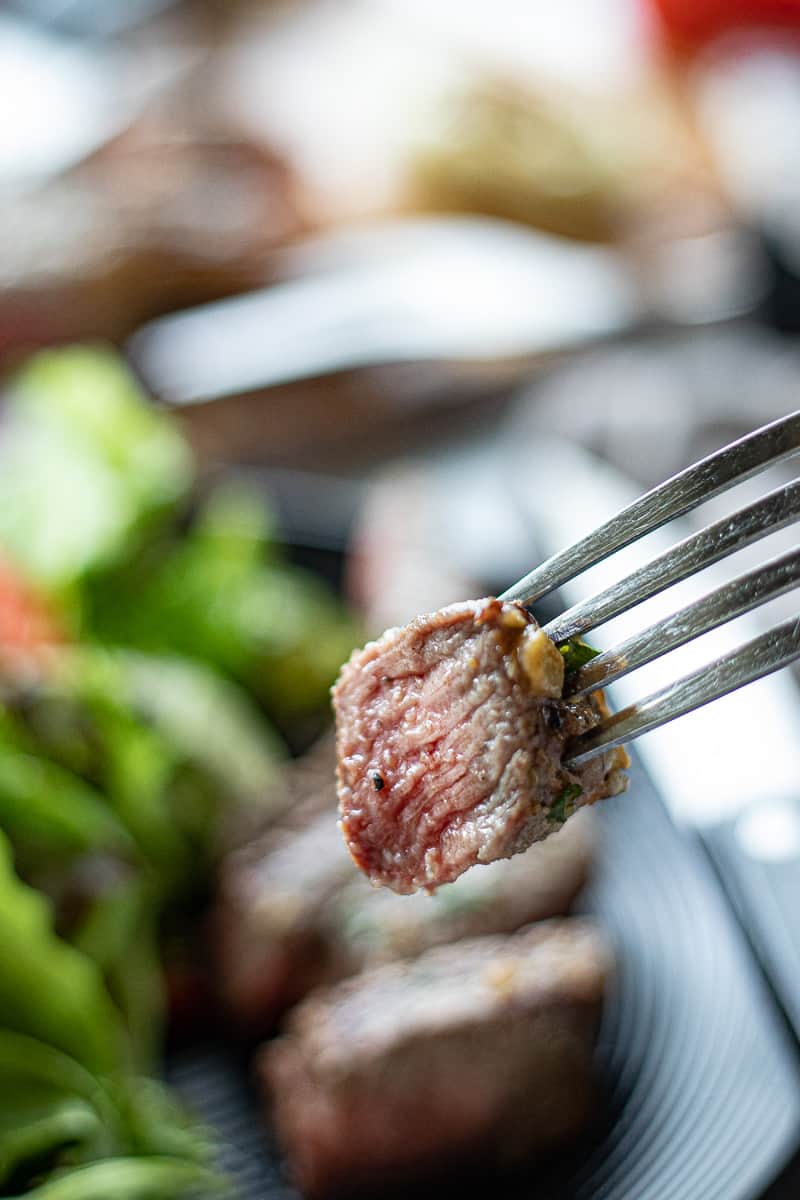 What to serve with Steak?
Here are some tasty side dishes to serve with your steak.
If you enjoyed the recipe make sure to leave a comment and a star rating below! Then follow me on social media and tag #createkidsclub if you make the recipe. I love seeing what you come up with!
Grilled Porterhouse Steak
Learn how to cook a Grilled Porterhouse Steak perfectly every time in just a few simple steps.
Pin Recipe
Print Recipe
Ingredients
2

King Cut Porterhouse Steaks

coarsely ground salt

fresh cracked pepper

high-heat oil

such as canola

roasted garlic butter

optional
Instructions
 Preheat grill to medium-high heat.

Season steak liberally with coarse salt and freshly cracked pepper on both sides.

Prepare grates with oil right before placing steak onto the grill. Place steak onto the grill. Cook for 5 minutes. Flip. Cook an additional 5 – 7 minutes or until a thermometer reads 145°F for medium-rare or 160°F for medium.

Let the steaks rest at least 5-10 minutes before cutting into them to keep the juices from running out. The internal temperature will continue to rise 5-10° as it rests.

Enjoy with a side salad or baked potato.
Nutrition
Calories:
377
kcal
|
Protein:
35
g
|
Fat:
25
g
|
Saturated Fat:
10
g
|
Cholesterol:
95
mg
|
Sodium:
92
mg
|
Potassium:
525
mg
|
Calcium:
10
mg
|
Iron:
3
mg
Delicious Simple Family Recipes
Join Create Kids Club & get our 10 Favorite Crockpot Recipes ebook!