Our Cheese Curd Burger will be the best thing you put on the grill this summer! One bite of a cheese stuffed burger and you will be wondering why you ever put the cheese on top. Gluten Free.
I live in the beautiful state of Wisconsin where there are a lot of farms – somewhere around 69,754 to be exact.
With the rise of interest in the farm to fork movement, more people are interested in learning where the food they eat comes from. I am proud to say I have family and friends who are farmers – they are some of the hardest working people I know.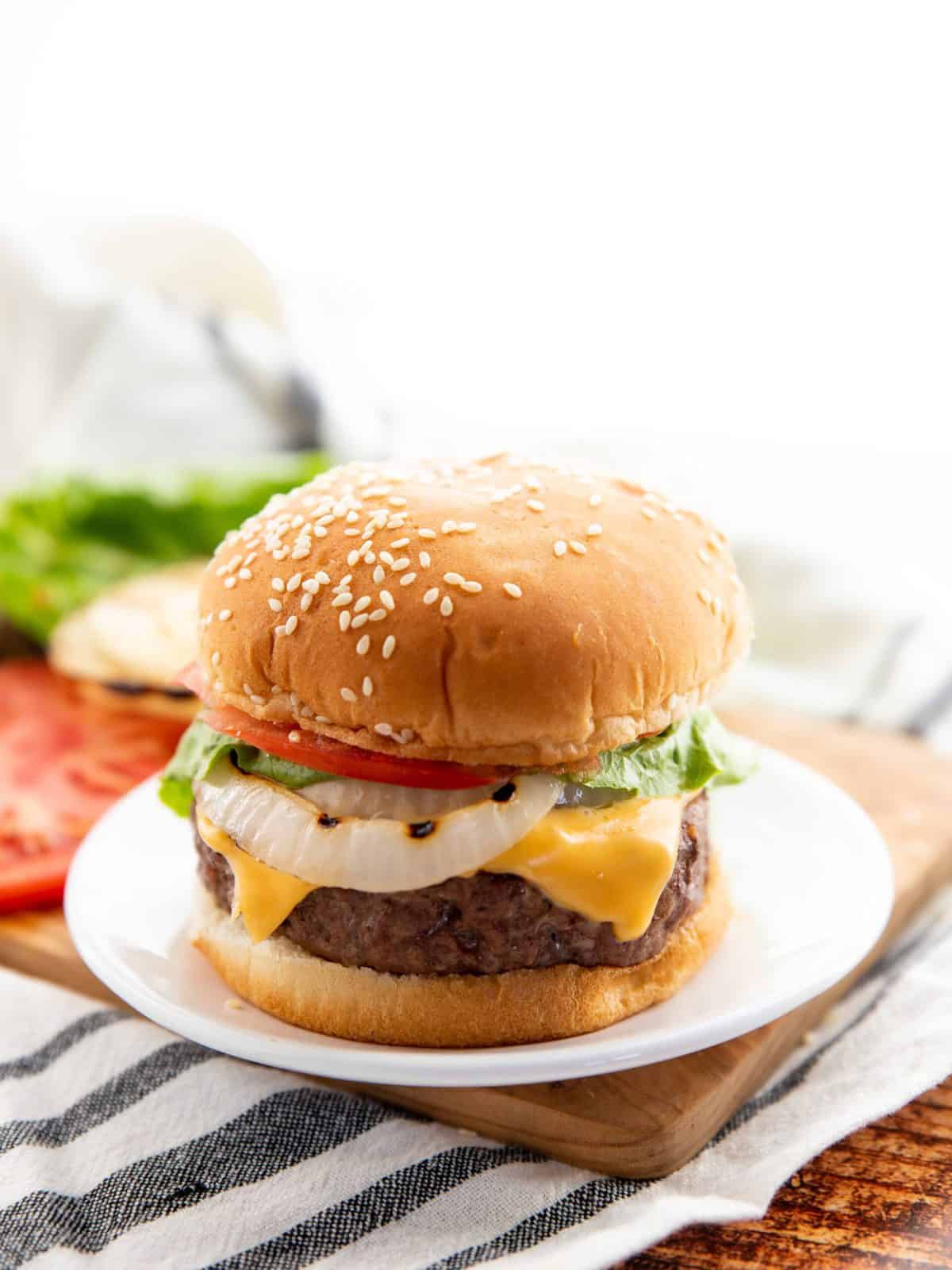 I have partnered with the Wisconsin Beef Council for the next few months to talk about important nutrition information and share some delicious recipes. All opinions expressed are my own.
These are the people raising our food supply, helping nourish our families, and working around the clock to do so.
Keep reading to learn how to make a homemade burger easily.
From tailgating at Packer games (Go Pack!), to parties and BBQs, all you have to do is walk out the door in the summer months and you'll smell burgers in the air!
Those of you living in the Midwest, especially those from Minnesota, will be familiar with this cheese-stuffed burger: The Juicy Lucy.
My husband is a Golden Gopher – a graduate of the University of Minnesota. While that was years ago, along with his diploma, he brought back his love of the Juicy Lucy. Read the history of this cheese-filled burger here if you'd like the background story.
Having graduated from Wisconsin schools, I was happy to put a Wisconsin spin on this delicious burger – making it a Cheese Curd Juicy Lucy!
How do you make homemade burgers? Here's a step by step guide to building this cheese-stuffed burger made with 100% beef:
How To Make
Don't have cheese curds in your area? No worries – you can use your favorite cheese instead.
1. Look in your pantry for lids from jars the size you'd like your burgers to be.
The goal is just a tad speck larger than the bun. I found small lids for the kid's burgers and a larger lid for the adult-sized burger.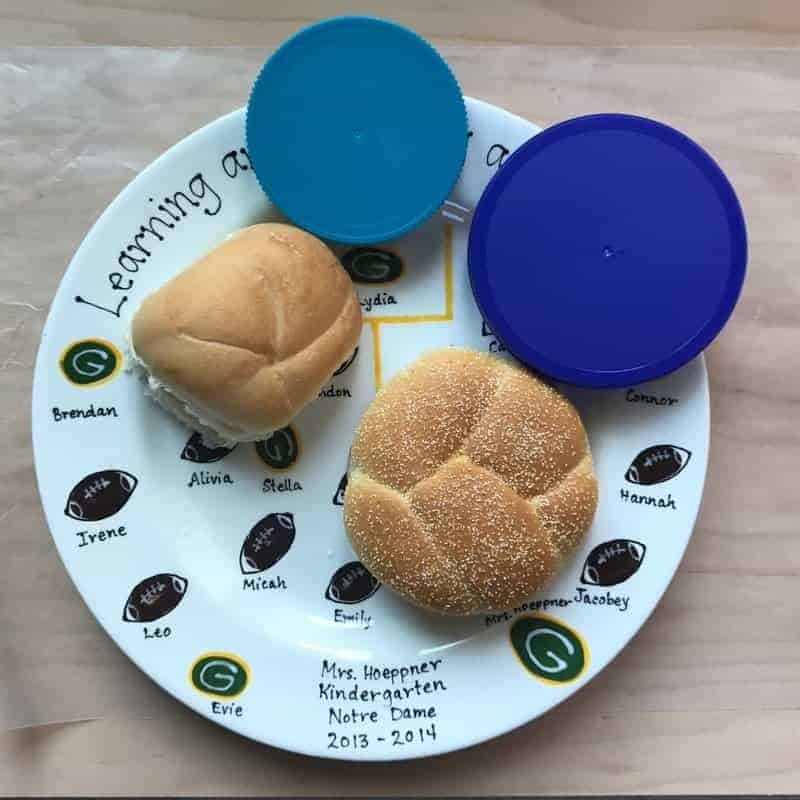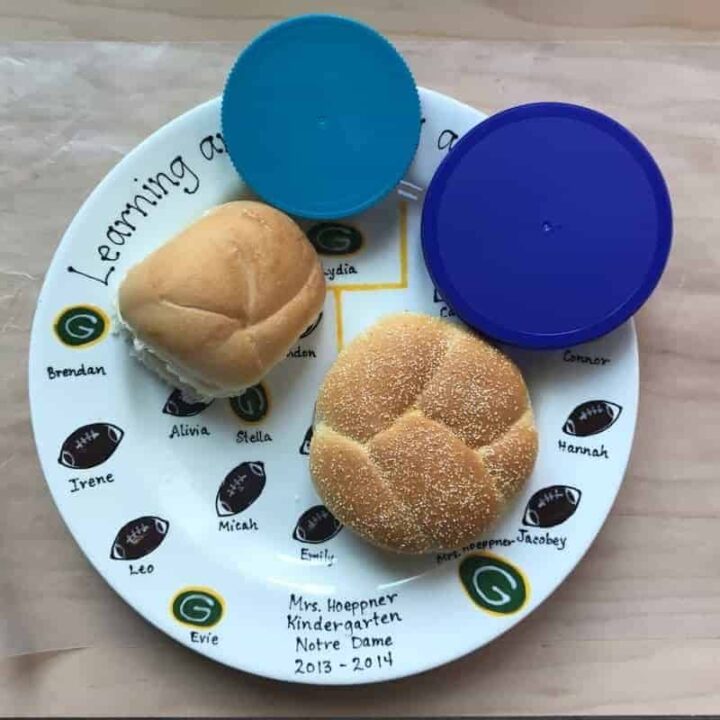 2. To make a juicy homemade burger, some fat is needed
I like to blend 90% lean beef with 80% lean beef. If you want a lower fat burger, use just 90% lean, but take care to not overcook and dry it out.
Disregard the nutrition info on these packages. The facts are based on 4 oz portions, which we are not making. We are going for 10 burgers at around 2.5 oz. portions, reducing the calories and fat.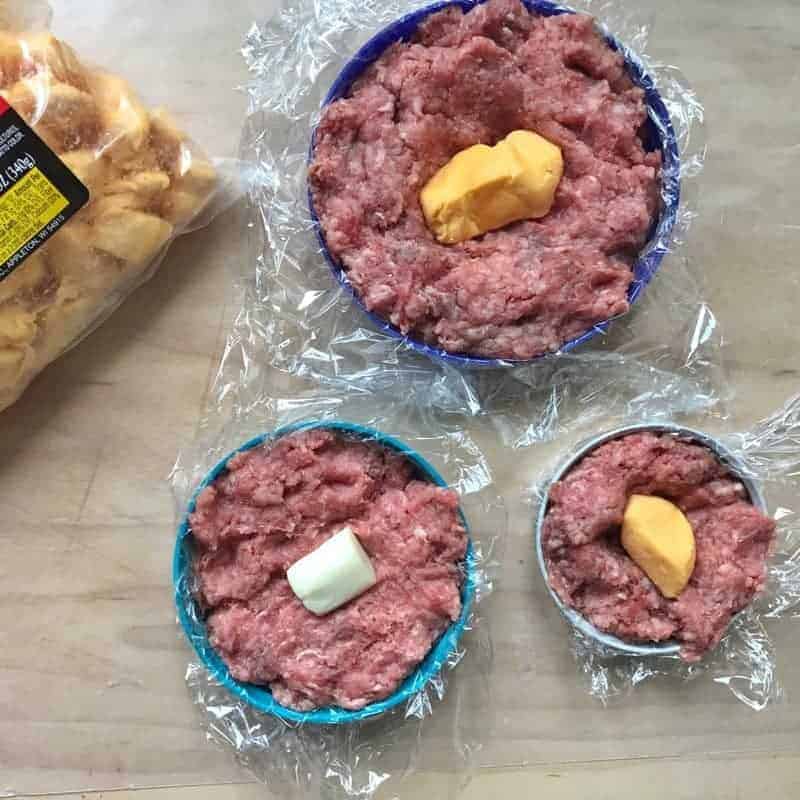 Fun fact: There are just 22 calories in a moderate-sized curd.
Just 1 cheese curd is needed. You can cut a mozzarella cheese stick into 5 pieces and use that too, or your favorite cheese. The smaller amount of cheese helps cut fat and calories from a typical cheeseburger.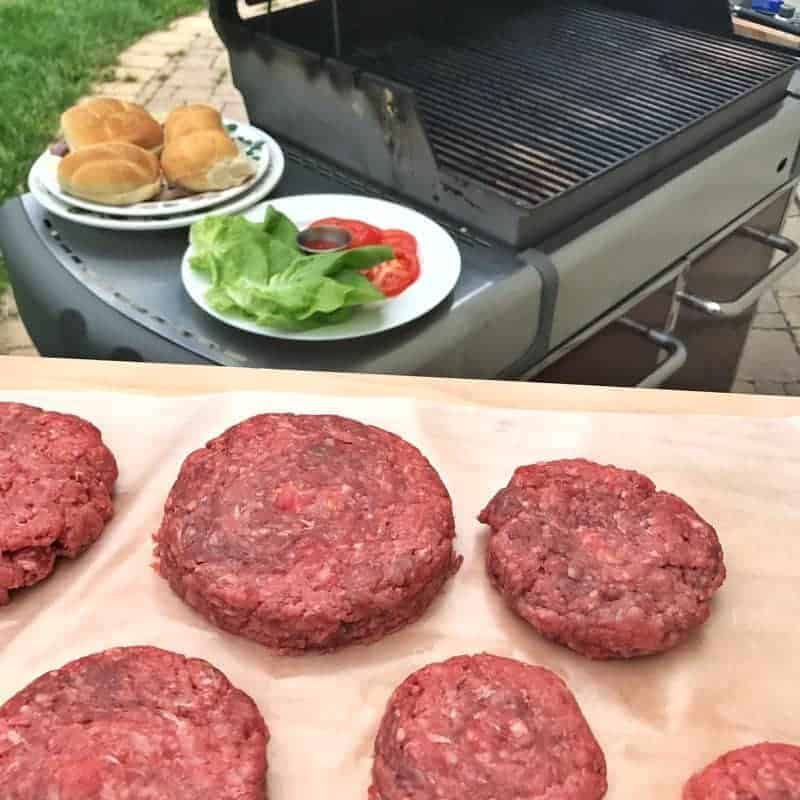 Pro Tip: In order to not get "domed" burgers, push down the middle as much as you can without revealing the cheese when forming the burger patty.
Season burgers with salt & pepper.
3. Grill 4 min. each side, flipping only once.
And don't squeeze down on the burgers with the spatula while cooking! This squeezes the juice right out of the burger.
Pro Tip: If you're cooking for gluten-free guests, make sure to place thick tin foil onto the grill. Cook their hamburger on the tin foil to avoid cross-contamination (and your guest getting sick!).
Do Not grill buns at the same time as you make their burger.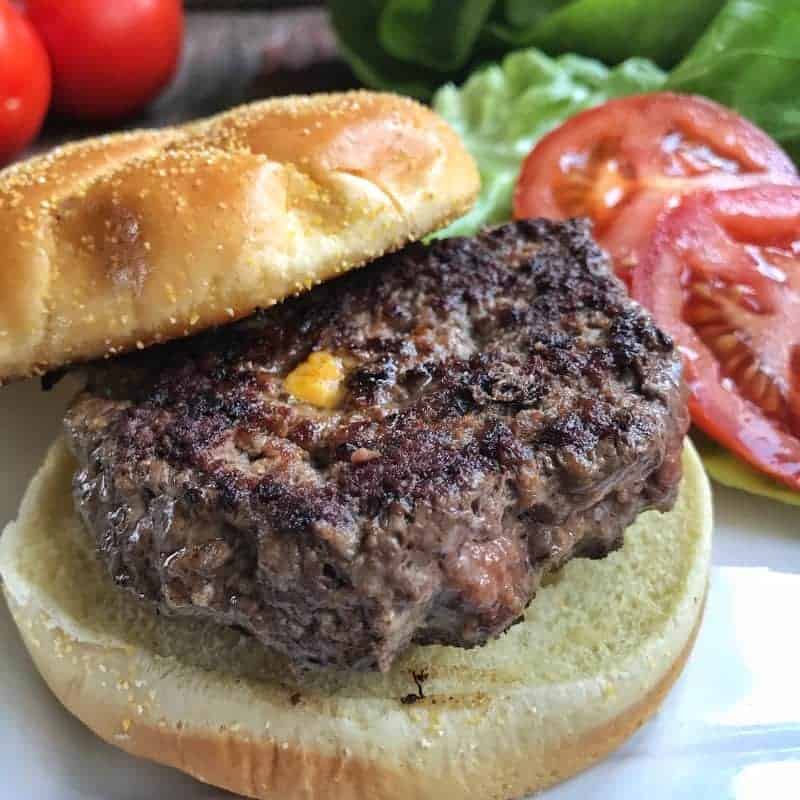 5. Top with tomato, lettuce, more cheese, or your favorite condiments!
One bite and you'll never make another kind of burger! 🙂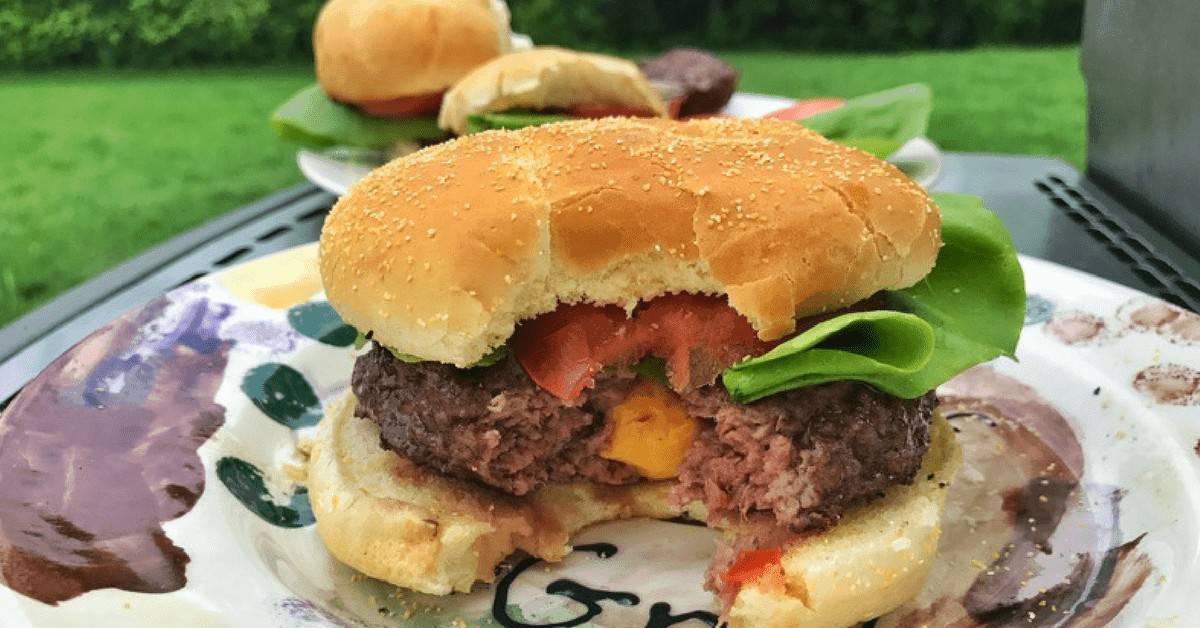 If you enjoyed these recipes make sure to leave a comment and a star rating below!  Then follow me on social media and tag #createkidsclub if you make the recipe.  I love seeing what you come up with! 
Cheese Curd Burger
Our Cheese Curd Burger will be the best thing you put on the grill this summer! One bite of a cheese stuffed burger and you will be wondering why you ever put the cheese on top. Gluten Free. 
Pin Recipe
Print Recipe
Ingredients
1

lb.

90% lean ground beef

1

lb.

80% lean ground beef

10

cheese curds or pieces of cheese

salt & pepper

10

gluten-free hamburger buns
Instructions
Heat the gril and mix the beef. Preheat grill to high heat. With clean hands, mix beef together.

1 lb. 90% lean ground beef,

1 lb. 80% lean ground beef,

salt & pepper

Prep the burgers. Line a lid the size of desired burgers with plastic wrap. Place beef onto plastic wrap and make a small hole for cheese. Place cheese into beef, cover with more meat. Flip lid onto serving tray, pushing down to tightly form burger, remove any meat on the sides. Remove lid and plastic wrap.  Repeat for all burgers.

10 cheese curds or pieces of cheese

Cook. Grill burgers 4 minutes each side, flipping only one time.  Serve immediately on your favorite roll with desired condiments.

10 gluten-free hamburger buns
Nutrition
Calories:
319
kcal
|
Carbohydrates:
22
g
|
Protein:
21
g
|
Fat:
16
g
|
Saturated Fat:
6
g
|
Cholesterol:
63
mg
|
Sodium:
979
mg
|
Potassium:
323
mg
|
Fiber:
1
g
|
Sugar:
3
g
|
Vitamin C:
1
mg
|
Calcium:
95
mg
|
Iron:
3
mg
Delicious Simple Family Recipes
Join Create Kids Club & get our 10 Favorite Crockpot Recipes ebook!