Tuna Sushi Rolls using canned tuna are a delicious kid-friendly lunch or dinner idea. Learn to make your own sushi rolls at home using fresh ingredients.
Thank you Wild Selections® for sponsoring this post. For a more sustainable meal, be sure to check out Wild Selections® premium seafood — it's always healthy, always Marine Stewardship Council certified, and always delicious!
This following is a shoppable image! Click to see product info.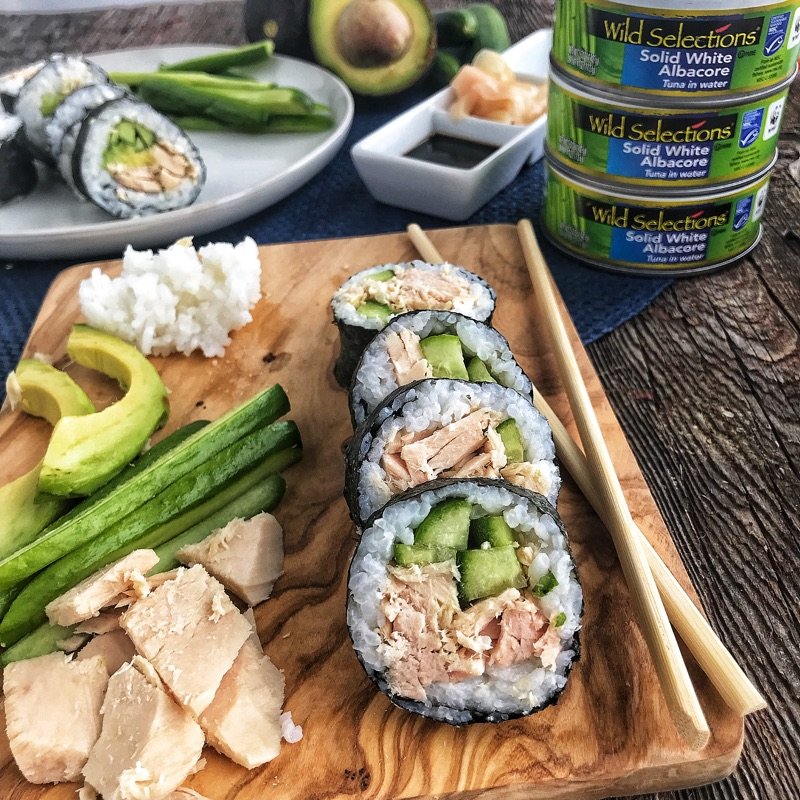 I live in the midwest where our supply of fresh seafood is limited, to say the least.
Luckily, restaurants in my area fly in fresh seafood which my girlfriends and I enjoy when we go out for sushi night.
However, I didn't always love sushi. In fact, I didn't really eat much seafood until I was well into my 20's. Maybe it was lack of fresh seafood available, maybe it was the way seafood was presented as a child, who knows…
I do remember the first few times eating sushi, wanting desperately to like this trendy food, but being very overcome with doubt. It took a while to come around.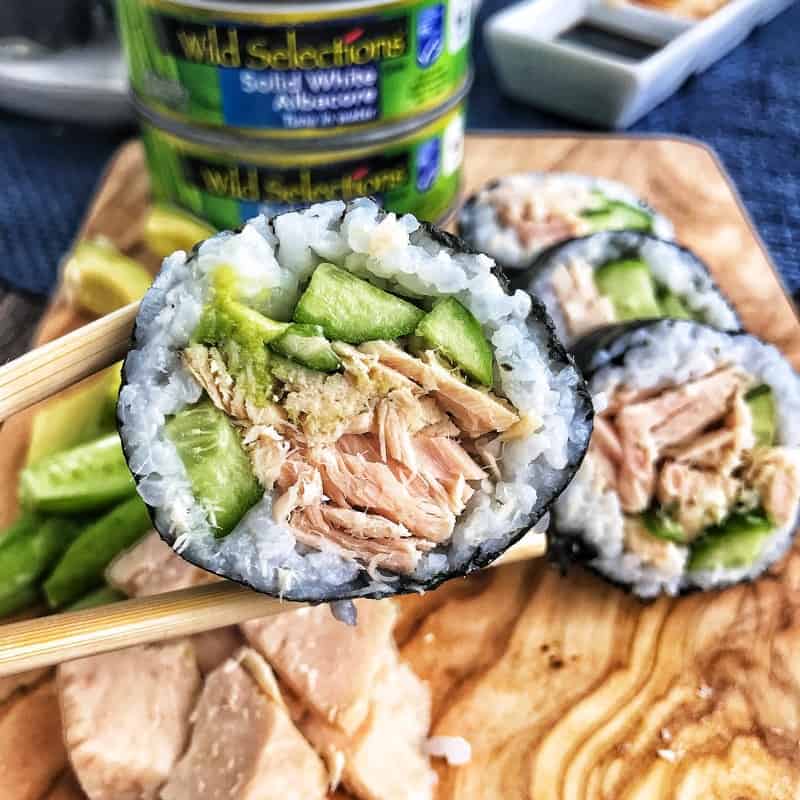 The tuna sushi rolls recipe today is both delicious and fun to make with kids.
While I have been eating sushi for years now, I have never made sushi at home. Referring back to the fact that I live in the midwest where our lakes are frozen for half the year, I settled on canned tuna.
After buying a bag of sushi rice and pulling out my favorite canned tuna, I was set.
If you're not a big fan of canned tuna, I'm here to say that not all canned tuna is created equal. I used to dislike the stuff until I found that I was simply buying the wrong kind. Look for solid albacore tuna and you will be amazed at the difference. My favorite these days is Wild Selections.
Delicious Recipes Sent Weekly
Subscribe to get our latest content by email.
There are a few reasons Wild Selections tuna is a favorite of mine, but my #1 reason is because they donate 13 cents from the sale of each can to support World Wildlife Fund's efforts to protect marine life and expand sustainable fishing practices, which equates to up to $1 million by the end of this year! This is all about paying forward so we take care of our oceans for generations to come.
Reason #2 is where Wild Selections sources its wild-caught seafood –> only from ocean areas that have been certified sustainable to the Marine Stewardship Council (MSC) Standard (the world's leading certification program for wild-caught, sustainable seafood for the past 20 years).
This assessment and certification of oceans areas by MSC ensures that fish stocks are healthy, well managed and plentiful. Each product Wild Selections make is traceable to the ocean where it was caught so you know where your food comes from and can feel good about it. How cool is that?!
Plus the quality and flavor are amazing. I used the Solid White Wild Albacore Tuna in Water, but you could choose the solid albacore tuna in olive oil as well.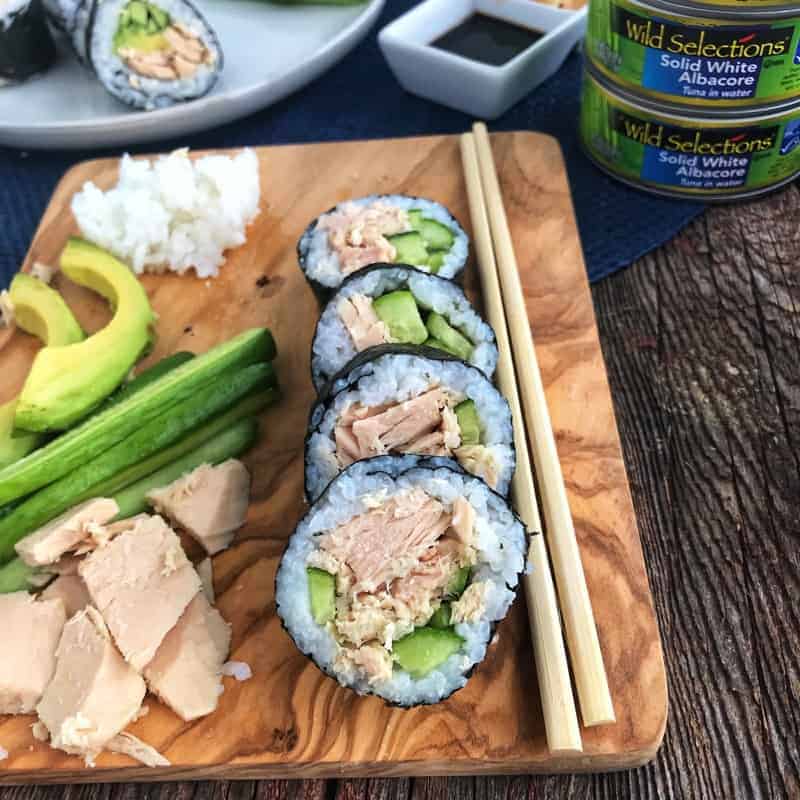 So how do you make homemade sushi at home?
After thorough research on the topic, I learned all about the art of sushi making which I'm sharing with you today. While it takes years of perfecting to become a professional, these were much easier than I expected and taste amazing! They were delicious straight out of the fridge for lunch the next day too.
I did the research so you can simply follow the directions below to make homemade Tuna Sushi Rolls.
It all starts with the rice.
Grab a bag of sushi rice and a bottle of seasoned rice vinegar. You do need to use sushi rice – this rice is sticky rice that holds the roll together. I found this rice in our small local grocer, so I'm guessing you should be able to grab it at most stores.
Follow the directions on the back of the bag of sushi rice. Mine said to rinse the rice until the water ran clear, then soak for 30 minutes, then cook which is what I did.
However, I seemed to have taken a wrong step that resulted in fantastic rice the next day! Everything I read about sushi rice suggests you needed to use it right away or the rice gets hard. I got to thinking about why I hated taking leftover sushi home, and it was due to the hard rice the next day.
My rice wasn't hard, which I think is due to not rinsing the rice quite good enough. I did rinse the rice for a minute or 2, but when I went to soak the rice, the water was just a touch cloudy still. I went with it.
After cooking the rice, add 2-3 tbsp. of seasoned rice vinegar. It must be rice vinegar, not regular vinegar or apple cider vinegar whose flavors are too strong for rice. Seasoned rice vinegar is just rice vinegar with a little sugar and salt added for flavor.
Rice vinegar is needed to help with the consistency of the rice and when using raw fish, it helps balance the acidity. I liked the flavor it added to the rice.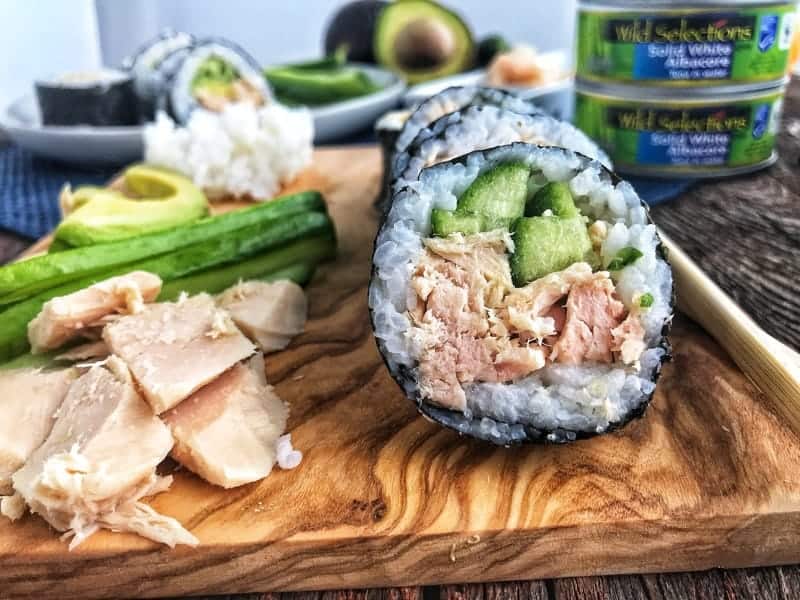 After you have the rice cooked and cooled, you're ready to get rolling!
If you don't have a sushi mat, which I didn't, you can simply use a kitchen towel topped with plastic wrap. Place a sheet of Nori on top of the plastic wrap, shiny side down.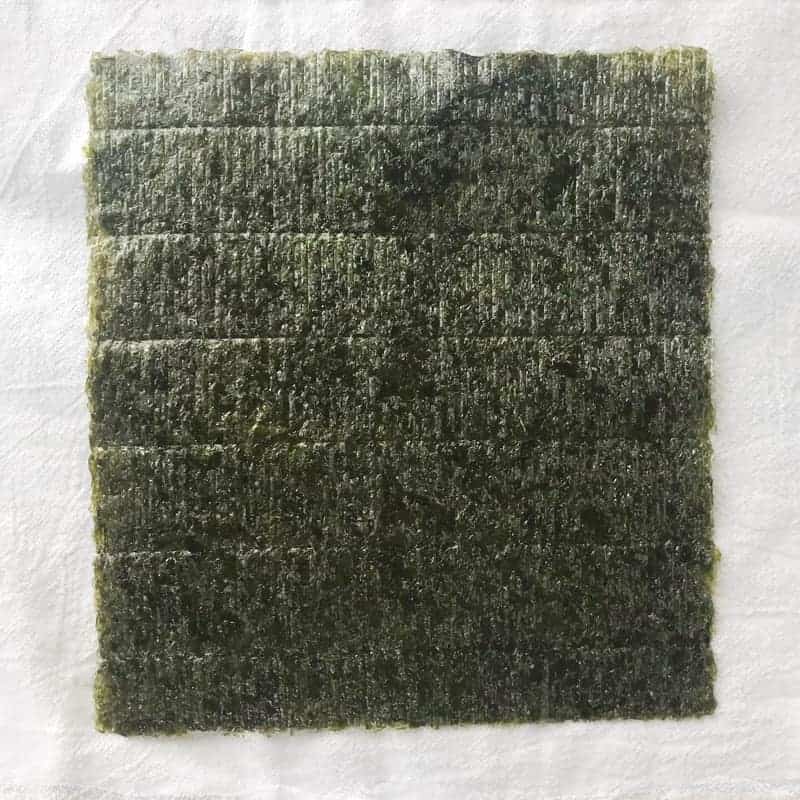 Next, place your sushi rice on top, leaving an area at the top without rice.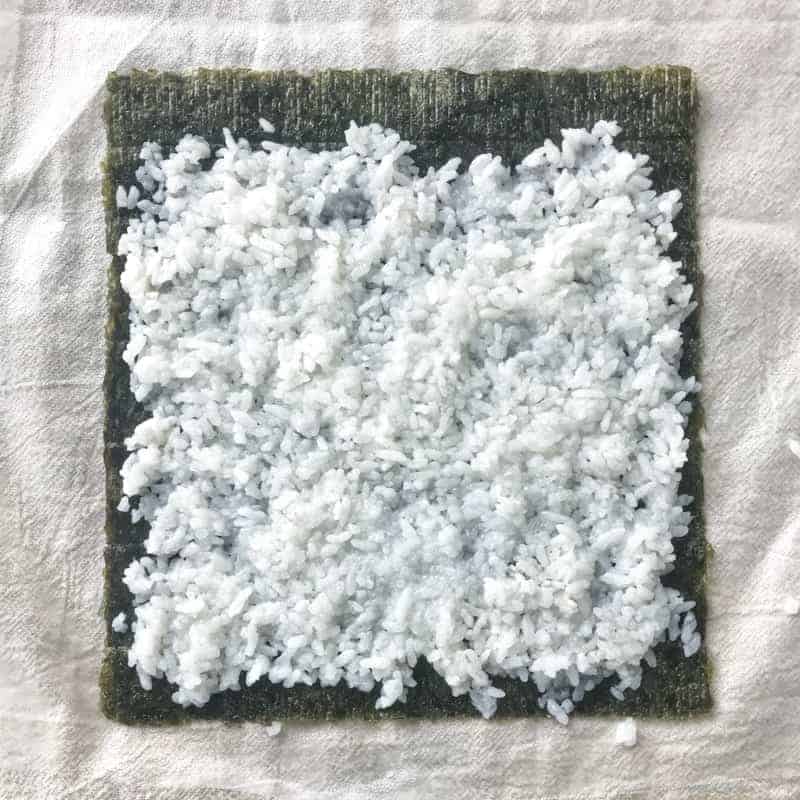 Choose what additions you want in your tuna sushi roll, I chose cucumbers and avocado.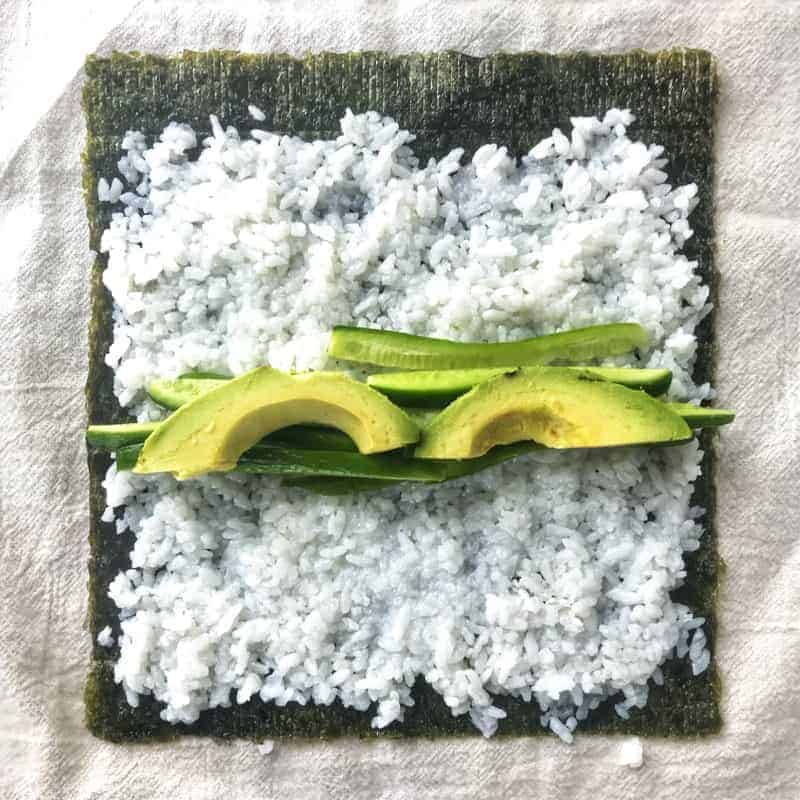 Next up, add the canned tuna!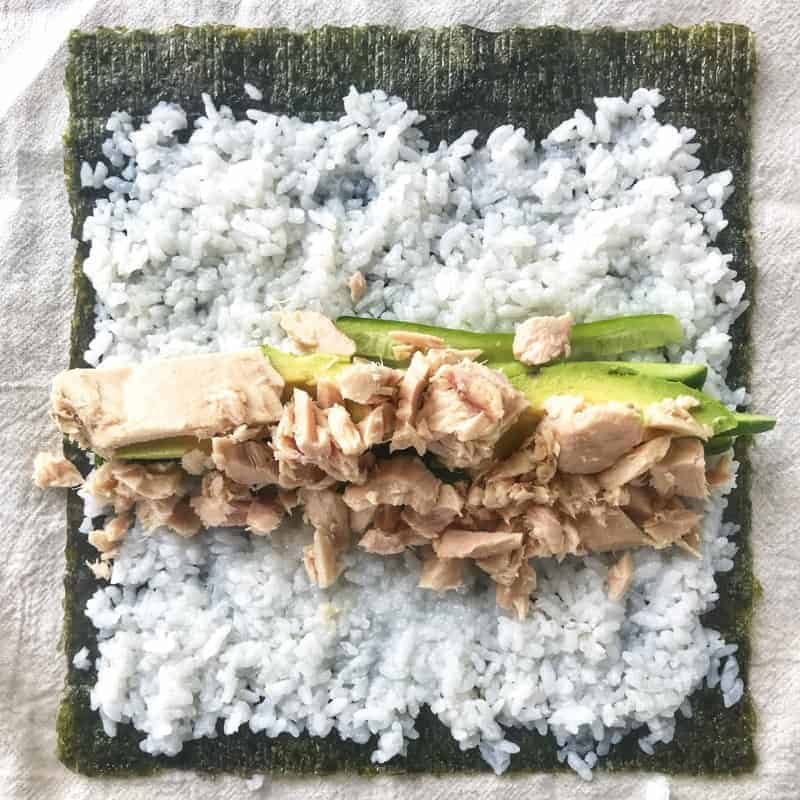 Now you're ready to roll the homemade sushi.
Start by slowly wrapping the bottom of the nori around the section with the fish and vegetables. Gently, roll tightly around, using the wrap to pull snug.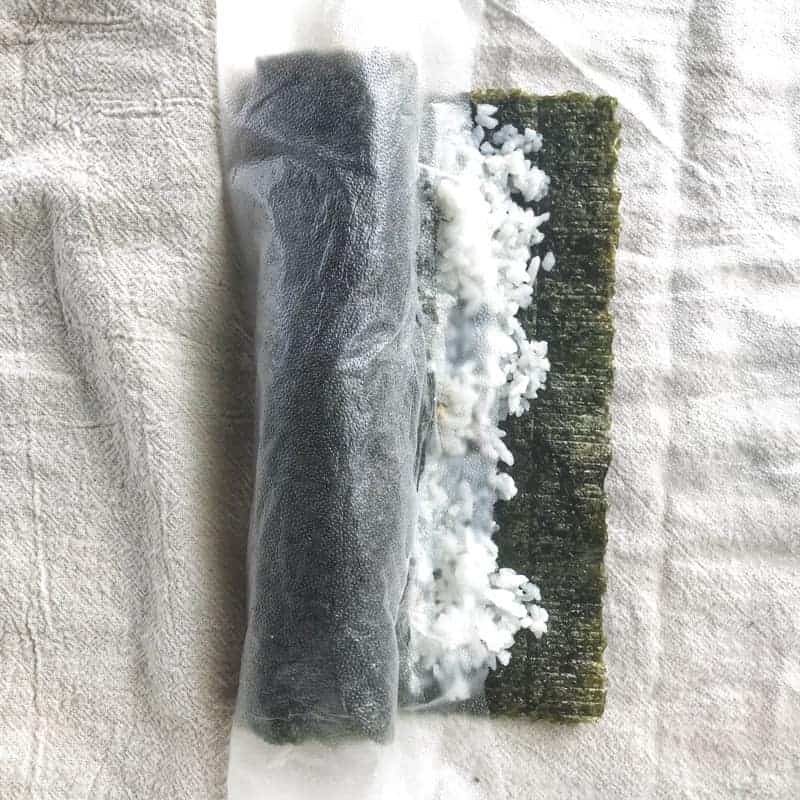 Continue rolling, removing plastic wrap as you go.
When you get to the end, dip your finger in water and get the end a little wet. Roll up completely, the end is sealed with the water.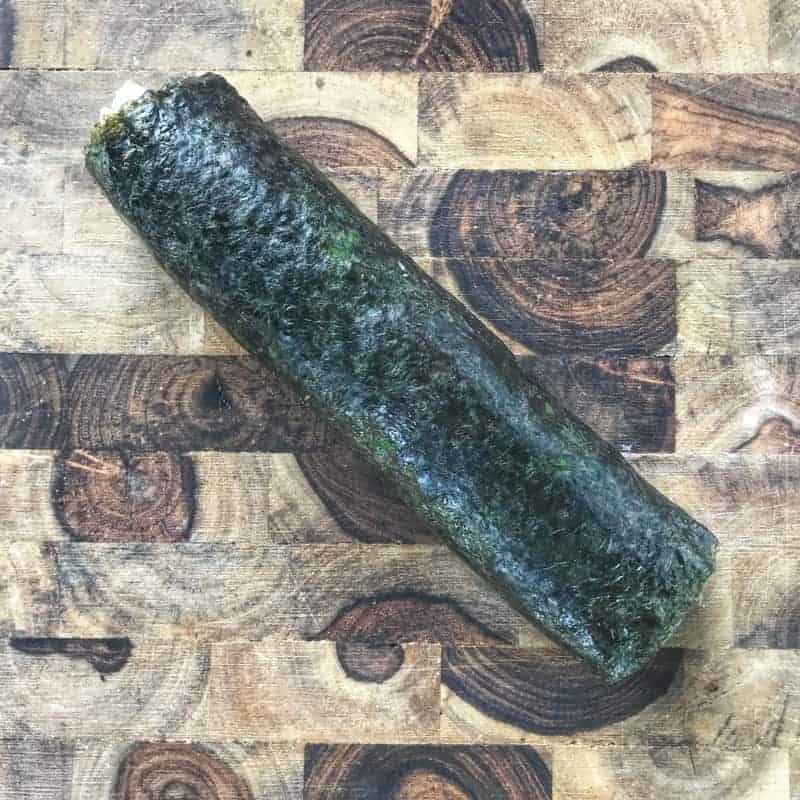 Slice the tuna sushi in half, then into thirds. Serve with soy sauce, ginger, and chopsticks if desired and enjoy!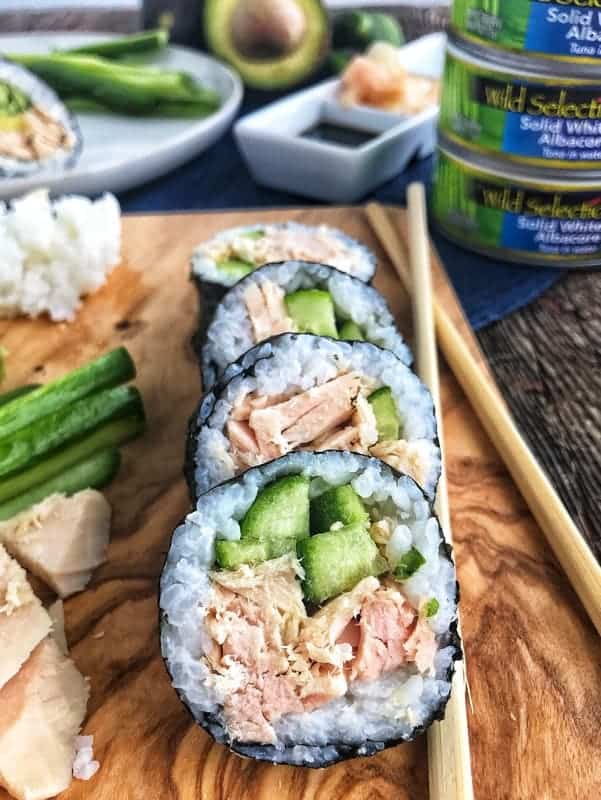 My family loves dinners and snacks that are finger foods like these sushi rolls. For a delicious appetizer you can pick up and eat, check out my Chicken & Veggie Pinwheels and for lunch these fun Turkey "Sushi" Rolls are always a hit!
Print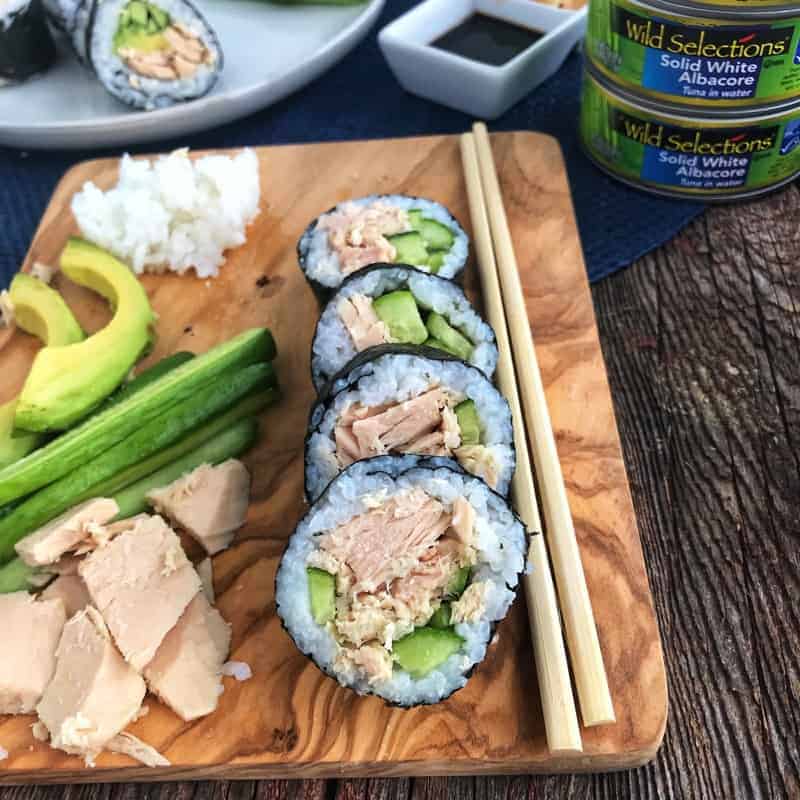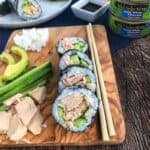 Tuna Sushi Rolls
Author:

Prep Time:

15

Total Time:

15

Yield:

2

rolls

1

x
Category:

Lunch

Method:

No Bake

Cuisine:

Asian
---
Description
Tuna Sushi Rolls using canned tuna are a delicious kid-friendly lunch or dinner idea. Learn to make your own sushi rolls at home using fresh ingredients.
---
Ingredients
1.5 cup

s cooked sushi rice

2

–

3

tbsp. seasoned rice vinegar

2

sheets nori

1

can Wild Selections Solid White Albacore Tuna in water

1/2

cucumber, cut into strips

1/2

avocado, cut into strips
---
Instructions
Lay nori, shiny side down, on a sushi mat or plastic wrap
Mix seasoned rice vinegar into the sushi rice using a sideways chopping motion
Spread 3/4 cup rice mixture onto each sheet of nori, leaving a little space without rice on top
Top each roll with a horizontal line of cucumber, avocado, and tuna
Roll nori tightly around veggies and tuna
Dip your fingers in water and run them along the top portion of the nori, finish rolling.  The water seals the roll
Using a sharp knife, slice roll in half, then into thirds. Enjoy!
---
Notes
Serve with reduced sodium soy sauce, pickled ginger, and chopsticks!
I was selected for this opportunity as a member of CLEVER and the content and opinions expressed here are all my own.