Sauteed Apples are the perfect healthy dessert idea for any meal. Flavors of cinnamon and nutmeg blend perfectly with the sweetness of maple syrup and citrus juice. A must-try healthy dessert recipe.
This simple, healthy dessert recipe is delicious and nutritious. Sauteed apples smell like an apple pie baking while they are cooking and the flavor is like eating the apples right out of the center of that pie. This recipe is gluten-free, vegan, and dairy-free.
Apples are a great base for healthy desserts – the natural sweetness of apples satisfies your need for a sweet taste, but you get the fiber and nutritional boost that go hand in hand with this yummy fruit.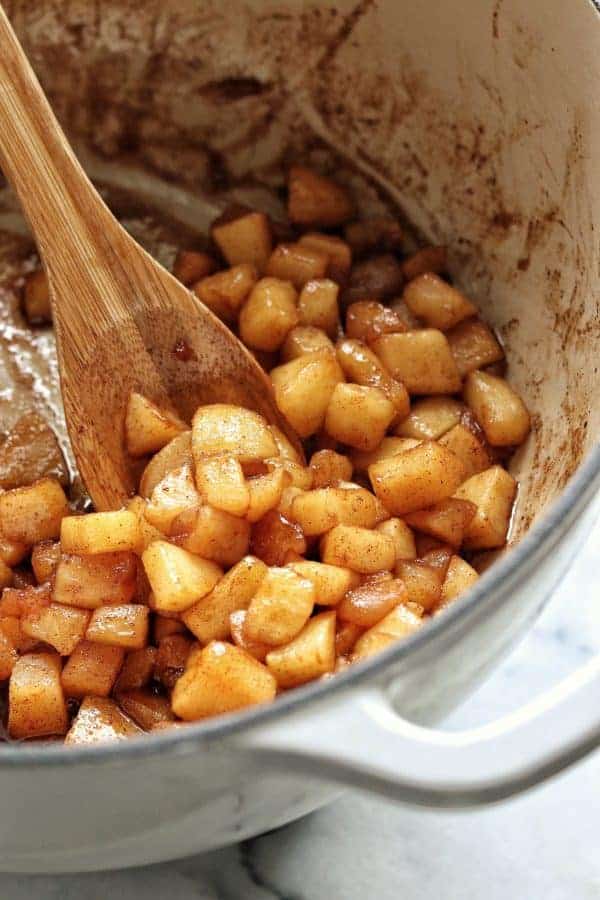 What's healthier: Cooked Apples or Raw Apples?
Cooking apples tend to decrease vitamin C content because vitamin C is susceptible to heat. If apples are cooked with the skins on, you can retain most of the fiber and some of the phytochemicals. If you peel them, you remove a lot of the fiber.
Fill your house with the smell of baking apples tonight with this simple dessert recipe.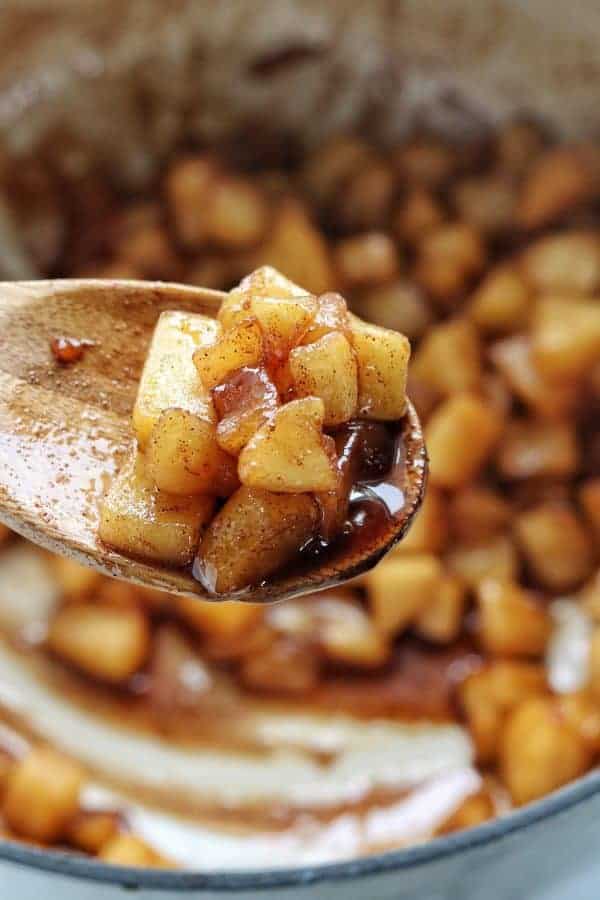 How To Make This Easy Apple Recipe
Peel and core the apples, then dice
Juice the orange
Combine all ingredients into a pan on the stovetop
Cook over medium heat for 10 minutes, stirring frequently until apples are soft and the syrup thickens
Check out these other healthy dessert recipes:
How To Make This Healthy Dessert Recipe: Sauteed Apples
Start by selecting the apples you'd like to use. I choose a blend of red and green apples because I like the tartness from the green apples combined with the sweeter red apples, but you can use any combination you'd like.
Peel the apples, remove the core, and dice evenly.
Kitchen Tip: Dicing the apples into similar sized pieces helps them cook evenly.
Place the diced apples into a skillet or pan. I love using my favorite pan, my dutch oven, as I'm less likely to spill and make a mess to clean up on my stove.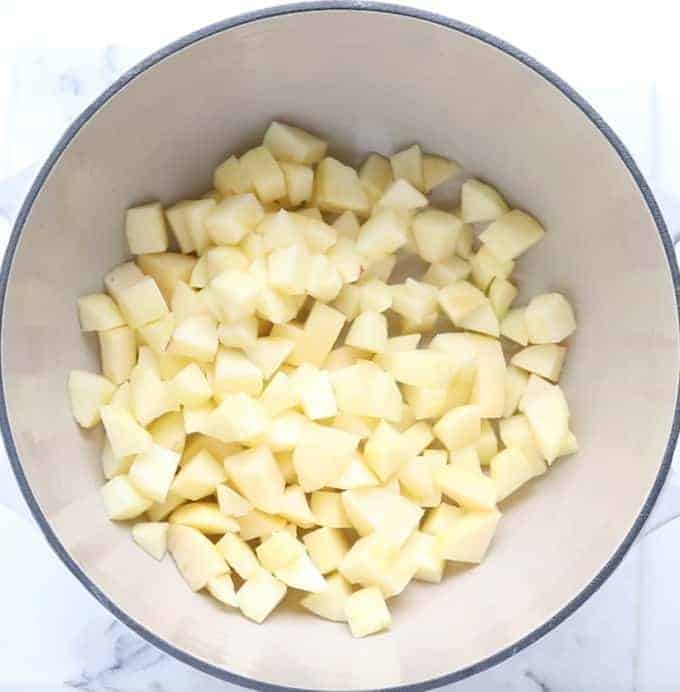 After you have the apples diced and in the pan on the stove, you're ready to add the rest of the ingredients.
First up, add the maple syrup. Fresh maple syrup is going to cost more than pancake syrup, but the flavor it provides is worth the cost.
Maple syrup works as a great sweetener in other healthy dessert recipes such as Blueberry Stack and dinner recipes like Pumpkin Chili.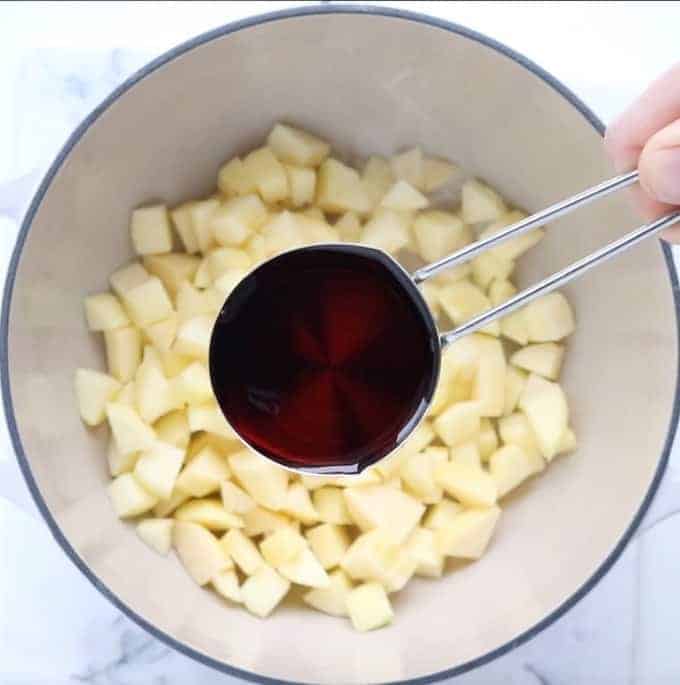 Next up is juicing an orange. I like using a handheld juicer because it helps grab the seeds and it's less messy than squeezing by hand – but you don't need to use a juicer if you don't have one.
I like the flavor an orange gives this dish, but you could try grapefruit or lemon as well.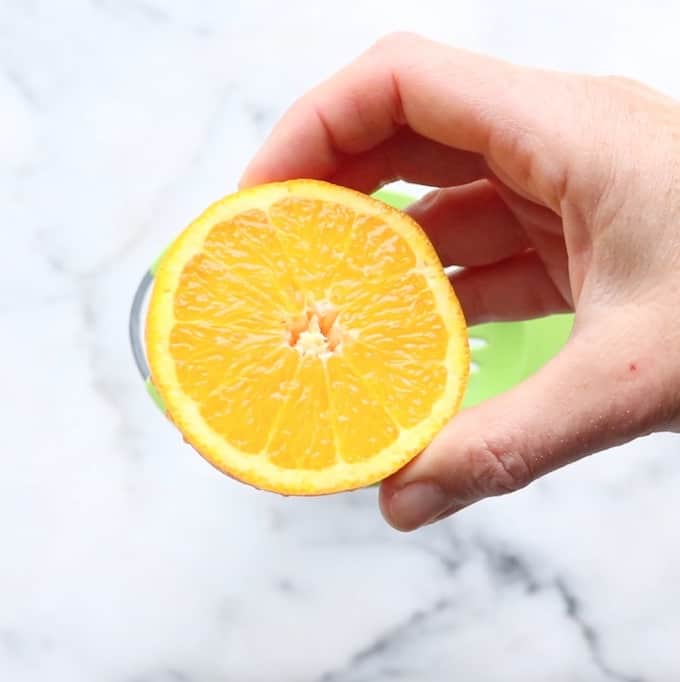 Now you can go ahead and add the spices. I loved cinnamon, vanilla, and nutmeg, but you could use pumpkin pie spice and almond extract for a totally different flavor!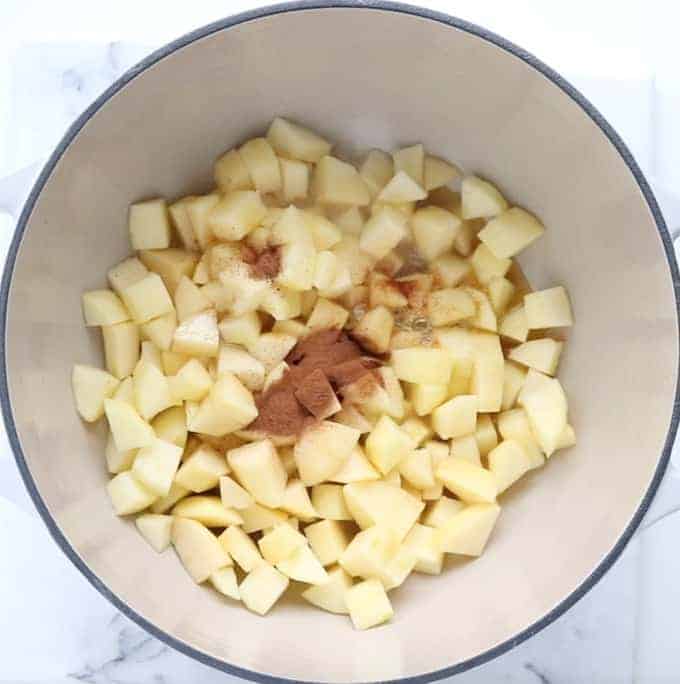 Cook the apples on the stovetop until they become soft and the syrup starts to thicken about 10 minutes.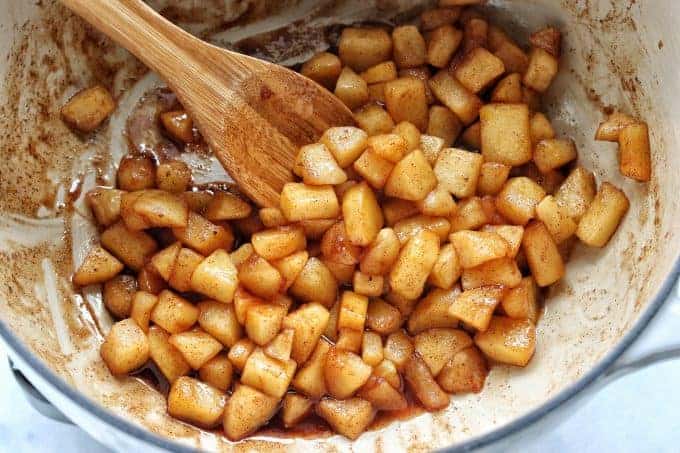 Can Cooked Apples Be Frozen?
Yes, you can. Place them into a freezer-safe container and freeze for 3-4 months. The apples will be soft once you reheat them, but they will still taste great!
Can You Make Baked Apples in the Microwave?
Yes. You should be able to blend all the ingredients into a microwave-safe bowl and microwave in 1-2 minute increments, stirring in between until the apples are done to your liking.
Substitutions For Sauteed Apples:
Sub honey for maple syrup
Try almond extract instead of vanilla
Use pumpkin pie spice rather than cinnamon and nutmeg
Use orange juice or apple juice rather than freshly squeezed juice
Add a touch of coconut oil for a lite and delicious coconut flavor
Try replacing the apples with pears
How To Serve This Dessert Idea
For more healthy dessert ideas you might consider Strawberry Lemon Trifle or Double Chocolate Brownies.
You Might Also Enjoy:
If you enjoyed the recipe make sure to leave a comment and a star rating below! Then follow me on social media and tag #createkidsclub if you make the recipe. I love seeing what you come up with!
Easy Sauteed Apples
Apples are simmered in maple syrup, cinnamon, and nutmeg along with fresh orange juice for a delicious and healthy dessert recipe.
Pin Recipe
Print Recipe
Ingredients
4

green apples

peeled, cored and diced

2

red apples

peeled, cored and diced

1/3

cup

maple syrup

1

small orange

juiced (or other citrus fruit)

1

tsp.

cinnamon

1/2

tsp.

vanilla

1/8

tsp.

nutmeg
Instructions
In a medium-sized saucepan, combine all ingredients

Simmer on medium heat for 10 minutes or until apples are softened and syrup thickens.

Serve as is or top with cool whip or vanilla ice cream for a more decadent treat.
Nutrition
Calories:
157
kcal
|
Carbohydrates:
41
g
|
Protein:
1
g
|
Fat:
1
g
|
Saturated Fat:
1
g
|
Sodium:
4
mg
|
Potassium:
275
mg
|
Fiber:
5
g
|
Sugar:
32
g
|
Vitamin A:
147
IU
|
Vitamin C:
20
mg
|
Calcium:
47
mg
|
Iron:
1
mg
CONSUMER NOTICE: I may receive a small compensation for the goods and services mentioned on this website when you purchase from a provider. Thank you for supporting Create Kids Club.