Baked Apples are the perfect healthy dessert idea for any meal. Flavors of cinnamon and nutmeg blend perfectly with the sweetness of maple syrup and citrus juice.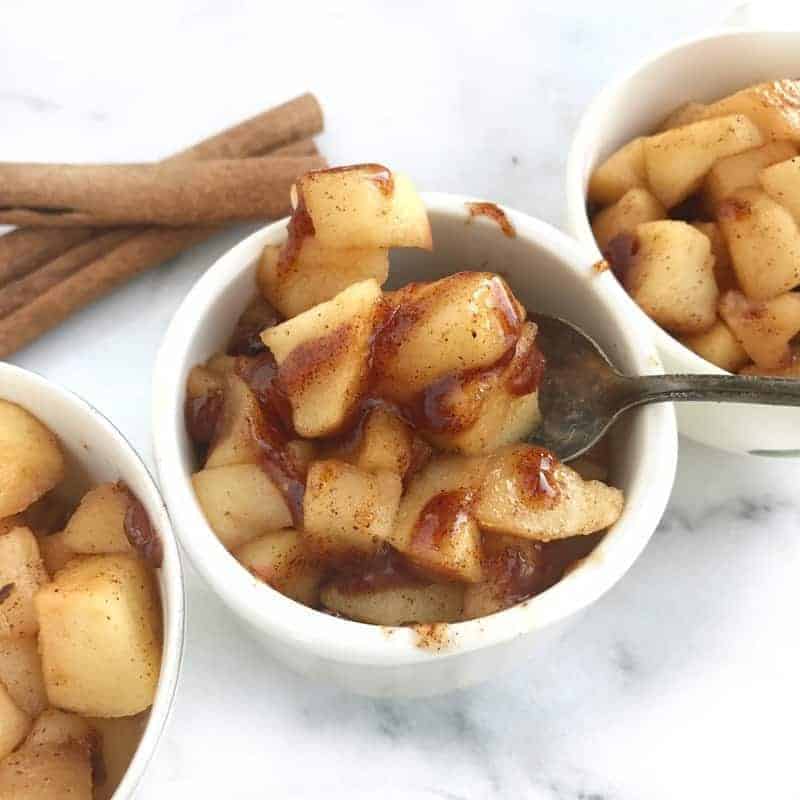 Do your kids love sweets? Mine sure do.
This simple, healthy dessert recipe is delicious and nutritious. It's also a great way to use up those apples sitting in the back of your produce drawer.
How long do apples last once you bring them home?
After a bit of investigating, I learned that the longevity of an apple differs between varieties based on their sugar and water content.
Apples are divided into early season and late season variteties – the late season, or winter varieties, are great for cooking and also keep the longest. Therefore, varieties like Granny Smith (late season) last longer than Gala (early season).

How about those apples in the grocery store?
Apples are picked underripe and are stored in temperature-controlled conditions that allow them to last up to 10 months. When they are removed from this controlled area, they will start the ripening process once again.
Apples produce ethylene gas which speeds ripening
If you purchase apples in bags, consider removing them from the bag so they are allowed to breath. If refridgerated, apples will last 6-8 weeks. On the counter they ripen faster because the enzymes are much more active at room temperature. Left out, apples will keep a week or two.
For a list of late season and winter apples that keep the longest and work best in cooking, check out this article.
PickYourOwn.org has chart that reviews which apples are best for eating fresh, cooking, applesauce, and whether they need to be refrigerated or not. Be sure to check it out here!
My favorite kind of apples? Those picked from the local apple orchard every fall!
Fill your house with the smell of baking apples tonight with this simple dessert recipe.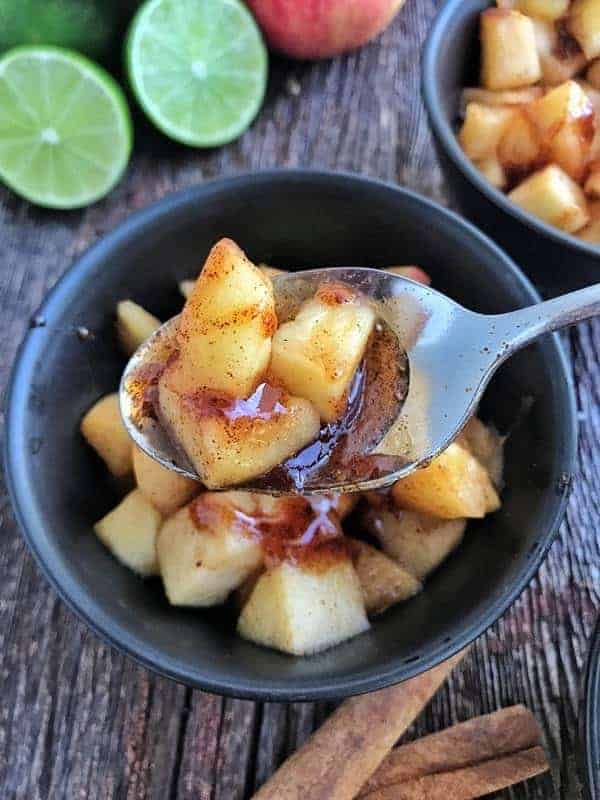 This 10 minute dessert recipe shows how to cook apples on the stove, and are quick, easy, and taste amazing.
My family loves this recipe, I hope yours do as well. Learn how to cook with apples the easy way!
[bctt tweet="A light and delicious dessert 10 Min Baked Apples #appledessert #fruitfordessert #apples #dessert" username="createkidsclub"]
This fall apple recipe is perfect for little hands to help.

Let older children peel the apples and core them, while younger children dice the apples into smaller pieces with a kids friendly knife such as my favorites:

Little hands are also perfect for squeezing all the juice out of the orange! Let older children stir all the ingredients together and get the apples cooking on the stove top. Watch to see how proud you kiddos are when they get to serve the finished product!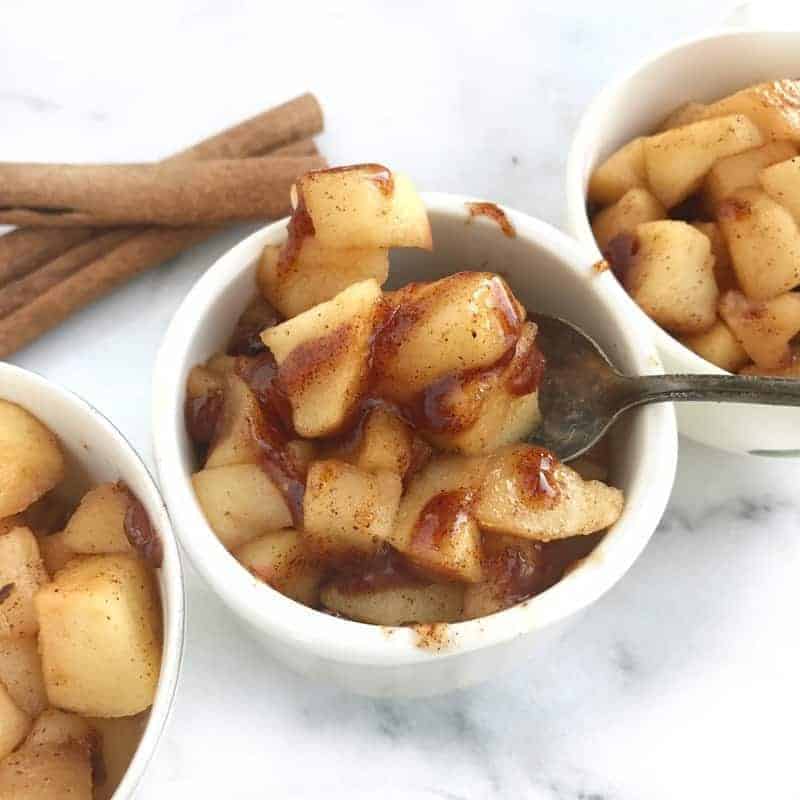 10 Minute Baked Apples
Apples are simmered in maple syrup, cinnamon, and nutmeg along with fresh orange juice for a delicious and healthy dessert recipe.
Ingredients
4

green apples, peeled, cored and diced

2

red apples, peeled, cored and diced

1/3

cup

maple syrup

1

small

orange, juiced

or other citrus fruit

1

tsp.

cinnamon

1/2

tsp.

vanilla

1/8

tsp.

nutmeg
Instructions
In medium sized sauce pan, combine all ingredients

Simmer on medium heat for 10 minutes or until apples are softened and syrup thickens.
Pin For Later!
How do you use produce that needs to be eaten before it goes bad?

CONSUMER NOTICE: I may receive a small compensation from the goods and services mentioned on this website when you purchase from a provider. Thank you for supporting Create Kids Club.
Get Your FREE Crockpot Cookbook Now!
Get 10 tried & true Kid Approved Crockpot Dinner Recipe favorites!