A creamy, flavor-packed easy crockpot potato soup that's simple to make without heavy cream. This is a healthy crockpot meal perfect for those on a budget.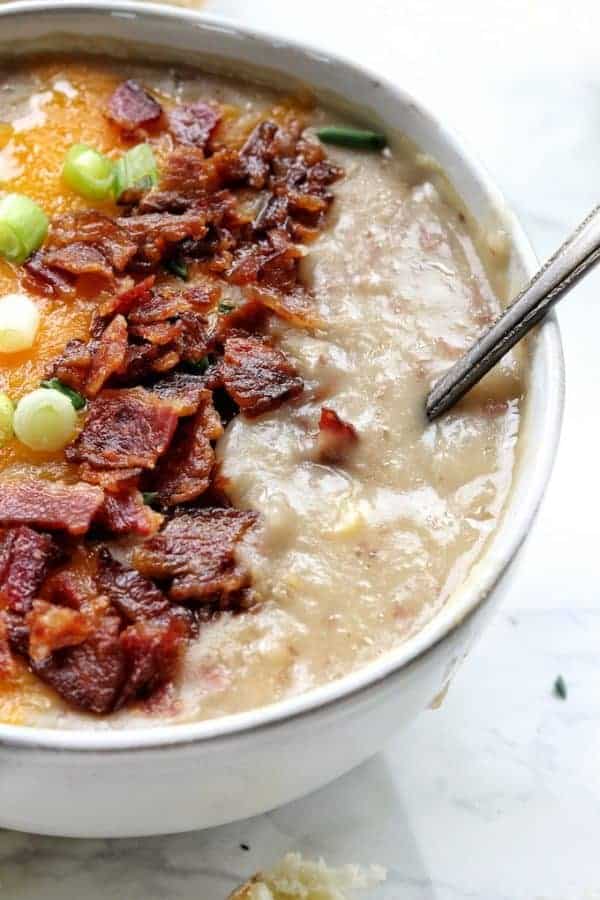 Delicious and healthy yet cheap crockpot meals like this potato soup are family favorites.
This potato soup not only cuts fat and calories of traditional potato soup, but it also comes in well under $3.00 per serving.
The best part about this recipe, besides the flavor, is that it takes very little time to prepare.
Which Potato To Use For Potato Soup?
There are many varieties of potatoes and each has a different starch content and skin thickness. They also react to heat differently.
Starchy varieties do not keep their shape very well when they are cooked. These potatoes are best for frying and baking because their starch and high moisture content make them fluffy and absorbent. The starch content will also help to quickly thicken soups and stews. The starchy variety includes the Idaho or Russet.
Waxy potatoes do not absorb much moisture, which makes them superb for soups and stews and allows them to hold their shape well when you want skin-on chunks of potato. They include New Potatoes and Fingerling.
Feel free to use whatever potato variety you have on hand or want to try out. My favorite is the red potato because it's easy to cook leaving the skin on and the skin is thin so it blends into the soup well when pureeing.
How To Make this Cheap Crockpot Meal
Place potatoes, onion, and broth in the slow cooker -> Here's the Crockpot I use
Cook low 8 hours or high 4-6 hours
After cooking, mash with a potato masher or immersion blender
To thicken, melt butter in medium-sized sauté pan over medium heat
Whisk flour into melted butter
Slowly pour milk into the flour mixture, whisking constantly, a little at a time
Whisk thickened soup mixture back into remaining soup in the slow cooker
Stir in corn and soy sauce
Add toppings if desired
How To Make Potato Soup
1. Cook potatoes We are cooking this potato soup in a crockpot, but you could also cook this recipe on the stovetop if you wanted. Start by roughly chopping red potatoes (or your favorite potato variety) and onions placing them into the bottom of your slow cooker.
Kitchen Tip: To save time and keep nutrients, leave the skin on potatoes. You'll be pureeing the soup at the end do the skins get chopped up.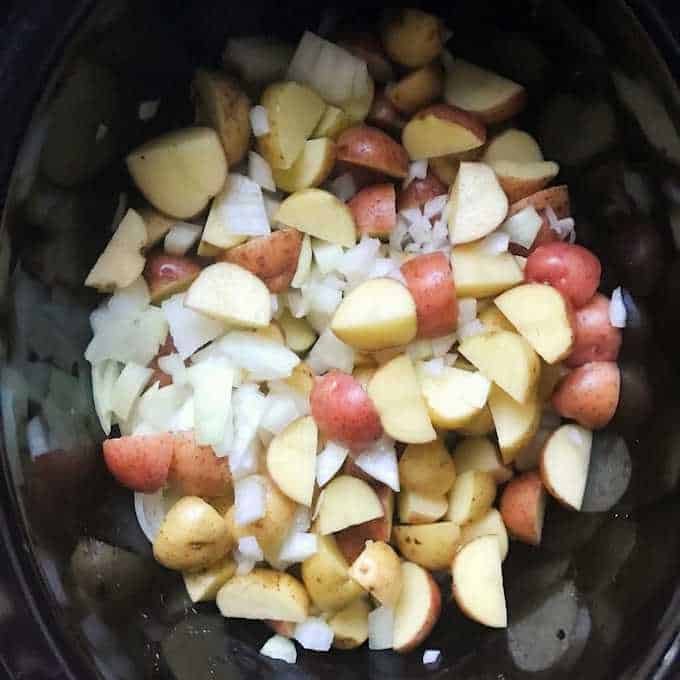 After you have the potatoes and onions in the crockpot you can pour in the broth. Set your slow cooker to cook on low for 8 hours or high for 4-6 hours.
Kitchen Tip: If you want to add more protein to this potato soup recipe, consider adding a cup of diced ham, leftover chicken, or even stirring in some canned salmon at the end of the cooking time would be delicious.
2. Blend potatoes When the potatoes are cooked, reserve a cupful of cooked potatoes. This will give some texture to the soup. Using a potato masher or immersion blender, mash the potatoes. You could also carefully pour the hot soup into a blender and blend it, but be careful to avoid burning yourself.
How to thicken Crockpot Potato Soup
3. Making the cream base Melt butter in the same saucepan. Stir in flour. Whisk in the milk until smooth. Cook and stir over medium-high heat until the base is slightly thickened and bubbly. Continue cooking and stirring for another minute. Add a cupful of the soup into the flour-butter mixture to slowly start the process of thickening. Gradually whisk the thicked mixture back into the crockpot of soup.
Check out this article on How To Make A Roux if you'd like more instructions.
How To Thicken Potato Soup without a Roux?
If you want to skip this step, or would like to skip adding the butter to your soup, you can thicken slow cooker potato soup to your liking by using instant mashed potato flakes. Pour in about 1/2 cup and stir. Keep adding flakes until you get your desired consistency. The flavor won't be quite the same, but delicious none the less!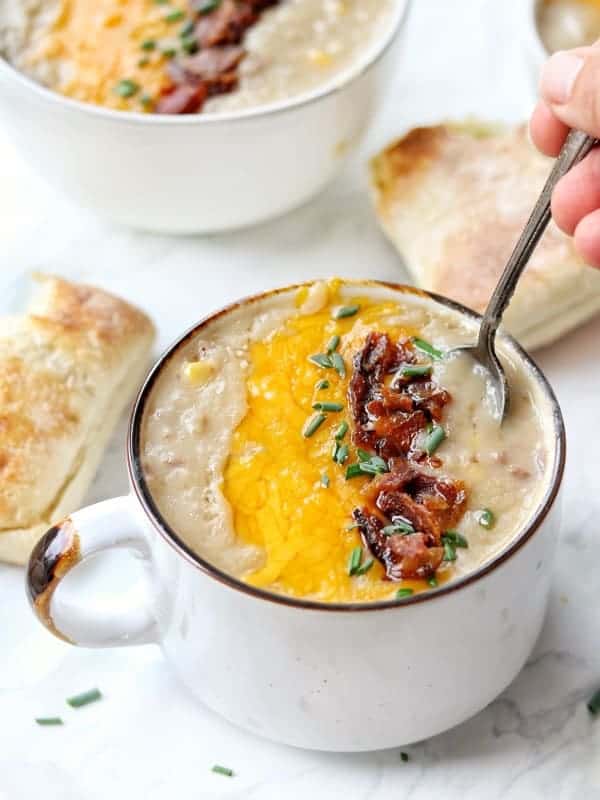 4. Finishing the soup Add back the reserved potato chunks and stir in the canned corn and soy sauce (or substitute salt). If a thinner soup is desired, stir in a little more milk.
Add your favorite toppings such as bacon, shredded cheese, and green onions.
Substitutions You can Make to This Recipe:
For a more decadent soup, use whole milk or heavy cream instead of 1% milk
Blend in some cream cheese at the end of the cooking time for a creamier soup
Try frozen diced potatoes instead of fresh potatoes
Add frozen mixed veggies after pureeing the soup rather than canned corn
What substitutions would you add to the list?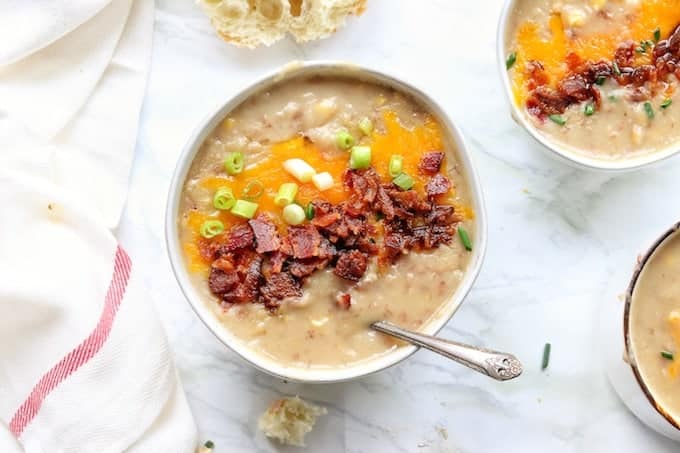 It's like a loaded baked potato in a bowl! Super warm, rich and creamy along with being really kid-friendly. This recipe makes plenty for additional meals or leftovers for lunch the next day.
Can You Freeze Potato Soup?
You can certainly freeze slow cooker potato soup. The soup will stay fresh in your freezer for about 4-6 months. You might find it separates a bit before reheating, just give it a good stir and it will be like new.
I like to freeze it in individual serving-sized microwave-safe containers so I can grab it for a simple lunch that all I need to is heat.
How Long Does Potato Soup Last In The Refridgerator?
For the best quality, use this soup within 3-4 days or freeze it for later.
If you enjoyed the recipe make sure to leave a comment and a star rating below! Then follow me on social media and tag #createkidsclub if you make the recipe. I love seeing what you come up with!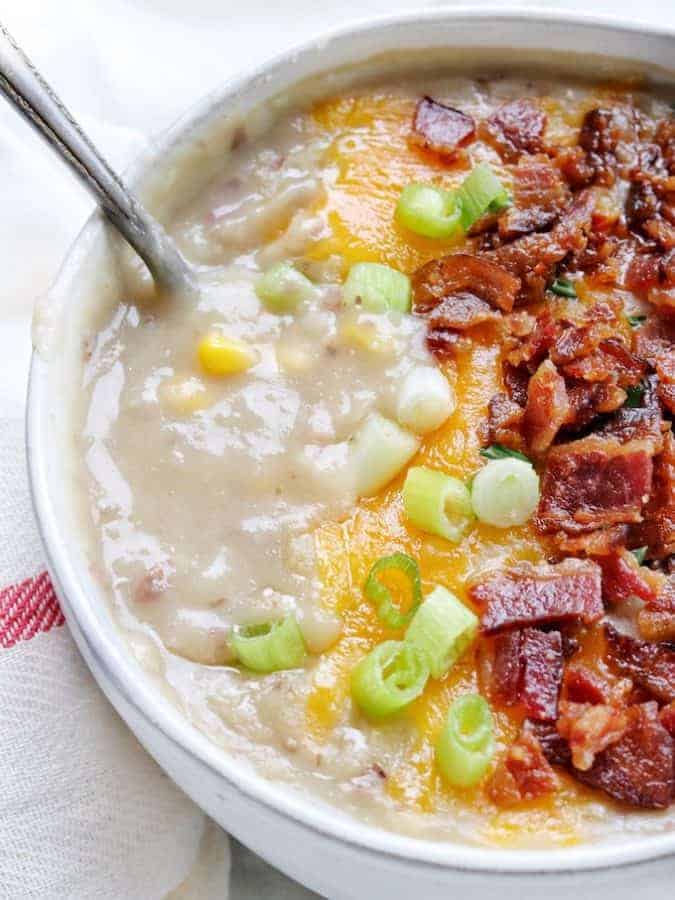 Ingredients
3

lbs

red potatoes

washed and quartered

1

onion

chopped

32

oz

chicken broth

3

tbsp

salted butter

3

tbsp

flour

2

cups

milk

15

oz

can kernel corn

drained

3

tbsp

soy sauce

or salt to taste

optional: bacon bits

shredded cheese, and chives
Instructions
Place potatoes, onion, and broth in slow cooker

Cook low 8 hours or high 4-6 hours

After cooked, mash with potato masher or immersion blender

To thicken, melt butter in medium sized sauté pan over medium heat

Whisk flour into melted butter

Slowly pour milk into flour mixture, whisking constantly, a little at a time

Whisk thickened soup mixture back into remaining soup in the slow cooker

Stir in corn and soy sauce

Add toppings if desired