Looking for a chili recipe for a crowd?  This is the best chili recipe and it's a favorite here in the Midwest.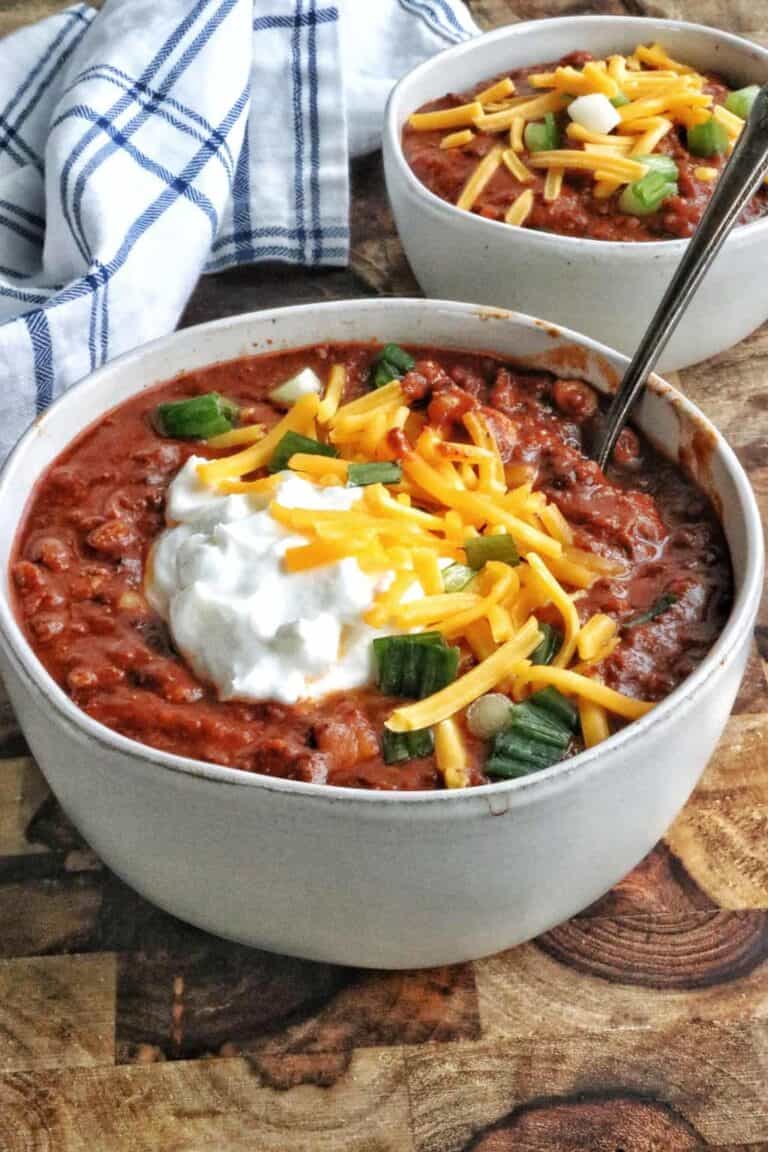 It's the middle of April and well past the prime of chili season.  However, over the past 3 days, we have been snowed in due to a huge blizzard leaving behind over 23 inches of snow!
In April.  I think I need to move.
Nothing goes hand in hand better than snowy weather and a hot bowl of delicious chili.  When I heard the warnings about the weather headed my way, I stopped and picked up ingredients to make the best chili recipe ever.  At least we had that to look forward too.
Besides blizzards and snowy weather, chili season starts here in Green Bay, during football season.
If there is one thing in common with everyone who lives in Green Bay, it's that we are all Green Bay Packer fans.
Many Sundays throughout football season are spent with friends and family watching football games. Midwestern chili is at the center of many of those parties.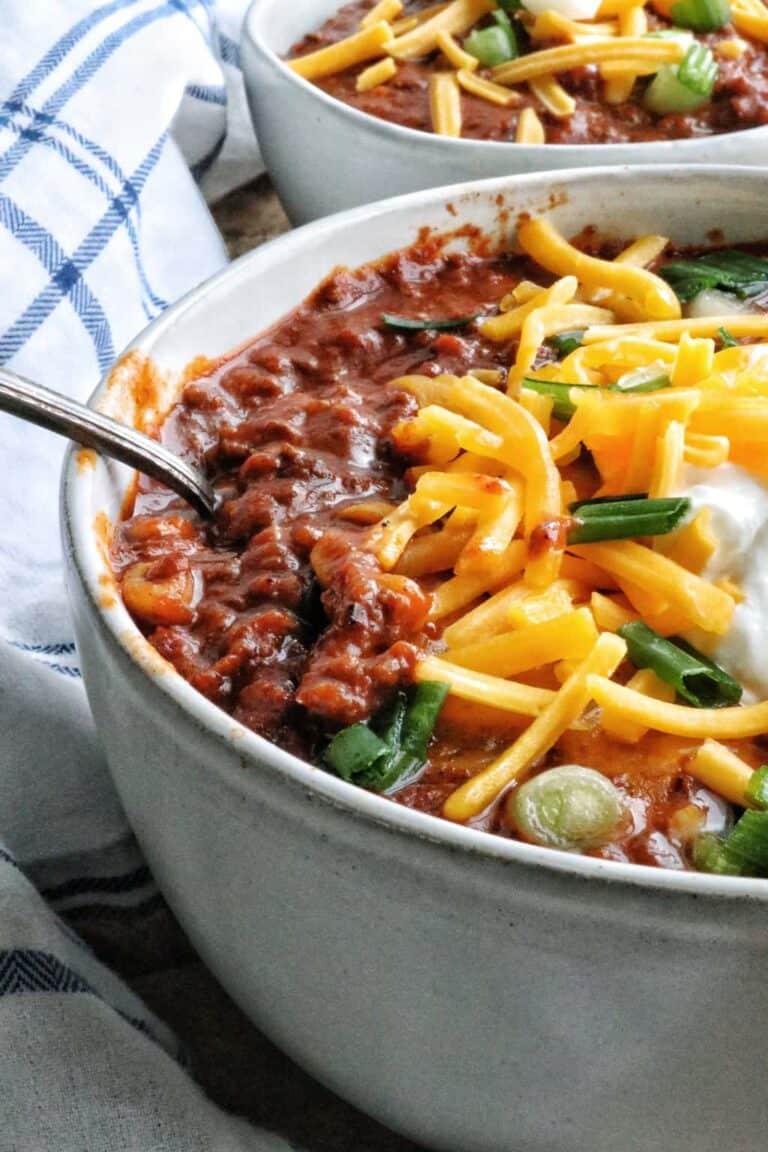 There is a well-known restaurant in Green Bay, right across from the stadium, known for its chili.
This chili recipe is a family favorite and is said to be a replica of this popular restaurants version.  My husband, who is the biggest fan of their chili, votes this recipe as the best chili recipe ever.
This recipe is packed with tomatoes, beans, either ground beef or pork and loads of seasonings.  It's left to simmer all day.  It's even better on day two…
I have yet to master replicating this recipe without the store-bought seasonings, but when I do, you will be the first to know!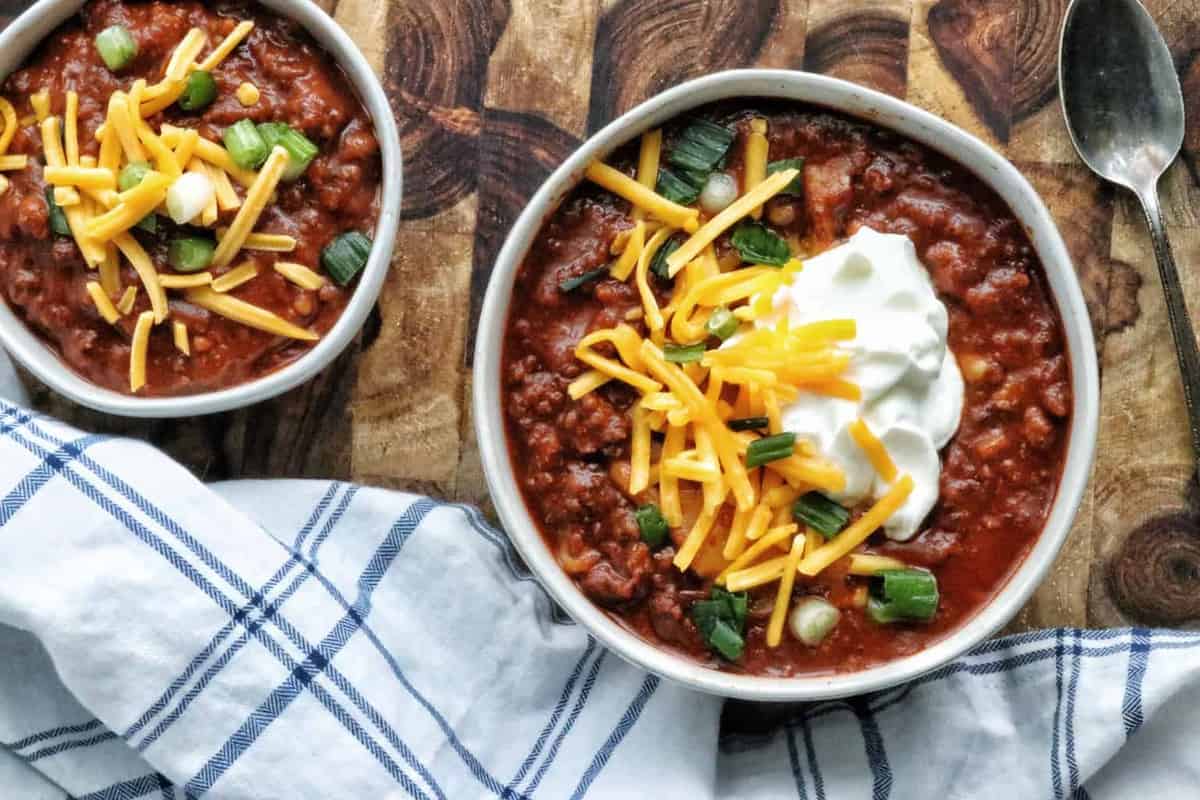 I have made this recipe with a combo of ground beef/ ground pork and ground beef /ground turkey.  You can buy the leanest ground beef to help decrease calories as well.
Next game day, or just any nice cold weekend afternoon, whip up this easy recipe and enjoy.
If you're looking for a healthier chili option, hands down, my families favorite is my Crockpot Pumpkin Chili recipe.  Don't let the pumpkin scare you off.  My kids love this soup – they may or may not know about the pumpkin!
Print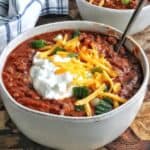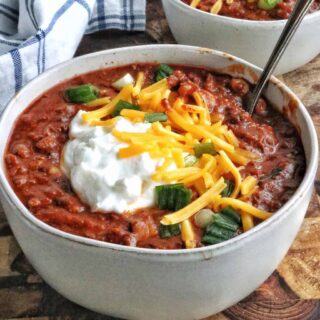 Best Chili Recipe
Author:

Prep Time:

10

Cook Time:

120

Total Time:

2 hours 10 minutes

Yield:

10

Category:

Soup

Method:

Cook

Cuisine:

American
---
Description
The best chili recipe, a classic midwestern recipe packed with tomatoes, beans, ground pork or beef, simmered all day.
---
Ingredients
4 lb seasoned pork sausage (or ground pork, beef, or turkey)
46 oz. tomato juice
2 28 oz. cans crushed tomatoes
4 15.5 oz. cans chili beans
6 cups water
4 packages chili seasonings (2 French's Chili-O + 2 Williams Chili Mix if you can find it)
1/2 cup diced celery
1 large onion, diced
1 tbsp. olive oil
2 bay leaves
---
Instructions
In a large pot, saute onion and celery until translucent.
In the same pot, brown ground pork sausage. Drain and add back to the pot.
Add 4 packages of chili seasonings plus 1-2 cups of water, stir well and let cook 1-2 minutes, or until fragrant.
Add tomato juice, crushed tomatoes, chili beans, water, and bay leaves.
Simmer for at least 2 hours, more if possible.
---
Notes
Serve over spaghetti noodles, top with sour cream, onions, and cheese.
Delicious Recipes Sent Weekly
Subscribe to get our latest content by email.

FREE Kids Cooking eBook!
Do you want your children eating a more varied diet, but wonder how to get more fruit and veggies into their meals & snacks? This eBook is a fun filled way to get kids eating better while having age appropriate fun!