This winter, treat your guests to a mug of Crockpot Hot Cocoa with Raspberry Mint Sauce. Fresh raspberries mix into the hot chocolate with each sip, making this recipe one your guests will remember.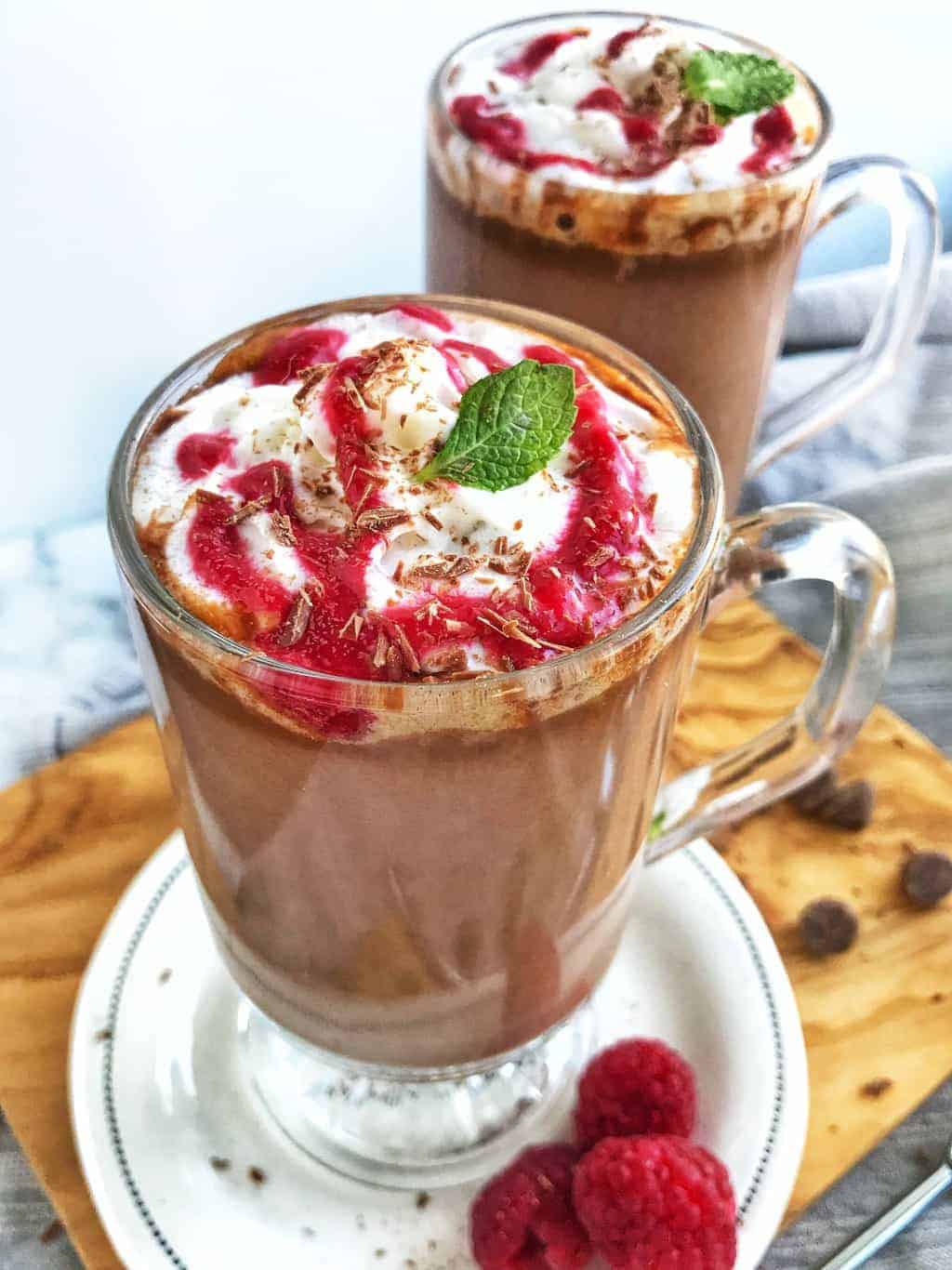 Thanks to Produce For Kids for sponsoring this delicious recipe with made with one of my favorite produce items – fresh raspberries!
Do you like to plan parties?
I do – but I tend to get a bit worked up when preparing for them if I'm not organized. I've learned to start waaay in advance on my to dos or it's chaos at the end. And the simpler I can make the menu, the better.
Right now, I'm planning for my mom's 70th birthday party to be held at my home this weekend. I seem to have taken on a bit much this week, and have been in planning overdrive to make sure everything gets done.
You see, I scheduled a photo shoot to be taken for the Create Kids Club website the morning of the party (what was I thinking?) and I've had my kitchen and living room being repainted for the past 3 days – with the kitchen out of commission. Yikes.
I thought I'd share how I'm going to make this all work.
I planned appetizers for the party that would be a good fit for the morning photo shoot. I'll make them with my kids for the shoot.
Check out how the veggie cups turned out —>
I have all the groceries bought for the recipes – Steaks and salmon on the grill, a huge salad, cheesy potatoes, and a lemon poppy seed cake, my mother's favorite.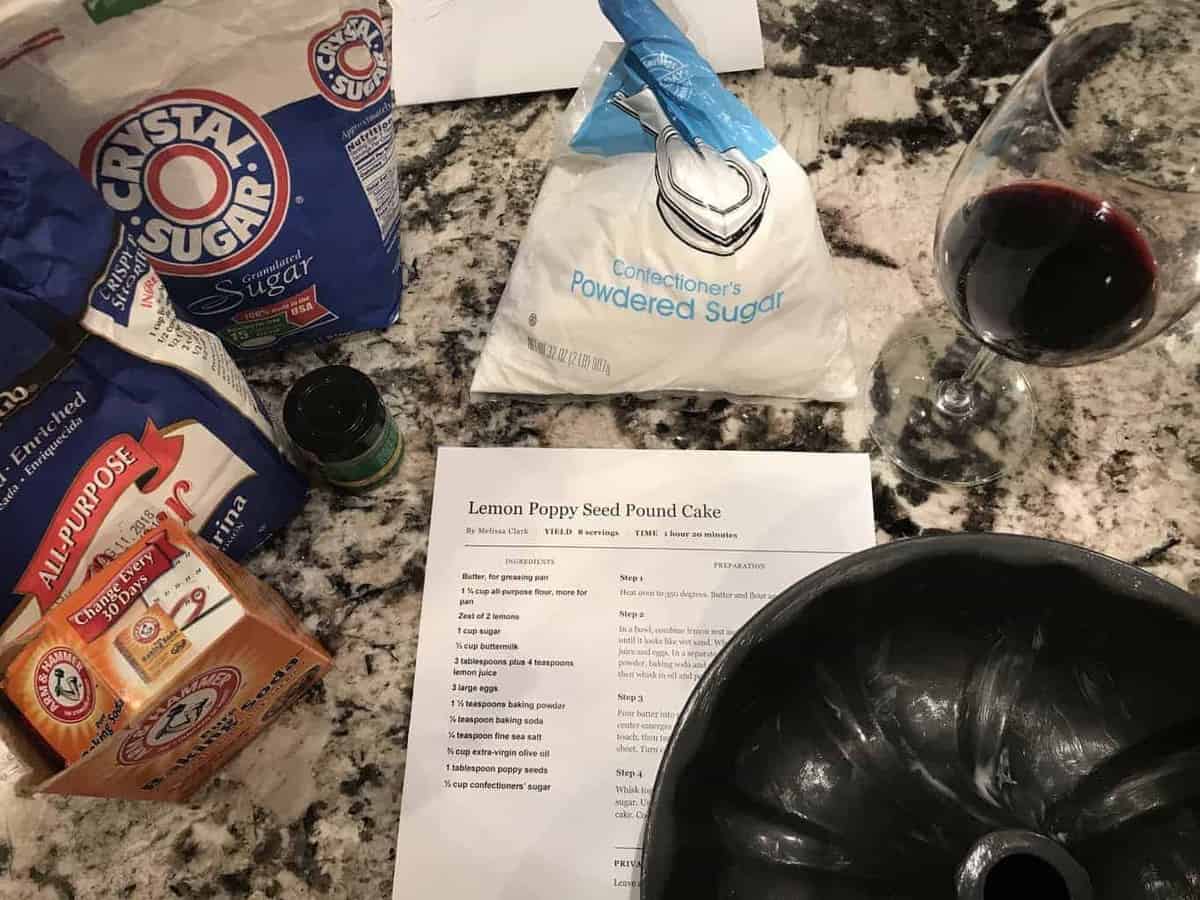 My sisters are coming over in the afternoon to get the dishes prepared and tables set.
For a special drink, I wanted something that both the kids and adults would like – since it's about 11 degrees out right now, I decided on hot cocoa. And because I can't ever leave things as is, I took the hot cocoa recipe to the next level by adding some color, along with a delicious flavor, not to mention nutrient boost —> making it Crockpot Hot Chocolate with Raspberry Mint Sauce.
To make it perfect for a party, this hot cocoa recipe is made in the crockpot. That thing is a lifesaver for busy days.
The Raspberry Drizzle is added after the hot chocolate is poured and is nothing more than raspberries simmered with water and mint leaves. So easy, but look at what it does for this drink: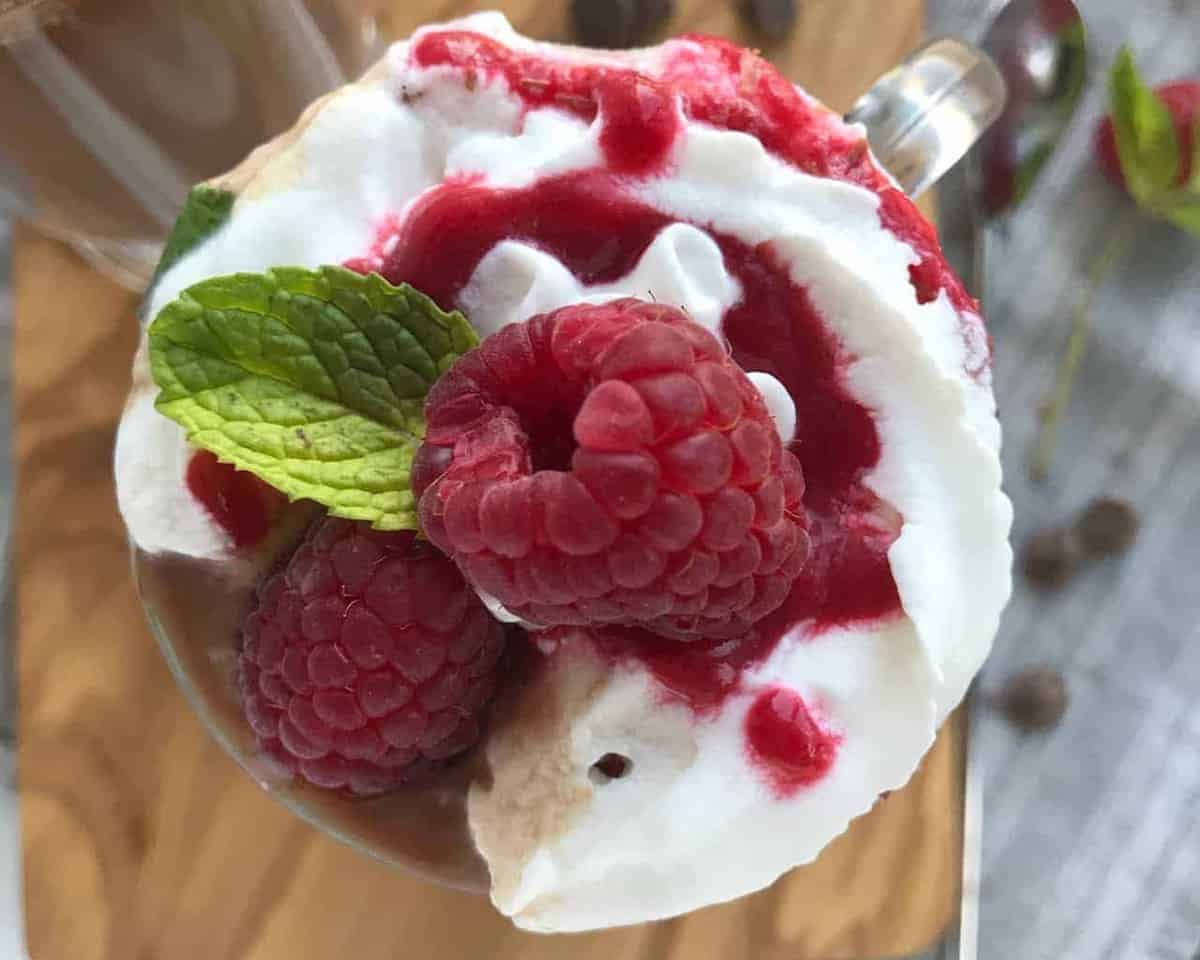 When the whipped cream and raspberry sauce blends into the hot chocolate, the flavor is amazing.
On the day of the party, I had my son make the hot chocolate. He was unsure as he added the sweetened condensed milk, chocolate chips, and water. But he was happy to help, even if skeptical. When it was time to test taste, he was sold on this method for hot chocolate, he couldn't believe how good it was.
I was happy because it's virtualy mess free, simple to make, and you don't have to watch it on the stove. This hot cocoa recipe holds well for long periods of time. Another benefit is that since it's not made with milk, the hot cocoa doesn't form skin on top from sitting as milk would.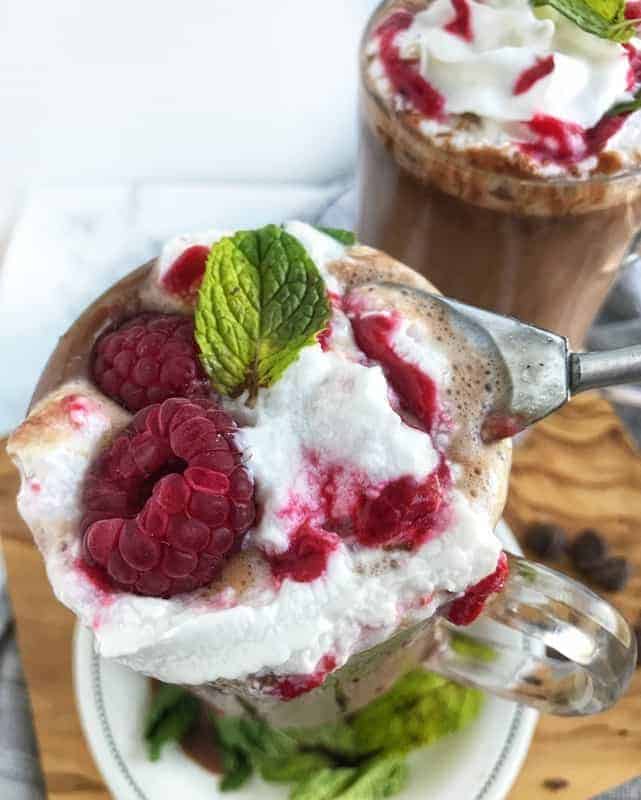 Our dinner turned out extra special, all the kiddos (and adults) loved the hot cocoa – it added a nice touch to the day and lots of memories were made.
So next time you're entertaining a group and want to serve hot chocolate, give this Crockpot Hot Cocoa Recipe a try! If you think you'll like it remember to share and pin for later!
Print
Crockpot Hot Cocoa Recipe
Author:

Prep Time:

5 minutes

Cook Time:

55 minutes

Total Time:

60 minutes

Yield:

10 people

Category:

Drinks

Cuisine:

American
---
Description
A creamy hot cocoa recipe that is perfect for parties. Make in the crockpot this recipe holds well. Serve with or without the raspberry sauce.
---
Ingredients
14 oz. sweetened condensed milk
1 cup high quality semi sweet chocolate chips
4-8 cups water, plus 3 Tbsp.
1/2 cup fresh raspberries, mashed with fork + more for garnish
5-10 leaves fresh mint
whipped cream (optional)
---
Instructions
Over medium low heat, simmer raspberries, mint leaves, and 3 tbsp. water until blended into a sauce like consistency, about 5 minutes.
Use mesh sieve to strain seeds from sauce, using the back of a spoon. Set aside.
Add sweetened condensed milk, chocolate chips, and 4 cups hot water to crockpot. Cook on high for 55 minutes, whisking every 15 minutes. Test taste, adding more water until desired sweetness is reached.
Serve hot cocoa with whipped cream, drizzled raspberry sauce, and a mint leaf if desired.
PIN for later: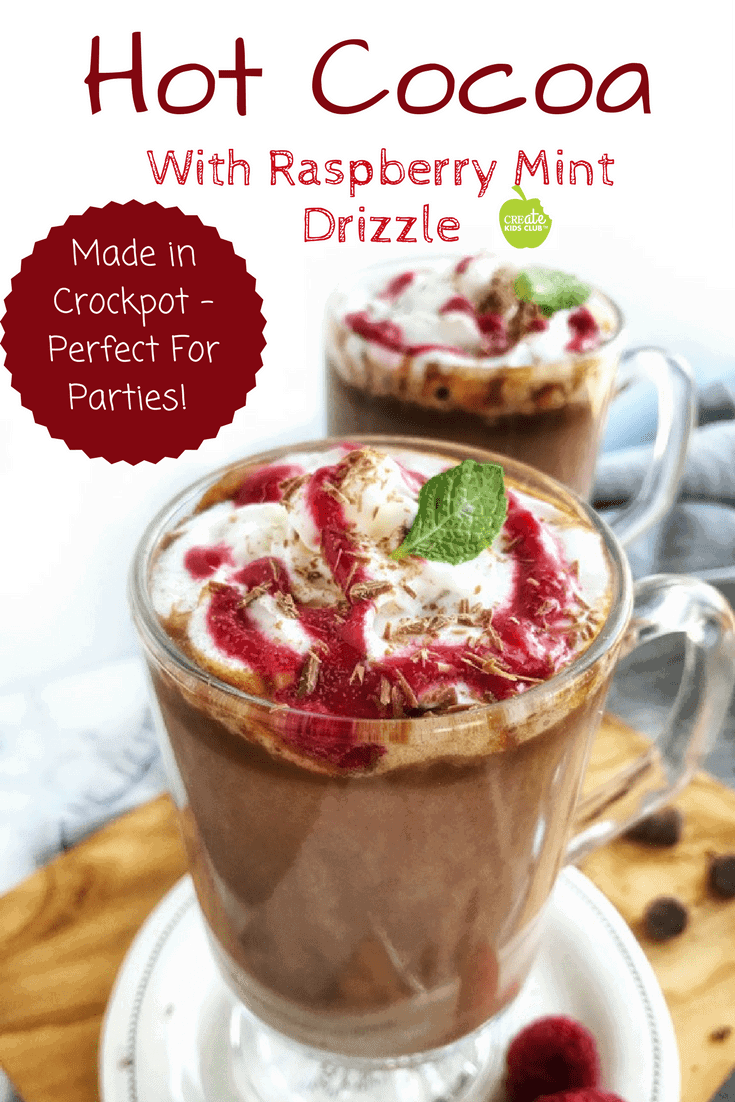 SaveSaveSaveSave
SaveSave
SaveSave
SaveSave
SaveSave
SaveSave
SaveSave
FREE Kids Cooking eBook!
Do you want your children eating a more varied diet, but wonder how to get more fruit and veggies into their meals & snacks? This eBook is a fun filled way to get kids eating better while having age appropriate fun!