Greek Yogurt Spinach Dip uses frozen spinach and Greek yogurt blended with sautéed onions and carrots and gets a flavor boost with a touch of mayo and parmesan cheese. A simple appetizer for your next get together.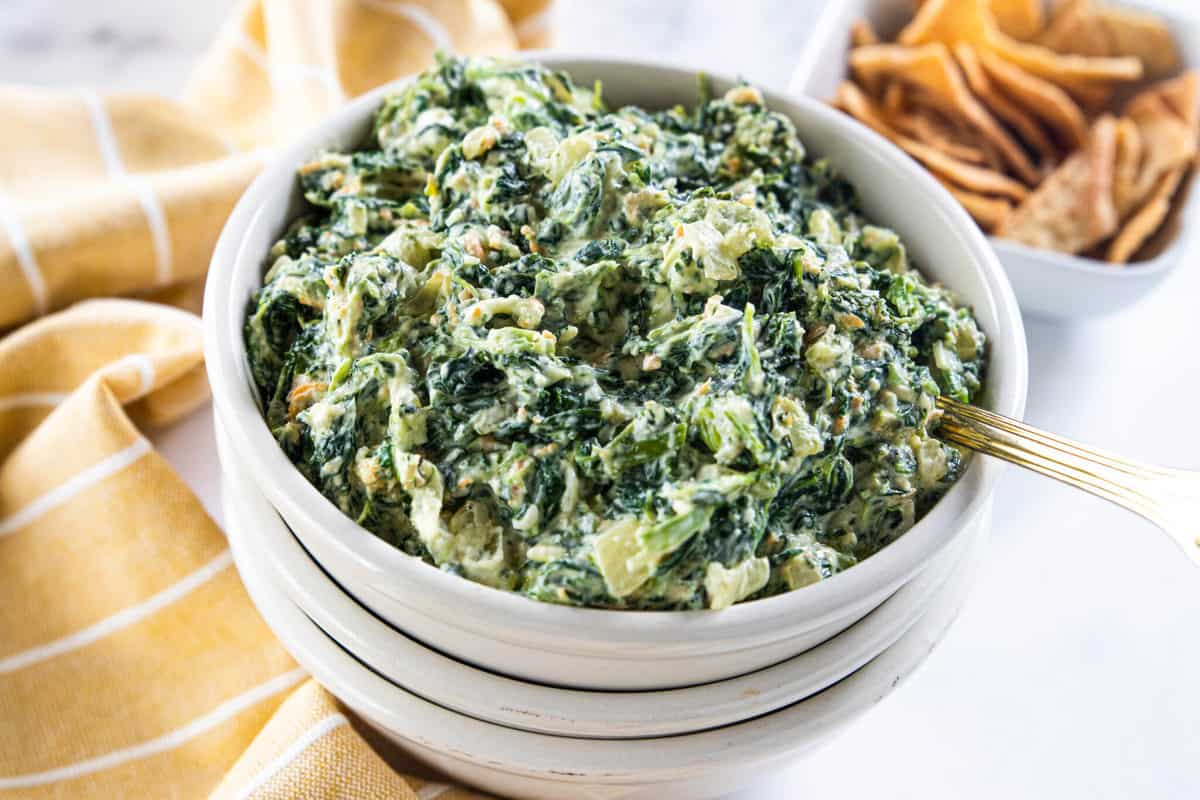 This Greek Yogurt Spinach Dip is a great appetizer to serve at your next event or for an everyday snack. It is adult, kid and dietitian approved!
Even better, it is an easy recipe for your kids to follow step-by-step to create. Have your kiddos grab the equipment and ingredients to start making this spinach dip. You can check tasks off your to-do list while they cook. Encourage them to ask for assistance as needed.
How To Make Greek Yogurt Spinach Dip
Equipment
cutting board
chefs knife
medium-sized skillet
grater
measuring cups
wooden stir spoon
Ingredients
1 tablespoon Olive Oil
1 small onion
2 cloves garlic
1/4 cup carrots, grated
10 ounces frozen spinach, squeeze out extra water
1 cup Greek yogurt
1/2 cup parmesan cheese
1/4 cup light mayo
1 teaspoon salt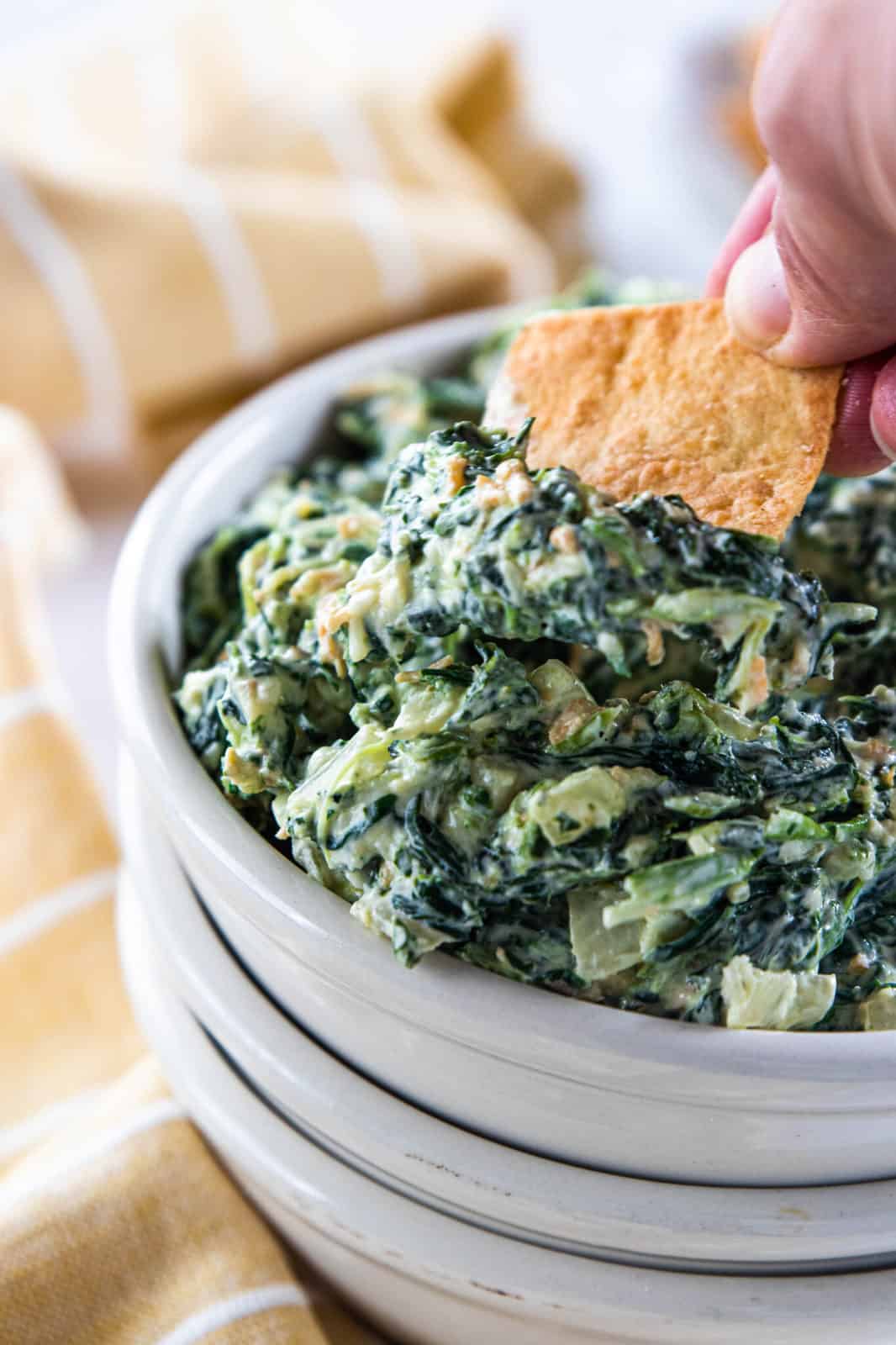 FAQs:
How do I grate carrots?
Follow these simple instructions to grate carrots or any other vegetable:

1. Hold the handle of the grater
2. Keep your fingers away from the cutting surface
3. Push the vegetable away from your body

Always ask for a helper to assist you, if needed.
Do I need to squeeze water from frozen spinach?
For this recipe you will need to squeeze out the water to prevent the dip from being soggy. Here are the steps to take:

1. Thaw the spinach
2. Pile spinach in the center of a paper towel
3. Gather the paper towel to create a pouch around the spinach
4. Hold the pouch over the sink or a bowl and wring out the water

Replace the paper towel as needed. You can also release the water by squeezing the spinach between your hands.
Spinach Dip Calories
You might be wondering where this recipe comes in calorie-wise. This lightened version comes in at 84 calories a serving.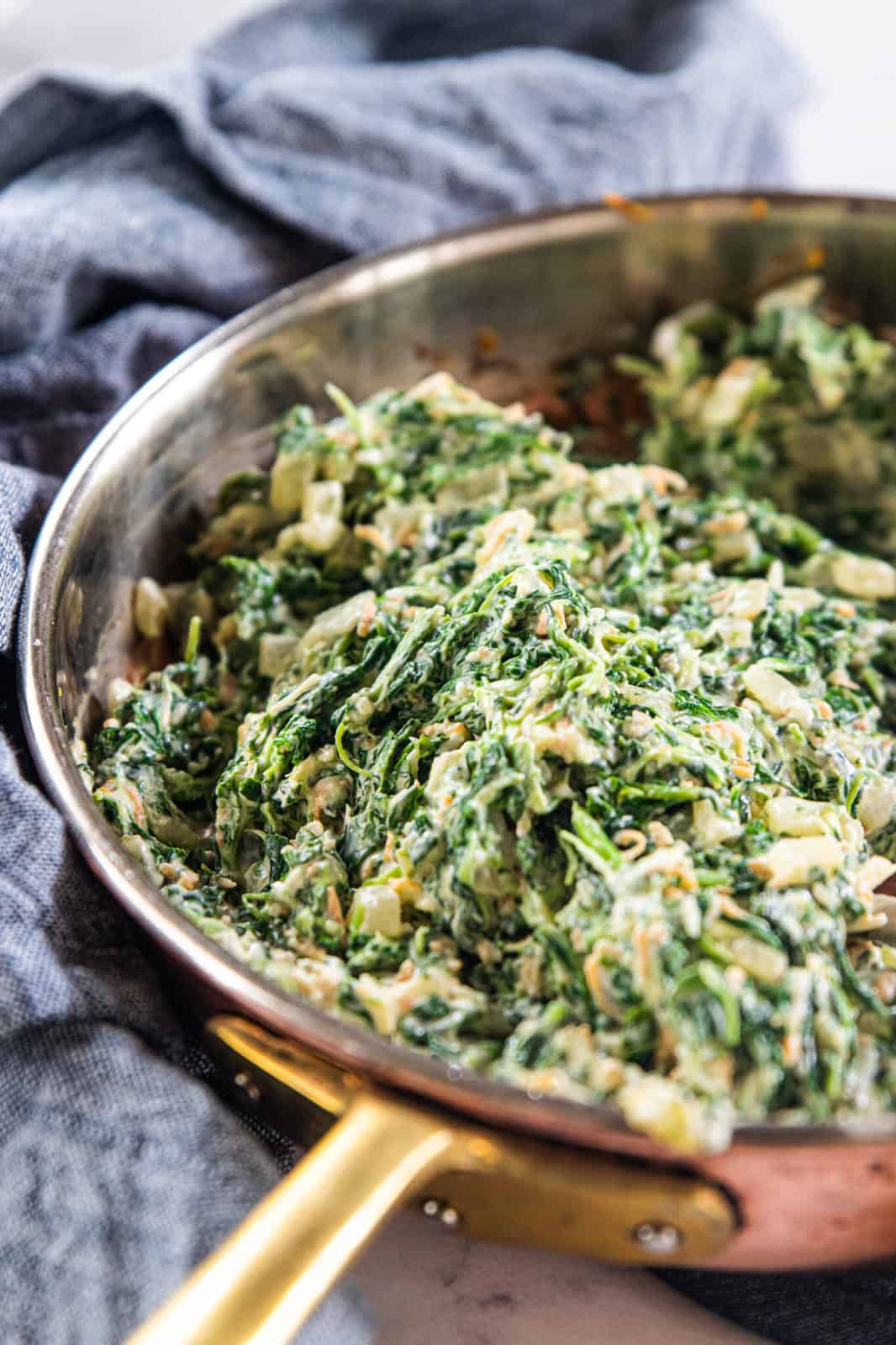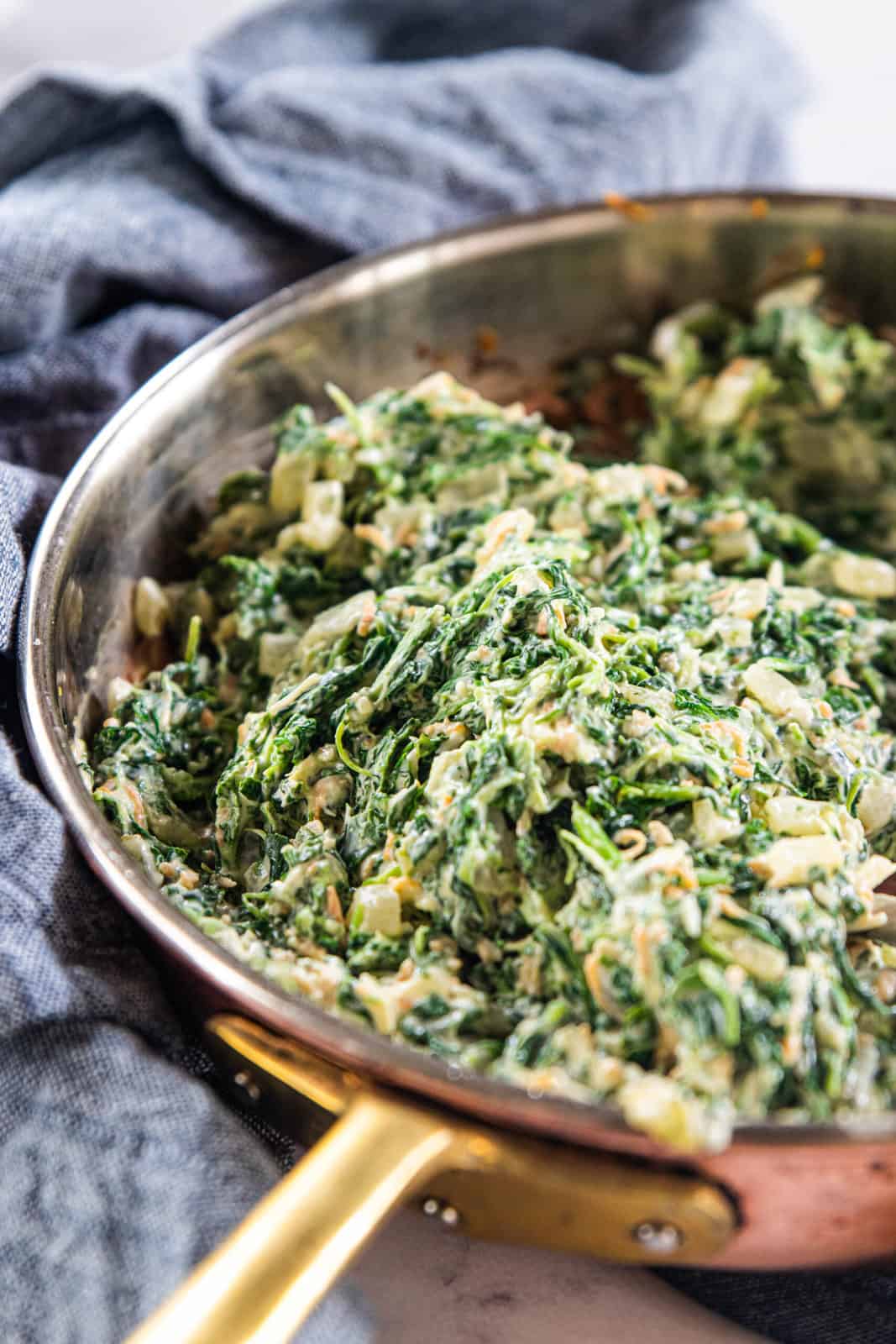 1. Sauté vegetables.
Start the recipe by sautéing the onions and carrots.
"Sautéing" is a cooking method that cooks the ingredient(s) quickly in a small amount of oil or fat. For this recipe, you will sauté the onions and carrots in olive oil.
Add 1 TBSP of olive oil to a skillet over medium-high and heat for 1 minute. Then, add the diced onion and grated carrots - sauté until the onions are translucent (about 3-4 minutes). "Translucent" means that you should be able to almost see through the onions. Stir the onions - watching for your onions to turn from solid white in color to translucent while shrinking in size. The onions will also start smelling sweet because sautéing helps onions develop a sweet flavor.
Then, add the garlic and cook an additional minute. Stir in the drained spinach.
2. Blend the sauce together.
Turn your stovetop to a low heat while you blend the sauce together. In a small bowl combine:
yogurt
parmesan cheese
mayo
salt
Stir together until mixed.
3. Combine sauce and vegetables.
Next, add the yogurt sauce to the skillet with the sautéed vegetables. Stir well and continue to heat until warm.
4. Serve.
After the dip is warm, remove from the heat and pour into a serving bowl.
This dip is great because there are so many things to serve with it. Try any combination of the following dippers:
pita chips
crusty bread
carrot sticks
celery stalks
zucchini strips
radish slices
broccoli or cauliflower florets
Enjoy!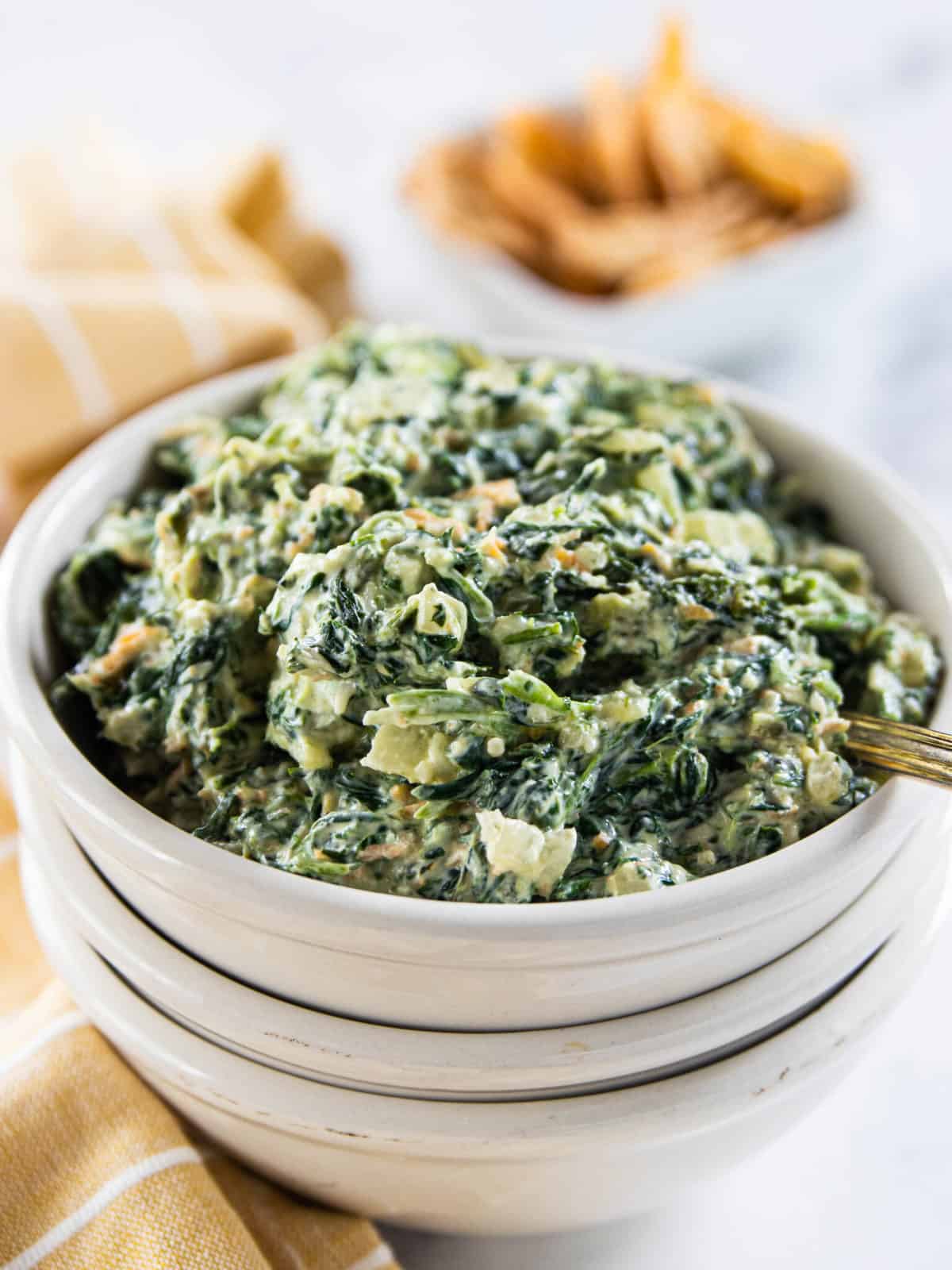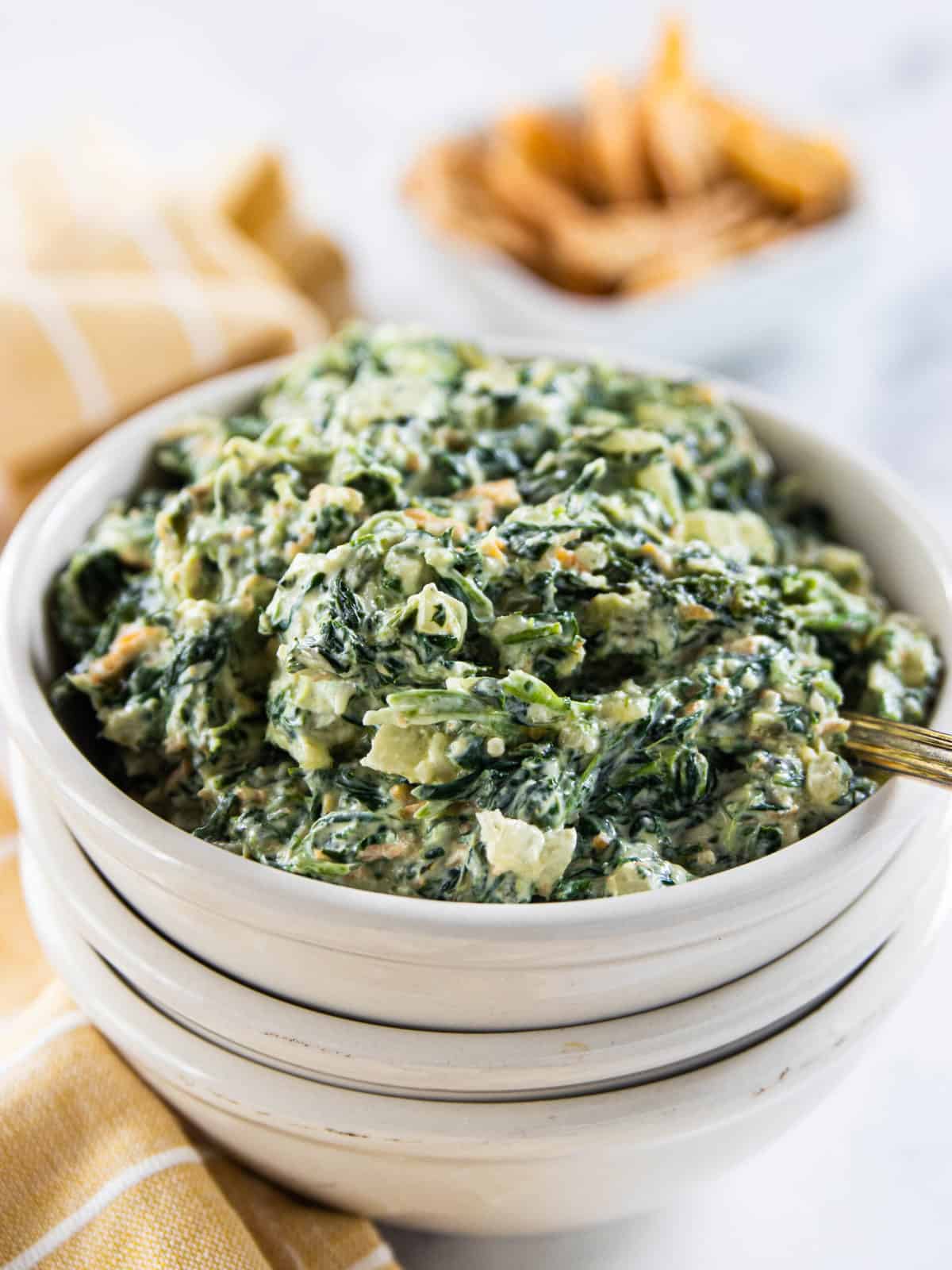 Other Dip Ideas:
If you enjoyed the recipe make sure to leave a comment and a star rating below! Then follow me on social media and tag #createkidsclub if you make the recipe. I love seeing what you come up with!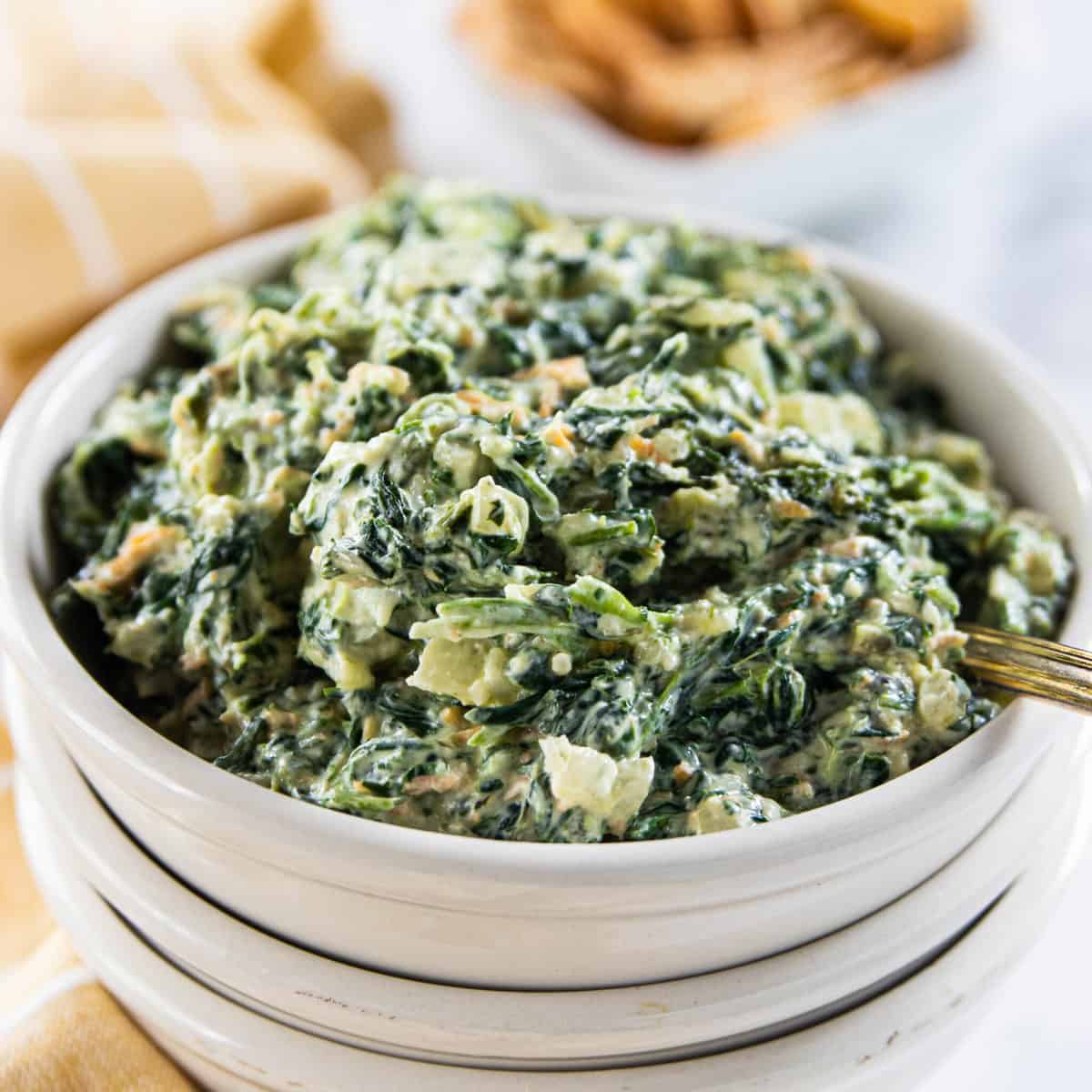 Equipment
cutting board

chefs knife

medium-sized skillet

grater

measuring cups

wooden stir spoon
Ingredients
1

tablespoon

Olive Oil

1

small

onion

2

cloves

garlic

1/4

cup

carrots, grated

10

ounces

frozen spinach, squeeze out extra water

1

cup

Greek yogurt

1/2

cup

parmesan cheese

1/4

cup

light mayo

1

teaspoon

salt
Instructions
Saute vegetables. Heat oil to a medium-sized skillet. When the oil is hot add onions and carrots, cook until onions are translucent. Add garlic and cook an additional minute. Stir in spinach.

Blend the sauce together. In a small bowl combine yogurt, parmesan cheese, mayo, and salt.

Combine sauce and vegetables. Add the yogurt sauce to the sauteed vegetables. Stir well and heat until warmed.

Serve. Serve with pita chips, crusty bread, or a variety of veggies.
Nutrition
Calories:
84
kcal
|
Carbohydrates:
4
g
|
Protein:
6
g
|
Fat:
5
g
|
Saturated Fat:
2
g
|
Cholesterol:
7
mg
|
Sodium:
481
mg
|
Potassium:
176
mg
|
Fiber:
1
g
|
Sugar:
2
g
|
Vitamin A:
4872
IU
|
Vitamin C:
2
mg
|
Calcium:
150
mg
|
Iron:
1
mg