A healthy canned tuna pasta recipe that's simple to make using tinned tuna and is finished in under 20 minutes. This canned tuna recipe is delicious served hot or cold and makes amazing leftovers!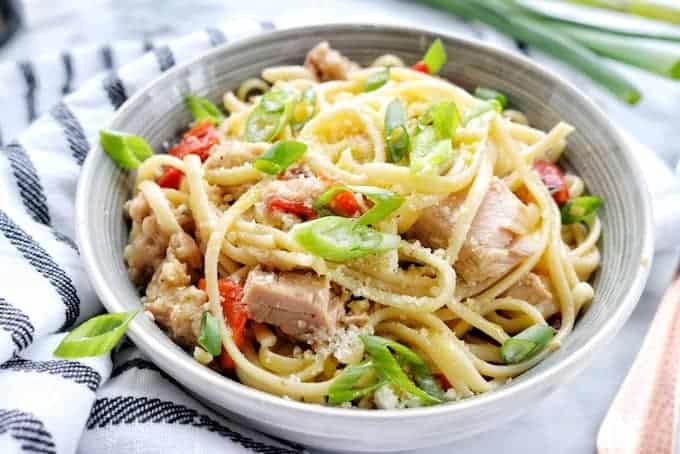 This tuna packed pasta is a quick & easy recipe for busy nights when you don't have time to spend hours in the kitchen. I promise that you can make this recipe from start to finish in less than 20 minutes.
If you haven't cooked with tuna before, this is a great beginner recipe. I personally love to add tuna to my meals because of the health benefits & flavor. Tuna is packed with Omega-3s, vitamins & minerals and offers a delicious flavor. You can usually always find a can of tuna in my pantry!
HOW IMPORTANT ARE OMEGA-3s?
Omega-3s are essential fatty acids, which means that our bodies CANNOT make these fatty acids and we NEED to find ways to add these fatty acids to our diet by food or supplements. Eating tuna is a great & affordable way to add Omega-3s into the diet to meet recommendations. Tuna offers both eicosapentaenoic acid (EPA) and docosahexaenoic acid (DHA), which are two essential Omega-3 fatty acids that provide heart-healthy benefits.
Check out this video for step-by-step instructions to making a tuna pasta recipe!
HOW TO MAKE This EASY CANNED Fish RECIPE:
In a large skillet over medium heat, sautéed olive oil, and garlic. Cook 1 minute.
Add roasted red peppers, season with salt and pepper.
Stir in tuna.
Add linguine and reserved cooking water.
Add parmesan cheese.
Toss the pasta until well blended and serve.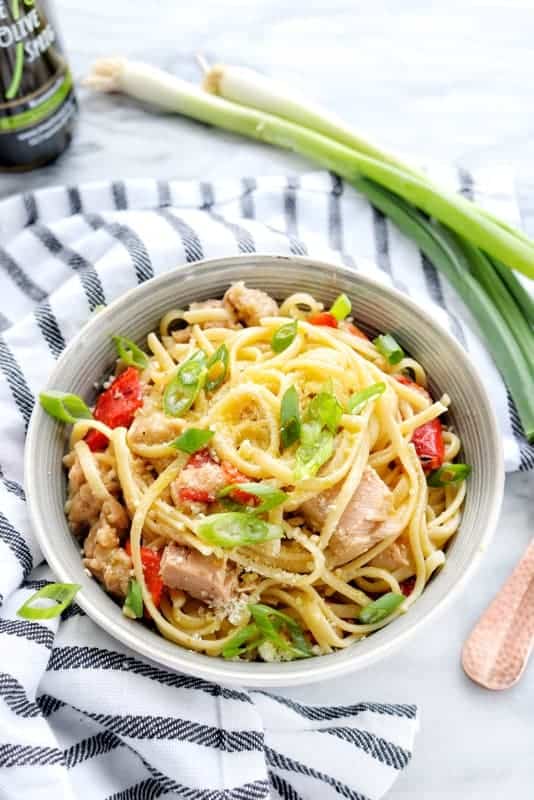 Start by heating olive oil in a pan. Once hot, add garlic and cook for ~ 1 minute.
After that, add the roasted red peppers. I highly recommend saving yourself the time & buying jarred roasted red peppers. However, this How To Roast Red Peppers recipe will take you through the steps if you want to roast your own.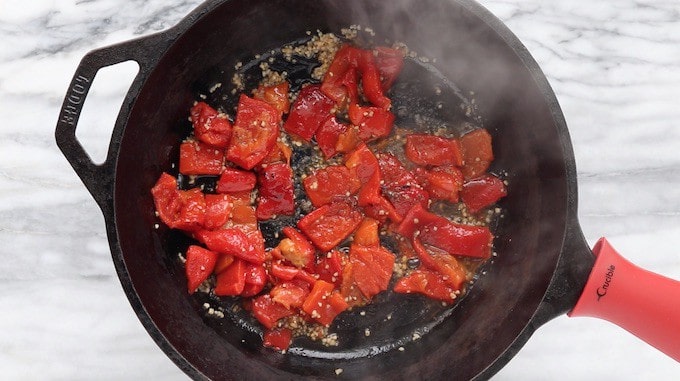 Next, add the canned tuna.
HOW DO I KNOW WHAT CANNED TUNA TO BUY?
There can be a variety of tuna cans at the grocery store and to be honest I didn't know which one to buy the first time I went down the aisle. Knowing the difference between the most common labels can help you decide!
White Tuna - Albacore is the only fish species that can be labeled "White Tuna". I typically buy albacore tuna because my kids like the flavor the best and usually tell me that it tastes like chicken.
Light Tuna - When a can is labeled "light tuna" it is typically Skipjack or Yellowfin tuna. The meat is usually darker in color and has a softer texture than white tuna.
GROCERY STORE TIP: I look for tuna cans without dents, bulging or discoloration to avoid buying a compromised can.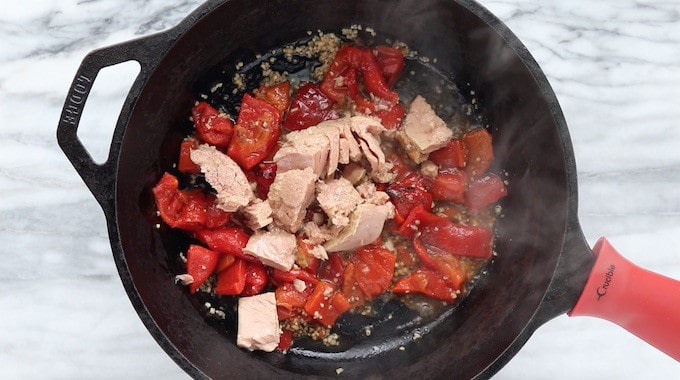 To continue with the recipe, add cooked linguine noodles and 1/2 cup of the reserved cooking water.
Then, add the parmesan cheese. The parmesan will mix with the starchy pasta water to create a creamy sauce.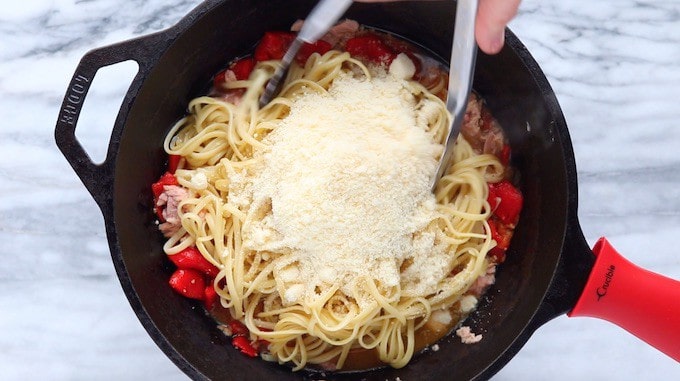 Lastly, stir together. This is also the perfect time to add other ingredients to put a twist on this recipe.
Here are a few options that I have added in the past:
Sautéed onions
Kale
Red pepper flakes
Green onions
Spinach
Broccoli florets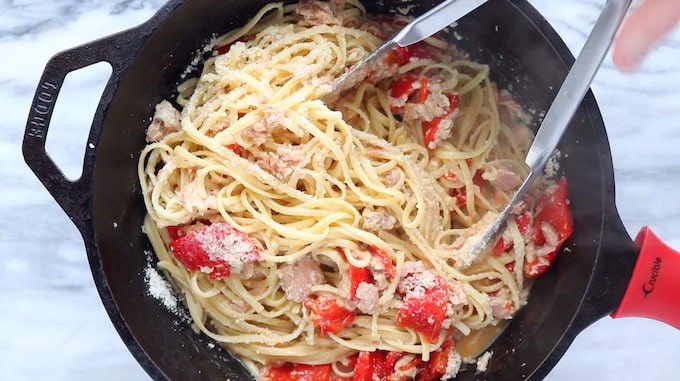 I make my Tuna Pasta all year because it is always a big hit. During the winter months, I serve this dish warm - my kids love to make a large bowl and add a scoop of parmesan cheese to the top. In the summer, I will serve this recipe as a cold dish.
Check out more Canned Tuna Recipes for Dinner
For Canned Salmon recipes Try:
For more pasta recipes try: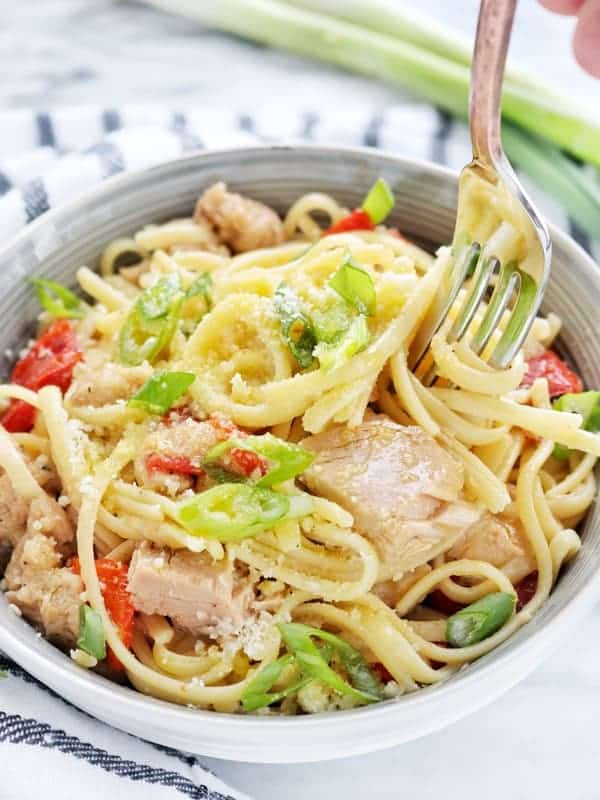 If you enjoyed this recipe, make sure to leave a comment and a star rating below! Then follow me on social media and tag #createkidsclub if you make the recipe. I love seeing what you come up with!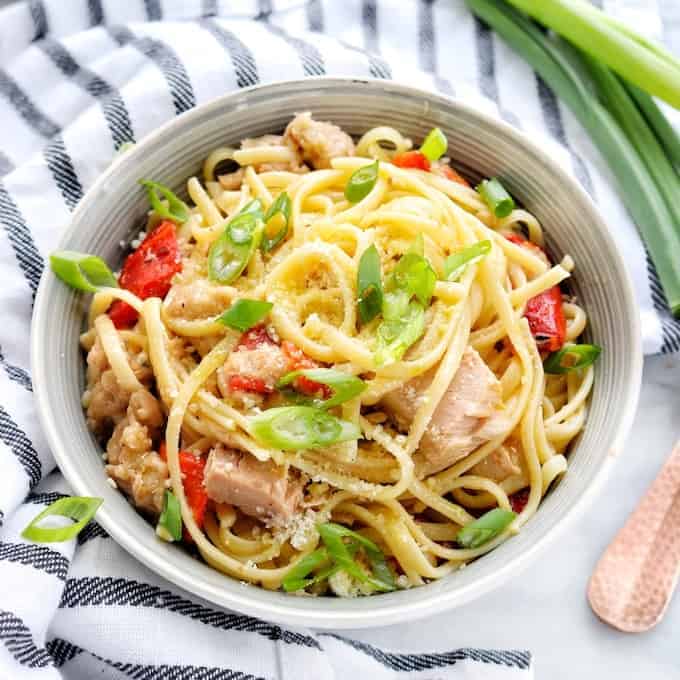 Ingredients
2 6

oz.

cans oil packed tuna

8

oz.

linguine

cooked per package instructions - reserving 1/2 cup cooking water

1/2

cup

jarred roasted red peppers

chopped

1/2

cup

parmesan cheese

1

tbsp.

minced garlic

1

tsp.

salt

1/2

tsp.

pepper
Instructions
In a large skillet over medium heat, saute olive oil and garlic. Cook 1 minute.

Add roasted red peppers, season with salt and pepper.

Stir in tuna.

Add linguine and reserved cooking water.

Add parmesan cheese.

Toss the pasta until well blended and serve.
Nutrition
Calories:
174
kcal
|
Carbohydrates:
13
g
|
Protein:
16
g
|
Fat:
6
g
|
Saturated Fat:
2
g
|
Cholesterol:
12
mg
|
Sodium:
746
mg
|
Potassium:
129
mg
|
Fiber:
1
g
|
Sugar:
1
g
|
Vitamin A:
155
IU
|
Vitamin C:
6
mg
|
Calcium:
117
mg
|
Iron:
1
mg