Crockpot Lasagna Casserole is a healthy crockpot recipe that tastes as good as it looks. This simple lasagna is a delicious crockpot meal for kids your whole family will love.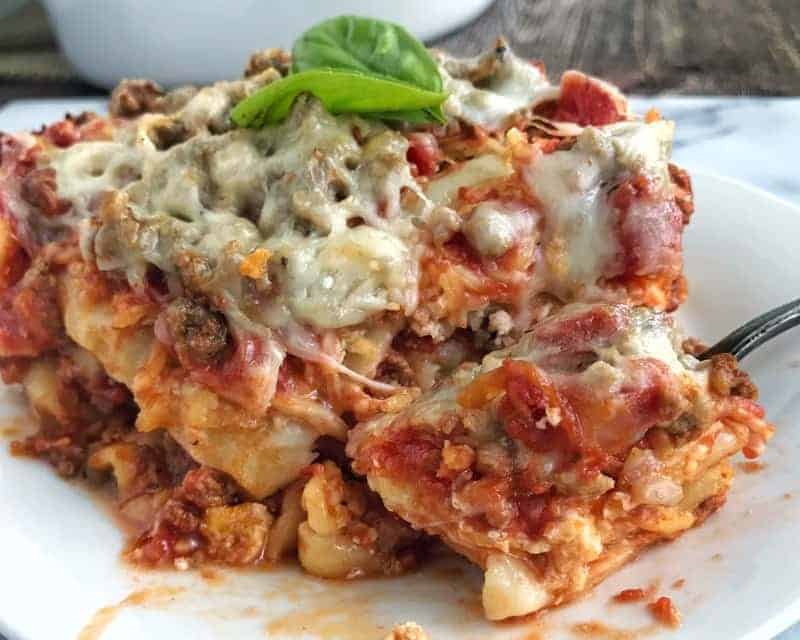 I love lasagna…the cheese combined with the noodles, beef, and tomatoes make the perfect combination. However, I hate making lasagna in the evening and waiting for it to cook in the oven. I feel like it takes FOREVER. So, I decided to create a healthy Crockpot Lasagna that I can throw into the crockpot in the morning and it can be completed by the time we sit down for dinner!
Finding healthy crockpot recipes that are kid-friendly can be a challenge but now you can add this Crockpot Lasagna to your list. My kids love to help me in the kitchen when I am making this lasagna. I encourage you to grab your kiddos and head to the kitchen to teach them how to make this crockpot family meal.
Healthy crockpot recipes can taste amazing.
This crockpot recipe using ground beef is the perfect example of a healthy kid-friendly slow cooker recipe. With half the cheese, lean beef, and simple wholesome ingredients, this recipe is one you need to try. The flavor that develops while cooking all day is so good!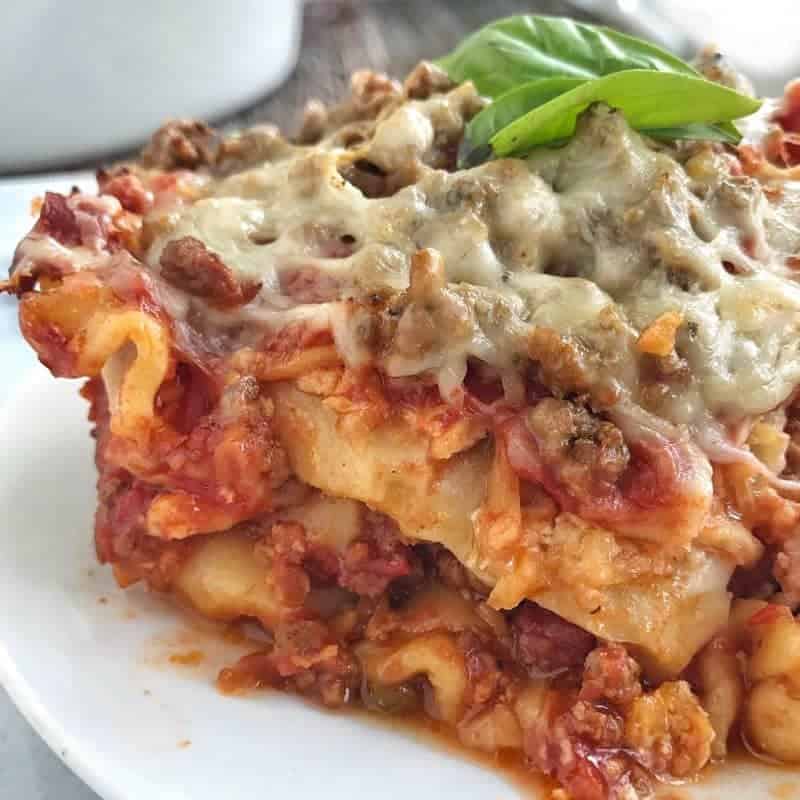 I am here to report that browning the meat before putting it in the crockpot is in fact, very important.
In the chili I made without browning the ground beef, the meat cooked just fine, it was the texture that was not the same. At all.
Moral of the story? Always take 10 minutes to brown meat first.
The flavor browning meat adds, and the texture it provides makes a huge difference in the quality of the end product. Your family will thank you.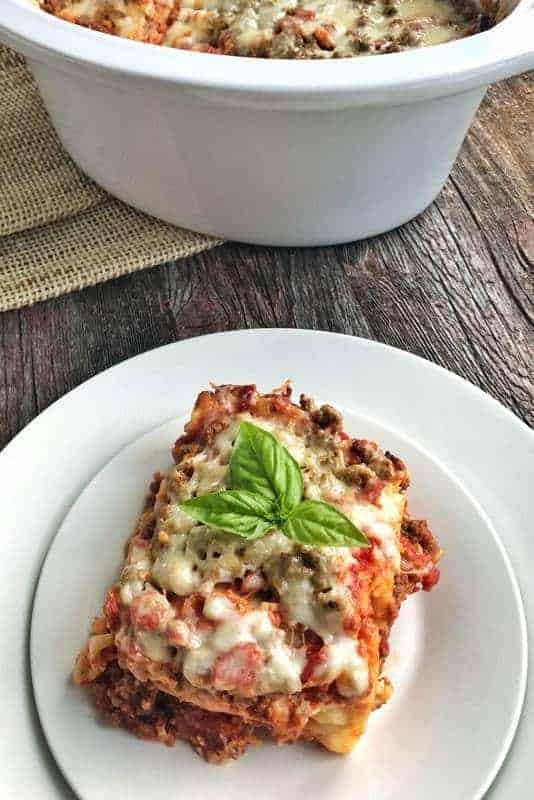 If you're like me, I stock up when lean cuts of beef are on sale and freeze them. However, once frozen, the meat needs to be thawed.
Time Saving Tip –> Buy meat in large quantities, brown all of it, portion and freeze for later use.
There are many unsafe methods of thawing frozen meat, like leaving it out on your counter or running it under hot water. This is a great time to teach your kids about how to properly thaw frozen meat.
Related: Meatball Foil Packs, Philly Cheesesteak Sandwiches, or Cheese Stuffed Burgers.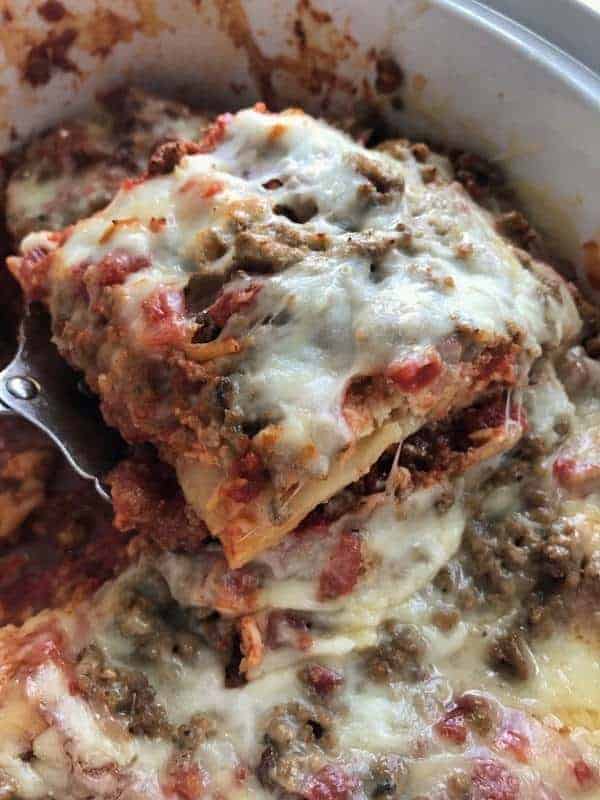 HOW TO MAKE CROCKPOT LASAGNA
To get started, heat olive oil in the bottom of the skillet and add onions. Sauté onions until translucent. Next, add the garlic and oregano for seasoning. These two spices are my favorites for lasagna but feel free to add other seasonings like basil, Italian seasoning, and/or onion powder as desired.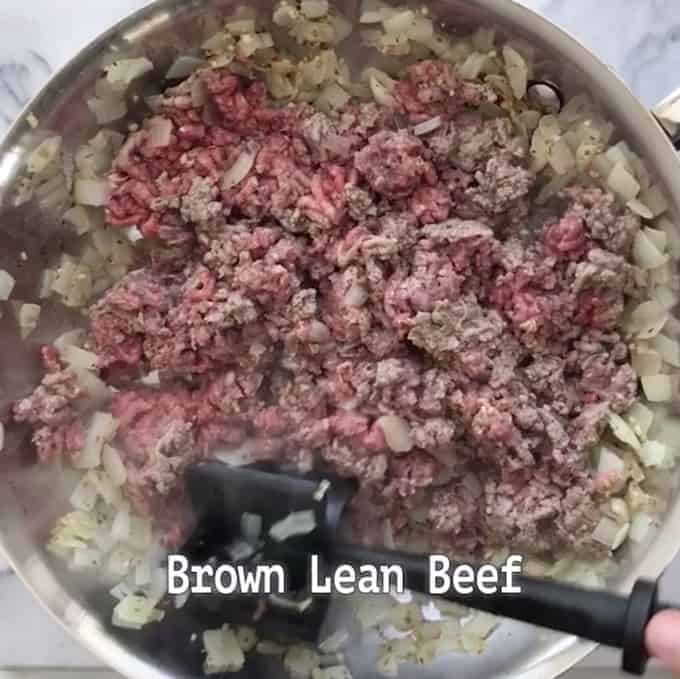 Once you start to smell the garlic cooking in the skillet, add the lean ground beef.
Then, add the tomatoes to the skillet and stir. For this recipe, I used a can of Rotel since it is quick, easy and delicious. Fresh tomatoes or plain canned tomatoes are other great options.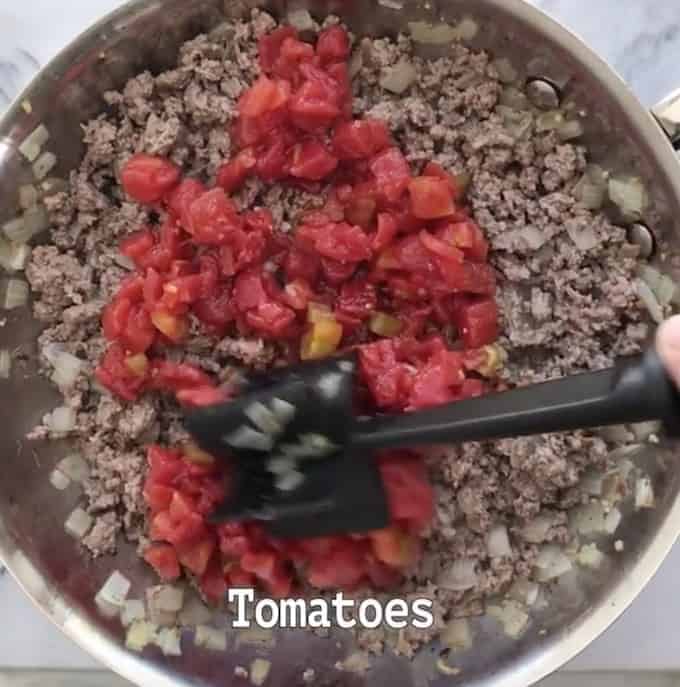 PRO TIP: If you are looking for a creative way to increase vegetables at dinner, add finely chopped bell peppers, mushrooms, kale, or spinach to the beef mixture. The smaller the chop, the less likely your kids (or husband) will pick out the veggies!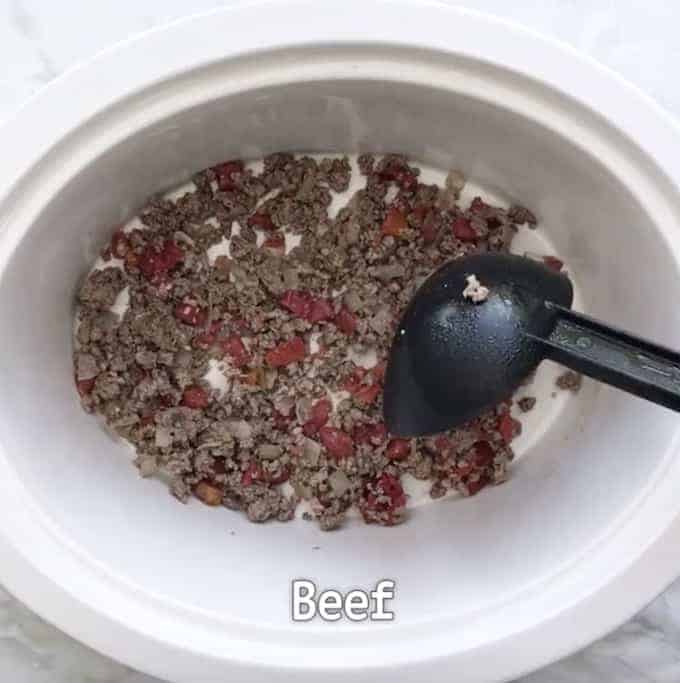 Once the beef is fully cooked, it is time to start layering the ingredients in the crockpot. Start by adding a layer of beef to the bottom.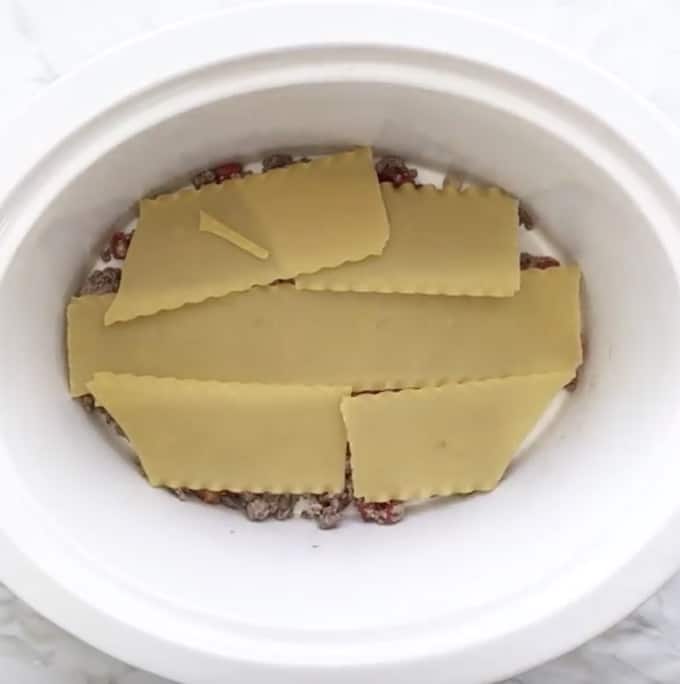 Next, add a layer of uncooked lasagna noodles.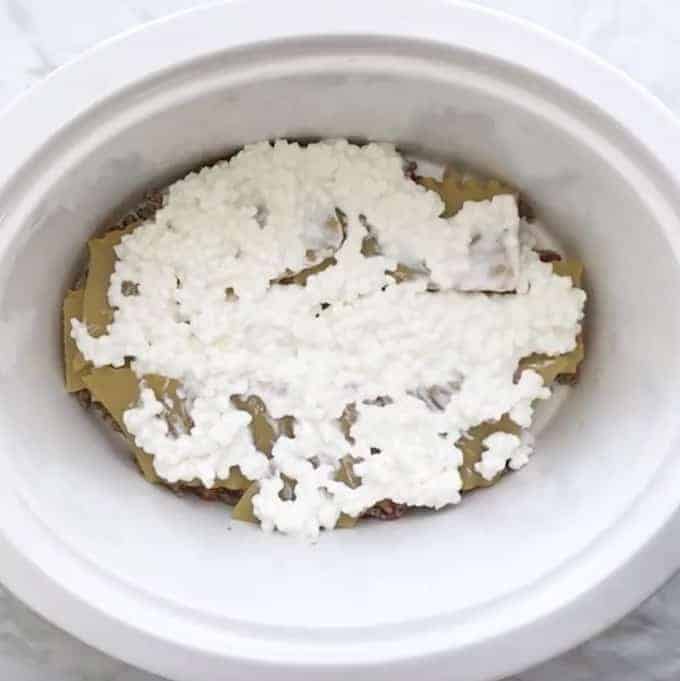 Then, add a layer of cottage cheese. My family likes cottage cheese instead of ricotta cheese but you can make an easy ingredient swap and add a layer of ricotta cheese if you prefer.
Next, add a layer of mozzarella cheese on top of the cottage cheese.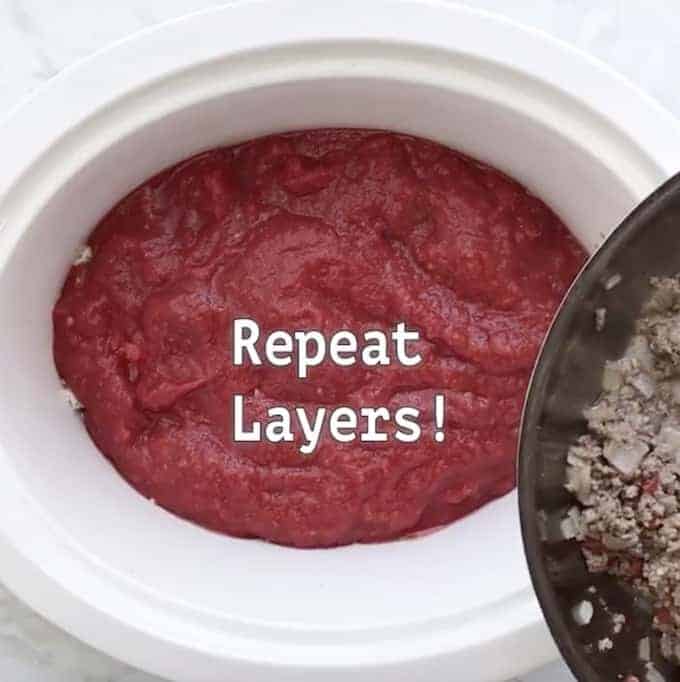 Last but not least, add 1/2 can of crushed tomatoes on top of the cheese. Repeat the layers 1-2 more times depending on the size of your slow cooker.
1/4 ground beef –> lasagna noodles –> cottage cheese –> 1/4 mozzarella cheese –> crushed tomatoes.
If you are ready to start cooking, turn the lasagna on high for 4 hours or low for 6 hours.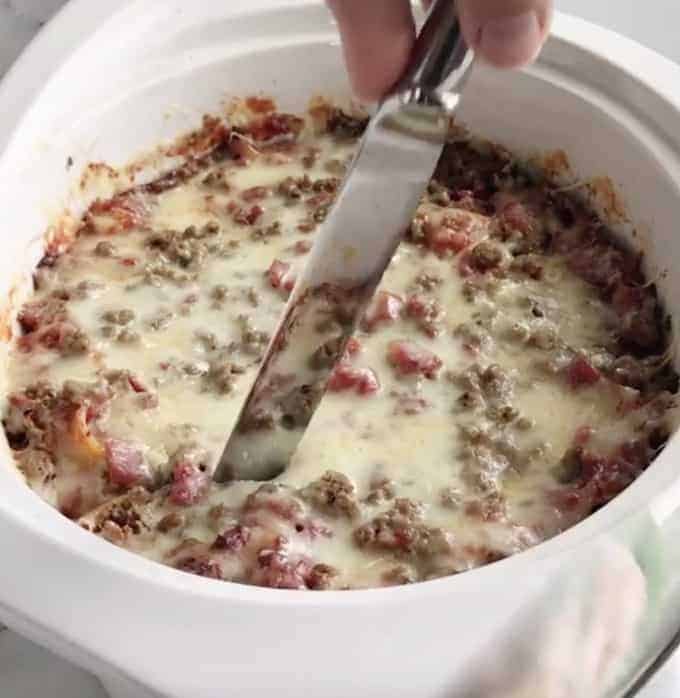 To simplify the recipe, brown ground beef the night before and assemble the lasagna. Put the whole removable liner in the refrigerator overnight. Put it back in the crockpot the next morning to cook while you're away. The last of the cheese gets placed on the top right before serving so it's fresh and delicious and ready to serve!
Some of my other favorite ground beef crockpot recipes include Instant Pot Beef Stroganoff, Tater Tot Casserole, and the Crunch Wrap Supreme.
Crockpot Lasagna Casserole
Crockpot Lasagna Casserole is a healthy crockpot recipe that tastes as good as it looks. This simple lasagna is a delicious crockpot meal for kids your whole family will love.
Pin Recipe
Print Recipe
Ingredients
1

lb.

ground round beef

divided

1

medium onion

diced

1

tbsp.

olive oil

1

can Rotel Tomatoes

drained

1

tbsp.

minced garlic

1

tbsp.

dried oregano

15

whole lasagna noodles

divided (Don't use the no cook noodles)

28

oz.

can crushed tomatoes

divided

15

oz.

can tomato sauce

16

oz.

cottage cheese

divided

2

cups

shredded mozzarella cheese

divided

1/4

cup

Parmesan cheese
Instructions
In a medium-sized skillet, heat olive oil.  Sauté onions until translucent. Add beef, cook until browned.  Drain. Add garlic and oregano to beef, let cook 1 minute. Stir in Rotel tomatoes.

In crockpot, layer 1/4th of beef mixture. Add 4-5 lasagna noodles on top, breaking to fit. Top with 1/3 cottage cheese then 1/4 of the mozzarella cheese. Pour the whole can of tomato sauce on top of mozzarella cheese. Layer another 1/4 of the ground beef, 4-5 lasagna noodles, 1/3 cottage cheese, and 1/4 mozzarella cheese. Pour 1/2 of the can of crushed tomatoes on top of the mozzarella cheese.

Repeat the layers once more.  1/4 ground beef, lasagna noodles, the last of the cottage cheese, 1/4 mozzarella cheese, and then the rest of the crushed tomatoes. Add the last of the beef mixture on top.  Cover. Place into refrigerator or crockpot for cooking.

Cook on low for 6 hours, or high for 4 hours. Top with remaining mozzarella cheese and Parmesan cheese.  Cover and let the cheese melt.  Serve immediately.
Nutrition
Calories:
442
kcal
|
Carbohydrates:
44
g
|
Protein:
27
g
|
Fat:
19
g
|
Saturated Fat:
8
g
|
Trans Fat:
1
g
|
Cholesterol:
59
mg
|
Sodium:
708
mg
|
Potassium:
693
mg
|
Fiber:
3
g
|
Sugar:
7
g
|
Vitamin A:
615
IU
|
Vitamin C:
12
mg
|
Calcium:
267
mg
|
Iron:
5
mg
Delicious Simple Family Recipes
Join Create Kids Club & get our 10 Favorite Crockpot Recipes ebook!