A healthy crock pot recipe that tastes as good as it looks.  Crock Pot Lasagna is a healthy dinner recipe that your whole family will love.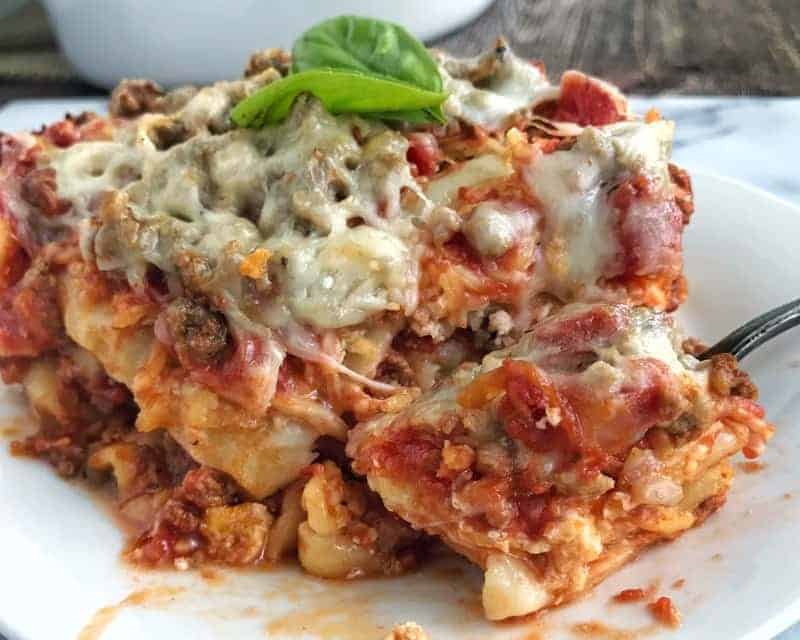 Healthy crockpot recipes can taste amazing.
This healthier lasagna recipe is the perfect example.  With half the cheese, lean beef, and simple wholesome ingredients, this recipe is one you need to try. The flavor that develops while cooking all day is so good!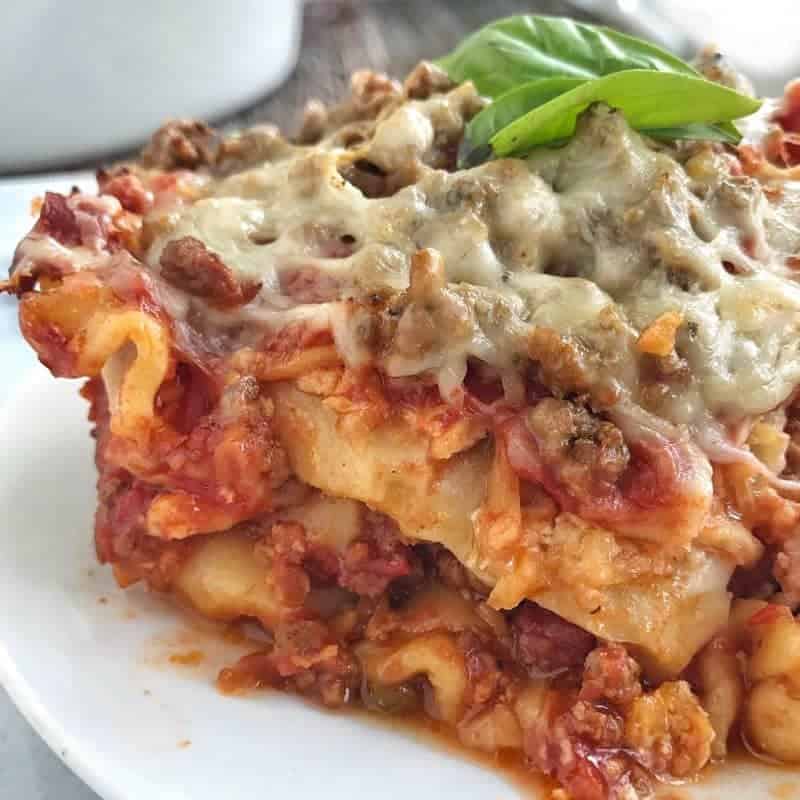 By now you know I love my crock pot.  It makes feeding a family so much easier.
My favorite recipes to make in the crock pot are those that I can dump everything in and let it cook.  But there are some recipes where this just doesn't work.  Believe me, I've tried.
Last fall, I decided I wanted to see what would happen if I didn't brown the ground beef before adding it to the crockpot.  How awesome would it be if we could skip the browning step?!
I am here to report that browning the meat before putting it in the crockpot is in fact, very important.
In the chili I made without growing the ground beef, the meat cooked just fine, it was the texture that was not the same. At all.
Moral of the story? Always take 10 minutes to brown meat first.
The flavor browning meat adds, and the texture it provides makes a huge difference in the quality of the end product.  Your family will thank you.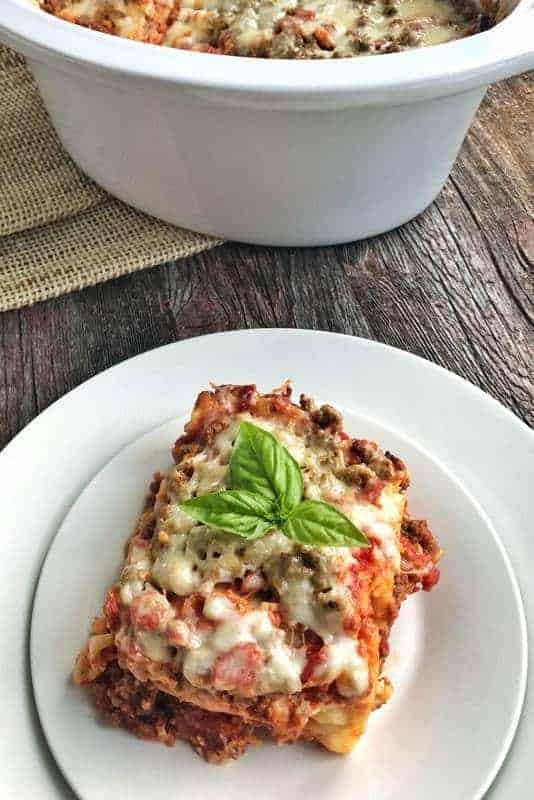 Time Saving Tip –> Buy meat in large quantities, brown all of it, portion and freeze for later use.  
If you're like me, I stock up when lean cuts of beef are on sale and freeze them.  However, once frozen, the meat needs to be thawed.
There are many unsafe methods of thawing frozen meat, like leaving it out on your counter or running it under hot water. Instead, check out this quick way to safely thaw beef.
I have to ask – does anyone else use the word dethaw?! I cannot be alone in this, am I?! I know it's incorrect, but I use dethaw all the time.
I had to look it up.  Here's what I found from the very reputable source, Urban Dictionary 😉
A confusing conjunction of "defrost" and "thaw". Has a corresponding etymology to unthaw.

Literally

it means to refreeze, however, it has never actually been used correctly in conversation. Ever. In

fact

, it is always used to

mean

the opposite- a synonym for thaw. Just say thaw, not dethaw, not unthaw, just thaw.
So there you have it.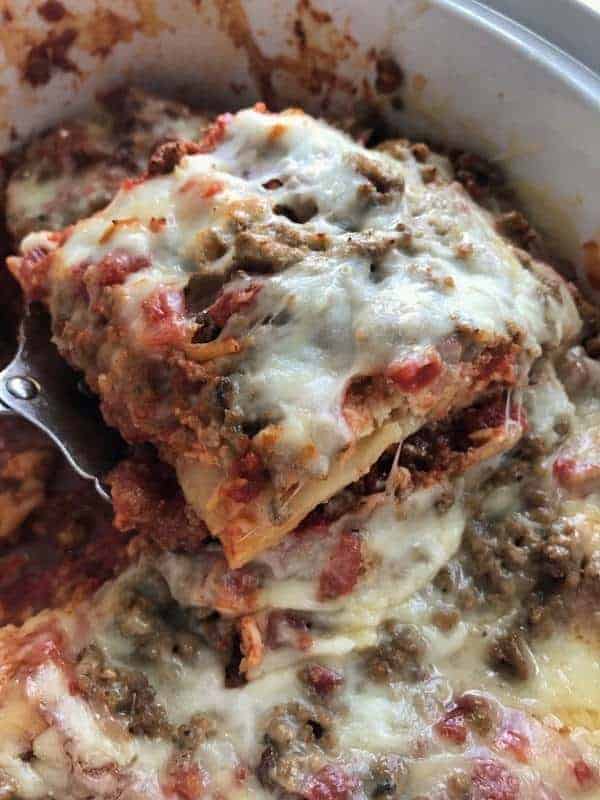 The recipe below uses the lean ground beef – ground round.  If you're not sure about the best way to cook this lean beef, check out this helpful infographic on 3 Simple Steps Cooking Lean Beef in a Skillet.
Are you part of the 67%?
New research published in Obesity Science & Practice, was released this summer comparing overweight adults during a 16-week weight loss intervention.
The study compared weight loss between two groups on a high protein diet.  Group 1 included lean beef at least 4x/week into their diet and Group 2 restricted all red meat.
What were the results? 
Body weight and fat mass were reduced in both groups along with improvements in total cholesterol, LDL cholesterol, triglycerides and blood pressure, concluding that diets high in lean meats can still be effective for decreasing body weight, improving body composition, and cardiometabolic health.  
I point this out for those who might be concerned about adding red meat into their diets.  The recipes I share are all made with lean cuts of beef which are the choices we want to focus on for health, including this amazing lasagna!
Growing up, I have fond memories of my mothers lasagna.  But I also remember her slaving over it for hours.
I am not willing to slave for hours on a meal midweek, so I developed a delicious alternative that works amazingly in the crock pot.  And what's better than healthy crock pot recipes!? Look at how simple this is!
To simplify the recipe, brown ground beef the night before and assemble the lasagna.  Put the whole removable liner in the refrigerator overnight. Put it back in the crockpot the next morning to cook while you're away.  The last of the cheese gets placed on top right before serving so it's fresh and delicious and ready to serve! Check out how simple this recipe it to make:
Print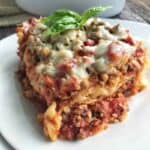 Crockpot Lasagna
Author:

Prep Time:

20 minutes

Cook Time:

360 minutes

Total Time:

380 minutes

Yield:

8 people

Category:

Main Course

Method:

Slow Cook

Cuisine:

Italian
---
Description
This healthier lasagna recipe is the perfect weeknight dinner meal. With half the cheese, lean beef, and simple wholesome ingredients, this recipe is one you need to try. The flavor that develops while cooking all day is amazing.
---
Ingredients
1 lb. ground round beef, divided
1 medium onion, diced
1 tbsp. olive oil
1 can Rotel Tomatoes, drained
1 tbsp. minced garlic
1 tbsp. dried oregano
15 whole lasagna noodles, divided (Don't use the no cook noodles)
28 oz. can crushed tomatoes, divided
15 oz. can tomato sauce
16 oz. cottage cheese, divided
2 cups shredded mozzarella cheese, divided
1/4 cup Parmesan cheese
---
Instructions
In medium sized skillet, heat olive oil.  Sauté onions until translucent.
Add beef, cook until browned.  Drain.
Add garlic and oregano to beef, let cook 1 minute.
Stir in Rotel tomatoes.
In crockpot, layer 1/4th of beef mixture.
Add 4-5 lasagna noodles on top, breaking to fit.
Top with 1/3 cottage cheese then 1/4 of the mozzarella cheese.
Pour the whole can of tomato sauce on top of mozzarella cheese.
Layer another 1/4 of the ground beef, 4-5 lasagna noodles, 1/3 cottage cheese, and 1/4 mozzarella cheese.
Pour 1/2 of the can of crushed tomatoes on top of the mozzarella cheese.
Repeat the layers once more.  1/4 ground beef, lasagna noodles, the last of the cottage cheese, 1/4 mozzarella cheese, and then the rest of the crushed tomatoes.
Add the last of the beef mixture on top.  Cover. Place into refrigerator or crock pot for cooking.
Cook on low for 6 hours, or high for 4 hours.
Top with remaining mozzarella cheese and Parmesan cheese.  Cover and let cheese melt.  Serve immediately.
Delicious Recipes Sent Weekly
Subscribe to get our latest content by email.
For more lean beef recipes your family will love, check out the following recipes: Meatball Foil Packs, Philly Cheesesteak Sandwiches, or Cheese Stuffed Burgers. 
Learn How To Stock A Healthy Pantry - The Easy Way!
Join the club & get your FREE Pantry Staples checklist. You'll receive our weekly updates on quick, healthy recipes.