An Old Fashioned chicken pot pie recipe that's filled with hearty vegetables and chicken in a creamy sauce that comes together quickly using pre-made pie crusts.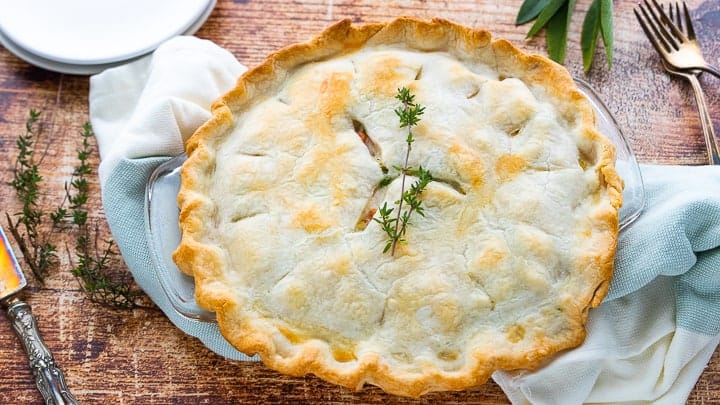 I used to be afraid of making an old-fashioned homemade pot pie. It looked so complicated and the idea of making a crust from scratch was too much.
However, after my daughter kept requesting chicken pot pie as her dinner of choice, I decided I needed to tackle this comfort food and add it to my already favorite Crustless Chicken Pot Pie.
I'm going to show you how easy this recipe is to make. I use store-bought crusts, but if you want to make your own try this easy and delicious recipe for Homemade Pie Crust.
Watch the video or keep reading for step by step instructions on how to make an easy homemade chicken pot pie with pie crusts!
How To Make
In order for the inside mixture of the pot pie to be creamy and firm, you will need to make a roux.
Pro Tip: A roux is simply a mixture of fat and flour that thickens sauces.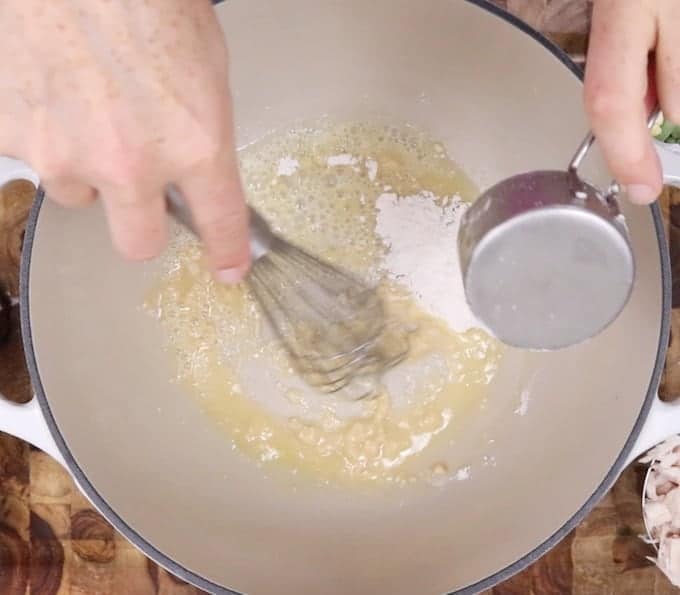 The roux will help the pot pie to stay inside the crust and not be runny as soon as the pie is cut.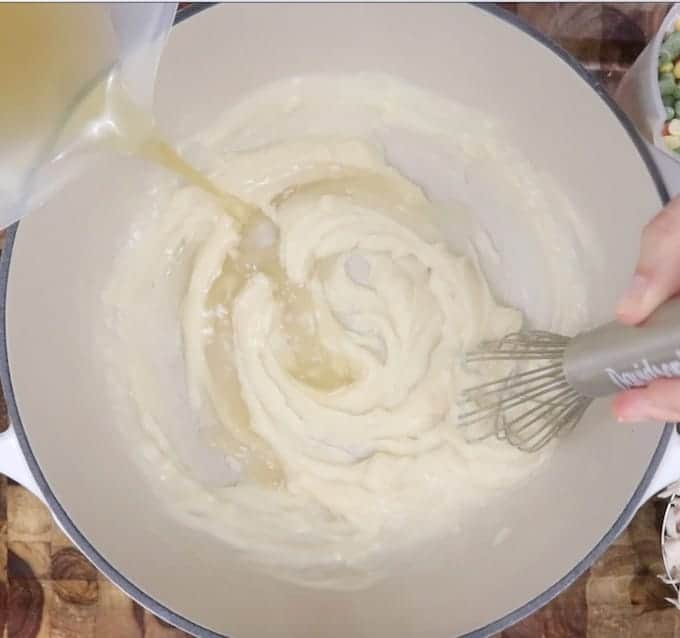 HOW DO YOU MAKE A ROUX?
Start by melting the butter (don't have the pan too hot or you can burn the butter). Then, whisk in the flour.
Your mixture will be very thick – not to worry – you'll be adding broth.
Kitchen Tip: Don't add all the broth at once, slowly add it to the flour and butter mixture, whisking and bringing the temperature of the mixture back to a simmer before adding more broth.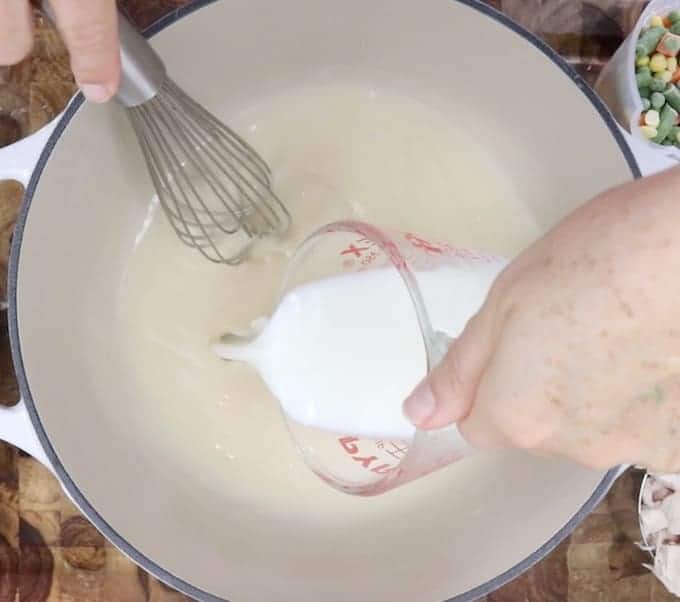 After the broth is added and simmering it's time to add the milk. You can use any kind of milk you have in the house (1%, 2%, heavy cream or half and half).
The same rules apply here. Slowly whisk in the milk allowing the temperature to come back to a simmer before adding more. When you're done adding the milk the mixture should be very creamy and not runny.
If your mixture is not as thick as you'd like, continue to simmer for 5-10 minutes to let the flour fully thicken. If that doesn't work you use other thickeners to help.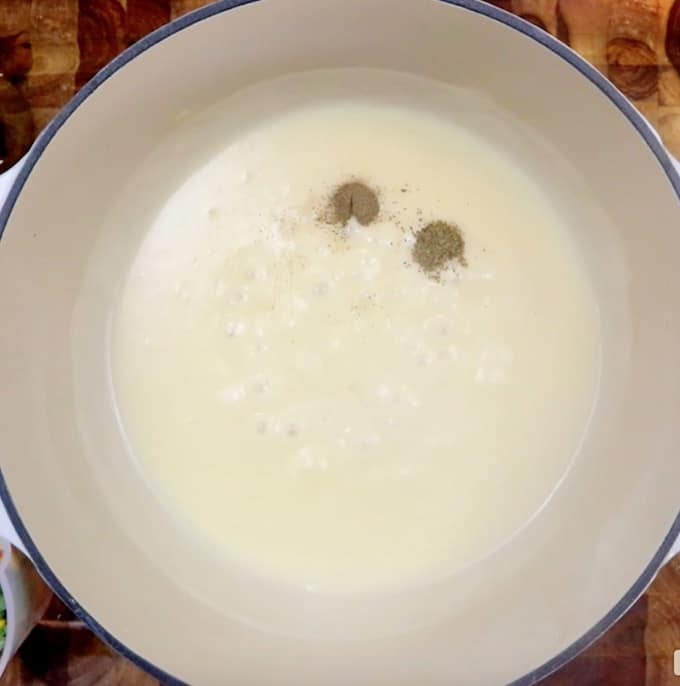 Once your sauce is thickened, add salt, pepper, and celery seed.
PRO TIP: If you don't have celery seed simply skip it, but it does add a nice flavor to this easy chicken pot pie recipe.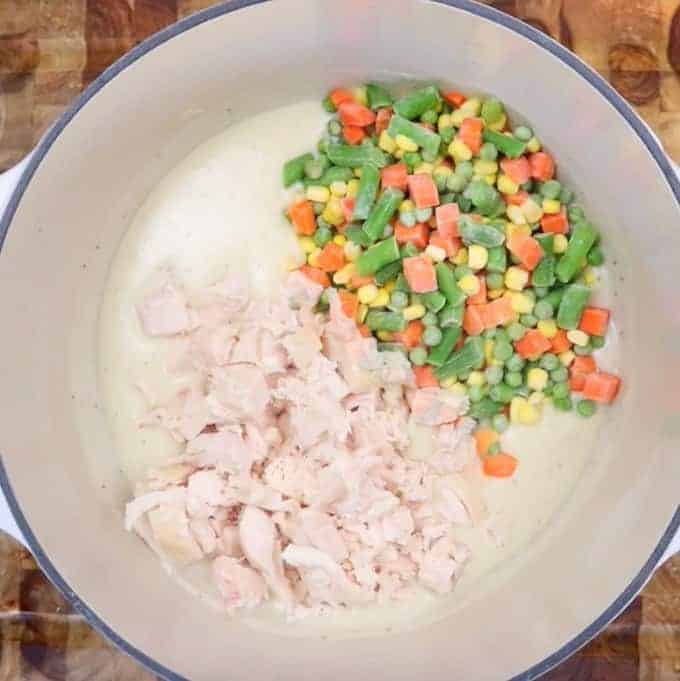 Next up is the mixed vegetables and diced chicken. Add both ingredients to the sauce and stir until mixed together.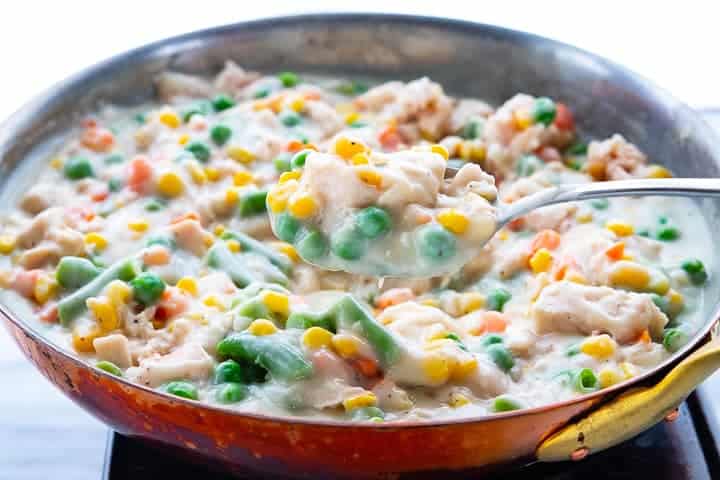 Add the vegetable & chicken mixture to your premade pie crust.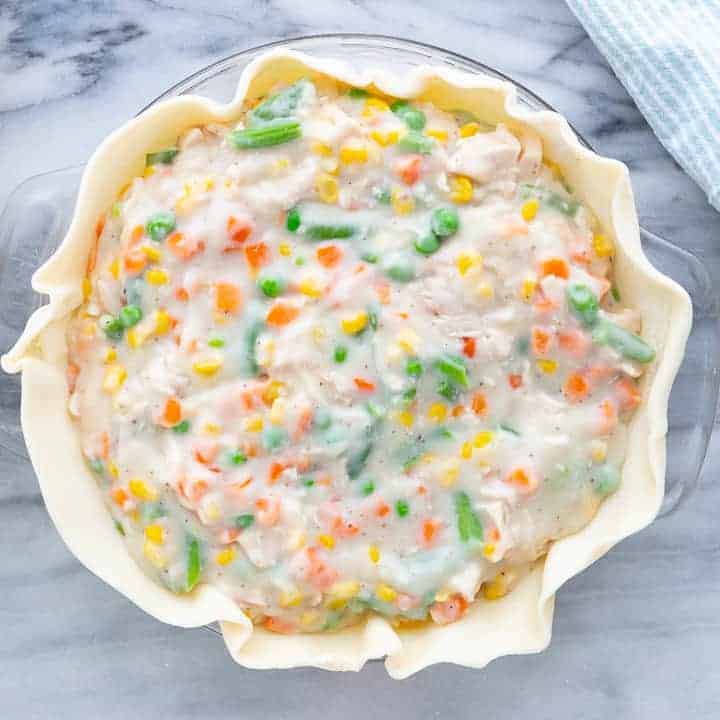 Kitchen Tip: If you are using the roll-out pie crust variety, let the crust sit out for a little while to warm up before unrolling or it will tear.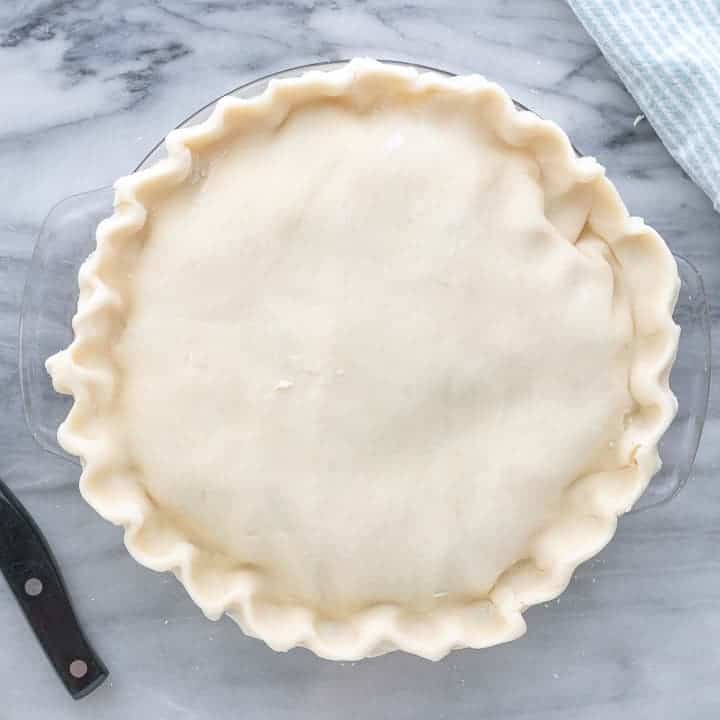 Place the top crust over the veggie & chicken mixture.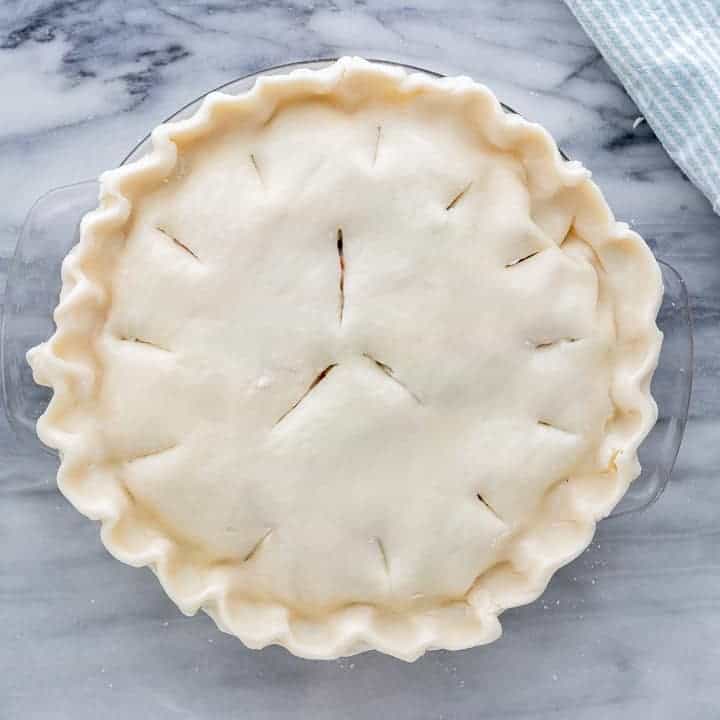 Pinch the edges together and seal up any tears in the top of the crust. Remember – it doesn't have to be pretty to taste amazing at the end!
You can make fancy designs with a knife on the top crust at this time if you're creative like that. Your family will be super impressed 🙂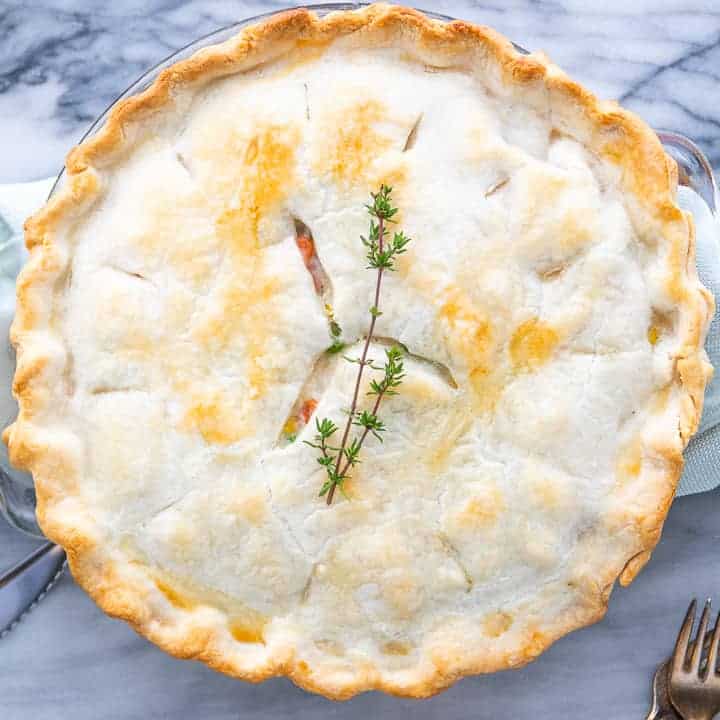 Bake for 30-40 minutes or until the crust is golden brown.
FAQ
WHAT DO I DO IF THE SAUCE IS TOO RUNNY?
My quick fix to thicken sauces is to use potato flakes.  They thicken quickly and add a nice flavor.  

You can also make a cornstarch slurry by mixing 1-2 tbsp. cornstarch with 1-2 tbsp. of water until you have a runny mixture.  Whisk the slurry into the roux, bring to a boil u0026 your sauce should start to thicken. 
DO I USE FRESH, FROZEN, OR CANNED VEGGIES?
You can use fresh, frozen or canned, which is one reason I love this chicken pot pie recipe. I typically use frozen veggies in my healthy chicken pot pie recipe because there is no need to chop or defrost. However, if you have fresh vegetables in your fridge that are on the edge of going bad, this is the perfect time to use them in a recipe!

PRO TIP: If using fresh veggies, either chop them very small or give them a quick steam to soften them up.
HOW DO I MAKE MY PIE CRUST SHINY?
If you want that shiny crust look when the chicken pot pie with pie crusts comes out of the oven, use a kitchen brush to brush milk over the top of the crust before baking.
How to FREEZE a Chicken POT PIE?
If you are taking the pot pie to an event or preparing a frozen meal for later use, this recipe can become a refrigerated pie or frozen chicken pot pie. You will need to refrigerate or freeze before baking. 

If refrigerating, simply wrap the pie in plastic wrap OR tin foil and place on a shelf in your fridge. 

If freezing, wrap the entire pie in plastic wrap AND tin foil and place in the freezer.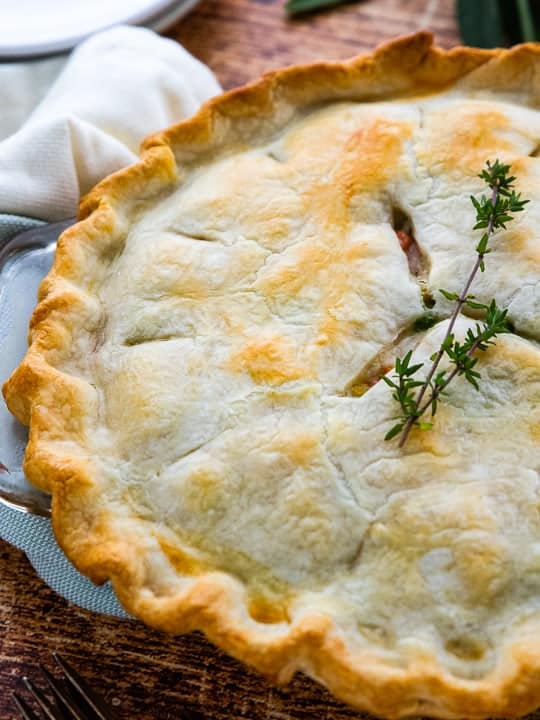 While this is my daughter's hands down new favorite dinner, it's working its way to the top of my list too. I'm pretty sure if you give it a try, you'll agree!
If you have a family that loves delicious chicken dishes as much as mine, check out my Instant Pot Chicken Stew, Chicken A La King, and Creamy Chicken and Bacon Pasta.
If you enjoyed the recipe make sure to leave a comment and a star rating below! Then follow me on social media and tag #createkidsclub if you make the recipe. I love seeing what you come up with!
Old Fashioned Chicken Pot Pie Recipe
An Old Fashioned chicken pot pie recipe that's filled with hearty vegetables and chicken in a creamy sauce that comes together quickly using pre-made pie crusts.  
Pin Recipe
Print Recipe
Ingredients
2

store-bought pie crusts

2

cups

cooked diced chicken

2

cups

mixed vegetables

1 3/4

cup

chicken broth

2/3

cup

milk

1/3

cup

butter

1/3

cup

flour

1/2

tsp.

salt

1/4

tsp.

pepper

1/4

tsp.

celery seed
Instructions
Preheat oven to 400 degrees.

Over medium-high heat, melt butter. Whisk in flour.

Slowly whisk chicken broth into flour mixture a little at a time, whisking the whole time, making a roux.

Bring mixture to a simmer and slowly whisk milk into the roux.

Stir in spices.

Add mixed vegetables and chicken

Pour mixture into pie crust, top with second pie crust, pinching edges to seal.

For a shiny pie crust, brush with 1-2 tbsp. milk.

Bake for 30-40 minutes or until crust is golden brown.

Let pot pie sit for 5 -10 minutes before serving.
Nutrition
Calories:
387
kcal
|
Carbohydrates:
32
g
|
Protein:
11
g
|
Fat:
24
g
|
Saturated Fat:
7
g
|
Cholesterol:
23
mg
|
Sodium:
621
mg
|
Potassium:
265
mg
|
Fiber:
3
g
|
Sugar:
1
g
|
Vitamin A:
2721
IU
|
Vitamin C:
9
mg
|
Calcium:
54
mg
|
Iron:
2
mg
Delicious Simple Family Recipes
Join Create Kids Club & get our 10 Favorite Crockpot Recipes ebook!