Don't let planning meals for vacation stress you out! Our simple vacation meal planning templates will make meal planning a breeze. Between helping you plan meals for each day, breaking down your grocery list, and keeping recipes on hand, you will be set to create quick meals on the road.
Making meals while vacationing not only saves a lot of money, it is often less stressful than taking small kids out to eat three times a day. Before leaving for a trip, we like to pick a few must-hit restaurants then plan to make the rest of the meals in or pack a picnic lunch on the go.
Check out our Travel Snack Ideas Kids Will Love and Camping Meal Plans as you start to brainstorm meal ideas for your upcoming trip!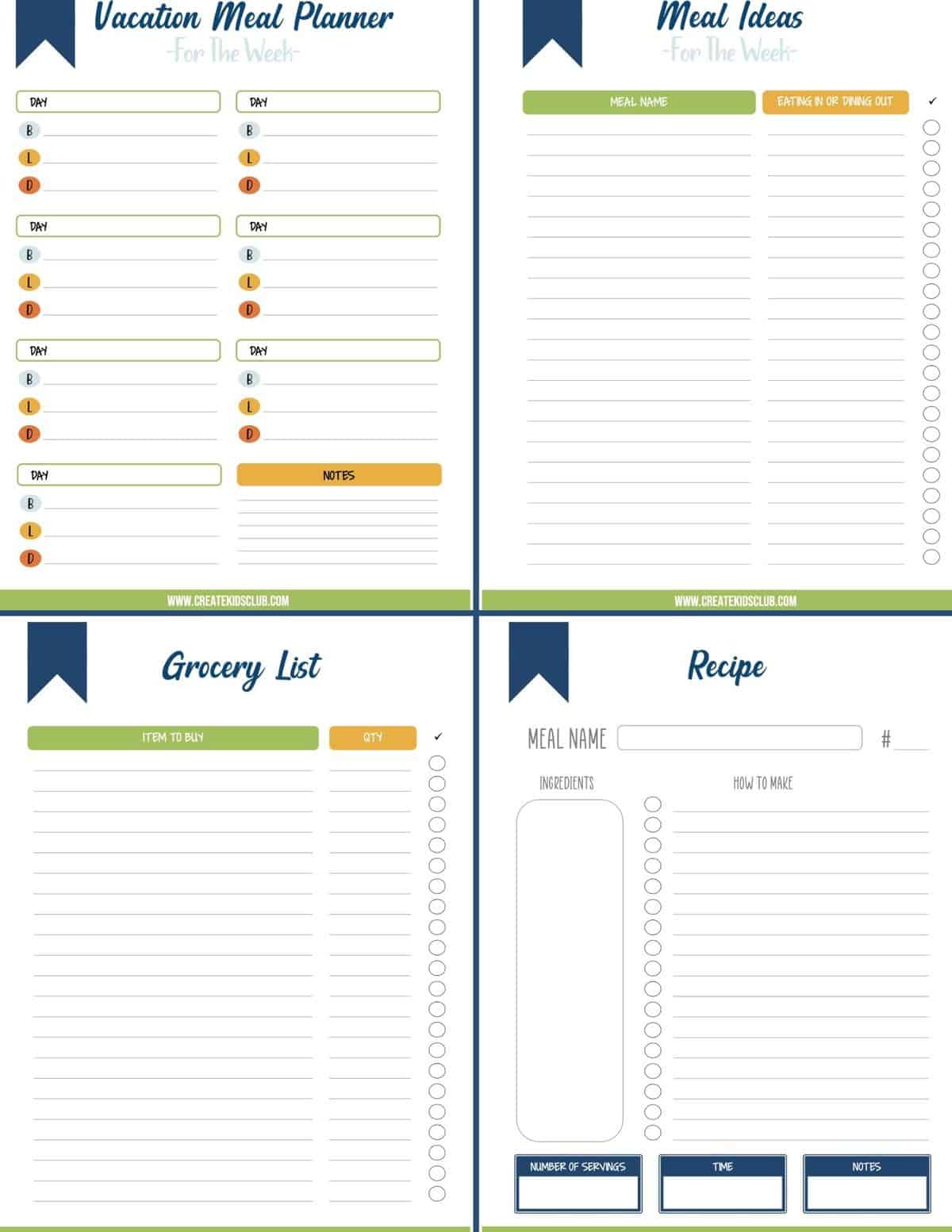 One benefit of planning meals before hitting the road is being able to spend more time together as a family when traveling. It is the top reason we created these printable templates! We want your family to create life long memories together without worrying about meals.
You can even have fun as a family before leaving by encouraging everyone to pick at least one meal idea. It is a great way to engage the whole family as you work together to select meals for your upcoming trip!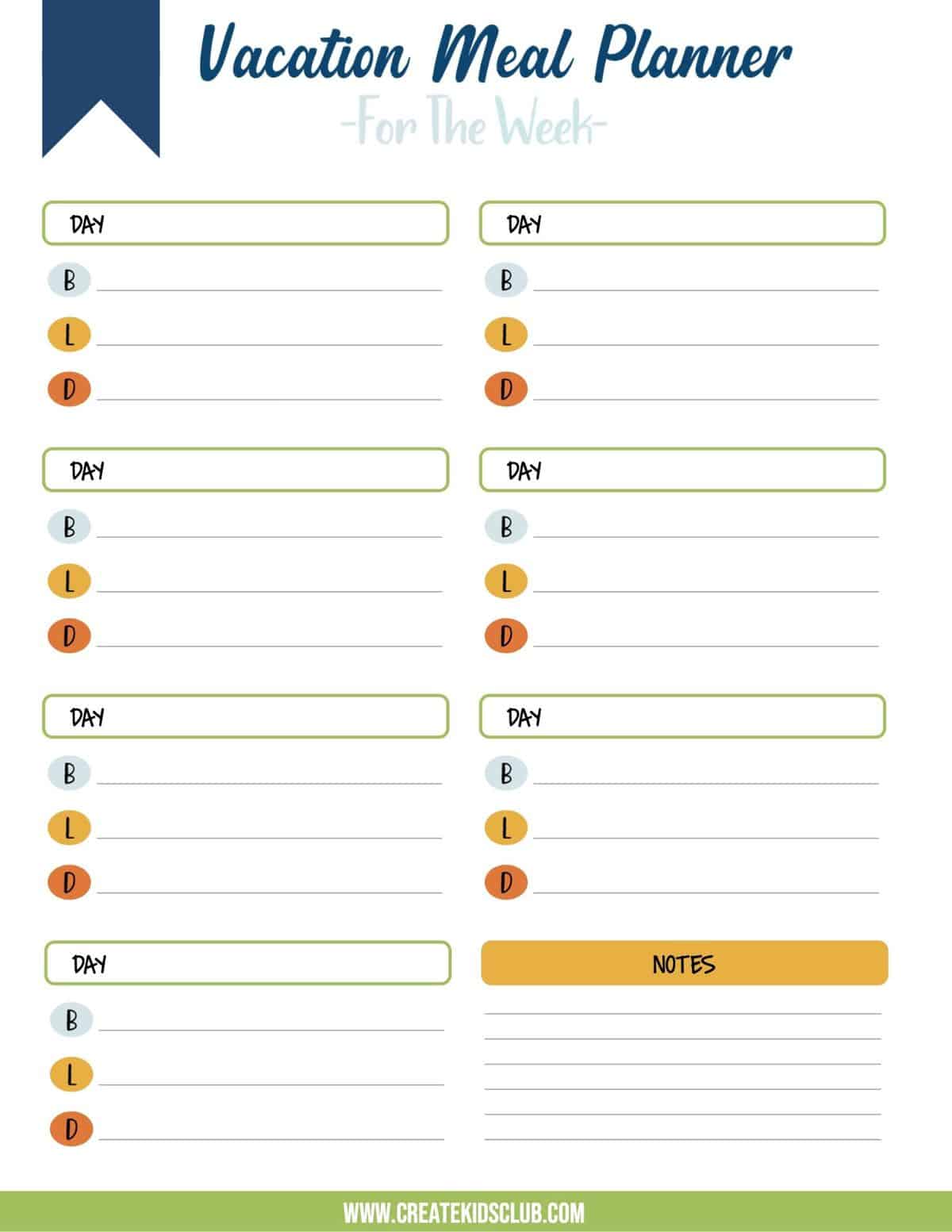 Meal Planning Template
We recommend starting off by using the meal planner and meal idea templates to brainstorm ideas. Whether you are planning a quick weekend getaway or extended vacation, these printables are for you. You are able to plan out breakfast, lunch and dinner for each day while deciding if you plan to eat in or dine out.
For those with tech-savvy teens in the house, let them find must try restaurants around the vacation spot to add to the template while you start the search for meal ideas.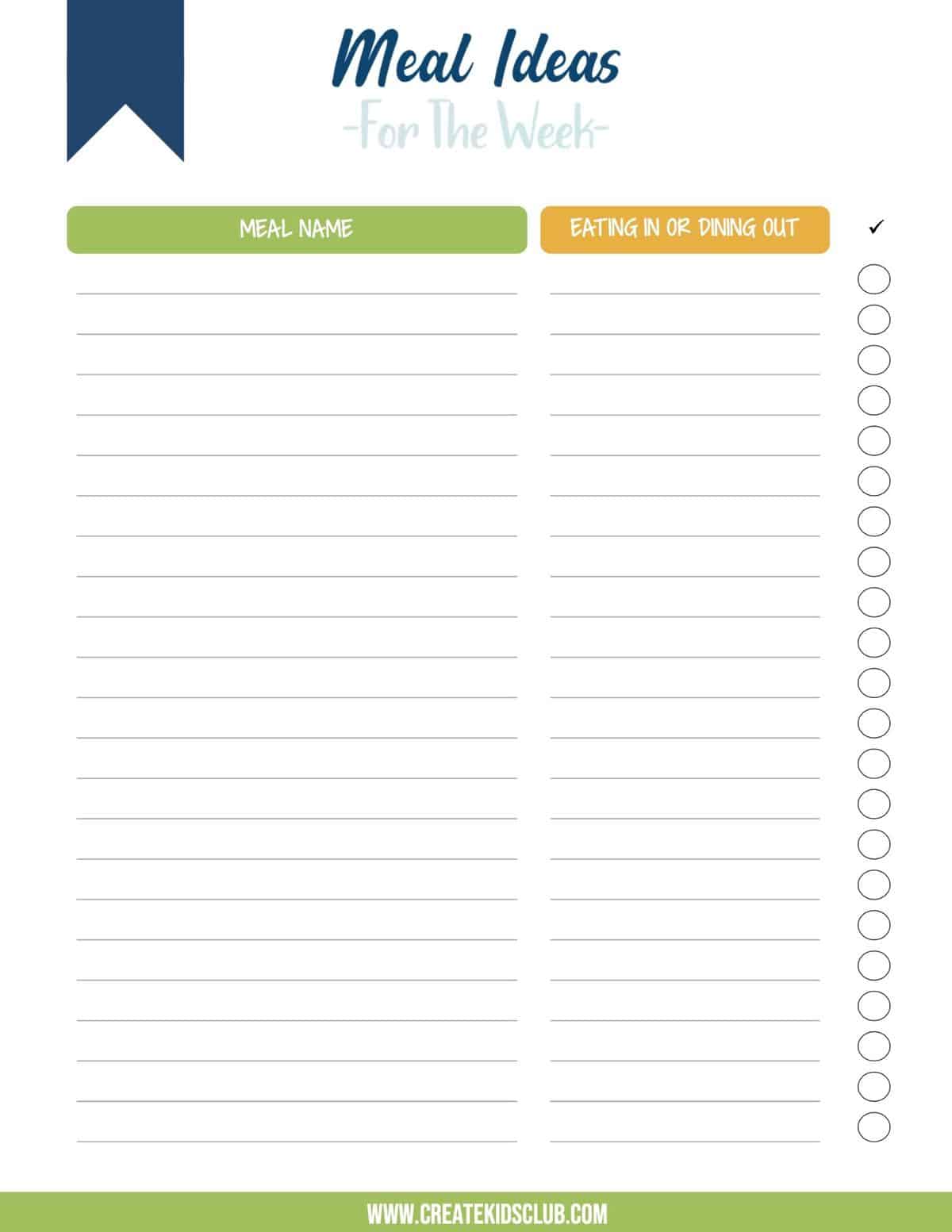 We could list recipe after recipe to make when traveling – there are just so many great ideas. We narrowed it down to share our top 5 favorite ideas for breakfast, lunch and dinner to make when away from home. Each of these recipes requires little to no cooking time and minimal dishes!
Meal Plan Ideas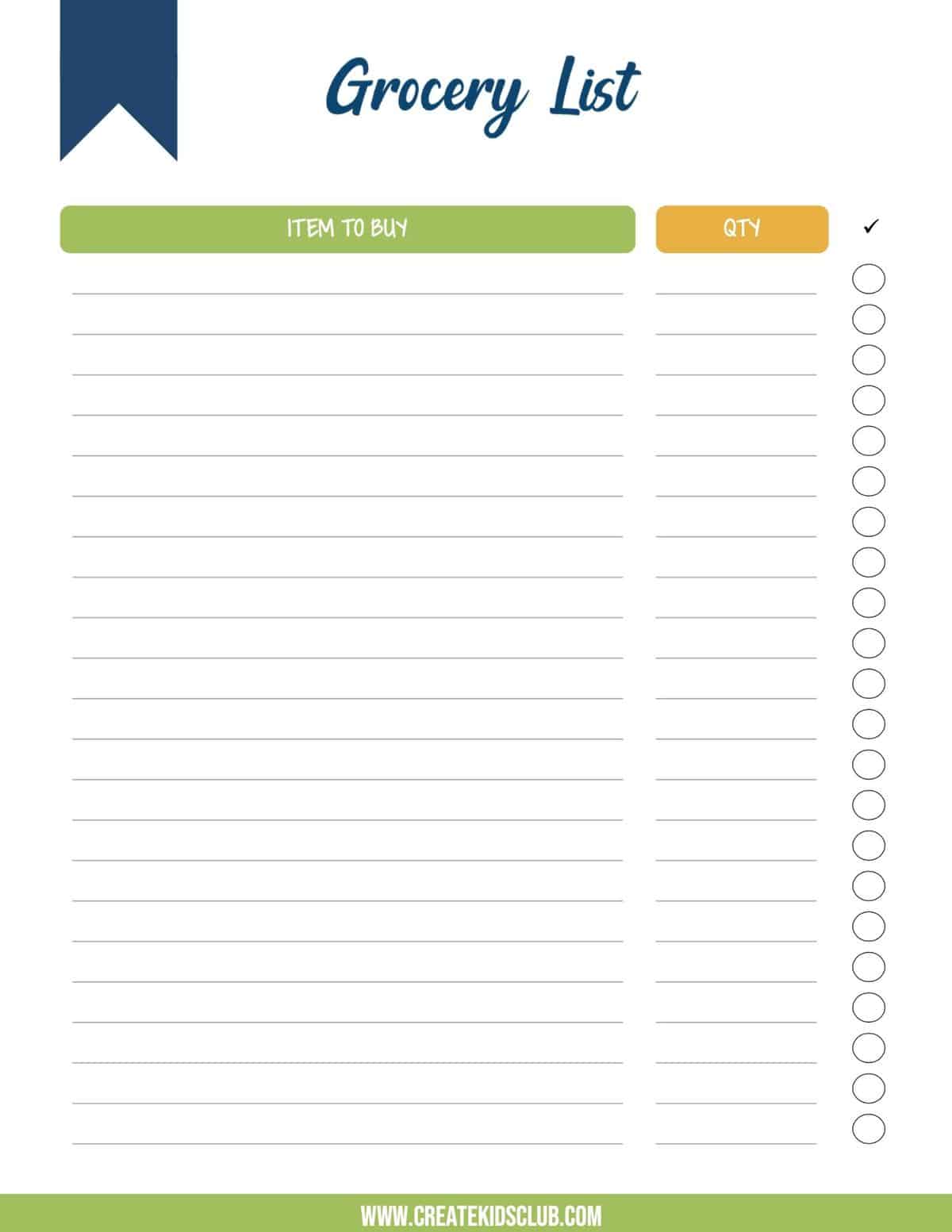 Printable Grocery List
After you have selected the meals for the trip, use the grocery list template to write out the ingredients. The template is designed to list all the ingredients for the entire vacation with the exact quantities. This way you don't have to spend the time stopping at grocery stores along the way to hunt for ingredients and you only pack what you need.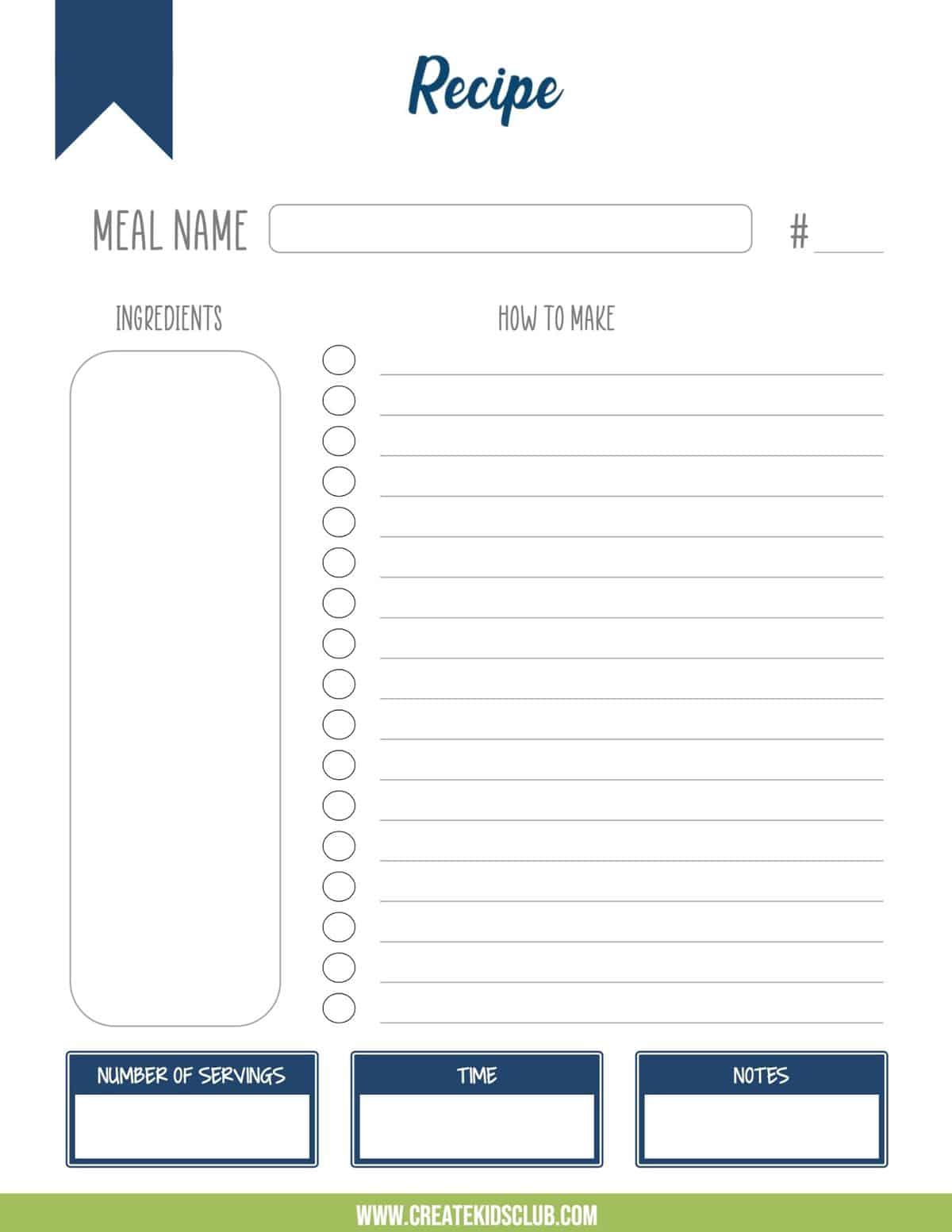 Recipe Template
Last but not least, write out step-by-step instructions for the recipes. The recipe template especially comes in handy if planning a camping trip or a travel spot with limited access to the internet. Fill out a recipe sheet for each meal you plan to make then pack for easy reference as you travel.
Printable Meal Planning Template
Easy and FREE to download, you can start using these templates today!
Family-Friendly Vacation Spots
Still on the search for a family-friendly vacation spot? We share our personal experiences in these travel guides!