Need family vacation ideas with teenagers? Try a trip to Galena, IL. This Midwest family vacation hotspot is a fun-filled destination within driving distance of many Midwestern cities.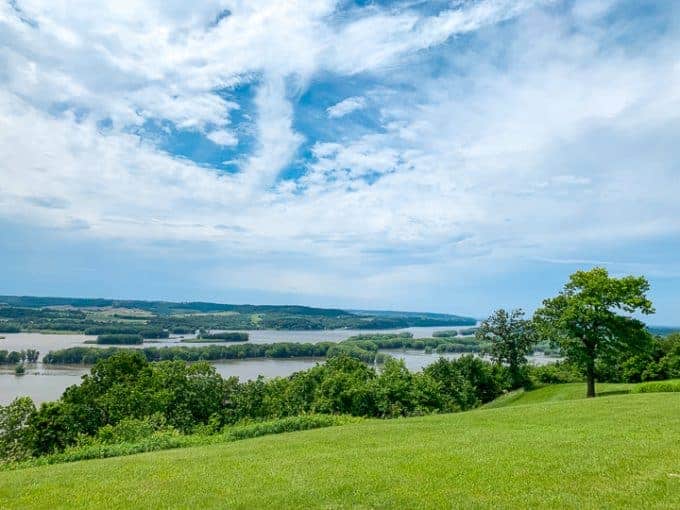 This post is brought to you in partnership with Chestnut Mountian Resort. As always, all opinions are my own.
Nestled on the Mississippi River, Galena, IL is a city with less than 3500 residents – but attracts over a million visitors every year.
Tourists come for the history, the shopping, the restaurants, and a relaxing atmosphere that's hard to find elsewhere.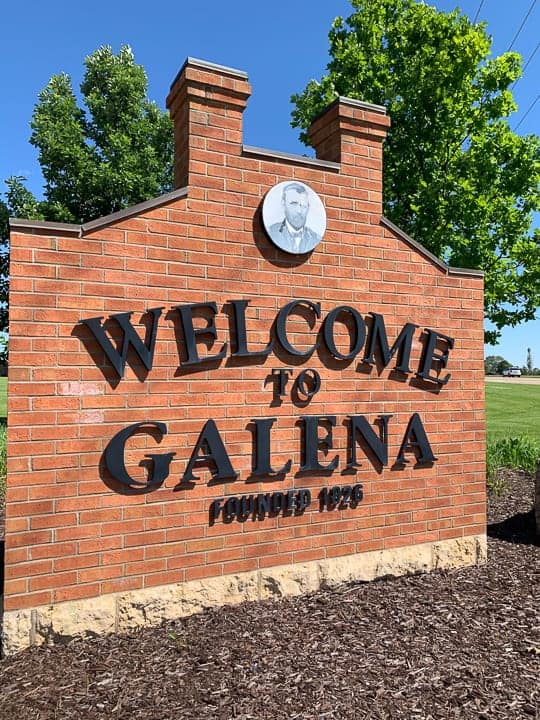 Galena, Illinois Resorts
Perched high on a ridge overlooking the Mississippi River is Chestnut Mountain Resort. In the winter this 220-acre resort boasts nineteen ski and snowboard trails along with a seven-acre Terrain Park.
In the summer this Galena lodge turns from ski resort to adventure park. A fun family adventure vacation right here in the midwest.
Things To Do In Galena, IL
You don't need to stay at Chestnut Mountain Resort to take advantage of all they have to offer.
Kids of all ages (and adults too!) will love the Alpine Slide, which is 2,050 feet of tailored track on a sled to the banks of the Mississippi.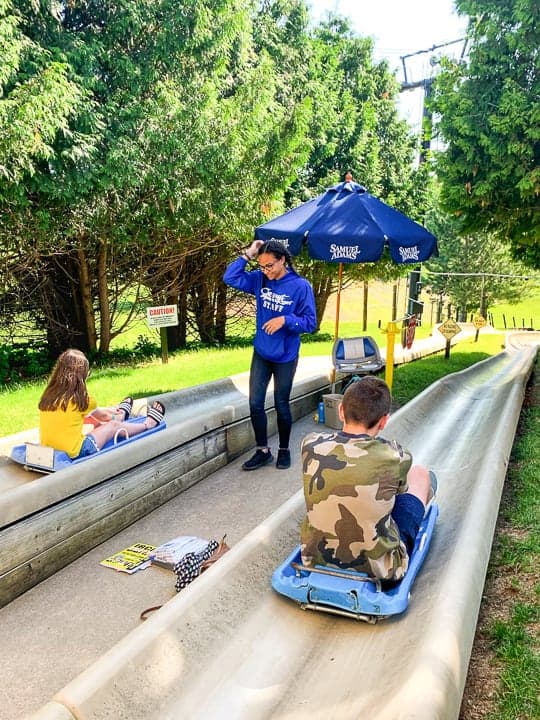 Hop aboard the cart and decide how fast or slow you'd like to go by simply pushing the lever forward for faster or backward to stop. Small children can sit on a parents lap and enjoy the ride as well! The ride down the hill takes about 2 minutes and the views are breathtaking.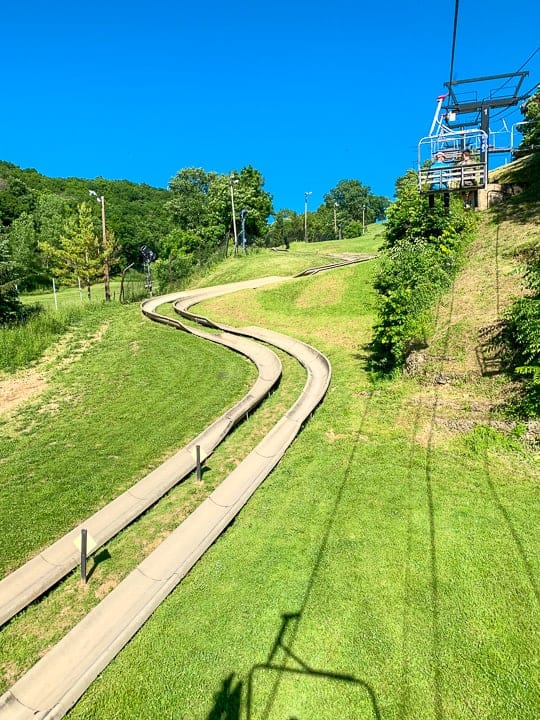 Take a look at what a ride down the Alpine Slide is like.
Once at the bottom staff will take your cart and help you onto the chair lift for a pleasant ride back up the mountain – which is just as beautiful as the way down!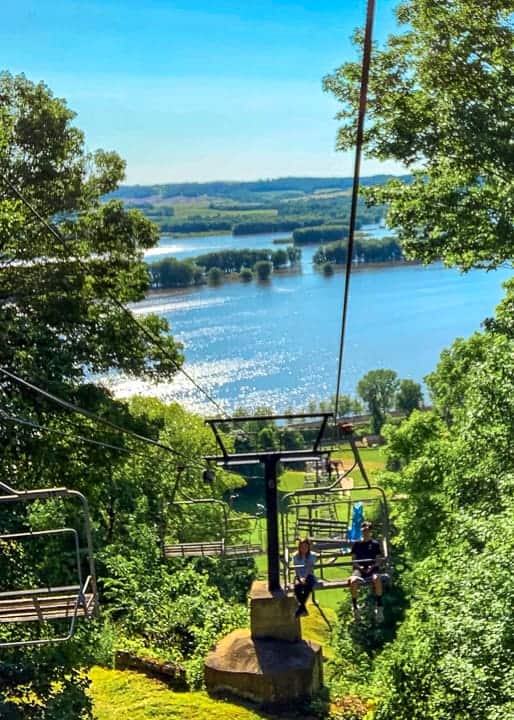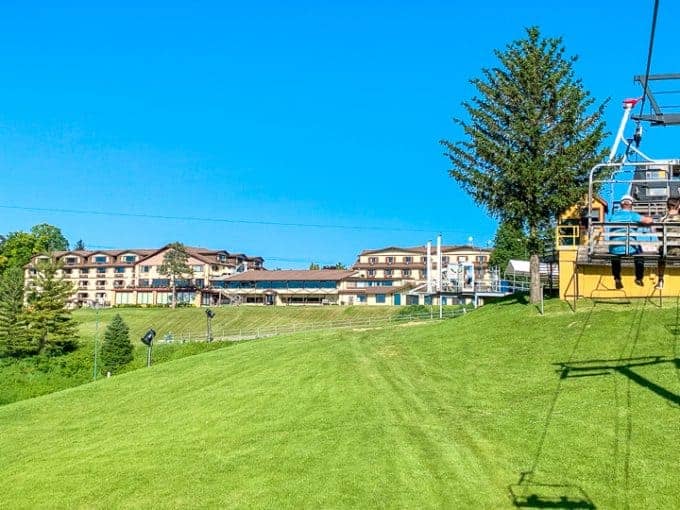 Galena IL Things To Do
Take A Segway Tour. The 220 rolling acres of mountain terrain offers a perfect backdrop for the three-mile, 75-90-minute Segway Tour.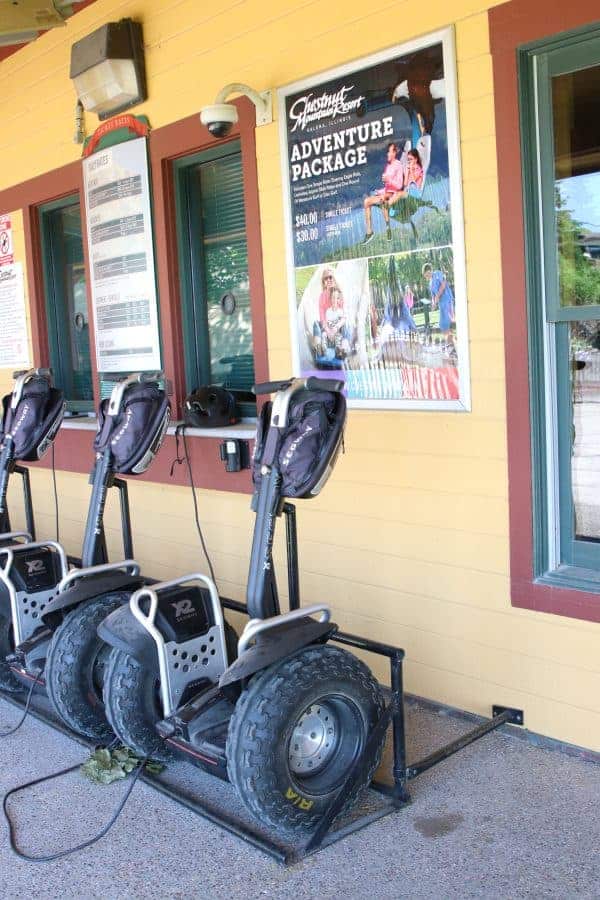 Galena Zip Line
Gain an eagle's perspective of the Majestic Upper Mississippi River Valley on the Soaring Eagle Zip Line. This unique zip line experience brings you backward to the top of the zip line, then lets you soar back down to the landing.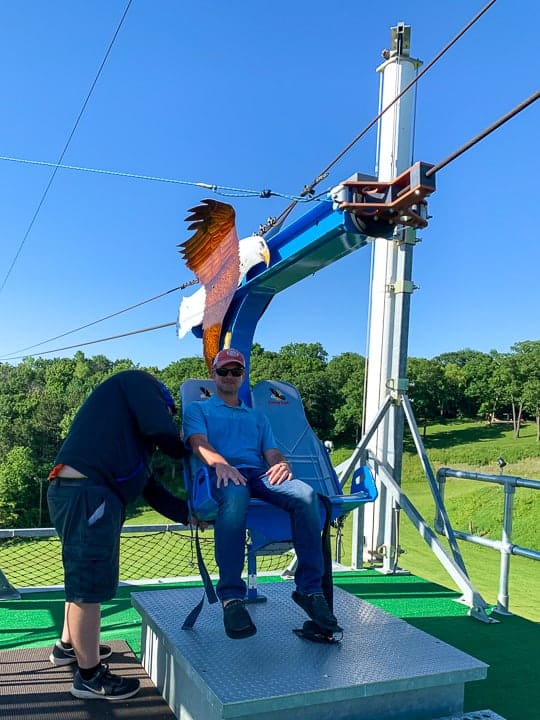 Galena Bike Trail
Chestnut Mountain offers Mountain Bike rentals along with several bike paths that wind their way through the woods surrounding the lodge. You won't regret heading out to see the spectacular views of the Mississippi.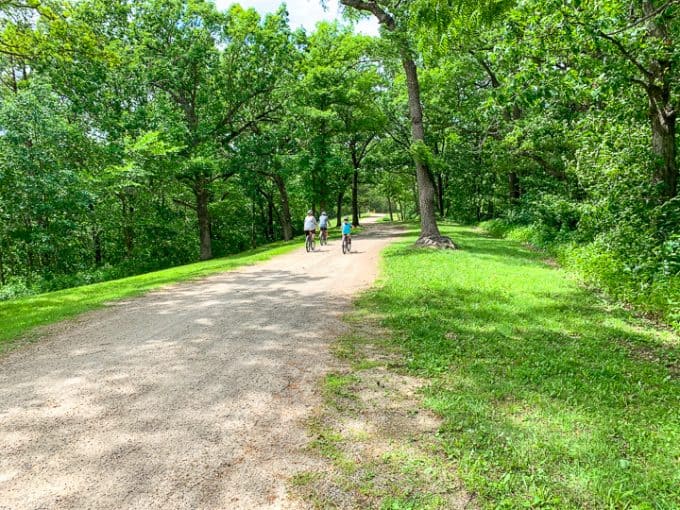 If you take the easier route make sure to stop and enjoy the vast views of the river.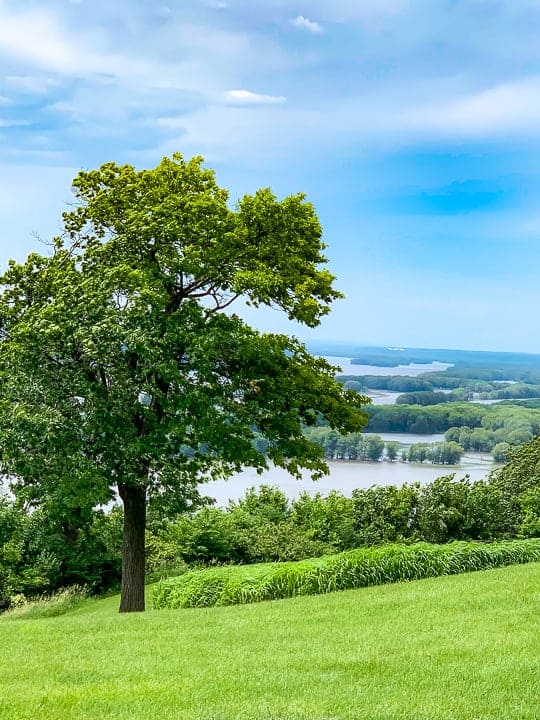 Chestnut Mountain Resort Mini Golf
Wind down with a rousing round of Miniature Golf. Make sure you make it to the 18th hole for the fun surprise the hole offers that can help those with a higher score come ahead for the lead!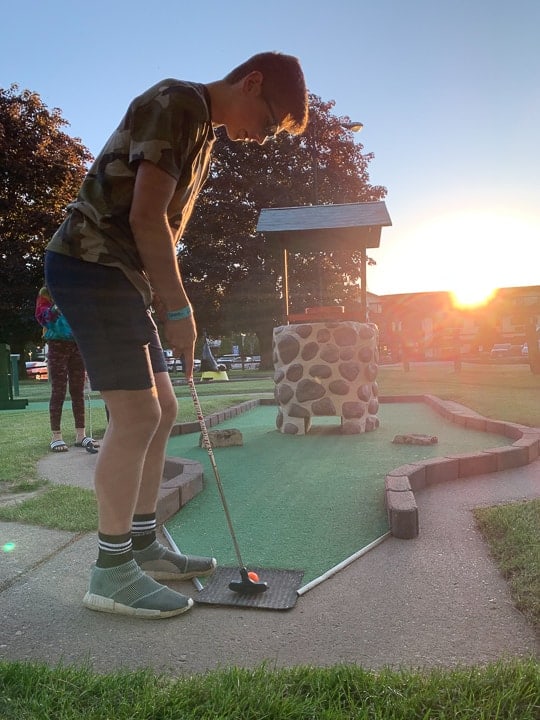 Mississippi River Boat Cruise
Chestnut Mountain Resort offers a Mississippi River Cruise. This 1 1/2 hour scenic tour offers views of wildlife, a bit of the area's history, along with breathtaking riverscapes. The views are spectacular and the Galena River Cruise is great for the whole family.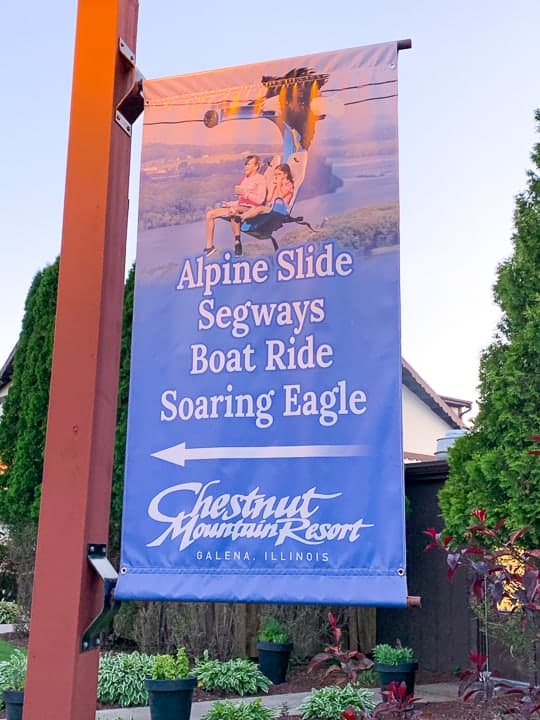 Galena Restaurants
When traveling to Galena and looking for a beautiful view to enjoy while dining out, you can not beat The Summit at Chestnut Mountain. The food is delicious and reasonably priced.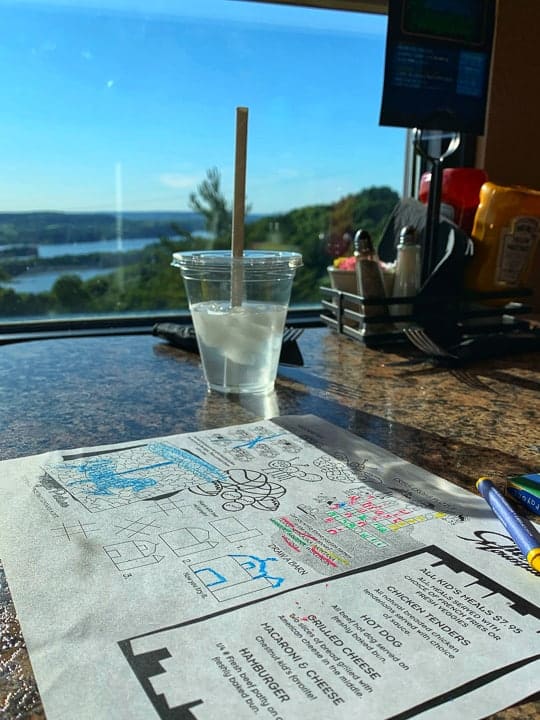 If you're looking for fine dining, try out The Sunset Grill. They offer a full menu ranging from fresh fish, steak, chicken, and pasta along with a children's menu. All with an amazing view.
To find out what time the sun will set the day of your dinner, check here!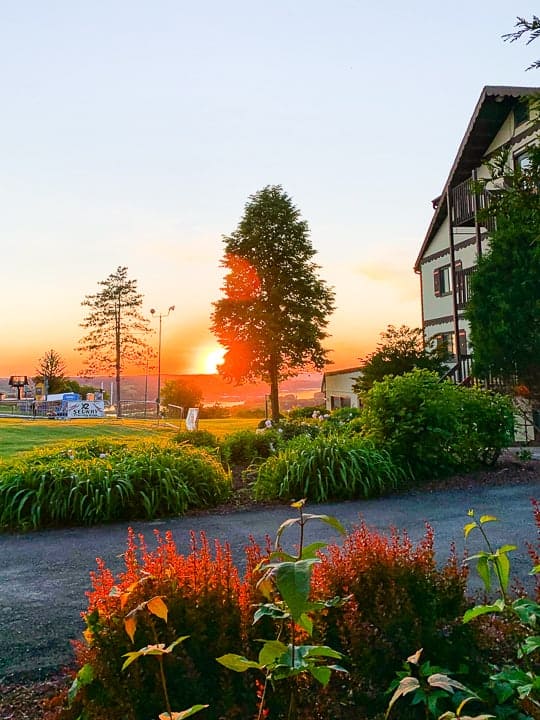 You don't want to miss the beautiful sunsets nightly, this shot was taken from just outside one of the hotel rooms. The views can't be beaten when you stay at this Galena Resort.
Looking for a Galena Pet-Friendly Hotel?
Chestnut Mountain has you covered. They offer several rooms that allow for pets, along with lots of green space for walks. Just ask for a pet-friendly room when booking. No need to pay for pet sitters when your pet can come with you.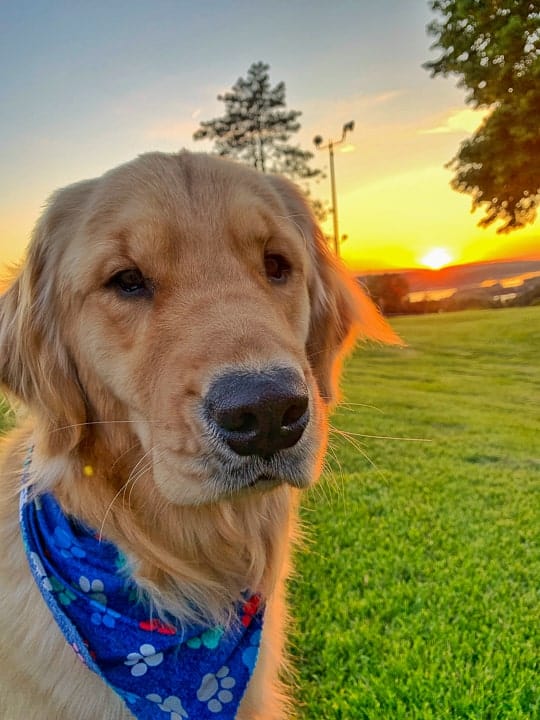 The only thing missing after our stay at Chestnut Mountain Resort is snow. It makes me look forward to winter!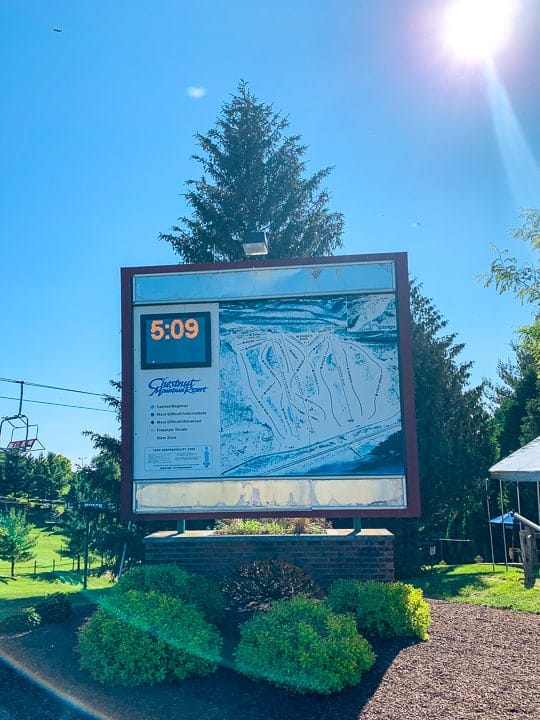 Do you love to Travel with Family?
Check out more family vacation ideas here.