One Thanksgiving about 15 years ago…
A sweet potato dish appeared on my families Thanksgiving dinner table and has reappeared each November since. Where were sweet potatoes before this? I had been missing out!
Have you tried sweet potatoes? They are the long orangish things sitting close to the regular potatoes in the produce department.
Don't let them scare you if you haven't tried them before. They are so delicious – sweeter than a potato and similar in flavor, when mashed, to pumpkin.
For the recipe below you can roast them, but if your not up for that task, you can also use the canned variety to save time.
When the theme for The Recipe Redux came out I knew right away what I was going to do. Lighten up the sweet potato crunch recipe that has become tradition in my family.
Trimming the Table

The holiday baking season is upon us. Time to pull out all the stops. Show us the healthy holiday dessert you will be sharing with family and friends this season.
At my house this dish was served in a casserole dish – as a side dish. How a recipe that really should be a dessert became a side dish I am not sure.
I figured I would serve it in a pie dish as a dessert, but if you want to go back to my families tradition of baking it in a casserole dish go right ahead, because with this lightened up recipe, you can feel alright about serving it as a side dish!
While sampling this dish with my family they asked which was healthier: sweet potatoes or pumpkin. They taste remarkably similar. Here are the facts:
Sweet Potato: 1 cup cubes generic clomid 100mg Pumpkin: 1 cup cubes
Calories: 114 Calories: 30
Fat: 0.1 g Fat: 0.1 g
Carbohydrates: 27 g Carbohydrates: 8 g
– Fiber: 4 g – Fiber: 0.6 g
-Sugars: 6 g -Sugars: 3.2 g
Protein: 2.1 g Protein: 1.2
Sweet potatoes come in with more calories, but along with that they have double the protein and fiber content. They also have more calcium, magnesium, vitamin C, and have a weeks worth of vitamin A in just one serving!
Did you know you can get a weeks worth of Vitamin A in 1 serving of sweet potatoes?
Click To Tweet
Sweet potatoes also have more naturally occurring sugar. Translated to cooking, this means they don't need as much added sugar in a recipe as would pumpkin.
This holiday season give this lightened up Sweet Potato Pie recipe a try – or just surprise your family with dessert tonight!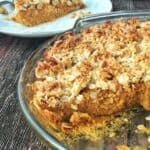 Crustless Sweet Potato Pie
A fabulous lower fat version of traditional sweet potato pie.
Ingredients
4

large

sweet potatoes, roasted and peeled

or 2 -14 oz cans sweet potatoes

2

large

eggs

1/3

cup

maple syrup

2

tbsp.

whiskey

2

tsp.

vanilla

1

tsp.

cinnamon
Streusel Topping:
1

cup

quick cook oats

1/3

cup

butter

1/4

cup

brown sugar
Instructions
Preheat oven to 400 degrees.




Add sweet potatoes to bowl of blender.

Add eggs, whiskey, cinnamon, vanilla, and maple syrup. Blend until mixed well

In medium sized bowl with clean hands, mix together oats, butter, and sugar.

Sprinkle oat streusle on top of sweet potato mixture.

Bake 45 minutes or until oat streusel is golden brown.

If you enjoyed this lightened up holiday recipe, check out Healthier Cheesy Potatoes and for a delicious cocktail try Holiday Irish Cream!
What is your favorite holiday recipe? Any that you would like to see lightened up?
Here are a lot more great holiday recipes from fellow dietitians:
Get Your FREE Crockpot Cookbook Now!
Get 10 tried & true Kid Approved Crockpot Dinner Recipe favorites!