Made with fresh sweet corn straight off the cob, tangy sun-dried tomatoes, and chickpeas, this Sweet Corn & Sun-Dried Tomato Hummus is the perfect snack or appetizer to bring to your next party or BBQ!
This post was sponsored by Sunshine Sweet Corn as part of an Influencer Activation for Influence Central. All opinions expressed are my own.
Walking through the grocery store a few weeks ago, I noticed fresh sweet corn. I did a double take because it was only April – where did fresh sweet corn came from this time of year?!
Sweet corn is a staple here in Wisconsin in late summer – you can find it sold from farmers stands all over town. But in April? No way.
A few days later I had the opportunity to work with Sunshine Sweet Corn and got the answer to my question. The corn came straight from the sunny state of Florida. No need to wait until summer to enjoy sweet corn – it's on the shelves of your grocery store now.
My kids were pretty excited when corn on the cob showed up on the dinner table in April!
It seems every time I serve corn on the cob, I always end up with one leftover. Not enough to serve again, but so delicious I don't want to waste.
I found the perfect recipe to use that leftover corn, and am excited to share it with you – Sweet Corn & Sun-Dried Tomato Hummus.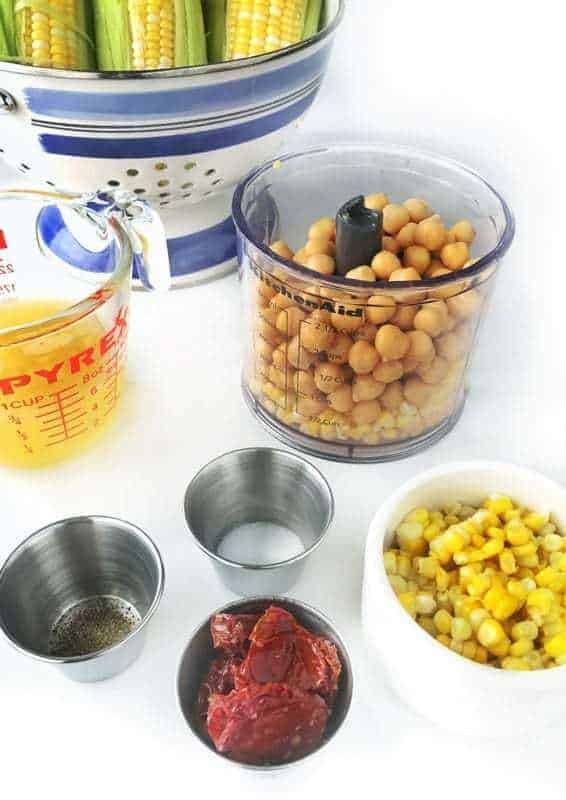 Sweet Corn & Sun-Dried Tomato Hummus requires just 5 ingredients
I am kind of a hummus addict. Last summer I made it nearly every week. It is a simple appetizer to have on hand for guests, is full of protein, and since I don't make mine with oil, it is low in fat as well. And no tahini is required.
Hummus made with no oil?
You can save a lot of fat and calories easily. Simply reserve the juice from the chickpeas and use this liquid (called aquafaba) to blend. You can always drizzle a bit of olive oil on top to finish the dish.
How Do You Make Hummus?
Easily. Hummus is made with chickpeas or garbanzo beans. Did you know these are the same bean? One name was used by the English, and one by the Spanish. Same legume, now referred to by either name.
Hummus is a dip that comes from the Middle East, its is traditionally made with chickpeas, sesame paste, and olive oil in the most traditional recipes. You can find hummus in every store these days, it has become quite popular. But you can save money and get creative by blending your own flavors easily right at home.
To make this Sweet Corn & Sun- Dried Tomato Hummus recipe, get out your blender, add all the ingredients, and puree. Adjust seasoning to taste with additional salt or pepper. Drizzle with olive oil to finish the dish if desired.
If you prefer super creamy hummus, remove the skins from the chickpeas. This is a time consuming, tedious job, so I skip it.
How Do You Serve Hummus?
I love serving hummus with fresh veggies, it is my go to dish to bring to any BBQ or party. I find it a good idea to bring the healthy dish along to parties, then there is always a good choice to snack on before moving to the less healthy options.
If dipping veggies is not your thing, try whole grain crackers, sliced pita bread, or spread the hummus on your favorite sandwich.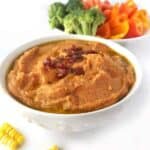 Sweet Corn & Sun-Dried Tomato Hummus
A simple hummus recipe that features sweet corn and sun-dried tomatoes, pureed into a delicious appetizer dip perfect for BBQ's or as a sandwich spread.
Ingredients
15.5

oz. can

Chickpeas, drained, liquid reserved (known as aquafaba)

or Garbonzo Beans

1

large cob

fresh sweet corn

about 3/4 cup

1/4

cup

sun-dried tomatoes

If in olive oil, drain and rinse

1

tsp.

salt

3/4

tsp.

ground black pepper
Instructions
Steam sweet corn with husk on, in microwave for 3-4 minutes. Once cooled, discard husk and remove kernels with knife. Place corn kernels in blender.

Drain chickpeas, reserving liquid (aquafaba). Place chickpeas in blender.

Add sun-dried tomatoes, 3 tablespoons aquafaba, salt and pepper.

Add additional aquafaba if hummus is too thick, 1 tablespoon at a time.

Adjust seasoning to taste.

Serve with chopped vegetables of choice, whole grain crackers, or pita bread.
Optional:
Drizzle with olive oil and serve topped with diced sun-dried tomatoes or corn kernels.
Recipe Notes
Nutritional Information Per Serving:
Calories: 98 kcal.
Fat: 2 grams
Carbohydrates: 17 grams
Protein: 4 grams
Sweet Corn & Sun-Dried Tomato Hummus recipe is versatile
I made some small changes to this recipe from Sunshine Sweet Corn – Sweet Corn and Roasted Pepper Hummus to create my flavor.
What flavor will you create?
Need more appetizer ideas? Click Here. Make sure not to miss any of the latest recipes from Create Kids Club – sign up for weekly updates!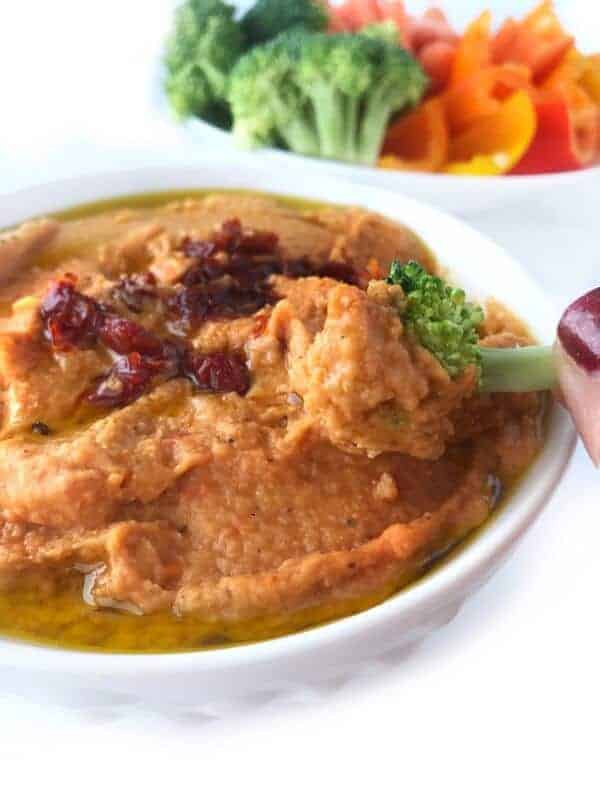 PIN for Later!
No Time To Cook?
Make dinner a breeze with these 10 Kid Favorite Crockpot Recipes! Get your FREE eBook Now!