High Fiber Smoothie Recipes: With blueberries, spinach, and banana, this Superfood Smoothie is a nutrient powerhouse that is a simple and delicious way to get more fiber in your families diet. The perfect high fiber meal. 

Did you know that 50% of children do not get adequate fiber in their diets?
I admit, I recently realized one of my children fall into this category.  As a mom (and dietitian), I focus on many aspects of my children's diet – healthy foods, homemade meals, limiting sweets, and staying active.
Finding high fiber meals your kids will eat can be challenging.
I teach my kids about fiber, and when I was developing facts for Lunch Bites™, I tried out all kinds of fiber facts to see which ones they like the most.
My children know that fiber acts as a scrub brush on their insides and that it scrubs their "pipes" clean.  They know that fiber helps food move smoothly through the body and that lack of fiber can lead to poor digestive health.
I still failed.  A couple weeks ago my daughter was complaining of stomach aches.  This went on for some time, and eventually, we saw her pediatrician.  The doctor reported she sees a lot of children in her office due to the limitation on bathroom breaks in schools, causing children to not use the restroom when needed.  This combined with low fiber diets, leads to constipation problems in children that she sees frequently in her office.
Did you know 50% of children don't get enough fiber each day? Try this #highfiber #smoothie to help.
Click To Tweet
I started taking a hard look at what I was feeding my kids and found that at breakfast we were lacking in the fiber department.
Healthy Recipes Sent Weekly
Subscribe to get our latest content by email.
When the December Recipe Redux theme came out, I found a cookbook and the required page number, and I knew I had stumbled on a recipe how to buy clomid that could be a great fiber-filled breakfast choice.
Here's the theme:
Grab a Book & Cook 
We're playing a little party game at the end of 2016: Grab your nearest cookbook and ReDux the recipe on page 201, 16, 216 – or any combination of the number '2016.'
The cookbook I choose was 100 Days of Real Food, by Lisa Leake.  This cookbook is filled with awesome healthy family meals – I highly recommend you pick up a copy!
On Page 201 I found Sienna's Purple Potion Smoothie.  I made some changes to this Superfood Smoothie recipe to make it my own.
To make this a high fiber meal my kids would eat,  I added flax seed to boost the fiber and more honey to sweeten it enough for my daughter to drink it.  I also stuck with spinach because kale is really hard to chop up enough to get my kids to accept/drink it.
The key to adding greens to smoothies is to use a high-speed blender.
It really helps get all those greens chopped to smithereens – so no child, or in my case, spouse, knows they are there!
I love my Ninja Blender (you can find it here) because it was a fraction of the cost of a Vitamix, but I feel as though it works just as well for all my families needs.  When I make my favorite brownie recipe, my Ninja melts the chocolate chips perfectly.
But back to the smoothie!
The banana adds 3.1 grams of fiber, blueberries 3.8 g, spinach .7 g, and flax seeds 2.8 grams of fiber.  Each serving contains just over 5 grams of fiber along with 2 servings of fruit and a veggie serving.  This high fiber recipe is a keeper!
Serve the smoothie in a pretty glass and you have a delicious breakfast ready in no time! My kids love these fun glasses for smoothies, I love that they are mess free!
You can grab flax seed by clicking here or at your local grocery store.  
Looking for simple tips on how to get healthy foods accepted by your family?
Take our FREE One More Meal Challenge Today! Learn More HERE.
Print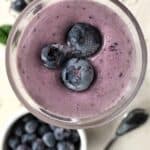 High Fiber Blueberry & Spinach Smoothie
Author:

Prep Time:

5 minutes

Total Time:

5 minutes

Yield:

2 people

Category:

Breakfast

Cuisine:

American
---
Description
A high fiber meal that is packed with superfoods.  A high fiber smoothie that your kids will love.
---
Ingredients
1 cup frozen blueberries
1 whole overripe banana (fresh or frozen)
1 cup fresh spinach
2/3 cup 1% milk
1/3 cup plain Greek yogurt
1-2 tbsp. honey or maple syrup
1 tbsp. ground flax seed
---
Instructions
Place all ingredients in blender, p

uree until smooth


Serve with straw for more fun!
---
If you like this recipe make sure to check out my Wild Blueberry Mojito Smoothie Bowl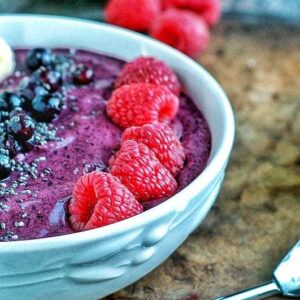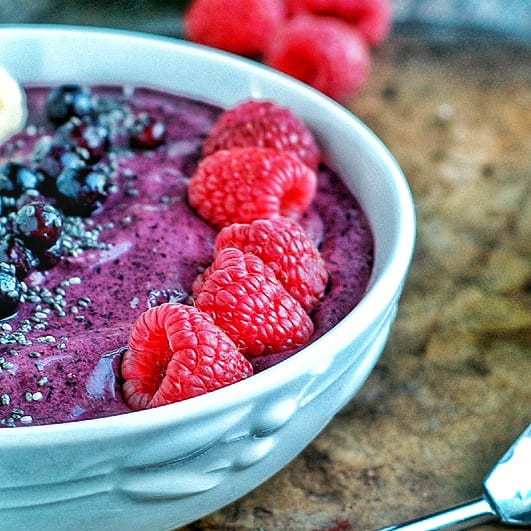 or this super easy, and delicious, Homemade Lemon-Lime Soda Recipe that includes a how-to video.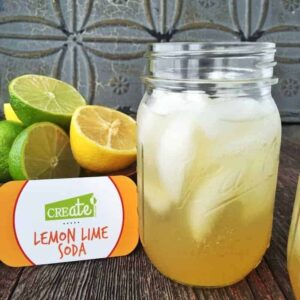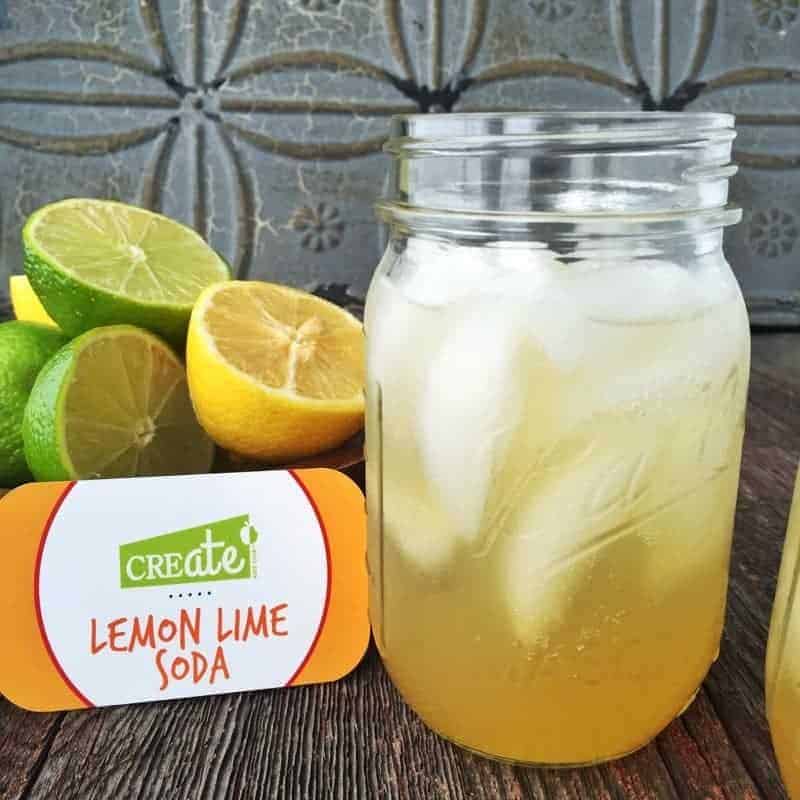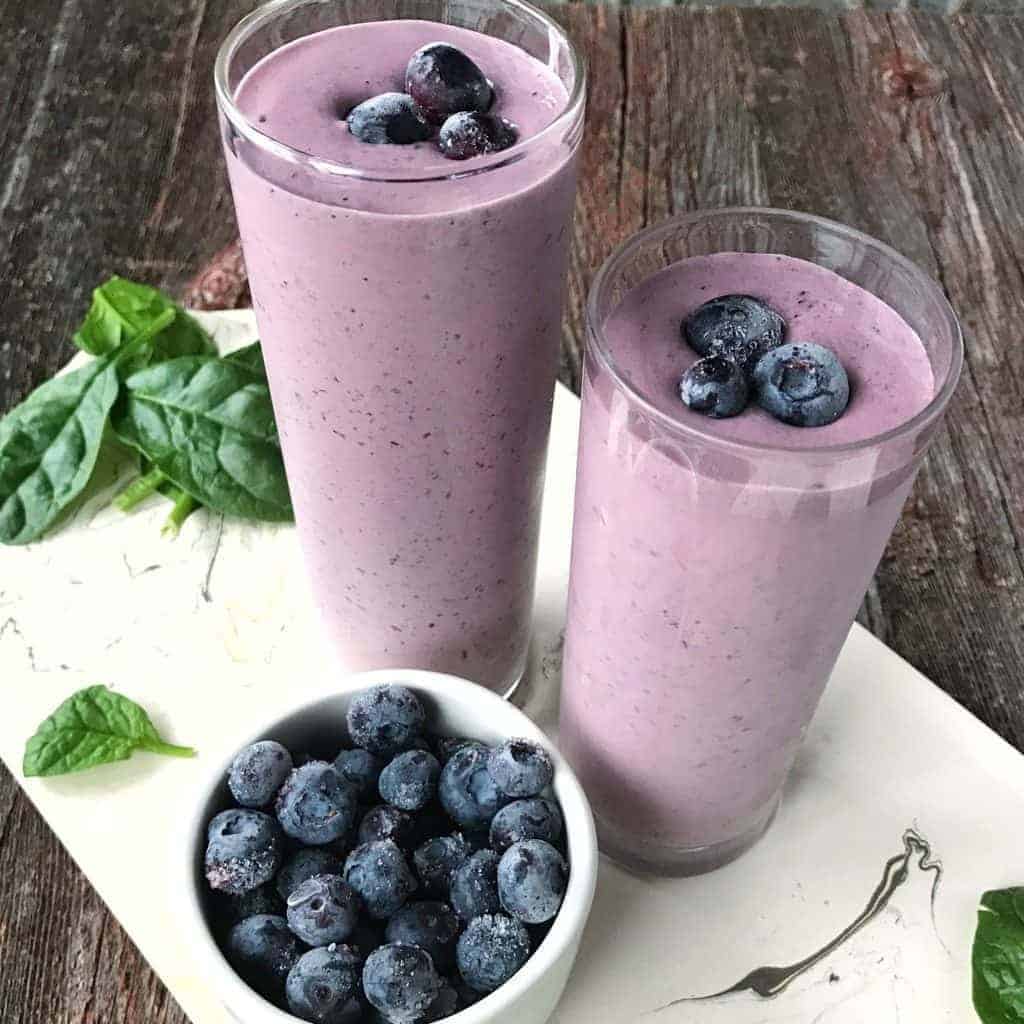 Have you looked into the fiber intake of your family?  What are your secrets for getting adequate amounts into your kids, I'd love to try some new ideas!
* This post contains affiliate links.  If you were to make a purchase using these links, it does not cost you any more, but I would receive a small commission.  Thanks for helping to support Create Kids Club.
Check Back Soon & Get Your Kids Cooking!

PIN For Later
SaveSave
Looking For Help With Your Picky Eater?
These simple tips will help bring peace to mealtime & enjoyment back to family meals.