Fresh cranberries are simmered with maple syrup, cinnamon, and nutmeg, then is muddled with mint, vodka, cointreau, then topped with sparkling water. Cranberry Spritzer with or without alcohol is the drink to impress your guests. Perfect for holidays, bridal showers, baby showers, or luncheons.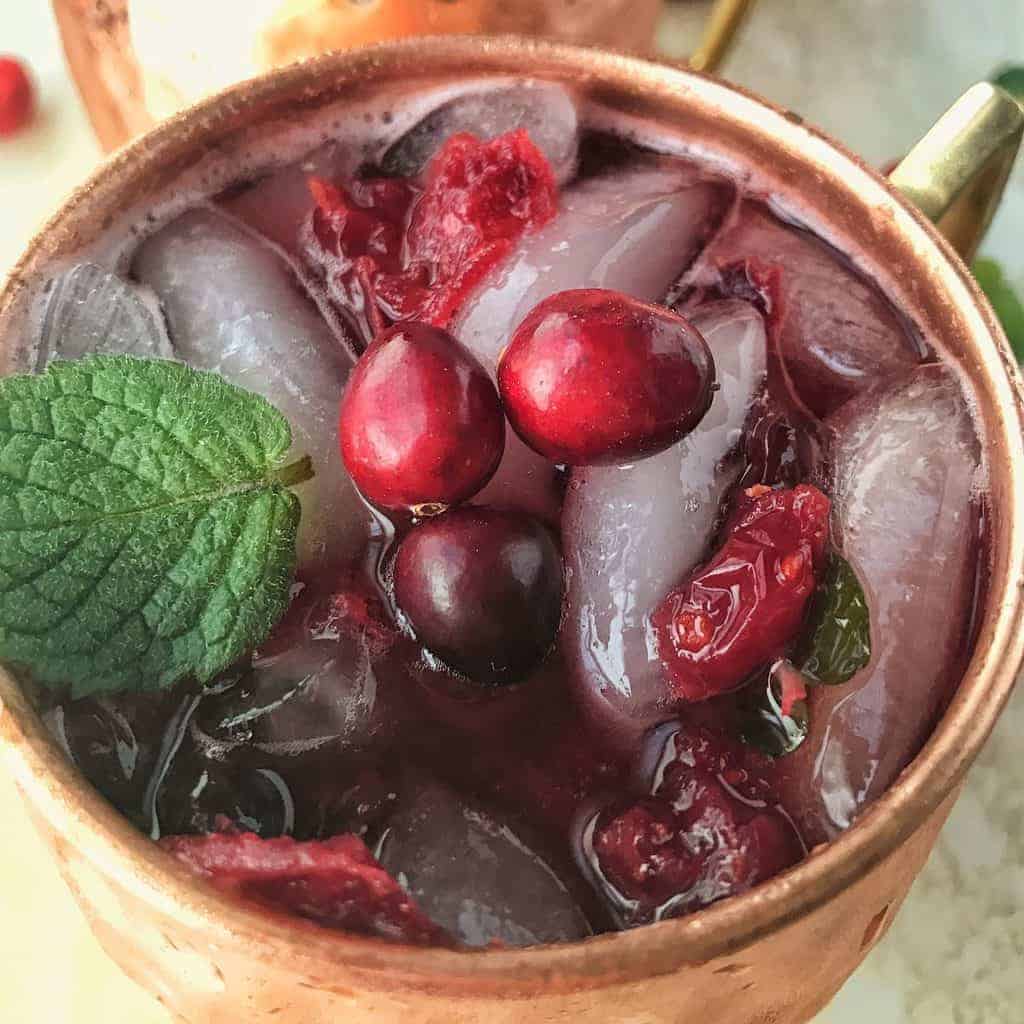 Every good party needs that wow factor – the one that has guests talking the next day.
It doesn't need to be complicated. It can be as simple as taking a good party to a great party by adding a signature cocktail to your menu, such as this easy Cranberry Spritzer.
Fresh cranberries are simmered with maple syrup, cinnamon, and nutmeg, for a fresh cranberry base that is muddled with mint, vodka, and cointreau, then topped with ice and sparkling water. Garnish with some fresh cranberries and fresh mint, and get ready for happy guests!
Wow your guests by adding this Signature Cocktail to your menu- Served with or without alcohol
Click To Tweet
This month's Recipe Redux is all about Cocktails and Mocktails for May Celebrations:
Showers and celebrations with friends abound this time of year. Show us your healthy, colorful drink concoctions for festivities like bridal showers and graduation celebrations.
This colorful drink concoction is perfect for any festivity and tastes so good, guests will never know it is a lower calorie cocktail.
Cranberries shine with the sweetness from maple syrup. Hints of cinnamon and nutmeg combine perfectly with the cranberry and mint flavors.
Cranberry Spritzer can be served with or without alcohol, and is just the touch you need at your next bridal shower, baby shower, holiday party, or luncheon.
Don't own copper mugs? Here is a link to the mugs I purchased. They look amazing, keep drinks extra cold, and every time I hand one to a guest, they rave about the mug!
If you enjoy this recipe check out Holiday Irish Cream – It won Runner Up in the Davidson's Safe Eggs Blogger Contest!
If your looking for a refreshing kid friendly drink consider Homemade Lemon Lime Soda.Recipe Card
Print
Cranberry Spritzer (Non-alchoholic if desired)
---
Description
The perfect signature cocktail for any party or event. Fresh cranberries simmer with maple syrup, cinnamon, and nutmeg and then are muddled with mint, vodka, and cointreau then topped with ice and sparkling water for the perfect, light and refreshing beverage.
---
Ingredients
1 1/2 cups fresh cranberries
1/3 cup maple syrup
1 tsp. nutmeg
4 oz. vodka (I used Tito's Handmade Vodka)
2 oz. cointreau
20 leaves fresh mint
32 oz. sparkling water (I used Ice Mountain Sparkling Water Orange Flavor)
ice
---
Instructions
Bring cranberries, maple syrup, cinnamon and nutmeg to a simmer in a medium sized pot.
Simmer for 10 minutes, stirring often.
Place about 2-3 TBSP of cranberry base into each copper mug or glass.
Place 4 mint leaves, 1 oz vodka, 1/2 oz cointreau into mug
Muddle, or mash, well.
Add ice and sparkling water.
Garnish with fresh cranberries and a mint leaf.
---
Notes
For a sweeter drink, add a splash of cranberry juice or use 7-up instead of sparkling water.
For a non-alcoholic drink simply omit the vodka and cointreau
What is your favorite drink to serve at parties?!
Stay In Touch & Get Cooking!

PIN for Later:
If you purchase through any links I get a small percentage paid by Amazon. It helps offset costs.
Check out other great drink ideas from fellow Recipe Reduxers:
FREE Kids Cooking eBook!
Do you want your children eating a more varied diet, but wonder how to get more fruit and veggies into their meals & snacks? This eBook is a fun filled way to get kids eating better while having age appropriate fun!