Sheet Pan Marinated Pork Filet & Roasted Vegetables is seared then roasted with chopped veggies for a quick, flavorful, and nutritious dinner meal that is ready in less than 40 minutes.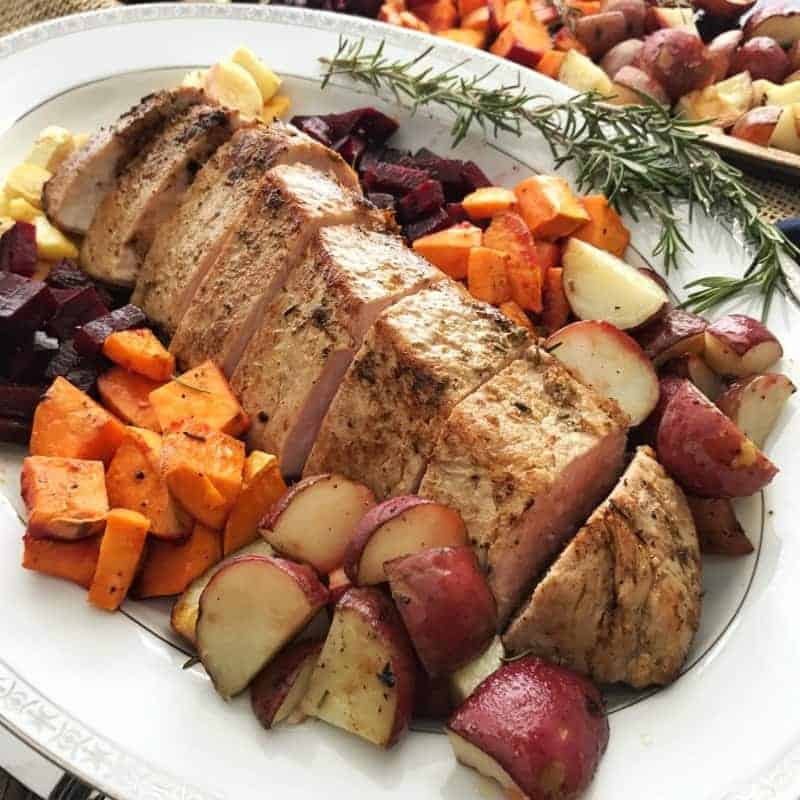 This post was sponsored by Collective Bias, Inc. and its advertiser. All opinions are my own. #RealFlavorRealFast #CollectiveBias
Do you ever wonder how it's possible the days pass quicker and quicker each year? It seems as though I blink my eyes and my kids are turning another year older, not to mention myself… insert sigh here.
While I have the benefit of a career focused on food, nutrition, and cooking, I still struggle with quick and easy meals for busy nights.
I get excited when I find short cuts to get a healthy meal on the dinner table, and love sharing these with you. That's how I feel today – I have a great dinner meal that includes a delicious way to get your family eating a few extra veggies!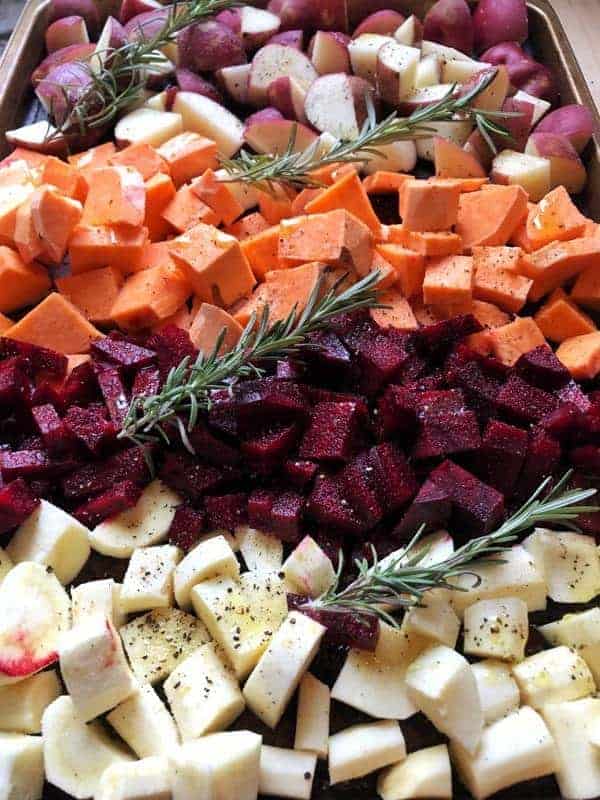 Smithfield Marinated Fresh Pork is a great short cut for busy weeknight dinners. It's pre-marinated and ready to go without having to plan ahead to marinate.
It's simple to find at Walmart, I grabbed mine while shopping for cleaning supplies and birthday cards. Smithfield® Marinated Fresh Pork is available in a variety of flavors across Tenderloins, Loin Filets and Roasts – you can find it in the meat department.
My goal with this Sheet Pan Marinated Pork Filet & Roasted Vegetables recipe was to create a one pan meal.
I was able to chop the veggies, sear the meat, and cook both the meat and veggies in under 40 minutes. Should you choose to use pre-chopped veggies, this weeknight dinner is ready in under 30 minutes. My kinda meal.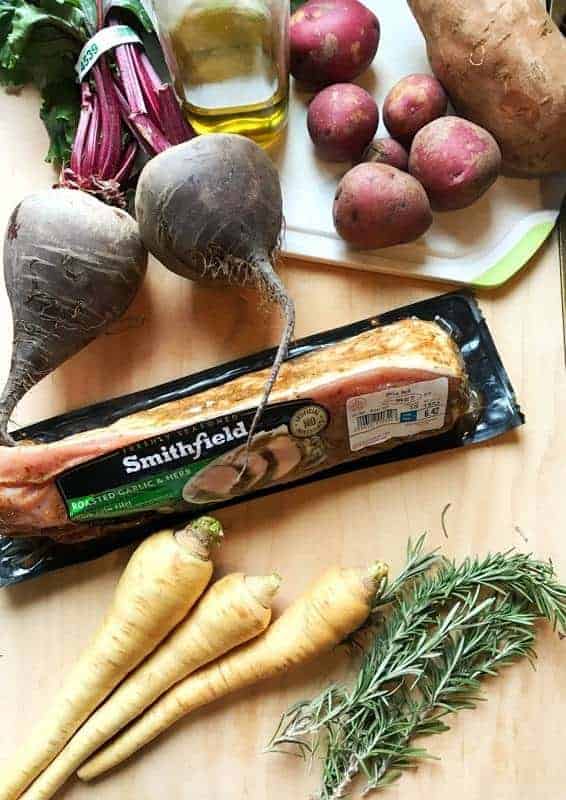 I chose to use veggies that my children are not in love with (yet), beets and parsnips. I mixed them with some favorites, baby red potatoes and sweet potatoes. The veggies roast underneath the Smithfield Roasted Garlic & Herb Loin Filet, catching drippings from this deliciously marinated meat, packing those veggies full of flavor!
To get started, preheat your oven to 425 degrees. Wash and chop the veggies. You can use the vegetables from the recipe, or use your families favorites such as potatoes and carrots. I recommend adding in at least one new veggie for your family to try, it's the prefect recipe to do so.
Place the veggies on a baking pan, drizzle with olive oil, season with salt and pepper, along with a few sprigs of rosemary. Put a wire rack over the top (the pork will cook on this later) and pop them into the oven.
Don't own a wire rack? The slotted broiler pan that came with your oven works great too. 🙂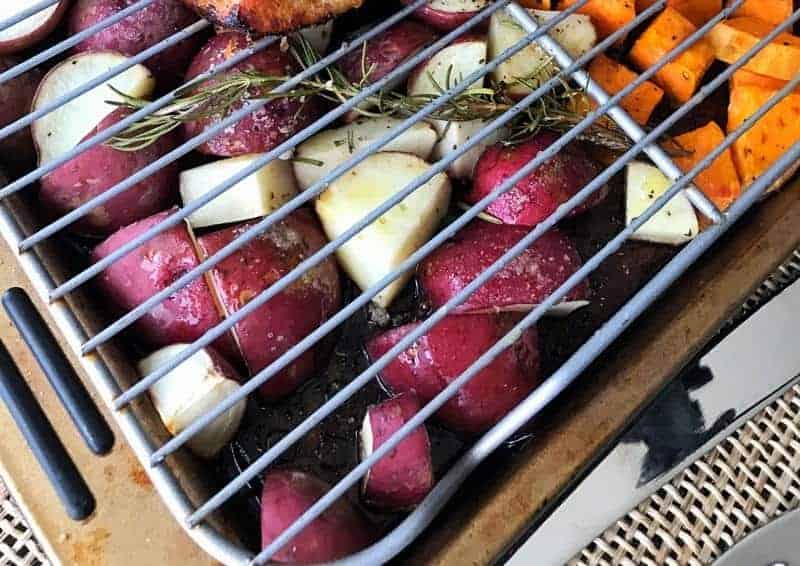 Let's talk about that extra step I mentioned – searing the meat. You know I am all about shortcuts, but this is one step you don't want to skip.
The reason why browning meat adds so much flavor
When a protein is combined with sugar, a browning and flavor development happens called the Maillard reaction. The Maillard reaction occurs around 285°F (140°C) and is responsible for the beautiful crust on a seared steak, pork chop, or chicken breast.
The Maillard reaction is a chemical reaction between an amino acid and a reducing sugar.
There is no need to add sugar; all foods have an amount of natural sugar in them. In the process, hundreds of different flavor compounds are created.
Contrary to belief, searing meat doesn't seal moisture inside the meat or result in a juicier end product.
It does, however, give meat dishes an incredible depth of flavor that is impossible to achieve without taking the step to first brown the meat.
When browning meat, it is really important to have a hot pan. Why? Read about it here.
Place the cast iron pan in the oven while it's preheating. If you don't have cast iron, stainless steal works great, but avoid nonstick skillets.
Be careful once you use the hot pan on the stove top – don't forget pot holders! I learned that the hard way…
Once the oven is preheated, take the skillet out, place it over high heat carefully adding a drizzle of high heat oil.
High heat oils have high smoke points (400 degrees F and higher) and include avocado oil, almond oil, corn oil, canola oil, grapeseed oil, peanut oil, safflower oil, sesame oil and sunflower oil. The smoke point is the temperature at which an oil starts to burn and smoke. This imparts a burnt flavor in foods and destroys beneficial nutrients and phytochemicals found in many unrefined oils. In this case, olive oil has too low of a smoke point and should not be used when searing meat.
Once the oil is glistening in the pan, swirl it around, lightly covering the bottom of the pan. Place the Smithfield Garlic & Herb Loin Filet into the hot pan and the let it be. Don't poke or prod the meat.
The meat will release itself from the pan once that Maillard reaction takes place. Sear the meat a few minutes on each side, browning the whole pork loin.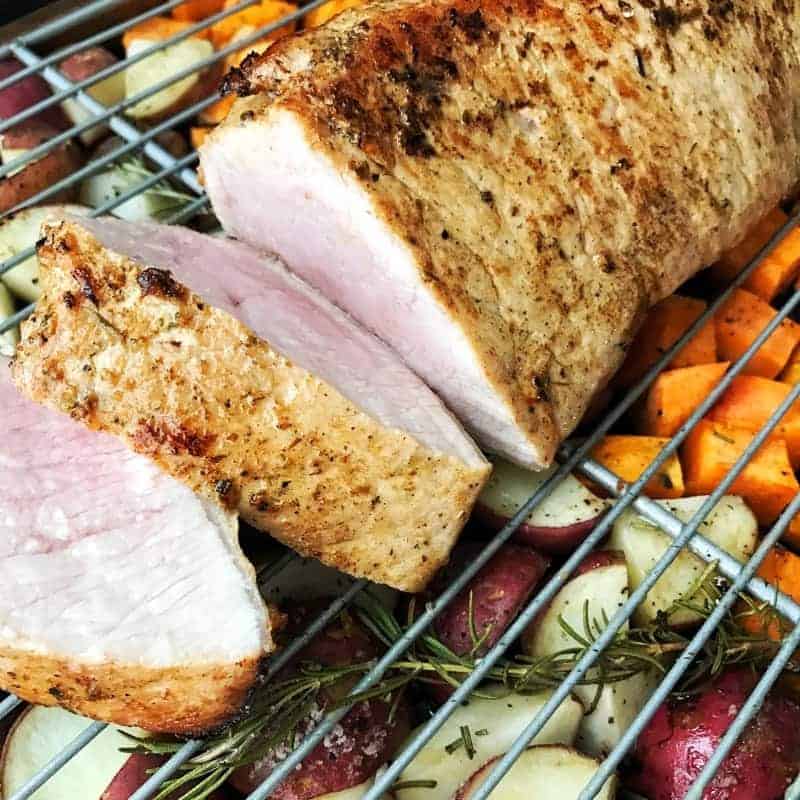 Remove the veggies from the oven, placing the pork loin filet on the wire rack. Place it back in the oven to cook about 20 minutes, or until the internal temperature reaches 145 degrees.
While that tasty Smithfield Garlic & Herb Loin Filet is cooking, you can deglaze the pan, if desired, to make a reduction sauce.
Simply whisk 3/4 cup white wine or chicken broth, then boil until reduced by half. Whisk 1 tablespoon of butter into the sauce, remove from heat, and serve. Skip this step if you're not into sauces.
Make sure to use a properly calibrated thermometer (learn how here). The key is to not over cook pork.
I was able to learn all about cooking pork while on a tour of a large US pork farm last year. If you'd like to read more about this along with the truth on how pigs are raised check out this post. It was an eye opening experience that I am thankful to have been part of and makes me enjoy pork all the more.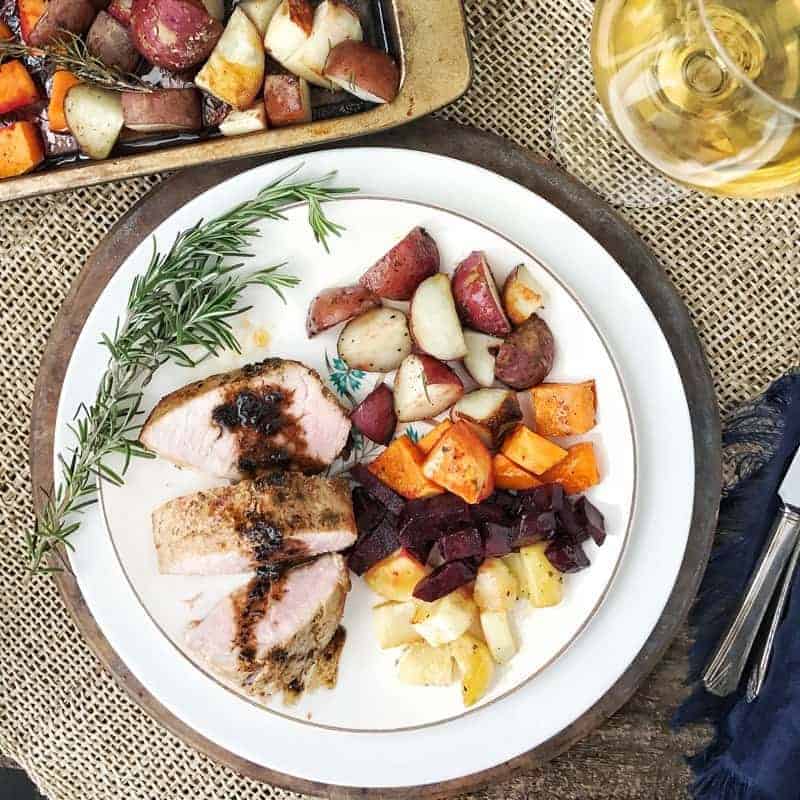 After dinner is served, this Sheet Pan Marinated Pork Filet & Roasted Vegetables makes delicious leftovers.
Top a big leafy green salad with sliced pork loin, add leftover roasted veggies, and drizzle with your favorite dressing for the perfect quick lunch.
Other ideas for using leftovers include tacos, enchiladas, pork and rice bake, or simply freeze for your another busy night.
Easy nutritious meals like this one take the stress out of cooking. There is not much better than the simplicity of sitting at the dinner table, having a delicious meal, hearing all about my children's day -because as we know, time flies by and there are only so many of these nights we get.
I'd love to hear how you would use Smithfield Marinated Fresh Pork!
Click on the coupon below for $1.00 off your next purchase.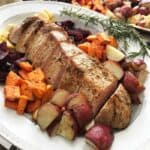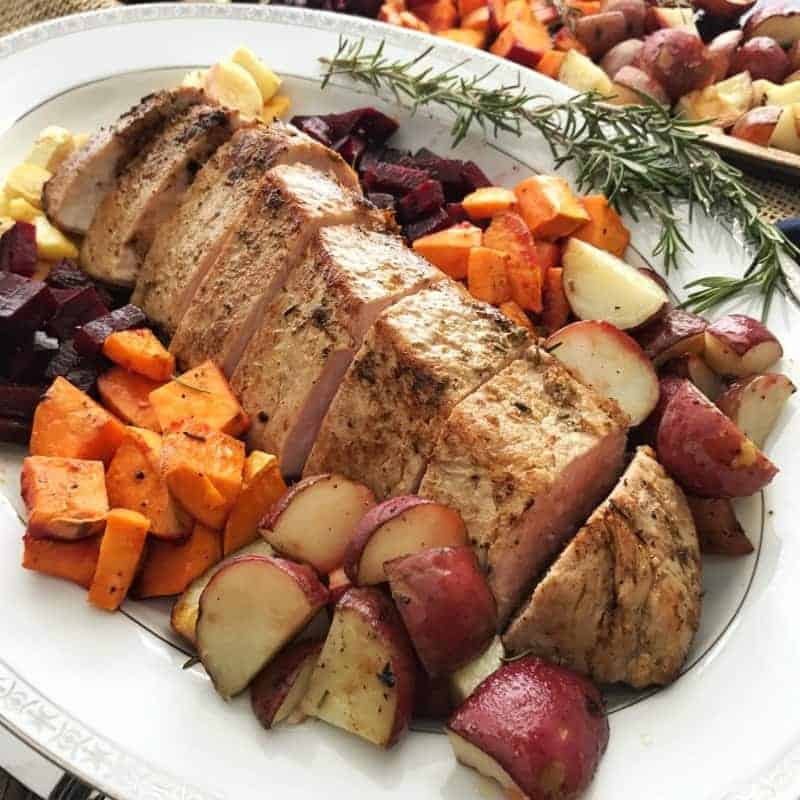 Sheet Pan Pork Filet With Roasted Root Vegetables
Sheet Pan Marinated Pork Filet with Roasted Vegetables is seared then roasted with chopped veggies for a quick, flavorful, and nutritious dinner meal that is ready in less than 40 minutes.

Ingredients
1

marinated pork loin

such as Smithfield Garlic & Herb Loin Filet

Canola oil

15

small

red potatoes, quartered

3

large

parsnips, peeled and sliced

1

medium

sweet potato, peeled and sliced

1

medium

beet, peeled and diced

5

sprigs

fresh rosemary

Salt & pepper

Olive oil

1

tbsp.

butter

optional

3/4

cup

white wine or chicken stock

optional
Instructions
Remove pork loin from refrigerator to bring closer to room temperature.

Preheat oven to 425 degrees.

Place cast iron or stainless steel sauté pan in oven while preheating.

Arrange chopped vegetables on sheet pan, drizzle with olive oil, season with salt and pepper, top with 4-5 sprigs rosemary.

Once oven is preheated, carefully remove skillet from oven.

Place a oven safe wire rack on top of vegetables and place sheet pan into oven,

Over high heat, add drizzle of canola oil to hot pan.

Carefully add pork loin, cooking 2-3 minutes per side, or until meat easily releases from pan. Brown all sides.

Remove sheet pan from oven, placing pork loin on wire rack.

Continue to cook 20 minutes, or until a thermometer reads 145 degrees.

Let pork rest 10 minutes, then slice.

While pork rests, continue cooking vegetables if they are not done to your preference.
To make reduction sauce
To hot saute pan with pork drippings, whisk 3/4 cup white wine (alcohol cooks off) or chicken broth into pan getting all the bits from searing the pork mixed in.

Boil until reduced by half.

Whisk 1 tablespoon of butter into reduced sauce.
Don't Forget To PIN for Later!
CONSUMER NOTICE: I may receive a small compensation from the goods and services mentioned on thiswebsite when you purchase from a provider. Thank you for supporting Create Kids Club.
Get Your FREE Crockpot Cookbook Now!
Get 10 tried & true Kid Approved Crockpot Dinner Recipe favorites!