Rigatoni Pasta Recipe is this week's Cook The Book feature from Food Network Magazine.  Find out if my family of 4 liked this recipe and if your's might too.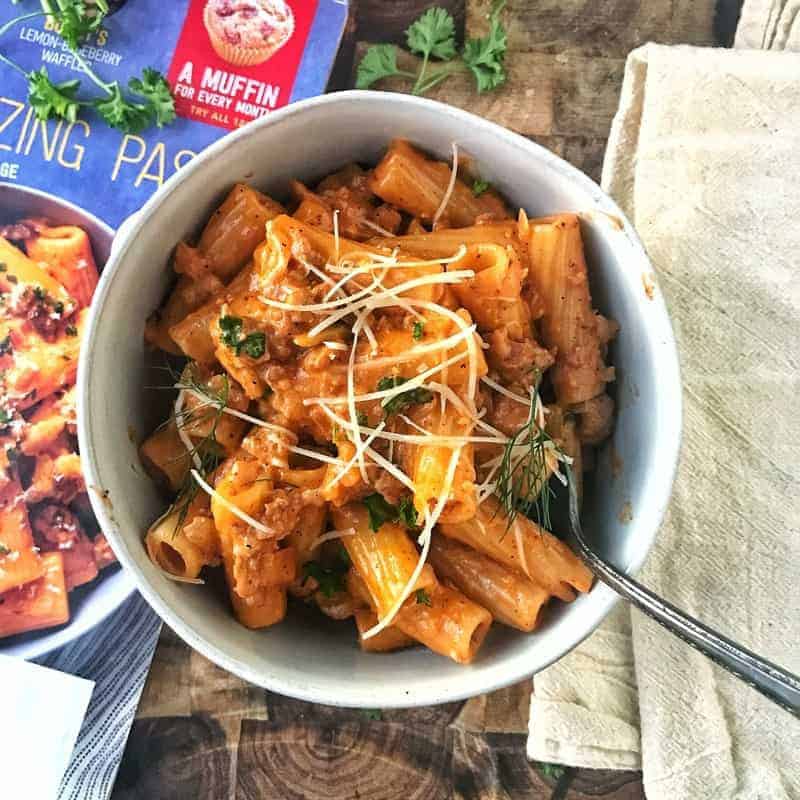 Cook The Book is where I take recipes from my rather large stack of food magazines, try one, then share it with you – complete with honest feedback on what my family thought of the recipe.
This month is #3 in our Cook The Book series.  I selected the recipe "Ina's Rigatoni With Sausage" from the January/February 2018 issue of Food Network Magazine.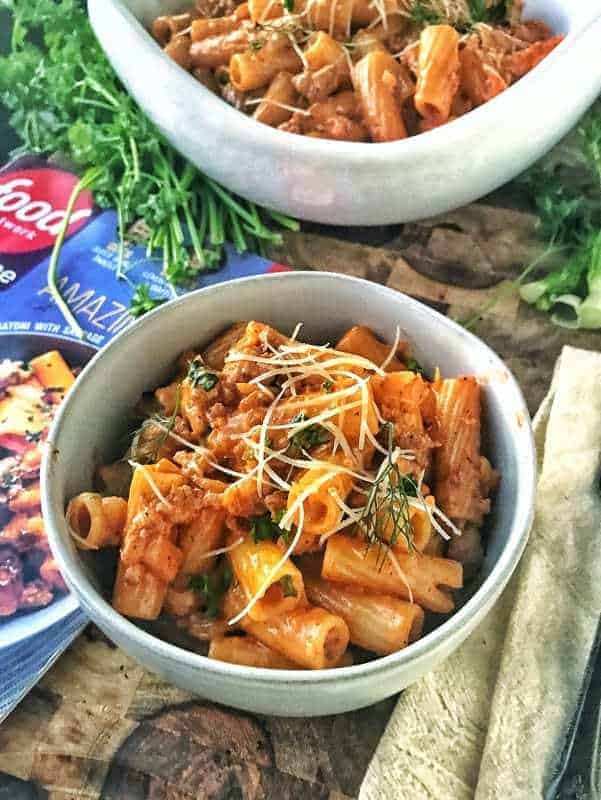 This rigatoni pasta recipe was easy to select.
I mean, just look at the cover of this magazine!  It had my family written all over it.
I was excited to try this recipe for another reason… It included an ingredient I have never cooked with before – fresh fennel.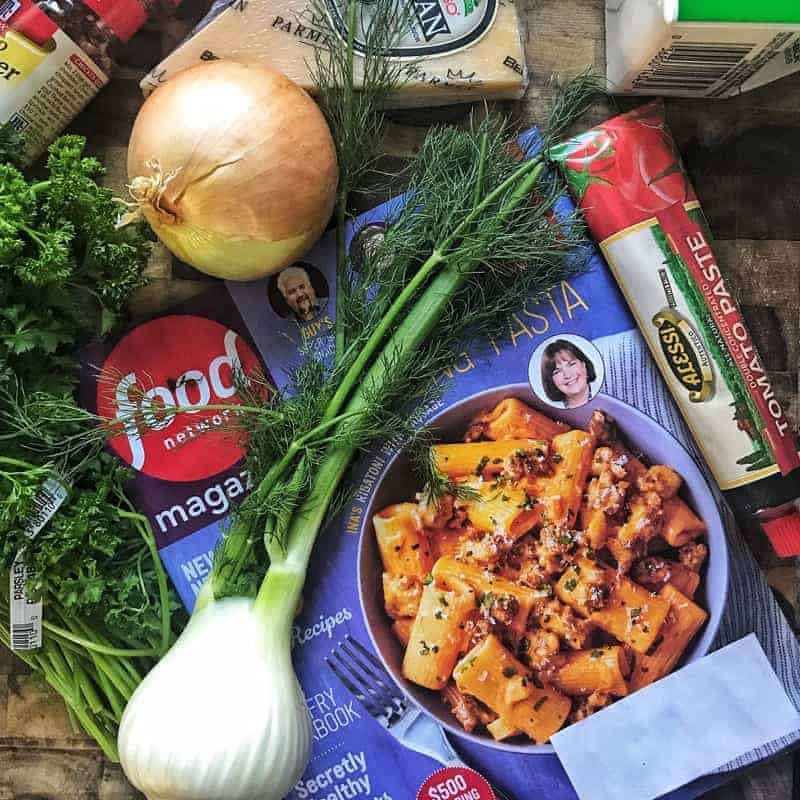 Fennel is the green bulb in the photo above.  I have to admit, I had to google what fennel looked like fresh while in the store.  My local grocery store is not very big, and they had 1 fennel bulb.  I crossed my fingers it was fresh enough…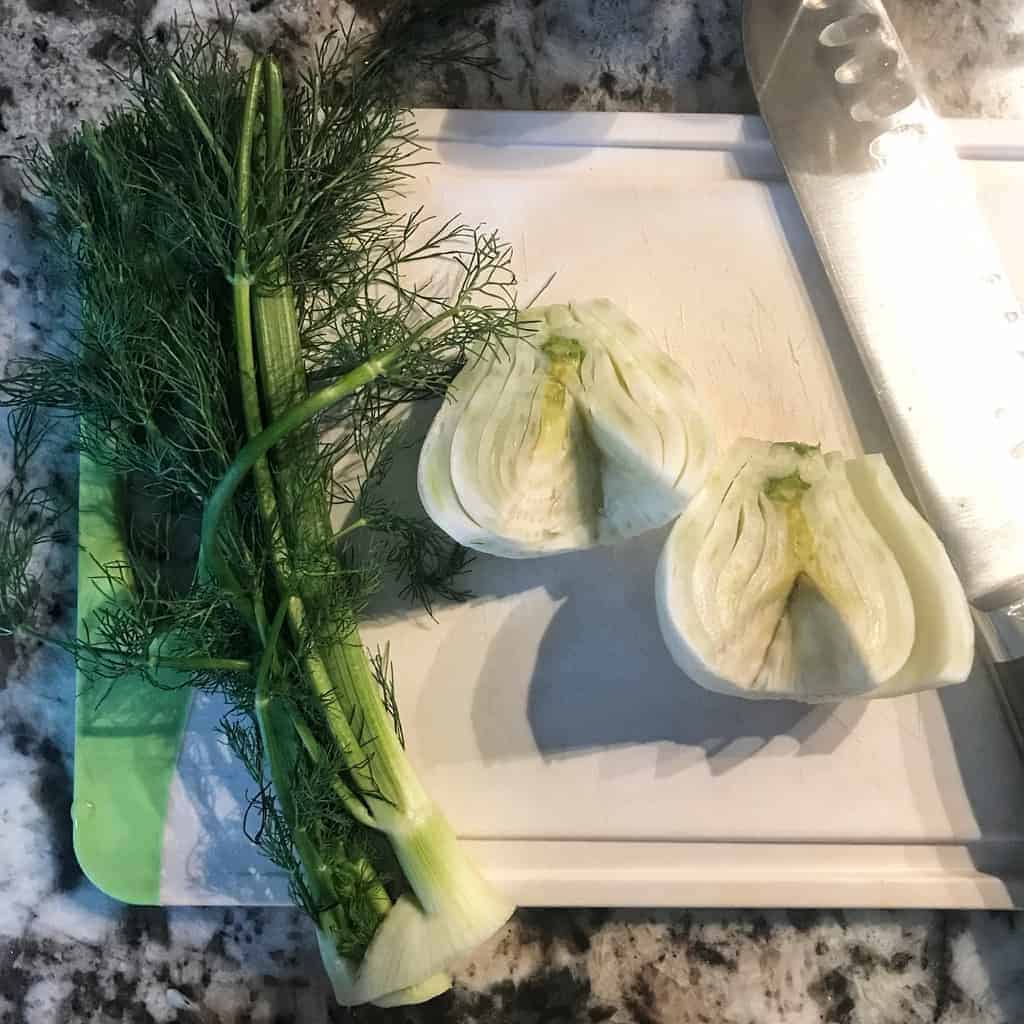 I also had to google how to cut fennel.  Here is what I learned.
How To Cut Fresh Fennel:
Cut off upper stalks (makes the perfect addition to those veggie scraps for stock –> get info HERE)
Slice Fennel bulb in half
Cut out bottom roots
Peel off outer layer if wilted
Chop as you would an onion
When I smelled this new to me veggie, I was taken aback by the scent, which I assumed would be similar to an onion, but it was not at all.  It was lightly scented of licorice or anise.  I was intrigued, and a bit worried that my family would not like this dish, but to jump ahead, the flavor of the rigatoni pasta was not at all strong on this flavor.  Good news for my family! And maybe yours?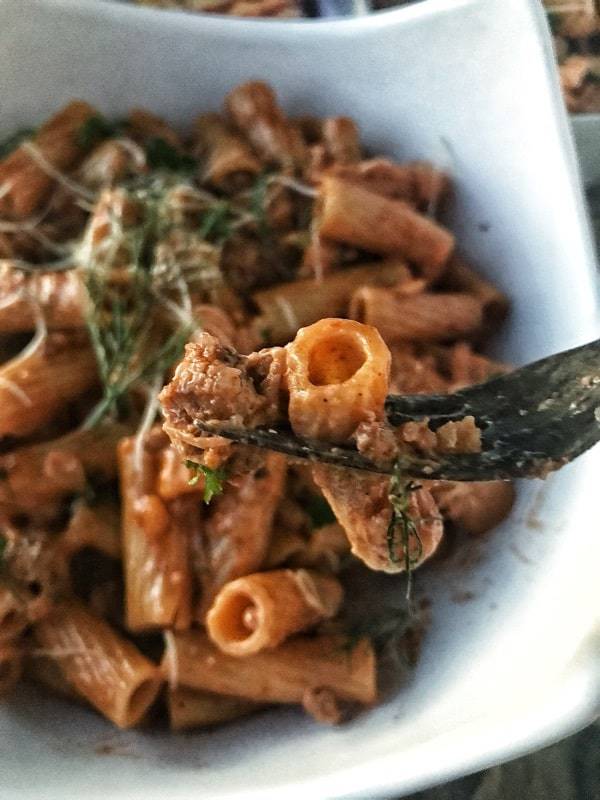 The recipe came together pretty easily.
With half and half, along with whipping cream, it is not a healthy recipe by any means.  I saved this for a special Friday night dinner, it was equivalent in my mind of a great restaurant pasta dish.
Changes To The Recipe
I did not mean to change the recipe.  With this Cook The Book series, I intend to stick to the recipe so everyone can try it the same way at home.  However, I had recently cleaned out my spice rack, tossing a container of fennel seeds from 2012.  2012!  You can see I don't regularly use this spice, so I decided to forgo the fennel seeds.
The recipe called for 3 cups of chopped fennel, or one large bulb.  If you remember my stating there was only one fennel to choose from at the store – it certainly wasn't 3 cups worth, it was more like 1 cup.  So my version was light on fennel – FYI.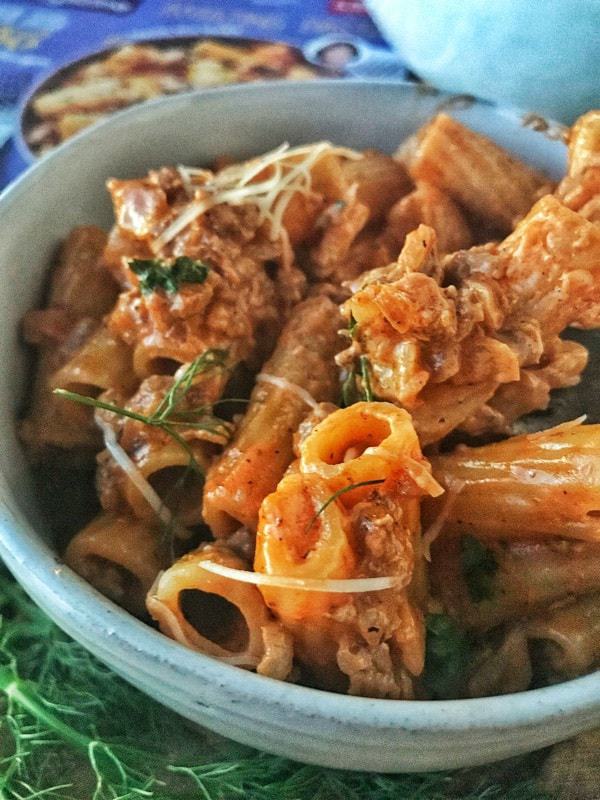 The conclusion?
My husband gave it an A+ —> he raved about this pasta, and couldn't stop talking about how good it was.  Coming from a man who really doesn't care much about food, this was a pretty big deal. My 9-year-old daughter is a pasta and sausage fan, she really enjoyed the rigatoni too.
My son, on the other hand, thought it was way too spicy. Once I told him about the new veggie I learned about and experimented with in this dish, he officially said he didn't like it.  However – he ate a second helping… I thought the pasta was delicious.  I am not a huge fan of pasta, so that's saying something.
Would I recommend the recipe?
I would recommend this dish for special occasions.  It's a pretty heavy, high-calorie meal so it's not one you want to keep regularly on the menu.  In her article, Ina Garten states she uses this rigatoni recipe for dinner parties and reheats the pasta as guest arrive.  I think this sounds like the perfect use of this dish.
If I make it for my family again, I will keep the crushed red pepper out,  adding it to the table for those who like spice.
Get the Rigatoni Pasta Recipe from Ina Garten HERE.
Looking for lower calorie pasta dishes? Check out the following: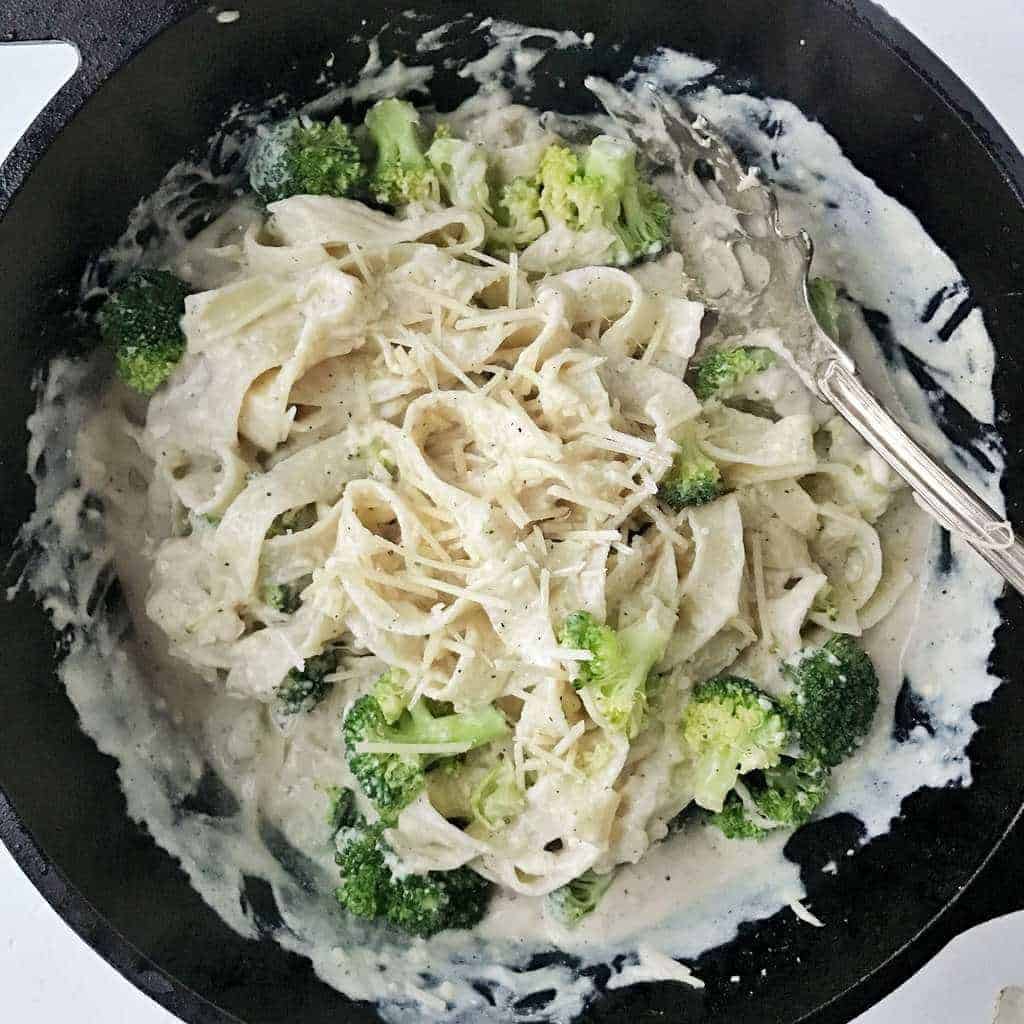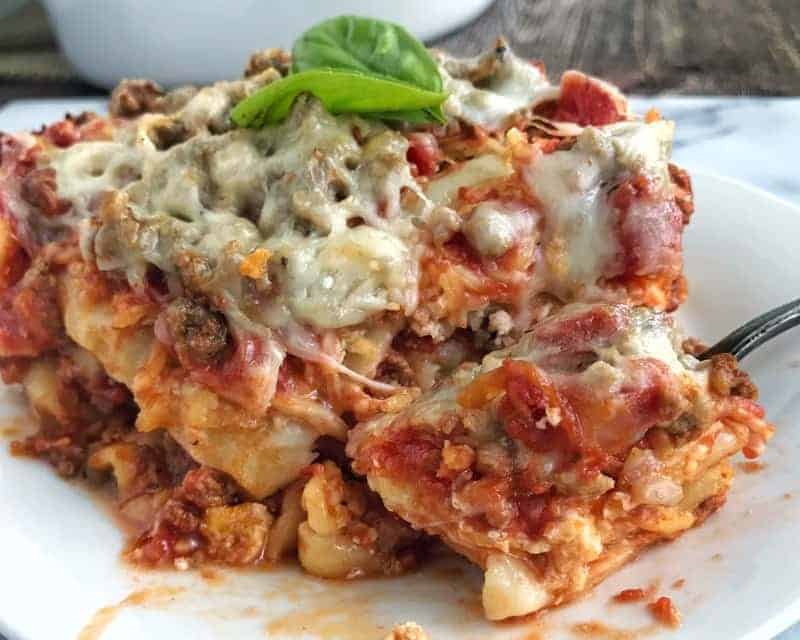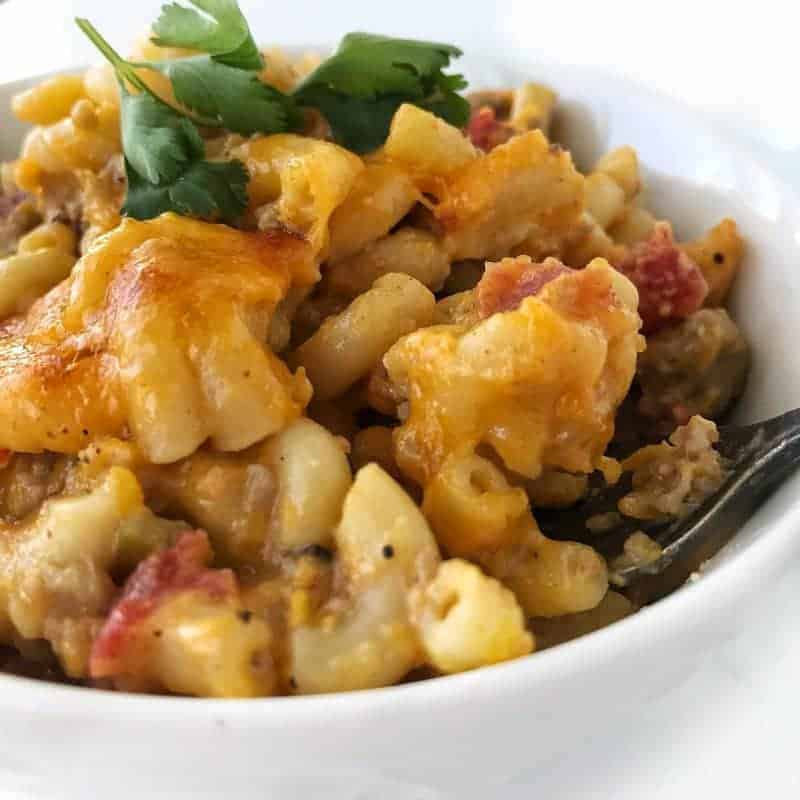 What's your conclusion – will you be trying this rigatoni pasta recipe?

SaveSave
SaveSaveSaveSave
SaveSave
SaveSave
FREE Kids Cooking eBook!
Do you want your children eating a more varied diet, but wonder how to get more fruit and veggies into their meals & snacks? This eBook is a fun filled way to get kids eating better while having age appropriate fun!