Reading recipes sounds self-explanatory, but there are some tips and tricks a cook needs to know to ensure recipes turn out each and every time.
Have you ever realized at STEP FIVE of a recipe that you were supposed to reserve some flour? Ever unsure whether to measure the nuts, then chop, or chop then measure? This recipe reading article decodes recipe mysteries, helping save time in the kitchen.
While at the grocery store struggling to figure out where to locate the correct ingredients for a recipe, a busy mom was reminded why she doesn't like to cook very often. Was a stalk of celery just one piece, or the whole thing? And the oregano—was it dried and ground or fresh?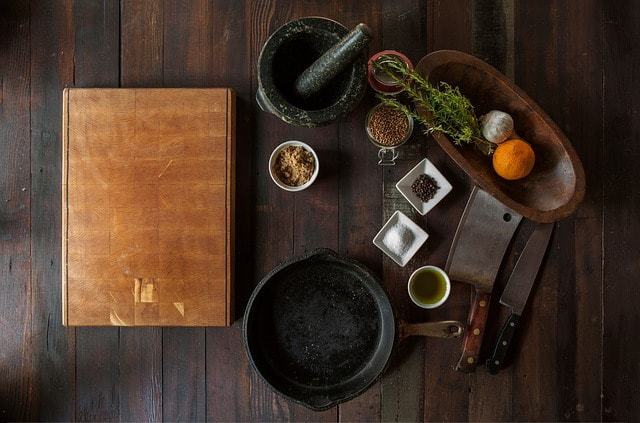 Cooking at home can challenge the patience of all cooks, novice to advanced.
March is National Nutrition Month. This year's theme is "Put Your Best Fork Forward".
Let's head back to the basics to better understand the ins and outs of reading recipes because serving delicious, healthy meals (with less stress!) is a great way to put our best fork forward not only this month but all year.
Standards of recipe reading:
When a recipe calls for eggs, it means

large eggs

Sugar, not specified, means

white sugar

When a recipe calls for an herb, it generally means

dried

Flour, not specified, means

all-purpose white flour

1 stalk of celery means just one long piece from the base of the celery head, not the whole bunch.
The word divided, listed after an ingredient, means that ingredient is used in several parts of the recipe.
EXAMPLE
You may use shredded cheese in a sauce, and then again to top the dish. The total amount of cheese would be listed on the recipe then followed by a comma and the word "divided"
1 cup shredded cheese, divided.
Taste food, then season to taste, not necessarily to recipe measurements.
TIP: Take the liberty of seasoning food the way your family prefers. This might mean adding a bit more, or less salt. Maybe add more minced garlic than a recipe calls for or leave out the crushed red pepper flakes.
Know the difference between a simmer and a boil.
TIP: Simmering means that a bubble breaks the surface of the liquid every second or two. Boiling means more vigorous bubbling. Knowing the difference between the two is very important to the outcome of a recipe.
Make sure the pan is hot enough before starting.
TIP: Food will stick to the pan if it's not hot enough. If there is no sizzle, it is not hot enough. Test by drizzling a couple of drops of water in the pan. If the water "bounces" around the pan – it's hot!
Leave food alone while it's cooking, don't turn, poke, or flip.
EXAMPLE:
An item like breaded chicken breasts won't develop a nice crust until its allowed to cook, undisturbed, according to the recipe directions.
And my favorite – Always use a meat thermometer, don't guess by looks.
TIP: This is the quickest way you can improve your cooking skills – properly cooking meat to the correct temperature. Check out a short video on this topic HERE.
Reading Recipes 101
Make sure to read the full recipe. Before starting, always read through the entire recipe – at least twice. It will save you time in the end.
Watch punctuation. Punctuation in a recipe gives you direction, make sure to pay attention to those commas. "1 cup chopped nuts" is not the same as "1 cup nuts, chopped." In the first example, you are measuring pre-chopped nuts, in the second you are measuring whole nuts, then chopping them after they are measured.
This is a bit confusing if you don't understand the importance of those commas. One reader noted, "Recently I made cookies where the recipe called for 1 1/4 cups of rolled oats, ground into a flour. I never know 100% if that means you want 1 1/4 cups AFTER grinding. Baking from scratch can be tricky enough; I want measurements and directions spelled out for me!"
Unfortunately, many recipes won't spell things out any more clear than the comma. Follow the guidance of the comma.
Note differences between ounces and fluid ounces. They are not the same, one measuring weight, the other volume. If a recipe calls for ounces make sure to weigh the ingredient. For example, ¾ cup of flour is not the same as 6 ounces of flour. A cup is a measurement, ounces is a weight.
Get out supplies before starting. This ensures you have everything you need and will make the cooking process go more quickly. Gather measuring cups, spoons, mixing bowls, or baking pans in the beginning.
Gather ingredients. Set out all ingredients called for in a recipe. It is best to know right away if you don't have enough flour for the recipes rather than when you are to that step.
Make sure you properly measure ingredients. For example, 1 cup of flour should be spooned into the measuring cup and leveled across the top with the back of a knife for proper accuracy. Also, you should know that ingredients are listed in the order used. For example, most recipes will have you preheat the oven first, or prepare the baking pan, so they ready when you are.
Pay attention to cooking instructions. Many times, cooking instructions will include phrases such as to cook until "golden brown," "a knife inserted comes out clean," or "spices are fragrant." Make sure to use these clues along with the cooking time. These can be more valuable than a timer alone.
SaveSave