Today's Raising Healthy Kids Interview is with Sara Haas, RDN, LDN. Keep reading to find out the fun way she teaches her young child about the role food plays in health.

THE RAISING HEALTHY KIDS SERIES BRINGS MOMS TOGETHER SHARING TIPS & TRICKS FOR FEEDING KIDS.
Feeding children is a task parents typically take on without any education.

To help parents with this task, each week we'll interview a different registered dietitian mom.

We'll hear her families story while learning tips we can apply in our own homes. These moms share what works for them, what doesn't, the successes AND failures, to help moms like you who have the same goals.

We are all simply trying to raise healthy kids.
Let me introduce Sara Haas– of the sites SaraHaasRDN.com. Welcome, Sara!
Tell us about your family and where you live:
We are a small, happy family of 3 living in Chicago, Illinois.
What has surprised you the most about feeding kids since becoming a mother?
How challenging it can be. As a food-lover, I didn't think my offspring would suffer from "picky eating syndrome."
Tell us about your most challenging moment feeding your child:
I think it's easy to get into a rut, where you're making the same stuff over and over again because you know everyone will eat it. It's always challenging to keep things new and fresh, but also something people will enjoy and eat.
How did you solve this problem?
My goal is to try one or two new recipes/foods each week. Doing this has really been fun. I always make sure there's something on the table everyone will eat, but the rest of it is something we don't have often. Our motto is that you at least have to try one bite to see if you like it or not.
When bringing foods into your home, what factors influence your food choices the most?
I try to buy very few pre-made foods. I like to cook and I like to teach my daughter how to cook, so we buy foods in their whole state.
In what ways do you encourage healthy eating in your home?
We talk a lot about how food fuels your body and your mind. Explaining the role food has on health, helps them perceive it differently, in a more positive light. For example, "that milk is awesome because it is made up of a lot of cool stuff that helps builds your bones and makes them stronger. Check out how amazing those bones of yours are!"
What struggles do you face with your kids while implementing healthy eating in your home?
Boredom is the biggest struggle. So, I try to mix things up as much as I can. Kids love to dip, so I always try and provide something yummy to dip veggies in, such as hummus or a Greek yogurt dip.
What is your #1 tip for raising healthy kids and how has this tip worked for your family?
Cook with your kids! It's a great experience for everyone. I've never heard one kid say that they don't love it when they're invited to the kitchen. My daughter is proof. She loves putting on her apron and getting a huge mess going in the kitchen.
What is your family's favorite recipe?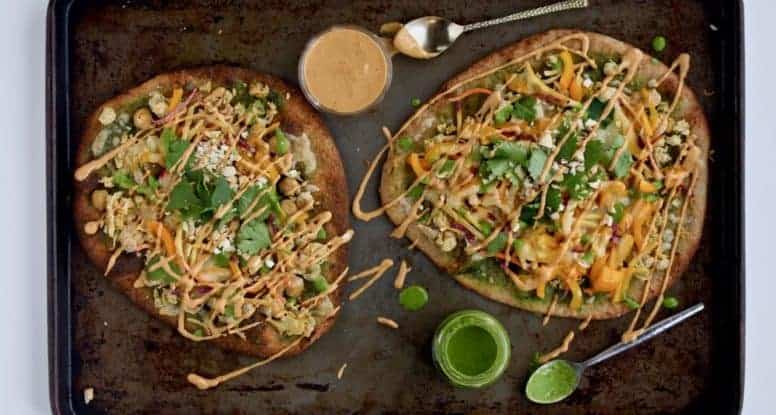 This one is a favorite because it's so flavorful and fun to eat. It's also fun to make! My daughter loves putting on the toppings and drizzling on the sauce.
Thank you, Sara, for sharing your story with us today!