Today in our dietitian mom interview, we chat with Robyn Kievit Kirkman. Robyn shares how her blended family of 6 works around both food allergies and food preferences.
This series brings moms together sharing tips & tricks for raising healthy kids.
Feeding children is a task parents typically take on without any education.

To help parents with this task, each week we'll interview a different registered dietitian mom.

We'll hear her families story while learning tips we can apply in our own homes. These moms share what works for them, what doesn't, the successes AND failures, to help moms like you who have the same goals. We are all simply trying to raise healthy kids.
Let me introduce Robyn Kievit Kirkman NP, RD, CSSD, CEDRD of the website, Robynkievit.com. Welcome, Robyn!
Tell us about your family and where you live:
We are a blended family of 4 ages 17 to 5 with anaphylactic nut allergies, non-gluten preferences dislike of cheese and shellfish – just to name the most important issues for meals. Our boys are both 17 and all our kids are active. I will routinely need 3 lbs of chicken or beef or pork if I am prepping a meal with one of these. We live in Concord, MA.
What has surprised you the most about feeding kids since becoming a mother
How different the kids can be from the beginning in terms of texture preferences and tastes.
Tell us about your most challenging moment feeding your family?
All of the needs [listed above] can feel overwhelming.
How did you solve it?
Embracing it! I've been a dietitian for 23 years so I was not going to let all these pieces overcome me. My husband willingly grocery shops weekly in addition to myself. He will buy the ingredients I find in trying new dinner recipes. The kids all agree to try a dinner I make if it's new. I also don't make it an issue. For myself or them. I know what will work in terms of recipes and my goal is to get 3/6 of them to 'like' the meal. There is always pasta made, cut up fruit, cereal and yogurt as alternates but we often don't need to use those.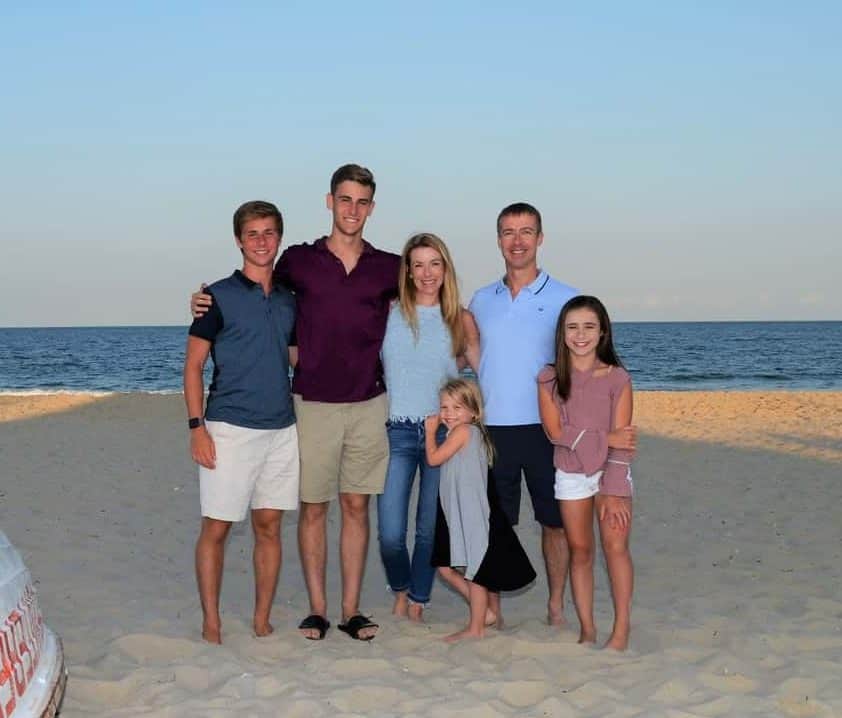 When bringing foods into your home, what factors influence your food choices the most?
Our family's needs and cost.
In what ways do you encourage healthy eating in your home?
We have fresh fruit out all the time. We also have a rule about eating all together as a family for dinner as often as we can which can sometimes be only 1x a week some weeks but we do this. We prep fruit for the kids for breakfasts daily. Dinners always have at least 1-2 veggies. Juice is in the mornings only (cannot really control this in the older kids anymore).
What struggles do you face with your kids while implementing healthy eating in your home?
I think it's not in the home it's out of the home!
What is your #1 tip for raising healthy kids and how has this tip worked for your family?
Stay calm. Don't get upset about it or plan too far ahead.
Thank you so much for sharing your story, Robyn!
SaveSaveSaveSaveSaveSaveSaveSaveSaveSaveSaveSaveSaveSave
SaveSave
FREE Lunch Bites Note Cards!
FREE printable Lunch Bites lunchbox note cards perfect for school lunch or back packs!