Today, we chat with Lauren O'Connor and learn how she teaches her daughters about healthy eating through leading by example.
This series brings moms together sharing tips & tricks for raising healthy kids.
Feeding children is a task parents typically take on without any education.

To help parents with this task, each week we'll interview a different registered dietitian mom.

We'll hear her families story while learning tips we can apply in our own homes. These moms share what works for them, what doesn't, the successes AND failures, to help moms like you who have the same goals. We are all simply trying to raise healthy kids.
Let me introduce Lauren O'Connor, MS, RD of the website, Nutri-Savvy Health. Welcome, Lauren!
Tell us about your family:
My husband and I live in Los Angeles with our 9-year-old twin daughters, Ailish and Julia. My 90-year-old mother-in-law also lives with us due to her declining health.
What has surprised you the most about feeding kids since becoming a mother?
The most surprising thing about my girls is that they really don't have a sweet-tooth. While they can enjoy cake like the rest of us, when setting foot into a bakery or being offered a treat, they can take it or leave it. If they don't completely decline a sweet offer, they'll say something like "maybe tomorrow." After hearing nightmares about feeding kids, I had anticipated raising healthy eaters to be huge challenge. But for me that isn't necessarily so. While they aren't perfect and don't eat every veggie I serve, I really don't find feeding them a serious challenge.
Tell us about your most challenging moment feeding your child (or family):
My declining mother-in-law is not the best example. She picks at her food, smashes it all over her plate, often spits food out or hides it in napkins. This had become very concerning to me as I didn't want the kids to follow suit in her poor table etiquette. I also found that she was refusing to eat due to her declining sense of taste and textural issues. Simply pureeing or adding salt to the table wasn't always the answer.
How did you solve this problem?
I have spoken to my girls many times about their declining grandmother and how her behavior at the table was not a good example. They do understand (and often find Grammy's behavior humorous, but try not to be obvious) and thankfully they aren't following her poor lead. I also have her caretaker buy her preferred and suitable meals that I can simply reheat, add sauce to and or chop a little finer to suit her needs.
When bringing foods into your home, what factors influence your food choices the most?
"Will my kids eat it?" is one thing I keep in mind. While I do encourage developing tastes, I allow my kids to savor, taste and explore foods I prepare to guide me on choices that they will enjoy. I try to limit snacky processed foods like potato chips, artificially flavored crackers/snacks and other highly processed foods. While I'm open to trying out new "brands" whose mission is to deliver more plant-based, non-GMO, allergen-free snacks, I don't set out to use these as the basis for snacks.
In what ways do you encourage healthy eating in your home?
I enjoy a salad at most meals, and 75% of my plate is plant-based. So I lead by example. I also incorporated foods gradually, rather than forcing them to eat their veggies. When it came to introducing salads to my kids' plates, I started with a yogurt-based sweet-tart coleslaw that I could vary with different fruit, nut/seed additions like blueberries and almond slivers or cranberries and walnuts to add a little sweetness and texture. Then I found it easy to introduce spinach or Romaine-based salads, and eventually a more pungent Kale or Arugula mixture. I knew they were 'ready' for leafy green salads when they started stealing bites off my plate. A vegetable is always included in their meals (and in some cases two).
One of our favorite activities is cooking together. My girls choose a healthy recipe from a trusted cookbook and each week we prepare the meal. This is fun for them, and because they are involved, they are very likely to eat and enjoy it. Recently they've been selecting recipes from Jessica Seinfeld's "Deceptively Delicious." While I don't think I need to hide the veggies into their meals to get them to eat, I feel it's a good way to include more veggies and we've had success with every recipe thus far.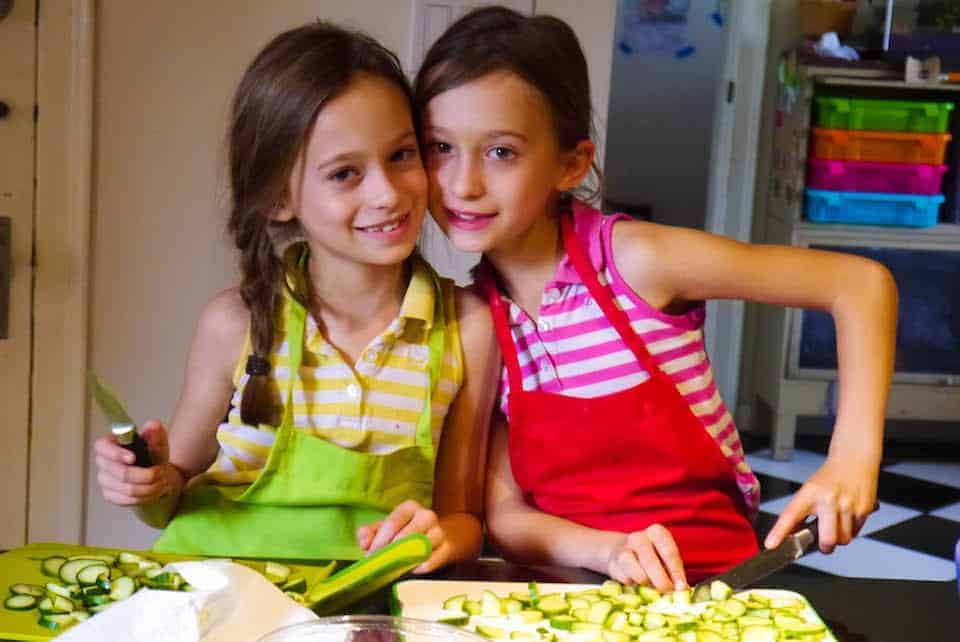 What struggles do you face with your kids while implementing healthy eating in your home?
My girls, like me, are choosy eaters. Not because we don't like to eat, but because we like food that truly tastes good to us. I call them "mini – foodies". The really take the time to explore (smell, taste, chew) what they are eating. Thus I'm confident that they are becoming mindful eaters which I support. After testing with a bite or two, they love to guess what's in my dish or baked treat — at least 80% of the time, they are correct. So I don't see "being picky" as a struggle, but rather a healthy, fun challenge to keep my meals "fresh", interesting and suitable to their individual wants/needs.
What is your #1 tip for raising healthy kids and how has this tip worked for your family?
"Take a Bite" is my #1 tip. By this I mean that my girls know they must at least try something before clearly denying it (of course when it comes to sweets, that is only an option). If they like it, that's great! If not, it may simply be a matter in how a food is prepared or seasoned. I know they don't like "spicy" but I've gradually introduced more intense seasonings over time.
What is your family's favorite recipe?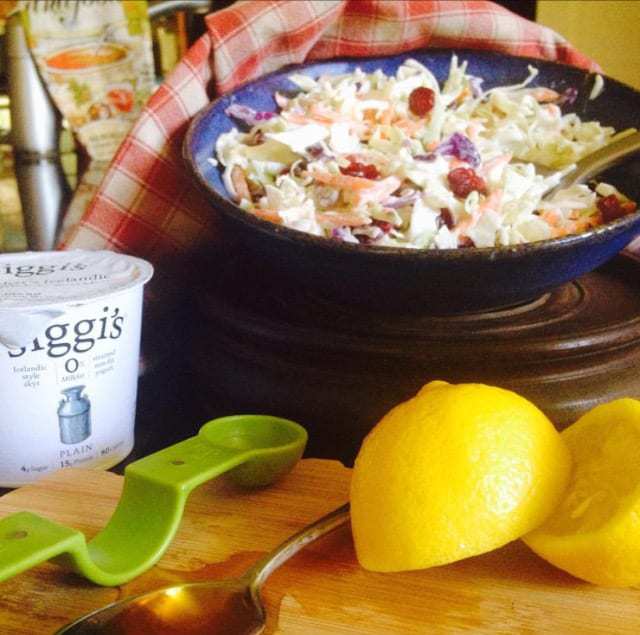 Please feel free to add any other info you'd like to share:
It's okay to be choosey. But your child does need to explore and develop their tastes over time. So introducing new foods or previously disliked foods is important because tastes can change over time. Having a positive relationship with food is so important so I don't force food on my kids, nor do I deny. I just encourage the types of foods I'd like them to eat.
Thank you so much for sharing your story, Lauren! Check out a recent article Lauren wrote for WellSeek on the Benefits of Having Picky Little Eaters.
If you have any questions for Lauren, feel free to comment below.
Connect with Lauren on Social Media below!

Stay tuned until next week when we feature our next registered dietitian mom and hear her story!

SaveSave
SaveSave
SaveSave
FREE Kids Cooking eBook!
Do you want your children eating a more varied diet, but wonder how to get more fruit and veggies into their meals & snacks? This eBook is a fun filled way to get kids eating better while having age appropriate fun!