Today's dieititian mom interview is with Kim Melton, RD.  Kim shares why she focuses on foods her teenage children should include in their diets, rather than on what they shouldn't.  Keep reading to learn how this works for her family.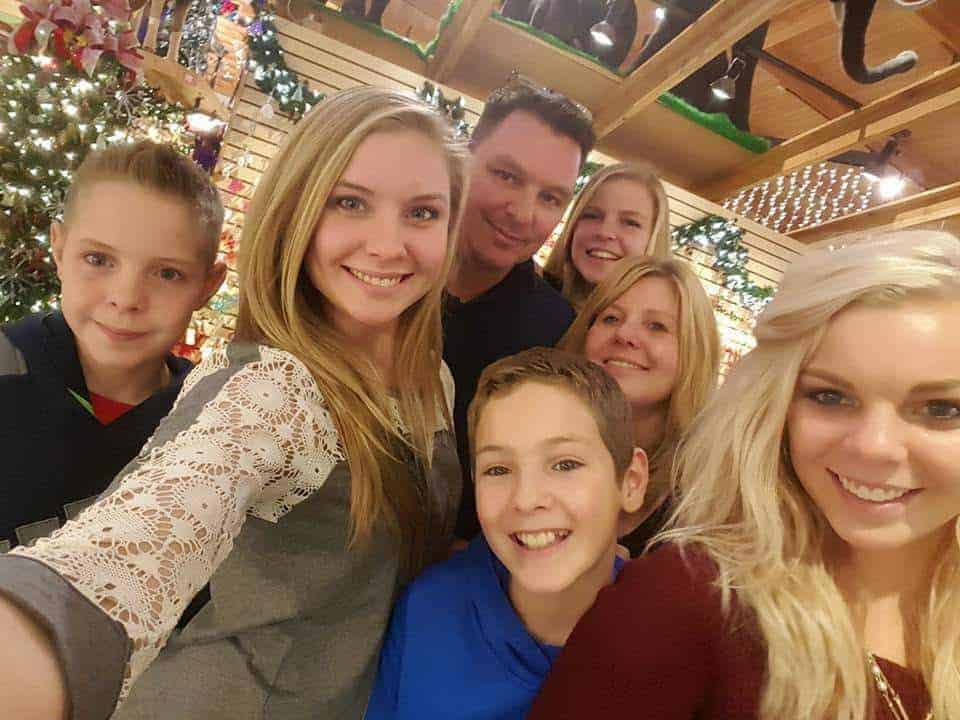 This series brings moms together sharing tips & tricks for raising healthy kids.
Feeding children is a task parents typically take on without any education.

To help parents with this task, each week we'll interview a different registered dietitian mom.

We'll hear her families story while learning tips we can apply in our own homes. These moms share what works for them, what doesn't, the successes AND failures, to help moms like you who have the same goals. We are all simply trying to raise healthy kids.
Let me introduce Kim Melton, RD  of the website, Nutrition Pro Consulting. Welcome, Kim!
Tell us about your family and where you live:
My husband and I have been married for 25 years and we have five children ages 23, 22, 17, 14 and 12. All have been involved in sports and are very active.
What has surprised you the most about feeding kids since becoming a mother?
My children basically will eat what you eat. If you hate veggies than they probably won't like them much, if you love them, chances are that they will too. You have to model good eating habits to your children, you can't just tell them to do it.
Tell us about your most challenging moment feeding your child (or family):
Because I have a larger family and now I have three teenagers in my home (my oldest two have moved out), keeping healthy food available is a challenge because we go through such a high volume.
How did you solve this problem?
I shop in bulk. Things like nuts, whole grain flours, and seeds, yogurt, cereal, granola bars, Dave's Killer bread can all be purchased at Costco and saves me money. I also home cook most of our food and make extra for lunches or dinner the next day.
When bringing foods into your home, what factors influence your food choices the most?
The nutrient density of the food, amount of added sugars (if any) and fiber content. I pay a little more for some foods because I feel they are essential for our health.
In what ways do you encourage healthy eating in your home?
We have a good balance. I explain to my kids to be careful of added sugars but we do have treats and I bake cookies for them, too. I tell them to always try to eat vegetables daily along with fresh fruit. We drink water mostly but we have 100% juice and on the weekends we might have soda with pizza.
What struggles do you face with your kids while implementing healthy eating in your home?
The biggest struggle for us is being careful with added sugars and sweets. Kids get candy bars, cakes, soda as prizes for certain things they do when outside the home, in their classrooms and school lunch. It's challenging to teach them to moderate their sugar consumption.
What is your #1 tip for raising healthy kids and how has this tip worked for your family?
Instead of focusing on what they can't have I focus on what they should include. We talk about what is healthy and what is inaccurate in media messages and on the internet because they encounter so many different messages and their peers may be misinformed. I never focus on their weight but encourage them to be active daily by being active myself and trying to model healthy behaviors.
What is your family's favorite recipe?
We make a Mediterranean chicken marinaded in an olive oil, lemon juice, and spices and then grilled, brown rice made in chicken broth and a garlic sauce we whip up along with a green salad
Thank you so much for sharing your story, Kim!
If you have any questions for Kim, feel free to comment below.
You can find Kim on Social Media below:

SaveSave
SaveSaveSaveSave
FREE Lunch Bites Note Cards!
FREE printable Lunch Bites lunchbox note cards perfect for school lunch or back packs!