Today's interview with dietitian and mother of two, Brynn McDowell, focuses on tips for serving one meal only. Brynn also shares how she handled the constant snacks at extracurricular activities that were ruining appetites.
This series brings moms together sharing tips & tricks for raising healthy kids.
Feeding children is a task parents typically take on without any education.

To help parents with this task, each week we'll interview a different registered dietitian mom.

We'll hear her families story while learning tips we can apply in our own homes. These moms share what works for them, what doesn't, the successes AND failures, to help moms like you who have the same goals. We are all simply trying to raise healthy kids.
Let me introduce Brynn McDowell, RD of the website, The Domestic Dietitian. Welcome, Brynn!
Tell us about your family and where you live:
I am married to my high school sweetheart! We started dating at the age of 15 and got married almost 10 years ago. We live in Northern California with our daughter, Sophie who is 5 years old and our son, Race who just turned 3.
What has surprised you the most about feeding kids since becoming a mother?
How quickly their likes/dislikes change, virtually overnight! My kids will go from loving food and eating it non-stop for 3 days to gagging and swearing they will never eat it again on day 4.
Tell us about your most challenging moment feeding your child:
My daughter, Sophie, went from being a very good eater to all the sudden waking up one day and refusing to eat anything except noodles, cereal, and yogurt. It made meal times stressful and I worried about her growth and development.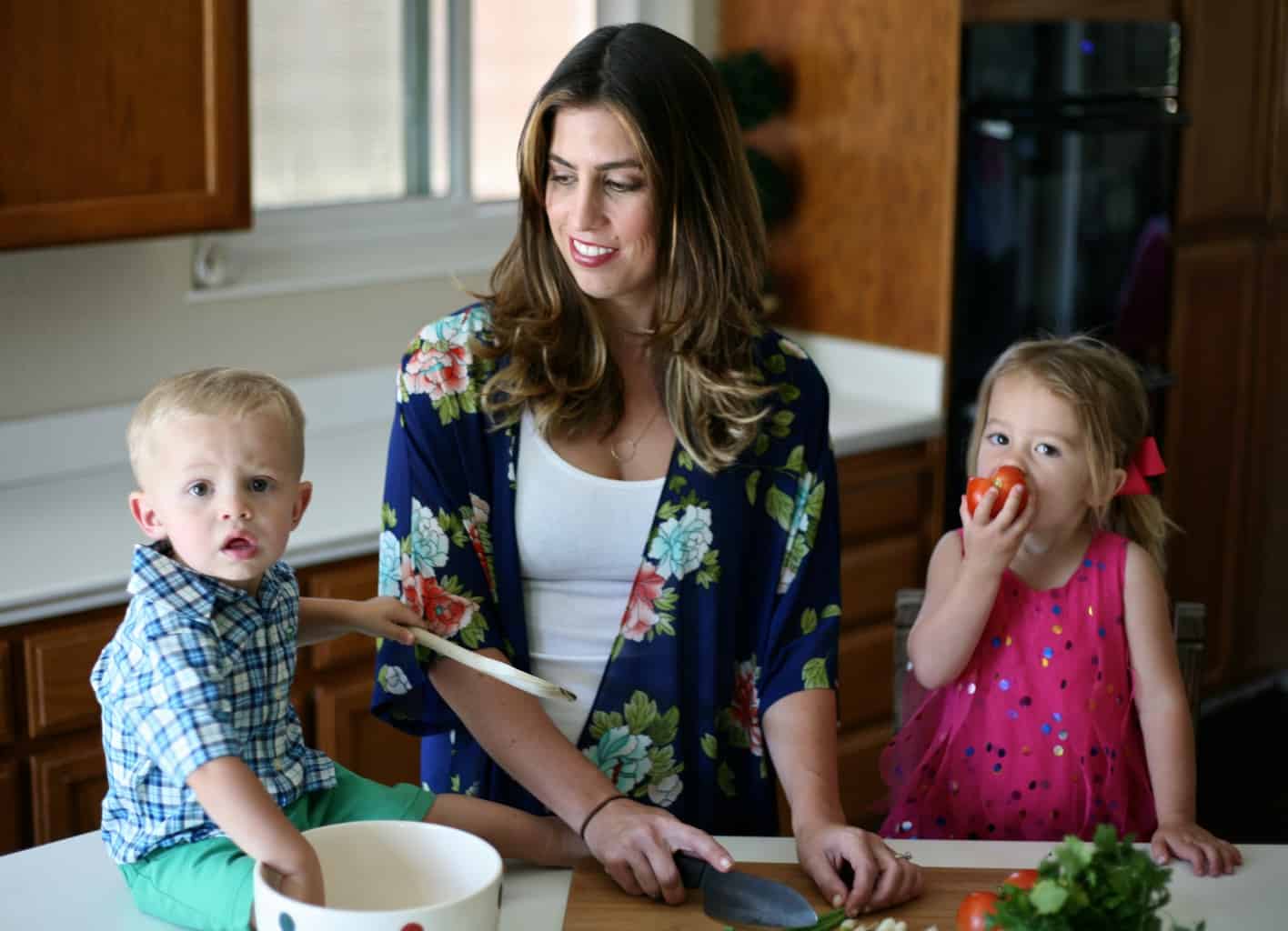 How did you solve this problem?
In the beginning, I would make her whatever she felt like eating to ensure that was at least eating something. However, then I got burnt out on making so many different meals that I decided to try something else.
At mealtimes, I would make one dinner for all of us but I would make sure to include at least one dish that I knew she liked. For example, if we had chicken and veggies, I also included something like rice or noodles. Then I would just explain that this was what was for dinner and I wouldn't be making anyone anything additional.
Since I prepared at least one thing I knew Sophie liked, I didn't worry if she didn't eat the other items served. However, after a few nights of refusing to even try other foods, she started to slowly take small bites of foods she claimed she "would never eat" and after a while, she would try almost anything I served.
There are still some nights were the main entree doesn't get touched or the broccoli just gets pushed around the plate but I have found that the more I remained neutral and don't push her to eat everyone on her plate that she gets more than enough to eat.
When bringing foods into your home, what factors influence your food choices the most?
Being a single income family, the cost is certainly a big factor for us. We have a pretty strict weekly grocery budget, so I have to find foods that fit into that. Other than cost, foods have to be healthy, as unprocessed as possible but also simple and the foods have to fit into our home life. By that I mean I can't spend 3 hours cooking dinner each night, so I look for foods that are easy to prepare but still delicious.
In what ways do you encourage healthy eating in your home?
I'm honest with my kids about health. They understand that fresh fruits and vegetables are good for your "body" and that chicken/beef/fish help you grow strong and tall. They know that candy, cake, and cookies are special treats and that we can't eat them all the time because it isn't good for our teeth. I let them help me cook at home and I think that's a great way to get your kids excited about foods, cooking and health.
What struggles do you face with your kids while implementing healthy eating in your home?
It seems like every activity the kids have involved snacks…dance class, preschool, playdates, etc. The kids were snacking so much during the day that they weren't hungry at meal times.
We started having a "3 pm snack" instead of constantly snacking all day long and it's really helped. We typically have breakfast, lunch, and dinner with a 3 pm snack in between. The snack ranges day to day and could be an apple with peanut butter or a small scoop of ice cream.
It has helped the kids learn not to ask me all day long for a snack and has really increased the amount of lunch/dinner they eat. It's not a set rule though because there are days where they have a cupcake at a school party or someone brings chips to the park. You have to be flexible with kids I think but the majority of the time the 3 pm snack time works for us.
What is your #1 tip for raising healthy kids and how has this tip worked for your family?
I think it helps to realize that kids are always changing and evolving. One week might be a great week as far as meals and health are concerned and the next week everything falls apart and no one wants to eat anything you prepare, etc. You have to be flexible and just come to terms with the fact that it's not going to be perfect. Being open and honest with your kids about nutrition and health (age appropriate) and focusing on eating meals together as a family helps I think.
What is your family's favorite recipe?
We love "Build Your Own Burrito Bar" at our house. It's an easy way to include something everyone loves while creating a simple, well-balanced meal. The kids get a kick out of creating their own burrito, which makes mealtime for enjoyable and fun.
Grab the Burrito Bar Recipe Here.