Quick & Easy Mediterranean Hummus Dip is a go to easy healthy appetizer that comes together in just 10 minutes. Using store-bought hummus, Greek yogurt, and lots of veggies, this easy healthy appetizer is one you will make over and over.
I received free samples of Sabra Hummus mentioned in this post. By posting this recipe I am entering a recipe contest sponsored by Sabra. I was not compensated for my time.
I love hummus. This was not something I grew up with, however. Try as I may, I cannot remember the first time I tried this delicious dip. I do know that after tasting it, I began exploring how to make it at home, which is why you will find several simple recipes for hummus here on Create Kids Club.
Today, I am focusing on my favorite snack, but in a different way.
Keep reading to find the recipe for my favorite easy, healthy appetizer – Mediterranean Hummus Dip.
I am not alone in my love for hummus. I found out hummus even has it's own day! Yup, National Hummus Day is May 13th.
Quick & Easy Mediterranean Hummus Dip is the perfect healthy appetizer to bring to your next party, or just to have hummus on May 13th. 🙂
This recipe involves no cooking, just a bit of quick chopping.
It is a great recipe to make with your kids. Even the littlest of cooks can stir the ingredients together, and the older kiddos can do the chopping.
It doesn't get any easier, and it is a great healthy appetizer and an easy way to get more veggies in.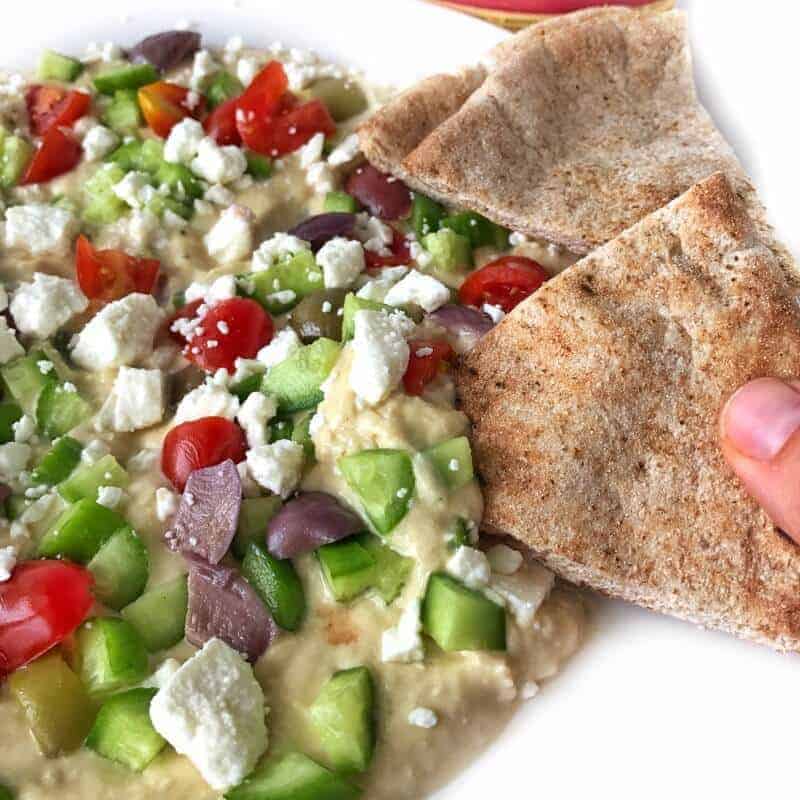 Let's look a little closer at hummus
The definition of hummus, per dictionary.com is:
1.
Middle
Eastern
Cookery.
a
paste
or
dip
made
of
chickpeas
mashed
with
oil,
garlic,
lemon
juice,
and
tahini
and
usually
eaten
with
pita.
According to
Noboagency.com
, I found that many mark the year 1986 as the beginning of hummus as we know it today in America. They say,
It all started with a man by the name of Zohar Norman and a desire to start a hummus industry within the United States. Backed by a handful of partners and prior success with an Israeli brand of packaged salads and spreads, Zohar's endeavors sparked the humble beginnings of today's largest producer of hummus. We're talking about our red-lidded favorite: Sabra.
Over the years, the company was sold to PepsiCo. and we were all given the opportunity to become familiar with this delicious chickpea spread. Thank you,
Sabra
, for introducing us to your hummus!
My favorite part after pulling off the cover on a fresh container? It's all the goodness right in the center of the flavored varieties. Yum.
But back to the recipe! The recipe is about to make your life easier when it comes to party appetizers. You're welcome. 🙂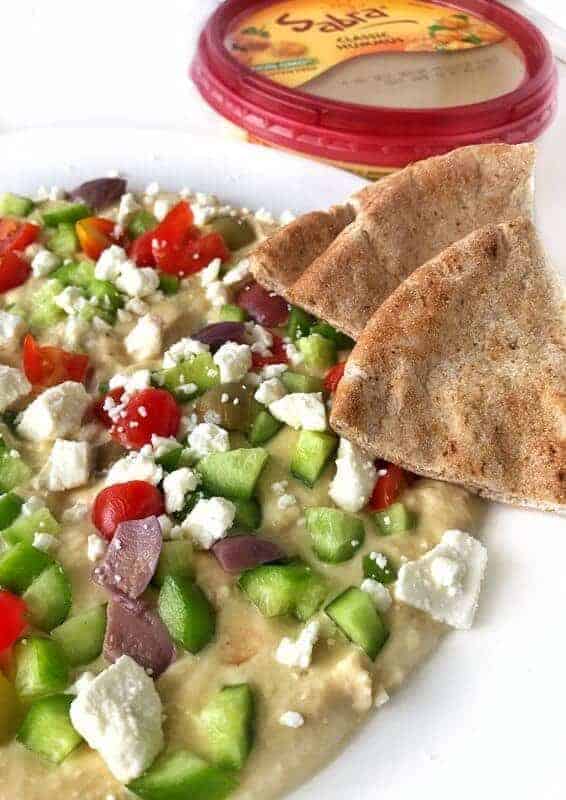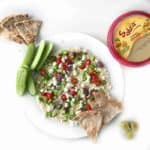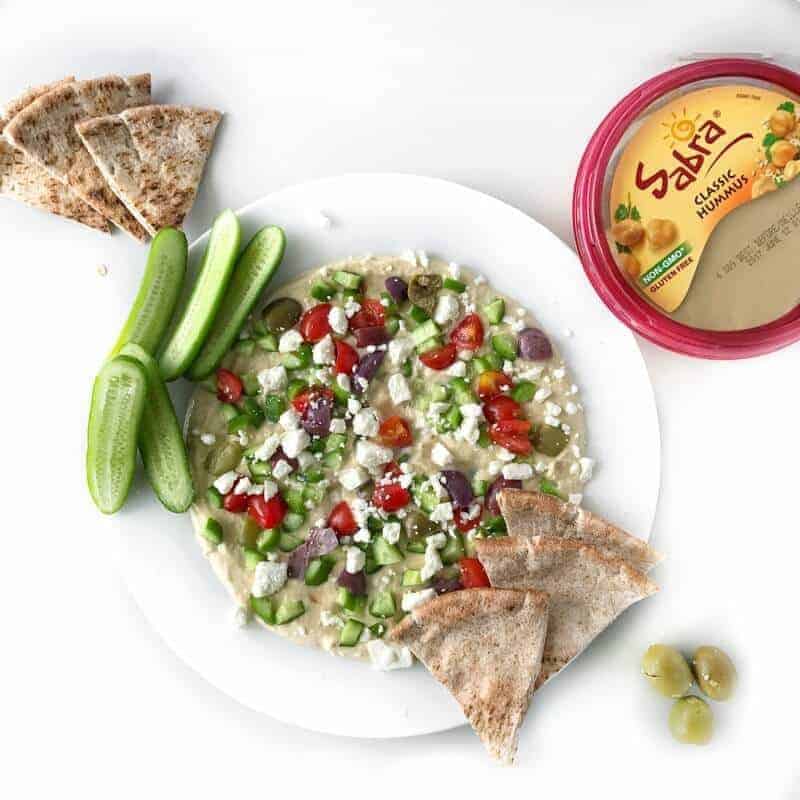 Quick & Easy Mediterranean Hummus Dip
Ingredients
1

containers

plain hummus (such as Sabra)

1/2

cup

plain Greek yogurt

2

tsp

brine from olives

1

tsp

minced garlic

1/2

cup

feta cheese, divided

1/2

whole

cucumber, diced

1

whole

tomato, diced

5

whole

Kalamata olives

variety sliced veggies for dipping

pitas or flat bread, cut into wedges
Instructions
In a small bowl, combine hummus, Greek yogurt, olive juice, garlic, and 1/4 cup feta cheese.

Spread mixture onto a pretty serving tray.

Top with cucumbers, tomatoes, olives, and feta cheese.

Serve with veggies and pitas or flat bread.
Recipe Notes
For a larger party, simply use 2 containers of hummus, 1 cup of Greek yogurt, 4 teaspoons olive juice, 2 teaspoons minced garlic, and add more toppings!
Nutrition Information:
Calories: 120 kcal
Fat: 7.75 grams
Carbohydrates: 5.8 grams
Protein: 3 grams
Do you have an obsession with hummus as I do? I'd love to hear how you enjoy eating this dip!
If you enjoyed this recipe, I'd love to invite you to join Create Kids Club – it's FREE! CLICK HERE to make sure you don't miss out on the yummy family friendly recipes shared weekly.
Pin for Later

Check out some more fun ways of utilizing Sabra Hummus below!
No Time To Cook?
Make dinner a breeze with these 10 Kid Favorite Crockpot Recipes! Get your FREE eBook Now!