Have you ever wondered what it looks like behind the scenes of a commercial farm that produces food your family eats? I got a glimpse into what it looks like and I'd love to it share with you.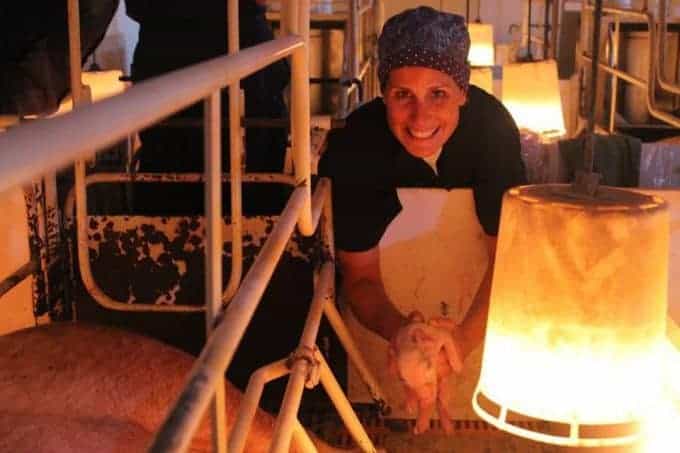 When I had the opportunity to visit an Iowa pig farm with the National Pork Board RD Farm Tour, I jumped at the chance. You see, pigs and I go way back…
As a child I was in 4-H. I didn't grow up on a farm so I did activities like photography, cooking, and art projects for the fair each year.
As a teen, I participated in the 4-H Interstate Exchange Program. This program arranges for you to stay with a 4-H family in another state for one week during the summer. The next year the teen comes to stay with your family for a week.
The family I stayed with lived on a pig farm in Ohio. Not being a farm girl, I was a bit unsure. However, once I got acquainted with the pigs, I thoroughly enjoyed my time with them.
Fast forward 23 years. I was back on a pig farm – this time on a much different scale.
Brenneman Pork Inc. is a family farm started and run by Rob and Char Brenneman and their four children and their families. They worked hard to build their farm and struggled along the way to become what they are today.
They have expanded into a successful operation and are committed to delivering high quality, wholesome pork to families around the world. They currently produce enough pork to feed 2.7 million people a year. They are one of the top 25 pork producers in the USA.
Going into this experience I thought we would be toured around the farm while being educated on raising pork – but it was so much more.
Our tour of the farm started with a shower in/ shower out process. We were required to provide clothes and shoe sizes before arriving. Once the tour started we entered a room within the building that is sealed off from the rest. All of the air in this room is filtered before you can gain access to the next room, allowing no outside unfiltered air into the barns.
Next, we entered a private shower area where all the clothes we were wearing had to stay. A full shower was required and a set of fresh clothes, including under garments, were provided on the "clean" side of the shower. Erin Brenneman, the Chicago raised daughter-in-law turned farm girl extraordinaire, was our tour guide through this part and her patience in explaining this process to us 10 ladies was appreciated!
The showering process is to ensure the safety of the pigs on the other side.
No one can enter the buildings without showering in/showering out. All of the barns are HEPA filtered to keep the air in the barns as safe as possible. A fellow dietitian pointed out that the farm follows a stricter anti-contamination program than hospitals use for patients with antibiotic-resistant infections.
Reason #1: Animals raised for public consumption are thoroughly protected from outside illness.
We were now "clean" enough to start our day on the farm.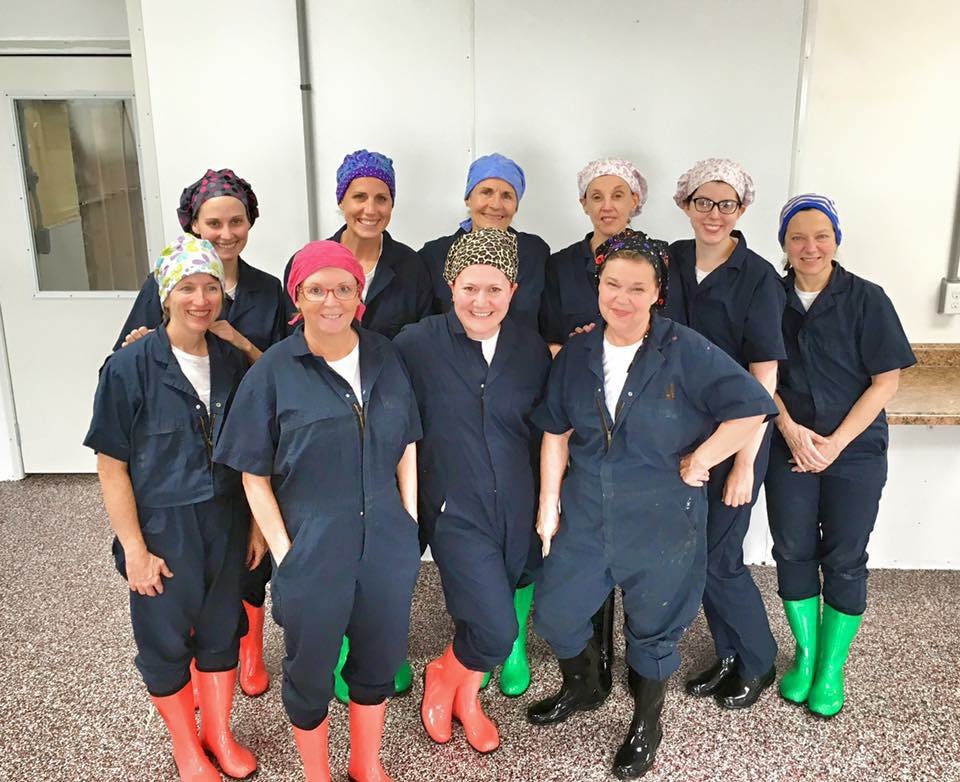 First we visited the sow barn, or mama pig barn. The sows were lined up in stalls and appeared clean and well cared for. They each had their own fresh water spout and feed which was specifically formulated for their exact needs. It was feeding time when we entered and they sure were happy pigs.
It's the Brenneman's preference to keep the sows in stalls rather than raising them outdoors or together in pens.
When asked about the small quarters for the pigs, Dr. Tim Loula, the veterinary who cares for the pigs on the farm, explained that research shows only 2% of pigs, when given the chance, leave their stalls. 98% of pigs prefer to stay in their stall where they are fed and watered and all needs are met. Due to this, most farms don't choose the added cost of a larger barn allowing the pigs to roam.
Being raised indoors is much cleaner and reduces the risk of infection and environmental parasites found in mud. Dr. Loula explained that all pigs raised outdoors must be treated for worms, mange, and lice. Indoor pigs are not exposed to these things, therefore are not treated.
Reason #2: Indoor pigs are cleaner and therefore require less treatment/medication than their outdoor counterparts.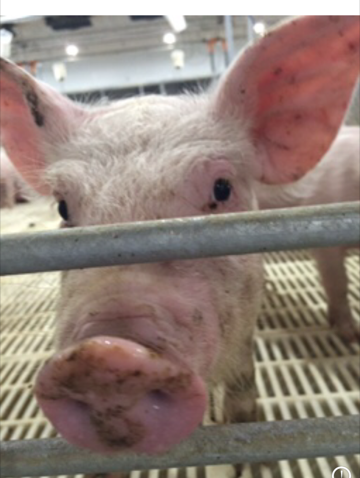 One of the biggest goals they have for the mama pigs is to meet her nutritional needs while keeping stress levels down. Stalls provide this.
Some pigs had a bright strip painted on their back. This signified that the pig had been treated with antibiotics. Antibiotic use is a hot topic for many, and we dietitians were eager to learn all we could about it.
Dr. Loula explained to us that they treated their pigs similarly to how we would treat our children. If the pigs were sick and needed antibiotics they were going to treat them in order to fight illness.
Each antibiotic takes a certain amount of time to pass completely through the tissues of pork, and records are meticulously order clomid online legally kept on each individual pig – for years past the date the pig leaves the farm. The pigs cannot leave the farm for many weeks past the last date the medication has passed through the pig.
There are laws in place and random checks done on meat to ensure that there are no antibiotics in any meat sold in the US. Regardless of how the pig was raised, there will be no antibiotics in your pork.
Reason #3: You will not find antibiotics in any pork purchased at the store, even if the pig was treated during their lifetime.
Next we saw the newest barn the Brenneman's added a this spring, which had pens rather than stalls. This means there are about 10-15 pigs together in a pen rather than separated in stalls. It was explained to us that the consumer buyer wants pigs to be more "free range" or to be free of stalls. They are trying to meet this need for the consumer.
After witnessing pigs in these pens I can see why this is not their preferred method. Pigs are mean to each other. They bite, scratch, and create a pecking order where they go after other pigs in their pen. This means the pigs are cut, bleeding, yelping and very loud. The stress level of these pigs appears to be much greater than the calm pigs I saw happily munching on lunch.
I wanted to get out of that barn as fast as I could. I would advise being cautious and to do your research before asking for an animal to be raised a certain way, without fully understanding all aspects of care.
On to the birthing area.
The farm uses an "all in/all out" approach to moving the pigs from area to area to help reduce the chance for illness.
A group of sows move into the birthing area together. Piglets are kept with the mama pigs for 10 days after which the piglets will move from the birthing room to their weaning room. They move together at the same time and their mothers are also moved out as a group together. This allows for appropriate cleaning of each room between groups of animals to help prevent spreading of disease.
Reason #4: Barns are cleaned top to bottom between groups of animals helping to prevent the spread of disease. Cleanliness is a priority.
In the nursery we learned that sows birth anywhere from 7-20 piglets and can have up to 6 litters over their lifespan. This farm has 24 hour care in the nursery, increasing the survival rate of piglets. When piglets are born they need to be cleaned and dried and get a belly full of milk as soon as possible. The 24 hr care providers ensure this happens.
We were lucky enough to get to assist in a birth- you read that right- I got to reach up and grab a breach piglet and carefully pull him out. I got to dry and clean him with this powder substance they use to quickly dry the piglet. I got to put him back in the stall with his mama and piglet siblings and watch as he latched on for the first time. Amazing.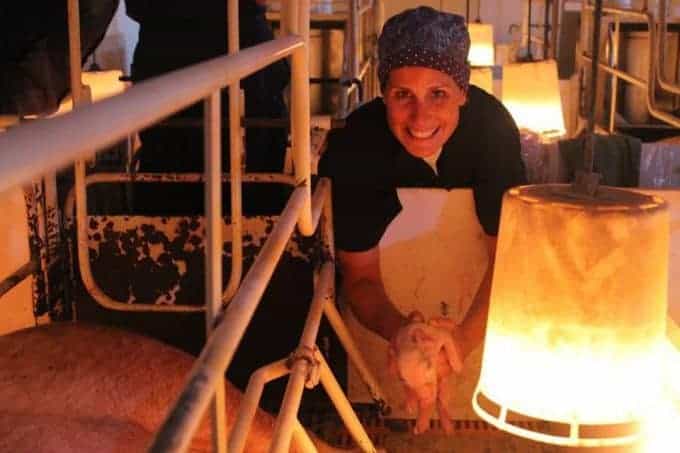 After spending 10 days with their mothers, the piglets are moved to the nursery. They are kept together in pens (at this young age they are not so aggressive). They stay there for several weeks while learning to eat food and water on their own.
After showering out and lunch, we got suited up to enter the research barn. We learned that pig feed is primarily corn and soybean meal with added vitamins and minerals to optimize nutrition. The amount of feed they received was calculated to provide appropriate growth. These pigs receive better nutritional care than most people!
Reason #5: Pigs are fed top notch feed to ensure high quality meat is available to you the consumer.
What I came away with from my experience on a large pork farm:
Pigs are raised humanely

Pigs are kept extremely clean

Pigs are provided top notch veterinary care to produce the most nutritious and safe food for us to provide to our families
I left feeling very confidant in our pork industry and am happy to serve fresh, lean cuts of pork to my family.
Below you will find the recipe I got to prepare with chefs in the kitchens at The University of Iowa.
Don't over cook pork! Cook only until internal temp is 145 degrees. #nationalporkboard #pork #cookingpork #sponsored
Click To Tweet
Mustard and Apple Pork Tenderloin
A pork tenderloin recipes that is sure to impress everyone at your dinner table.
Ingredients
2

pork tenderloins

salt & pepper

3/4

cup

dijon mustard

1/2

cup

stone ground mustard

3

tbsp.

honey

3

tbsp.

chopped rosemary

1/2

cup

minced shallots, divided

2

tsp.

minced garlic

4

cups

panko

5

tbsp.

olive oil

3

tbsp.

chicken stock

1/4

cup

apple cider vinegar

1 1/2

tsp.

sugar

3

tbsp.

cold, cubed, butter
Instructions
Preheat oven to 375 degrees.

Season pork tenderloins with salt and pepper.

In a bowl, whisk together both mustards, honey, 2 tbsp of the fresh rosemary, 1/4 cup of the shallots, and garlic until combined.

Rub mustard marinade evenly over the tenderloins, and dredge them in the panko, shaking slightly to rid of any excess.

In a large oven proof saute pan, heat 3 tbsp of olive oil over medium heat. Gently place tenderloins in pan and brown on all sides.

Place the pan in the oven for 7-8 minutes or until the tenderloins reach and internal temperature of 135-140 degrees.

Remove tenderloins from the oven, place on cutting board, cover with foil, and let rest 3-5 minuets. The tenderloins will raise another 5-10 degrees.

Return saute pan to a burner over medium heat. Add remaining olive oil, and the 1/4 cup of shallots. Sauté until the shallots are translucent.

Add stock, cider, sugar, and the remaining 2 tsp of rosemary and bring to a simmer. Reduce the liquid by just over half. Turn off the heat and let cool for 10-15 seconds.

Vigorously whisk in the cold cubed butter.

Slice the tenderloins crosswise, into 1/2'' thick slices and drizzle each portion with the rosemary-cider sauce.
Recipe Notes
Adapted from University of Iowa Dining.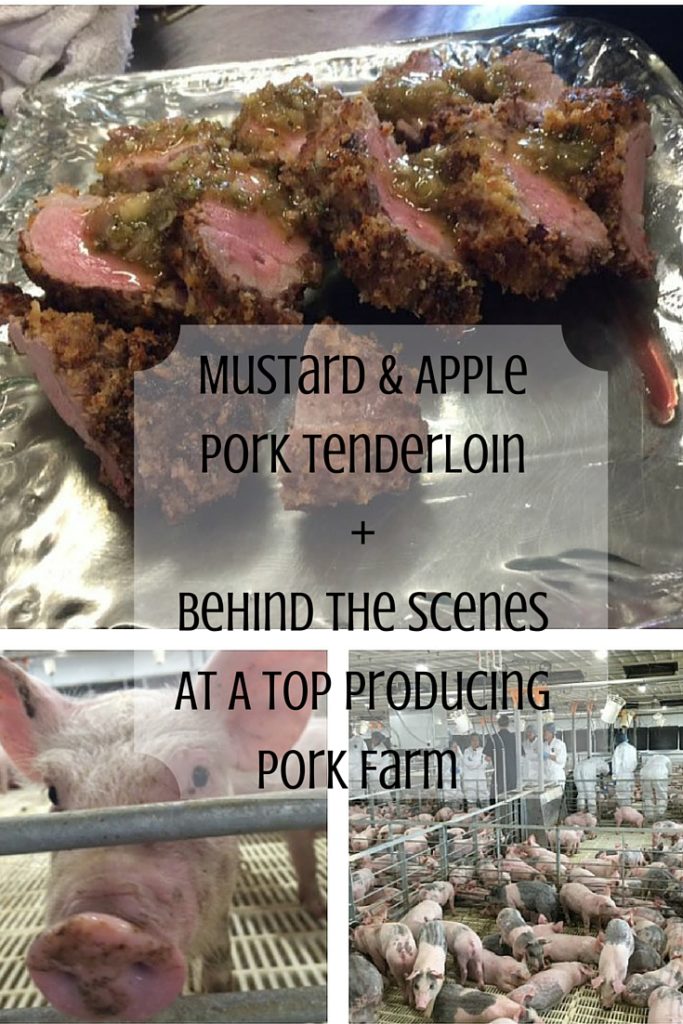 For more pork recipes visit The National Pork Board and for more information on today's pig farming visit porkcares.org.
*This farm tour was sponsored by the National Pork Board, to help educate dietitians about production methods of American farms. I received no other compensation for this trip. #NationalPorkBoard
Get Your FREE Crockpot Cookbook Now!
Get 10 tried & true Kid Approved Crockpot Dinner Recipe favorites!