Our Sheet Pan Pork Chops are a quick and easy dinner kids love. Russet and sweet potatoes are cut into fries then roasted with tender pork chops seasoned with dry ranch dressing, rice vinegar, and honey mustard. A complete meal ready in under 30 minutes.
Making up to 4 servings, this oven pork chop recipe is a family favorite. Not only is it easy to get in the oven, clean up is even quicker. Sheet pan dinners are great for busy families aiming to spend less time in the kitchen.
Along with this pork dinner, our Sheet Pan Pizza is a popular pick. We recommend checking out the recipe the next time you have a lot of kids or a large family to feed!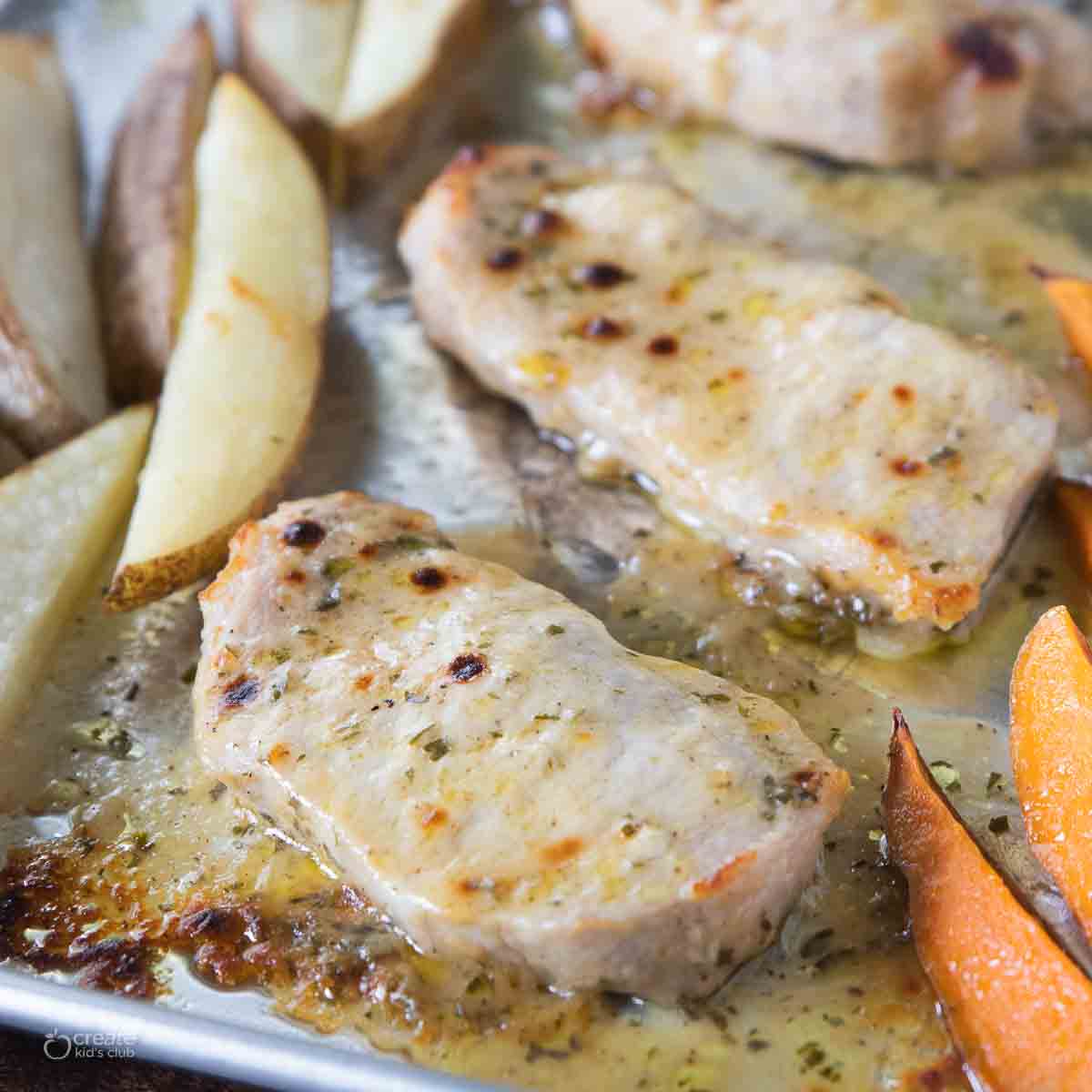 After a long day, making dinner is likely one of the last things you want to do. Let this recipe come to mind anytime you need dinner but don't have the time or energy to create an elaborate meal.
Packed with all the nutrition and flavor your family is looking for, you will not be disappointed.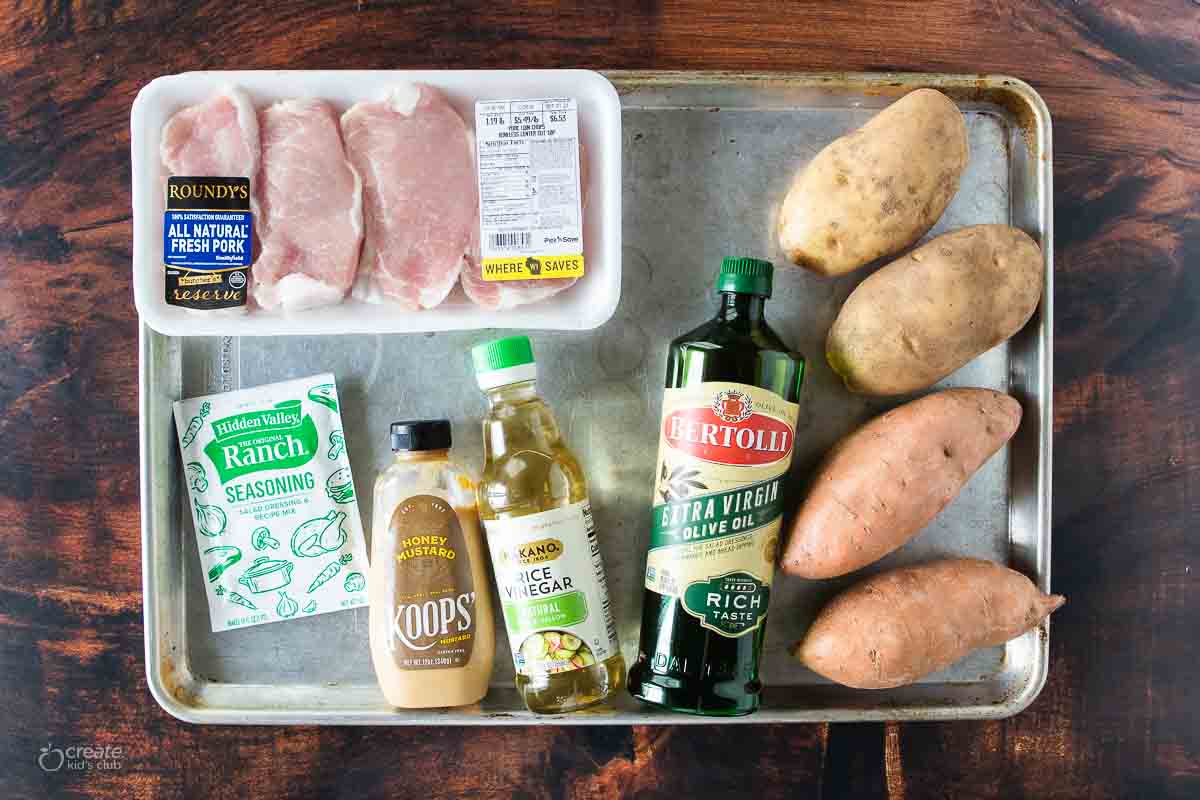 This recipe is also completely gluten free. We know firsthand how overwhelming it can be to find and make gluten free recipes, which is why we are sharing tips and ingredient suggestions. Follow along step by step or use the printable recipe card below!
Equipment
cutting board
chefs knife
baking sheet
small mixing bowl
measuring cups and spoons
stir spoon
medium-sized bowl
tongs
Ingredients
4 boneless pork chops check for gluten-free
2 medium russet potatoes cut into fries
1 medium sweet potatoes cut into fries
1/4 cup olive oil
1 packet dry ranch dressing
1 tablespoon rice vinegar
1 tablespoon honey mustard check for gluten-free
salt to taste
How To Make
Start by preheating the oven to 425°F. Place potato fries onto both sides of the baking sheet, leaving space in the middle. Drizzle the fries with a little olive oil and season with salt.
Ever wonder how to "season to taste" when it comes to sprinkling your food with salt? The purpose of salt is to enhance the flavor of the pork chops and fries, not to create a salty meal. To prevent over salting the fries, season by pinching the salt with your fingers then sprinkling versus using a salt shaker.
Pro Tip: Season the fries with salt, cook, taste then add more salt if needed. The key is to salt, taste and repeat until the desired amount of salt is added.
Bake the potatoes
Next, bake the potatoes for 15 minutes, turning half way through to crisp each side of the potatoes.
This dish can be created by using only Russet potatoes or only sweet potatoes. We think the combination of potato and sweet potato fries is the ultimate side dish for pork chops!
Pro Tip: Keep this potato cooking method in mind any time you are looking for a delicious side dish. Sheet pan potatoes pair well with any steak, burger, chicken or vegetarian dish too.
Make the marinade
While the potatoes are baking, add the olive oil, dry ranch dressing, rice vinegar, and honey mustard to a mixing bowl and mix well.
We used a Hidden Valley Ranch packet, which is a gluten-free dry ranch seasoning. You will want to verify the honey mustard brand is gluten-free before using it. We used Koops' Honey Mustard, which is a certified gluten-free brand with an outstanding flavor.
Place the pork chops into a medium sized bowl and coat with the marinade.
Add the pork chops
Carefully remove the sheet pan with the fries from the oven and place the pork chops onto the center of the pan. Bake for an additional 8-12 minutes depending on the thickness of your pork.
Pro Tip: Bake until the internal temperature reaches 145°F to prevent overcooking resulting in tough meat.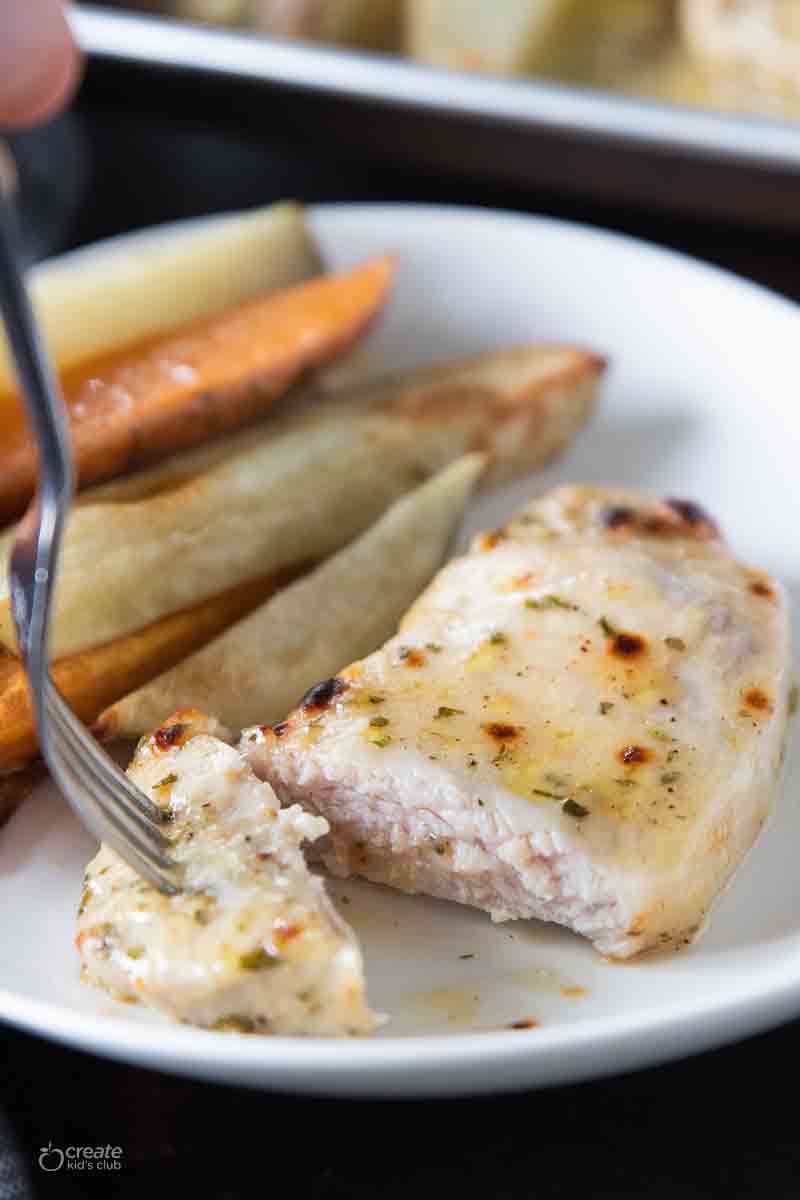 Optional
Broil the sheet pan for 2-3 minutes to get the pork chops and fries nice and browned. If broiling, cut the cooking time back on the pork to 6-10 minutes, then broil until they reach 145°F.
Frequently Asked Questions
More Easy Pork Recipes
Looking for more tasty recipes made with pork? Here are a few fan favorites!