Between dishes, laundry, work, and shuttling kids, time is limited to plan meals. But help is here – in the form of printable pantry staples & grocery lists to make your life easier.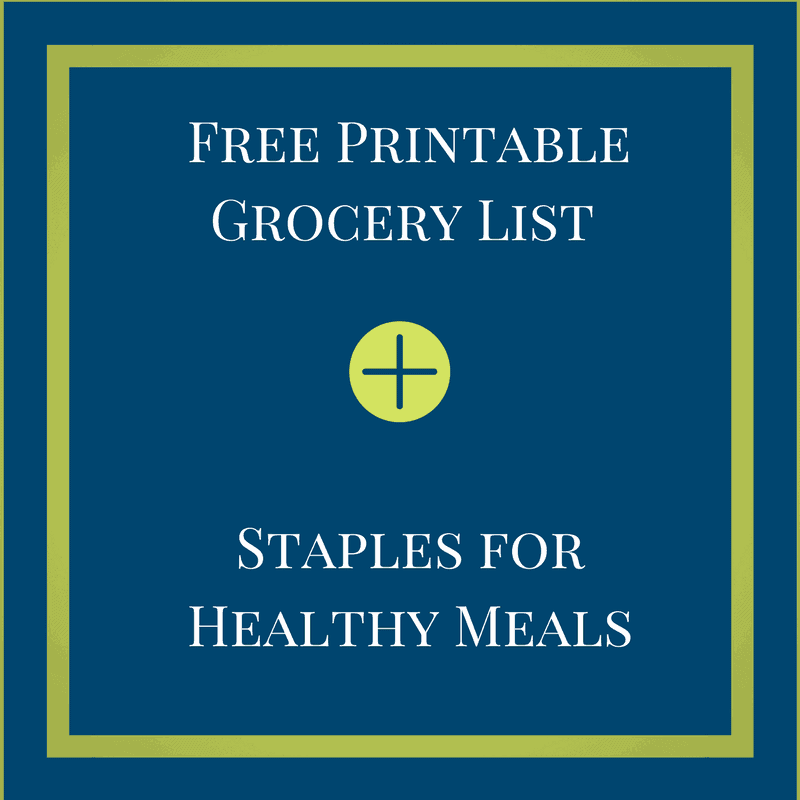 "MOM WHAT'S FOR DINNER???"
Do you hear these words daily? I do. Sometimes I can answer with confidence and other times… I pretend I didn't hear the question. Um, pancakes anyone?!
To help organize your grocery shopping trips, I developed printable checklists: Pantry Staples & Grocery Lists. These lists will help you shop with ease.
By stocking your home with the items on the pantry staples list, you can easily make most of the recipes found on this website, Create Kids Club.
Grab The FREE Printable Grocery List HERE.
Let's talk about how to fill your grocery cart with the healthiest foods.
A good start is stocking up on foods found around the perimeter of the store.
Think about it. The perimeter is where all the produce, meat, seafood, dairy, and fresh-baked bread are located.
Fresh foods are generally healthier for you than the ready to eat foods found in the center of the store. There certainly is healthy food to be found in the aisles, but there is a higher ratio of unhealthy, processed foods found there as well.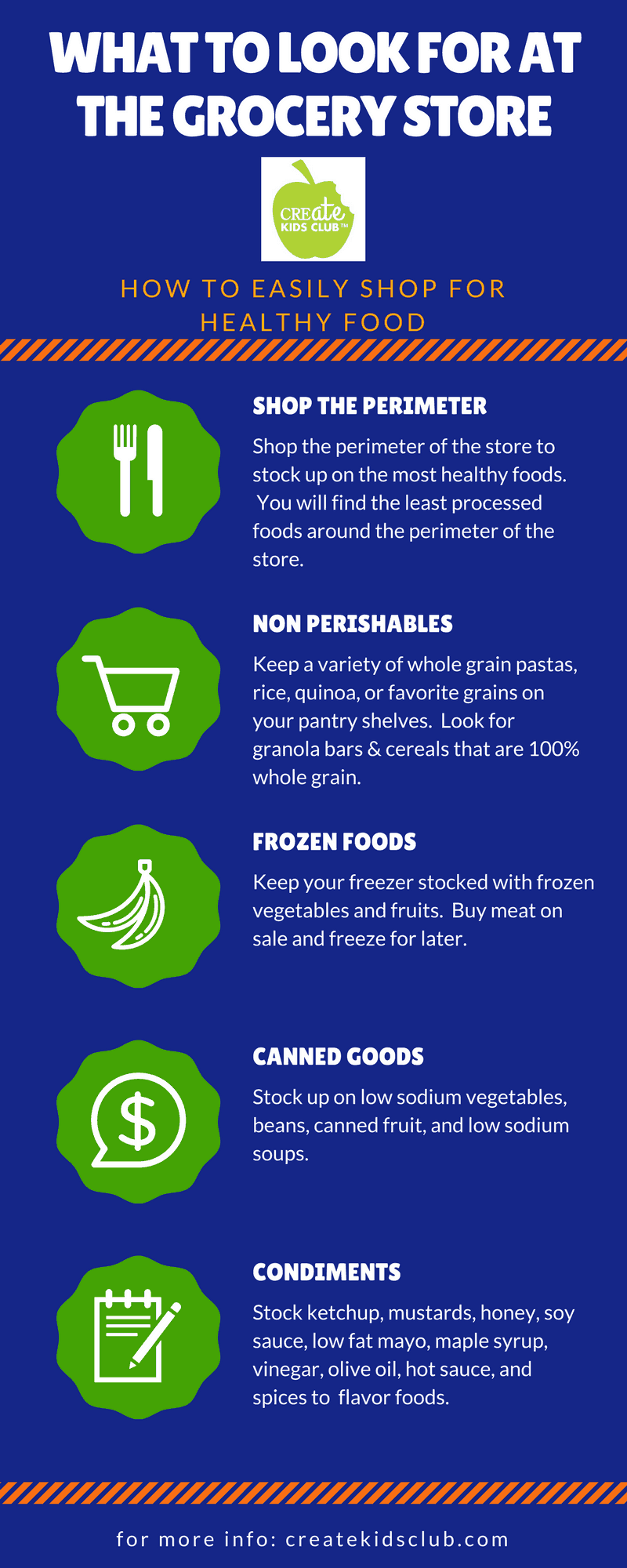 Simple Tips For Navigating The Grocery Store:
Produce department:
It's recommended you fill half your plate at each meal with fruit and veggies.
Fill your cart with produce your family likes, and don't be afraid to try something new. Fact: If your children pick out the new fruits or veggies, they will be far more likely to try it!
Pick items with a longer shelf life such as apples and oranges along with those that need to be eaten more quickly like grapes and strawberries. Grape tomatoes are great for sitting on the counter in the eye site of your family, and baby carrots and pea pods are lunch box favorites.
Watch out for those extras that are marketed in this department though, like sugary caramel apple dip and high-fat dressings.
Meat Department:
If you are looking to purchase beef or pork, look for those cuts with the words "loin" or "round" in them – such as sirloin or ground round. These are lean cuts of meat. For chicken, bone-in, skin-on chicken provides more flavor than chicken breasts, just discard the skin before eating. Check out this post for more info.
There is much controversy about farm-raised vs wild-caught seafood. The bottom line is eating more fish has real health benefits, so continue to do so. If you are worried about the sourcing of the fish, ask your grocery store's seafood manager about their seafood sourcing policy.
Dairy Department:
Let go of the fat-free craze of the '80s & '90s, cut sugar by choosing higher fat dairy products. When fat is cut out of food, the sugar content typically goes up to make the product taste better. Check out nutrition labels and see what you find. For yogurt, I recommend full-fat plain yogurt flavored at home with a bit of honey or maple syrup or a brand like Siggi's that is made with no added sugars.
Bread Department:
Notice I called it the bread department, not bakery? Stay away from the doughnuts and sweets and choose whole-grain bread made from 100% whole wheat flour.
Aisles:
Stock up on canned goods like low sodium vegetables and fruit in their own juice. These are just as healthy as their fresh counterparts and are always available. Check nutrition labels to compare boxed goods, and look up high and down low as this is typically where the healthier options are.
Check Your Cart:
Double-check your cart before leaving to make sure it is filled mainly with fresh produce, lean meats, whole grains, and healthy fats such as avocados, nuts, seeds, and healthy oils.
The level of nutrition in your cart is what your family will be eating for the week. Make sure it meets your goals!