Looking for fun dinner recipes your whole family will love? Meatball Foil Packets can be made into 2 different meals – Spaghetti and Meatballs or Meatball Sandwiches.
My kids love camping. I mean, what kid wouldn't? They get to stay up late, eat marshmallows, ride bikes and swim all day long. It's kid heaven.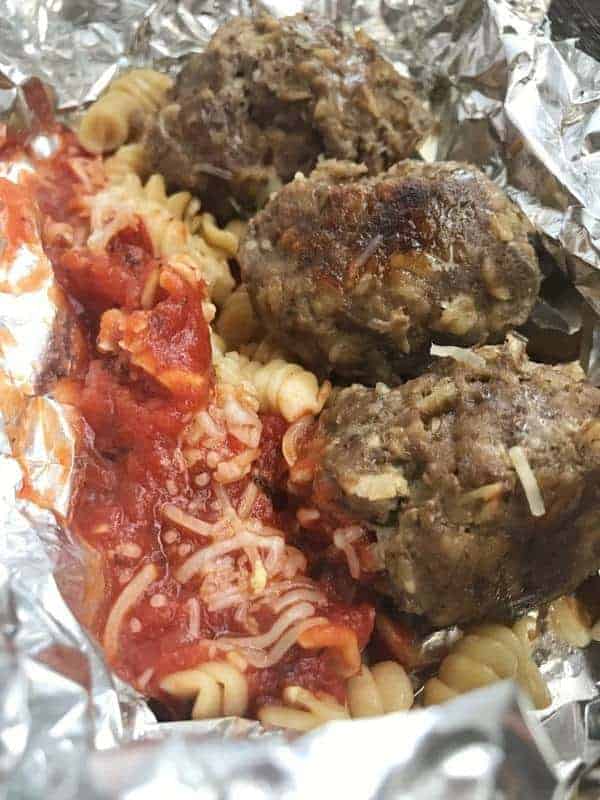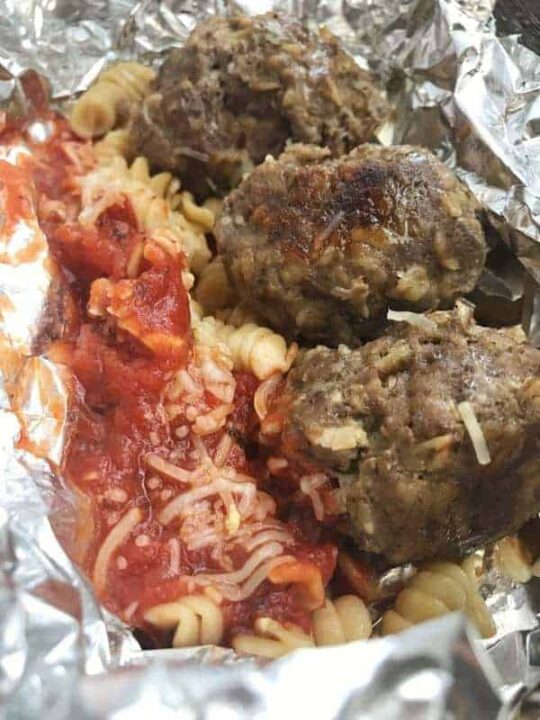 It's a little harder on the parents. We have to feed these hungry children.
At least once a summer my family visits beautiful Peninsula State Park in Door County, WI. We pull out the tent and live without electricity for the weekend.
I grew up camping and my mom really got into the meals. She came up with some fun meals to make each trip. I try to do the same with my family.
I take it one step further. I make the meals before we go. Yes, before we go!
I don't want to miss out on any of the fun, so I plan meals that can be made quickly – or better yet, those that can be made ahead of time and cooked once we are there.
I like to make fun dinner recipes for camping.
Why? Because kids get fun foods that they don't always at home, and they get to help cook the meal over the fire. Not interested in cooking over the fire? No worries, you can cook on the grill, or in the oven too. Not into cooking over the fire? No worries, you can use a grill or cook in the oven.
Some great ideas are these Philly cheesesteak Foil Packs, or Individual Naan Pizzas. For meals that I make 100% at home, my favorite is a simple Muffuletta Sandwich. This sandwich is meant to be eaten after a thorough squishing!
Today, I have one more to add to the list – Meatball Foil Packs that you can make 2 ways. My daughter loves meatball sandwiches and my son loves spaghetti. I have found the way to please them both, with no extra work!
Which way would you serve this camping recipe?
These homemade meatballs are simple to whip up. They have just 8 ingredients (including salt and pepper!), and bake in 30 minutes. Watch to see just how easy they are to make:

Handling Beef Safely
There are a few basics you should know when handling beef, or any other raw meat.
When coming home from the grocery store, always make sure to store your raw meat on the bottom shelf of your refrigerator on a plate or tray to catch any juices.
You don't want to contaminate any other food items in your fridge with raw meat.
Hand-washing is important for preventing food-borne illnesses.
Make sure to wash your hands before and after handling raw meat. Wipe down work surfaces to avoid cross-contamination, and keep raw meat and meat juices away from other foods during preparation.
Make sure to wash your hands before you wrap the foil packs to not have raw meat contaminate the outside of the packets. You want to store clean tinfoil packets in the cooker.
Safely transport raw meatballs for camping.
I found the easiest way to transport these meatballs is to freeze them after you wrap them in foil. They are easy to pack in a cooler (make sure to keep them separate from those foods that won't be cooked), and help keep other foods cold too.
Place a thermometer into your cooler and make sure the temperature stays below 40 degrees to keep the meat out of the food danger zone. Blocks of ice work better than ice cubes – try freezing water in a milk jug or similar container.
When you're ready to cook the foil packets, cook meatballs to an internal temperature of 160 degrees, about 30 minutes. A digital meat thermometer is a great item for your packing list.
Once cooked, use precooked pasta bags which are now available (or cook pasta in advance and bring it along) a jar of marinara sauce, and shredded cheese. Heat the packet over the fire to warm the pasta and sauce. If you're making meatball sandwiches, place meatballs into pita pockets, top with marinara sauce and cheese. Dinner is served!
Camping Meatball Foil Packets Made 2 Ways
Meatball Foil Packets can be made into 2 different meals, Spaghetti and Meatballs eaten right out of the foil pack or Meatball Sandwiches. The perfect fun dinner recipe or camping recipe idea.
Pin Recipe
Print Recipe
Ingredients
1

lb.

ground sirloin

1

cup

quick cook oats

1/4

cup

milk

2

large eggs

1

tbsp

Worcestershire sauce

1

tbsp.

minced garlic

1

tsp.

salt

1/2

tsp.

pepper

6

pieces

heavy duty tin foil

non-stick cooking spray
Instructions
If cooking in the oven, preheat to 400 degrees. If cooking over a fire, prepare grill grate over smoldering coals.

In a medium-sized mixing bowl, blend oats and milk.  Let sit 5 minutes while you get the rest of the ingredients out.

Add beef, eggs, Worcestershire sauce, garlic, salt, and pepper.  Mix just until all ingredients are blended.

Spray tin foil with non-stick cooking spray.

Roll meat mixture into meatballs the size of a golf ball.  Place 2 meatballs on each piece of tin foil.

Wrap tightly, trying to keep a rounded shape.  The meatballs will cook into the shape of the foil.

Cook in the oven, or over the fire, for 30 minutes, turning halfway through to brown both sides of the meatball.

If making spaghetti and meatballs, add precooked pasta noodles to foil packs, top with marinara sauce, and cheese.  Fold the packet and place over the fire to warm.

If making meatball sandwiches, place meatballs into a pita pocket, drizzle with marinara sauce and top with cheese.  Wrap in foil and place over the fire to warm, if desired.
Nutrition
Calories:
223
kcal
|
Carbohydrates:
7
g
|
Protein:
17
g
|
Fat:
14
g
|
Saturated Fat:
5
g
|
Cholesterol:
107
mg
|
Sodium:
441
mg
|
Potassium:
313
mg
|
Fiber:
1
g
|
Sugar:
1
g
|
Vitamin A:
264
IU
|
Vitamin C:
1
mg
|
Calcium:
71
mg
|
Iron:
4
mg
Delicious Simple Family Recipes
Join Create Kids Club & get our 10 Favorite Crockpot Recipes ebook!